Part 1 The early years - Part 2 1966 and all that - Part 4 Football Manager - Part 5 The Irish Saviour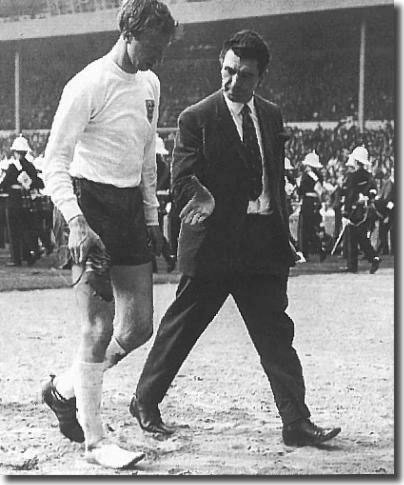 After the ecstasy of England's World Cup win, 1966/67 was a frustrating season for Jack Charlton, although he was to end it as Footballer of the Year. Leeds finished fourth in the League and lost in an FA Cup Semi Final against Chelsea. Charlton missed that game because he had sustained an injury in England's match against Scotland in April. He played on after the injury and scored one of the goals as England lost 3-2, their first defeat since the World Cup triumph. Jack had also scored in the previous international, a 5-1 thrashing of Wales back in November, but his season was now over. He played his 400th League game for Leeds in a 3-1 home win over Arsenal in October and was now in sight of Ernie Hart's club record of 447 League appearances.
Winning the Footballer of the Year award was something of a compensation for the club's disappointments and led to a whole new career for Jack as an after dinner speaker:
Charlton: "I knew in advance that I'd won it, and I was told that I had to make a speech at the dinner. I had been to plenty of these dinners before, of course, and normally the person receiving the award didn't say much, just a few thank yous really, before sitting down.
"Anyway, I'd written out something like that before I drove down to London with a friend, and ex-rugby player called Dave Croft. On the way down, we came to a place where the road was up on one side, and there was single lane traffic controlled by traffic lights for about two hundred yards. We were at the head of the queue, and when the lights changed to green we started driving through, but suddenly a guy on a moped appeared coming in the other direction. Dave had to slam on his brakes, and the other guy fell off his moped. Dave was very angry. He rolled down the window and shouted, 'What the hell are you coming through for? Didn't you see those lights were red?'
"'Yes,' said the other guy, picking up his bike, 'I did see the lights were red, but I chose to disregard them.'
"I just collapsed laughing.
"I sat next to the chairman at the dinner. When the time came for me to speak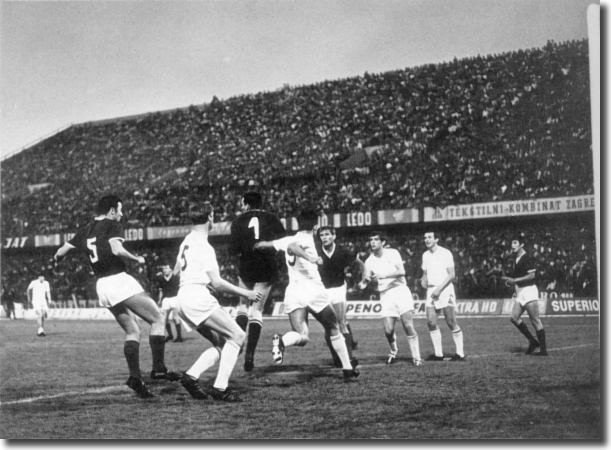 I didn't read the notes, I just started telling them about the guy on the moped. They all seemed to enjoy that, so then I told them some other stories. Apparently I spoke for fifteen minutes or so, and it went down extremely well. No other footballer had ever made a proper speech, apart from the usual thank yous. I got a standing ovation at the end."
Jack went on to make considerable money as an after dinner speaker, particularly after Yorkshire and England fast bowler Fred Trueman advised him to charge decent rates.
Jack recovered from his injury during the summer and returned for the 1967 Inter Cities Fairs Cup Final against Dinamo Zagreb, held over until late summer. Leeds lost 2-0 in the away leg, but fancied their chances in the return at Elland Road. Jack had a goal disallowed and another effort cleared off the line as Leeds could do no better than 0-0 and another runners up finish.
1967/68 was
better, however. Leeds lost another FA Cup Semi Final, this time 1-0 to Everton, but won the League Cup in March when a Terry Cooper long range shot helped them force an unattractive but very satisfying 1-0 win over Arsenal. Jack was closely involved with the winner:
"The Arsenal lads weren't best pleased with me because I'd been up to challenge for the ball on a corner crossed in by Eddie Gray - and they're complaining that I pushed the goalkeeper, which in fact was never the case. All I was doing was making it difficult for the keeper to see and get the ball, like I always did."
Leeds also became the first British side to win the Fairs Cup that year. The Final against Ferencvaros was again held over until the start of the following season and Leeds held out for a 0-0 draw in Hungary after winning 1-0 in the first leg at Elland Road. So after three years of near misses, Leeds had finally come good with two trophies in the space of a few months, but even better was soon to come.
On a personal front, Jack finally broke Ernie Hart's club record of 447 League games when he played in a 1-1 draw at Newcastle in March.
"The 1968/69 season was the year we finally shook off the label of second best. We lost only two League games all season and clinched the title when we drew 0-0 with Liverpool at Anfield on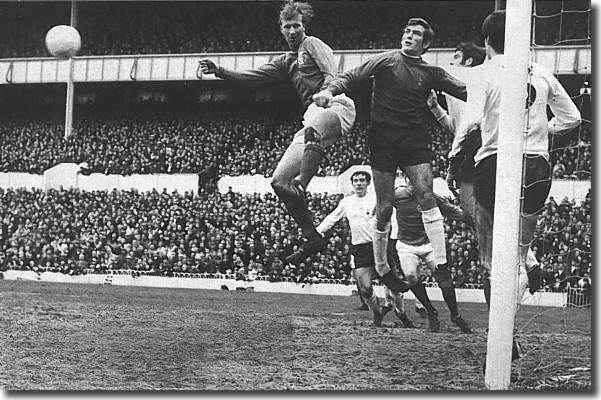 28 April 1969. You've got to remember that Liverpool were THE big team of the time, and they were pressing us hard in the championship even though we had built up a record number of points. The atmosphere in the crowd was incredible, and we were still out on the field enjoying the cheers twenty minutes after the end of the game.
"I have to admit it surprised me that Liverpool fans reacted the way they did that night; I hadn't expected them to be so generous. They called me 'Dirty Big Giraffe' - but it was affectionate, and Anfield became my favourite away ground after that. Shanks came into the dressing room to congratulate us afterwards. 'You're worthy champions,' he said generously. 'If it wasn't going to be us, you're the next best.'"
The following season, 1969/70, was a remarkable one for Leeds. They kicked off by winning the Charity Shield. Jack got the winner in a 2-1 victory over Manchester City, and a month later played his 500th League game for the club in a 2-2 draw at home to Manchester United.
Leeds had started getting some positive press at last as they went for a more progressive and open style of play. They won 10-0 and 6-0 in their first European Cup games against Lyn Oslo of Norway and were making good progress on the three fronts of Europe, the League and the FA Cup and for many months a unique treble looked on.
However, in the end the strain of too many games in too short a period told badly. The season was shortened by about three weeks to allow the England squad to fly out early to get acclimatised to playing at the high altitudes they would face in the World Cup Finals in Mexico. Leeds were in for everything and were rapidly building up a massive backlog of fixtures.
They had three gruelling battles with Manchester United in the FA Cup Semi Finals before a Billy Bremner goal finally won the tie in the midst of a killing spell of eight games in the space of fifteen days.
Leeds had already conceded their League title to Everton, but still had the Cup and Europe to play for. Unfortunately, Celtic came to the first leg of the European Cup Semi Final at Elland Road and stole a 1-0 lead with a scrappy early goal on the same night Everton formally secured the League title.
"Before we played the second leg in Glasgow we had to go to Wembley for the FA Cup Final against our old enemies Chelsea. We should have won, because we dominated the game from start to finish. I headed the first goal from a corner kick, but then Chelsea equalised after Gary Sprake dived over the ball. Then, only seven minutes from the end, Clarkey's shot hit the post and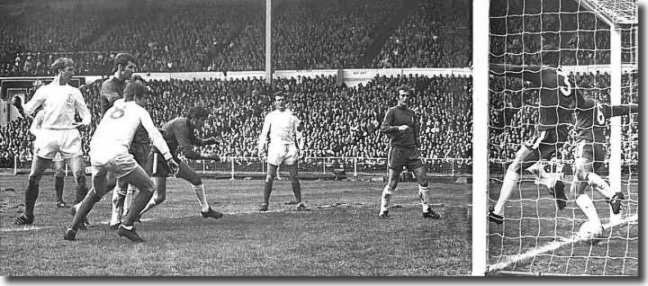 Mick Jones scored on the rebound. We thought we had it won, but then they got a free kick, the ball got played in, and Ian Hutchinson suddenly appeared at the near post to make it 2-2."
Extra time brought no further goals, so, inevitably in that draining season, there was to be a replay, something which had never previously been necessary. Four days later, Leeds were out of the European Cup after a 2-1 defeat in the second leg of the Semi Final against Celtic.
"The replay of the FA Cup Final took place at Old Trafford at the end of April. At Wembley Eddie Gray had run Chopper Harris to bits, but in the first few minutes of the game Chopper gave Eddie a beauty. Eddie stayed on the field, but he was virtually a spectator after that.
"Clarkey went on a brilliant run before setting up Mick Jones to score the opening goal. But twelve minutes before time, Chelsea equalised through a Peter Osgood header. I blame myself for that goal. I'd been waiting on their goal line for a corner kick when one of the Chelsea players whacked me in the thigh with his knee. After the corner was cleared I started to chase him, way over to the right. Then the ball was knocked in long to our box and I started to run back, but I was still hobbling after the whack in the thigh and I couldn't get there in time to stop Peter Osgood heading the goal.
"So we were again in for extra time. Ian Hutchinson did one of his long throw ins, and I remember jumping and heading the bloody thing. Then John Dempsey climbed on top of Terry Cooper to flick the ball on, and somehow it finished at the far post for Dave Webb to nod the ball in. It was the first time they'd been ahead in 224 minutes' play, but that was how it stayed. It seemed written in the stars that we were not going to win the FA Cup that year.
"The disappointment was incredible. I went straight to the dressing room and kicked open the door. I've never been more upset over losing a game, maybe because it was partly my fault. Nobody else came into the dressing room, and I just sat there and sat there for ages, before all of a sudden the lads started to drift in with their losers' medals. It was only then I realised I hadn't collected my own medal. To this day I'm not sure if I ever got it - though I suppose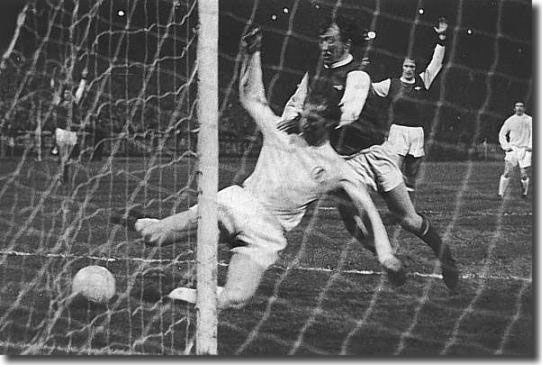 I must have done."
Despite the disappointments, Jack was still in the squad that Sir Alf Ramsey took out to Mexico to defend the World Cup. At 35, though, he was now second choice to Everton captain Brian Labone, but he won his 35th and final cap in the 1-0 group win over Czechoslovakia.
"1970/71 was another disappointing year for Leeds. For a long time we were seven points ahead in the League, but then Arsenal made an unbelievable late charge, winning virtually every one of their last six or seven games 1-0. When we beat them at Elland Road in our last but one game of the season, I thought we had it won. My first shot ricocheted off the post, and I just sort of dived in and forced the ball over the line.
"But Arsenal had the last laugh, scoring a last minute goal against Spurs in their final game of the season to clinch the championship, in the year they won the double. We finished runners up with 64 points, the most ever scored by a team finishing second.
"The Juventus coach was disappointed that his team should have failed to win the trophy despite not losing a game. But people don't appreciate how much away goals count in competitions.
"If you go away and draw 0-0, then it's a good result. But if you go away and draw 1-1, it's a great result. If you can get a couple of goals away from home, that really gives you an advantage, because even if you get beaten 3-2, you only have to win 1-0 back at home and you're through.
"Don made us very aware of the importance of not giving goals away at home. You've got to be patient, you can't go charging off trying to score at the other end. You've got to keep your shape and fill the midfield. The main thing is not to over-commit yourselves, because they'll draw you in and then they'll beat you on the break. If you're patient, the chances will come. The number of times I read in the papers that our 1-0 lead might not be enough! Nobody ever beat us by two clear goals - that was a sort of thing with us. It might not have been popular with the press, but it worked. I don't think there was a better team in Europe than we were between about 1968 and 1972. Nobody fancied playing Leeds - it was very difficult to get a result against us."
1971/72 was a good season for the club and Jack was still as durable as ever. He would be 37 at the end of the season and had long since broken Leeds United's appearance record. Don Revie had signed Roy Ellam from Huddersfield in the close season with the intention of replacing Jack. A couple of years earlier he had brought in John Faulkner from Sutton United as cover, but Jack outlasted both of them and was still first choice No 5 in his enduring partnership with Norman Hunter.
"We had a great run in the League, with some famous victories: 5-1 over both Newcastle and Manchester United, 6-1 over Nottingham Forest,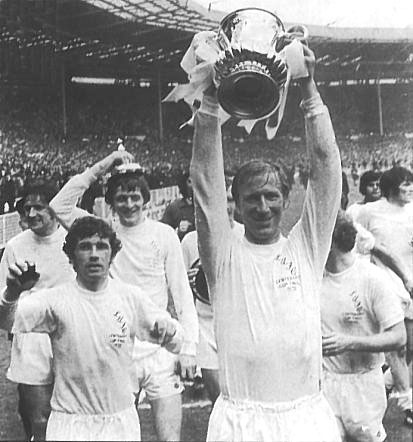 and, most famous of all, 7-0 over Southampton on 4 March. We absolutely murdered them that day. The movement, the pattern - everything seemed to go right. Some of the moves included 24 or 25 passes. Seven of us scored, including me.
"The game was shown on Match of the Day, and people started to look at us in a different way. They started calling us Super Leeds and comparing us to Real Madrid. I reckon that was the game when people took a look at us and finally said, 'Yeah, this is a good team.'"
A week over the Southampton match, Jack played his 600th League game, appropriately getting the only goal of the home game against Coventry.
Leeds got the reward their football that spring deserved when they won the FA Cup at last with a 1-0 victory over Arsenal in the Centenary Cup Final, but they were again chasing the elusive League and Cup Double and celebrations were muted at Wembley, because the crucial last League game of the season was just two days later:
"The Monday after the Cup Final was my 37th birthday - but more important, we had to go to Molineux.
"We'd been in contention all season, and now we needed to draw or win for the title. Our two rivals were Liverpool, who were playing their last game at Arsenal the same evening, and Brian Clough's Derby County, who'd finished their season.
"We couldn't understand why the FA wouldn't let us play the game a few days later. Obviously we'd have liked to celebrate winning the FA Cup after all those attempts, and to make us play only a couple of days later was, I thought, out of order. But we had no friends in the Football Association.
"Anyway, we went to Molineux to play Wolves. They went ahead just before half time, and then in the second half Derek Dougan made it 2-0. Billy Bremner managed to claw one back, but although we pressed them hard, we couldn't get that goal we needed. The final score was 2-1 to Wolves - and with Liverpool failing to beat Arsenal, Derby County became champions. We were runners up again."
Part 1 The early years - Part 2 1966 and all that - Part 4 Football Manager - Part 5 The Irish Saviour