printer friendly version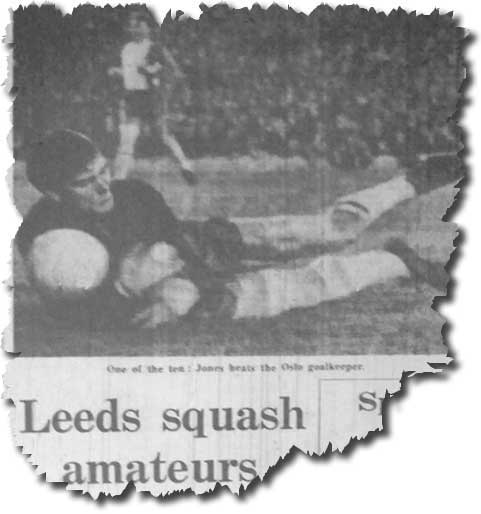 In the early days of his management of Leeds United, manager Don Revie ditched the club's old blue and gold kit for the all white of Real Madrid in a clear statement of admiration for the Spanish giants. His all consuming desire for the European Cup was another example of an urge to mimic the club that monopolised the competition over its first five years. Winning the League title in 1969 gave Leeds the chance to make Revie's dreams a reality.
Their first appearance in the tournament saw Revie's men pitched against the Norwegian champions, the amateurs Lyn Oslo.
Lyn won their domestic championship for the first time in 1964. Seeing the title as a springboard for greater things, the club then signed Bodo's exciting young forward Harald 'Dutte' Berg, a star of the national team. After three years of near misses, Lyn won the Norwegian Cup in 1967 and the following year became the first club to achieve the double in Norway. Berg forged a formidable striking partnership with fellow international Ola Dybwad-Olsen, who top scored with 25 goals in 18 games.
Lyn made good progress in the Cup Winners Cup in 1968/69, beating Altay Izmir of Turkey and Sweden's IFK Norrkoping to set up an exciting quarter final tie with Barcelona. It was expected that Lyn would succumb easily, especially as they had to play both legs at the Nou Camp because of the terrible conditions in Norway that winter. But the amateurs put up a remarkable fight; Berg hit both goals in a 3-2 defeat in the 'home' leg. It was the first time that the Spaniards had conceded two goals at home in over a year. Not satisfied with their efforts, Lyn then took a 2-0 lead in the second match before being pegged back by two late goals in a stirring 2-2 draw. The unashamedly partisan Norwegian commentators accused the referee of being Barca's twelfth man! It was the best performance by a club from Norway in any of the European competitions.
Berg left thereafter, signing professional forms for Den Haag of the Netherlands, and Lyn struggled to find form, sinking to the lower reaches of the League on the way to dismal relegation. They were expected to offer only limited resistance to Leeds. In public, Don Revie was typically cautious after the draw in Geneva, claiming, "We will treat them with great respect, like everybody else," but he was overjoyed. United had not been seeded and could well have been paired with the likes of Ferencvaros, Standard Liege, Real Madrid, Celtic, Benfica or AC Milan.
United went into the game in good heart. A 34-game unbeaten run in the League
had been ended in August by a defeat at pace setters Everton, but that was the only blemish on their record thus far. A 2-1 victory at Sheffield Wednesday at the weekend had left them five points behind the Goodison team with a game in hand.
Just as importantly, new striker Allan Clarke had pepped up United's attack and not just with his individual haul of four goals. United had managed 19 goals in 11 games - the last 10 games of the previous season had yielded just seven strikes. As Phil Brown wrote in the Yorkshire Evening Post, "Clarke has settled into the side very smoothly, and has taken the heavy marking his transfer fee drew like iron filings to a magnet very well. His sharp work in attack has reduced the far too heavy weight of marking that Jones was carrying in the middle of last season and Jones has benefited accordingly."
Clarke's arrival at Elland Road meant that England winger Mike O'Grady enjoyed limited first team opportunities. He had been placed on the transfer list at his own request but was recalled for the home leg against Lyn to make his first start since 13 August, replacing Eddie Gray, who sustained a thigh injury after scoring the winner against Wednesday.
There were no other changes to the line up and Paul Madeley continued as holding midfielder. The utility player was fresh from inclusion in Sir Alf Ramsey's 40-strong preliminary World Cup squad, alongside six club colleagues, all on duty against Lyn: Clarke, Jones, Paul Reaney, Terry Cooper, Jack Charlton and Norman Hunter. It was a wonderful vote of confidence from the England team manager.
Completing the line up were Gary Sprake, Billy Bremner and Johnny Giles.
After all the anticipation, it would have been understandable if United had been apprehensive on their European Cup debut. However, any potential nerves were put to flight after just 35 seconds. In the game's first movement, a perfect through pass from Madeley unerringly bisected the Norwegians' defence. O'Grady, cutting in at pace from the left wing, took the ball on a couple of strides before hammering it left-footed past keeper Svein Olsen. It was reported to be the fastest goal ever scored in the European Cup.
Lyn had set out to contain the Whites with a defensive 6-2-2 formation, but the tactics were rendered instantly redundant by the strike. The point was emphasised by a further two goals by the end of the ninth minute.
With four minutes on the clock Reaney overlapped to send in a glorious cross and Jones headed home powerfully. Jones soon added his second, half-volleying Bremner's cross in off keeper Olsen.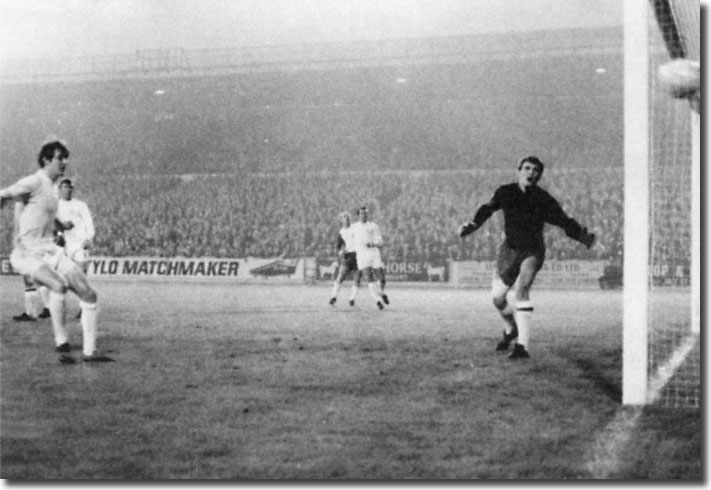 The custodian had only arrived at Elland Road 35 minutes before the game and it looked like the occasion was getting to him, although he did later earn the applause of the crowd, who were now satiated and willing to show their appreciation for the visitors. The United players, too, saw that they had the game in the bag and took their collective foot off the accelerator, though the goals continued to rain in.
In the 19th minute the Norwegians had their first shot at goal when Ola Dybwad-Olsen blasted in a free kick to force Gary Sprake into a decent save, but United responded instantly as Clarke demonstrated his mastery of the goalscoring art. He took on three defenders and beat the lot with a feint and a swerve before powering the ball home left-footed - 4-0. It was a tremendous individual display of skill, demonstrating clearly what United had got for their record £165,000 outlay.
The game now drifted into a period of almost exhibition football - United resisted any temptation to show boat and Lyn's players continued to fight hard, but the gulf in class between the two teams was yawning.
Paul Wilcox in the Guardian: "Leeds United's vast experience of European competition was not needed last night. They could have played their youth team and still have won convincingly ... In a completely one sided contest Giles was the master of the unpredictable dribble and the penetrating pass, and Leeds' great power at half-back, allied to the fact that Lyn Oslo were really just not a match for them, gave the forwards room and time in which to work ... Admittedly the amateurs of Lyn were not a true test, but it was the manner in which Leeds achieved victory that was so gratifying."
There were a couple of first half scares - Charlton headed over his own bar when there seemed little danger and then played a casual pass back that never looked like reaching his goalkeeper. The ball went just wide of the post for a corner. But neither incident gave too much cause for concern and the plain reality was that United could have taken two or three players off and still had enough in the tank to see off their amateur opponents.
Johnny Giles made it 5-0 after 34 minutes. He was in possession 30 yards out and seemed content to hold onto the ball, but then he chose to spring into action and lashed home a fearsome left-footed drive.
Three minutes earlier Clarke had missed from inside the six-yard box, and moments before the break Giles missed a clear opening from nine yards. Those two were rare blemishes in a first half that was almost faultless. As Barry Foster wrote in the Yorkshire Post, "Leeds did not have to pull out their best ... for they were superior in every department ... I felt sorry for the all amateur side as they tried to find the elusive Clarke, stop the powerful Jones and hold the fleet-footed Giles. Their marking was never tight enough."
At half time, inside-forward Dybwad-Olsen was replaced by Hovden after sustaining a leg injury. Dybwad-Olsen, who went on to set a club record with more than 400 appearances for Lyn, had lived up to his reputation as the visitors' best player, but was due to appear for Norway at the weekend and was withdrawn as a precaution with the contest as good as over.
If anyone thought that the break would disrupt United's irresistible rhythm, they were quickly disabused of that particular notion. A couple of minutes after the resumption Leeds were awarded a free kick near the corner flag. Reaney played the ball short to Bremner, who shaped as if to shoot. Instead he crossed the ball and Clarke headed home the sixth goal. It was a clinical finish, making his record for United six goals in 11 games.
Another four minutes and United were at it again. Bremner played a free kick to Giles and the little Irishman slammed the ball past the keeper from fully 30 yards.
At that moment it seemed as if the men in white could have run up any scoreline they wished. The only shock was that ten minutes went by before United struck again.
Mick Jones got hold of the ball 30 yards from goal and stormed into a shot which struck the left hand post before flying on into the net. The goal completed the admirable centre-forward's hat trick. He had often laboured in isolation since he joined United in 1967, but Clarke's presence alongside him now offered the chance to demonstrate exactly how good he was as a finisher. His three goals increased his tally to five in his last seven appearances.
In the 65th minute Bremner took the Leeds total to nine. Again it was a shot from 30 yards that left keeper Olsen helpless.
By now Giles had gone off after a knock on the knee, with Mick Bates replacing him. Either that change or, more likely, a feeling of enough is enough had taken the edge off United's appetite. Their nine goals had matched the total they had achieved in October 1967 against Spora of Luxembourg, so a new club record was in the offing, but they seemed unprepared or unable to twist the knife much more.
The game drifted on with some blunt attempts to get into double figures frustrating home supporters, but in the closing seconds Bremner tried a speculative effort from well outside the area. It found the net after being deflected off a defender - 10-0, and even the demanding Elland Road fans could ask for no more.
It was the fourth time a team had scored 10 in the European Cup, repeating the feat of Manchester United, Ipswich Town and Benfica. The same evening, however, Feyenoord of Holland had gone even better, beating Reyjavik 12-2 in Rotterdam.
Don Revie was thrilled with the result, saying afterwards, "They went about things the right way and kept on trying to entertain the crowd which I thought was very good."
His opposite number, Jan Myrhe, oozed admiration for his hosts: "Leeds were fantastic. Their speed was the telling factor. We expected it to be tough but not so tough and I think we learned a lot tonight." He was thinking fondly of the prospective receipts from the home leg when he added, "Our crowd particularly wants to see Allan Clarke and Jack Charlton of all the Leeds stars."
Revie responded, "I'll send as strong a team as we have. He can rest assured of that. If fit, Clarke and Charlton will play."
Revie couldn't live up to his promise and both Charlton and Clarke missed the second leg through injury, along with Giles and Hunter. Leeds still won 6-0 to set a new record aggregate score for an English club in Europe, finishing only a couple short of Benfica's two leg record of 18.
After all the years of safety first football, this was rich entertainment indeed and it was clear that a new United were bursting from their shell, and not before time!
For Lyn the future was less exciting - they were relegated that autumn and languished in the lower leagues for twenty years with only occasional tastes of top flight football to break the gloom. But they would never remember the night they came up against a superb English team at the top of its form.