Part 2 Learning the ropes (1927-51) - Part 3 Centre stage with City (1951-56) - Part 4 Shuffling off stage (1956-61) - Part 5 On the march with Leeds United (1961-67) - Part 6 The agony and the ecstasy (1967-74) - Part 7 Inn-gerland! (1974-77) - Part 8 Disgrace and despair (1977-89)
But for the remarkable talents of Don Revie, it's odds on that Leeds United would have forever remained a mediocre provincial team, meaning little to anyone, even in its West Yorkshire homeland, where cricket and rugby league were always more important. In the 1950's, Leeds' ranks included a genuine superstar in the phenomenal John Charles, but he was an enormous fish in a tepid little puddle and could make the club nothing more than the stuff of very minor headlines.
Don Revie brought Leeds United to public consciousness in a very unique way. The reputation they earned was often dubious, but their profile was undoubtedly extremely high.
Away from Elland Road, the lasting memory of Revie is the distasteful and infamous manner of his departure from the job of England manager, with one famous detractor demanding that he should be castrated. Don Revie excited passionate emotions in football people, and in many corners of the country his name is reviled.
However, Revie's legacy at Elland Road is indisputable - the former England inside-forward
dragged a side on the brink of Third Division obscurity up by its bootstraps to become the most powerful football team in the country. Round Elland Road way, Don Revie is remembered as a peerless Messiah, and there are few who will hear a word against him.
In an era when British football could boast some of its most famous and charismatic managerial characters - Busby, Shankly, Clough, Allison, Mercer, Ramsey, Stein, Nicholson - one manager and his team stood out from the rest, despite never enjoying the success their consistency and supremacy merited or the genuine affection Revie coveted.
Don Revie enjoyed memorable, yet ultimately disappointing, careers as footballer and manager. He earned respect and success, but any praise was grudgingly given.
As a player, Revie was one of the most intelligent and gifted of post war inside-forwards, never particularly robust or powerful, but incisive and accurate, with a vision which allowed him to control the flow of games. He earned the respect of good football judges and graced the English game in the 1950's with his shrewd positional play, touch and eye for an opening.
He was one in a lengthy tradition of ball playing schemers who graced the British game before hard running, defensive midfielders overtook them in the eyes of managers for whom avoiding defeat was the priority. The likes of Charlie Buchan, Clem Stephenson, Alex James, David Jack (curiously all stars under former Leeds City boss Herbert Chapman), Raich Carter, Johnny Haynes and Len Shackleton were the most treasured of footballers, men who could transform a game with one sure-footed intervention.
Revie himself was one of the most pragmatic of the new breed of manager, but he still chose to build his later Leeds sides around the genius of diminutive playmakers Billy Bremner and Johnny Giles after losing the aggressive bite of Bobby Collins.
Revie would have been rendered an irrelevance if he had come up against Collins on a football field, for he was never the combative type. But he had a deftness of touch and clarity of vision, and, when deployed in a team sympathetic to his qualities, he could be a match winner.
He had a fascination from his earliest days with tactics and revolutionary thinking and was as delighted as any Englishman could permit himself to be when the innovation of the Hungarian national team in the early Fifties ripped apart an outdated and outwitted England formation.
He benefited as a player from studying role models and learned at the feet of willing mentors after developing skills and techniques in the back streets of his native North East with a ball made from rags, as the romantics would have you believe.
He caught the eye with stylish displays for Leicester City and Hull City, before blossoming with Manchester City and breaking through into the full England side in 1954 after years as a nearly man.
It was a tragedy that Revie won only six England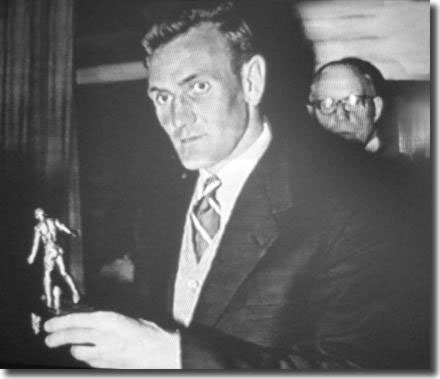 caps and enjoyed such a limited time at the very top of the game. However, he won the Footballer of the Year award in 1955, when he took Manchester City to the verge of the Twentieth Century's first League and Cup double, and had the most celebrated game of his life a year later when he was recalled to the City side that won the FA Cup. He enjoyed a pivotal role as the Revie Plan brought home the bacon.
Revie lost his way as a footballer after that triumph, winning his sixth and final England cap in October 1956 and shuffling sideways offstage with Sunderland and then humble Leeds United before finally retiring from playing in 1963. For a time he had combined playing with managing, but his final onfield contribution was in March 1962 as Leeds battled to avoid relegation to the Third Division.
Opinion is divided about Don Revie the player, with many commenting on a surprising inflexibility, and a need for the rest of the team to play his way. Sunderland inside-right Charlie Fleming played alongside Revie in his latter days and is a critic: "The trouble is, there was only one way Don could play but there were ten other players on the field. We had to start off trying to get him into the game. He did a lot of things foreign to us and we could have frozen him out ... For instance, Don would centre the ball and then disappear. He was always caught behind. I found that Don's system was alright in Manchester but everybody knew about it when he came to Sunderland, and how to play against it. Don couldn't change himself."
Others from his Roker days were more generous. Half back George Aitken: "He was a great player ... he was forever trying to make the rest of the team play. Don took the game very seriously ... and he would try to help people and give a bit of advice." Billy Simmons, life-long Sunderland supporter and club historian, was similarly positive: "He played plain, clean football and could find holes in defences. The reason why he was not a success at Roker was that the players could not keep up with his football brain."
Raich Carter signed Revie for Hull City as his replacement, but was unimpressed by his contributions at the Yorkshire club: "I think he let me down. I was expecting too much too soon. Revie didn't play as well as I thought he would ... I always thought he was an inside-forward but he didn't have the punch an inside-forward should." But the Silver Fox acknowledged: "You have late developers. When he left here, he went to Manchester City where he blossomed,"
admitting that it was only Revie's lack of aggression that let him down.
Revie won new admirers after his move to Elland Road. His favourite son at the club, Billy Bremner: "What impressed me more than anything else was his vision on a football park ... it was tremendous. And after he had struck the ball, he would pose, as if for a photograph."
Jack Charlton is direct in his summing up: "Good striker of the ball, good passer, was Don - though he couldn't tackle to save his life."
Renowned as he was as a player, however, it was when Don Revie hung up his boots and concentrated on management that he achieved his greatest fame - and notoriety.
Given his break in March 1961 by a Leeds United board in desperate straits, he first stabilised a drifting club, then fashioned a revolution that made his team among the most feared and powerful in Europe. Their early success was built on niggling gamesmanship and hard tackling ferocity, but they later perfected a style of flowing football which carried all before it in the early 1970's, culminating in a memorable League title and the prize of the England manager's job.
The reputation that 'dirty Leeds' won in Revie's first four or five years at Elland Road stayed with the man for years, tarnishing his name. The more venomous of his critics seized on his insecurity and pursuit of material wealth to characterise him as 'Don Readies' when he jumped ship before the Football Association could knife him in the back.
Gossip and innuendo followed Revie throughout his managerial career, and he despaired that his achievements in club management were never celebrated as they should have been. But for Leeds United followers the memory of Don Revie will always be accorded the greatest respect.
He single-handedly changed the standing of the football club and built what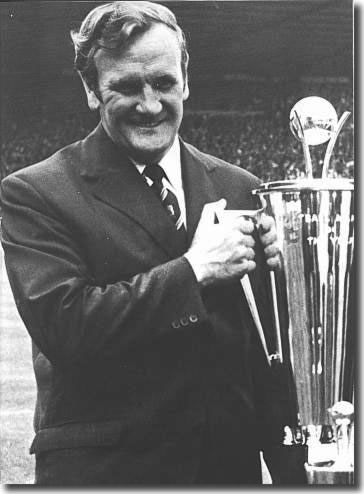 could have been a lasting dynasty. Liverpool were in a similar state, following the retirement of Revie's old friend Bill Shankly in 1974, but the Leeds directors did not follow the Anfield club's example of continuity and stability. Liverpool appointed Shanks' right hand man Bob Paisley and went on to even greater success. Leeds ignored Revie's recommendation of Johnny Giles as his successor, and instead opted controversially for Brian Clough, one of the club's fiercest critics. The ripples from that appointment and subsequent sacking struck at the heart of the club's togetherness.
It did not take long for all that Revie had built to erode and a lengthy slump ended with Leeds United consigned to the Second Division, just seven years after they had reached the European Cup final. That demise cut Revie to the quick, but only added lustre to the memory of his achievements at Elland Road.
He was the soundest of man managers, although his homespun philosophies and homilies worked less well with proven international players when he took the England job. He missed the family atmosphere he had built up at Leeds, and suffered from not being seen as omnipotent by his new charges.
Mike Channon played more games for England under Revie's management than anybody else: "He wanted the England team to be his boys, like at Leeds. He would go, 'Come on, lads, we're having bowls tonight,' on a Friday night. But we were England! I think he was unfortunate to get it wrong. And I think once he fell out with someone, he couldn't forgive. Of course we used to sneak out. I used to rebel against being told what do. You treat people like children and they behave like them."
In contrast, most of the players who grew up with Revie at Leeds were unswerving in their devotion to the man. They recognised his faults, but acknowledged that he was the biggest influence on their careers.
Eddie Gray: "He had tremendous physical presence and personality. He told my father, 'I know you don't know much about Leeds United now, but in the not too distant future, this club is going to be one of the best in Britain.' He was not the only manager who sang that type of tune, but his enthusiasm and drive were such that it was difficult to dismiss his claims. His persuasiveness was underlined even more forcibly by our belief in his assertion that Leeds could become the English equivalent of Real Madrid.
"While he was not as volatile as Sir Alex Ferguson, Don had a similarly intimidating aura. Norman Hunter, recalling the first and only time he was late for training, says, 'All Don did was to walk a couple of yards towards me and look at his watch - that really was all he did, and all he needed to do to make me feel bad about it.'
"He had a very strong character and when he was angry about something, we were liable to be quite sensitive about doing or saying anything which might make the situation worse. He was a big man with big hands. I remember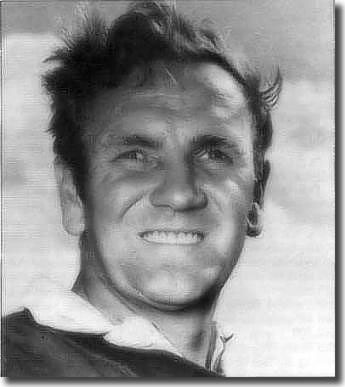 the hands because when he brought his fist down on a table - something that he often did when upset - the whole room seemed to reverberate. If we had not played well, the other warning signal for us was his habit of storming into the dressing room after the match, briefly combing his hair in the mirror and then going out again without saying a word. At times like that, the dressing room suddenly became quiet enough for you to hear a pin drop.
"In team talks, when addressing players who had displeased him, he had a habit of muttering, 'I'm going to need to get the chequebook out' - meaning, of course, that if they could not do what he wanted, he would buy players who could. Despite the number of times he said it, occasionally in circumstances that made the remark seem farcical, it never totally lost its effect.
"He wasn't just a manager to me. I went to Leeds United as a 15-year-old and more or less grew up with him. He brought me along in life and was more like a father than a manager."
Jack Charlton: "Don Revie made Leeds United into one of the most professionally run clubs in Europe. If I had to sum up Don's qualities as a manager in one phrase, it would be attention to detail. He compiled elaborate dossiers on our opponents, and for an hour or so on the morning before a match he'd analyse every one of their players - their weaknesses, their strengths, whether they were quick or slow. Sometimes it got a bit hard to bear. If someone started nodding off, he'd shout, 'Pay attention! I've spent fortunes sending people all over Europe to watch teams and bring back reports, so you bloody listen!'"
Trevor Cherry: "He treated me like a son. I owe a great deal of what I've got now and what I have achieved to Don."
Joe Jordan: "He is the best manager I have been privileged to work under."
Billy Bremner: "He was never a tough disciplinarian despite his outward image. If you stepped out of line you knew you were for the chopping block, but he never had to rant and rave. He commanded respect because he gave respect and treated his players as men. Though we were allowed to dress in casual clothes for travelling away, we always had to remember that we were representing the club and had to be presentable. We were not allowed to have very long hair. We didn't have to look like convicts but we were expected to look neat.
"He was always very superstitious and would often wear the same suit game after game while we were winning. His favourite was a blue one. I was a bit superstitious for a while, like most players. I used to do things like borrow Norman Hunter's comb, putting my pants on last and things like that. I was cured when we were narrowly pipped for three major trophies in one season. I realised then that it was not worth all the trouble - what will be will be.
"Superstitious or not, Don Revie was nobody's fool. He made Leeds United great again and after he had left things began to decline. When he went to the England job he did not have a great success as he had done at Elland Road - mostly I think because he did not have the daily contact with players and therefore could not develop that family spirit which worked so well at Leeds. For my money, Don Revie was one of the greatest managers of all time and he certainly played a key part in my career. When he was awarded the OBE in January 1970, nobody was more pleased than me. It was an honour he thoroughly deserved."
Peter Lorimer: "Every season there were new rumours about him leaving Leeds to join this club or that, and it has always been my feeling that this was just to put extra pressure on Leeds to increase his wage packet. Don always said that he was going to retire in his early fifties and enjoy life, and this of course required the amassing of money. He also knew how to use the press. If he thought it would do him any good he would not be averse to stories that he was wanted elsewhere, thereby raising his stock at Leeds United. Conversely, if anybody wrote in derogatory terms about his team he would tell the paper responsible not to bother sending its representative to the next game because he would not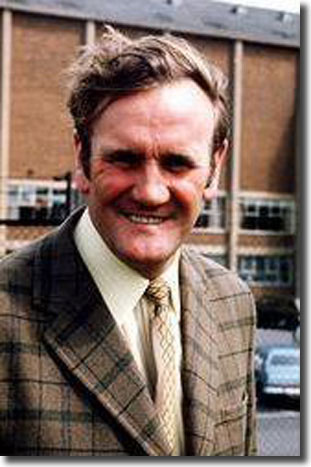 be allowed in. And he meant it.
"He was a manoeuvrer, manipulator and planner. He was also the worst loser on the planet. I have never known a man take defeat so badly, so personally, and this was a weakness of his."
Referees often fell foul of Revie and pressure from his team. Andrew Mourant in his biography of Revie: "Clive Thomas has said that with its relentless harassment and contesting of decisions on the field, Don Revie's Leeds United gave him more trouble than the other First Division clubs put together. Yet Jack Taylor says: 'Revie was personally charming. I have all the time in the world for him. He was never anything other than honest and frank.'"
Some other personalities in the game openly despised Revie, with possibly the deepest enmity being expressed by Bob Stokoe, who revelled in the FA Cup triumph of his humble Sunderland side over Revie's Leeds in 1973. He always maintained that Revie tried to bribe his Bury team before a relegation tussle in 1962, and is outspoken in his criticism: "It has always riled me when I see the career Revie has had. At the back of my mind, the bribe is always there. He was always an evil man to me."
Stokoe's bitterness was more extreme than that of anyone else, although Revie's abandonment of the England job provoked intense personal attacks and hysterical over reactions. For a long time the episode threatened to distort the memory of the good work Revie had done over the years. But time is a great healer, and many of the wounds have scabbed over if they have not completely healed.
The most sustained monuments to the man are his Revie Plan-inspired FA Cup triumph with Manchester City and the memory of a Leeds United side that dominated the English game in the Sixties and Seventies.
Under his management, Leeds won all three major domestic honours and were one of the most powerful teams in Europe. Between 1965 and 1974 they never finished out of the top four in Division One and were the most feared side in the country. The greatest testament to his influence on the club was the fact that, prior to his reign at Elland Road, the only major trophy they had won was the Second Division title. In later years, Howard Wilkinson inspired a revival but it came nowhere near emulating the achievements of Revie.
But there will always remain the depressing and lasting impression of Leeds United as eternal chokers, consistently blowing their chances in disastrous end of season collapses. They were runners up in the championship on five separate occasions, and an additional thirteen points at the right time would have brought them five titles to add to the two they actually won under Revie. They were beaten finalists in Cup competitions on five occasions and fell at the semi-final hurdle too many times to contemplate.
Despite all the heartbreaks and setbacks, however, Don Revie and Leeds United
always contrived to come back, stronger and more determined at the start of the following season, when they would inevitably emerge once more as the team to beat.
Johnny Giles: "People didn't give us enough credit for picking it up. After what we had been through, a lot of clubs, a lot of players would have collapsed. But there were never any public recriminations. Everyone kept quiet and we said we'd start again next year. We knew we were the best team in the country."
Syd Owen: "We would just tell the players that they had done themselves justice."
Billy Bremner notes that some of the never-say-die attitude which was exhibited by his colleagues stemmed from Revie's aptitude for man-management: "When you'd come to the end of the season, you'd get options on your contract. I would go in and ask for a rise. Then just as I'd walk in, he'd say, 'Wee man, I just want a word with you. I'm going to increase your money', and then tell you the amount. I thought: 'I wasn't going to ask for that much ... that's brilliant.' You'd walk out of his office thinking 'I've done it' but then a bit later, you'd suddenly think: 'He's done you. He's got you under contract again, but you think he's a good guy because he's upped your wages!' "
There are many who theorise that it was Revie's caution, preoccupation with opponents and all round fatalism that were behind United's propensity for bottling it. The dossiers, the gamesmanship, the paranoia, the defensiveness mindset … all were indicators of the uptight nature of the man and his players. There will always be a lingering memory of unfulfilled potential and the most glorious of failures. The story of Don Revie and Leeds United is the most dramatic of them all.
Don Revie brought a weird brew of professionalism, cynicism and (eventually) style to the English game. He constructed a side from the bottom up, attracting and retaining some of the country's best teenage talent, and then honing them as the most resilient and diamond hard of competitors. Consistency and the pursuit of success on all fronts were his watchwords, and it was the very breadth of his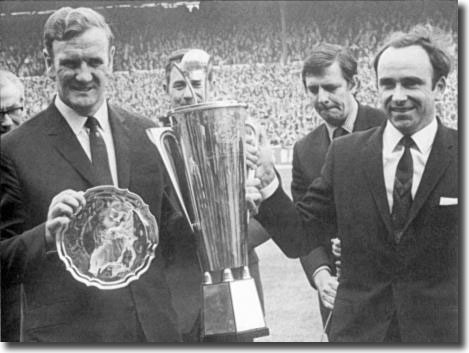 ambition and perfectionism that lay behind many of United's greatest disappointments.
The eternal fixture backlogs and the intransigence of Revie's nemesis, Football League secretary Alan Hardaker, in fixing the dates of League games, continually dulled United's challenge just as events reached their climax. The tragedy of 1970 was the most extreme of examples, and it is a travesty of justice that such a wonderful team came second so often.
If Leeds had not been in at the death of virtually every competition that they entered, they would doubtlessly have had more silverware to show for their considerable efforts in the Sixties and Seventies.
But it would have been nowhere near as nail-biting and exciting…
Part 2 Learning the ropes (1927-51) - Part 3 Centre stage with City (1951-56) - Part 4 Shuffling off stage (1956-61) - Part 5 On the march with Leeds United (1961-67) - Part 6 The agony and the ecstasy (1967-74) - Part 7 Inn-gerland! (1974-77) - Part 8 Disgrace and despair (1977-89)