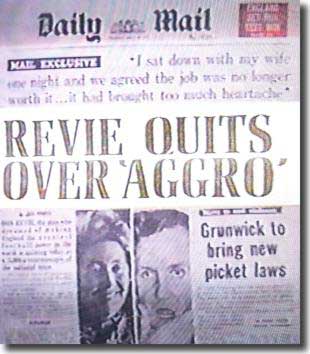 Part 1 An Appreciation - Part 2 Learning the ropes (1927-51) - Part 3 Centre stage with City (1951-56) - Part 4 Shuffling off stage (1956-61) - Part 5 On the march with Leeds United (1961-67) - Part 6 The agony and the ecstasy (1967-74) - Part 7 Inn-gerland! (1974-77)
Ever since England's defeat in a vital World Cup qualifying game against Italy in Rome in November 1976, there had been the air of a man on borrowed time about manager Don Revie. He was convinced that the FA were building up to his dismissal, and the clever money in the newspapers was on the axe falling after the Wembley return against the Italians completed the group stages.
The paranoia which had been building up in Revie's troubled mind finally got the better of him, and he decided to deny his masters the satisfaction of sacking him, and determined the timing and manner of his own departure after securing a lucrative role as supremo of football in the United Arab Emirates.
The way he chose to break the story led to one of the most histrionic and self righteous newspaper campaigns of all time. Revie sold the story of his departure to the Daily Mail. On 11 July 1977, the paper scooped Fleet Street with a front-page story in which Revie poured out his heart:
"I sat down with Elsie one night and we agreed that the job was no longer worth the aggravation. It was bringing too much heartache to those nearest to us. Nearly everyone in the country seems to want me out. So I am giving them what they want. I know people will accuse me of running away and it does sicken me that I cannot finish the job by taking England to the World Cup finals in Argentina next year. But the situation has become impossible."
The FA were furious, especially as they did not receive Revie's letter of resignation until later that morning. The manner of his leaving rankled with the pompous patriots of Fleet Street who responded to public antipathy by hastening Revie's fall from grace, branding him a traitor. Some of the articles written were hysterical in the extreme and old enemy Bob Stoke said bluntly, "He should have been castrated for the way he left England," while Alan Hardaker's voice was thick with biting sarcasm as he spitefully snapped, "Don Revie's decision doesn't surprise me in the slightest. Now I can only hope he can quickly learn to call out bingo numbers in Arabic."
Undoubtedly, Revie's handling of events was clumsy and served to give ammunition for his critics' most bile-ridden, venomous outpourings. Even the more considered comments pointed out the flaws.
Johnny Giles: "It's obvious he shouldn't have done it the way he did. He didn't do himself justice. He left himself open to savage criticism by telling the Daily Mail first. There was no defence for it. He ruined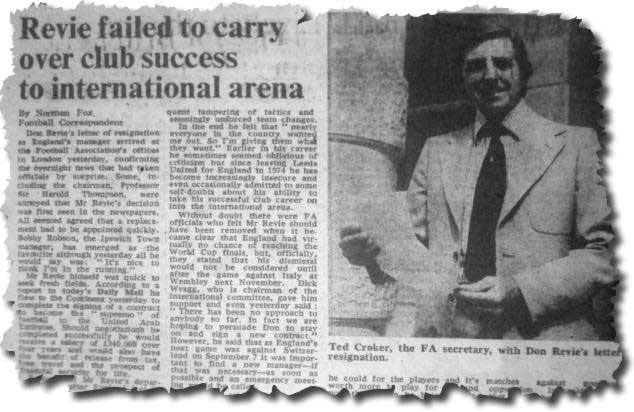 a lot of good work and then became a baddy... which he wasn't. But who isn't greedy? The people who write the stories in the tabloid newspapers might be the greediest in the world."
Gerald Sinstadt gave a cool headed and objective assessment of matters in The Times on 15 July:
"Once again the England football team is managerless. Don Revie … has resigned without waiting for the virtually inevitable failure to qualify for the 1978 finals. His task, already difficult in a period when the general standard was mediocre, had been made harder by injury to several players who might have raised the level. To that extent Mr Revie was entitled to sympathy. Now, with the timing and the manner of his departure, that sympathy and more will vanish.
"It is nevertheless remarkable that the conduct of the outgoing manager has so far attracted more comment than the qualifications of those who might take his place. For this Mr Revie himself is largely to blame. The first announcement - to his employers, the Football Association, as well as to the public at large - came in the Daily Mail. He was leaving, Mr Revie was reported to have said, to protect his family from the criticism his job increasingly attracted: 'It was bringing too much heartache.'
"Twenty-four hours later, the Daily Mail was able to reveal that the heartache had been eased by an offer to run football in the United Arab Emirates for the next four years with a remuneration of £340,000 tax-free. It was also disclosed that when Mr Revie abandoned his team for the first match of the recent tour of South America in order to watch Finland play Italy in England's World Cup qualifying group, he also took the opportunity to visit Dubai.
"Although some of the response to these developments may be attributed to Fleet Street pique, the issues lie deeper than professional envy in the media. Whether the Daily Mail outsmarted its rivals as a result of the perspicacity of its football correspondent or the generosity of its accountants can be only a matter of conjecture. Whichever the explanation, either was certain to expose Mr Revie to more of the criticism he has apparently found so burdensome.
"As manager of England, Mr Revie involved - and, indeed, sought to involve - the whole nation in his public responsibilities of the past three years. He might therefore have felt obliged to end that involvement with a more generously open announcement, especially in the light of his stated resentment of the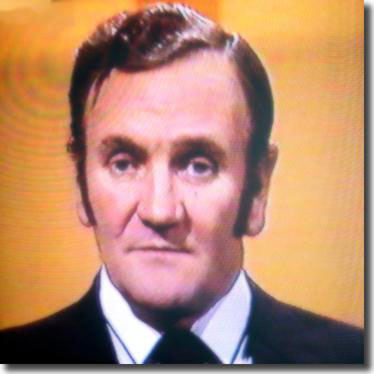 fact that 'everyone seems to have believed that I've just been feathering my own nest.'
"The timing of the resignation is another matter. Those who have been forecasting England's certain failure to qualify for a place in Argentina next year can hardly claim that Revie would have enhanced the prospects by remaining in office. The sequel to England's matches against Luxembourg (October 12) and Italy (November 16) was expected to be a clamour for Mr Revie's removal. So what harm has come from his anticipation of the demand?
"In Mr Revie's defence it could be said that his position at the Football Association was not, in any case, as secure as it should have been. Although he undeniably had his supporters at Lancaster Gate, he cannot have been unaware of grapevine mutterings last season that unofficial soundings were being made about his possible successor.
"Perhaps it is worth restating the basic facts of the matter. Mr Revie was England's manager for three years and one week. In that time 29 full international matches were played. Fourteen were won, eight drawn and seven lost. More than 50 players were given the chance to prove themselves. This was interpreted as indecision rather than a display of fair treatment, but in reality reflected the paucity of really outstanding individuals.
"Failure in the European Championship, diminishing hopes in the World Cup, and finally humiliation in the home international championship provoked mounting disenchantment among critics, paid and unpaid. At that juncture came the offer of a job which would guarantee in four years security for life. Which of us can say that, in that position, we would have made a different decision? Mr Revie's weakness, surprisingly, in a man who has worked hard at public relations since he became England's manager, was to make his announcement in a manner that was undignified and ungrateful.
"Team games were nurtured in Britain a century ago as a visible expression of a code of ethics which, roughly speaking, governed the attitudes of society at large. Demonstrably, many of those attitudes have changed. We may deplore the transformation but it is naïve to suppose that sport can indefinitely preserve old standards in isolation.
"Nonetheless, there are qualities which should not lightly be abandoned. It is possible to sympathise with Mr Revie for finding himself weighing in the scales an individual's right to better his own lot against the obligations of one who has taken on the role of keeper of a nation's dreams. Equally, it is impossible to escape the irony of the man who encouraged crowds to sing Land of Hope and Glory turning to seek his desserts in the desert."
Revie had spoken of the intolerable pressures placed upon him as England manager, but they were as nothing compared to what followed in the wake of his departure.
The FA charged him with bringing the game into disrepute. Revie refused to attend the hearing in which he was suspended indefinitely from any involvement in FA-controlled football until he appeared to
face their complaints. It was 18 December 1978 before Revie would agree to meet.
The eventual hearing commenced with two objections from the accused. Firstly, his counsel argued that the FA had no jurisdiction over their client and, secondly, they objected to the presiding presence of Sir Harold Thompson, whose post as FA chairman destroyed his impartiality. Both these objections were summarily brushed aside and Don Revie was banned from English football for ten years.
The severity of the judgement prompted Revie to take the case to the High Court a year later. Revie made a claim for damages and demanded that the court declare his ban illegal. The crux of the case hinged upon the hostility of Sir Harold Thompson, whom Revie's barrister described as 'prosecutor, witness, judge and jury'. The judge listened to a lengthy series of complaints against Thompson, none of which impressed him. He concluded: "Mr Revie is a very prickly man and I think he has been brooding on imagined wrongs". Nevertheless, Mr Justice Cantley quashed the ten-year ban, although his summing up was scathing:
"Mr Revie was the English team manager. He held the highest post of its kind in English professional football and he published and presented to the public a sensational and notorious example of disloyalty, breach of duty, discourtesy and selfishness. His conduct brought English professional football, at a high level, into disrepute." The FA was ordered to pay one third of Revie's costs plus the entirety of their own. Ted Croker estimated that their total losses were in the region of £141,000.
Lord Harewood: "I think it was an agony for him and the elements of character assassination on the part of the defending counsel grilling him were very unattractive. The summing-up of the judge was one of the craziest things I have ever read. I think that judge was extremely ill-versed in human behaviour … he was an ass. If he really thought that Sir Harold Thompson had behaved admirably and Don hadn't, then he is a very, very poor judge of character... and of evidence. He plainly disbelieved every word I said but I don't give a bugger what he thought."
Ted Croker: "I didn't like the way Cantley handled it at all. I thought his summing-up was very wrong, his assessment of the various characters totally wrong... he praised Sir Harold Thompson to the hilt as being an honourable man. I didn't think it was fair and he should not have worried so much about the personalities."
Looking back at the sorry episode, it is difficult to avoid the conclusion that Revie was simply myopic and self-destructive. He clearly underestimated the depth of ill-feeling provoked by his abrupt desertion and as a result suffered terrible damage to his reputation. Ironically, it was all so unnecessary. His detractors maintained that greed played the major part in hastening his departure, but the actual timing was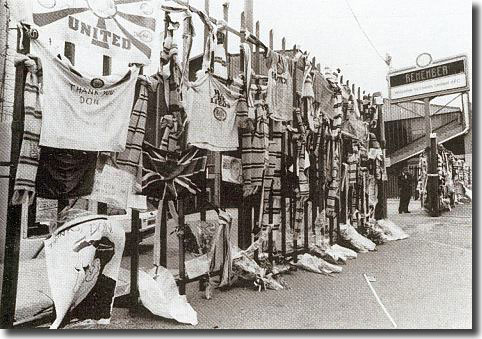 not particularly clever in financial terms. If he had stayed with England for those vital last months he might even have won everything - the Arab money, compensation from the FA and a relatively quiet exit.
In the end Revie served out three years of the four that the United Arab Emirates had signed him for, with his new bosses terminating his contract in May 1980 by mutual agreement, on the pretext that an Arabic-speaking coach was required. Elsie had never settled in the Middle East, but Revie enjoyed considerable success, noting, "We lost only one of our last nine games at national level. I am leaving a squad of good young players and am very happy about the whole business."
He almost immediately became manager of the UAE First Division team Al Nasr, where he remained for a while, recruiting former Leeds player Eric Smith as assistant. He returned for a short time to a consultancy role at Elland Road, before another brief stay in the Middle East, managing Egypt's Al-Al FC. He came back to the UK again on a permanent basis in 1984, seeking to land the post of QPR boss, and saying: "I never thought I'd have the chance to get back into the English game but I have discovered I have missed the involvement. I've been away seven years and don't know everything about First Division players. But I'm still able to get on to the training pitch and after 40 years, I feel I have something to offer the game."
However, Revie fell out with Rangers chairman Jim Gregory over the package, prompting the QPR supremo to say: "The terms he asked for then were not those he was seeking when I met him. In view of his increased demands, I have unfortunately come to the conclusion that I no longer wish Mr Revie to be the new manager of Queen's Park Rangers."
Revie eventually ended up working part time for Total Sport, the sports booking company run by his son Duncan, before retiring with Elsie to Scotland.
In May 1987 specialists diagnosed Revie as suffering with the incurable motor neurone disease, which causes gradual muscle wastage. Faced with the possibility of imminent death, Revie was admirably defiant: "I aim to do all I can to raise as much as I can for research into the disease. It's not all doom and gloom". That same indomitable spirit was conveyed in a message from Billy Bremner who urged his gaffer to keep fighting, "just like you told the players to in our great days together".
There was a final reunion with the players he had loved so much from his time at Elland Road. In May 1988, Leeds United arranged a benefit match in his honour, with the money being split between research into motor neurone disease and the Leeds Children in Need campaign. For many, that return visit to Elland Road was the first occasion in years that they had encountered their former boss, who was now confined to a wheelchair. "It was cruel for someone associated with the physical side of life," says Joe Jordan. Johnny Giles recalls: "He was bad... he couldn't move his arms... but he didn't want to talk about it." For Billy Bremner, it was a poignant occasion. "He was crying a bit that night and reminiscing about us. He loved reminiscing. I saw him in the early stages of his illness and he was reminiscing about his Manchester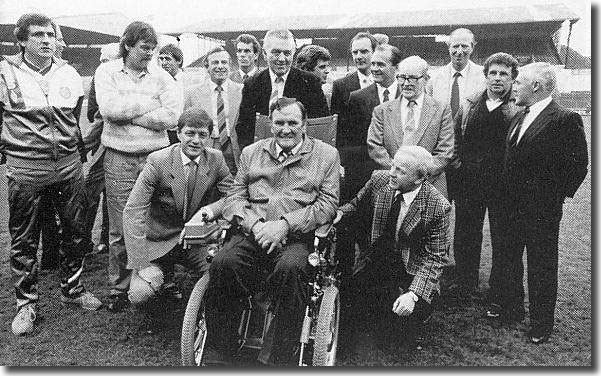 City days." Lord Harewood recalls: "It was very moving and Don was in good form although totally incapacitated and blown-up by steroids or whatever they were giving him. I spoke quite a lot to him although we were talking superficialities. Don didn't even stay for the game. He couldn't take the strain... there was too little resilience left."
On 26 May 1989 Don Revie finally lost his battle against the disease and died in Murrayfield Private Hospital in Edinburgh. When the news broke, the gates of Elland Road were soon bedecked with scarves and posters in tribute to the man who had given Leeds United all the success it had ever known. Four days after his death, Revie's funeral took place at the Warriston Crematorium in Edinburgh, an occasion which reunited not only former Leeds players but other admirers, among them Lawrie McMenemy, whose managerial career Revie had encouraged, and Kevin Keegan.
Revie's funeral was conspicuous for the absence of soccer officialdom. Even the once acerbic press deplored the 'FA's final snub'. A final poignant comment from Kevin Keegan begged for a long overdue reassessment of Revie's contribution to football:
"It saddens me that the public at large had, and still have, the wrong impression of him. He was kind, generous and caring. When he left the England job, he did the right thing for his family but did it wrongly. He knew it and was big enough to admit it. He'd have been as successful as Alf Ramsey with England if the players had been good enough. We weren't."
In contrast, however, Don Revie was exceptionally good. He was one of the greatest managers who ever lived, and the architect of a remarkable if notorious revolution that saw a provincial club emerge from the depths of the Second Division to become one of the premier outfits in Europe. The tale of the man and his club is a dramatic if tragic one, and one which will never be forgotten.
Part 1 An Appreciation - Part 2 Learning the ropes (1927-51) - Part 3 Centre stage with City (1951-56) - Part 4 Shuffling off stage (1956-61) - Part 5 On the march with Leeds United (1961-67) - Part 6 The agony and the ecstasy (1967-74) - Part 7 Inn-gerland! (1974-77)