Part 1 An Appreciation - Part 2 Learning the ropes (1927-51) - Part 3 Centre stage with City (1951-56) - Part 4 Shuffling off stage (1956-61) - Part 5 On the march with Leeds United (1961-67) - Part 7 Inn-gerland! (1974-77) - Part 8 Disgrace and despair (1977-89)
Following Don Revie's appointment as Leeds United manager in March 1961, he took the club from the verge of the Third Division to a place among the game's elite. Between 1964, when they won the Second Division championship, and 1967, they had finished League runners-up twice, been beaten finalists in the FA Cup and Fairs Cup, and reached two other semi-finals.
They were unquestionably one of the most feared sides in the country, for both their football and their confrontational approach, but they seemed cursed when it came to collecting any silverware. The manager had always been superstitious and a fatalist, but the way that luck constantly worked against his team made him even more eccentric and uptight.
Andrew Mourant: "Revie's waking hours were riddled with phobias and rituals; taking the same route to his dug out before a match, a fear of ornamental elephants, a readiness to believe that a gypsy curse on Elland Road was preventing his side winning, even a distaste for birds on pictures or as motifs.
"Margaret Veitch's husband Peter remembers a visit Revie made to their home in Pudsey shortly after they had done some decorating. 'We wanted to put some pictures up in the bedroom. The only ones I could get which were small were birds. He wouldn't go in the bedroom. He said: "What are they doing there... you don't have birds in your house. You don't have birds anywhere." That's the reason the peacock was eventually taken off the club badge. He wouldn't have birds.'
"Two years after the Liverpool final, Revie summoned a gypsy from Scarborough to Elland Road. Her mission was to exorcise whatever curse might be hanging over the ground and bringing his team ill-luck in crucial matches. Lord Harewood shared Revie's superstition about the possibility of peacocks bringing ill-luck. 'You can't defy a known superstition,' he says. 'If you walk under a ladder, that's a dangerous thing to do... it's a metaphor for being hanged... in medieval times, people went under the ladder to be hanged. If you believe that to defy those things is a danger, then you are probably doing better not to defy them. I think Don's weakness was fear of not knowing everything there was to be known about the opposing side. That might have been carried to excess.'"
Such eccentricity was an ingrained part of Revie's character, as was his caution, preoccupation with detail and over emphasis on the strength of opponents. Those features were to change little in 1968, but at last fortune smiled on Leeds United. The side was phenomenally successful on all fronts and enjoyed a remarkable season.
Terry Cooper and Eddie Gray became fixtures on the left flank, bringing a skilful and progressive
approach, and Don Revie finally bought a centre-forward to replace the luckless Alan Peacock, who had suffered endless injury problems throughout his career and figured in just nine games the previous season. He was allowed to move on to Plymouth Argyle in October 1967, a couple of weeks after the manager had broken the club's transfer record by paying £100,000 for Sheffield United's centre-forward Mick Jones, who had won England caps in 1965.
As if to mark Jones' arrival, Leeds United demonstrated exactly how brilliant they could be, on October 7 as they entertained a Chelsea side reeling from the controversial departure of manager Tommy Docherty the previous night. Leeds were clicking into top gear after a slow start and simply ripped the Londoners apart. Billy Bremner, making his farewell appearance before starting a four week suspension, enjoyed a startling performance, finishing things off with a tremendous overhead kick as Leeds scored seven times without reply, gaining some revenge for their defeat against the same side in the Cup semi-final six months before.
It was to be another couple of years before the resolute defence and bitter attrition were fully traded in for attacking prowess and an expansive game, but the controversy and outright war of previous years were starting to become less prevalent. It would take some silverware on the shelf to make Don Revie cast off the defensive shackles permanently, but Leeds were giving less concrete evidence of their bully boy psyche.
Their form in the League was good, especially at Elland Road, but they ended the season with four straight defeats to finish fourth, with only five points fewer than champions Manchester City. It was very disappointing, but Leeds enjoyed greater success in the three Cup competitions.
They broke their honours duck by beating Arsenal 1-0 at Wembley on March 2 to win the League Cup in a game which was even more dull than their 1965 FA Cup final against Liverpool. Terry Cooper's volley after 20 minutes gave them a lead they never looked remotely in danger of relinquishing, but they refused to take any risks and simply did what they needed to frustrate the Gunners. After so many years of comparative failure, the capture of a trophy was much more important than performing with style and Revie's men had no intention of missing out again.
The manager refused to make any excuses for the negative approach: "I wanted Leeds to play attractively as much as anyone, but under the circumstances, we would have been foolish to attempt to do this. We were playing with virtually nine fit men. I would never have included Greenhoff and Giles had this been an ordinary League or Cup game, not in their physical condition. But these two had been playing superbly, and I reasoned that they would boost the rest of the team just by their presence on the field.
"It was impossible for us to look upon this as just another match. All players are nervous at Wembley, but this was particularly true as far as Leeds were concerned as it was so vital for us to win. The lads got changed into their kit so early that Les Cocker and I had to give them a sports quiz in the dressing room half an hour before the kick-off in an effort
to stop them dwelling on the game. It's funny, but they were under so much mental pressure during the match that at the final whistle they were relieved rather than elated!"
They followed up by reaching another FA Cup semi-final, this time against Everton, but Gary Sprake's wayward clearance left Jack Charlton little alternative but to concede a penalty for handball and the only goal of the game.
The club's experience in the Inter Cities Fairs Cup was better. They demolished Spora Luxembourg 16-0 on aggregate in the first round, then ousted Partizan Belgrade, before seeing off three Scottish teams, Hibernian, Rangers and Dundee, to qualify for a second successive final in the competition, again held over to the start of the following season because of fixture congestion.
Three seasons of hard European competition had bred resilience in United and they had perfected the art of two-legged competition. They faced the formidable Hungarian team Ferencvaros with the first leg at Elland Road. Mick Jones showed his value by forcing home a knock on from Jack Charlton but Leeds could not add to the goal and pundits doubted their ability to defend their lead in the Nep Stadium.
However, a copybook defensive display with Gary Sprake playing the game of his life withstood all the Hungarians' efforts and Leeds held out for a splendid goalless draw to secure their second major trophy in six months.
The success had a remarkable impact on the club and their home city, lifting the depression that had started to descend upon them. The greater significance, however, came with the change in Press attitudes.
Bagchi and Rogerson: "There had been a sea change in the way they were perceived. Having done to foreigners what they had done to domestic opposition for years, they had finally become accepted by the English press, as much for their spirit as for their prowess. Desmond Hackett of the Daily Express, usually a critic, wrote: 'When tired limbs screamed rebellion over extra exertion, there was not one Leeds player who failed to drive himself in that further yard of effort.' This sort of acclamation had been long overdue."
After years of seeing their approach pilloried, Leeds United now found that the way their choking, ultra professional defensive style had outdone the Europeans at their own game gained them new friends at home and abroad.
Don Revie could be excused for sitting back with a glow of satisfaction, but the twin triumphs only made him hungrier as he set his stall out for the greatest prize of all, the Football League championship.
Billy Bremner: "When you haven't won anything, you're delighted to win something;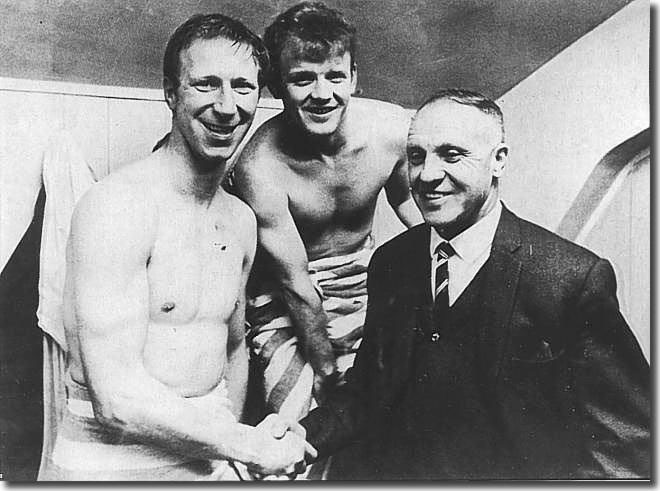 but as soon as a new challenge is offered, you have to climb higher. And so we climbed that little bit higher, in going for the League."
In the end, it was exactly the season that Revie had desired, as Leeds United swept to a phenomenal championship triumph, breaking all manner of records along the way - most points (67), beating the previous best by Arsenal (1930-31) and Spurs (1960-61); most home points (39); most wins (27); most home wins (18); fewest defeats (2), beating Arsenal's previous best of four in 1930-31; the two away defeats was also a record; going unbeaten at home equalled United's best, set in their 1963-64 Second Division championship season; only 26 goals were conceded; and only nine of those goals came at Elland Road.
For all that sweeping dominance, however, it was no cakewalk, and it was late February before Leeds could overtake long time leaders Liverpool. They enjoyed a wonderful start, winning seven and drawing two of their first nine games before defeats by Manchester City and Burnley set them back on their heels. Three successive scoreless draws stabilised the ship and signalled a 28 match unbeaten run with just 11 goals conceded. Ever present Gary Sprake kept 24 clean sheets, with Reaney, Bremner and Hunter also playing in every game, and Jack Charlton missing just one. Leeds were the model of consistency and careful, cunning craft, denying all comers and smothering opponents.
They were helped by early exits from all the Cup competitions, giving them a relatively easy time of things in the spring, when they would normally have been so stretched. At the heart of it all was the cool, unflappable intelligence that had marked Don Revie's playing career. United were smarter and more focused than their rivals and left so little to chance that the percentages constantly favoured them.
With the versatile Paul Madeley deployed as a constant midfield blanket in front of Charlton and Hunter, allowing Bremner and Giles to pull the creative strings, the Leeds United of 1969 was an efficient, effective and well oiled machine, never aspiring to greatness but consistently sustaining functional supremacy. It was just as Don Revie had dreamed, and he was rewarded with the Manager of the Year award to go with finally achieving his aim of leading the best side in the country.
When Bill Shankly and his fervent supporters on the Kop extended gracious admiration to the Whites as they earned the decisive point from a goalless game at Anfield in the season's penultimate game, it was the final crowning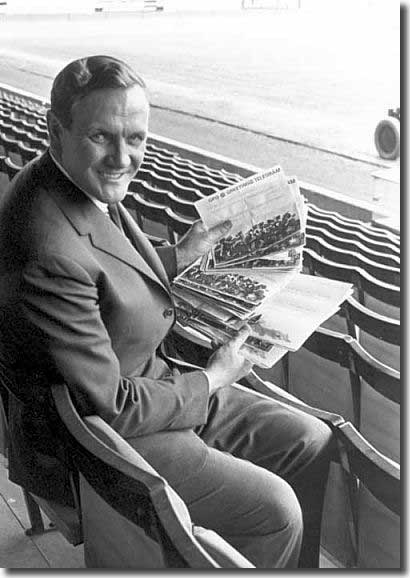 moment for Don Revie, who said: "The reception given us by the sporting Liverpool crowd was truly magnificent, and so, for that matter, was our defence tonight. It was superb in everything."
Billy Bremner was similarly effusive: "That wonderful night at Anfield saw our burning faith in ourselves justified. At last we were well and truly vindicated."
It was an interesting choice of words, but the one time outlaws could be forgiven for gloating at being welcomed to the game's inner circle. One journalist on a Sunday paper sounded a sour note, saying, "It is a pity that Leeds, so near to a championship they unquestionably deserve, chose to parade their infuriating time-wasting tactics near the end." But the Elland Road ranks were by now well used to such jibes; in fact, they rather took them as a compliment. After fifty years of mediocrity, Leeds United had won three major trophies within the space of 14 months and were without question England's premier team.
There was absolutely no reason why the club should not have consolidated their dominance at home and abroad. However, the next four years produced a run of heartbreaks that had rarely been experienced by any other team. Much was down to Revie's new found confidence, born from the sudden rush of trophies. The attritional, defensive fortitude that had been their watchword for almost a decade was traded for a more progressive approach. It was undoubtedly easier on the eye, but it meant that risks were taken and opponents found it easier to play their own game.
The first sign of the softening of attitude came with Don Revie's decision to break the transfer record by splashing out £165,000 on Leicester City's accomplished young goal getter Allan Clarke. Goals had always been hard to come by for Leeds, and for years they had relied on a single target man ploughing a lone furrow up front, with first Alan Peacock and then Mick Jones facing a thankless task. Now Revie paired Clarke with Jones and goals began to flow from their sweeping attacks.
The first signs were promising. Leeds beat Manchester City at the start of the season to win the FA Charity Shield and soon Jones and Clarke had forged a prolific partnership. Aided and abetted by Peter Lorimer on the right flank the goals flowed, and never more so than in the club's European Cup debut when they put sixteen goals without reply past Lynn Oslo, the part timers from Norway.
However, the season, foreshortened by England's early departure to Mexico to defend their World Cup crown, was to bring nothing but heartbreak for Leeds United. Billy Bremner and Don Revie were Footballer and Manager of the Year, and for many months looked likely to celebrate a remarkable treble of League title, European Cup and FA Cup, but unprecedented fixture congestion destroyed both their chances and the players. In March and April, Leeds played 17 matches, with 9 of them squeezed into the space of 22 days.
Revie's long running feud with Football League secretary Alan Hardaker meant that he got little sympathy when requesting assistance with rearranging fixtures, and something had to give. First the League title race was conceded to Everton when Revie incurred Hardaker's wrath by fielding teams made up entirely of reserves.
The manager decreed that the European Cup and the FA Cup took precedence over the League, but a succession of replays, injuries and exhaustion took its deadly toll.
Leeds hammered Chelsea in the Cup final with Eddie Gray enjoying the game of his life, but lapses in concentration allowed the Londoners to steal two equalisers. Then Celtic caught United on two off nights in the European Cup semi-final to eliminate them with some ease. The season ended in empty bitterness when Chelsea came from behind in the Cup final replay at Old Trafford to snatch an extra time winner.
It is difficult to overstate the depth of the despair that engulfed the Elland Road club in that doom-laden spring. If nothing else, Don Revie finally appreciated the risks of over-ambition and spreading the jam too thinly. It was a heart-rending way to learn.
During that summer, though, warmed by the adventure of Brazil's World Cup triumph, Revie waxed lyrical about his Elland Road family and his philosophy:
"Some time before Leeds United won the first of the honours that have come our way in recent seasons, I told a gathering of the players that if they became champions they would realise that there was more to it than being the top team. I cannot recall my exact words, but remember well the gist of them, which was that it was not sufficient merely to become champions; of equal importance in my book was to behave like champions, off as well as on the field. This can have many aspects: behaviour on the field, behaviour away from it; appearance on the field, conduct off it.
"We have today a situation in which a team taking the title becomes subject to constant survey - has the eyes of public upon its every action. In addition, as more and more clubs enter into European competition so the image of the British footballer, and through him the Briton himself, is spread further afield with more and more coverage by the press and television.
"We thus have the situation in which any club and its players are faced with the dual problem - that of winning matches and doing so with dignity on and off the field. I could be said, perhaps, to be particularly conscious of this, because of what I still believe to be a totally unfair impression given abroad about Leeds when we first started to chase the honours. I refer, of course, to the suggestion that we were more physical than skilful. I have never subscribed to any such view, neither did I to any suggestion that we were more a defensive side than anything else. Fortunately, for my beliefs the events of the past few seasons have spoken for themselves and now Leeds are hailed as a side containing as many skills as any, and more than most.
"I recall George Best being asked last season how he rated Leeds. He replied, 'Their strength is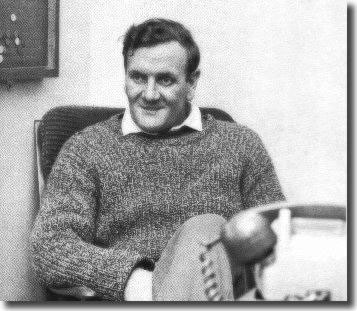 that they have no weaknesses: they also possess a tremendous team spirit and players of great individual skills'. I like to think that George was echoing the thoughts of most of the people in football, but for a long time we had to suffer other things being said about us, and bear it with dignity. And that is what being champions is all about really - wearing a crown with dignity.
"On arrival at Elland Road any new boy, be he a young apprentice professional or an already established star, is quick to appreciate that he should combine courage, hard but fair play and complete confidence on the field, with courtesy, good conduct, manners and humility away from it.
"The idea behind all this is to ensure that so far as is humanly possible every lad on the staff has, within a short time of joining Leeds United, been taught sufficient to feel comfortable in any kind of company, able to enter any hotel he wishes and also made aware of the temptations as well as the honours and awards that can come his way. I have heard it said that this is not the function of a football club; that a club's sole concern should be in the promotion of a fine football side and to the winning of more matches than achieved by the opposition. But surely it is all part and parcel of the same thing.
"Let me say immediately that no one is more aware than we at Elland Road of the importance of winning matches and of establishing a fine football side with which to do so. Indeed that is the major purpose behind everything we do, but there are others ancillary things to be considered. One is that while winning matches is of vital importance, the manner in which successes are achieved must also be considered. The other vital factor ancillary to winning matches, and winning them in the right spirit, is that the boys who obtain these honours for a club and its city, and in turn is feted by them, should be honourable representatives of that club, and that city.
"As I said earlier, let there be no question of us trying to put manners before everything else. We are part of a football club, and a successful one at that, and such successes have been achieved only by a complete one hundred per cent dedication - being able to match skill with sinew when required in hard but fair combat with the opposition. But within that requirement it is possible for football to uphold the dignity it has brought into the twentieth century's later years. At the turn of the century and for many years thereafter this great game was considered something of a festival of the cloth capped. That was never completely accurate. The game has always attracted the intelligentsia - though in much lower numbers it must be admitted - now, of course, are there are almost as many egg-heads as those of other shapes attracted to, and attending the game.
"Football has indeed, arrived. It is recognised for what it is - a great game for the masses, a source of entertainment for the millions and a combination of employment and enjoyable activities to the fortunate thousands earning their living from the game.
"Often I think that winning a trophy is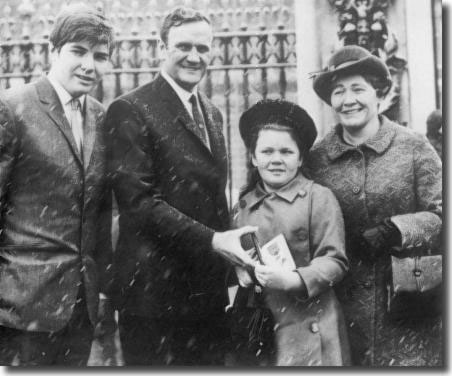 almost the easiest part of the exercise. Retaining it, and at the same time one's sense of purpose, modesty and place in things is infinitely more difficult.
"But that's what I expect from my players."
His monologue seemed anachronistic, and strangely out of touch with the times; his preoccupation with standards smacked a little of hypocrisy as his team had only recently abandoned the bully boy approach which Collins had fostered. Clearly, Revie was trying to paint his charges as being the saviours of a game that was often accused of bringing out the worst in people.
At the start of the year, he had received an OBE for services to football, and was obviously taking his new found status very seriously. He hinted as such in his comments at the time: "My award should be recognised as a club rather than personal achievement, because without the talent, character and dedication of everyone connected with the club, my success as a manager would not have been possible. When I went to Buckingham Palace I collected the award on behalf of Leeds United."
By the time the new season came around, the memories of the disappointing spring had faded and Revie had once more worked the miracle of reviving exhausted and dispirited warriors. He had told his shattered players in the Old Trafford dressing room, after the defeat to Chelsea, "Forget this season … it cannot be revived. We've got to start all over again. We've done it before and we can do it now."
True to Revie's words, Leeds once more set a stunning pace in the League, only to be caught again, this time after a phenomenal run by Double winners Arsenal. The season would be lastingly remembered for two disastrous matches that are indelibly etched in the memories of Leeds fans.
In the fifth round of the FA Cup they travelled to face Fourth Division Colchester United at Layer Road with the odds heavily stacked in their favour. By the end of the game, they had been humbled by veteran former England forward Ray Crawford who got two of the goals which left Leeds 3-0 down. They pulled two back but went out in one of the most remarkable of all Cup upsets.
Then as the League season reached its tense climax and with Arsenal, with a succession of 1-0 victories, snapping at their heels, the fates turned once more against United. With Leeds losing at home to West Brom, and chasing the game, the most perverse of refereeing decisions provoked a riot at Elland Road.
Andrew Mourant: "Their composure was undone by some grotesque refereeing by Ray Tinkler. Leeds were already 1-0 down and fighting to stay in the match when a misplaced pass by Norman Hunter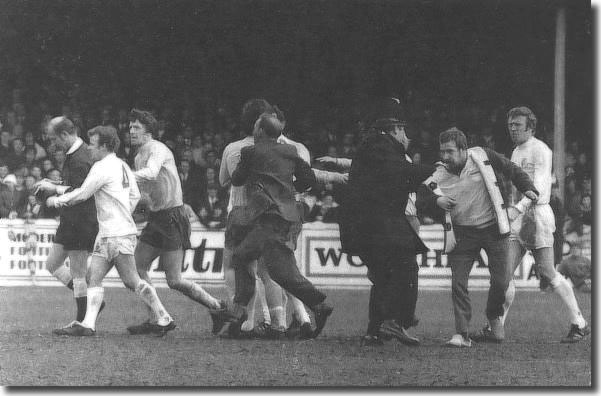 bounced off Albion's Tony Brown. As Brown embarked on an optimistic chase towards the Leeds goal, linesman Bill Troupe raised his flag for offside against Colin Suggett who was several yards ahead of play. Brown stopped; all the Leeds players stopped, until Tinkler, to the astonishment of all, waved play on. Brown, almost diffidently, continued his journey towards Sprake's goal before squaring the ball to Jeff Astle whose sidefoot shot made it 2-0. For Leeds the match was now irretrievable.
"Millions watching television witnessed Revie's rage and despair. The sense of menace at Elland Road was intense; but this was not the posturing, manufactured rage generated by gangs of penned hooligans. The pitch invasion, if that it may be called, was quite spontaneous and involved a handful of unconnected spectators from various parts of the ground, among them middle-aged men. 'Tinkler,' Revie said, 'ruined nine months of hard work. At 1-0 down, Leeds were fighting back and Albion starting to crack.' For Revie and the Elland Road faithful, Ray Tinkler's decision was one disappointment too many. It defeated the Leeds manager's oft-practised self-control."
Despite the despair of once more ending runners-up after Arsenal won 1-0 at Tottenham in the last game of season (United's finishing total of 64 points was a new record for a side finishing second), Leeds did at least finish with a trophy. They defeated Juventus on the away goals rule to recapture the Fairs Cup, in the process becoming the final holders of the trophy, before it was replaced by the UEFA Cup.
The pitch invasion resulted in a fine for Revie and an order that Leeds should have to play a clutch of their early home games away from Elland Road, giving them a mountain to climb at the start of the 1971/72 season. For once Leeds did not storm away from the field as the battle was fought out by four clubs, with Derby, Liverpool and Manchester City all vying with United for the title.
The form shown by the Whites in the spring, however, was the talking point of the season as they beat Manchester United 5-1, Arsenal 3-0 and Nottingham Forest 6-1, but it was a startling match on March 4 against Southampton that really stood out. Playing before the Match of the Day cameras, Leeds hit peak form, striking home seven goals without reply, but it was the manner of the performance that was important.
With the result certain, the ultra confident Leeds players aired their party pieces as they tortured outclassed opponents with some amazing possession football. The Saints could do nothing and were teased and tormented by the flicks,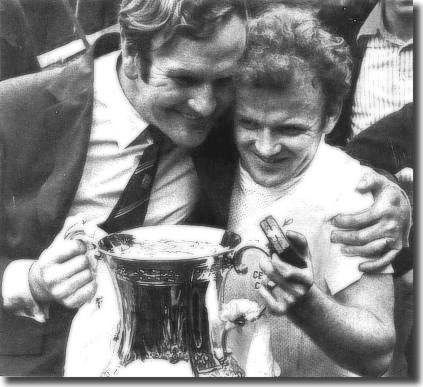 tricks and long balls, as Revie's men came as close to perfection as any team had ever done.
There were too many defeats woven in amongst all the magic, but still Leeds looked the likeliest title winners, also enjoying an FA Cup run that took them all the way to a Wembley date with holders Arsenal in the competition's centenary year.
It was by no means a classic final but Leeds had the better of things and won the trophy for the first time in their history when Allan Clarke dived full length to head home Mick Jones' teasing cross for the only goal of the game.
There were no after match celebrations, however. There was a date with destiny two days later as Leeds travelled to Wolverhampton for their final game in the League, knowing that a draw would be enough for them to overtake leaders Derby County and claim the Cup and League Double.
Tiredness and injuries led to a depleted team walking out for the match, but there were few who would bet against Leeds getting the point they needed. Inexplicably, however, Wolves raised their game and blitzed United.
Even so, Leeds had enough chances to win the game and were denied at least one blatant penalty, but the season again ended in disappointment with a 2-1 defeat leaving Leeds runners-up for the third successive year. Revie remarked, "It's just too much, we should have had three clear penalties. But I was proud of the team. I don't know where they got the energy from in the second half."
This was now a depressingly familiar routine for Don Revie. He railed against the intransigence of officialdom and let rip with his paranoia, but it seemed that Leeds could not avoid choking when the pressure really came on. Even playing their most irresistible and attractive football, finally putting behind them the controversy of the Sixties, the team could not close off business.
What was even more remarkable than their consistent failure, however, was the players' constant ability to come back from the ashes of despair to emerge, refreshed and ready to go at the start of the next season. Lesser teams would have fallen away, but year after year Leeds United were back, making the pace and showing the way.
In 1972/73, however, Leeds were always too far away to mount a serious title challenge as Liverpool and Arsenal contested things. It was in many ways a below par season, and strangely low key. A third place finish in the League was disappointing, but there were the customary Cup runs and Leeds reached the finals of both the FA Cup and the European Cup Winners Cup.
The first of these pitched Revie against his old nemesis Bob Stokoe. The former Bury manager was now boss of Second Division strugglers Sunderland, whom he had revitalised, with a semi-final victory over Arsenal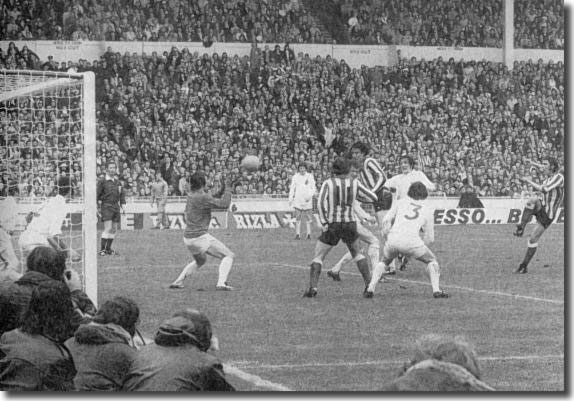 already to their credit. The United party was as tense and fractious as their manager, while the Wearsiders were relaxed and ready to enjoy the day. Cheered on by the neutrals, Sunderland took the lead in the first half when Ian Porterfield fired home a memorable goal.
Leeds pressed forward in the second half, but their conviction was badly dented when Sunderland keeper Jim Montgomery pulled off a historic double save, parrying Trevor Cherry's close range header before somehow recovering to fling himself across the goal area to push Peter Lorimer's point blank shot onto the crossbar and out.
A week later, a line-up without Bremner, Clarke, Giles and Gray was robbed of glory in the Cup Winners Cup final against AC Milan. The Greek referee gave a desperately one eyed performance, denying Leeds at least two penalties, and was booed off at the end, after a single early goal gave the Italians a notorious victory.
What was even more dispiriting for Leeds during that Greek tragedy, was the news that Everton had approached Don Revie to take over at Goodison Park. It was rumoured strongly that Revie had decided to accept their lucrative offer and move on from the club he had joined nearly fifteen years before.
In the end, however, his insecurity and love of control persuaded Revie to reject all the Everton overtures and pledge his future once more to Leeds United. The players whom he had spent more than a decade grooming were growing old together, and rebuilding was long overdue, but Revie decided that there was time for one last hurrah. He resolved that 1973/74 would somehow be different from the recent past.
However, at least one of his loyal lieutenants would no longer be around to enjoy the ride: 38-year-old Jack Charlton finally decided to hang his boots up, taking on his first managerial role at lowly Middlesbrough. Revie had wanted Charlton to stay on at least in a coaching role, but accepted the inevitable. He had been attempting unsuccessfully to find a replacement for years, but both Sutton United's John Faulkner and Huddersfield Town's Roy Ellam had been found wanting. However, the giant young Scot Gordon McQueen, who had arrived in a £30,000 deal from St Mirren in May 1972 had been blooded and was ready to take over.
McQueen was one of a number of younger players whom Don Revie had started working into his mix, with Joe Jordan, David Harvey, Terry Yorath, Frank Gray and Trevor Cherry offering new options.
1972/73 had been an irritable, bad tempered season with a succession of disciplinary problems. Don Revie promised the press that the club had turned over a new leaf and would be whiter than white in the new season. He shocked his experienced squad by announcing, with the utmost conviction, that they would win the League championship and achieve another, less likely, distinction along the way.
Allan Clarke: "The Gaffer said, 'Right, lads, we've been the best team for the last decade. I know we haven't won as much as we should have, but that's in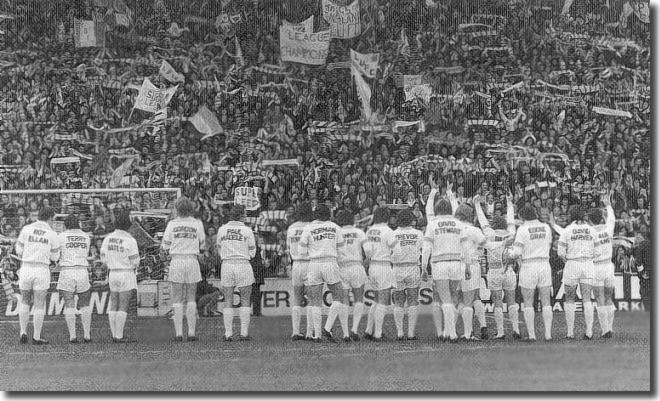 the past. Now I've had a thought in the close season - can we go through the whole campaign unbeaten?' We all looked at each other in silence and then, after a while we said … 'Yes, it's possible.' It was certainly a different pep talk to most seasons. Of course you start off aiming to win all your games, but to actually set it as a target - that was different."
It was a far-fetched notion, but the vaulting ambition of Revie's vision had an invigorating impact on his charges and they began the season in spectacular fashion, playing some of their best football. Their expansive attacking game was simply breathtaking, sweeping all comers aside, as the first seven games were all won with 19 goals scored against just four conceded. But it was the manner of their performances that evoked the greatest reaction.
In a report of the seventh of those victories, John Arlott wrote eloquently in the Guardian, "Wearing the white strip of a blameless life, Leeds moved in a ceaseless flow, back in packed defence, competing for the midfield, sweeping forward and with backs overlapping. Yet it was all so controlled, almost amiable … so free from the aura of violence they used to generate."
The winning run came to an end when Manchester United forced a goalless draw at Elland Road on September 22, but Leeds continued in imperious fashion, outclassing most of the sides they faced. Eventually, draws started to appear rather too regularly for Revie's comfort and a lapse in form accompanied the lengthy injury absence of Mick Jones, Johnny Giles and Eddie Gray. Jordan, Yorath and Bates were sound, if limited, deputies, but Leeds' resources were increasingly strained. The old stagers Reaney, Bremner, Hunter, Clarke and Lorimer were outstanding, while the reliable Harvey and Cherry made emphatic contributions.
A long unbeaten run saw Leeds develop a comfortable points advantage over a trailing Liverpool side, but eventually the sequence became a millstone as tension crept into Leeds United's play. The side avoided defeat in the first twenty-nine games, but they had drawn four of their previous seven league matches when they were spectacularly dumped out of the FA Cup at the fifth round stage by a determined Bristol City side.
In the next match, away to Stoke City, the composure seemed to have returned as Leeds built up a 2-0 lead with goals from Bremner and Clarke, but then the Potters fought back and pulled off a breathtaking 3-2 win.
The defeat sent a shock wave through Revie and his men. They won one and drew two of their next three games, but then stuttered to three straight defeats, with the 4-1 reversal against Burnley particularly embarrassing. More damaging, however, was a 1-0 defeat at chasing Liverpool, as the Merseysiders steadily and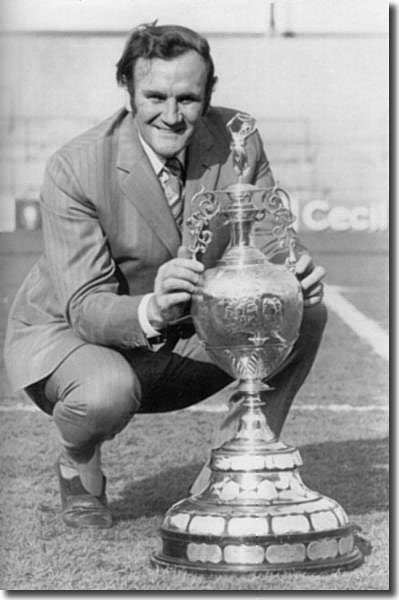 inexorably hauled in Leeds' points advantage, which once stood at 9. Was there going to be another, all too familiar, disaster?
Happily, United rallied at the death, with a 2-0 win at home to Derby ending the losing streak. Liverpool stuttered under their own fixture congestion on their way to an FA Cup triumph, and Leeds eventually secured the title without even playing, when old rivals Arsenal pulled off a 1-0 win at Anfield. It left the Whites to celebrate their second title triumph with a single goal victory in the last game of the season at Queens Park Rangers.
The relief was evident in Don Revie's voice as he remarked, "I feel as though someone has come along and lifted six tons of coal off my back. I feel as though I am walking on air. This is the greatest moment of my life. Deep down, I thought our chance had gone after three defeats on the trot before Easter. All credit to Billy Bremner and the lads for coming back. That is the mark of true champions." He sounded chirpy enough, but Peter Lorimer hinted at the strain he had been under: "During those last couple of months he looked as if he'd aged about five years."
Leeds United had almost contrived to throw away a season's hard work in a few short weeks, but had somehow found the backbone and resolve to do enough to secure a memorable title win.
It proved to be the epitaph for the manager at Elland Road, for within weeks of receiving the championship trophy, he was contemplating a new career and a new challenge, ending an association that had lasted nearly sixteen years. Don Revie and Leeds United had been inextricably interlinked for what seemed an age - now they were going their separate ways and life would never be the same again for either party.
Part 1 An Appreciation - Part 2 Learning the ropes (1927-51) - Part 3 Centre stage with City (1951-56) - Part 4 Shuffling off stage (1956-61) - Part 5 On the march with Leeds United (1961-67) - Part 7 Inn-gerland! (1974-77) - Part 8 Disgrace and despair (1977-89)