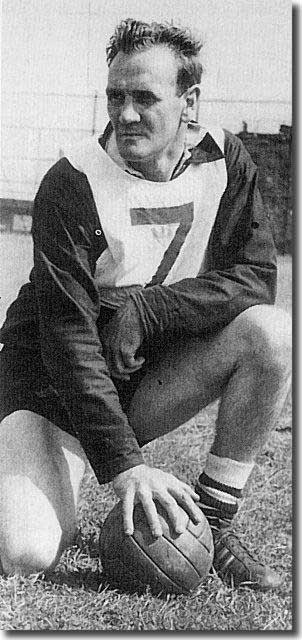 Part 1 An Appreciation - Part 2 Learning the ropes 1927-51 - Part 3 Centre stage with City 1951-56 - Part 4 Shuffling off stage 1956-61 - Part 6 The agony and the ecstasy 1967-74 - Part 7 Inn-gerland! 1974-77 - Part 8 Disgrace and despair 1977-89
33-year-old former England inside-forward Don Revie was appointed manager of Second Division Leeds United in March 1961 in an act of some desperation by the West Yorkshire club. Since the irascible Major Frank Buckley had departed in 1953, three other managers had come and gone, with only Raich Carter achieving any success, riding back to the First Division on the back of the goals of John Charles.
The incompetence of Bill Lambton and the poor discipline of Jack Taylor had condemned Leeds to relegation in 1960 and now it was Revie who had accepted the poisoned chalice of leading a dispirited outfit. He combined the job with occasional appearances on the field, but his pace had gone and his influence was marginal.
However, his sharp football brain and fascination with systems equipped him well for the role of manager. He had formed a powerful bond with director Harry Reynolds, who succeeded Sam Bolton as chairman in December 1961. The bluff Yorkshireman indulged the whims and fancies of the new man and supported an improvement in conditions for the players.
It was a calculated gamble but enabled Revie to build a dynasty at Elland Road. The unfaltering loyalty of Reynolds was what really made the difference as the two men set about attracting the best teenage talent in the country to enrich the squad.
Lambton initiated a youth development scheme in his short spell at the helm and the promising Scottish winger Billy Bremner was an early product. If the idea had been his predecessor's, however, it was Revie who exploited and nurtured the initiative. Revie and Reynolds travelled the length and breadth of the country in search of new blood and were supremely successful in the face of considerable opposition.
Revie spoke enthusiastically of his plans: 'The long term outlook of this club must be based upon youth. No players, however well intentioned and conscientious, can possibly acquire the loyalty that all clubs need to the same degree as those players who start their life with one club and develop throughout the teams. We are basing our plans upon securing the best youngsters there are available, and to that end all schools, youth and junior representative matches are being watched and reported upon.'
He waxed lyrical about the young men who formed the club's Northern Intermediate League side: "We think we have a young team well worth watching, but to get the best out of them, they must be brought along gradually. It is of course frustrating to a football supporter to be asked repeatedly to be patient but I am afraid that is what is required ... the history of football abounds with stories of clubs meeting with success when the days looked darkest. In every instance it was to be found that the people in charge were prepared to grasp success when the tide began to flow their way."
Perhaps Revie's biggest discoveries were the gifted Scottish forwards, Peter Lorimer and Eddie Gray.
Andrew Mourant: 'The signing of Peter Lorimer illustrates Revie's determination. When Revie was tipped off that another club was all set to sign him, he and Maurice Lindley left by car for Scotland at 8pm heading for Dundee. They had to reach Queensferry by 11.30 to catch the final ferry across the Firth of Forth. "Ours was the last car on," Revie recalled. "At the other side we set off again - and I was stopped for speeding as we hurtled through Perth in the middle of the night. Fortunately, the policeman was a football supporter. We arrived at Peter Lorimer's door at 2am, knocked up the whole house and signed him. At eight o'clock our rivals turned up only to find they'd been beaten to him."'
Eddie Gray: 'By May 1963, the trickle of English and Scottish League clubs who had made approaches to sign me had become a flood. At the final count, the total was thirty five, and included Everton, that season's First Division champions; Tottenham, the 1961 championship and FA Cup double winners, who were runners up; Manchester United, the FA Cup winners; Liverpool, Arsenal and Chelsea.
'A major reason for my decision to join Leeds was Don Revie. His appreciation of the art of PR was outstanding. When it came to making people feel special, he thought of everything; he thought about things that I dare say would go over the heads of a lot of other managers. It was typical of him that to celebrate the decisions of Jimmy Lumsden and myself to join Leeds, Don and Harry Reynolds came up to Glasgow and threw a party for us and our families in the Central Hotel.'
The promise of youth would take some time to mature, but in the meantime Don Revie bought time by bolstering morale and team spirit. He opted for a bizarre symbol of his ambition, exchanging the club's traditional blue and gold strip for a pristine all white, with the stated intention of importing a touch of the Real Madrid magic. It smacked of gimmickry and was greeted with derision, but Revie would try anything to lift the sights of his team above mediocrity, commenting later: 'I knew something had to be done, so I thought we'd improve the image with a new strip, especially an all white one like Real Madrid's and that gave me the chance to tell them that I wasn't going to be satisfied until we had reached the same stature as the famous Spanish club, and there was no future at Leeds for anybody who didn't think that way.
'I said we had the potential to become a major force in English and European soccer, though, honestly, just then I didn't think we had a cat in hell's chance, but they'd got to start believing in themselves, and that was another reason for the improved travelling plans because you can't tell a team to aim for the sky, and then put them in a dingy boarding house whenever they are away from home.'
In the short term there was little improvement on the field, and Leeds struggled against relegation for most of the season. While he was waiting for his youngsters to emerge, Revie imported some old stagers, with Scottish keeper Tommy Younger, Sheffield United full back Cliff Mason and Everton's midfield firebrand Bobby Collins the most notable names. Revie was still making sporadic appearances on the field, but played his last game that spring, shortly before the arrival of Collins, and it was Younger who prompted Revie to hang up his boots, saying: 'When I joined Leeds in September, they were something like ten points worse off than any other team in the League. Don was still playing and, as I was an outspoken type, I frequently told him: "With the club in this state, I don't see how you can successfully play and manage at the same time." He disagreed at first, but soon realised he was trying to do far too much. I was sitting next to him on the journey back to Leeds following a 2-1 defeat by Swansea early in the season, and he told me: "You were right, Tommy, I've played my last game for Leeds."'
Collins arrived in time to replace Revie on the field and inspired a closing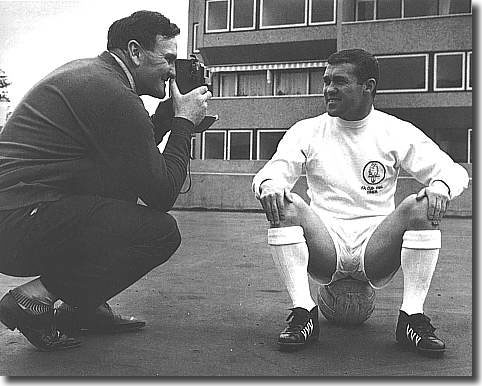 unbeaten run which was enough to stave off the drop, although a last day win at Newcastle was required to confirm survival.
In the final run in, two drawn games against Bury were vital, but in later years it was alleged that Revie had tried to offer bribes to his opponents.
Andrew Mourant: 'It was a match that was to have a potent significance some 15 years later, for around it circled an extraordinary story: namely that Don Revie attempted to bribe Bury manager Bob Stokoe with an offer of £500 for his team to forfeit the match in Leeds' favour.
'Chronologically, it was the first in a series of similar allegations made by the Daily Mirror in September 1977, claiming Revie had, on several occasions, tried to fix crucial matches in Leeds' favour with the offer of financial inducements to opposing players. He denied all of them, though while he initiated proceedings for libel, he never went to court to clear his name. But Stokoe has no doubts. "I remember the situation very clearly," he says. "He offered me £500 to take it easy. There were no witnesses. I said no. And when I said no, he asked me if he could approach my players. I said under no circumstances ... and reported it to my chairman and vice-chairman."
'Stokoe, an old-fashioned centre-half who had spent 14 years at Newcastle before joining Bury as player-manager, is known in the game for his honesty. He found Revie's approach peculiarly repugnant. "I was just starting out in my managerial career... and I was never motivated by money. Though anyone who knows Bob Stokoe will tell you he's fiercely competitive. I have a reputation for being a bad loser. After that match, I lost all respect for Revie. On that Tuesday night we went to Leeds, Revie never spoke. But I had one of the finest games of my life. We drew 0-0."'
The signing of Bobby Collins was to prove a masterstroke for Revie. Everton manager Harry Catterick discarded the former Scottish international as he sought to rebuild his team, and rarely has £25,000 been better invested. In the years that followed, Collins brought a new competitive edge to the team. The Scot was a controversial but key figure as Don Revie's Leeds United earned a reputation as a difficult team to play against.
Jack Charlton: "He was only a little guy, about five feet six inches tall, but he was a very, very strong, skilful little player. But what marked him out, and what made the difference to the Leeds sides he played in, was his commitment to winning. He was so combative; he was like a little flyweight boxer. He would kill his mother for a result! He introduced a sort of 'win at any cost' attitude into the team. Probably because we had a very young side at the time, the other players were very much influenced by his approach to the game.
"Bobby introduced a much more professional attitude to winning. In the past we'd often score a goal but then let the other side back into it. Now we'd score a goal and that would be it - we'd lock it up, that was the end of the game. Our defence was rock solid and we tackled hard. Nobody liked playing against us. It wasn't very popular, of course. Teams like Arsenal and Spurs might play to the gallery by chasing bigger scores, but not Leeds United."
Collins was to prove a wonderful signing, but at the start of the 1962/63 season Don Revie pulled off an even more high profile transfer, bringing former striker John Charles back from Juventus in a startling £53,000 deal. Unfortunately, the move was a disaster and Charles could not come to terms with a return to English football. After just eleven games for Leeds, the Welshman was back off to Italy, signed for £70,000 by Roma.
From such a bitter experience, however, Don Revie emerged all the stronger, staking his entire hopes on youth. He brought in four teenagers, Gary Sprake, Paul Reaney, Norman Hunter and Rod Johnson, for a match at Swansea that yielded a much-needed victory. The gamble didn't end there as more teenagers, Mike Addy, Barrie Wright, Jimmy Greenhoff and fifteen-year-old Peter Lorimer, figured in the first team as Leeds enjoyed a wonderful season, although a run of defeats in the closing stages saw an unlikely promotion challenge peter away.
The upturn in fortunes and rumours of other clubs courting their manager were reason enough for the Leeds directors to offer Revie an improved contract, making him the best paid manager outside the First Division, and securing his services until 1967.
The previous October there had been rumours that Revie was being lined up as a possible successor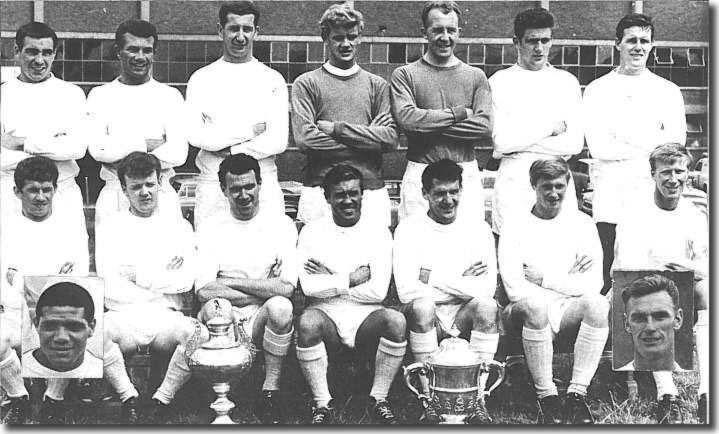 to Walter Winterbottom as England's team manager. Revie had said at the time: "As far as I am concerned it is ridiculous even to mention me for the job. I am very happy at Leeds - even with all the ups and downs. What I want to do is put Leeds back on the Soccer map."
The following season saw Leeds United kick off their march to the top by securing the Second Division title, grinding out the points with a series of extraordinary defensive performances. They eventually saw off the challenges of Preston and Sunderland to win the championship, but their performances were neither pretty nor appreciated by the neutrals. Led by Collins, the side became uncompromising and notoriously difficult to beat, earning regular criticism from the newspapers for their hard-edged approach.
Two signings made all the difference. Early in the season Manchester United's Irish right-winger Johnny Giles arrived in a £35,000 deal, allowing Billy Bremner to drop back to right-half, thus giving birth to the renowned Bremner-Charlton-Hunter half-back line. The purchase of Giles was a masterstroke, adding much needed class and craft to Revie's gang of youngsters.
As a late season wobble threatened to derail the promotion push, the manager got the chequebook out again, splashing £53,000 on Middlesbrough's England centre-forward Alan Peacock. The striker brought a late rush of goals (eight in his 14 games, only one of which was lost), calming the nerves and securing success.
The final statistics made interesting reading. The previous few seasons had resulted in goals conceded of 74, 92, 83, 61 and 53, but the total in 1963-64 was just 34, with only three defeats suffered, all in away games. Gary Sprake kept 17 clean sheets in the League. The 63 points earned was a new club record. It might not have made attractive watching, but Don Revie could look back with satisfaction on a job well done.
It is interesting to note the difference between Revie's approaches as player and manager. In his days with Leicester, Hull and Manchester City, Revie had favoured a positive, cultured and progressive approach, but the need to secure promotion had prompted a rather different outlook, built on rock solid defence, a stifling midfield stranglehold and doing just enough to gain a precious lead.
With Sprake in goal and a defensive rearguard of Reaney, Charlton, Hunter and Bell, Leeds United offered few chinks at the back for opponents to exploit, while Giles, Bremner and Collins formed one of the strongest midfield combinations in the country, comfortably dominating most rivals. Don Weston and Jim Storrie were workmanlike forwards, but the one player of flair was the South African winger, the pacy and skilful Albert Johanneson, who enjoyed a wonderful season. United could rely on him to buy them time when the going got really tough. In truth, however, led by Collins, their formidable enforcer, who 'pulverised the opposition with his resourcefulness, vision and low cunning', Revie's eager young men rather relished squeezing the life out of opponents after successfully intimidating them by dint of their stamina and strength.
Bagchi and Rogerson: 'In the early 1960's roughhouse tactics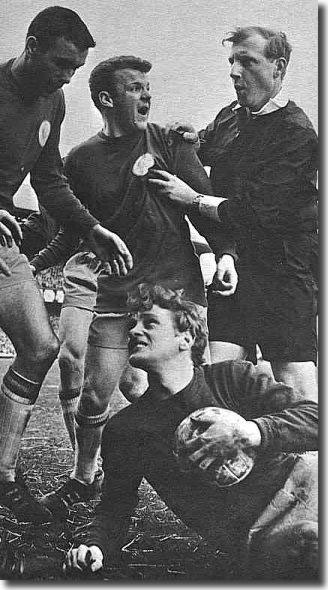 were accepted practice, and there was a thin line between standing up for oneself on the pitch and getting your retaliation in first. What Leeds set out to do was not nihilistic: it was a hyper-aggressive game plan destined to flourish by pushing the very limits of the law. The suspicion that Revie dictated all this is the fundamental impediment when football aesthetes discuss his credentials for "greatness".
'It's important to recognise that the team was not unaware of their growing infamy - but neither did they glory in it. Indeed, the reputation did some of the hard work, as teams would already be apprehensive about meeting them weeks before a match.
'Not one of Revie's players will admit that their manager ordered them to use violence to get their way. The strongest hint is Jack Charlton's memory of Revie 'murmuring approvingly' as Jimmy Lumsden, a young apprentice, told how he'd dished out "a real beauty" in a recent match. The truth is that Revie didn't need to tell them. He encouraged ultra-competitiveness on the training ground, saw that his own players were uncomfortable on the receiving end of hard tackling and let them draw their own conclusions. It was more moral ambivalence than depravity: he didn't tell them to do it but he didn't stop them either.'
Don Revie was unrepentant of his team's approach, seeing it as a necessary evil: 'Bill Shankly once made an apt summing up of what Division Two football is all about when he said: "You can't play your way out. You've got to claw your way out." It hurts me to admit now, but Leeds certainly clawed their way out of Division Two. Our championship success that season was due to a defensive, physical style which made us probably the hardest team to beat in the League. Once we got a goal I would light a cigar, sit back on the trainers' bench and enjoy the rest of the game, secure in the knowledge that it would need a minor miracle for the other side to equalise. Maybe we did not exactly endear ourselves to the soccer purists in those days, but we had to be realistic. Had we attempted to produce the uninhibited, constructive football which is a hallmark of today's Leeds team, we would probably still be languishing in Division Two.'
There were questions asked in the summer, about whether such low tactics would work against the more accomplished sides of the First Division - most pundits expected Revie's raw youngsters to struggle. The manager himself had few doubts, telling his men they had nothing to fear. He declined to strengthen his squad, stating 'I intend to give the present team a run in the First Division and am very confident about them in that division.'
Jim Storrie: 'After winning promotion, most managers would talk in terms of consolidation. He spoke in terms of finishing in the top four. He said, "We will come up against some world class players but we will be the best team in the league." So he had the optimists among the lads thinking we would win the League and even the pessimists thought we might finish halfway up.'
Whether there were any doubts or not, the players gave no hint of uncertainty on the field, opening up with a salvo of three straight wins, including one against champions Liverpool. It steadied what nerves did exist, and the rigorous preparation of Owen and Revie emphasised how to make life difficult for opponents. By now, the legendary dossiers that were eventually both notorious and derided had become a way of life for Revie's players.
Don Revie: 'Towards the end of the 1963/64 season, I heard some good reports about a young player, so I sent Syd Owen along to run the rule over him. Well, the report that landed on my desk the following Monday was a masterpiece! I had never before seen such a detailed breakdown of a footballer. Syd had left nothing to chance. He outlined how good the player was on his right and left side; the angles or lines along which he tended to run with the ball; the shooting positions he favoured, and so on.
'It struck us that a report like this would be invaluable if applied to the teams we met each week, and it all started from there. Each week, either Syd, Maurice Lindley or myself would watch our opponents for the following Saturday. The report was typed on the Monday morning and we would spend the rest of the week working on it with the players.
'On many occasions, we held practice matches in which the reserve players adopted the same style of play as the team in question, and the first team lads had to try and break it down. For example, if the opposition did not read the game well at the back, we would practice decoy runs designed to pull their defenders forward so that balls played over their heads for Leeds players to run onto, that type of thing.'
Jason Tomas included some excerpts from the dossiers in his 1971 book, The Leeds United Story:
'15 August 1964: Liverpool 2 West Ham United 2. Liverpool took the field first and proceeded towards the Spion Kop end. This being the end they prefer to defend in the first half, an advantage may be gained by getting out first when we play there. Shankly has devised his team tactics to cover some deficiencies in his playing strength. Both full-backs lack pace and our wingers must seek the ball behind them. Liverpool depend a great deal on centre-half Yeats, who sticks like glue to the centre-forward and clears his lines decisively at all times. In this game both wing half-backs played a very stereotyped game and should one go on attack, the other stays back, even when an opportunity may arise to move with ease into a position to change the point of attack. The Liverpool defence play square with both full-backs endeavouring to keep close to the wingers even when a strike is made through the inside positions. It was noticeable that West Ham's inside-left Hurst was on to a number of balls behind the Liverpool right-back in the first fifteen minutes and I could not figure out why this approach was not sustained because it proved highly dangerous in the early period. Balls into this area will probably be more productive because of the two wing half-backs. Right-half Milne tends to advance more than Stevenson. It was Yeats who was moving out to challenge Hurst on most occasions.'
The full report went on for pages and pages and pages and offered detailed analyses of all the individual players. Some of the reports are particularly scathing in their criticism of individuals: 'His whole attitude is wrong. He lacks courage, has no desire to work and appears to treat his profession as a big bore!'
Leeds chose not to vary their style for the First Division, although they had to start without Alan Peacock, missing until late February after a cartilage operation.
Peacock's absence robbed them of a vital goal supply, but Storrie and Weston managed enough between them to propel the team into a surprisingly high position, confounding the doubters. However, there was a noticeable cloud on the horizon.
Andrew Mourant: 'The season was less than two months old, and Leeds United about to run into their richest vein of form yet, when, on 16 October, a newspaper story leaked out that Revie was preparing to abandon Elland Road for the managerial vacancy at Sunderland. The following day there was, for its time, a vociferous and impassioned demonstration of Leeds supporters after the 3-1 home defeat of Tottenham. That evening Harry Reynolds was injured in a car crash returning from another match in Yorkshire. Revie was among the first of his hospital visitors. While the Leeds manager was later to be saddled with a reputation for greed, Reynolds' daughter, Mrs Margaret Veitch recalls him saying: "It's not about the money." As much as anything, Revie appeared to crave recognition. From his bedside, Reynolds, who favoured Revie winning an improvement in his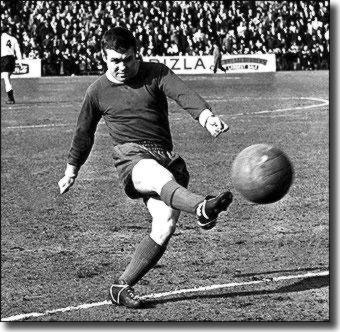 terms and conditions, was pleased to hear of the volatile scenes at Elland Road. These would, he felt, help sway board members who possibly valued their manager less highly than he did.'
Revie had applied for the vacancy at Roker Park because the Leeds board would not grant him a five-year contract, but changed his mind before they could even reconsider. He claims: 'I had landed the Sunderland job, and was walking into the locker room at Leeds to collect my kit when I came face-to-face with a group of newly-signed apprentices. Believe it or not, they had tears in their eyes when I told them I was leaving, and that touched me. It might seem trite to say that I looked upon my players as sons, but this is true. Most of them had been with the club since they left school, and I promised their mothers and fathers I would look after them. I had repeatedly stressed the importance of loyalty to these lads and thought: "They've been loyal to you, so it's up to you to show the same loyalty in return."'
The United team was involved in a number of notorious onfield battles that season as they sought to assert their authority. Leeds were usually painted as the aggressors, the outlaws, the kickers, the barbarians, but there were other players who were equipped to dish out the violence and on many occasions the Whites simply escalated a conflict that others had provoked.
In November Bobby Collins led his team to Everton for his first return to the club he had left in 1962. The match was chaotic and spiteful from the off with Jack Charlton a victim of a foul in the opening sixty seconds and Goodison full-back Sandy Brown dismissed after five minutes for a foul on Johnny Giles. Willie Bell headed Leeds ahead after 15 minutes, provoking outright hostility from the home supporters and an increasingly fractious contest. Bell and Everton forward Derek Temple clashed on the wing ten minutes before the interval and a full on battle commenced, forcing referee Roger Stokes to send the teams from the pitch to cool down.
The contest remained confrontational and bitter but there were no more goals and Leeds had won the fifth in a sequence of seven straight victories. They lost the next match 3-1 at West Ham, but remained unbeaten in the next 18 games in the League to propel themselves into astonishing championship contention. They also proved particularly durable in the FA Cup, as they battled their way through to a semi-final against Manchester United, also their biggest threat for the League title.
The match at Hillsborough was another torrid, violent affair, punctuated by a series of spiteful, irritable individual battles. The contest between Jack Charlton and Denis Law was particularly heated, with Law going off missing most of his shirt, while Billy Bremner and Paddy Crerand were nip and tuck throughout. Albert Johanneson limped through the majority of the game after Nobby Stiles hammered him early on. The battle finished without a goal.
Four days later the replay in Nottingham was also drifting towards a 0-0 stalemate in a slightly less ferocious encounter until Leeds broke the deadlock in the 89th minute. Bremner, with his back to goal, contrived to flick home a Giles free kick with his head to give Leeds a place at Wembley against Liverpool. As commentator Kenneth Wolstenholme noted, "Don Revie's gone mad," ecstatic with the joy of taking his team to the showpiece occasion.
The mood was less buoyant, however, when Leeds lost 1-0 at home to their greatest rivals in the League to relinquish the advantage that they had so manfully earned. Despite recovering from the setback, Leeds relinquished their challenge during Cup final week when they allowed lowly Birmingham to take a 3-0 lead. Elsewhere Manchester United were winning 2-1 against Arsenal and still had a game in hand, so Revie signalled for his players to take the foot off the throttle and save their energy for the Cup final, resigned to the knowledge that their title ambitions were over. Amazingly, Leeds fought their way back and snatched a thrilling 3-3 draw, with only the post denying Norman Hunter an injury time winner.
The title was lost, although Leeds were confirmed as runners-up, second only on goal average, in the most hotly contested title battle for years. The points total of 61 was the greatest ever for a team coming second, but that was no consolation, as Leeds ended the season with nothing to show for their efforts. They never settled at Wembley against Liverpool, with too many players freezing on the day and lost 2-1 after extra time, despite Bremner equalising after being pushed forward.
Bobby Collins was elected Footballer of the Year, surprisingly, perhaps, after all the rancour of his performances throughout the season. It at least left some mark on a remarkable year when Leeds United had come closer than they had ever done to success at the highest level. Don Revie had every reason to be content.
Remembering his own disappointments as a player with Manchester City a decade earlier he raised his squad's spirits, pointing out how far they had come and that there was always another year. The players were still learning their trade and had frightened the life out of the game's higher echelons, onfield and off. The manager had the intense satisfaction of knowing that his men had qualified for European competition and the chance to compete on foreign fields.
The second place finish had brought an Inter Cities Fairs Cup place and Leeds kicked off with a difficult challenge against the strong Italian side Torino. The first leg was at Elland Road and Leeds emerged with a 2-1 victory. It seemed unlikely that the European novices could survive the second leg, particularly when Collins was viciously removed from the game by Poletti who leaped on him in an off the ball incident, shattering his femur.
The incident caused a near riot as the Leeds players protected their skipper from the attempts of the Italians to have him dragged screaming from the pitch. The ten men could have been forgiven for wilting under the pressure, but they rallied and defied their opponents for the remaining 40 minutes to earn a goalless draw and a place in the next round.
The loss of Collins was a grievous one. Revie's answer to the problem, part luck, part sound judgement, was to move Johnny Giles from the right-wing into Collins' playmaking role and promote Jack Charlton to captain. He filled the right-wing berth vacated by Giles by buying Huddersfield Town's England winger Mike O'Grady, and also brought Paul Madeley, Terry Cooper and Peter Lorimer through from his junior ranks, subtly changing the shape and approach of his side, as form and injuries restricted the contributions of Albert Johanneson and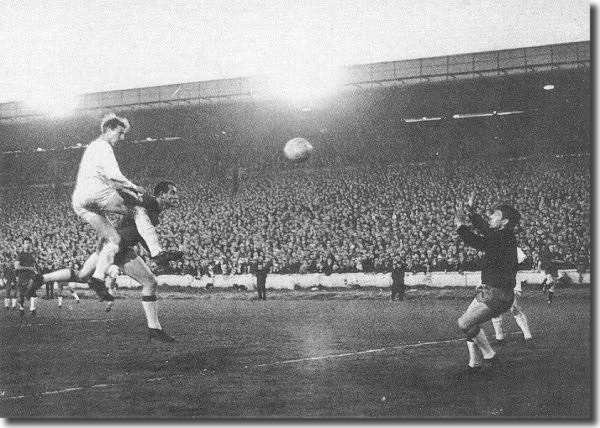 Alan Peacock.
It would have been understandable if such disruption had led to a loss of momentum, but United once again finished runners-up in the League, this time to Liverpool, although in reality Leeds were never close enough to present a serious threat. It was a different story, however, in the Fairs Cup as the team belied its inexperience in this strange European environment by working their way through to the semi-finals.
Their route to that stage brought further evidence of the violent nature of life with Leeds.
Andrew Mourant: 'The third round Fairs Cup tie against Valencia at Elland Road on 2 February 1966 erupted into spectacular violence 15 minutes from time with the tie at l-l. Jack Charlton had advanced in support of a Leeds attack when he was kicked by a Spanish defender. Then he was punched; and then, in his own words, he lost his head. The brawl that ensued brought police on to the pitch, and, for the second time in little over a year, Leeds and their opponents were taken off the field by the referee so that rage and fury might subside. The match ended with Charlton and two Spaniards being sent off.
'The controversy rumbled on long after the final whistle. In its midst were Revie and Dutch referee Leo Horn who, in Peter Lorimer's view, had lost control of the game. According to Horn, Revie had begged him not to send Charlton off with the words: "Do you know what you are doing? He is an international." Revie denied the exchange ever took place. In any event, Mr Horn did not referee the return leg in Spain, for which forecasts of horrific combat had been made. Instead, there was a disciplined performance by Leeds whose 1-0 victory emphasised a growing maturity.'
The semi-final draw paired Leeds with another powerful Spanish team, Real Zaragoza. Johnny Giles was dismissed near the end of the first away leg, but the sides could not be separated, and the tie went to a replay before the Spanish team eventually despatched their opponents to leave United once more with nothing to show for their season long efforts. Don Revie again accentuated the positives. The lack of trophies troubled him, however.
There was little improvement in 1967, despite Jack Charlton's election as Footballer of the Year. Leeds suffered many problems with injuries and also had to withstand the departure of Bobby Collins, freed to Bury. They finished fourth in the League, and bowed out of the League Cup on the wrong end of a 7-0 mauling by West Ham, a result that cut Don Revie to the quick. He rounded on his shattered team and drove them on in the other two Cup competitions.
He often refused to accept their pleadings of injury and forced many to play when they were walking wounded, Billy Bremner particularly so, as the new captain noted: 'Over the years, a good 70 per cent of the lads have played in games where they shouldn't have done. I remember the Cup game against Sunderland that season. I had had my knee ligaments done at Southampton the previous Saturday. A week for knee ligaments is impossible ... there is no way you can do it. When the team went up on Friday and I was on the team sheet, I thought: "I don't believe this."
'We went up to Sunderland the night before. At ten o'clock in the morning, Les Cocker came to my room and said: "Billy, we're going to have a fitness test." We went down and Les did a couple of block tackles on me and nearly killed me. I came off and said: "There's no way I can play, honestly." But the Boss said: "I'd rather have you with one leg than anybody else with two." So I went out and played, and I tell you, I had a disaster. I stayed out on the right-wing most of the game. After, the Boss said: "I didn't have you out there to play you know." I said: "For Christ's sake, what did you have me out there for?"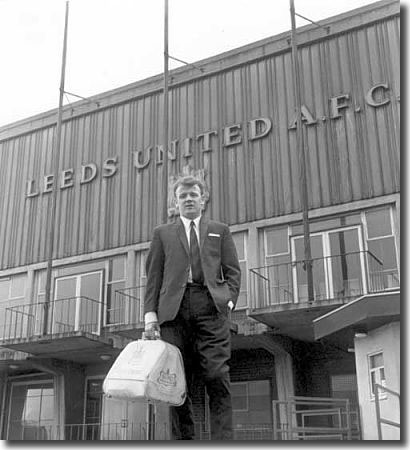 He said it was to gee the other lads up, that they would have dipped without me. I thought: "What a load of bullshit!"'
Leeds endured desperate fortune in the FA Cup semi-final battle against Chelsea, when referee Ken Burns disallowed Peter Lorimer what looked like a legitimate equaliser. The Londoners were leading through a Tony Hateley header, when Leeds were awarded a free kick in the closing seconds. Johnny Giles squared it to Lorimer who thrashed it home, only for referee Ken Burns to order him to retake it, claiming that the Chelsea wall was not ten yards from the ball. Revie and his men were apoplectic were rage, but all their protests were waved aside by a steadfast official.
Don Revie: 'I could have understood him not allowing the goal had Johnny taken the free kick immediately. But after studying films of the incident, it is noticeable that several seconds elapsed between Burns awarding the kick and Johnny taking it. He left plenty of time for the Chelsea lads to get back, and they must have felt the goal was fair because from where I was sitting, no one appealed. In fact, one or two of them clasped their heads in their hands in disappointment. We were sick - all football professionals should take these things in their strides I suppose, but let's face it, Wembley is their Mecca. It's terrible to lose your chance of playing there in such an unsatisfactory manner. For about half an hour after the final whistle, I felt completely numb. But the remorse really began to hit me when I met my son, Duncan, outside the ground. He was sobbing - and I felt like sitting down and crying with him.'
Leeds went a stage further in the Fairs Cup, battling their way through to the final where they were to face Dinamo Zagreb, among Europe's elite clubs. Revie's caution got the better of him on the big occasion. The first leg, away from home ended in a 2-0 defeat. Many managers would have gone for broke in the return match, but Revie was different. According to Mike O'Grady: 'He was really cautious, despite the away result. For one thing, he had Paul Reaney on the right wing but also he filled our heads with the opposition. I was a winger yet he was warning me about the other winger ... expecting me to operate defensively as well as up front. You'd be sitting there thinking: "God, just let us play!"'
In the end, it mattered little as Zagreb played a perfect possession game at Elland Road, offering few chances and securing a goalless stalemate, thus winning the trophy on aggregate, leaving United empty handed once more.
It might have been better for Leeds if they had not been quite so consistent. The very fact that they were continually in at the death of so many competitions undoubtedly cost them results through sheer fatigue. It was not in Revie's make up to admit defeat at anything and he insisted that they treat all fixtures with the utmost seriousness. If anything, the breadth of the challenge was even wider in 1968, as they battled to the death for four different trophies.
However, they would finally be more than bridesmaids.
Part 1 An Appreciation - Part 2 Learning the ropes 1927-51 - Part 3 Centre stage with City 1951-56 - Part 4 Shuffling off stage 1956-61 - Part 6 The agony and the ecstasy 1967-74 - Part 7 Inn-gerland! 1974-77 - Part 8 Disgrace and despair 1977-89