Major Frank Buckley was the first professional manager of the modern school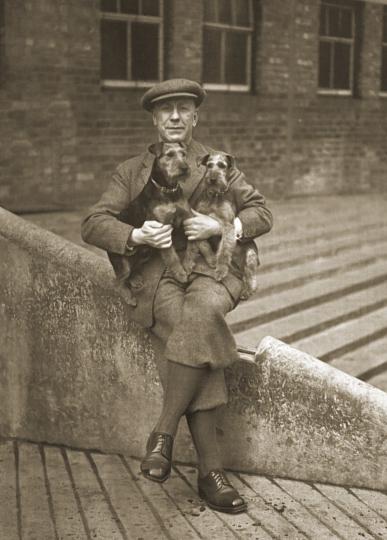 that Leeds United had ever appointed. Leeds City had the inimitable Herbert Chapman and Arthur Fairclough had been a successful secretary-manager with Barnsley, but neither of them had the prior eminence and wealth of experience that this 64 year old maestro possessed.
Buckley was born on November 9 1883 in Urmston, Manchester. He fought in the Boer War around the turn of the century and acquired the rank of Major after fighting with the 17th Middlesex Regiment during World War I, where he commanded the 'Footballers' Battalion,' a unit made up of professional players.
As a player he was a tough centre-half and his career was unusual at the time for the number of clubs he played for - he turned out for Aston Villa, Brighton, Manchester United, Manchester City, Birmingham, Derby County and Bradford City. He was a good enough footballer to win a single cap for England against Ireland in 1914, although the match ended unhappily in a 3-0 defeat.
After the war, Buckley returned to the game and continued to be known as the Major. He was appointed manager at Norwich City who joined the newly formed Third Division (South). However, due to a crisis at the club six directors resigned, many players left and Buckley also quit. He then spent some time as a commercial traveller.
On 6 October 1923, the directors of Second Division Blackpool appointed him as their new manager. He stayed at Blackpool for a period of four years and there is no doubt that his shrewd managership greatly assisted the advancement of the club, although they never gained promotion. His contribution to the club was immense. It was Buckley who dressed the players in tangerine for the first time, instituted a proper youth system, and invested greater resources in Blackpool's scouting network - all initiatives that would serve the club well for decades to come.
One of Buckley's final contributions to the Seasiders was the signing of Jimmy Hampson, an energetic centre forward who came from Nelson for a modest £2,000. Once at Blackpool, Hampson scored 31 goals in his first full season, 1927-28, then 40 the following year and 45 the year after that, the last enough to bring the Second Division title to Bloomfield Road.
However, it was at Wolverhampton Wanderers that Frank Buckley really made his name. He joined them in 1927 and developed a marvellous youth policy. The seeds of the greatness that Wolves went on to achieve in the 1950's (three championships, three times runners up, twice Cup winners), were sown in Buckley's 17 year reign. He was a strong manager, who, skillfully trading in the transfer market, developed a homespun side at Molineux which, but for the war, might have become as dominant as the Wolves team of the Fifties.
When he arrived at Molineux, the club were a struggling Division Two side, having lost their First Division status in 1906. The Black Country club had been founder members of the Football League in 1888, and won the Cup in 1893 and 1908, but those glorious days were long gone. They missed relegation to Division Three by just three points in both 1928 and 1929, but by 1932 the Buckley magic was working as the club won the Second Division championship, finishing a couple of points above runners-up Leeds.
In Buckley's early years at Wolves, he signed some outstanding players, notably Walter Bottril, Charlie Phillips, Bryn Jones, Dai Richards and Alf Tootill and he also brought through future England half backs and captains Stan Cullis and Billy Wright.
Having re-emerged in the top flight, Buckley's Wolves team struggled initially, avoiding relegation the first year by just a couple of points. Gradually, however, Buckley managed to rebuild the club to such an extent that they were runners up in the League in both 1938 and 1939 and were one of the most feared sides in the country.
In 1938, the title race went right to the wire. Wolves went into the last day of the season a point ahead of second placed Arsenal, but they lost to Sunderland. Arsenal put five goals past Bolton to sneak through at the death and leaving Buckley and his young Wolves wondering about what might have been.
At the start of the 1938/39 season, the Gunners were seeking a replacement for schemer Alex James, who had recently retired. They broke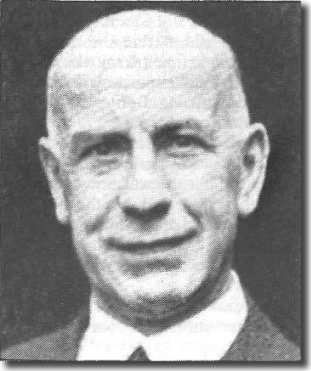 the British transfer record by paying Buckley £14,000 to buy his Welsh inside forward Bryn Jones. The deal was a remarkable indicator of Buckley's ability to spot and develop talent. Wolves had discovered Jones playing for the Welsh non-league team Aberavon. The deal brought Buckley's total sales of players in four seasons to £110,000.
But Buckley was not always as shrewd in identifying youthful talent. Future England captain Billy Wright joined Wolves at the age of 14 and made his first team debut in October 1939, at 15. Buckley was not over impressed with his apprentice and threatened to send him home because he was too small at 5ft 3in. Fortunately for Wolves, Buckley relented. After he tried Wright in various positions in his early days (Wright thought his natural position was on the right wing) he established himself as a half-back
Buckley was one of the first managers to appreciate the value of publicity. When he introduced injections for the Molineux playing staff the press maintained that this was 'monkey gland' treatment, calculated to make Wolves, already well known as one of the fastest teams in the league, even quicker to the ball and in the way their movements developed. The flames of rumour were fanned by Buckley who knew instinctively how beneficial the interest in the club would be. It was all nonsense of course. The injections were merely the primitive anti-flu affairs of those days and, in any event, the ploy sadly backfired when Wolves, in 1939 the hottest favourites to win the Cup in years, went down 4-1 to Jack Tinn's spats and his unfancied but workmanlike Portsmouth side.
Buckley did, however, send a number of his Molineux squad to a psychologist in his search for the elusive confidence that is so important to footballers.
Buckley's chief contribution to the subsequent Wolves success lay in his selection of Stan Cullis as captain of the club. Cullis, a natural leader of the old school, already believed in hierarchy and discipline, a faith further developed by his wartime service in the Army. When Stan Cullis retired following Wolves missing out on the championship again at the end of 1946/47 he was the obvious choice to become the next manager at Molineux. Cullis continued the regime introduced by Buckley, hard work in training, strict discipline at the club and all out attack on the field.
After 17 years at Molineux, Buckley decided to end what had been described as a contract for life in February 1944, following the retirement of his greatest ally, chairman Ben Matthews. He moved on to Notts County of Division Three, where he was paid £4,000 a year. He didn't achieve much in his couple of years at County and within hours of his resignation in January 1946, he took charge at Hull City, another Third Division side.
As ever, Buckley continued to have a flair for publicity and in March 1948 he persuaded First Division Derby County to sell Raich Carter for a nominal fee. As well as playing, Carter would also be Buckley's assistant manager. But it was only a temporary partnership and when Buckley resigned within weeks, Carter was given complete charge and Hull's attendances boomed.
After the resignation of Dick Ray as Leeds United manager in 1935, the Elland Road club had turned to former players with little managerial experience: Billy Hampson was reasonably successful prior to the war in that he maintained their First Division status, although an over dependence on an ageing and out of form squad cost him his job in 1947 as Leeds plummeted to relegation; former United captain Willis Edwards replaced Hampson, but was a disastrous appointment and Edwards was lucky to keep the club out of the Third Division. He was demoted a year after he took over. Realising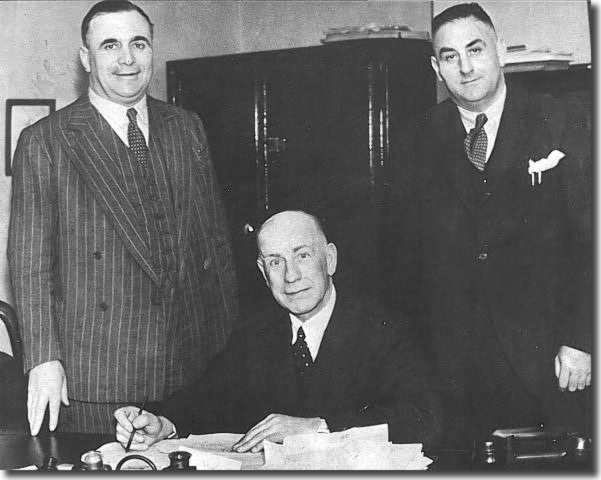 their mistake in appointing Edwards, the board went for a big name to replace him and sought out the 64 year old Buckley, who promptly resigned from Hull.
Leeds had often struggled financially and the business acumen of Buckley was another attraction for them. In his time at Molineux he had generated a £100,000 profit one year and he was good at discovering and selling young talent, something he would have the opportunity to practice at Elland Road. Leeds fans remember Buckley for discovering John Charles, who signed for the club on his 17th birthday on 27 December 1948 and went on to become one of the biggest British stars of the 1950's.
Buckley cleared out all the club's old players and raised the admission prices at Elland Road. In his first season, Leeds finished 15th. He had stopped the decline, with the team also showing promising signs. Tommy Burden, recommended by Willis Edwards, was signed from Chester. Buckley had known him since he was a teenager from his days at Wolves. He became captain and was very popular. Burden had the player's respect.
Buckley brought innovation and eccentricity to Leeds. He introduced dance training to improve the players' agility and balance, with the PA blaring out music on the Elland Road pitch, and a number of odd mechanical devices, all designed to improve the players' skill with the ball. He also tried his 'monkey gland' trick again, but this time used a combination of injections and capsules. How effective these new methods were is debatable, but they certainly encouraged public interest in what was now a modest Second Division side. Buckley was still remarkably fit and could do press ups and high kicking tricks with the best of them. He organised and refereed practice matches for the younger players.
Buckley's methods had sharpened things up. 'At Leeds, there were never training sessions such as they had at Wolves where players would come in the morning and go out running in spiked shoes,' Tommy Burden recalls. 'In his last season, Tom Holley only used to train at night. Buckley was a shock to Leeds United. He couldn't bear a player who only had one foot. He felt that if you earned your living at football you should be able to use both feet. He had a go at me about it in front of the rest of the players. I remember him looking at his little Welsh terrier and saying, 'You've got a better left foot than him, haven't you?''
Buckley had an abrasive side to his character and soon fell out with inside forward Ken Chisholm, an assertive Scot who had served in the RAF as a fighter pilot and scored 17 goals in 40 League matches for Leeds. 'Ken was a character - a good goal poacher who liked to go out with the lads for a drink. Buckley told him, "This city's not big enough for both of us and I'm not going,"' Jimmy Dunn recalls. So ultimately Chisholm went - to Leicester City in an exchange deal that brought Ray Iggleden to Elland Road.
The new Leeds manager cut an extraordinary figure. 'He spoke like an upper class gentleman. I remember him bawling out Len Browning one day for not saying good morning,' says Burden. 'He always wore Oxford bags and his shoes were hand welted, shining to perfection. You didn't call him Frank, you called him Major.'
As at Molineux, Buckley developed a strong youth policy and built impressive sides, despite continuing financial difficulties. He never got Leeds the promotion they craved, but established an attractive side, spearheaded by Charles, which was usually in the top five or six and made it through to the Cup sixth round for the first time in the club's history in 1950.
He also traded effectively in the transfer market, buying cheap and selling big, as he had at Molineux. He bought Roly Depear a centre-half from Boston for £500 in May 1948, and just over a year later had sold him to Newport for a £7,500 profit. Two of his biggest sales were internationals Con Martin and Aubrey Powell, each of whom attracted five-figure fees. That was typical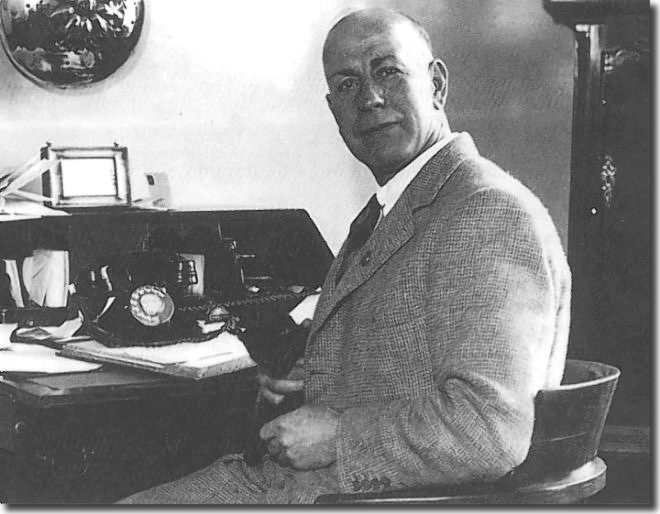 of the man and Leeds United's financial position strengthened noticeably under Buckley.
Despite the importance of Charles to his side, Buckley's business acumen always shone through. Charles would have fetched Leeds a small fortune. But, as yet, he was not keen to go, and the directors had no desire to sell him. The Major however, had built his career on trading players. 'I remember when a lot of clubs were after him, saying to Buckley, "You're not going to sell him, are you?" He said, "You watch me ... I like money in the bank to cover my salary ... he'll go if I get the right money for him,"' Tommy Burden recalls.
Jack Charlton joined the Elland Road ground staff while Buckley was at the club and has some recollections of the man, both good and bad:
'Unlike the pros, we got just two weeks' holidays in the summer, and while they were away, our job was to remover the weeds from the pitch and replace them with grass seed. I remember being sat out there one day with Keith Ripley, another ground staff boy, when Major Buckley came over to us. We must have looked pretty forlorn, the two of us, and to gee us up he said he'd give us five shillings for every bucket we filled with weeds. Now that was an offer we couldn't refuse.
'By the time we were finished, we had filled six buckets, and cheeky bugger that I was, I marched straight up to the Major's office. And when he asked what I wanted, I told him I was there to claim my thirty bob for the weeds. He nearly blew a bloody gasket! "Get out of here!" he bellowed. 'You're already getting paid to do that work - don't ever let me see you up here again with your buckets.'
'Yet beneath the gruff exterior, he was a kind man, as he demonstrated once when I met him. My shoes must have been a sight, for when he looked down at them, he asked me if they were the only pair I had. I nodded. The next morning, he summoned me to his office and handed me a pair of Irish brogues, the strongest, most beautiful shoes I'd ever seen. And I had them for years.'
Despite all the idiosyncrasies and flamboyance, Buckley knew exactly what he was doing and built a strong, if erratic, side around John Charles, which came close to promotion a couple of times.
After 5 years at Elland Road, and now aged 69, Buckley decided he could take them no further with the limited funds available and resigned in April 1953, as the club slumped to a disappointing 10th place finish. He moved on to manage Midlands club Walsall, another Third Division outfit, but left in September 1955 at 72 years old, perhaps realising that his authoritarian approach was out of touch with the post war game.
He died, aged 81, in December 1964.