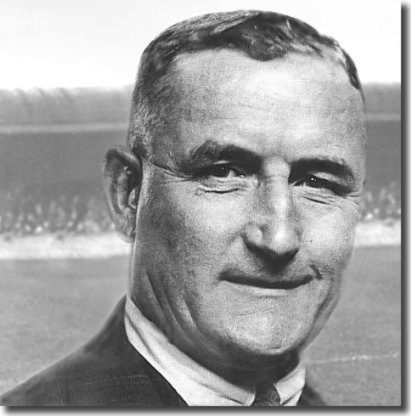 Don Revie apart, Billy Hampson held the post of Leeds United manager for longer than anyone, 12 years. However, with that period spanning the Second World War, he was only in charge for five seasons of official peacetime football.
Born in Radcliffe on 26 August 1882, he was a late developer as a footballer. He had already played at full back for Rochdale, Bury and Norwich City, when, as a 31 year old, Newcastle United signed him for £1,250 in January 1914. Later that year, war broke out and Newcastle closed St James' Park for the duration. Hampson wanted to carry on playing, and joined Leeds City as a guest player during the war. He was a regular, turning out in 91 matches between December 1916 and April 1919, helping them to win the nofficial title of League Champions in 1918.
On a number of occasions he was joined in the team by brothers Tommy (goalkeeper) and Walker (full-back).
He returned to Newcastle after the war aged 37, but had to play second fiddle to the even older Tyneside legend Bill McCracken, who is credited with getting the offside law changed in the 1920's. McCracken became so adept at catching forwards offside that it forced a change in the rules of the game.
Hampson soldiered on at Newcastle and when McCracken took over as Hull City manager in early 1923, he finally secured a regular spot in the first team. He went on to become the oldest FA Cup finalist ever when he turned out in the No 2 shirt in the 1924 Final. Newcastle beat Aston Villa 2-0 - Hampson was 41 years eight months old at the time.
He remained at St James' Park for another three years, before moving to South Shields in September 1927, and went on playing until March 1930 when he finally retired at the age of 47. At that point he took over as manager of Carlisle United, a side stuck in the bottom half of the Third Division (Northern Section) following election to the Football League in 1928. He didn't achieve much with the club, apart from unearthing Bill Shankly and Bob Batey, whom he later signed when he took over at Elland Road.
When Dick Ray resigned as Leeds United manager in March 1935 the Board sought out Hampson to replace him. By this time he had moved on to the Newcastle side Ashington, who had lost their Football League status in 1929. Hampson readily accepted the offer to move to a club who were then struggling in the bottom half of Division One.
After seeing United finish 18th at the end of that first season, Hampson immediately sought out experienced players to solve his problems, signing former England internationals, goalkeeper Albert McInroy and forward George Brown, in the summer. It didn't really help, but United consolidated their First Division status in those few years before the Second World War. They avoided relegation by just two points in 1936/37, but Hampson was building for the future. He relied on experience, but developed a lot of young players, leading to United's only Central League win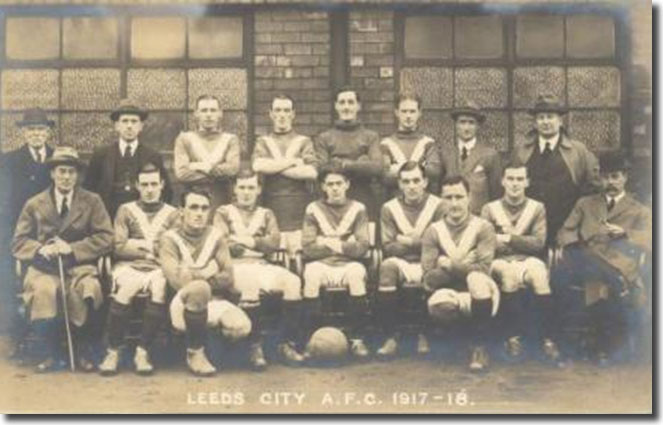 that same season. He also signed three good young Irish players in goalkeeper Jim Twomey (Newry Town), winger David Cochrane (Portadown) and wing half Bobby Browne (Derry City). All three went on to play for their country.
The Second World War came at the wrong time for Hampson and his side. The younger players saw their finest years go to waste and when peacetime football returned in 1946/47 they were well past their best. Hampson stood by many of his pre-war squad, but it was a disastrous policy. United had a dreadful season, with only one point taken away from Elland Road and only six victories all year. They finished bottom with just 18 points, a massive fifteen points away from safety.
With an ill starred combination of youth and experience, Leeds plunged back into the second division and Billy Hampson resigned. Some players felt he did not need to fall on his sword. Rookie full back Jimmy Dunn, whom Hampson had brought to Leeds from Scotland, said, 'He seemed a wonderful chap. It was a surprise when he went so quickly.'
At the beginning of April 1947, with Leeds already as good as down, Hampson was replaced by former United player Willis Edwards and demoted to chief scout. He only remained in that role until the following October before going his own way and later working as a coach for the Northumberland Schools FA.
Hampson died on 23 February 1966 at Congleton in Cheshire.
He had struggled with the financial difficulties that United (and Leeds City before them) had faced throughout their history and did well to maintain First Division status as long as he did. Leeds did not have the resources to compete with the top clubs for the best talent and were usually forced to sell their better players, such as Wilf Copping (who left for Highbury before Hampson's time, but returned to Elland Road before the war) and right back Bert Sproston, whom he sold to Tottenham for a near record £9,500 fee in June 1938. The best that could be hoped for in the circumstances was to discover enough raw young talent to be developed for sale to the bigger clubs and to muddle by as best they could. Hampson managed that well enough and built up a loyal and dedicated set of players, who respected and liked him. But in the end, misplaced loyalty to his proven players led to his downfall.