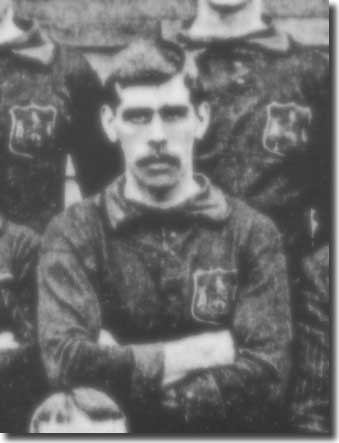 Dick Ray was one of the most loyal servants ever at Elland Road, serving both Leeds City and United for well over thirty years, although he had a number of breaks from the place. As well as being manager of United in two separate spells, he was also player and captain of City, as well as being committee man and secretary with United.
Ray was born in the Potteries town of Newcastle-under-Lyme on 4 February 1876 and began his footballing career with local clubs, joining Macclesfield as a seventeen year old in 1893, before moving to Burslem Port Vale a year later. Over the next few years he played for Manchester City, Stockport County and Chesterfield.
After Gilbert Gillies, his manager at Chesterfield, was appointed as Leeds City's first boss in March 1905, the 29 year old Ray followed him to Elland Road in July, in time for the club's first season in the Football League. Ray was a dependable left-back and even skippered the side before leaving when the board declined not to renew Gillies' contract in March 1908.
Ray retired from playing in 1912 and then served in the RASC during World War One. He remained close to Leeds City, however, and was invited to become a member of the original committee that was elected to manage the new Leeds United, following City's expulsion from the League in October 1919. He then became the first United manager, running the club for part of their 1919/20 Midland League campaign.
New United chairman Hilton Crowther went back to his old club Huddersfield Town to recruit Arthur Fairclough in February 1920. Ray became his assistant for a while, eventually leaving Elland Road in June 1923 to take over at Doncaster Rovers when they were elected to the old Third Division (North). Ray never got them above a mid table finish, but when Arthur Fairclough resigned following Leeds United's relegation to Division Two at the end of 1926/27, the Leeds Board recalled him to oversee all team and football affairs, including selection and tactics.
One of Ray's first signings, in July 1927, was Charlie Keetley, whom he seized from non League obscurity. Keetley went on to score more than a hundred goals for United over the next seven years, and is still one of the club's all time leading goalscorers. Ray had previously signed all of his four brothers while at Doncaster.
Ray steered United back up to the First Division at the first attempt in 1927/28, making few changes to Fairclough's team, although Keetley had a good late run, scoring 18 goals in his 16 appearances. He went on to steer the club to a remarkable top five finish in 1929/30 (their best placing until Don Revie arrived), before seeing them relegated the following year. They bounced back immediately in 1931/32 as runners up to Wolves and enjoyed two seasons in mid-table. Ray now had the celebrated England international half back line of Edwards, Hart and Copping at his disposal.
However, in the close season of 1934, powerful Arsenal, the 'Bank of England' club stole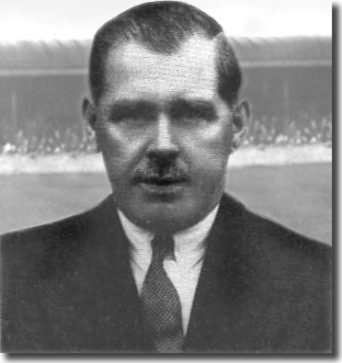 Copping away, sorely depleting the United backbone. Copping was badly missed. In 1934/35 Leeds sank to 18th place, though with only four points fewer than in the previous campaign. But defensively there were some dreadful embarrassments: an 8-1 defeat at Stoke in the second match of the season, a 6-3 defeat at West Bromwich in November and a 7-1 thrashing at Chelsea in March - despite Leeds having taken a 10th minute lead in the latter. By then, Dick Ray had resigned as manager. With only slender resources at his disposal, he did much to enhance Leeds United's reputation, fostering the talents of several fine young players, but felt there was little more progress he could make. 59 year old Ray resigned his £1,000 a year job on 5 March 1935, with United flirting once more with relegation.
Throughout his career, Ray was self assured, opinionated and outspoken. Few argued with his achievements and, despite perpetual financial problems, while he was at Elland Road, he fashioned a strong outfit. He discovered and developed the likes of Bert Sproston, Wilf Copping, Billy Furness and Eric Stephenson who all made it into the England side, as did two of the players he inherited, Willis Edwards and Ernie Hart.
The Football League recognised Ray's achievements by appointing him the first manager of a League representative team, for the 2-2 draw with the Scottish League at Ibrox in February 1934. He was presented with a gold medal to mark the honour.
Ray quit his £1,000 a year post on 5 March 1935, deciding he had taken United as far as he could. A month later, he took over from Jack Peart as Bradford City manager. They just about avoided relegation from Division Two at the end of that season, but were relegated in 1937. Ray left the club a year later when he was relieved of responsibility for team selection.
He was then 62 and spent some time as Millwall's chief scout, but was out of football two years later, spending his time running garage businesses and billiard salloons.
Ray was also a fine cricketer with Bradford League club Laisterdyke.
He died on 28 December 1952 in St James' Hospital in Leeds, aged 76.