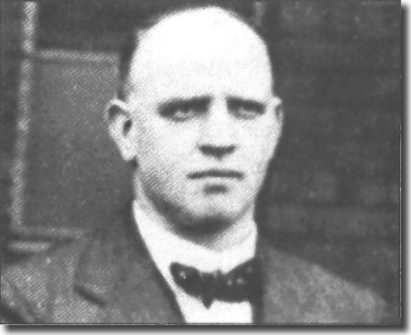 The establishment of Leeds United following the expulsion of Leeds City from the League led to the arrival of the wealthy Hilton Crowther as chairman from Huddersfield Town. He quickly enlisted the services of the manager at Leeds Road and the club appointed Arthur Fairclough as manager on 26 February, 1920. He took over from the existing boss, Dick Ray, who became his assistant. Oddly enough, the former Leeds boss, the legendary Herbert Chapman took the reverse trip across Yorkshire and led Town to football dominance during the Twenties.
Fairclough was a native Yorkshireman, being born in Redbrook, Barnsley on 1 March 1873, and he was a referee of some repute in his early days. He had kicked off his football career as player secretary with a junior side in Barnsley in 1891-92, but ill health forced his retirement from the playing side of things. In 1896, he was elected to Barnsley's management committee and went on to become club secretary in 1898 as they joined the Football League. He had also run a licensed property in the town, which caused him some difficulties in future years as it took up a sizeable amount of his attention and distracted him from his football obligations.
Three years later he gave up the job because of his business commitments, but could not stay away from the game and was elected to the Sheffield Football Association in July 1902, before returning to Barnsley as manager-secretary in 1904, when they were an established Second Division team, although they had achieved nothing spectacular. They usually finished in a mid-table place and were usually only two or three places apart from Leeds City.
However, in 1910 Fairclough took his unfancied team all the way to the FA Cup Final which they eventually lost 2-0 to First Division high fliers Newcastle United, but only after a replay. The club finished 19th in 1911, but reached the Cup Final again in 1912. This time they were more successful, beating West Bromwich Albion 1-0, the game again going to a replay before it could be settled.
Despite his success, Fairclough received a weekly wage of £2, less than the club's trainer and most of the players.
During this time, he teamed up with Dick Norman, who was later to join him on his travels at both Huddersfield Town and Leeds City.
Succeeding assistant secretary Leslie Knighton, who had briefly acted as caretaker
manager following the resignation of Dick Pudan, self confessed football fanatic Fairclough became secretary manager of Huddersfield Town on April 24 1912 and soon established the club in Division Two.
Assisted by director and club founder, David Dickinson, after Knighton left for the assistant manager's job at Manchester City in August 1912, Fairclough steered Town through many difficult periods, none more so than in 1919, when - irrespective of his questionable allegiance towards Town's proposed transfer to Elland Road at the height of Huddersfield's financial crisis - he maintained the club's dignity.
More significantly, the nucleus of the side that his successor at Leeds Road, Ambrose Langley, took into Division One and which Herbert Chapman later guided to further glories, was masterfully assembled by Fairclough, and for only a minimal transfer outlay. They finished runners up in Division Two in the season he left them.
Inevitably, circumstances led to his resignation on December 23 1919, after he put Town in an embarrassing position by indicating that he would act as Receiver if such an application was successful. The following February, however, he was back in business. By this time former Huddersfield Town chairman, John Hilton Crowther, had been appointed to head the board of directors at newly formed Leeds United and, seeking a figure to take them into Division One, he persuaded Fairclough to join him as manager. The incumbent, Dick Ray, became Fairclough's assistant following the move.
The Yorkshire Post welcomed the appointment: 'Mr Arthur Fairclough, than whom there is probably no more astute team builder in the country, has been given a free hand in the signing on of players. Leeds United should, with ordinary luck, qualify for the first division within three years.'
Leeds United were elected to the Football League at the end of May 1920 and Fairclough and Ray spent the close season bringing together their squad.
They recruited numerous players from local junior football clubs, but also needed experienced professionals from whom they could learn. Two key defensive signings were centre half Jim Baker, signed from Huddersfield, who was a robust, hard tackling defender and became Leeds United's first captain, and full back Jimmy Frew from Hearts. The club did not achieve much in their first three seasons, but were seventh at the end of 1922-23 when Dick Ray decided to resign and try his luck elsewhere. Fairclough enlisted Blackpool boss Dick Norman as his new assistant and renewed the managerial team he had enjoyed previously at Barnsley.
Success followed almost immediately with the duo taking the club up to Division One for the first time after winning the Second Division title in 1923-24. They strengthened their squad by bringing in stars like Tom Jennings, Willis Edwards, Russell Wainscoat, Bobby Turnbull and Tom Townsley, but the club struggled to make an impact in Division One and were relegated at the end of the 1926-27 season. Fairclough resigned following this and was replaced by the returning Dick Ray, but left a team that was strong enough to bounce back to the top flight at the first attempt a year later.
Fairclough had done some wonderful groundwork in his time at Elland Road and set up the club for a good time of things throughout the period between the two wars.
Fairclough returned to Barnsley as secretary manager on 12 May 1929 for a third time, but only stayed a year before resigning. Five years later he made another return, this time as a director.
He died in a Sheffield nursing home, aged 72, on March 18 1948.