Part 1 An Appreciation - Part 2 Learning the ropes 1927-51 - Part 4 Shuffling off stage 1956-61 - Part 5 On the march with Leeds United 1961-67 - Part 6 The agony and the ecstasy 1967-74 - Part 7 Inn-gerland! 1974-77 - Part 8 Disgrace and despair 1977-89
The man who took Don Revie from Hull City to Maine Road was Manchester City manager Les McDowall, paying the tidy sum of £28,000 for a player who seemed to have lost his way after emerging as an outstanding youngster at Leicester City.
McDowall had a long history with the Manchester club, joining them as a player in 1938 after a £7,000 transfer from Sunderland. Born in India, the son of a church minister, he was a calm and thoughtful player and was appointed captain shortly after he arrived, becoming renowned for his coolness under pressure. Unfortunately, he joined City just in time to see them relegated from Division One.
City won the Second Division title in 1947, and McDowall left the club to take over as manager at lowly Wrexham a couple of years later. In 1950, City were relegated again, and the club installed McDowall as the new manager following the departure of Jock Thompson. He began building a new side in the hope of winning promotion back to the top flight. German goalkeeper Bert Trautmann was already at Maine Road when McDowall arrived, and the manager soon signed wing-half Ken Barnes and Welsh international Roy Paul, mainstays of the City side for the next five years.
Ken Barnes, whose son Peter was to play for both Manchester clubs, along with West Bromwich Albion and Leeds, arrived at Maine Road after an astonishing £7,000 move from non-league Stafford Rangers. He was a powerful attacking wing-half, and became a vital cog in the City side that enjoyed a purple patch in the mid-Fifties.
Roy Paul was a robust and charismatic character who had been a big name at Swansea when John Charles was a ground staff boy there. He was no stranger to controversy and signed for Manchester City for £19,500 after an abortive trip to Bogota to join a Colombian club. He was rumoured to have received an illicit signing-on fee from Swansea in order to push the move to Maine Road through, although nothing was ever proven.
According to Chris Wiseman: 'He was a great player, a wonderful, fun-loving family man, and an inspiration to all who played for or watched City. Roy Paul was born and raised, one of twelve children, in Ton Pentre, in the Rhondda Valley. Destined for the pits, he was, in a way, rescued by the war and by his football and athletic talents. Fast developing into a fine half-back, he played 160 matches for Swansea, and, in 1949, won with them the championship of the old Third Division (South). He won 33 caps for Wales, playing in all three half-back positions. As a player, Roy Paul was a defensive midfielder. Strong on his legs, good in the air, powerful and often fearsome in the tackle, he was in the mould of Dave Mackay, Jimmy Scoular or Billy Bremner, though cleaner than any of them. Roy Paul loved his ale, and, when City were touring abroad, instead of taking the team to various "places of interest," it's said that he quietly led them to the bars and clubs.'
Bert Trautmann fought for the Germans during the war, was captured by the Allies and escaped from prison camps on a number of occasions. Along the way he fought at Arnhem, won an Iron Cross first class and was buried under rubble in a cellar for 3 days. He was captured by the British and imprisoned in a POW camp at Ashton-in-Makerfield, where he developed his interest in football and displayed outstanding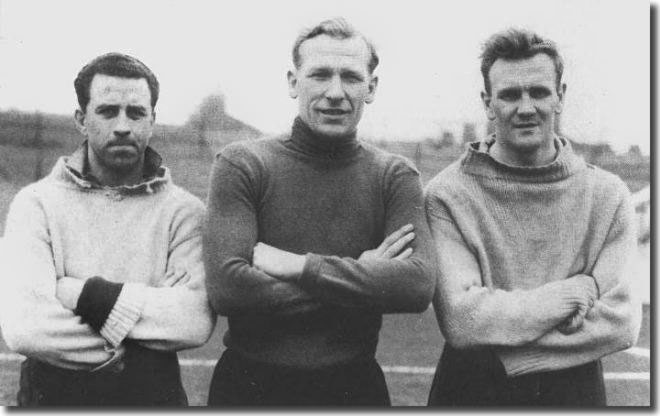 prowess as a goalkeeper. After signing for Manchester City, he faced open hostility from British fans. The signing caused uproar - season ticket-holders threatened a boycott and the club was bombarded with letters of complaint.
Not only did Trautmann have to overcome the anti-German feelings, he was also the successor to the great Frank Swift whom many thought the greatest goalkeeper of all time and irreplaceable by anyone, let alone an ex-German soldier. Eventually Trautmann won the supporters over with his brave and agile goalkeeping displays and became one of the post-war game's greatest characters.
One would not have assumed that Revie would naturally hit it off with the three men, but he did and was to enjoy considerable success in their company.
Les McDowall took City to promotion in 1951, but saw them struggle on their return to the top flight. The manager went to his board at the end of September to ask for funds to strengthen the side. He splashed out £25,000 for Sunderland inside-forward Ivor Broadis, an excellent ball player with a whole repertoire of tricks whom the crowd took to from the start. Two weeks later, Don Revie was ushered into this exciting new environment. The football world was staggered by McDowall's spending, but both manager and fans felt that the side was destined for great things.
Eric Thornton: 'It was a quick fire hush-hush transfer. The 'hounds' were out quickly when it became known that Hull might be talked into parting if somebody twisted their arm with the right kind of cheque, though the asking price was likely to be stiff. The Humbersiders, apparently, did not really want to say goodbye to a player who had already endeared himself to their supporters, but they badly needed extra cash for rebuilding, and were what is known in the game as "available for discussion".
'Manchester City did not require any prodding. After all, they knew all about his possibilities because of having had him measured up for some years. Even when Don was just a youngster treading the path in reserve team soccer with Leicester the Maine Road board were studying reports on his maturing form. Their Midland scout, who had been impressed in a London Combination game, kept Manchester fully informed with a succession of encouraging assessments, and whetted their appetite to such degree that they sent their chief scout along for a special look-see.
'Then Fred Tilson, their pre-war centre-forward, watched him. The old England leader told me one day he was certain Revie could go right to the top - "with the right coaching, and the right players around him". They made several quiet approaches to Leicester without any success, and in the end he moved to Hull, and the Manchester folks retired defeated and annoyed, though, at the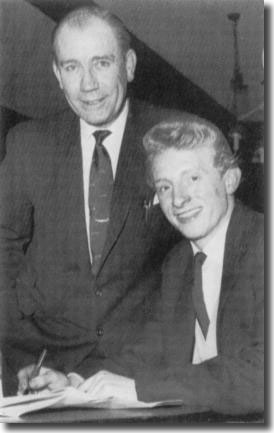 same time, they voted to keep him in their sights.
'When Leslie McDowall moved over from Wrexham as successor to Jock Thomson in the hot seat, the board quickly gave him their view about Revie, and it resulted in McDowall contacting Hull about Don, who then had nearly four years of league experience behind him and was slowly emerging as a matured, confident, and commanding player of England style. Negotiations seemed likely to be difficult, but became unexpectedly easy when Hull admitted they were also searching for extra defensive strength, and were immediately offered a cheque plus full-back Ernie Phillips, who later skippered York City to a Cup semi-final before Newcastle United beat them in a replay on Sunderland's Roker Park ground in 1955.'
Alan Rowlands in his biography of Bert Trautmann: 'Broadis and Revie had an immediate impact with a number of outstanding displays, but they were individual performances rather than all-round team efforts. In Broadis' case he was a naturally instinctive player and as such fairly unpredictable. On the other hand, Revie, a man of deep intelligence, was a tactician who analysed the game thoroughly, very much as Bert Trautmann did, and the two of them formed an instinctive affinity.
'City were knocked out of the FA Cup in the third round, losing 4-1 in a replay at Wolverhampton Wanderers. But more alarmingly, from early January to mid-April they did not win a single game and crowds at Maine Road plummeted to 14,000. McDowall and his players were under great pressure and, while the manager tried to convince the board that with patience the results would come, the dressing room atmosphere was tense. Trautmann's displays were, fortunately for City, as reliable as ever, but the team, considering the talent available, was not gelling. Broadis and Revie were not functioning together in the way McDowall had hoped, while the defence was falling apart at the seams.'
Andrew Mourant: 'As at Hull, Revie could not immediately adopt the role and position in which he considered himself most effective. He had joined City just two weeks after they spent £25,000 on inside-forward Ivor Broadis, a player who, like Raich Carter, enjoyed playing deep. Again, the Revie style was cramped by a player he described as blessed with excellent skills, electrifying bursts of speed over short distances and a fierce shot. Once more, Revie was marooned upfield, ineffective and unhappy in his role as goal-grabber. He lacked great pace, and his scheming and passing skills were wasted.'
Bert Trautmann: 'I don't know why the team did not reach the potential it should have done, to a certain extent we expected such a lot from Ivor and Don but things did not happen. I discussed this with Revie and he felt that their styles clashed, they both liked to play from deep positions and Don felt that they were getting in each others way, a conclusion I had reached. Les McDowall seemed to think that it would just sort itself out, but it was apparent to me that it would not. Ivor was a fast player where Don, on his own admission, needed time and space to play his own game. He was very unhappy with things and told Les McDowall.'
Roy Paul and McDowall had formed the conclusion that Revie's best position was at half-back, although Revie coveted the inside-forward role. Broadis won an England cap that year, frustrating Revie, whose season was disrupted by a groin injury. In the end City managed to recover sufficiently to finish fifteenth, but when neighbours United easily won the League title supporters, players and directors were distraught.
Revie was unhappy and asked for a transfer, while Trautmann had also decided to move on, although he told no-one of his plan. In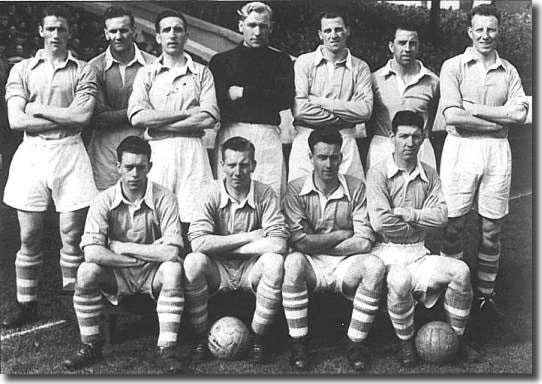 the end, however, both players reconsidered and remained at Maine Road. It made no difference, and things grew even more dismal as the talented bunch of misfits struggled to find any real form.
Les McDowall, who was always tinkering with different players and formations, was still undecided on his best combination and withdrew Roy Paul into the centre-half role for a period. The move was a disaster, leading to twelve goals being conceded in two games. City went into 1953 as favourites for relegation.
Revie said of the time, 'We were a team of two units, but there was nothing to link us together properly.' City had a robust defence, and a skilful set of forwards, but they just could not function as a team. The players for the most part were thinking footballers and Paul, Trautmann, Revie and Roy Clarke often tried to work out how they could improve matters. Unfortunately, the aloof McDowall refused to listen to any of their suggestions, preferring his own counsel. He rarely spoke to the players.
Team spirit was low and City were struggling badly. They lost 6-0 to Cardiff, who had previously failed to score a League goal for ten weeks, and with six games to play looked doomed. Three points came from the next three matches, but then already-relegated Derby hammered them. However, a 5-0 victory over Cup winners Blackpool in the week of the final rescued City, leaving them twentieth, a point clear of Stoke. The Seasiders, wary of suffering any injuries, tiptoed through the game and City were easy winners.
The relegation scare prompted no new urgency in 1953-54 and City's inconsistency continued. Les McDowall finally resigned himself to making changes and opted to break up the pairing of Don Revie and Ivor Broadis. Many had thought Revie would be the one to leave, but surprisingly it was Broadis who moved on, in a big money deal to Newcastle.
The change finally allowed Revie to adopt his preferred deeper position and he certainly enjoyed the new freedom, catching the eye enough to merit selection for the Football League against the League of Ireland that October. He was an instant success, slamming in a hat trick in a 9-1 win, thanks mainly to the support of Manchester United winger Johnny Berry.
Happily for City, events on the international stage brought new inspiration to the club. Manager McDowall had puzzled for some time on how best to exploit the undoubted riches at his disposal. The answer came to some of his players on Wednesday 25 November 1953, the momentous occasion when English football finally had to wake up and accept that the rest of the world had overtaken them.
Alan Rowlands: 'Hungary defeated England by six goals to three at Wembley with a display of brilliant football. The main revelation was the unorthodox centre-forward play of Nandor Hidegkuti,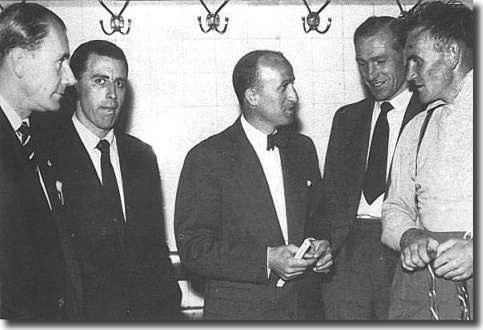 a thirty-year-old veteran whose game was played behind his inside-forwards. His uncanny understanding with Ferenc Puskas and the half-back Jozsef Bozsik was phenomenal. In the Chorlton-cum-Hardy suburbs of Manchester the City Mafia of Revie, Paul, Clarke and Johnny Williamson, the City reserve forward, watched on television, mesmerised by the Magyars' ability. In leafy Bramhall, Bert Trautmann sat on the edge of his armchair with disbelief; this stunning display of football was exactly his own idea of how the game should be approached.
'On the following morning the Manchester City players reported for training in an excited huddle and discussed with a relentless passion the Hungarian display. The trainers and coaches arrived and dished out the usual stint of lapping the pitch and circuit training in the gymnasium. Les McDowall was not unmoved by the Hungarian display but regrettably moved in the wrong direction.'
In the eight weeks that followed, the manager made nearly forty team changes as he continued to experiment, dismaying the more thoughtful players like Don Revie and causing further disharmony in the playing ranks. The first team ended the season seventeenth, in sharp contrast to the reserves, who made a successful fist of aping what they had seen from the Hungarians.
Don Revie's good friend, Johnny Williamson, played centre-forward for the second team and one afternoon decided to experiment. He dropped deep, lying behind the other forwards, and linking up with wing-half Ken Barnes.
Andrew Mourant: 'It was a method of play that threw the opposition and, by persisting with it, Manchester City reserves went on to complete their remaining 26 games without defeat. Williamson was convinced not only of the style's infallibility but that it was made to be exploited by Revie's scheming and passing skills. Revie was sceptical; he feared that in the First Division, the greater ability of players to tackle and cover would snuff it out."
However, the success enjoyed was without question and McDowall finally accepted that he might have found the answer to his problems. During the close season, a City squad went on a tour of Germany. Revie had won a place in England's B team at the end of the season before a late injury had ruled out his chances of a full cap, but he was brimming over with confidence. He used the tour to see how well he could repeat Johnny Williamson's success. Things went well and City enjoyed some success, but what was even more positive was the change that engulfed Les McDowall.
Alan Rowlands: "During the tour of Germany the party had stayed at a coaching camp set in beautiful woodlands just outside Munich. In the wonderful Bavarian surroundings, McDowall had been deeply motivated by the coaching methods and the set up. Now he was brimming with bonhomie towards his players, brimming with enthusiasm for the new season and had reached the absolute conclusion Manchester City would have to embrace some of the continental methods. The players could hardly believe this turn of events, suddenly the formerly detached manager was oozing with conviviality towards them. One of his first actions was to call Don Revie to one side. Don knew something was in the air because the date for pre-season training had been brought forward."
Revie: "We reported for training two weeks earlier than usual. This was the first surprise. The second surprise was that from the word 'go' we really got down to the job - mornings and afternoons - in what I can only describe as top pressure training under Laurie Barnett. Surprise number three was the fact we were told we could have as much ball practice as we wanted. If a player wanted a ball out, he could have it. If he thought he was seeing too much of the ball then he could lay off. There was a sense of urgency about our camp, more keenness, more interest."
Revie might have been enthusiastic about the change in emphasis, but he was not positive about the early start to training. His wife was a schoolteacher and the school holidays normally meant they could enjoy the most time off together. McDowall's early recall put a stop to that and infuriated Revie. It ate away inside him, and he brooded on the unfairness of it all. However, he appreciated the importance of the change, particularly when McDowall took the unusual step of calling all the squad together to brief them: "We are going to play football this season. By football, I mean football. We are going to keep the ball down, no big kicking and no wild clearances from defence." He gave Roy Paul a hard stare because his captain never stood on ceremony. Paul replied: "If you get Laurie to organise the bastards properly boss, I'll f***ing deliver."
Alan Rowlands: "Eric Thornton of the Manchester Evening News claimed to have christened the new system as the Revie Plan, while the Daily Mirror and the Daily Express made similar claims. Either way, Don Revie's name became eponymous with The Plan.
"The Revie Plan was, basically, a copy of the Hungarian system that had marvelled the soccer world the previous year. Revie played as the deep lying centre-forward, inside his own half and linking up with his wing-half and inside-forwards in a triangular formation. Revie used both wings for space while the wingers found space inside. Revie realised, however, that the success of the plan depended heavily on a goalkeeper who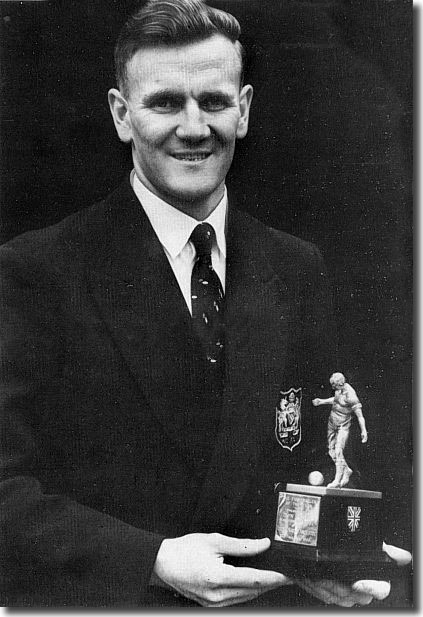 could read the game well and whose distribution from the penalty area was unfailingly accurate. Trautmann was dragged from his isolation on the training ground and became the essential link for the plan to work. Revie and the rest of the team had the concept of keeping possession being the basis of good football and that started with the goalkeeper. The normal method of play with goalkeepers was to hastily kick the ball upfield after making a save, often without any direction or accuracy. The Hungarian, Grosics, had shown how constructive the goalkeeper could be with a display of careful and thoughtful throws to his team-mates.
"Trautmann's exceptional skill at throwing the ball was immediately recognised as the foundation of the side's mobility, not only could he throw the ball with unerring accuracy and power, he could actually put back spin on the football. His style was also unique, he did not employ the usual overarm method favoured by other goalkeepers, he used a technique of 'pushing' the ball through the air almost like a shot putter."
Revie: "In training I would run towards Bert when he had made a save. He held the ball until I was in the clear with my own wing-half in close attendance. Bert would throw the ball out to me, but as soon as he shaped up to do so, the wing-half ran forward to take a short pass from me. At that stage I usually had a yard or two to work in. The opposing left-half had almost certainly been bolstering up his own forwards, if he came towards me I turned the ball to my wing-half and then ran on until I was once again in open space. He in turn would hold on until I was in position then pushed a ten or fifteen yard pass down the touchline. I was beyond the opposing half-back with the opposing full- back some distance away. I could either run forward or hold the ball to chip a long through pass for our wingers and strikers bursting through. The great skill in football is in not standing still, but depends on men not in possession getting into position. The key factor in this strategy is using short accurate passing at first in building up an attack, until one man is in the clear. Unlimited possibilities stemmed from this move started by Bert."
There was enormous press interest as rumours of the City plans leaked out. Expectancy was high when City travelled to Preston North End for their first match of the season. Unfortunately, the Plan did not have a comfortable baptism.
Alan Rowlands: "They blew it, the Revie Plan was an unmitigated disaster from the start. Bill Leivers had been brought into the team at right-back with John McTavish playing as link man to Revie at right-half. McTavish was injured early in the game and Leivers also received a knock. Preston, with their two talented attacking wing-halves Tommy Docherty and Willie Forbes surging through midfield, broke down every move. Revie was left chasing shadows, while Tom Finney, exploiting City's weakness on the right, cut the defence to ribbons. At the end of the game the City players trooped off the field with their heads down while Preston North End celebrated their resounding 5-0 victory."
Eric Thornton: "The team coach on the way back was like a funeral coach, many of the players gladly accepting lifts home in supporters' cars, eager to dodge the depressing atmosphere. Everybody was wondering if it was going to be another of those seasons and they didn't like the thought!"
Revie was in despair and told his manager that he thought the plan had little future, but McDowall was determined to give it a decent chance, announcing defiantly, "We are going to play this system for a month. No matter what the public, Press or anyone else says, one match is not a sufficient test."
He made a couple of adjustments to address the shortcomings exposed by Preston, replacing the full-backs and calling up Ken Barnes as an attacking right-half in place of McTavish. Revie was pleased, recognising that Barnes was the missing link that he thought the Revie Plan required to function properly, "an attacking wing-half who was not only clever in possession but who also had plenty of stamina and an ability to bring the ball up and use it intelligently."
The changes had an immediate impact, with City beating Sheffield United 5-2 and Revie commented: "As soon as Ken came into the team it was obvious where we had gone wrong at Deepdale. It was imperative to have an attacking wing-half to combine with the deep centre-forward and at the same time we had to have mobility in defence to cover up for Ken, that was the answer, mobility in defence as well as attack."
City enjoyed a memorable 3-2 win over neighbours and all conquering rivals United in the Manchester derby that September to cement their early season dominance. The Busby Babes boasted a collection of young stars, but the deep-lying deployment of Revie gave City an unexpected advantage, allowing Billy McAdams and Johnny Hart to burst through into the space the tactic allowed. In the first half hour, the City approach pulled United apart, allowing McAdams and Fagan to score twice. Tommy Taylor pulled a goal back for United but then Hart raced on to McAdams' pass to fire home a third goal. Jackie Blanchflower made it 3-2 to make it an uncomfortable finish, but City deserved their win, for once putting the Reds firmly in their place.
It was not all plain sailing, and City suffered on the heavy pitches of the autumn, but still enjoyed a good string of results and attracted crowds both home and away. They were the most exciting side in the country and were pressing for a remarkable League and Cup Double, a feat that had not been achieved since the 1890's.
However, City's glorious season was to founder on a disappointing combination of injuries and personal differences.
They had reached the Cup semi-final and were well placed in the League, but Les McDowall saw the need for further tinkering, paying out £25,000 for Hibernian inside-forward Bobby Johnstone. With the team
doing so well, the signing seemed to be an expensive luxury, but McDowall was not satisfied and had decided that Johnstone could make his system work more effectively than Don Revie. It was an astonishing decision, as Revie had been in wonderful form, finally breaking into the full England side, with a scoring debut in a 2-0 victory in Belfast against Northern Ireland in October 1954.
McDowall and Revie had never got on well and the manager felt that the player was opinionated and strong willed, too questioning of his authority. McDowall intensely disliked the strength of character showed by Revie and Roy Paul and had always been concerned by rumours of a bribery scandal involving the two players a couple of years previously, even though no substance for the story was ever found. The rest of the team feared that the changes would unsettle the system, but in the end Fate took a hand with centre-forward Johnny Hart breaking his leg in March, allowing both Johnstone and Revie to be accommodated in the semi-final side to face Sunderland.
Johnstone combined well with Revie and the match was won by a wonderful diving header from Roy Clarke, who sustained an injury late on and had to be carried off.
City were one of six teams still in with a realistic chance of the League title, but a combination of injuries and a loss of concentration was their downfall. Only one point came from the next three games. The confidence that was regained by beating Wolves 3-0 was destroyed in a 6-1 defeat at Maine Road against Blackpool. Their chance had gone and when Roy Clarke sustained another injury in the final League game against Aston Villa their Cup hopes were also slipping. The defeat they suffered against Villa left City in seventh spot, six points behind champions Chelsea.
Don Revie could at least console himself with the news that he had been elected Footballer of the Year by the Football Writers Association. He also kept his international goalscoring record going in the 7-2 victory at Wembley over Scotland, enjoying a tremendous game in a right sided combination with Stanley Matthews. He was finally fulfilling his potential at Maine Road and had enjoyed a remarkable season.
His team-mates had recovered much of their self assurance by the time City faced Newcastle United in the Cup final. The side were functioning well as a unit and Roy Paul said later 'We really fancied our chances against Newcastle.' The Cup final party was in high spirits, as recalled by Alan Rowlands:
'The tension was relieved by an appearance on the McDonald Hobley show. Newcastle had declined the invitation and Millwall took their place. The teams were invited to ask scripted sporting questions which "Memory Man" Leslie Welsh would answer. In the rehearsal before the live transmission, Hobley had trouble identifying the players and confused the effervescent Joe Hayes for Revie. "I'm not bloody Revie, I'm 'Ayes from Bolton." Hayes, the youngest player at twenty, had nerves of iron and was completely unruffled by the media interest. When a journalist was interviewing Trautmann and Hayes, he asked Joe if he was nervous. The journalist with his pen hovering over his notebook to record the profound, innermost thoughts of the inside-forward gaped as Hayes replied "Am I f***," before he sauntered away, hands in pockets whistling The Ballad Of Davy Crockett … As they waved goodbye to their loved ones the plaintive voice of Roy Paul broke through: "No chance of a leg over I suppose, boss?" Even McDowall laughed loudly.'
Unfortunately, it was not to be City's year. 24-year-old City right-back Jimmy Meadows had made his England debut during the 7-2 thrashing of the Scots. After just twenty minutes of the game, he caught his studs in the tightly knit Wembley turf as he tried to turn. He collapsed in agony, damaging his knee ligaments so severely that he had to go off and never played professionally again.
City were already a goal down after Jackie Milburn gave Newcastle the lead within 50 seconds and only a remarkable performance in goal by Bert Trautmann prevented them from going further behind. But despite the handicap of being a man down, City managed to hold their own and equalised with a header from Bobby Johnstone a minute before the interval.
After the break the star of the show was Bobby Mitchell, Newcastle's elusive outside-left. He led makeshift City right-back Bill Spurdle a merry dance and scored the second United goal before forcing a fine save from Trautmann. However, the keeper could not gather the ball and George Hannah settled matters by netting the rebound to register the crucial third goal.
The Meadows injury had badly handicapped City and Don Revie commented, 'The plain truth is that it is impossible to win a Cup final at Wembley with ten men - it is hopeless to compare a league match with a Cup final. Quite often in the League, ten men can beat eleven - but that's only because there is not so much at stake and the eleven men haven't known how to take full advantage of their superiority in numbers - Wembley has lovely turf but it takes a lot out of the leg muscles, extremely tiring when you have to do all the chasing.'
It was apparent that nerves had played their part, hampering City's play. Skipper Roy Paul: 'Several critics pointed out that I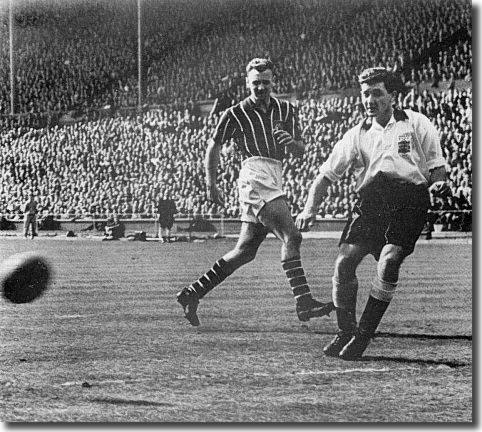 had lost us the Cup by not pulling everybody back on defence. The truth is, we lost because we were a man short and we were slightly over the hill when the match was played. We had passed our peak in late March. Don Revie was just a wraith of the player who had been awarded the Footballer of the Year trophy. You could say that about a lot of us.'
The City players soon recovered from their disappointment and promised themselves that they would be back the following year to finish the job, but when they returned to training, there was a surprise, as recounted by Alan Rowlands:
'The happy return to work also brought them a little puzzlement - Don Revie had not turned up. Roy Paul knew why, he was having an extended holiday with Elsie. According to Trautmann: "Pauly told me Don thought City still owed him two weeks holiday from last year, after the long season and tour he felt he deserved a longer rest. When he asked McDowall, the manager refused. Don said 'Sod it, I'm taking it anyway' and he did."
'McDowall and the board were incensed by what they perceived as Revie's extreme arrogance. He was suspended for fourteen days without pay and Walter Smith quickly made the facts known to the newspapers. Trautmann, knowing how stubborn Don could be, was concerned about how the excellent team spirit would be affected. In his own mind he fully sympathised with Revie, but as a professional sportsman he had contractual obligations to fulfil for his employers and at the same time a commitment and loyalty to the team. McDowall intended to replace the Revie Plan with the Johnstone Plan. The Press were on his side and the club supporters were making their feelings known. They accused Revie of having a swollen head by thinking he was more important than the team and letters agreeing with the board's stance poured in.'
Revie had been annoyed by the early return to training the year before and the grudge was a bitter one. He always maintained that he had an understanding that he could report back late, but McDowall was not to be swayed and suspended him for a fortnight. He was consigned to the reserves and Bobby Johnstone replaced him, as had been the original intention when Johnstone arrived. Revie brooded on the injustice and talked darkly of a transfer.
The title of his autobiography, The Happy Wanderer, which came out that year, was in stark contrast to his mood at that time. Ken Barnes sided with Revie, noting: 'McDowall thought Bobby Johnstone somehow a more competent sort of player. Yet Revie had great control for a big man and was a great player of the long ball. But McDowall thought because of his success, he could go one better. My impression was that he had to keep tinkering ... I think we were the first to start playing with a sweeper, for instance. But by 1959 the whole side had disintegrated.'
Johnstone: 'It was the beginning of the end. I think McDowall felt he had let him down, though Don was straightforward and truthful about it. From then on, it was only a matter of time before he went. But he never said very much to me ... he was very quiet ... a proper gentleman. McDowall did have some funny ideas. He tried loads of different plans. For instance, he tried to sign as many inside-forwards as he could. He wanted a whole forward line of inside players. I couldn't understand it.'
Revie's contribution for much of the season was marginal, playing in only half of the matches, but he enjoyed the last laugh, saving one of the best performances of his career for the last match of the season.
City recovered from a poor start in the league to finish fourth and succeeded in battling their way to a second successive Cup final. It was a difficult path to the final and no game was won by more than a goal, with Bert Trautmann's heroic performances proving vital. He succeeded Revie as Footballer of the Year, in the process becoming the first foreigner ever to win the award.
As City prepared for the final at Wembley against Birmingham, they had more injury problems, with Johnstone limping with a calf injury and Bill Leivers also a doubt. However, the most astonishing factor was the unfortunate attack of boils which beset right-winger Bill Spurdle.
McDowall pondered on his team selection. Don Revie had enjoyed a tremendous performance in the 4-2 win at Portsmouth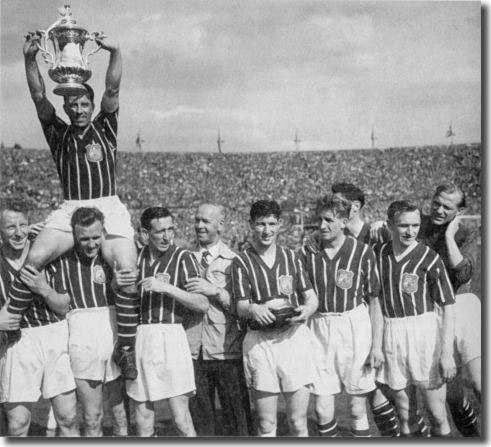 that ended City's League season, but McDowall remained implacably unconvinced of Revie's value to the team.
Eric Thornton: 'The time was 11.45am. It was Saturday, May 5th, 1956. The point of discussion was whether Johnstone should be switched from centre-forward to the right-wing vacancy, and, if so, who should take over the No 9 spot? Or, to put it clearer: Should Revie play?
'Still out of favour with some of the directors, he reckoned he'd only a small chance of getting into the team … quite frankly, so did the rest of the boys, though everybody wanted him in.
'We lolled around in the lounge of the Oatlands Hotel at Weybridge. Don, a match winner if ever there was one, crossed and re-crossed his legs, took a spot of fresh air outside, the returned and rejoined the others once more.
'I went upstairs, opened a line to Manchester, and waited. Suddenly the place came to life. McDowall opened his bedroom door, and said, with a half smile: 'Revie's in, Johnstone switches, and don't mention his injury.' It was an easy story to dictate over the phone, and a pleasant one because, of course, I'd also wanted Revie in. I slipped downstairs, McDowall followed, and we looked across at Revie. He seemed to be fearing the worst. So I gave him a half-hidden thumbs up, but he shook his head in disbelief, then knew it was true as the team was read out.
'He was a man in a whirl. He just couldn't imagine he was in the team for the greatest day of all. Roy Paul, the skipper, half spun him round with his shoulder, and said: "I'm glad for you, Don." We picked up our cases, and clambered aboard the coach. Revie was busy with his thoughts.'
Revie was unbelievably pleased at the show of faith, late in the day though it was and was determined to seize his opportunity at Wembley. With just three minutes on the clock, the doubts of McDowall over the quality of Revie were dispelled in some style.
Revie was determined and his recent experience of Wembley settled his nerves. He took hold of the game from the off and fashioned an excellent opening goal, sweeping a 40 yard pass out to Roy Clarke on the left wing. Revie ran fifty yards for the return pass and then flicked the ball inside to create an opening for Joe Hayes, who slammed the ball past Birmingham goalkeeper Gil Merrick. It was a breathtaking moment and provided a glorious memory. It was as if Revie was on a mission, playing like a man possessed.
Birmingham equalised before the interval when Noel Kinsey's shot went in off Trautmann, but Revie was not to be denied.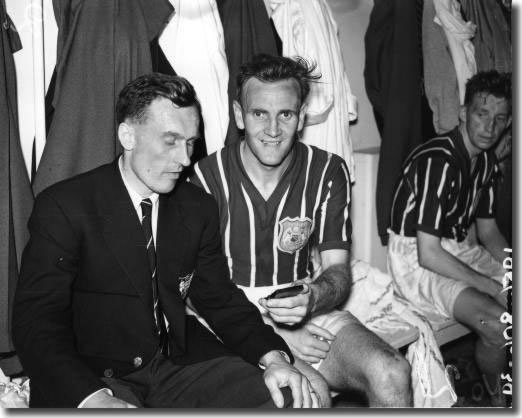 His calm authority kept City in control and he played a key part in a move after fifty-seven minutes that John Dyson finished off after a neat combination with Johnstone.
Minutes later, Trautmann was looking to throw the ball out to Revie after gathering it, when he noticed Dyson and Johnstone free up front and instead punted upfield, allowing the two of them to create a third goal.
Birmingham came into the game as City relaxed and Peter Murphy, the Midlanders' centre-forward, began to threaten a revival, although Trautmann continually denied him.
Alan Rowlands: 'Seventeen minutes from the end Murphy chased on to a ball headed into his path, reached the ball before Ewing and looked certain to score but Trautmann surged out of his goal, dived head first at Murphy and stole the ball away. Murphy's momentum caused a sickening collision. His right knee caught Trautmann's neck and the goalkeeper, still holding the ball, was knocked unconscious. Dave Ewing and referee Alf Bond realised immediately the impact was serious and Bond stopped the game straight away as Laurie Barnett raced onto the field. Trautmann came round to a wave of pain cascading down his neck and shoulder, the intensity of which made him want to scream. Whatever the problem, it was serious. Barnett rubbed away at the side of Bert's neck and waved smelling salts under his nose, slowly he seemed to recover and then just as suddenly relapse. The injury sent ripples of anxiety through the players and the supporters.'
Roy Clarke: 'It was difficult to gauge how bad it was, he was such a big brave fellow and always seemed to recover from knocks quickly. In football then, without any substitutes, we would commiserate with an injured player and gee him up, get him to try and run it off, but with Trauty's injury my reaction was: "Oh no, we're going to lose him."'
Roy Paul: 'He was reeling around the goalmouth like a drunk.'
The City captain considered putting Roy Little in goal but the German keeper insisted on playing on, making a number of saves and challenges, belying the amazing truth that he had broken his neck in the challenge with Murphy.
The incident made the headlines the next day, after City's extraordinary 3-1 win, but the match will always be remembered as the key game in Revie's playing career, one in which he finally demonstrated his true worth. Unfortunately, he would never enjoy the same success again. For the time being, however, Don Revie could revel in his moment of glory. He finally had material evidence of his worth with a Cup winner's medal carefully tucked away alongside the warm glow of a very special day.
Part 1 An Appreciation - Part 2 Learning the ropes 1927-51 - Part 4 Shuffling off stage 1956-61 - Part 5 On the march with Leeds United 1961-67 - Part 6 The agony and the ecstasy 1967-74 - Part 7 Inn-gerland! 1974-77 - Part 8 Disgrace and despair 1977-89