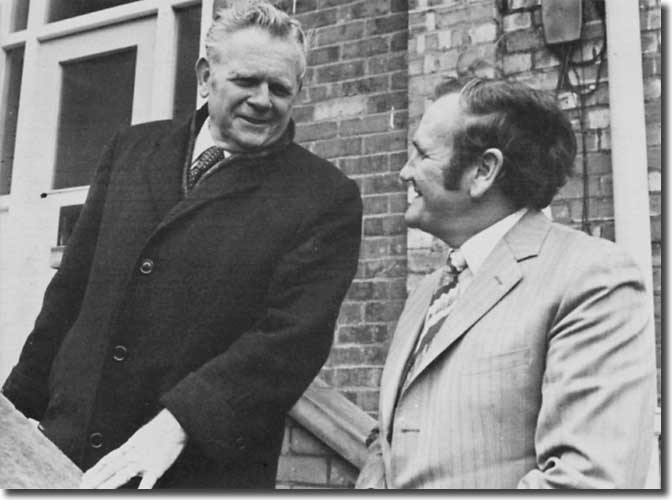 Leeds United manager Don Revie made a number of enemies during his career in football, but there were few in whom he inspired greater irritation than Alan Hardaker, the irascible Yorkshireman who served as secretary of the Football League from 1957 to 1977.
Generally considered an obstinate autocrat, Hardaker's public profile was far higher than that of his predecessors. He was a key figure in the game in the 1960s and 1970s, a champion for reform.
Hardaker felt his prickly reputation was undeserved; in his autobiography, Hardaker of the League, he confided: 'One of the few things I have come to be certain about in football is the impossibility of attempting to be a just and forward looking administrator as well as generally popular. For every person who thinks a decision is right, there is another who will condemn it as a sin against the game in general and himself in particular.
'I have been described, among other things, as "the League's most celebrated enforcer", "the great dictator", "football's Godfather", "a cross between Cagney and Caligula", "St Alan of St Annes" and even, so help me, "Lytham's answer to Idi Amin". The fact of the matter is that I have never been anything more than a paid servant responsible at all times to the president and members of the League Management Committee.
'My job has been to implement decisions and rules and to do everything in my power to ensure that the League survives and prospers. It has never been part of my brief to please people and, in any case, I believe it is a mistake to tiptoe through life just to avoid treading on a few feet.'
Many of Hardaker's insights and predictions have proven startlingly accurate; it is clear he was something of a visionary. He would have despised the financial obsessions of the modern day game, and undoubtedly he would have vigorously opposed the establishment of the Premier League as being against the best interests of the other 72 clubs.
Hardaker's relationship with Don Revie was particularly testy: the United manager had a reputation for being the consummate professional, willing to do anything to further the interests of his club; Hardaker was notoriously difficult, and reserved his greatest bile for someone he considered deceitful and manipulative. Plus they were both Yorkshiremen!
Hardaker: 'I think Don Revie comes nearest to having all the qualities and faults of the modern manager. He is a contradiction in so many ways. He is a great family man, an engaging personality, acutely aware of his responsibilities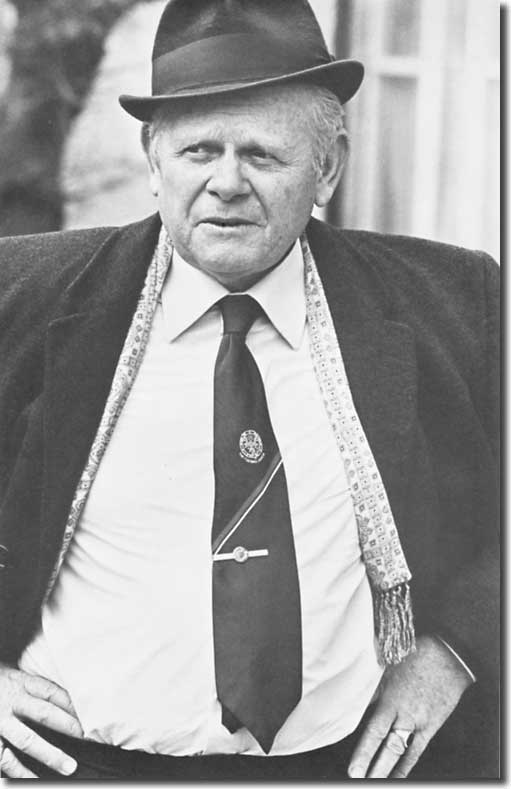 and enormously hardworking. But I also know him, in a football sense, to be totally ruthless, selfish, devious and prepared to cut corners to get his own way, It is the rare combination of all these qualities which has made him one of the game's outstanding managers.
'As secretary of the Football League I often found Don Revie, as the manager of Leeds United, to be a pain in the neck. I had a job to do, he had one to do, and our duties and obligations as we saw them frequently collided head on ... He only wanted his team to play when, in his own mind, they were sure of winning ... Unless he could control everything, he seemed to feel the dice were being deliberately loaded against Leeds.'
Peter Lorimer spoke years later of their serial dispute: '[Revie] didn't want to make friends ... One of the biggest things he did wrong for himself as a manager was to become a great enemy of Hardaker, who made things tremendously difficult for us. Alan Hardaker had a personal thing about Don Revie, but Don was that kind of man. He could make enemies. He was such a professional and if there was any rule he could use, and he was entitled to use it, he would go for it.'
In Don Revie: Portrait of a Footballing Enigma, Andrew Mourant described events which were sadly typical of the difficult relationship.
'Revie had offended Hardaker ... by an oblique approach to the League secretary's subordinates, with the aim of bringing forward by 24 hours a League Cup-tie against Bristol City. It was the impropriety of Revie seeking to involve his juniors that had made Hardaker especially indignant. On another occasion, Hardaker gave Revie short shrift when the Leeds manager asked for a postponement because three of his key players were badly injured. Hardaker noted drily that not only did all three make sufficiently miraculous recoveries to play, but one scored twice and another was, by general consent, the man of the match.'
In the closing weeks of the 1971/72 campaign, with United pursuing the League and Cup Double, there was a more memorable spat, as recalled by Rob Bagchi and Paul Rogerson in The Unforgiven: The Story of Don Revie's Leeds United. 'With the FA Cup final looming, Leeds once again approached … Hardaker to have the club's outstanding fixtures rescheduled. Once again Revie was rebuffed, apparently because the move would have compromised England's commitments in the European Nations Cup and Wolves' clash with Spurs in the UEFA Cup. To Leeds' supporters it seemed as if the League's principal remit was to stop the club winning trophies.
'Whatever Hardaker's merits, his personal enmity toward Revie ensured that the club would receive no favours while he was in charge. His successor, the lugubrious Graham Kelly, is frank about the two men's estrangement, pointing out that 'Hardaker loathed Revie with a vengeance that can only have been reserved for a fellow Yorkshireman who he felt had twisted his way to the top."'
There was little improvement when Revie was appointed England manager, with Hardaker, one of the few who had misgivings, telling anyone at the FA who would listen that they needed their heads examining.
Hardaker had regular disagreements with Revie during his time at Lancaster Gate. There was an acidic episode in November 1975 following a draw in Lisbon which left England with only a thin chance of qualifying for the European Championship quarter finals.
Revie had pleaded for a suspension of weekend League matches before an international and more time to prepare the team. Hardaker retorted, 'It would not have made a scrap of difference ... I am a cynical man and it sounded to me that we smacked of excuses before we even left for Portugal. We must face up to the fact that we were not good enough. If we had the same national pride as Wales [who had qualified] instead of playing for all these big bonuses we might go somewhere. At the moment it is all money, money, money.'
Revie complained, 'Compared to other countries we have an amateurish outlook but expect professional results at international level.'
Hardaker snapped: 'It is Revie's approach to administration that is amateurish ... Revie wants it all his own way, just as he wanted his own way when he was at Leeds.'
Hardaker was disgusted but unsurprised when Revie took a job managing the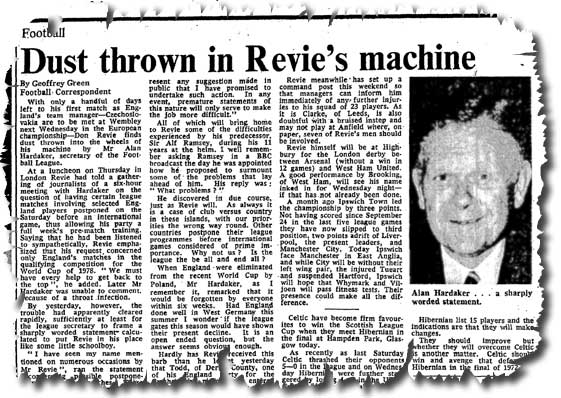 Saudi Arabian national side: 'I can only hope he can quickly learn to call out bingo numbers in Arabic.'
Hardaker: 'Soon after the end of [the 1969/70] season ... I went to Leeds to speak at a businessmen's lunch... One chap ... asked me what I felt like, being the cause of Leeds losing three trophies. I replied that ... Leeds had managed to lose the three trophies all by themselves. My explanation was met with a heavy, unforgiving silence. I think the attitude of Leeds to it all can best be captured by a comment at the time, not from Don Revie but from Jackie Charlton. He proclaimed, in an article, that Leeds could have won all three trophies "if only everyone had co-operated with us".
'I was called every name under the sun after [the 1971/72 season] ... The fact of the matter is that it was Leeds United's own fault that they did not go to Wembley as League champions. Earlier that season there had been a period when floodlights were banned. The ban ended, with plenty of advance warning, at midnight one Wednesday and Newcastle, aware of growing fixture problems, generously agreed to bring forward their match with Leeds to the following evening. Thursday night football is unusual, I agree, but this particular game was scheduled to take place right at the end of the season, when fixture congestion would be at its heaviest. Newcastle genuinely wanted to help, and so I put their proposition to Leeds. But Don Revie rejected the idea out of hand. Leeds, he said, never played on Thursdays.
'Now, as it happened, Newcastle were going through a very bad spell when they offered to play Leeds that Thursday night. They had been hard hit by injuries and had lost their touch completely. I do not think there is any doubt that Leeds would have beaten them; in fact, earlier in the season, Leeds had scored five goals against Newcastle. The return game at Newcastle was duly played a fortnight or so before the final, however, and by this time there had been a change in Newcastle's fortunes. Their injuries had cleared up, they were beginning to put their game together and, sure enough, they beat Leeds with a single goal by Malcolm Macdonald.
'Revie was also a man with very definite ideas about referees. His most definite ideas, oddly enough, seemed to be about those who were strongest and tolerated least nonsense. Very often, Don would not speak to me personally about this. I would get second and even third hand messages... One message I got was from the assistant secretary at Leeds saying he had been instructed by Mr Revie to speak to me because he had noticed that the referee for their next match had been changed. Mr Revie, furthermore, did not like the replacement and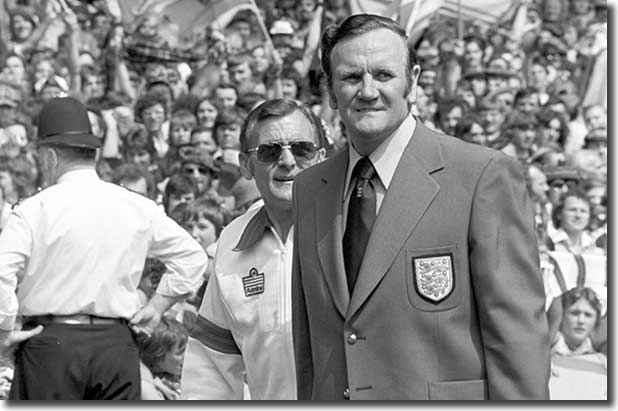 "he wondered if some arrangements could be made for a change." I replied, not for the first or last time, that in no circumstances were clubs allowed to pick their own referees.
'Don Revie's appointment as England team manager was a classic example of poacher turning gamekeeper, and very quickly after his appointment I discovered that Don now saw things in an entirely new light. In fact, one of his first moves made me very angry indeed.
'The trouble followed a long talk we had in my office soon after his appointment, a meeting which was also attended by Dick Wragg, chairman of the senior international committee, and Ted Croker, the FA secretary. It was a good, valuable meeting which I could not resist starting with a promise. I promised Don the same co-operation that he had given Alf Ramsey. There were smiles all round, with one smile perhaps a shade on the frosty side. I then pointed out, quickly, that I would do everything I could to help, and I meant exactly what I said.
'Don then raised the subject of postponing league matches involving England players on the Saturdays before major competitive international games, and I had to tell him immediately that "as things stood" this was not possible. The reasons for my answer were various: the fixture schedule was too tight for regular, large scale postponements, the League had an obligation to keep faith with supporters who wanted to watch football at least every other Saturday, and there was, too, a responsibility to the pools. The clubs with England players, moreover, would be those most likely to be involved in the final stages of the European competitions; and Revie discovered for himself at Leeds the crippling effect of late season congestion. I wonder how Don Revie of Leeds would have reacted to the proposal by Don Revie of England. In any case, I was in no position to promise, categorically, postponements before internationals. That was the prerogative of the Management Committee and the clubs.
'I did, however, add one thing. "It is simply not on," I said, "not at the moment anyway. There's a bit of time yet. You never know what might happen in the future." My intention, in the spirit of the meeting, was to avoid sounding obstructive. That was the last thing I intended to be. I offered Don hope because an idea was forming in my mind, but nothing I said could possibly have been construed as a promise.
'Don Revie's interpretation of it all was very different. Soon afterwards he spoke at a sportswriters' lunch in London and inferred that I had promised postponements before internationals. He said I had asked "for something in exchange" and, while he did not want to say any more then, he was confident there would be "full co-operation". He created a strong impression that I had made him some definite promises, promises I knew I had not made.
'The only action open to me was to issue a statement making it quite clear that I had no authority to promise postponement of League matches, and that I resented the suggestions made in public that I had promised to undertake such action... I was not disputing the principle of postponing matches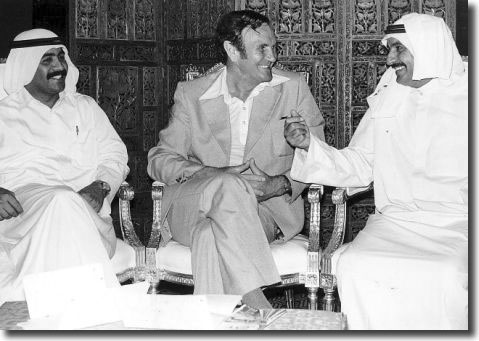 before internationals. I was simply objecting to Don Revie talking out of turn and putting the League and myself in an impossible situation. Don knew exactly what he was doing.
'The picture emerged, inevitably, of two men with pistols drawn but, in fact, when Don Revie spoke to the sportswriters a date had already been fixed for our next meeting. The purpose of that meeting, as I saw it, was to come up with a solution which would satisfy both the League clubs and the FA.
'I came up quickly with a plan which I thought would fit the bill ... It was a very simple idea, really. It involved bringing matches forward rather than postponing them. The mid week before a major international would be left free of scheduled fixtures, which would enable Saturday League matches involving international players to be brought forward a few days.
'This, then, was the plan I had waiting for Don Revie when he came up to Lytham for a second time ... There was some straight talking. "You just can't run England like you ran Leeds," I told him. "At Leeds the players were yours. Now you handle other clubs' players. Their points of view have to be considered." I was not telling Don anything new, of course. He realised the difference only too well.'
..............................................................................................................................................................................................
Alan Hardaker was born in West Hull on 29 July, 1912. His father was a Rugby League player with Hull and later a director of the club, and his older brother also played for them, but Alan preferred football; as an amateur centre-forward he scored a hundred goals in three seasons for the Guildhall team, Municipal Sports. When he left school he went into the family removals and haulage business. His father sacked him in 1929 for playing dominoes when he should have been working and he got a job as an office junior in the Town Clerk's department.
Hardaker played for Beverley White Star, champions of the East Riding County League and Hull City's nursery side. He was given a chance with the Tigers' reserves but Hardaker turned down an offer of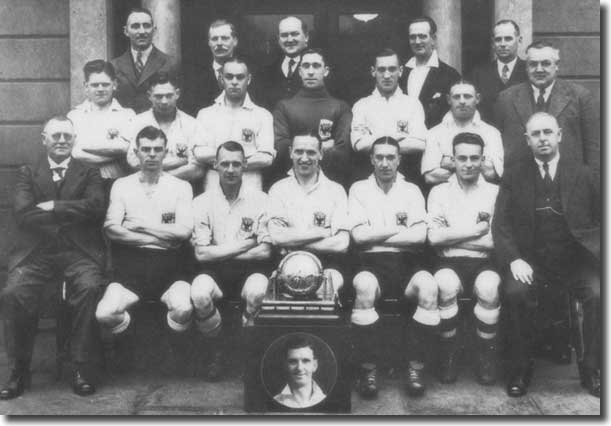 professional terms in 1936, as he had progressed to the position of Lord Mayor's secretary. He was the youngest holder of such a post in the country.
The Hull City manager, Jack Hill, later told Hardaker that had he signed he would have been sold to Bradford Park Avenue for £750. He went on to play in the Yorkshire League for Bridlington Town and Yorkshire Amateurs and came close to winning an amateur international cap, playing in two trials, skippering the North in one of them.
During World War II, Hardaker became a lieutenant-commander in the Royal Navy and he captained the Navy's football team. When peace resumed, he returned to Hull, but moved on to become Lord Mayor's secretary at Portsmouth Council in August 1946.
In 1951 Hardaker applied for an administrator's job at the Football League. He was told by Portsmouth manager Bob Jackson that the League secretary, Fred Howarth, was considering retirement from the post he had held since 1933, and the successful candidate would succeed him.
Hardaker: 'Fred Howarth was approaching sixty-five at the time, and while the Management Committee felt his retirement was imminent Fred himself had no intention of releasing his hold on the job he had been doing for more than twenty years. He did not want to retire and he certainly did not want an assistant secretary on the staff waiting impatiently to step into his shoes.'
Out of 410 applicants, Hardaker was selected for a shortlist of six interviewees.
Hardaker: 'The two-man committee consisted of Arthur Drewry, the League President, and Joe Mears of Chelsea, and the first point Arthur Drewry put to me was that they did not want anybody who knew anything about football. They wanted an administrator. He then asked me if I regarded the job as a stepping stone or whether I hoped to make it my career. I told them I thought I was the man for the job, and that if they thought the same I would be prepared to stay for ever.
'It was when we came to the question of salary that I made my one mistake. I had been assured that Fred Howarth was going to retire in six months, and so I told Drewry and Mears I was so confident I was the right man for the job that I was prepared to back my judgement by coming to the League for those six months at the same salary I had been getting at Portsmouth. This was £760 a year and at the end of those six months my salary could be reviewed. It was to prove a costly gesture.
'I met the full Management Committee shortly afterwards, they told me the job was mine and my formal letter accepting the post was dated 1 May 1951. I accepted the job on the very clear understanding that my salary was to be reviewed six months later and that when Fred Howarth retired at about the same time I would become secretary of the Football League.
'Howarth had different ideas. He remained as secretary until 31 December 1956 ... But more than that: my salary was not reviewed after six months and throughout those five years I received only the small annual increase, around £50 a year, which went to every member of the staff. I was badly let down by Arthur Drewry.
'It was made abundantly clear to me ... that I was not wanted. Fred Howarth had nothing against me personally: he simply resented the idea of anyone joining the League staff with the view, eventually, of replacing him.
'Fred Howarth was a small man of rigid habits and fixed principles ... a man who was accustomed to having his own way in what was really a family business. Tom Charnley, secretary from 1902 to 1933, was Fred Howarth's father-in-law as well as his predecessor; Tom Charnley junior, was Fred Howarth's right hand man until he resigned to go into business just before I arrived; and Eric Howarth, Fred's nephew, was also on the staff. The League, in other words, had been a family business for half a century and I was the man who was threatening the line of succession.
'Nobody really had enough to do, but Fred Howarth loved it this way. He was against change of any sort, particularly if it meant more work for him or threatened the familiar, traditional flow of life at headquarters ... No proper records were kept: the filing system was a floor in the attic. All relevant information appeared to be kept in the head of the League secretary. This meant most inquiries, including those from the Press, had to be referred to Fred Howarth.
'For two years I was given no work and no responsibility. It became clear that retirement was the last thing in Fred Howarth's mind and when the time came for my salary to be reviewed, as agreed, nothing was said ... There were many moments when I felt like resigning.
'While my position was absurd, employed but not used, I did not waste my time. I spent my days reading the minutes of the League right back to 1888. I went through the lot of them, not once but many times. It was a valuable exercise because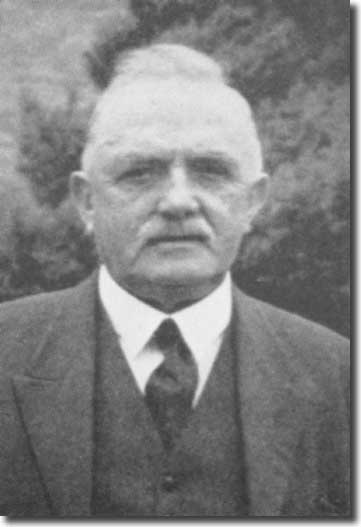 it gave me background. It was a short cut to experience in a field about which I knew very little.
'I also decided, while going through the minutes, that if ever I did become secretary I would be taking over a machine covered with rust and cobwebs. The League was like a machine which had been lying in a corner for nearly three quarters of a century and I knew that no matter how much a machine like this was cleaned and oiled, and no matter how many parts were replaced, it would never be a new machine.
'Eventually several members of the Management Committee put their foot down. It was decided that I should attend all meetings. I could still write shorthand and so, to keep my hand in, I took a full note of all that was said. The next concession was a logical one: I was asked to draft the minutes and I regarded this as a small but thoroughly worthwhile job because I had long since come to the conclusion that League minutes in the past had been written to hide rather than reveal. I was soon given confirmation of this.
'I drafted my first minutes and took them in to Fred Howarth, He ran his eye down them. "No, take that out," he said. "We can't have that in - or that - or that." "But that's a resolution passed by the committee," I protested. "Yes, yes, I know that," said Fred. "But it's ridiculous, of course, so let's forget about it." This happened after almost every meeting. This was how the Football League was run. If Fred Howarth did not like an idea it was never implemented - or even recorded. There was no point in arguing. I often protested at his censorship, but he would always say: "My boy, you'll find I'm usually right."
'Change was inevitable, however, and my own star grew a little brighter when my appointment as assistant secretary of the League was at last confirmed at a meeting at Torquay on 5 July 1955. And it was just twelve months later that the Management Committee decided to inform Fred Howarth that he was ready for retirement. Arthur Oakley of Wolverhampton, who had become President of the Football League when Arthur Drewry became Chairman of the Football Association, was asked to tell Howarth during a representative match at Molineux.
'The story was published next day - "League Secretary to Retire" - and Fred Howarth almost exploded with rage. He denied it all over the country, insisting, noisily, that he was not ready for retirement. It was then discovered by the committee that Arthur Oakley had not told Fred Howarth about the committee's decision.
'"The Management Committee eventually decided this could not be allowed to continue and it was agreed to tell him at the December meeting of 1956. When the big moment came I was asked to withdraw from the room. "No, no, Mr Hardaker," said Fred Howarth. "I'd like you to stay and hear this." I thought it better to go, however, because I was embarrassed myself and I did not want to embarrass him.
'I discovered afterwards that Howarth told the committee he had been "most concerned" about the unfounded rumours of his retirement, but that he had decided himself to retire on 31 December - not in 1956, but in 1957! There was a long silence, and then Fred Howarth was told that the committee wanted him to retire at the end of that very month, the last day of 1956. I shall always remember his face when he came out of that meeting. I felt very sorry for him.
'The committee then called me in and told me they felt it would be diplomatic if they did not officially appoint me secretary until after Fred Howarth had gone. Fred knew I was taking over, but never once, either by word or gesture, did he acknowledge this. On New Year's Eve he came into my room, put his keys on my desk and said: "You'd better look after these until the Management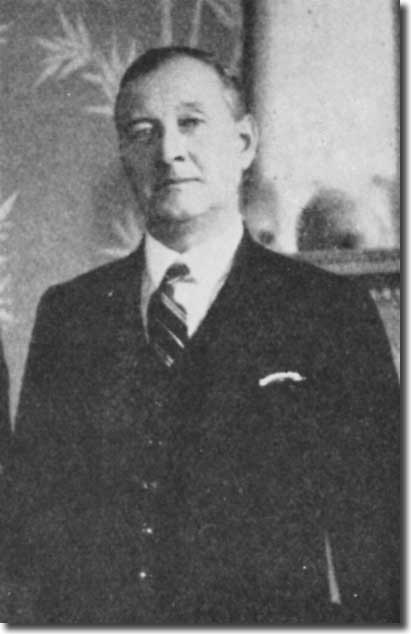 Committee decide who my successor is going to be. I'm going home." That was how Fred Howarth's twenty-three years as League secretary ended.
'My appointment as League secretary was confirmed at a meeting of the Management Committee on 6 January 1957. The question of my salary was raised. "Obviously you can't expect to start at the same salary as Mr Howarth," I was told. "Well, it's hardly my fault that Mr Howarth was underpaid all these years," I replied. "I won't be starting for a penny less." I was in a mood to say anything, and the outcome was that I started at £1400 a year when the figure the Management Committee had in mind was £1100.'
The League Management Committee granted the new man almost unlimited powers and he quickly earned a reputation as a strident and confident individual. He had already started exercising his power and earning a reputation for the bloody mindedness for which he was always renowned, as reported many years later by Brian Glanville in The Times:
'In his autobiography, Brian Mears, the former chairman of Chelsea, had strange things to say about the club's failure to take part in the first European Cup competition in 1955. "Chelsea could and should have been the first English team to compete in the European Cup," he wrote. "After we won the championship in 1955 the club was invited to play in what is now the premier club competition. Sadly, the offer was refused and another milestone was unattained. I am not sure why it was turned down but the club probably just chickened out."
'It was Brian Mears' father Joe, the Chelsea chairman at the time, who "chickened out" of the first European Cup, for reasons that were plain enough. He was bullied into it, or out of it, by the notoriously xenophobic Alan Hardaker, secretary of the Football League.
'[Chelsea's] coronation as champions should have been perfectly timed for them to take part in the newly-created European Cup, but the Football League promptly 'advised' Chelsea not to participate. For the Football League read Hardaker, secretary and unbending autocrat, who once told me that he didn't like dealing with football in Europe: "Too many w**s and d****s". His attitude was supremely negative and self aggrandising, probably influenced by the fear that his own competition would be overshadowed by the new one.
'A year later, Manchester United, and Matt Busby, their far seeing manager, were made of much sterner stuff than Chelsea. As new champions, United were determined to enter the European Cup and defied the Football League's and Hardaker's attempt to ban them from doing so ... But Hardaker would have his petty revenge. It was, as we know all too well, after a European Cup match in Belgrade in February 1958 that the horrifying air crash at Munich airport all but destroyed United's dazzling team and almost cost the life of Busby. Jimmy Murphy, the assistant manager, patched up the side so resourcefully that they managed to reach the semi finals of the European Cup.
'In the close season, UEFA, in a generous gesture, invited United to compete in the next European Cup as a mark of sympathy and support. Hardaker and the Football League immediately objected, on the negligible grounds that UEFA's own statutes permitted only national league champions and, if not champions, the holder of the trophy, to participate.
'United appealed to the FA, who upheld their case, but the vengeful Hardaker was not to be beaten. He now insisted the case went to an appeals body made up jointly by representatives of the FA and the Football League. There was no obvious precedent for such a strategy, but Hardaker got his way. The joint commission was convened, it ruled by a majority against Manchester United and Hardaker had won what would surely prove a pyrrhic victory for xenophobia and his insular Football League.'
Hardaker recalled matters very differently, laying the blame for the decision squarely at the feet of Howarth and the Management Committee: 'The Football League Management Committee decided [the European Cup] was something of a joke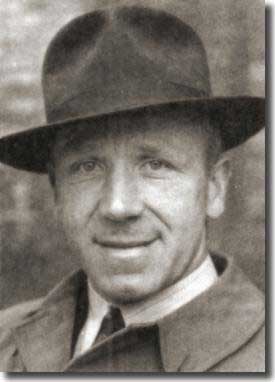 and, at best, a nine days' wonder. It took them just fifteen minutes to decide that they did not want Chelsea ... to take part in the first European Cup.
'The League Management Committee made their first major decision on European football at a meeting at the Great Western Hotel in Paddington on 5 July 1955. Arthur Drewry was in the chair and I was there as assistant secretary, mouth shut, feet on the ground, just listening and learning. The private minutes tell the story very briefly: "The League Secretary, Mr Fred Howarth, reported that Chelsea FC had informed him that they had accepted an invitation to participate in the competition between clubs from European countries, and asked for the approval of the Management Committee. Although of the opinion that they could not withhold permission, the Management Committee instructed the secretary to ask Chelsea FC to give the matter further consideration because they thought that their playing in such a competition would not be in the best interests of the League."
'The Management Committee did not therefore, in so many words, forbid Chelsea to take part, for the very good reason that they did not have the power, but the meeting was unanimous that Chelsea should be requested to stand down.
'I could at least understand the reason for the committee's attitude. Chelsea had left their request very late and, as always, the committee had to remember their collective responsibility to all clubs. The schedule of the Football League was the tightest in Europe, and lack of time and room to manoeuvre meant any new commitments had to be considered very carefully indeed.
'What I could not understand was the lack of vision then shown by the committee. They reached their decision about Chelsea in just a quarter of an hour, which was fair enough considering everybody was in agreement, but what astonished me was that the meeting then moved on to the next item on the agenda. The subject of Europe had been dealt with to their satisfaction in less time than it takes to smoke a small cigar.
'They did not for a moment wonder about the possibilities of European football. No one said: "Right! Now let's look at the potential." No one asked if the idea was good, or whether the organisation was right, or what the benefits and disadvantages were likely to be. There was not a glimmer of curiosity. The decision was taken and the subject forgotten.
'I still find it amazing that a subject as hugely significant as this ... could be treated in such a cavalier fashion. There was not so much as a word or syllable uttered in doubt or question. The subject had been talked about before the meeting, of course, and I knew pretty well what the trouble was. The Management Committee were scared of the whole idea. They saw it as a long term threat to their own competition ... They felt they might be agreeing to something over which they had no control.
'This glorious piece of insularity was one of the Management Committee's biggest mistakes, but having made it and moved on, they then managed yet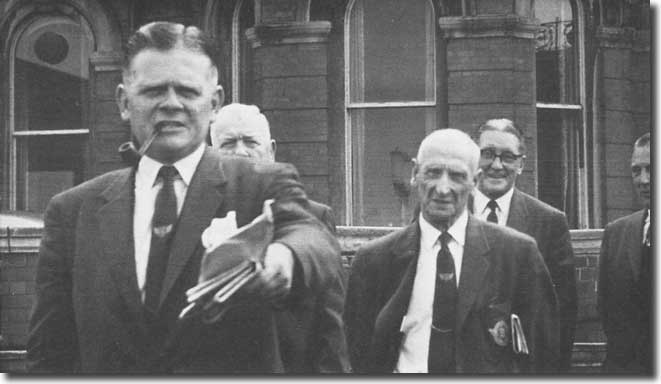 another. They forgot all about the subject.
'Twelve months later Manchester United were the champions and their way around the problem of getting League permission was altogether a more subtle exercise. United simply informed the League that they had been invited to compete in the European Cup through the offices of the Football Association and that they had 'accepted in good faith'. Things had been kept extremely quiet and I doubt if this would have been possible without the personal friendship, in the background, of United's chairman Harold Hardman and Fred Howarth.
'The Management Committee were no better prepared for United's request than they had been for Chelsea's twelve months before. They had given no further thought at all to the subject ... and they were again bowled over by surprise. The committee's first reaction was to decide to ask United to withdraw 'because of the possible effect on League attendances' whatever that meant.
'United, however, did not bend their knee as readily as Chelsea. They repeated that they had been invited by the Football Association. They again added that they had 'accepted in good faith', an argument which was aimed at the gentlemen on the committee - and most of them were gentlemen. United followed this up quickly by disclosing that all arrangements for their home and away ties with their first opponents, Anderlecht, had already been made. Dates had been fixed, tickets printed, accommodation and travelling arrangements organised.
'United's manoeuvre struck some of the Management Committee as sharp practice, but it was their own fault... All United had done was outflank them. The Management Committee minutes of 9 September 1956 duly recorded that because "the club had entered the competition in good faith at the invitation of the Football Association and because all the arrangements for both the home and away games versus Anderlecht FC have been completed ... we accept that, at this stage, Manchester United could not cancel their arrangements."
'It can now be argued, I suppose, that United did English football a favour by forcing the Management Committee's hand. I think the committee deserved their defeat, their lack of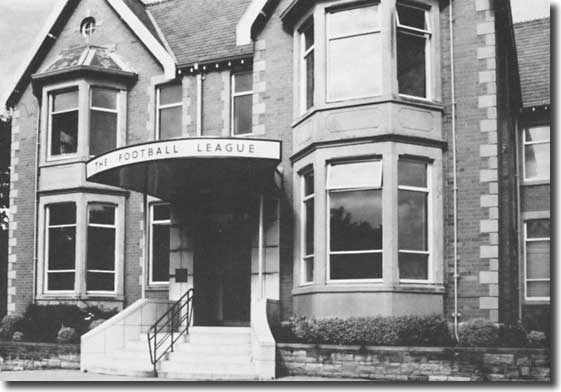 foresight brought it upon them.'
Hardaker supervised the move of the League's headquarters in 1959 from Starkie Street, a converted town house in Preston, to the former Sandown Hotel in Clifton Drive South, Lytham St Annes, following a request from incoming President Joe Richards. It was bought for £11,000 and a six-month renovation was carried out at a total cost of £40,000.
Hardaker oversaw a number of innovations, such as capitalising on the introduction of the Copyright Act in 1956 to charge for the use of fixture lists, meaning that all Pools companies would have to pay for the privilege of printing fixtures in their coupons. He oversaw a victorious test case in 1959 against Littlewoods Pools to seal the deal.
He was also integrally involved in a heated dispute relating to players' contracts.
In 1959, any player declining the offer of a new contract for whatever reason was in a uniquely weak position. The club simply retained his registration and were no longer obliged to pay him. They could sell him to whoever they chose, but if the player refused to go he would again not be paid. The argument in favour of both systems was that they prevented the wealthiest clubs from acquiring all the best players and kept pay under control.
The PFA, under their new chairman, Jimmy Hill, decided to challenge this state of affairs.
Hardaker said of the battle, 'Nothing in my time as secretary of the Football League has been of greater significance to the professional game ... It was a bloodless revolution but it left football with bruises and scars that are still painful and did much to reduce the game to its present chronic state of financial ill health. It was a long and bitter fight, full of heroes and villains, but I think posterity may have difficulty in deciding exactly in which role to cast many of its principal figures. Too many people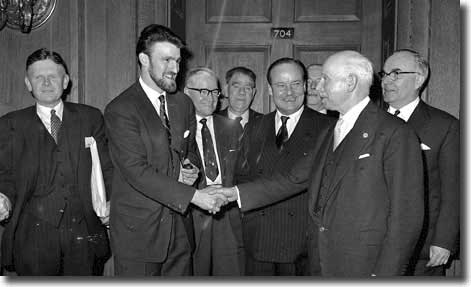 fought from deeply entrenched positions. Minds were closed and there was no place for compromise ... There was blindness in both corners and football is still counting the cost.'
Hardaker always accepted that players should be paid more and recognised that the status quo could not be sustained. He tried to broker a compromise, saying later, 'It could so easily have been different and certainly would be if I had been the dictator so many people supposed me to be. I would have retained a maximum wage - a good, healthy one related to the cost of living and possibly graded through the divisions - but thrown it open to the clubs to offer whatever incentives and bonuses they wanted ... The clubs would have been able to keep a tighter rein on things when times were hard both on and off the field.
'I put this plan to the Management Committee before the first serious shots were fired. The standing rules would have required very little alteration and I still believe this is a scheme the players would have accepted. Unfortunately, I had not been secretary long enough at the time to have any real influence and I was shouted down.
'There was too much suspicion on either side of the table and progress was often of the 'one step forward, two steps backward' variety. The PFA were convinced they had the Almighty on their side. I remember Joe Richards saying at one meeting: "For the good of the game I suggest ..." Jimmy Hill cut across him: "We're not interested in the good of the game. We're only here to talk about our members."
'Cliff Lloyd and I did our best to find a key to it all and there was even a point when we felt we might have succeeded... The plan, briefly, was for a maximum wage of £30 a week for the next two years, no length to contracts, which could be freely negotiated, retention on full wage and the setting up of a joint negotiating committee. I took the plan back to a meeting of clubs but, as usual, found the door to compromise already shut and barred.
'The PFA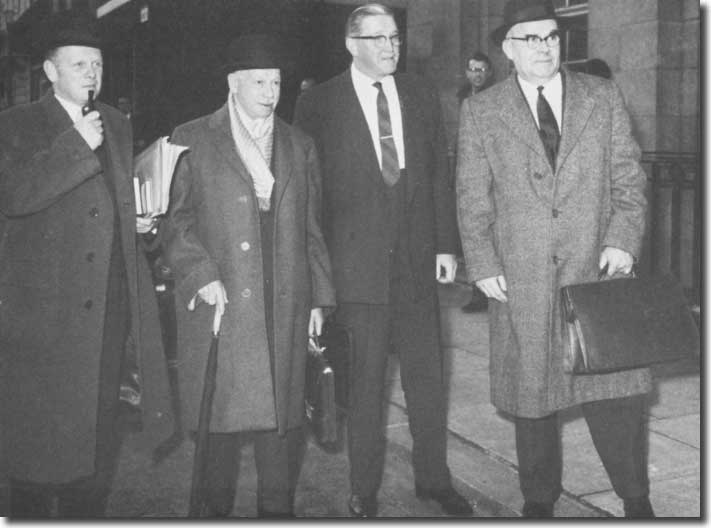 slowly advanced, the clubs slowly retreated, and in the middle, its teeth drawn, was the Management Committee. Its members had been elected by the clubs to do a job of work but were then prevented by those same clubs from doing it.
'The ultimate weapon of a union then as now is a strike, of course, and the PFA used this threat as their final push. Their strike notice was circulated a week before Christmas 1960 and was due to expire a month later. I think the clubs should immediately have said to the players: "Go on, then, strike." They should have been strong and put their foot down.
'A big group of players made it clear that while they would go along with the majority the last thing they wanted was a strike, and even many of those who voted in favour might have discovered that when it came to the point their resolution was not as strong as they thought. Even if there had been a strike, however, it could have been a very good thing ... The two sides would have been forced to get together again and to consider the whole argument from a wider and less selfish point of view. The strike might have lasted a fortnight, but sooner rather than later football would have been the real winner.
'The clubs, alas, showed no collective strength. Some were frightened by the threat, and hoped that if they closed their eyes the problem would simply go away, others were convinced in their own minds that the PFA was bluffing, and there were those who stuck to their feudal belief that the players should get absolutely nothing. It was in the middle of this period of duress and muddled thinking, early in 1961, that the historic decision to remove the maximum wage was taken.
'There was nothing remarkable about the way it happened. The clubs first suggested that before the lid was removed there should be a maximum of £30 a week for two years, which would have allowed the clubs to prepare themselves gently for the demands to come. But the PFA held their ground and so, finally and painfully, the point was conceded. There would be no maximum wage from the start of the following season.
'A day or so later Fulham announced that they intended paying Johnny Haynes £100 a week, an enormous wage in those days, and suddenly the floodgates were open.
'To be fair, I do not think Fulham had much alternative. They had been saying for a long time that Haynes, their star of stars, was worth £100 a week; but they had always been able to add that, unfortunately, they were prevented from giving him this by League regulations. Now that bar had gone and they had to pay up.
'At the same time as the clubs announced that they were prepared to remove the maximum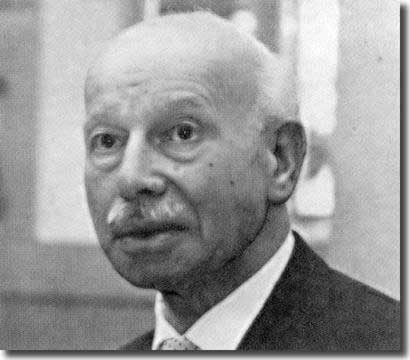 wage they also insisted that the retain-and-transfer system would have to stand as "an integral part of the League's organisation". Joe Richards told the players bluntly: "This is the final word of the clubs." The players were not impressed and the strike notice stood.
'There had never been any doubt in my mind that the moment one player stepped forward to challenge the legality of the old retain-and-transfer system its days were numbered. That player proved to be George Eastham... He decided he wanted to leave his club, Newcastle, and when they refused to let him go he took a job outside the game in the South for five months and began the long procedure of challenging the club's right to hold him against his will.
'The Management Committee advised Newcastle to let Eastham go long before the affair came to a head. Wilf Taylor, a member of the committee and also a Newcastle director, was the go between and he made it clear many times that if Eastham was not given his transfer the consequences could be serious. 'You cannot win,' Wilf told his fellow Newcastle directors.
"Eastham appealed to the Management Committee but Newcastle were sticking to the regulations as they existed and therefore very little could be done. The committee had to rule that it was 'purely a matter for club and player'. Things were resolved in the end, of course, and in November 1960 Eastham moved to Arsenal; but by then he had also turned to the Law and the days of the old retention system were numbered.
'The Law never hurries, however, and it was not until nearly three years later, in June 1963, that the match between Eastham and Newcastle took place in the High Court with Mr Justice Wilberforce as referee.
'I did not think Newcastle and the League had much of a chance and this was soon confirmed when Mr Justice Wilberforce, who was at all times precise and well ordered, began his judgement. The key to it all was his opinion that the "rules of the FA and the regulations of the League relating to the retention and transfer of players of professional football, including the plaintiff, are not binding upon the plaintiff and are an unreasonable restraint of trade."'
In August 1965 Hardaker's canny intervention resolved a dispute between the FA and the League clubs. The FA insisted that clubs signed declarations that they had not made any illegal payments to amateur players.
Hardaker: 'Club chairmen were being asked to guarantee that no illegal payments were being made by any employee of their clubs. They were being asked to carry the buck. It was an intolerable demand, an open invitation to chairmen to get themselves into trouble about something over which they felt they had no control.'
He advised clubs to resign from the FA in protest, saying, 'You would not be allowed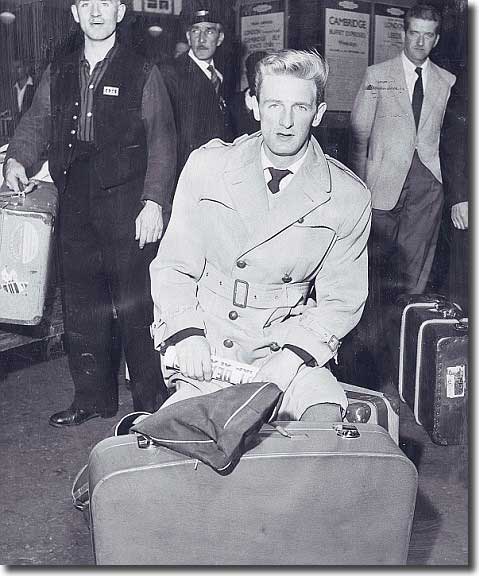 to take part in the FA Cup, you would not get any FA Cup final tickets, and you would not receive any FA minutes. But that's about all.' Even if clubs resigned from the FA, they would still be affiliated to their County Football Associations and this would be their licence to continue playing football in England.
It was decided that the FA could only be made to see reason by a show of strength. Hardaker sent a letter to the clubs asking them each to submit their resignation from the FA. Some did not get around to sending letters but most did. Some straight talking took place and the FA duly announced that the statutory declaration was intended primarily for amateur clubs, ending the dispute at a stroke.
Hardaker reigned at the League at a time when there were regular clashes with the FA and he did everything he could to lessen their power over the League, jealously guarding its autonomy. The disputes were wide ranging and bitter and, ultimately, the biggest disagreement concerned finance.
In March 1972, problems between the two reached new heights, and Hardaker called a special meeting of club chairmen to discuss the problem.
A dispute had been simmering for months as the League negotiated for more control over its affairs, and was brought to a head over the fees negotiated with the TV authorities for the live screening of the England-West Germany European Championship clash at Wembley.
A Joint FA and League Television Committee had been established for the negotiation of fees for live television transmission of games. The Committee agreed that Hardaker would take the lead as he was 'the most experienced negotiator in all such matters'. However, without notice, FA members ordered Hardaker not to speak and FA chairman Dr Andrew Stephen [assumed the lead role]. This act of 'initiative' was symptomatic of the FA's arrogant attitude towards what they considered a junior body.
The event was a turning point for relations between the two bodies, with some fears that the Football League would seek to break away from the FA.
Hardaker said at the time: 'Regretfully this means a state of open war between the FA and the League, and it will be construed that the FA chairman and vice chairman fired the first shots. It was certainly not the wish of the League Management Committee. It appears to be a deliberate attempt to start a war, and can only do tremendous damage to the game. The League Management Committee have been bending over backwards to prevent a major split, but now I have been instructed by the Management Committee to call, as quickly as possible, a special meeting of the club chairmen. This will be to discuss all facets of consultations with the FA on all matters.'
In later years, he recollected, 'If we had not fallen out over this particular issue, it would have been another. I was not even saying anything new, when I announced a state of war, because the League and the FA have been laying about each other for the best part of a century. It is a cold war, of course. No triggers are squeezed, no blood is ever drawn, but it is a war which has been spitting away ever since the Football Association's muddled attitude to professionalism back in the 1880s led to the birth of the Football League.
'The issue was the size of the fee to be asked for televising England's European championship quarter final with West Germany at Wembley, a decision which should properly have been made by the FA and League Joint TV Committee. The fee most of the committee approved was £100,000, which meant that after negotiation we would probably have got £80,000, but Andrew Stephen and Harold Thompson, as chairman and vice chairman of the FA, took it on themselves to accept £60,000. They claimed, in a statement, that they had been "motivated by the desire to ensure that the enormous public interest in the match should be satisfied". It was a decision they took by themselves, contrary to the decision of the Joint TV Committee. Denis Follows, the FA secretary, was sick at the time, and the Management Committee had only agreed to go ahead on the clear understanding that I should negotiate the fee in the temporary absence of Denis.
'Feeling between the two bodies burst into flame and at a special meeting of League clubs all manner of sanctions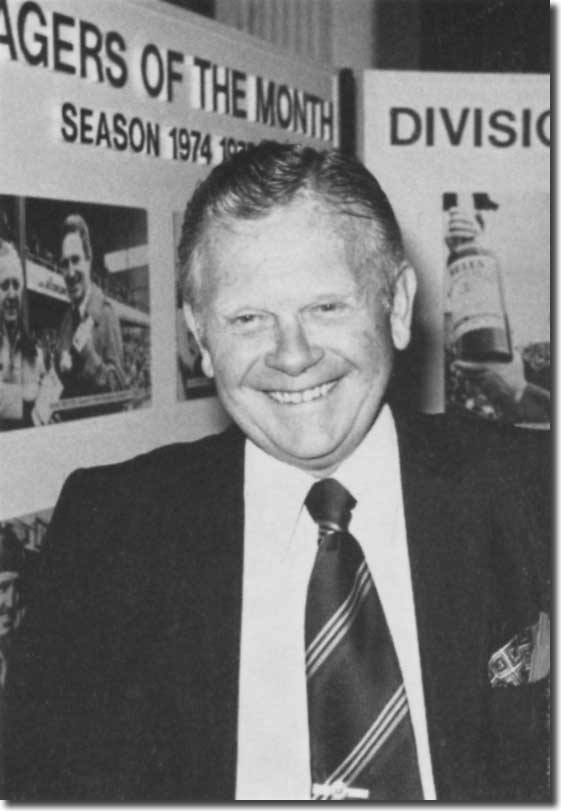 were discussed, including, the most extreme, a boycott of the FA Cup. There was another suggestion that the FA should pay for the privilege of having League clubs in its knock out competition. A figure of £100,000 was mentioned. The issue became so emotional that when we held another meeting it was described in the papers as a 'war cabinet'. Fortunately, even though war had been formally declared, no bullets were fired.'
One of Hardaker's major preoccupations was the desperate need to reform the Football League structure. There were few who disputed the need to change: attendances had been falling steadily since the heights reached after World War II. Attendances in 1946/47 totalled 35.6m, and they continued to grow, reaching a peak of 41.3m in 1948/49. By 1977, the total had fallen to 27m.
In 1963, Hardaker brought forward the so called 'Pattern of Football'. It would have revolutionised the structure of the League, increasing membership from 92 clubs to 100 and increasing the number of divisions from four to five, with four up and four down promotion and relegation. He also suggested the introduction of a new midweek cup competition to replace the revenue lost by playing fewer League games.
Hardaker: 'There was, at that time, no doubt in the minds of the League Management Committee that the competition needed drastic surgery... The Management Committee properly saw themselves as the game's trustees, and the 'Pattern of Football' was their solution. It was their attempt to strengthen and stabilise the oldest League in the world for generations to come. They were concerned with the game not only in 1963 but in 1973 and 1983.
'The Management Committee then properly discussed it at great length, and they were unanimous on all points except one. That was their big mistake. I believe the omission of one paragraph was the reason the plan was eventually thrown out. That paragraph was the final one in the plan I submitted. What it said was this: "The Management Committee have given careful consideration to all the views expressed by the Clubs and if the recommendations are not acceptable to the required majority then the Committee can offer nothing further which would be an improvement on the present arrangements. They are also of the opinion that all the suggestions are interdependent and would have no beneficial effect if they were not adopted as a complete pattern."
'The Management Committee insisted on the deletion of this paragraph. It was a major tactical error. The paragraph would have made it abundantly clear that this was their last word on reorganisation. The plan itself emphasised the seriousness of football's problems and its final few thoughts would have forced the clubs to think very carefully indeed before rejecting it. Its message could not be mistaken. It might even have swayed those clubs who take natural delight in blocking progress.
'The Pattern was then put to League club chairmen at a meeting at St Annes on 25 March 1963. It lasted two and a half hours and I thought it was a very, very good meeting. Everyone who had anything to say was allowed to say it and, while there was criticism of the plan, as a whole and in part, nobody ridiculed it.
'We voted on the Pattern. Twenty-nine of the forty-nine votes were in favour of changing the League to five divisions, each of twenty clubs, and twenty-eight votes were cast for four up and four down promotion and relegation. I knew the plan would need a three quarters majority - thirty-seven votes - at the annual meeting, but I felt the way things went at the chairmen's meeting was enormously encouraging. We had the nucleus of success. Only nine clubs needed to be persuaded and the reshaping of the League would be under way.
'All that was needed was a catalyst, an agent to spark off a reaction - a new line of thought, an indication of united enthusiasm, some clear speaking, anything that might have gingered these clubs into second thoughts. That lead ought to have come from the Management Committee, of course. They gave the Pattern their blessing, but they did not follow it up with some determined selling. This was why the Pattern was rejected at the annual meeting at the Cafe Royal the following June. The plan received twenty-nine votes - eight short of the required three quarters majority - because, quite simply, all the clubs stuck to their first opinion. They had been given no reason or encouragement to change it.
'The debate on the Pattern was therefore pointless. It had as much spontaneity as a familiar play. We listened to the same words and heard the same voices. Those who were previously against the Pattern were still against it. Those in favour had always been in favour. And, at the end of it all, surprise, surprise, the Pattern was still eight votes short of getting its chance to revitalise English League football.'
The League framework was not changed, but the Football League Cup was born; without the other changes, this only worsened fixture congestion. The new competition was not a great success until its final was switched to Wembley in 1967 with a place in Europe awaiting the winners.
In December 1972, Hardaker pushed the reform agenda again with a document entitled New Look for Football. Club chairmen were called to meetings in London the following month to consider some far reaching proposals.
Hardaker: 'It stressed the fact that gates were falling, offered eight major points for discussion and invited comment. These points included: five - or even, if they preferred, four - divisions of twenty clubs each; the length of the season; promotion and relegation ... television; and several ways of making the League more interesting, e.g. counting goal difference instead of goal average, points for goals, and changing the offside law.
'There was more talk, more heated disagreement, but this time one proposal, or at least a variation of a proposal, did become a rule. Four up and four down was proposed by Derby County at the annual meeting in June 1973, but the Management Committee, by way of compromise, also proposed three up and three down. Their feeling was that if the clubs rejected fours, they might accept the lesser proposition; and, faced with a choice, that is exactly what the clubs did. I think the committee were wrong. If they had gone wholeheartedly for four up and four down (with no hint of compromise), I think it would have gone through. But, once again, the Management Committee wanted to
be sure they were on a winner. It proved that compromise is by no means always a sign of strength.
'Inevitably, there was soon criticism of three up and three down. It was pointed out that the change simply meant more clubs were worried about relegation, and that this, in turn, meant a loss of adventure and an increase in fear and tension. Survival, it was argued, had become more important than ambition. It is a point, but there is another side to the argument. Three up and three down has injected new interest into games that would otherwise mean nothing in the closing stages of the season; and so while there may be more fear at the bottom, there is certainly less complacency in the middle. And most spectators may feel that fear is the lesser of the two evils.
'Football is now paying for the mistakes it made years ago. One of the high hurdles has been the three quarters majority rule. Democracy works slowly and carefully, and this can be good; but it sometimes holds things up which need doing urgently. The main trouble, however, has been that too many clubs never think about tomorrow.
'I still think something is going to have to be done even if it is later rather than sooner. The game's problems will otherwise become completely unsolvable. My fear is that nothing will be done until people themselves change. If that is so, we must not hope for too much.'
In June 1971, Hardaker was awarded an OBE in recognition of his services to the League. In 1979 he formally retired as secretary and was made Director General of the Football League, with the brief of working on special projects, one of which was a blueprint for football in the 1980s.
He continued to be very active and remained so until his death from a heart attack on 4 March 1980. He left a widow and four married daughters and an estate valued at £58,838.