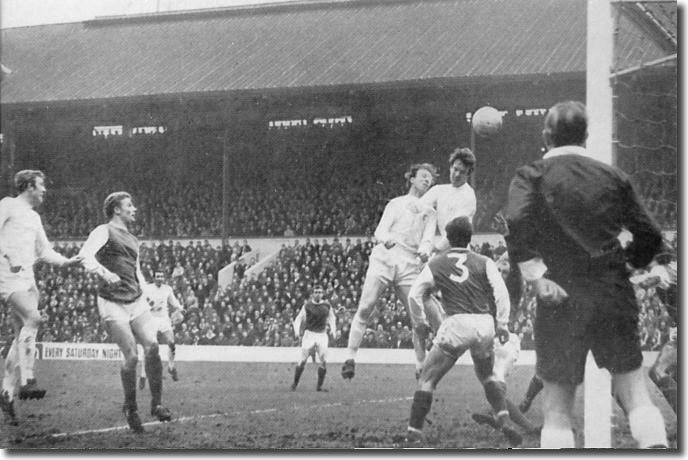 Part 1 - Going for the one - Results and table
As 1969 dawned, Leeds United were making their strongest challenge yet for the league title. Their first match of the year was an FA Cup third round tie at Sheffield Wednesday and an impressive run of results in November and December made them hot favourites for the trophy.
United were without Johnny Giles and Terry Cooper, but otherwise they were at full strength: Sprake; Reaney, Charlton, Hunter, Madeley; O'Grady, Bremner, Bates, Gray; Lorimer, Jones.
They opened aggressively in front of a 52,000 crowd and won a penalty after 19 minutes. Referee Jim Finney waved play on when Eddie Gray rode a foul tackle and the winger shimmied his way on through a packed defence. He found Mike O'Grady on the penalty spot, but full-back Don Megson brought the forward down before he could shoot. Finney awarded the penalty, which Peter Lorimer coolly converted.
United were in the ascendancy and Paul Madeley headed home from a corner. The referee initially awarded the goal, but after consulting a linesman gave a foul for pushing. O'Grady, Lorimer and Mick Jones all came close to increasing the lead, but Wednesday were level by the break.
Centre-forward John Ritchie picked up a long clearance, swerved past Jack Charlton and hit the ball on the run from outside the box. Gary Sprake had come out to narrow the angle and watched with horror as the shot found the corner of the net, saying later, 'I simply misjudged Ritchie's shot, thinking it was running wide.'
There were no further goals and a replay was required. United were still without Giles and Cooper, and lost O'Grady on the day of the game with a strained calf muscle. Albert Johanneson was called up for only his second start of the season.
Wednesday began confidently, but it was United who opened the scoring in the eighth minute. Lorimer's free kick was cleared by goalkeeper Peter Springett, only for Johanneson to make up for his months out with an instant shot that pierced the crowded area to find the net.
Leeds had no chance to capitalise as Wednesday forced them back with Peter Eustace and Jim McCalliog controlling midfield. Sprake saved at the feet of Ritchie and Eustace's tremendous drive struck the bar, bouncing down on the line and clear. Eustace then lifted an up and under into United's goal area which troubled Sprake, though he cleared at the second attempt.
Sheffield would not be denied and equalised in the 36th minute. Sprake and Ritchie both missed a cross from the right, and Brian Woodall caught the ball on the byline. His clever chip looped over Sprake's head and in off the post. The young reserve winger, only playing because of injury, added a second goal after three minutes of the second half.
United rallied and Charlton was left in the clear with Wednesday appealing for offside but Springett made a point blank save. Then Jones was high and wide from a Johanneson cross before crashing a second effort against the bar.
Wednesday exploited the space left by all out Leeds attack and Ritchie struck a third, decisive goal with five minutes left to end United's interest in the trophy.
They had the chance to make amends almost immediately, facing Manchester United in a stern test of their championship credentials. All four injured Leeds players had recovered, with Giles, O'Grady and Bremner in the side and Cooper on the bench.
Phil Brown in the Yorkshire Evening Post: 'The needle in this cracking match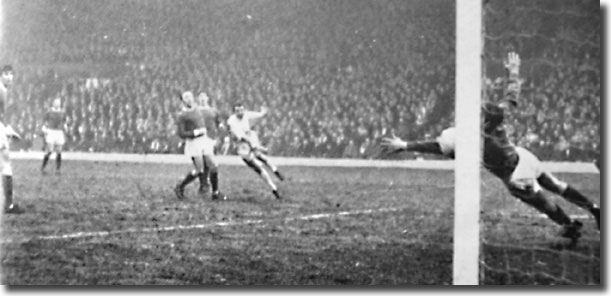 showed right from the start ... Crerand, Manchester United's wing-half, was booked for consecutive trips on O'Grady. The sides shared 33 fouls in the match, nine above the average.
'Manchester claim they were robbed of a point by the denial of Best's free kick goal. The referee, Mr W J Gow of Swindon, after the match told the press the goal was invalid because the kick was an indirect one ... Players on both sides say that they thought the kick was direct, including Sprake ... Best's cunningly planted slow chip, when a Bobby Charlton blast was expected, found him and others flat footed. All very contentious, but Leeds deserved both points, if only just.'
O'Grady scored a cracking winner after 75 minutes. Giles chipped the full-back to find the winger, who made it 2-1 with a first time piledriver.
Eric Todd in The Guardian: 'Leeds played much better than they had done in their Cup game against Sheffield Wednesday, although there still was too much dithering at the back under pressure. Jones again was indefatigable in attack, and Hunter's strength and intelligence saved Leeds more than once.'
The match was marred by crowd trouble and more than 50 spectators needed treatment after missiles were thrown. 2,000 fans had been locked out and many had climbed the advertising hoardings at the Scratching Shed end to get in. Some claimed that problems with the new stand made matters worse.
At the annual general meeting a couple of days later, chairman Percy Woodward, who had been in the stand, claimed, 'There was no bottle throwing and no fighting. The police were not fighting with the crowd, they were stopping the crowd getting on to the playing area ... I saw an element of Manchester supporters wanting to get out of Spion Kop when their side had been defeated. They surged forward, but there was no question of fighting.'
On a happier note director Sidney Simon reported that the £135,000 liability shown in the balance sheet against the new stand had been paid off.
United directors later announced that they had agreed with the local authorities to reduce Elland Road's capacity from 52,000 to 48,000. Two years before there had been ugly scenes in an FA Cup replay against Sunderland when a record crowd of 57,892 had been in attendance. Chairman Percy Woodward said: 'We are re-estimating all our various sections and when necessary will take steps to close them as our crowd indicator shows them to be filling up. It is a big relief to settle this worrying question. No club wants its crowd to be uncomfortable. Our long term plan of improvements to be done in stages should make things a lot better for everybody.'
Woodward also revealed that United would be going ahead 'some time in the next 12 months or so' with the building of an extension of the West Stand to fill the gap between it and Spion Kop. 'It should give us over 2,000 more seats, which will financially compensate for the loss incurred by the reduction of the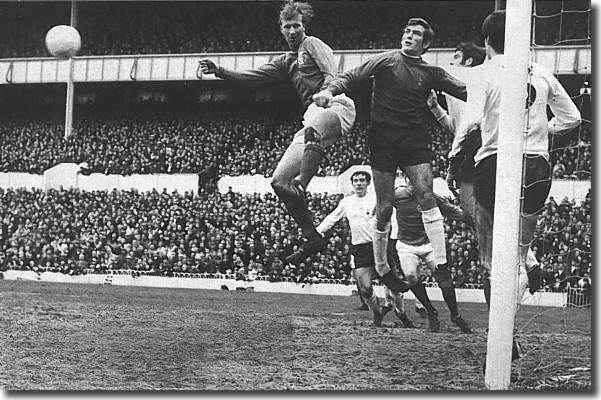 ground limit. It will also take care of the reduction in numbers we are finding ourselves experiencing on Spion Kop. The old Kop used to take about 19,000 when full and we had estimated for the new Kop to take nearly 17,000 - but we find that in practice it is full with 14,000 plus.'
On January 18 United won a point in a hard fought goalless draw at White Hart Lane, the result overshadowed by the leg break suffered by Spurs full-back Joe Kinnear.
Leeds had another vital game in London the following Friday, facing bottom club Queens Park Rangers in a fixture brought forward from Good Friday. Don Revie later identified the match as the turning point of the season. 'I am baffled that Rangers are not near the top, instead of at the bottom. We could have lost 4 or 5-1. That little bit of luck had swayed in our favour that night.'
The Londoners needed a point to get off the foot of the table, but nearly got both, hammering United from the start. They almost took a shock lead in the first minute. Roger Morgan's free kick beat Gary Sprake, but Jack Charlton had it covered. Apparently thinking it was going wide, he allowed it to drop over his head. The ball struck the post, sparing United embarrassment.
It was United, though, who took the lead a minute later. Madeley brought the ball through from half way and got in a shot. It came back off the keeper and Jones fired home from around 12 yards.
Rangers were quickly back at the visitors, and Leeds survived a penalty appeal in the first half. Just after the interval QPR were successful with another appeal for a spot kick but Sprake dived to his right to save Keetch's effort.
United brought Belfitt on for the injured Giles as Rangers pushed yet harder. Rodney Marsh was having an inspired game and he and Mick Leach both came close to an equaliser before Frank Clarke missed a sitter. Sprake was then lucky to grab a fine glancing header by Clarke on the line. Shots continued to rain in on the United goal but somehow they survived to take home both points.
Giles had torn a thigh muscle and would be out of action for a fortnight. He was not missed when United thrashed struggling Coventry 3-0 at Elland Road on 1 February. The scoreline flattered them, but they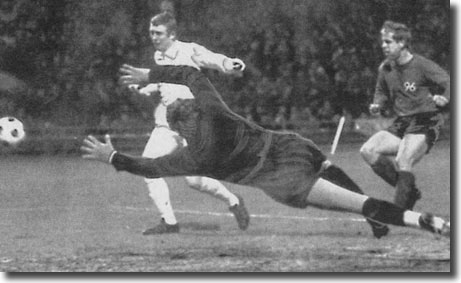 deserved the points.
The schemer was still missing, along with Madeley, when United flew out to Germany for the formality of their Fairs Cup-tie against Hanover. Leeds had won the first leg 5-1 and were soon in an even stronger position.
In the fifth minute O'Grady made a lot of ground down the right before shooting from the edge of the area. The keeper spilled the ball and Belfitt followed up to score. After 16 minutes it was 2-0 when Jones capitalised on another goalkeeping error.
That goal finished the game as a contest, but things grew surprisingly heated over the final 21 minutes. Bremner and Breuer clashed and referee Dorpmans of Holland spoke to both men. Things got even rougher and five minutes later Cooper was sent off when substitute Wottka made the most of a tackle by the left-back.
Cooper: 'I went for the ball and got it and this fellow threw himself over my legs. I was absolutely flabbergasted.'
Three minutes from the end, Heynckes got a consolation goal for the Germans.
Revie said after the game: 'These are things you have got to live with in Europe. Obviously any team plays that bit harder when they meet the holders in any competition. It is getting to be a regular thing in important games. I thought we played exceptionally well and Hanover were brutal. It was a pity they had to play the way they did.'
United had the weekend off, with the FA Cup fifth round taking precedence, but the snow and ice that saw all but four of the 38 games in England postponed brought them an unexpected bonus. They were able to bring forward their Easter Monday fixture against Ipswich to February 12, giving them the chance to overtake Liverpool.
Don Revie: 'We must get these matches in when we can, for you never know what the situation will be near the end of the season. We cannot afford to be faced with a backlog of fixtures, for we want a smooth run in.'
The weather had a major influence on events that frostbitten winter and United pulled out all the stops to keep their pitch playable. With temperatures rarely getting above freezing, the club adopted effective, if primitive, methods, covering the surface with tons of straw and then using braziers to thaw out the ground. The tactics worked admirably, keeping Leeds active while others were left kicking their heels. The Ipswich game was one of those that benefited from the approach.
It was played in a snowstorm with the sleet making the conditions steadily worse. United took the lead after 24 minutes. An Ipswich defender fouled O'Grady as he raced down the right flank and Bremner fired the free kick into the heart of the penalty box. Charlton got above three defenders to nod the ball goalwards and Belfitt was on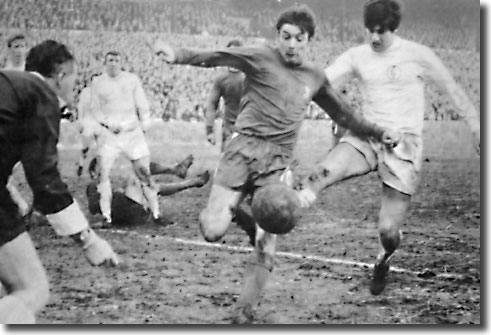 hand to head it home.
The goal gave Leeds the impetus they needed. Giles was in dominant form and sent Cooper clear on the left to send a shot crashing against a post. Jones laid on three chances for team mates and O'Grady had two efforts saved. In the final quarter they had what seemed a good penalty appeal rejected, but finally got the second goal they deserved. From their 17th corner of the evening, keeper Best spilled the ball near the penalty spot. Jones reacted instantly to fire past the defenders stationed on the line.
The 2-0 victory was enough to take United a point clear of Liverpool, both clubs having played 29 games.
In the weekend fixtures, Liverpool looked to have the easier option, at home to a Nottingham Forest side languishing in 20th, while United hosted seventh-placed Chelsea.
Leeds had to ask for special dispensation for a 3.15 kick off to allow their pitch clearing efforts time to succeed, and so they were aware before the off that Forest had taken a fifth-minute lead at Anfield. They also got the news that Barry Lyons had made it 2-0 in the 62nd minute and were thus content to defend a single goal lead against Chelsea (in the 58th minute from Lorimer).
According to The Guardian's Eric Todd. 'Forest proved themselves to be the more intelligent, imaginative and adaptable side, and long before the end the only relevant issue was the margin of Forest's inevitable victory.'
Don Revie reflected in his column for the Evening Post: 'Liverpool must be the team I fear most because of their remarkable consistency and ability to play well under extreme pressure. This latter attribute can only be attained through experience and I have had sufficient evidence this season to feel confident that Leeds United now possess this quality. It was particularly evident when we beat Chelsea ... They pulled back nine men into their penalty area, and covered each other so well that we were unable to break through in the first half. One could sense the tension building up in the United players as they battled to overcome the problem. The most encouraging feature was that they did not allow this tension to interfere with the normal tempo of their game. They continued to attack patiently and skilfully, and reaped the reward when Peter Lorimer scored the winning goal. In previous years, we would probably have panicked if we had failed to score earlier on, and fallen into the trap of hammering high balls into the Chelsea goalmouth.'
Leeds' trip to Hillsborough to meet Sheffield Wednesday on 22 February was postponed due to a frozen pitch and Liverpool had the chance to close the gap with a match at West Ham. The Hammers took a 33rd-minute lead through Johnny Sissons, but Roger Hunt headed a second half equaliser to rescue a point.
The following Tuesday, United played their game in hand, away to Forest, and gained an emphatic victory. David Lacey in The Guardian: 'Last night there seldom seemed any other likely outcome than a victory for Leeds. So often they were two situations ahead of Nottingham, who slogged away willingly enough ... but lacked Leeds' pace and power, not to mention their organisation. While Nottingham - inspired by a sense of occasion and roared on by their largest crowd of the season - opened with dash and verve, Leeds, as tight at the back as ever, quietly exploited their opponents' weaknesses.'
United opened the scoring five minutes before the break. Cooper lofted over a long, high centre from the left which Jones met at the far post. His header beat the keeper but Baxter managed to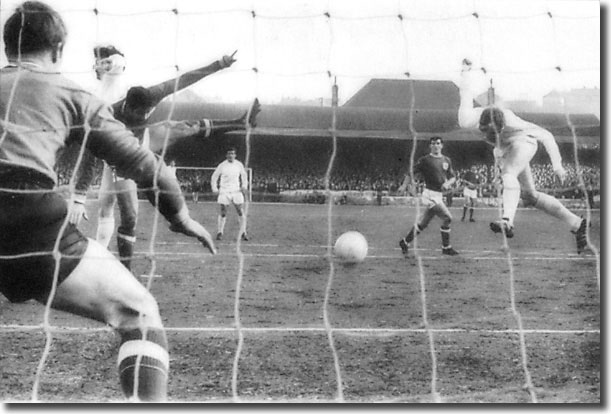 clear it off the line. The linesman insisted that it had been over the line and a goal was awarded.
Leeds controlled the second half and continued to attack. It looked like they would have to be content with their single goal but Lorimer made it 2-0 a minute from time. He looked offside when he collected the ball 35 yards out, but there was no whistle and he raced on unchallenged to score.
A four-point lead over Liverpool with eleven games remaining was a heartening advantage. 1 March saw the Reds engaged in the FA Cup at Leicester, giving United the chance to enhance their advantage with a match against Southampton at Elland Road. Perhaps it was nerves, but Leeds gave a scratchy, woeful performance. In contrast Southampton played with verve and confidence and twice took the lead.
Just as disappointing was the attendance. Don Revie was apoplectic as he spoke to Phil Brown of the Yorkshire Evening Post afterwards. 'What on earth do they want? Surely we could have had 40,000 - there are over 2,000,000 people within 15 miles of the ground. If we lost three matches in a row I don't think we would get 25,000, and if ever we got a real slump I can see us having to sell players to live. Here we are, top of the Football League, having lost only two matches out of 32, and only 33,000 turn up to watch us play a side sixth in the table.'
Brown reported, 'On the financial aspect it has to be remembered that United require a 36,000 average from their 21 home League matches to pay their way. Their big profits of recent seasons have been and are wanted for colossal ground development costs ... United have played to fewer than that economic 36,000 ten times in 18 games so far.
'The result at Elland Road carried more comfort for Leeds United than anything else ... United were thoroughly shaken by Southampton, who led twice and who scored two, well, proper goals, compared with United's somewhat scrambled assortment of a penalty by Giles, an own goal by Kirkup and one by Jones off a rebound from a Giles shot. Much of the incisive direct attack and smoothly working defence which had marked United's play at Nottingham midweek was missing. It was as well that United's famous will to win was not. Bremner, with a sterling game and often inadequate support, saw to that by word and deed.'
Revie had calmed down by the time of the press conference prior to the Fairs Cup clash against Ujpest Dozsa. He recalled how well the Hungarians had played when the sides met in Budapest three years before: 'Ujpest were unlucky not to be six goals up at half time, and that sort of football sticks in the memory ... We will attack right from the off on Wednesday night. I think we need three or four goals against this side to go to Hungary for the second leg.'
Sadly, on what should have been another great European night at Elland Road, there was only grim disappointment. United were beaten by an outstanding team playing a classic European game of counter attack.
Barry Foster in the Yorkshire Post: 'There was very little between the two fine sides. Leeds ... relied on open football while Ujpest depended on chances from breakaways. Leeds' one period when they were clearly on top in the first half lasted not more than five minutes. In the second half their non stop aggression faded after the goal. Leeds were awarded a penalty after Nosko appeared to handle Gray's cross in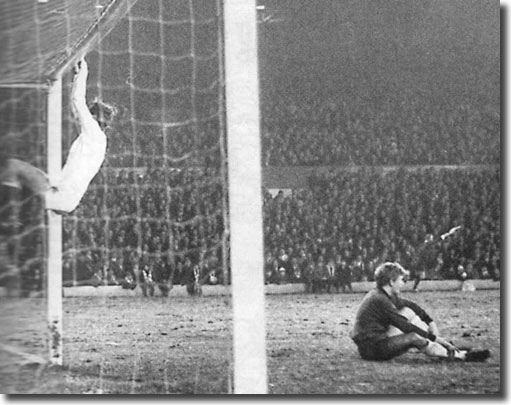 the penalty area. Giles hit a good shot to the right of the goalkeeper, but a fine save meant the Leeds schemer had missed - only his fourth penalty in many attempts for the club.
'Charlton and Bremner did their share to try and force a goal but 19 minutes from the end Bene hit a short ball to Antal Dunai and with hardly a glance at the goal, 25 yards away, Hungary's leading scorer hooked a powerful shot into the top right hand corner of the net.'
All this time, Liverpool's championship challenge had been on hold. Their last league game had been on 22 February at West Ham and they saw their home game with Arsenal on 8 March postponed because the visitors had eight men sick. United thus travelled to relegation-threatened Stoke City with the chance of increasing their advantage to eight points.
In 1968 Stoke had beaten Leeds 3-2 in an end of season tussle with United chasing the championship, but there was to be no repeat performance. City were only allowed to get as far as the United penalty area three times in the first half as the visitors raced into a three-goal lead. Mick Jones headed the first after 11 minutes. Five minutes later Bremner lashed home a 25-yard shot. The skipper added a third in the 34th minute, sidefooting home from Jones' header.
Stoke rallied a little in the second half and Burrows pulled one goal back from the penalty spot on the hour after Reaney had blocked Mahoney's shot with his hands.
There was never a danger of a fightback and O'Grady quickly restored United's three-goal lead, netting from 14 yards after keeper Farmer had blocked Gray's shot. O'Grady added a fifth in the 76th minute from outside the box to wrap up an emphatic victory.
Leeds had been rampant and could easily have scored eight, so dominant were they. England manager Sir Alf Ramsey recognised the performance by selecting Charlton, Cooper and O'Grady for England's international against France a few days later. Reaney and Hunter were non playing subs as England won 5-0, their best victory for more than two years. Cooper and O'Grady had outstanding matches, with the winger opening the scoring from 14 yards and playing superbly on his return to international football after seven years. He looked like he had secured a permanent berth in the side, but perversely Ramsey dropped him and he never got near the squad again.
United's game on Saturday, 15 March, at home to Forest, was off due to snow, giving Liverpool the chance to close the eight-point gap, which they duly did with a 2-0 victory at Sunderland. There was a week to go to the big showdown, with Leeds due at Anfield on 22 March and a huge expectancy in the air.
Before that, though, United faced Ujpest in the Fairs Cup and flew out to Budapest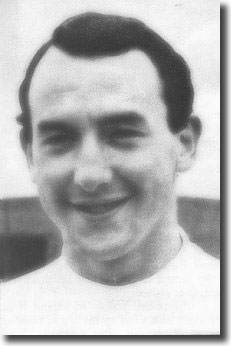 without Reaney, Charlton and O'Grady, all in bed with flu. Hunter also had a high temperature, although he travelled and was expected to play. The manager called up reserves Terry Yorath and Jimmy Lumsden as cover.
Don Revie: 'Whether these illnesses have anything to do with Astle being ill last week when the lads were with the England party or whether it is connected with an injection they received I just do not know. If we had six, seven or eight down, we would ask the Fairs Cup Committee for a postponement, but if we do not lose any more players we will play. With four outstanding League fixtures still to fit in, we can do without another postponement.'
There were further scares when Bremner, Madeley, Cooper, Jones and Hunter were rushed off to bed with high temperatures on arrival in Budapest. In the end all five played (Bremner at full-back) but Ujpest won 2-0 to end United's Fairs Cup hopes.
Leeds held out until the 63rd minute when Solymosi scored from a penalty after Madeley had fouled Bene, who had a wonderful game. The Hungarian international added a second himself in the 75th minute after a solo run through the United defence.
Don Revie: 'We held Ujpest well the first half-hour. Then they became a little panicky. It would have been a different story if that Giles shot earlier in the second half had gone in. With a full team out I reckon we would have won.'
Back in England, Liverpool's game at Newcastle had been postponed because of snow and water on the pitch and manager Bill Shankly was beside himself with frustration at the lack of action. His mood was soon even darker. As the United party flew back from Hungary, assistant manager Maurice Lindley contacted the Football League to ask for the Anfield showdown between the two clubs to be postponed. Leeds had ten first teamers unavailable through illness or injury. The League had little option other than to accede to the request but the postponement was kind to United.
The next game for both clubs came on 29 March, with Liverpool away to QPR and Leeds travelling to Wolverhampton. Looking match rusty after their lay off, United were slow off the mark and had to be content with a goalless draw while Liverpool shaved a point off the lead with a 2-1 win in London.
On Monday 31 March Liverpool faced Arsenal in a rearranged game. While the Gunners were eight points back on Leeds, they had not quite given up hope on the title and offered Liverpool a stern test. The surface was treacherous under falling snow and the players were never certain of their footing. Just as Liverpool seemed to be getting control of the game, Jimmy Robertson gave Arsenal the lead two minutes before the break. Liverpool equalised from a penalty at the start of the second half and there were no more goals.
The result narrowed United's advantage to four points, but 13 points from their eight remaining matches would be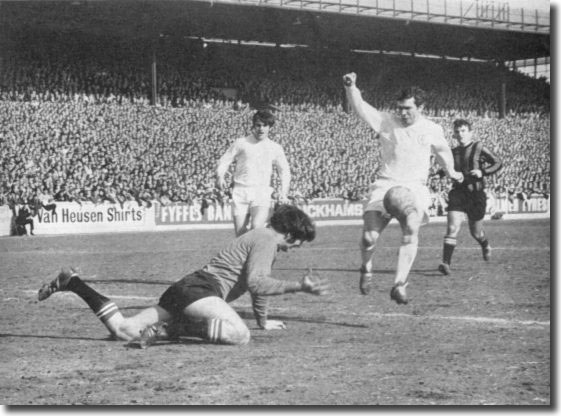 enough for Leeds. They earned the first of those the following night in a goalless draw at Sheffield Wednesday.
Saturday 5 April brought the next action for the two clubs, both at home. Leeds entertained reigning champions Manchester City, while Liverpool hosted Wolves.
By now, points were all that mattered, as Paul Fitzpatrick reported for The Guardian: 'Looking at Liverpool on Saturday was about as inspiring as watching a concrete mixer at work. But at this late stage of the scramble for the First Division championship, the acquisition of points, not the manner in which they are secured, is all important, and Liverpool, by virtue of their untidy and unconvincing win 1-0 over Wolverhampton Wanderers at Anfield, will give Leeds reason to remember that there are still two runners in the race.'
United were little better and achieved an identical result. Eric Todd in The Guardian: 'Leeds refused several chances which they might not have scorned in more normal circumstances. Their two appeals for a penalty suggested doubt in their ability to score by conventional methods. Gray and Lorimer were profligacy gone mad, and poor Jones had as much support as the average working man's application for a pay rise. Giles and Bremner wove beautiful patterns all over the field, but the end product … Oh dear! Not that Leeds were in danger of conceding a goal ... let alone of being defeated, but the time has arrived for them to cast away their defensive image and to attack with the enthusiasm and freedom they have shown us far too rarely.'
Leeds got the only goal of the game after 63 minutes. Cooper beat Book to the ball, made ground and got in a shot. Corrigan could only push the ball away to Giles who controlled it and forced home at the second time of asking.
The gap remained stubbornly yawning at 5 points, but Liverpool sought to narrow it with their game in hand, at Stoke the following Monday.
They made their intentions perfectly plain and, according to Barry Foster in the Yorkshire Post, 'within five minutes they had pushed everyone forward except Yeats, Strong, Tommy Smith and the goalkeeper Lawrence.'
For all their effort and enthusiasm, Liverpool only drew Gordon Banks into serious action on one occasion, forcing him to tip over a long range drive from Callaghan. At the other end, Stoke had strident penalty appeals turned aside when Thompson seemed to have handled the ball.
Liverpool lost Roger Hunt with a dislocated shoulder in the 50th minute, hurt in a mid air collision with Dennis Smith. Hunt had scored his 300th goal for the Reds at Wolves two days earlier and would be missing for several weeks, news that was as unwelcome for Bill Shankly as the loss of another point in a goalless draw.
Two days later, Leeds kept ground with a 1-1 draw at West Bromwich. They fought back from going a goal down in four minutes after a mistake by Charlton and Gray equalised shortly after half time.
During the week the Football League responded to criticism of their earlier decision to allow United to bring forward their Easter fixtures against QPR and Ipswich Town. Daily Mirror football writer Derek Wallis had accused the League of favouritism and giving Leeds an unfair advantage, claiming that United had been guilty of 'expert juggling with the fixtures'.
The League used its official magazine, the Football League Review, to fire back, saying that it hoped this would be the first and last time anyone would even hint that the League might be helping a club to the championship: 'Mr Wallis suggested Leeds had an advantage over the leading clubs. The fact that other clubs did not have blank dates because of commitments in other competitions is quite irrelevant and was similarly irrelevant in other years when other clubs switched dates and Leeds could not. Wallis referred to Leeds moving forward their Good Friday game as evidence for his gamesmanship allegations. Had he taken the trouble to check he would have discovered that many other clubs switched fixtures from Good Friday, too. All holiday fixtures are classified as midweek fixtures and the rule is that if the two clubs agree to a switch of a midweek date the League generally make no objection. Saturday fixtures cannot be switched. It is strange, not to say unjust, that one of our leading clubs should be smeared because a club manager goes legitimately about the job of keeping his team playing.'
Saturday 12 April brought the next episode in the race for the title. Liverpool seemed to have the easier option, away to struggling Leicester, while Leeds travelled to meet third-placed Arsenal in what promised to be a stormy clash.
Liverpool managed a routine 2-0 victory, but United had much more trouble against opponents still smarting from losing a second successive League Cup final, going down to Third Division Swindon Town.
The match burst into ugly life after just four minutes with a fierce confrontation in United's area. A high ball was missed by both Gary Sprake and Gunners centre-forward Bobby Gould as it hung on the wind. There had long been bad blood between the two players and Gould kicked out at the keeper. Sprake reacted furiously, flooring the striker with a vicious left hook. Both players were booked by referee Ken Burns, though most witnesses felt that Sprake should have been dismissed.
The keeper explained: 'As I fell, Gould kicked me in the privates very hard. He then turned around and called me a f***ing Welsh so-and-so and I lost it and I felled him with a sharp left ... I had started to walk towards the touchline and take off my jersey ... but, as the melee of players subsided, referee Burns (who was also Welsh) came up to me and said, "Everything will be okay, Gareth. I heard what he called you."'
There was some suspicion that Burns felt he owed United one after disallowing a goal from Peter Lorimer in the Cup semi-final against Chelsea in 1967. He had not refereed them since then. Burns said later: 'In this case of offence and retaliation both offenders got the same justice. From what I saw I did not consider the offences serious enough to warrant a dismissal.'
Thus reprieved, United pushed to capitalise and opened the scoring after 14 minutes. Mick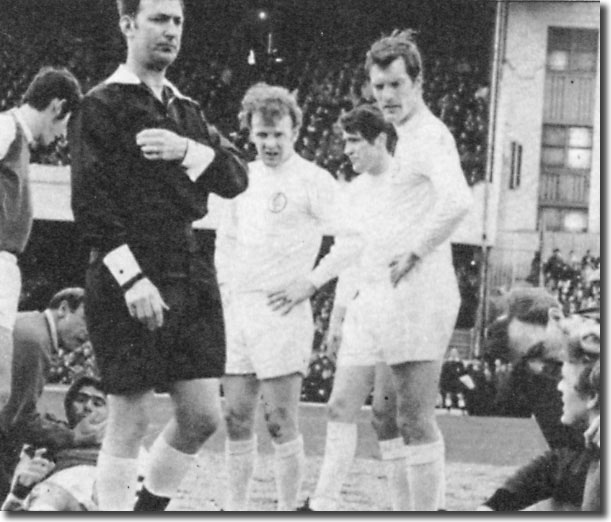 Jones picked up a long ball out of defence by Bates and left Arsenal defender Ian Ure standing, going on to slide the ball past goalkeeper Bob Wilson.
Johnny Giles sent a drive screaming over the bar as United got on top but the Gunners equalised in the 34th minute. The Highbury crowd was incensed when Norman Hunter crashed into David Court, but were cheering minutes later. George Graham volleyed home from near the penalty spot after a long free kick by Frank McLintock.
Leeds rapidly restored their lead. Ure passed back wildly to Wilson, but Giles raced in to pick the ball up near the touchline. He slipped it past the keeper to leave United 2-1 ahead at the break. There were no further goals and another valuable two points had been nabbed to keep the advantage over Liverpool to five.
With Leeds beating Leicester 2-0 and Liverpool hammering Ipswich 4-0 on Saturday 19 April, the two clubs remained as far apart as ever. United required just four points from three games, though they involved trips to Anfield and fourth-placed Everton.
The following Tuesday evening saw Leeds at Goodison and Liverpool away to Coventry.
Confident noises emanated from Elland Road, despite the absence of Mick Jones, laid low again by flu. Billy Bremner: 'We have come to expect teams to have a go at us this season when we've gone so long without a defeat, so tonight will be no different. We're not bothered what Liverpool are doing. If we keep on winning nobody can catch us.'
On a night crackling with tension, radios were evident amongst both crowds, eager to keep up with the news from the other ground. Both games reached the break without a goal to show for some frantic football.
Leeds came close but Giles was too far away to get a touch when goalkeeper West turned aside Lorimer's shot. Then Everton defenders got in a tangle and allowed Lorimer to get in and volley across the face of the goal.
Over at Highfield Road, Liverpool were pressing hard. Within five minutes Ron Yeats had a header saved after a corner and Chris Lawler's shot from the rebound was blocked by a Coventry defender. Callaghan hit the City bar and Alun Evans was denied by the keeper. Coventry's Hannigan had the ball in the net after 29 minutes, but the goal was disallowed for a foul. Liverpool fought back to hit the bar.
In the second half, Liverpool's Evans and Coventry centre-half Setters were dismissed for fighting and the clash took the heat out of the game, which petered away to a disappointing goalless draw.
Leeds were in more collected mood at Goodison.
Eric Todd in The Guardian: 'Impartial observers ... were generous in their recognition of this latest example of remorseless all round efficiency. However, much jealousy - or even hate - which Leeds have generated this season, nobody with any sense of justice at all could fail to be impressed by their record … Bremner surely had never been in better fettle. It needed a great captain to organise his men in the face of redoubtable opposition and in the presence of a baying crowd which came to harass and to destroy but which stayed to bestow ungrudging approval.
'For the first 10 minutes of the second half nothing seemed more certain than that the Leeds defences would give beneath the weight of persistent pressure by Everton ... Notably, after a long centre from the left by Harvey, Hunter, standing almost on Sprake's doorstep, allowed the ball to bounce past him and a surprised Sprake did well to save at the last second. In the last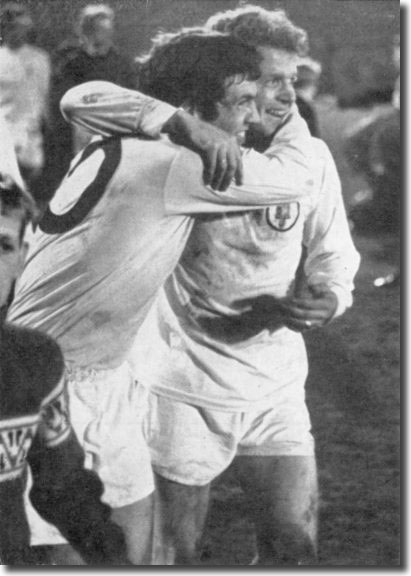 10 minutes Jackson, given an unexpected pass by Gray, turned the ball over the Leeds crossbar while Husband and Royle also went close before the end. The manner, the almost insolent manner, in which Leeds ignored these misses had to be seen to be believed.'
The results left United in a great position. They had two matches left, on the Monday after the Cup final at Anfield and then two days later at home to Nottingham Forest. A win or a draw at Liverpool would guarantee them the title. Even a defeat would mean that United could still secure the title by beating Forest at home.
That said, Liverpool in their own back yard were fearsome opponents. Only Forest had come away from Anfield with a win and the Reds had conceded a meagre ten goals at home all season. It was clear that Bill Shankly would whip his men up to play like dervishes.
The contest was typical of many between the sides over the years: fiercely competitive and played at breathtaking pace. United set their stall out for the clean sheet that they needed. At times they lived on the edge of their nerves, but they mounted a formidable white barricade and dared Liverpool to do their worst.
Their worst was never quite enough. Evans had two golden opportunities to secure the goal that meant so much to Liverpool but missed both. United emerged unscathed from a terrific struggle and at the end, in an episode that became the stuff of legend, the players walked up to the Kop, who acknowledged them as deserving champions.
The championship secured, Revie and United turned their attention to the final match of the season, two days later at Elland Road against Nottingham Forest, knowing that a victory would move them on to 67 points, a new record for the First Division.
For large parts of the game, it was very much a case of 'After the Lord Mayor's show,' as United struggled to impose any authority. Barry Foster in the Yorkshire Post: 'From start to finish Leeds attacked as though their very lives depended upon winning, but Forest broke out of defence well and might have been two goals in front by the interval. Leeds were understandably anxious to score goals on this night of nights but often the back door was sparsely manned and twice before the interval Baker might have scored. Forest, though hard pressed at times, had the better of the goalless first half. With only ten minutes gone, Hilley's through pass found Baker unmarked in the penalty area and it took a daring save at the centre-forward's feet by Sprake to save the situation. Ten minutes later the Leeds goalkeeper looked surprised when Baker's shot bent around him and hit a post.
'The Leeds attack found a more controlled style in the second half and shots from O'Grady and Jones were well saved. As the minutes ticked by, however, Leeds became more and more anxious to find the back of the net but the vital goal just would not come.'
With six minutes left and the match drifting towards a draw, Terry Cooper moved forward. His shot was mishit but Johnny Giles was in the right place to bring the ball down over his shoulder and fire it home from 10 yards to send the crowd wild with excitement. It was only right that the master schemer should be the one to get the vital goal - he had enjoyed a tremendous campaign after putting early season injury problems behind him.
Victory brought a fitting end to a glorious season that United's fans would never ever forget and one that set the record books spinning:
Most points (67), beat the previous championship best by Arsenal (1930/31) and Spurs (1960/61) of 66
Most home points (39)
Most wins (27)
Most home wins (18)
Fewest defeats (2), beating Arsenal's previous best of four in 1930/31
Unbeaten at home, equalling their own best, set in their 1963/64 Second Division championship season
Only 26 goals conceded
Only 9 of those goals conceded at home
Leeds were the worthiest of champions, a fact underlined by Don Revie's election as Manager of the Year. The football press were finally united in their acknowledgement of a great side. Even Derek Wallis, the Mirror writer who had earlier criticised them, offered praise: 'There has been no doubt in my mind for two seasons that Leeds are the best equipped of all the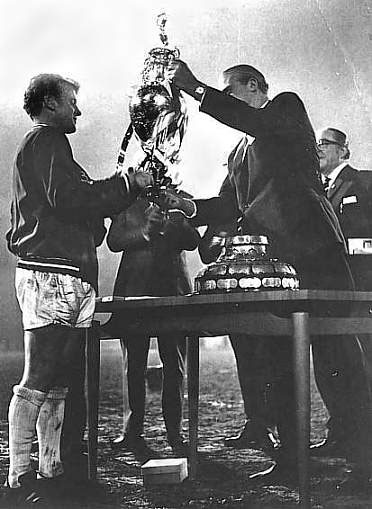 English teams for the traps, tensions and special demands of the competition they will now enter - the European Cup. Leeds United are the champions, the masters, the new kings of English football - at last.'
A team that had started the decade in such dire straits, stumbling on the verge of the Third Division, could justifiably claim the accolade of being the team of the Sixties.
Part 1 - Going for the one - Results and table
Other Football Highlights from 1968/69
Manchester City's revival under the managerial partnership of Joe Mercer and Malcolm Allison continued when they won the FA Cup to add to 1968's league title and the Second Division championship in 1966
Sir Matt Busby announced his retirement as Manchester United manager on 14 January
There was another giantkilling at Wembley in the League Cup final when Third Division Swindon Town overturned Arsenal 3-1 after extra-time on a muddy swamp of a pitch. Winger Don Rogers scored the two decisive goals
Geoff Hurst scored six times when West Ham beat Sunderland 8-0 in October and then admitted his first goal should have been disallowed for handball
Jimmy Greaves scored his 200th goal for Tottenham in November
Despite the assaults Celtic had suffered in the world club championship in 1968, Matt Busby was determined that Manchester United should try to win the trophy. Argentina's Estudiantes gave them a roughing up in the first leg in South America and gained a 1-0 advantage. The second leg at Old Trafford was a 1-1 draw and thus Estudiantes took the title
England had a summer tour of South America as preparation for the World Cup finals there in 1970. They drew with Mexico, before beating a Mexican XI 4-0 and Uruguay 2-1. They were unlucky to lose 2-1 to a late winner by Brazil's Jairzinho after taking the lead in their final match
In November Jim Gregory, the QPR chairman, sacked Alec Stock, the manager who had just guided them from Third Division to First. It set off an astonishing managerial merry go round. Two days later Tommy Docherty moved from Rotherham to QPR. A fortnight later Ronnie Allen quit Wolves and Bill McGarry left Ipswich to replace him. The next day Bobby Robson was sacked at Fulham and Johnny Haynes was appointed player manager. In December, Nottingham Forest got rid of John Carey and installed Matt Gillies, who resigned from Leicester. Then Docherty walked out of QPR after a bust up with Gregory. Haynes packed up the job after four games and Bill Dodgin took over. The vacant spot at Leicester was taken by Torquay's Frank O'Farrell. Docherty quickly bounced back to take over at Aston Villa and Stock re-emerged as boss at Luton
Celtic won the treble for the second time in three years, winning the league by five points, beating Hibs 6-2 in the League Cup final and Rangers 4-0 in the Scottish Cup final
Newcastle United won the Fairs Cup. They beat Hungarians Ujpest Dozsa 3-0 at home and then triumphed 3-2 in Hungary
The World Cup qualifying match between Honduras and El Salvador provoked a full scale war between the two countries. There were two legs followed by a deciding replay and there was rioting at all three games, which led to skirmishes along the border between the two countries