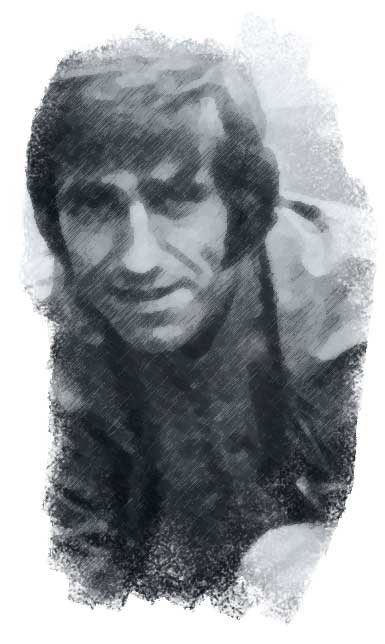 printer friendly version
A key factor behind the success of Don Revie's Leeds United in the late 60s and early 70s was the extraordinary loyalty of the Elland Road shadow squad, those players who had to be content with occasional appearances when injuries and suspensions forced the manager's hand; men like Mick Bates, David Harvey, Jimmy Greenhoff, Terry Hibbitt, Chris Galvin and Terry Yorath.
An important member of that set up was the reliable grafter, Rod Belfitt; he managed less than 80 League appearances in eight years with United but was always ready to answer Revie's call when it came and rarely let the side down, particularly in knockout competitions, where he had a knack of popping up with a goal at critical junctures.
Andrew Mourant: "The name of Rod Belfitt is frequently mentioned in the same breath as that of his friend Mick Bates. Both spent years on the periphery of the Leeds first team yet, when drafted in to do their duty, gave creditable performances. Belfitt was a vigorous front runner doing a sound if unspectacular job at centre-forward until the arrival of Mick Jones in September 1967. The two strikers invited comparison from which Belfitt, in some ways, suffered. While a good header of the ball, he was not as awesome in the air as Jones. In many respects, Belfitt played a similar game, shielding the ball and relying for service on those around him. While somewhat over dependent on his right foot, Belfitt nevertheless had a good touch and was adept at playing neat short balls. If speed over a long distance was not his greatest asset, Belfitt had the quality striker's hallmark of responding rapidly to scoring opportunities in the penalty area."
Rob Bagchi and Paul Rogerson: "Revie's perfect centre-forward would have to meet some pretty exacting criteria. Perversely, the manager wasn't looking for a predatory goalscorer, someone from the Jimmy Greaves mould. He wanted someone who was prepared to sweat, to keep running, with the physique to shield the ball; someone who was dominant in the air, courageous, unselfish and, above all, persistent. He knew that the others in his team, mainly the midfielders, but also Charlton, would continue to score, so he needed someone as much to help them score more as much as to grab 20 goals a season himself. In Greenhoff and Belfitt he had two players who together combined all the attributes but individually fell short of Revie's ideal.
"Belfitt was the workhorse personified: a strong runner with a neat first touch but who lacked pace, power and consistency. Greenhoff was a languid, graceful striker who seemed to glide through games. The fans loved him, as they always love those whose skills are unattainable. Some looked at Belfitt and thought, 'I could do that.' Everyone knew what Greenhoff had was out of their reach. Nonetheless, their records were similar and though, of course, Greenhoff went on to have a good if not great career, it was Belfitt who came closest to fitting Revie's requirements. He was the prototype Mick Jones."
Mick Bates on Revie's approach to his men in waiting: "Leeds have a larger first team pool than most which, while having the desired effect of stimulating competition for places, rarely invokes dissatisfaction among those unlucky enough to be left out of the side. A good example was when I was named as substitute for (a) home match against Forest owing to Lorimer coming back after injury. I was a bit disappointed, having been a regular for most of the season, but the Boss really built me up in his pre-match tactical talks. He started by pointing to me and Rod Belfitt, and said something like: 'I'm sorry I've had to leave you out. I know how you feel, but always remember that Leeds wouldn't be Leeds without you fellows.' He drums this into you all the time - you feel like part of a family, and just want to keep doing the right thing for the club as a whole."
Belfitt was never given the credit he deserved and he struggled to hold down a position at any of the clubs for whom he subsequently played; he faded away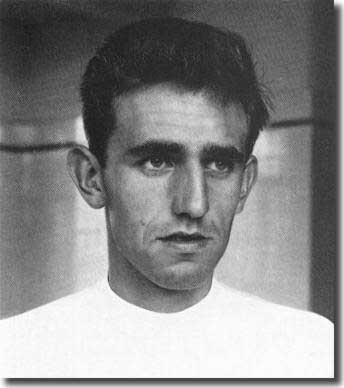 into non-League football shortly after he turned 30.
Born in Bournemouth on 30 October 1945, Roderick Michael Belfitt spent his formative years with his family in South Africa and India before the Belfitts settled in Doncaster. Rod attended the local secondary modern school and then Doncaster Technical College before serving an apprenticeship as a draughtsman.
He joined Arsenal as an amateur from Doncaster United but things didn't work out and he returned north to play for Doncaster United and then Retford Town. He was offered a contract by Leeds United in July 1963 when he was ready to turn professional.
Belfitt became a regular member of United's Central League side, and was given his first taste of first team football when he played in the second half of a pre-season friendly against Wrexham at Elland Road in 1964, as United made preparations for their return to the First Division.
With eight first team players unavailable through injury, Belfitt was given his official debut in a League Cup-tie against Huddersfield Town at Elland Road on 23 September 1964. He scored the winner seven minutes from time as Leeds won 3-2: chasing down a loose ball and shrugging off a challenge from Huddersfield left-back Bob Parker, he beat goalkeeper Ray Wood with a fine drive.
Three days later, Belfitt was given his First Division debut in a 2-1 defeat at home to Nottingham Forest. As reported by Phil Brown in the Yorkshire Evening Post, "New boy Belfitt, standing in because of injuries, had a difficult debut against the hard wood of Forest's defence, but looked very much one to wait for in a year or two."
After appearing in the League Cup third round defeat to Aston Villa on 14 October, Belfitt retained his place for the First Division game with Tottenham the following weekend, and he figured on the scoresheet again as United triumphed 3-1.
Richard Ulyatt in the Yorkshire Post: "Leeds were on top form, not least at centre-forward, where young Belfitt, who, when Peacock, Lawson and Weston are fit, is fourth priority in the club's list of centre-forwards. He is learning fast, a little more speed in turning and chasing and he will be exceptionally good. Norman, England's centre-half, was seriously worried by Belfitt's ranging from one side of the field to the other and when, in the second minute, Belfitt scored from Johanneson's pass, both Norman and the goalkeeper, Jennings, were left floundering."
With England international Alan Peacock a long term absentee after a cartilage operation in the summer and Don Weston also unavailable with a variety of strains, the game against Spurs marked the start of a purple patch for Belfitt. He featured in the next six League games, adding a further three goals as United launched an unexpected pursuit of the League championship.
Surprisingly, Don Revie then opted to drop Belfitt and give a run to Rod Johnson, senior by seven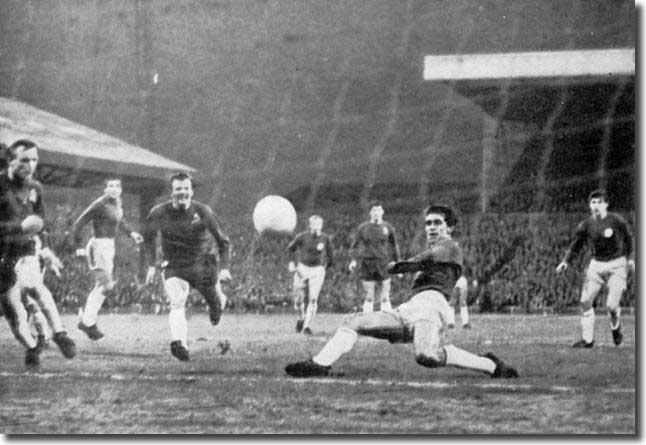 months. Belfitt didn't appear in the first team again until September 1965, when he scored as United beat Hartlepool 4-2 in the League Cup. He was on target again in the next round, though United went out at the hands of West Bromwich Albion.
At the beginning of February 1966, Belfitt made his European debut in a controversial Fairs Cup-tie at home to Valencia, replacing the injured Alan Peacock. Three men were dismissed, including Jack Charlton, in a heated, bitter confrontation. Belfitt struggled to make an impression as United drew 1-1.
Belfitt featured more regularly in 1966/67, most notably in Cup competitions when he weighed in with a number of vital goals. He made only four appearances before Christmas, but was a regular choice from February onwards.
He played as lone front man when Leeds faced Valencia again in the Fairs Cup in February 1967, and, according to Eric Stanger in the Yorkshire Post, he "worked himself into the ground chasing up and down the middle". United won 2-0 in Spain with goals from Giles and Lorimer.
He retained his place for the League game against Stoke and was on target in a 3-0 victory. The following Saturday he netted a brace as United thrashed West Bromwich Albion 5-0 in Belfitt's FA Cup debut. His shot after 15 seconds struck an upright and a 37th-minute effort produced the best goal of the game, "a magnificent diving header to divert Giles' cross shot".
United had a marathon battle against Sunderland in the fifth round before disposing of the Black Cats and Belfitt played in every minute of the three games. He opened the scoring in the decisive match, sliding home the ball after Peter Lorimer's attempt came back off the post.
Belfitt was on duty again in the FA Cup semi-final defeat to Chelsea, but the highlight of his United career came a few weeks later when Leeds beat Kilmarnock 4-2 in the Fairs Cup semi-final.
Belfitt was only in the side because of an injury to Jimmy Greenhoff but he seized his opportunity with both hands.
The Yorkshire Evening Post's Phil Brown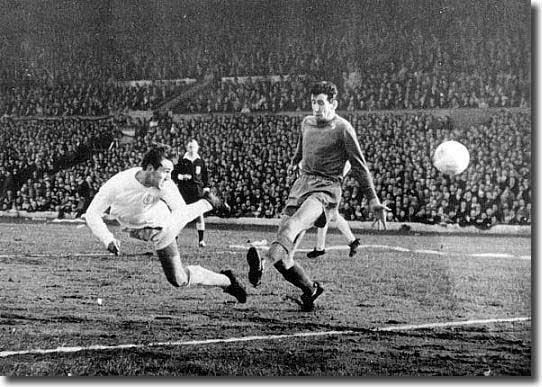 reported on "a first half hour hat trick by Rod Belfitt, United's stand in centre-forward. But I use the words stand in with a lot of reservations the way Belfitt is finishing the season. He has now become really full time, and has finished his studies to be a draughtsman, with tremendous benefit in his fitness and football."
Eric Stanger in the Yorkshire Post: "Naturally Belfitt was the hero of the hour, but the Kilmarnock defence was sadly at fault with the first goal, and Ferguson, the goalkeeper, who moves to West Ham shortly, was not altogether free from blame with the second. In the case of the first goal, when Giles swung in a centre to the far post, McGrory and Ferguson each appeared to think the other would take it and when Belfitt won the jump the ball dropped gently into the net. The second goal followed a fine run by O'Grady, Belfitt diving to get his head to the centre and although Ferguson got a hand to the ball he could not stay its progress.
"The Leeds defence, so uncharacteristically hesitant and uncertain, had a warning from both Bertelsen and Queen before the perky little McIlroy nipped in to turn a centre from the right past Sprake under the noses of Bell and Madeley.
"A foolish back pass nearly led to McIlroy getting another and a mistake by Madeley almost let in Bertelsen before Belfitt got his hat trick on the half hour. This was a good goal stemming from Giles' clever dribble, and when Gray hit the ball low across goal Belfitt slid it into the net.
"Still Leeds seemed determined to throw away the advantage Belfitt's enterprise had given them. Gray, failing to heed the lesson of Bell's back pass, struck one to Sprake from outside the penalty area, saw the ball stick in the mud and the eager McIlroy fastened on to it to beat Sprake very coolly.
"But somebody's mascot or lucky charm was working overtime for Leeds. After 39 minutes and clearly suffering an attack of nerves at the very sight of Belfitt, McGrory foolishly handled to keep the ball away from the centre-forward's head. It was clearly a penalty and Giles made it 4-2 from the spot."
That performance guaranteed Belfitt's place for the second leg, which ended goalless to confirm United's place in the two-legged final against Dinamo Zagreb. Belfitt was on duty in both legs of the final, but United could not manage a single goal and lost 2-0 on aggregate.
The striker featured regularly in 1967/68, though the £100,000 purchase of Mick Jones from Sheffield United in September saw him slip down the pecking order.
Belfitt won a League Cup medal when he came on as substitute for Eddie Gray when United beat Arsenal 1-0 at Wembley in March 1968. Five months later he replaced Mick Jones when the England man was carried off after 70 minutes in the first leg of the Fairs Cup final against Ferencvaros at Elland Road. Jones' goal earlier in the game was enough to secure a second trophy for Leeds.
During 1968/69, when United captured the League Championship for the first time, Belfitt had to be content with a mere eight appearances, two of them as substitute. Nevertheless, the three goals he contributed were crucial, securing, as they did, two vital victories over Ipswich and a draw at home to Sunderland.
Appearances by Belfitt became less frequent thereafter, especially in the First Division. In 1969/70 he managed a solitary goal in seven League games, but snatched two in his four Cup appearances. As the FA sought to improve disciplinary matters, Belfitt was suspended for six weeks from the start of November after being sent off in a reserve game for striking Burnley centre-half Colin Waldron. Belfitt: "I have a booking or two but have never been sent off before and have never been before the committee. I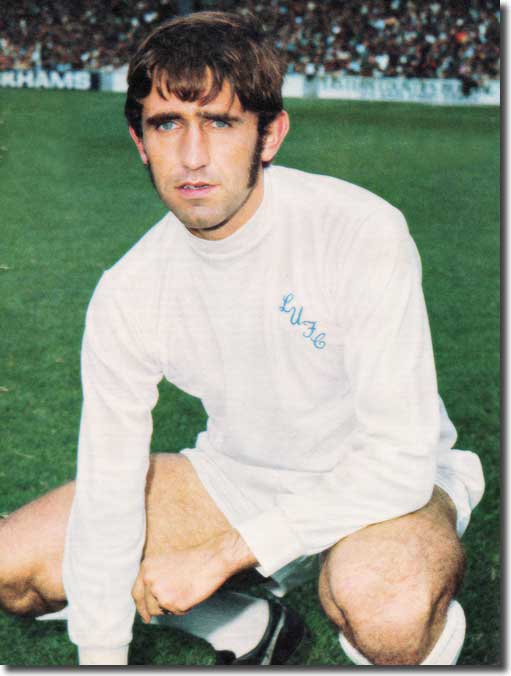 cannot understand the weight of the sentence on a chap like me compared with those on much more frequent offenders." The sanction was a record for a United player.
As a consequence, just one of Belfitt's First Division appearances came before the end of March; the remaining six were in the spring as Don Revie rested first teamers during a period of heavy fixture congestion.
In 1970/71 Belfitt scored four times from ten starts (3 in the League) and 11 appearances as substitute. One of his most valuable efforts came at West Ham in January after he replaced Jones with five minutes remaining and the teams tied at two apiece. Despite United's dominance, the Hammers fought back from two down with goals in the final ten minutes. Belfitt was alertness itself when he followed up to slip home the winning goal after goalkeeper Peter Grotier had parried a shot from Peter Lorimer.
1971/72 promised better things for Belfitt, especially with Mick Jones out injured for a number of months and Allan Clarke absent from 11 September to mid-October. Belfitt wore the No 9 shirt in sixteen of the first 18 games, but scored just once, against Ipswich on 28 August. Belfitt was unsettled by the emergence of young Joe Jordan at a time when he ached for regular first team football.
When Jones was fit to return to first team action against Manchester City on 16 October, Belfitt was unceremoniously dropped; then, when Jones suffered another injury, it was Jordan who received the call up to face Everton on 23 October. It was the final straw for Belfitt, who promptly requested a transfer. He spent the week discussing a possible move to Ipswich, and confided, "I am prepared to go anywhere within reason if the terms are right and I can get regular first team football. If I get a club I shall be sorry to leave Elland Road.
"You don't play for a club for seven or eight years as I have done and fail to become attached to it. But there comes a time when you feel you want regular first team football. I have been on the fringe of it for so long now, and I have become a little tired of not knowing whether I would be in the first team or in the reserves.
"Leeds are a good club - there is no doubt about that, but I simply feel the time has come for me to make the effort to get regular first team football."
Belfitt came on as sub for Mick Jones at Old Trafford on his 26th birthday, but that was to be his final appearance in a Leeds shirt. He spent a couple of days weighing up the terms offered by Ipswich manager Bobby Robson before agreeing to a £55,000 move on 4 November. That brought down the curtain on an eight-year United career that yielded 17 goals in 57 starts in the League and another 19 appearances as substitute. There were a further 16 goals from 53 Cup-ties.
Don Revie: "I am sorry to see him go, there is not a better club man in the game."
The transfer was overshadowed by the furore surrounding the abortive purchase of Asa Hartford a couple of days later.
Bobby Robson bought Belfitt to solve the Portman Road side's chronic goal scoring problem. Prior to the transfer, Ipswich had netted just 12 times in 15 First Division games.
Belfitt made his Town debut on 6 November at home to Wolves and scored the winner in a 2-1 victory. When he followed up with the goal that earned a 1-1 draw at Crystal Palace a week later, a new cult hero was born in Suffolk.
Nick Fuller from On The Map - Sir Bobby Robson and Ipswich Town: "The 1971/72 season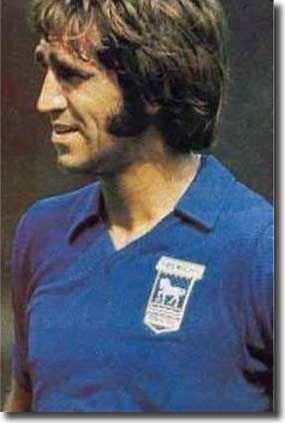 began at a new look Portman Road. Close season work had started on the new Portman Stand (now The Cobbold Stand) that would deliver both an increased capacity of 37,000 and an opportunity to introduce perimeter advertising… There's no record of the reasoning used to justify the investment for the first of these objectives - a 4th from bottom finish the previous season had hardly led to a scramble for season tickets and there can have been little expectation that the previous season's average of 20,500 would be so comprehensively breached as to require the extra capacity.
"In the event, it was a transitional season in which some signs of recovery were clear for all but they were born out of further trauma and adversity. Equally clear were some signs of Robson's shrewdness and intelligence - it seemed that he was rising above the early problems and was gaining confidence as he built 'his' Ipswich…
"The transfer market did however deliver two very significant arrivals - Bryan Hamilton (a former part timer) from Linfield and Rod Belfitt from Leeds…
"Hamilton was an industrious midfielder whose tenacity was clear from the off. His signing was certainly a risk, a part timer from a lower standard of football being thrust into the First Division at the age of 24, but his performances in a Northern Ireland shirt at the Home Internationals convinced Robson. How right he was, even though Hamilton made just 8 appearances in that first season, he would be ever present the following and has continued an affiliation with the club in various guises including player and coach pretty much ever since.
"Belfitt was also a hit from the start, scoring in his first 2 games for the club and finishing the season as equal leading scorer … with 7 goals in 26 games. Not the most gainly of characters, his work rate was however undeniable and his finishing was top class - an antidote to the problems that the team had suffered in that area… The Belfitt/Whymark front partnership seemed to have a little more swagger too. Certainly the Belfitt sideburns became a notable presence to those of us placing posters on our walls…
"Belfitt was key for me. I was able to point out to the Leeds kids in the playground that we had taken a player from them - they of course were always confident that he'd not been good enough to play for the mighty Elland Roaders but our modest improvement gave me greater pleasure than their third second place finish on the spin.
"The improvement was … modest but recognisable… Crystal Palace's programme notes for Ipswich's visit described them as 'turning in some classy and intelligent displays for which they have received scant credit'. A finish in 13th was well away from relegation and some notable results (including wins over Manchester City and Spurs) gave us something to cheer about but the season had its fair shares of downers too - not least of which was a 0-7 mauling at Bramall Lane, Sheffield. The Blades also played a part in a fiery return game at Portman Road in which Colin Harper was sent off - unjustifiably in the view of most of the home crowd whose anger necessitated a police escort for the official which was - and is - a rare sight indeed at Portman Road. The significance of the dismissal would turn out to be far greater than was apparent that day in April 1972.
"If 1971/72 had signalled the inspiration of Robson, 1972/73 was the start of a period that exemplified his genius. Several individual events signposted the fact that we had ourselves an exceptional manager.
"The first was the promotion to the first team of Kevin Beattie, now a defender under Robson's tutelage. The move was prompted by the absence of regular left-back Colin Harper due to suspension for the Sheffield United sending off.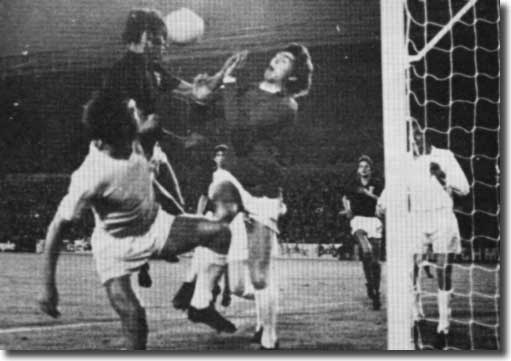 Harper was an experienced and solid full-back and would have been hard to replace - he'd been ever present the previous season - so it was not a change that Robson would have chosen, even allowing for the fact that Beattie had been referred to as his 'diamond' pretty much from day one. In the event though, the forced change unleashed on the world the most exceptional footballer I have ever seen wear the blue shirt…
"Robson's footballing brain had identified the talent but his man management had gone further. Sensing the fact that the lad wouldn't be overawed by the occasion and would be even further motivated by having his parents watching, Robson had arranged for them to be there before even telling Beattie that he was playing. It was the icing on the cake for Beattie whose warmth and respect for 'The Boss' shines through his every word on the subject - it's no coincidence that Beattie was one of the apprentices outside the dressing room during the young manager's showdown with Baxter and Carroll and that he had not only respected his manager for making a stand but had wanted to dive in on his side! Whilst we fans would have known nothing of this background, it's critical to the sort of team spirit and togetherness that Robson was building and few players were a more important product of it than Beattie.
"The second was a piece of transfer business that baffled many at the time - including myself as a boy looking to retain his heroes. Rod Belfitt, who had been proving a significant solution to our goalscoring problem, was sold to Everton (to become Joe Royle's strike partner)…
"Few could have seen the logic - why sell a successful recruit after only 46 appearances (barely a season's worth) and in the middle of the sort of form for which the manager had quite rightly received great credit? Of even greater confusion was the nature of the deal - Belfitt plus cash went to Everton and a 20-year-old striker called David Johnson, of whom most knew very little, arrived at Portman Road. The answer to the conundrum arrived quickly and, once again, it was Robson who had recognised that the team would be better balanced by a more conventional and predatory centre-forward linking up with Whymark. Johnson had been courted by both Crystal Palace and Liverpool so Robson's success in securing him - and the courageous way that he went about it - spoke volumes. Ipswich's fearsome front two partnership had
been born and would contribute 18 goals that first season."
Belfitt was going well for Ipswich that second season, with his first goal coming in a breathtaking 3-3 draw at old club Leeds on 23 August. Town fought back three times from falling behind and when Belfitt rose above David Harvey in the 65th minute it was to nod home the third equaliser.
He scored his ninth goal of the campaign in a 2-2 draw at Everton on 28 October. With Joe Royle unavailable through injury, the Goodison team were starting to struggle for goals and manager Harry Catterick was so impressed by Belfitt's display that he tabled an offer for the striker immediately following the game. Belfitt moved to Merseyside on 30 October, his 27th birthday, with David Johnson travelling in the opposite direction as part of the deal; Belfitt was valued at £65,000 and Johnson £100,000.
The Evertonresults.com website: "Belfitt made his debut in our next match - a 1-0 defeat at Crystal Palace - and then in the next match, his home debut against Manchester City, he achieved the remarkable feat of scoring in successive matches at Goodison for two different teams. That goal, which couldn't prevent a 3-2 defeat, was one of only three that he was to score for Everton in just 17 starts.
"There were mitigating circumstances … but, despite being an honest journeyman, Belfitt was just too hopeless to ever cut it as an Everton player. He seemed to lack confidence from the start and was never anything other than ill-at-ease during his 11 months at the club."
Belfitt is often cited by Everton supporters as one of the worst players ever to pull on the blue shirt, but it could be argued that he was just plain unlucky at Goodison.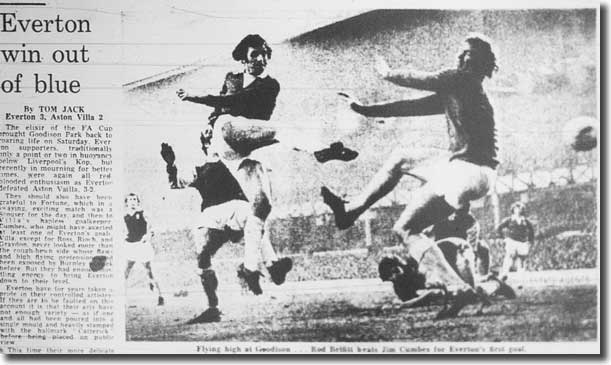 After scoring against Manchester City in his second game, he struggled for goals, but retained enough of his opportunist skills to fire home in splendid style in a 3-2 FA Cup win over Aston Villa in January 1973.
The man who signed the striker, Harry Catterick, retired at the end of the 1972/73 campaign through ill health; former Leeds boss Don Revie was set to take over at Goodison, but had a change of mind at the last moment and instead stayed another year at Elland Road to take United to another League title. The man who eventually took over from Catterick, Billy Bingham, just did not fancy Belfitt and, after selling him to Sunderland on 19 October 1973 for £70,000, paid a British record £350,000 to sign Bob Latchford from Birmingham in February 1974.
The move to FA Cup holders Sunderland, newly promoted to the First Division, brought no change of fortune; Belfitt scored a mere four goals in 29 games for the Black Cats, and spent some of his time at centre-back, where he gave some admirable displays. He was transfer listed in October 1974 and spent a brief period on loan to Fulham in November, before signing for Third Division Huddersfield in February 1975. The Terriers' manager at the time was Belfitt's former Leeds United colleague, Bobby Collins, who was struggling manfully to stave off relegation.
Belfitt's was a key signing and after his performance in his third game for the Terriers, a victory against Port Vale in March 1975, Collins was left singing his praises.
Vale were reduced to nine men when full-backs Neil Griffiths and John Brodie were sent off, taking the Burslem club's tally of dismissals for the season to seven, a new League record.
Paul Garner and Alan Gowling, with a penalty, put Town two goals to the good. Nine-man Vale fought bravely, and Brian Horton missed a penalty before Ray Williams finally scored with a header late on. Terry Dolan restored the two-goal cushion for second-bottom Town.
Collins was duly impressed by Belfitt's contribution: "He has quickly struck up a good understanding with the rest of the players, particularly Gowling. He is certainly a good example for the younger lads with his unselfish running, the way he brings players into the game and the way he passes. He has been in some great stables - Leeds, Everton, Ipswich - and he has the good habits of all those sides. Everything he does is accomplished, professional and, most importantly, uncomplicated. Always do the simple things and do them quickly is something I've tried to instill into the players here. Now they have an example on the field."
Nevertheless, Huddersfield were relegated to the
Fourth Division at the end of the season. Belfitt remained at Leeds Road until June 1976, scoring eight goals in 34 appearances for the Terriers.
After his departure, he dropped into non-League football, first with Worksop Town and then Frickley Colliery, before joining up with old Leeds colleague Mick Bates at Bentley Victoria.
After retiring from football, Belfitt returned to a job as a draughtsman where he remained for ten years before later spending a period of time as a financial adviser.
It was a somewhat mundane state of affairs after Belfitt's brief dalliance with life at the apex of the European game.