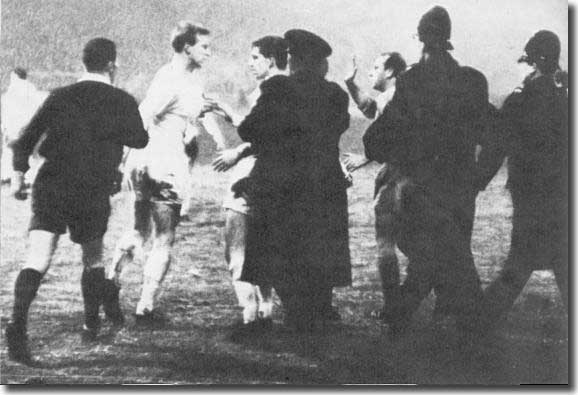 Jack Charlton: 'One of the greatest storms in European football burst about the heads of Leeds United when they played Valencia in the Inter Cities Fairs Cup on 2 February, 1966. I was in the centre of the row - three players, including myself, were ordered off; both teams were also summoned from the field for a spell to allow heated tempers to cool; and when it was all over, Dutch referee Leo Horn claimed: "Money was the cause of the trouble. You could almost smell it on the pitch." Such was the chaos and such was the anger that, at the time, our manager, Don Revie, said: "If this is European football I think we are better out of it."'
United had earned themselves a reputation for trouble during their rise to the top of the English game, but in Spain's Valencia they came across an outfit who could teach them a thing or two.
Leeds' first assault on European football had not been without incident - they had lost skipper Bobby Collins to Poletti's scything tackle in Turin prior to a functional if colourless disposal of SC Leipzig. But their opponents in the Fairs Cup third round were their greatest challenge so far: Valencia had won the trophy in 1962 and 1963, and had been beaten by Real Zaragoza in the 1964 final - they knew all about success in European football.
The Spaniards needed a play off in their own back yard to beat Hibernian after finishing level on aggregate in the first round, but there was less of an issue for them in the second when they easily won both legs against FC Basle.
Leeds were not in the best of states as they approached the game. They had overcome League leaders Liverpool at Anfield over Christmas, but lost 1-0 at Elland Road to the Reds a day later. Although they had three games in hand due to postponements caused by a harsh winter, their 2-0 defeat at Sunderland on 29 January left them in fourth spot, eight points behind the Merseysiders.
Worse still, they didn't have a recognised centre-forward following Alan Peacock's knee injury in the first half at Sunderland.
The luckless Peacock had started the season in fine form, earning an England recall as the 1966 World Cup beckoned, but he had hit lean times in recent weeks. The Yorkshire Post's Eric Stanger, in his report of United's 6-0 FA Cup win against Bury, wrote of the spearhead: 'He could scarcely put head or foot right and this on a day when all his colleagues were doing very much as they wished. He is not the same man who began the season with such zest.'
The choice for Leeds manager Don Revie lay between two inexperienced youngsters, Rodney Johnson and Rod Belfitt. An obvious move would have been to switch Jim Storrie into his old No 9 role, but he had been playing well on the wide right and was only just recovered from injury himself. In his desperation, Revie considered picking either Billy Bremner or Willie Bell up front, but feared the disruption either change would cause.
In the end, he opted for Belfitt in a side that had otherwise become recognised as his first choice since Bobby Collins' injury. Jack Charlton, acting as captain in the absence of the Scot, missed the defeat at Sunderland with a neck ricked in training, but returned for the Valencia game.
The Spaniards went into the contest with their own injury worries as noted by coach Sabino Barinaga, inside-forward with mighty Real Madrid for a decade and scorer in 1947 of the first ever goal at the Bernabeu Stadium: 'We have had no fewer than seven players hurt in the last fortnight. I have two good reserves to put in for Zamora and Waldo.' Goalkeeper Zamora was the son of the famous Spanish international goalkeeper of the 1930s, while regular centre-forward Waldo was a Brazilian and Valencia's star turn.
Barinaga delayed his selection, saying, 'It will depend on the state of the ground. If you like to play good football, the ground should be dry with plenty of grass.' The coach feared the bare Elland Road pitch, which had given Leeds a key advantage in their earlier ties, forcing skilled opponents to struggle in alien conditions. In stark contrast, Don Revie described the surface as 'perfect'.
The Leeds manager knew he would face a battle, but could hardly have anticipated the full ferocity of the encounter.
Leeds dominated affairs for most of the first half, but struggled to find their normal high tempo rhythm. Valencia were a knowing and cynical force, employing possession football, close marking, spoiling tactics and heavy tackling to disrupt United's play. They looked every inch the class act they were. According to The Times: 'The Spaniards, with Guillot and Lage flitting around smoothly, had shown they were the better equipped technically on the night. Leeds, for their part, quickly betrayed their eagerness, coherence was absent and distribution unconsidered, and the maladies were undiminished as the first half progressed.'
United, with young Belfitt looking out of his depth against such wily opponents, struggled to make headway. They had most of the possession but failed to carve out a clear cut opening: Giles' free kick went narrowly wide; then the Irishman hurried a shot with the Spanish defence for once looking uncertain; and Nito blocked Lorimer's shot at short range, but that was about it.
Valencia were far less wasteful and took the lead after 16 minutes following a defensive misunderstanding. Leeds were caught short at the back following a full-blooded attack, and Hunter and Reaney each left things to the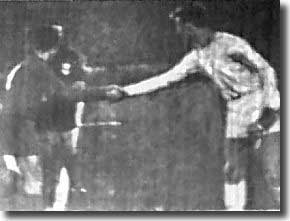 other when a speculative long ball dropped into their half. There was no such hesitation from left winger Munoz and he was on the ball in a flash, rounding Sprake with a deft swerve to slip the ball home.
The goal, very much against the run of play, both disheartened Leeds and provided comfort for the Spaniards. More than content with a 1-0 lead, they pulled everyone back, allowing United's frenetic assaults to crash against a wall of red shirts, packed in and around their own penalty area.
Refereeing the game was Leo Horn, a renowned Dutch official, who had handled more than 100 internationals, including Hungary's famous 6-3 shaming of England at Wembley in 1953, plus a couple of European Cup finals. For all his experience, though, Horn seemed singularly reluctant to take any firm action on the night, offering the Spaniards enormous latitude. They were determined not to lose a goal and fiercely exploited Horn's tolerance. The Times: 'There was a hint of things to come when Mr Horn called up Roberto, the Valencia captain, after Mestre had made one scything late tackle on Bremner, very much a target for the Spaniards. What the referee said to Roberto made little difference. Valencia still piled in, and Leeds were not slow to respond.'
Phil Brown in the Yorkshire Evening Post: 'Mr Horn should have sensed the lava flow in this game in the first minute when Hunter swept Lage off his feet and Lage looked daggers at Hunter. Mr Horn gave verbal rebuke, appealed to the captains, Charlton and Roberto, but he should have laid down an ultimatum by quarter time, and started booking.
'That does not excuse the players for a moment for playing the game in the wrong spirit. Billy Bremner, hunted and fouled with sickening consistency, kept his head magnificently against an evil barrage of tackles, and played his football to the end. He deserves very great praise indeed.'
Eric Stanger: 'If Mr Horn had been firmer from the beginning the match might not have developed as it did. Leeds are no angels when it comes to rough house, but Valencia's tactics in the Fairs Cup-tie smacked more of the bullring than the football field. They were the roughest Continental side I have ever seen.
'They never hesitated to bring down the man when they could not get the ball, and they had no need to resort to such tactics, for in the few flashes of football there were they seemed themselves to be a clever, resourceful side built round Mestre, the centre-half, Roberto, the left-half and captain, and Sanchez-Lage.
'Leeds were never afraid to give as good as they got, but they would have done better not to have tried to mix it quite so much … for Valencia were just as strong as they were and knew every trick in the book.'
After such a fierce first half, the game restarted quite peacefully after the break and O'Grady's deep centre nearly caught Nito out before it drifted wide. Things soon heated up again, though, as full-back Vidagany flattened Billy Bremner when he tried to make space on the right. The referee beckoned the Valencia captain for another warning, but took no further action.
Valencia were now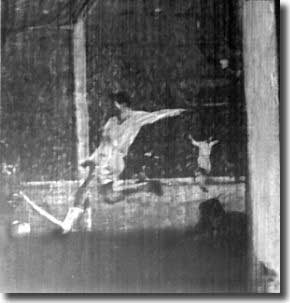 defending in depth as United developed some real momentum. The Whites had raised their game after the break, moving the ball with accuracy and speed, now wisely exploiting the space on the flanks to avoid the choking midfield morass.
The Times: "Leeds had been pounding away at Valencia's mobile wall of defenders from the outset of the second half; they desperately needed a steadying influence to harness and channel their drive but what they lacked in imaginative ideas, they substituted with spirit and the Spaniards were seemingly content to contain them. The manner in which they sometimes did so certainly incurred the displeasure of the Leeds fans.
"All the shafts, at this stage, were aimed at Leeds: O'Grady's centre eluded Nito and passed wide; Lorimer flung himself at Bremner's centre for the goalkeeper to save; and Storrie's header was, in turn, cleared off the line.
"Yet still Leeds hardly suggested they knew how to open up the Valencia defence which, at times, funnelled as many as nine red shirts into the goal area. One had almost begun to despair that the curtain could be pierced when Leeds equalised, Lorimer driving home a cross from Giles. It was certainly reward for the pressure they had brought to bear."
Back on level terms, United took fresh heart and pressed for a second goal that continued to elude them.
Jack Charlton: 'What had been a sizzling atmosphere became downright white hot, as we threw everything into an assault which, we hoped, would bring us a winner. Fifteen minutes to go, and I raced upfield to add my weight to one of our attacks. As I challenged an opponent in the Valencia penalty area, I was kicked. This angered me, of course - but before I knew where I was I found myself having to take much more … for one of my opponents slung a punch which would have done credit to Cassius Clay.
'Right there and then my anger boiled over … I chased around that penalty area, intent upon only one thing - getting my own back. I had completely lost control of myself, after these diabolical fouls upon me, and neither the Spaniards nor the restraining hands of my team mates could prevent my pursuit for vengeance. Suddenly players seemed to be pushing and jostling each other everywhere. Police appeared on the field to stop this game of football from degenerating into a running battle. And Leo Horn walked off with his linesmen, signalling to club officials of both teams to get their players off, too.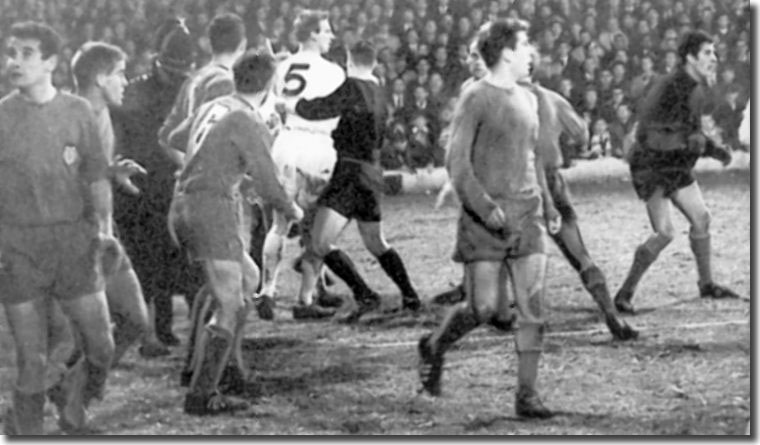 'I was still breathing fire when I reached the dressing room - then I got the word that I need not go back. For a moment I thought the referee had called off the match … then it sank home that it was only Jackie Charlton's presence which was not required any longer. For eleven minutes the teams remained off the field, to allow tempers on both sides to cool down. By that time, I was beginning to feel sorry for myself, and not a little ashamed of the way I had lost my temper. The only consolation I had was that a Valencia man - left-back Vidagany - had been told he need not return to the fray, either. So it was ten against ten.'
Billy Bremner: 'When we were ready to return, we got the word that Big Jack could stay where he was - he'd been sent off, we were informed, and so had a Valencia man. We all assumed it was the No 5, who had started the trouble which so enraged Big Jack. But when we returned to the pitch, there was No 5, as large as life. The man who was sent off was the left-back, and I reckon that it could be coincidence, but he had been pointed out by team mates as being the player involved in the first place, and it so happened that he had been given a right roasting by Jim Storrie, who had been having a blinder on the right wing. Certainly the Spaniards risked very little by losing their left-back. Whichever way it was, this case of mistaken identity was a good thing for them.'
The conflict did not end there. Seven minutes from time Valencia inside-forward Sanchez-Lage felled Jim Storrie and was promptly dismissed. That finally calmed the atmosphere.
In the last quarter of an hour of the battle, either side might have gained a precious lead with Sprake having to stretch to tip Guillot's header over the bar and Bremner missing narrowly with a header at the death. In the end, though, the 1-1 draw was just about right. Despite all the furore and antics, United and Valencia had proven themselves well-matched and worthy opponents. They came with wildly different backgrounds and approaches to the game, but it was the devil's own job to separate the two sides. The Spaniards had settled for a containing, niggling performance, putting their more expansive game aside for the night, while Leeds demonstrated once again their unquenchable spirit.
The controversy rumbled on after the final whistle. Leo Horn offered some inflammatory comments, claiming that Leeds were on a £1,500 bonus to win: 'Money was the cause of the trouble … you could
see it in the nervousness and the excitement of the players. There was something in the air … something unpleasant … there was too much at stake. It was unbelievable.
'I was reminded of South American cup finals I have taken, where players were on a bonus of 3,000 dollars. It was the same then. Since European football began we have seen this sort of thing spreading. These games have become too important for the players. When Leeds lost a goal this nervousness spread among them. Valencia had nine men in front of their goal. They, too, were gripped by this terrible feeling. I understand professional players, but they have changed. Money has made them too eager. After sixteen years of international refereeing I believe money causes all the trouble … all the nervousness and desperate play. It is no use clubs expecting referees to impose discipline. The referee is there to control a match. Players must be taught to control themselves.
'I have always regarded Charlton as a fine man. He was the cleanest player on the field, until he lost all control. I saw a Spanish defender kick him, and if Charlton had given a reprisal kick, I could have understood it and let it pass, because it happens so often. As captain of Leeds, and an international, he should have been the first player to exercise complete self control.'
Horn also accused Don Revie of asking him to let Charlton off, saying, 'Do you know what you are doing? This is an international.'
Horn replied: 'Do you think this is the first time I have refereed a game? I don't care if Charlton is an emperor, he is not coming back on the field tonight.'
Don Revie said later: 'It's untrue. My players were on no special bonus. Mr Horn is guessing, or has been misinformed. I resent these allegations, but I am saying no more now. It's time for the whole thing to simmer down.'
The papers inevitably focused on the less savoury side of the contest and there were calls for United to be thrown out of the competition and Charlton to face a lengthy ban, despite them being the wronged party for once.
The Fairs Cup Committee, in a level headed moment of reason, decided to delay their response to the affair, choosing to meet the day after the decisive second leg. They made sure it was public knowledge that they would have observers present for the return in Valencia and that behaviour there would colour their final judgement. They had already banned Roma for three years after crowd trouble when they hosted Chelsea earlier in the competition, so were known to be ready to impose the strictest of sanctions.
Leo Horn faced intense criticism for his part in affairs. He had been hopeful of being selected to referee the forthcoming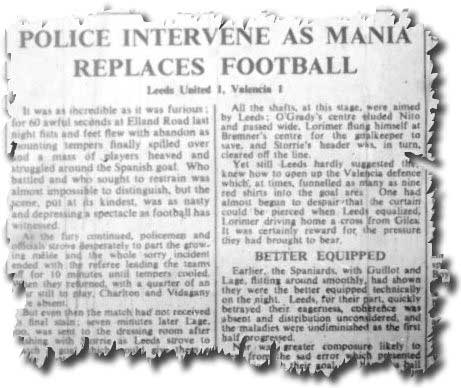 World Cup final, but now kissed goodbye to that particular opportunity. He was replaced for the second leg, a fortnight later, by Othmar Huber of Switzerland.
From the very start Huber punished the slightest indiscretion and his fussy approach worked well, though fears of the penalty if there was a repeat of the Elland Road brawl clearly had its impact on the players.
United set their defensive stall out in sweltering conditions, June-like in February, and gave one of their stereotypical stonewall performances with Jack Charlton in the thick of things. They were content to play on the counter and 15 minutes from the end took the lead from just such a break. Madeley, nominally centre-forward but filling a holding role in midfield, put O'Grady free on the edge of the penalty area with a 30-yard pass over the full-back. The Spanish defence clearly thought he was offside and pulled up, allowing the winger to pick his spot and fire a low cross shot into the net.
It was Valencia's turn to be incensed.
Phil Brown: 'The linesman and referee refused the appeal, but goalkeeper Nito and left-back Toto were not content. They hotly harangued the linesman for not flagging and pulled his flag out of his hand in a push about - I think they were trying to show him how to wave the flag.'
Nito had made little attempt to save the shot and expended his energy instead in manhandling the linesman. His colleagues mobbed Mr Huber, who was eventually persuaded to consult his colleague. It made little difference, though, and the goal stood.
There were scares after that for Leeds, but they hung on grimly for the 1-0 win that secured passage into the last eight.
Choosing to ignore the flare up after the goal, the Fairs Cup Committee sanguinely decided to take no disciplinary action, with Sir Stanley Rous noting, 'The match last night was a model of good football. As far as the Fairs Cup is concerned, both clubs have exonerated themselves. If either qualify again, they will be welcome.'
Jack Charlton was fined £50, with £30 costs, at an FA disciplinary hearing two months later but none of the Spanish players ever suffered any sanction.
After the game, Don Revie focused on praising his men and the quality of their performance: 'It was so superbly forged by a side of youngsters. I think they played better than they did even at Chelsea (in the FA Cup the previous weekend, when they had been held at bay by a wonder performance on the part of Blues keeper Peter Bonetti), and I am fast coming to the conclusion that there is just no end to their courage and fighting spirit. They were magnificent against a highly experienced club.'