In November 1963, Leeds United chairman Harry Reynolds gushed enthusiastically: 'We not only want to be one of the best clubs in England, but in Europe. We want to be in that Super League if it comes. We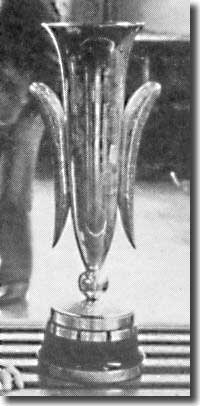 do not just wish to get into the First Division but to win it and get into the European Cup.'
At the time, Reynolds' words sounded like the fanatical ravings of an over enthusiastic geriatric. By the autumn of 1965, though, United were indeed contemplating their European debut after finishing runners up in both Cup and League. The season had ended disappointingly, but coming second in the title race brought the consolation of entry into the Inter Cities Fairs Cup tournament for 1965/66.
The competition was almost as old as the European Cup, although it had enjoyed a less straightforward history. According to the Encyclopaedia of British Football, 'In 1950 Ernst Thommen, then vice-president of FIFA, proposed the establishment of an international competition between clubs, or city-wide teams, from cities which hosted industrial fairs. His idea was to give a competitive edge to friendly matches played between teams during trade fairs. Following a meeting in Basle in 1955 the first competition eventually got under way in June 1955, with a match between Basle and London.
'The regulations for the competition were drafted by Sir Stanley Rous. Essentially these were that only one team from a city could enter, that matches would coincide with the cities' trade fair, and that the competition would be called the International Industrial Inter-Cities Fairs Cup. The trophy was called the Noel Beard trophy.
'Two English teams entered - London, which was made up of the 11 professional teams playing in the capital, and Birmingham, which was represented by Birmingham City. The first competition was organised into four mini leagues with the four group winners qualifying for the semi final. The first competition was scheduled to last two years, but because of fixture congestion it took three years to complete.
'The first final was a two-legged affair between London and Barcelona. Following a 2-2 draw in the first leg, Barcelona won the second leg 6-0 at the Nou Camp in front of 70,000 fans.
'The second Fairs Cup took two years to complete, 1958-60, but henceforth it would be an annual tournament running parallel with the European Cup and the newly established Cup Winners' Cup.'
Everyone associated with Elland Road was highly delighted when United's nomination as one of England's representatives in 1965/66 was confirmed. They were equally pleased with the news that they would be pitted against Torino, one of Italy's crack teams, in the first round.
The Turin club had a long and rich tradition in Italian football, but were still rebuilding after a tragic end to a glorious period in their history. A legendary Torino team perished in a terrible air crash in 1949 when their plane hit the church of Superga in the hills over Turin. In all, 31 people died, on the way back from Jose Ferreira's farewell match in Lisbon. The crash was the biggest tragedy in Italian sports history, claiming the lives of a team that had won the Serie A title for four years in a row, along with the last championship before the war. The club struggled to recover from the blow and were relegated in 1959 after a decade of mid table finishes, though they returned at the first attempt after winning the Serie B title.
The Italians were under new management: the redoubtable Nereo Rocco had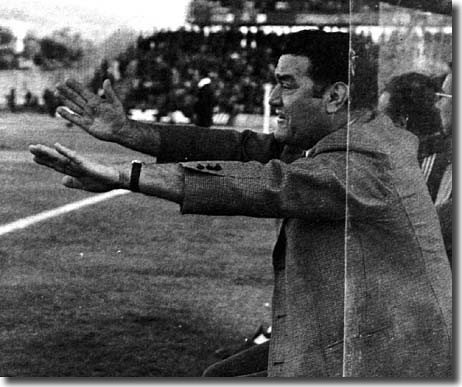 deserted AC Milan after leading them to a European Cup triumph in 1963 and had taken up the reins at Torino.
Rocco was a renowned coach, the inventor of the legendary Catenaccio formation. The Guardian: 'Catenaccio - Italian for "doorbolt" - is a defensive style of football created by Padova coach Nereo Rocco in the early 1950s. It takes the form of a diamond-shaped defence, in which a midfield "libero" (free man) is accommodated. Rocco introduced the system to counter the goalscoring of rival Italian clubs and, once it proved successful, it was used by AC Milan, who won the European Cup playing Catenaccio in 1963 and 1969.'
Rocco enjoyed a stormy relationship with ace goalscorer Jimmy Greaves, when the two were together at Milan.
David Winner describes the episode in Those Feet: A Sensual History of English Football: 'Under Rocco at AC Milan, Greaves felt "like a little boy lost". He thought the Italian game "spiteful and vicious", detested every second of his fourteen-game, nine-goal career and blamed the experience for turning him into an alcoholic. Years later he described Rocco as being like Mario Puzo's Godfather and claimed: "The Italian press murdered me. They could not have done a better assassination job had they been given a contract by the Mafia." Greaves was paid a fortune, but lost most of his money to fines as Rocco vainly attempted to get him to observe the strict Italian codes of sporting behaviour: no booze, no sex before matches, spartan training camps and obedience to the coach at all times. Greaves refused to be, as he saw it, "just another sheep in his flock of highly paid but unhappy footballers". Rocco despaired of Greaves' late night carousing, one night even nailing his hotel door shut with planks of wood. It didn't work; Greaves climbed out of his window three storeys up and crept along a narrow ledge while his manager waited downstairs watching the main exit.'
Torino had already dispensed with two British imports, Denis Law and Joe Baker, in the summer of 1962, though the goals of another Brit, Gerry Hitchens, took Rocco's men to third spot in Serie A behind the two Milan clubs in 1965. It was Torino's best finish since Superga and they also reached the semi final of the Cup Winners' Cup before losing to 1860 Munich - they were hot favourites to beat Leeds when the draw was announced.
United manager Don Revie flew to Italy with chief coach Syd Owen to watch Torino play a goalless draw at home to Cagliari in the week before the tie and commented: "They are a hard, strong side and will be difficult to beat. Their defence is very tight and they have several cracking good players. They will be hard to open out."
For all United's lack of familiarity with the subtleties of Continental competition, the first leg at Elland Road on September 29 saw United take to the new challenge like a duck to water. Revie sent his forwards out in mixed up shirt numbers to confuse the Torino marking plan (7 - Peacock, 8 - Collins, 9 - Cooper, 10 - Lorimer, 11 - Giles). Phil Brown in the Yorkshire Evening Post: 'That little ruse of Mr Revie's nearly nicked a goal while Torino were sorting it out, but, like the very good professionals they are, Torino held.' The ruse was quickly rumbled by the Italians, who resisted United's opening lunges thanks mainly to solid performances by goalkeeper Lido Vieri and centre-half George Puja.
However, they could not hold out for long. Billy Bremner ('the best player on the field' according to Phil Brown of the Yorkshire Evening Post) scored the opening goal of the game and United's first in European football after 25 minutes with a speculative curling shot from the left wing: 'Vieri could only juggle it into his own net. The crowd were ecstatic and the goalkeeper surveyed the muddy turf no doubt wishing that it would open and swallow him.' The Whites came close to increasing their lead as the interval neared, but it was the 48th minute before Alan Peacock's header crowned a decent passing move and doubled the advantage. Later Peacock had a goal disallowed with the referee ruling the ball had not entered the goal, 'though the centre-forward was afterwards to claim the ball was a good 18 inches over the line'.
Opting to go for a killer third goal rather than sitting on a decisive 2-0 lead, United's inexperience betrayed them. They left themselves exposed late on and Torino centre-forward Orlando pulled one goal back 12 minutes from time.
Nevertheless, Leeds had played astonishingly well against outstanding opponents. They earned high praise, with Italian sports writers describing United as 'the strongest and best team in Britain'. Don Revie was unstinting in his praise, telling Phil Brown: 'The team has never played better since I became manager at Elland Road. They were splendid in their skill and determination, and they gave the lot and a bit more in effort. They had not a thing left when they came in. How they maintained the pace on a poor night and soft pitch I do not know. I am the proudest manager in Britain today. Yet when I went with them into the dressing room after the game they were so grieved at having won only 2-1 that Bobby Collins said to me: "Boss, just listen to them! You would think we had lost 3-1!" I would like respectfully to remind our critics and our doubters that seven of last night's United side were only 22 or under. The experience they gained last night against a very good team under a very good manager should be most valuable to them. But above all my own feeling is of pride in them after this Continental football baptism.'
Nereo Rocco said: 'Leeds were a fine team, but they have a singly magnificent crowd. They were splendidly fair to us, despite the importance of the occasion to both teams, and the fire in the play. I must thank them and hope that our crowd is as fair to their team next Wednesday. Your crowd
has a splendid team. They should have scored four or five goals in the first half.' Some of the wily Italian's comments were made purely for the benefit of public consumption, and he was confident of recovering the tie at home.
The away goals rule had yet to be introduced so it would take a victory by two clear goals in Turin to put the Italians through, but most independent experts believed Torino's greater experience would be decisive. Revie saw things differently: 'We are one of the hardest sides to beat away, and we will be trying for a quick goal to surprise Torino.'
Leeds, enjoying a weekend's rest before the game with England in Home Championship action against Wales, fielded the same eleven that beat Blackburn 3-0 on 25 September and saw the Italians off in the first leg. Terry Cooper continued to deputise for the injured Albert Johanneson, while youngsters Paul Madeley and Peter Lorimer demonstrated the worth of Revie's youth policy. Leading the attack was the in form Alan Peacock, fresh from restoration to the England team after three years' absence. Along with Jack Charlton and Gary Sprake, Peacock had played in the goalless draw between England and the Welsh in Cardiff.
In contrast to United's settled roll call, the Italians rang the changes for the match in Turin, with Fossati, Teneggi and Meroni coming in for Rosato, Bolchi and Schulz. The return of Gigi Meroni on the right flank was particularly crucial. The 22-year-old, nicknamed La Farfalla Granata, the 'Grenade Butterfly', was a Continental equivalent of George Best. Torino's record buy (£130,000 from Genoa in 1964), he was a prodigious talent, 'a first-rate dribbler and expert at nutmegging his opponents'.
Meroni, all 'elusive running', and George Ferrini, 'a strong and incisive player', were prominent as Torino took the game to United in the early stages in the Stadio Communale. Leeds, though, manufactured the first chance of the game.
Jack Charlton: 'We could have been a goal up after only thirty seconds, but Peter Lorimer's shot was clutched safely by goalkeeper Vieri; then Vieri clawed a header from me as the ball was sneaking under the bar; and Norman Hunter, put through after a great Lorimer run, missed his kick in front of an open goal.'
The openings for United were scarce as they devoted their first half for the most part to maintaining their slim advantage. Peacock was left to plough a lone furrow up front with his fellow forwards supplementing a packed midfield. Phil Brown in the Yorkshire Evening Post: 'Charlton held the middle from the first minute and Bremner and Hunter covered acres on their flanks, challenging, intercepting, tackling, forcing men to part with the ball unsuitably and taking all the danger out of Torino's attack. But the half-back line even in top form still needed help, for Torino sometimes attacked with 10 men in the second half, and they got it. Giles, Lorimer, Peacock and Cooper all came back in defence, with Collins likewise while he was on, and all did their share.'
The overlapping full-backs, Reaney and Madeley, often presented the greatest threat, freed by the smart passing of Giles to counter swiftly from defence. Eric Stanger wrote in the Yorkshire Post: 'Right from the start Torino made the running to wipe out the goal lead which Leeds had from the first leg, but their neat progressive football was countered by the immaculate Leeds defence. Leeds, indeed, came nearer to scoring with their quick breakouts.'
In the last five minutes of the half, United had a decent spell, prompted by skipper Bobby Collins. He collected smartly from Peacock and sent in a shot which skimmed a post, before dispossessing Ferrini with a wonderful tackle and swiftly turning deep defence into dangerous attack.
Suitably revived by their captain's example, Leeds took their break in good heart with the first challenge successfully negotiated. They had been outmanoeuvred and penned in, but had proven their defensive solidarity. The players' mood was buoyant, although any degree of complacency was dissipated five minutes after the resumption.
Bobby Collins had been United's fulcrum since his arrival in 1962, and in Turin he was again the heartbeat of a fiercely defiant display. Unfortunately, he would not see out the hour.
Norman Hunter: 'I can still remember the tackle that put him out of the game and left us to battle for forty-five minutes with only ten men. Bobby and I were both well up the field when I saw a big defender coming towards him. Bobby was extremely quick over five to ten yards and he knocked the ball forward and accelerated after it but the big guy didn't pull up. He kept on running and his knee went right into Bobby's thigh. When I got to Bobby, his leg was waving around at the top because the bone was snapped high up the leg. It was horrendous.'
Jack Charlton: 'I remember it very vividly - Bobby was lying there, the referee wanted to move him off the park, and the Turin players were trying to bundle him off. I wouldn't let them move him; I knew that if
Bobby Collins wouldn't get up, he must have something broken. I stood over him, whacking one Italian and punching another to keep them back, until eventually the referee realised that Bobby must be seriously hurt and called for a stretcher.'
Eric Stanger: 'For a few minutes tempers flared in a game which up to that point had been cleanly fought. Meroni kicked Bremner, Giles and Pestrin clashed, but Mr L Roomer, the Dutch referee, kept a firm hand and very soon had things under control again.'
Billy Bremner, for whom Collins was an idol, was incensed and the guilty man, left-back Fabrizio Poletti, needed no interpreter as the Scot bitterly promised, 'I'll kill you for this.'
The mythology surrounding the game paints Poletti as some kind of cold blooded assassin, but at the time there was a more restrained reaction, as typified by Phil Brown: 'Italian journalists assured me that Poletti has no name for fouls, and indeed it was the only one he committed in the game. He was a clean player at Leeds last week, too. But in the fever heat of the tie I think Poletti lost his head. He is only 22, and he has been to see Collins to apologise deeply.'
Poletti seemed genuinely remorseful, saying, 'It happened so quickly. He was going so fast. It has been a shock to me, and I am sincerely sorry.'
After the dust had cleared, United were left to withstand 40 minutes of all out pressure by one of Europe's best attacks with just ten men. Substitutes had been introduced for Football League games at the start of the season, but were still some way off for European competition. What followed was a remarkable performance, quite possibly the greatest rearguard action that Don Revie's Leeds United ever fought.
In the first period they had played disciplined, controlled football, laying down an ironclad wall across the pitch, denying their classy opponents time and space and harrying them out of their poise. The absence of Collins seemed merely to reinforce the players' spirit.
Eric Stanger: 'Now came Leeds United's finest half-hour. Every man gritted his teeth and shouldered the extra burden imposed on him by the loss of Collins. Torino grew more and more worried, as they found out they just could not shake off these brave fighters. Their football became ragged. The crowd whistled in disapproval as the Leeds tentacles gripped tighter and tighter, with every man refusing to give an inch or admit defeat.'
For all their ability, the Italians could find no chinks in the United armour. Gary Sprake made a couple of decent saves, but for the most part the men in front of him, working like drones, shielded him from danger.
The Italians' football grew increasingly frenetic as the end approached, and United came close to snatching a remarkable victory at the death when Bremner burst clear from midfield, beat the defence and saw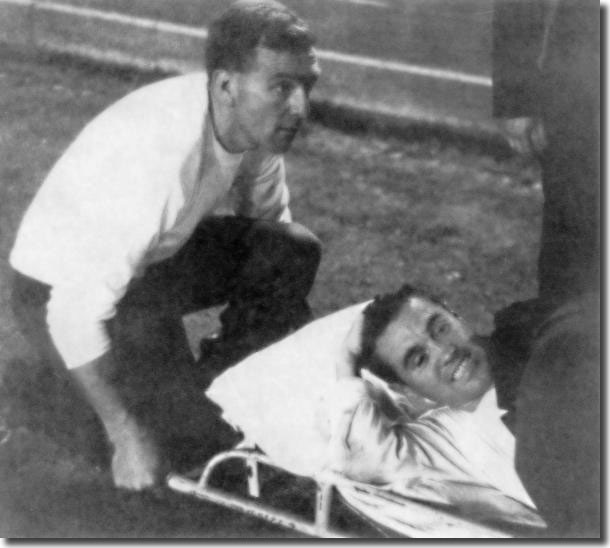 his shot scrape the post.
The home crowd turned on their team during the final quarter. The game ended in a 'gale of whistles of contempt and the fans lit 20 bonfires on the terraces at the end - another gesture of thumbs down. United left the field to a round of applause and it was nice to see them turn and see 200 odd Leeds supporters who were there, for those supporters had let the Italians hear "Leeds Leeds Leeds" and "Ilkla Moor" in grand style.'
The game finished without a goal, leaving United in the second round by virtue of the 2-1 aggregate score.
It was a memorable evening, and the triumph in adversity proved a turning point in the history of Leeds United. Their football, for so long reviled in England, seemed perfectly designed for the European game and they were generously praised by the Italian press.
'Leeds know how to defend themselves - Torino eliminated' was the headline in Milan's Gazzeta Della Sport. The piece ran on: 'Leeds built its remarkable play on the Bremner-Collins diagonal - at least until the game turned into a brawl - without giving up attack in advance, but with vigorous defensive tactics, continuously dotted by violent counter attacks. What we saw was once again a very fine team, entirely worthy of continuing its march in the Cup.
'After their well deserved win in Britain, they succeeded in controlling a Torino that was in fine shape and determined to play to the end. And in the second half Leeds, with only 10 men, succeeded in resisting the forcing play of their opponents. Left without schemer Collins, the Leeds players turned into defenders, forming a barrier in a strong and energetic way but without any fouling.'
Vittorio Pozzo, who coached the Italian national team to World Cup victory in 1934 and 1938, wrote in Turin's La Stampa:
'This was the fastest game for a long time in Italy. Leeds are a robust, determined team, full of willpower and with exceptional ability. This team had said a word about British soccer which for years had not been heard and which convinced the crowd. The whole team seemed to be spurred by fire, but the work performed by inside-left Collins and right-half Bremner will not be forgotten soon by those who watched the game.'
For Bobby Collins, however, there was only the fear that, as he neared 35, his playing career might be at an end: 'The pain was agonising and I knew immediately that my leg was badly broken. Les Cocker came on and supervised as I was carried off to be taken to hospital. Willie Bell, who had been in the squad but was watching in the stadium, escorted me and helped keep the stretcher and my leg steady.
'The only fortunate thing, though I didn't realise it at the time, was that I was seen at a local hospital that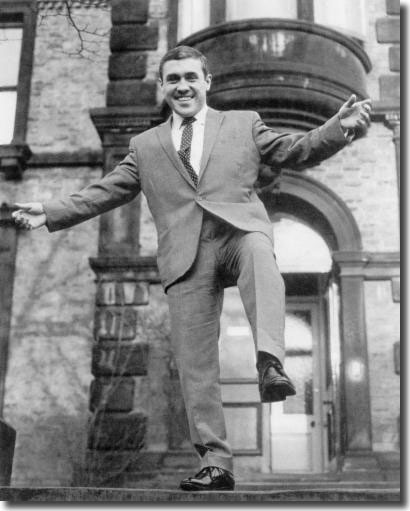 specialised in repairing shattered limbs. Surrounded by mountains, they had gained a reputation in this field, having dealt with many ski and mountaineering casualties, They had perfected techniques for all kinds of fractures. The medical team was headed by a world-renowned surgeon, Professor Re. I could not have been in better hands.
'The Professor assessed the injury and operated immediately. When I came round, he told me that he had reset my shattered thigh bone with a fifteen inch pin and was confident that I would play again with the pin inside, which was very reassuring.
'Leeds flew Beryl and Robert out to be with me, and throughout my two week stay at the hospital, I had plenty of visitors, including the entire Torino side. Poletti was particularly apologetic, but it didn't stop him injuring another player in the next match!
'The flight home wasn't the most comfortable as I had a special cast devised only for reclining seats, but they didn't recline.
'Back home I immediately began my rehabilitation under Les (Cocker) and Doc Adams. The pin was hollow, which enabled it to stay in my leg as I regained fitness. It stayed there for two years, before Mr Archie McDougall, an orthopaedic surgeon in Glasgow, removed it. The injury effectively ended my career at Leeds.'
Shorn of his pocket general, Don Revie gave Irishman Johnny Giles his head as play maker, thereby creating a midfield partnership with Billy Bremner that would inspire United's success over the decade that followed. Revie secured the services of Huddersfield Town's England winger Mike O'Grady to fill Giles' berth on the flank and saw his men emerge from the shadow of Bobby Collins to become a truly great team.
The injury was not quite the end of the road for Collins, and astonishingly he was back for the season's climax, a draw with Manchester United that secured runners-up spot for a second successive year.
The return was a short one, however. Collins made the United team for the start of the next campaign, but joined Bury on a free transfer in February 1967, marking the end of a remarkable liaison between player and club. It had been a match made in heaven, although many of Collins' opponents might have muttered that it was forged somewhere less pleasant!
Billy Bremner: 'I learned many great lessons from Bobby Collins, not the least being able to take the knocks as well as hand them out and always play the game as a man. They say that one man doesn't make a team - but Bobby Collins came nearer to doing it than anyone else I have ever seen on a football field.'