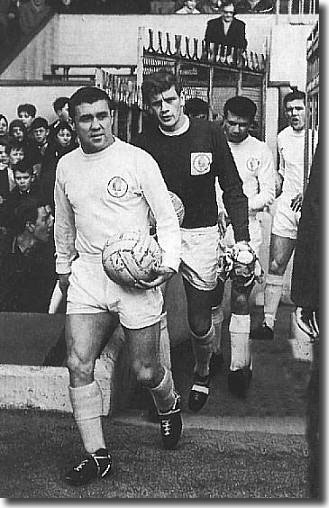 Part 2 - Inches from glory - Results and table
Don Revie's Leeds United spent the first half of the 1960s earning a reputation for their pragmatic and aggressive approach.
Revie was one of the youngest bosses in the English game when he took the helm in 1961, following the removal of Jack Taylor and inherited a squad built on ageing has beens, cynical never was-es and unproven youngsters. A year later his lacklustre team teetered on the precipice of Division Three. Revie knew a successful career in football management might depend on escaping the drop and that he needed an experienced onfield leader to provide some much needed direction.
He gambled £25,000 of United's meagre funds on Bobby Collins, a former Scottish international who was coming to the end of an illustrious career with Celtic and Everton.
Collins was exactly the leader that United needed, inspiring a string of results that saw the club escape the drop. The Scot introduced a ferocious will to win and an obsessive refusal to take prisoners, bringing shape and fire to the team's play. Revie was convinced Collins could be the fulcrum of a rebuilt side, reinforced by the host of promising youngsters emerging through the club's youth development scheme.
The Scot was not averse to the application of some fairly dubious tactics. His gritty and often downright spiteful contributions soon earned all the wrong sort of headlines and won United infamy for their base approach. All the same, their style proved phenomenally successful and the team marched to the Second Division title in 1964, a triumph that was delineated by a series of attritional, ill-tempered performances, most notably against fierce promotion rivals, Sunderland.
Revie had built an army around Collins, enlisting a bunch of nondescript young foot soldiers whom the grizzled Scottish warrior could shape to his design.
Acerbic centre-half Jack Charlton and fiery Scottish winger Billy Bremner were already at Elland Road when Revie arrived, but it took his magic touch to get the best out of them and they were mainstays of the Revie revolution; the teenagers, Gary Sprake, Paul Reaney and Norman Hunter, became automatic choices after Revie blooded them; the tricky South African Albert Johanneson was the scourge of Second Division defences with his speed and trickery; and the bargain buys, Don Weston, Jim Storrie and Willie Bell, soon proved their true worth.
However, the icing on the cake came with the big money men, skilful Irish winger Johnny Giles and former England World Cup front man Alan Peacock. The two made outstanding contributions to United's promotion push.
And yet it all revolved around the remarkable Collins, a one-man hit squad, with his boundless energy, accurate long ball game, dead ball armoury and dogged tackling ... it was the refusal to accept defeat which had made the difference. United were soft touches no longer and the top clubs would learn to fear their high tempo approach and aggression.
anager Revie chose not to strengthen his squad in the summer, despite the departure of two old stagers, Scottish international half-back Eric Smith and full-back Grenville Hair, saying, 'I intend to give the present team a run in the First Division and am very confident about them.'
Major Frank Buckley had signed
Hair for Leeds in November 1948, and he went on to play 443 league games and win representative honours, though never a full cap. He joined Wellington Town (later Telford United) as player manager and later became boss at Bradford City. He died of a heart attack at the untimely age of 36 after supervising a training session at Valley Parade.
A broken leg in September 1962 effectively ended Smith's Elland Road career after a period of some success with Celtic. He moved back to Scotland with Morton, going on to become a coach and manager and eventually working in the Middle East with Don Revie in the late 70s.
Revie's decision to remain faithful to the players who won promotion was seen as naïve by many critics, who suggested that United's over physical approach would be found wanting in the higher echelons of the League. But the manager reasoned that his hungry young men could shake up the giants of the game. His team were certainly excellent Second Division champions - their points total of 63 had only ever been bettered by the 70 of Tottenham Hotspur in 1920. Revie was heartened by the success in recent seasons of Ipswich Town, Spurs and Liverpool - all three clubs had secured the title in the wake of promotion. The national press, however, predicted a season of struggle for the Yorkshire side.
United's pre-season preparations went well, with successful trips to East Germany and Northern Ireland, although there were some setbacks. Alan Peacock suffered a knee injury that put him out of action for months. and Billy Bremner was arrested for being drunk in charge of a car, though he was eventually cleared following a 60-minute hearing in September.
Revie was phlegmatic about these events, but was pushed to anger by other concerns.
The Football Association published a report in its official journal, the FA News, at the beginning of August, criticising the trend for poor discipline on the field. United were named as the club with the poorest record in 1963/64 for players cautioned, censured, fined or suspended.
Rank paranoia was a feature of Revie's career and it never required much to pierce his surface aura of calmness. His hackles rose sharply at what he dismissed as an unfair attack on his club. He pointed out that the report referred to all teams, including reserve and youth sections, telling the Yorkshire Evening Post's Phil Brown: 'We did not have a single first team player sent off last season and we had only one suspended, Billy Bremner, after a series of cautions, which is a lot more than many clubs can say. The majority of our offences were committed by junior second team players or boys.'
Revie went on to insist that his players were 'hard but fair, and I would not have it otherwise. Any player of mine must play hard. But … we must get rid of this tag of dirty which I do not think the FA should have put upon us in their official magazine last week, and I shall be relieved if we get through the early season without trouble.'
The club complained formally to the FA, as follows:
'We would point out that we have only had two players sent off at Leeds in the last 44 years. We maintain that the dirty team tag which was blown up by the press could prejudice not only the general public but
the officials controlling the game, and, to put it mildly, could have an effect on the subconscious approach of both referee and linesmen, to say nothing of the minds of spectators, especially some types who are watching football today. It could lead to some very unsavoury incidents.'
The FA dismissed United's request out of hand, claiming, 'the reference to Leeds United, to which exception had been taken, was factual and the article itself was fair comment on a matter about which the council was particularly concerned.'
There was plenty of evidence that Leeds pushed things too far, and the club's strident defence smacked of hypocrisy. Certainly, it brought United's reputation firmly into the public eye and hinted at trouble to come. The combination of United's paranoid tendencies, hostile Press coverage and opponents who sought to get their retaliation in first made for a volatile mix. All it would take was an officious referee for there to be potentially explosive results. The coming months promised to be interesting.
Away from such controversy, Revie was confident about his players' chances. Jim Storrie: 'After winning promotion, most managers would talk in terms of consolidation. He spoke in terms of finishing in the top four. He said, 'We will come up against some world class players but we will be the best team in the League.' So he had the optimists among the lads thinking we would win the League and even the pessimists thought we might finish halfway up.'
The manager and his back room team were nothing if not well prepared and this was the year in which the infamous Leeds United dossiers came to prominence.
Don Revie: 'Towards the end of the 1963/64 season, I heard some good reports about a young player, so I sent Syd Owen along to run the rule over him. Well, the report that landed on my desk the following Monday was a masterpiece! I had never before seen such a detailed breakdown of a footballer. Syd had left nothing to chance. He outlined how good the player was on his right and left side; the angles or lines along which he tended to run with the ball; the shooting positions he favoured, and so on. It struck us that a report like this would be invaluable if applied to the teams we met each week, and it all started from there.
'Each week, either Syd, Maurice Lindley or myself would watch our opponents for the following Saturday. The report was typed on the Monday morning and we would spend the rest of the week working on it with the players. On many occasions, we held practice matches in which the reserve players adopted the same style of play as the team in question, and the first team lads had to try and break it down. For example, if the opposition did not read the game well at the back, we would practice decoy runs designed to pull their defenders forward so that balls could be played over their heads for Leeds players to run on to. That type of thing.'
A typical example, featuring Blackburn's 4-1 win against Blackpool in September 1964, ran thus:
'The score wasn't a true reflection of the game as two of the Blackburn goals came in the last ten minutes when Blackpool were going all out to equalise. They played very well mid-field but had no penetration due to the inability of Charnley and Oates to get away from their respective defenders. Ball at I-R was the outstanding player on the field, all the forward play that was dangerous was a result of this player's work. He is a very difficult player to mark as he wanders all over the field with a particular liking for picking up balls on the left wing.
'The O-R, Lea, is fast but didn't see a lot of the ball. He often moved over to an I-L position with Oates (I-L) going to the right wing. Herne on the left wing was ineffective. He carries a strong shot in both feet and from the one free kick Blackpool had outside the Blackburn penalty area the ball was pushed to the side of the line up for Herne to run on to and shoot.
'Charnley who was getting up well in the air was the man they were trying to 'find' with the other free kicks and in fact scored a good goal from one such free kick. Taken by Armfield about ten yards inside the Blackburn half and out near the touchline, he lofted the ball into the penalty area, and Charnley
timed his run perfectly to beat England in the air. From a cross Blackpool stationed a player about the six-yard line nearest to where the corner is being taken; the ball is sometimes played along the ground and sometimes about head high to be helped into the goalmouth.
'Defensively, Blackpool were suspect down the middle; both the F-Bs play tight on the winger and don't give much cover down the middle. Gratrix at C-H was allowing the C-F to come off him five yards and turn with it, the L-H, Green, who was playing defensively, didn't give enough 'depth'.
'The R-H, Turner, who was deputising for Rowe, played more of an attacking game. He is strong and kicks a good ball, you feel that the wanderings of Ball (I-R) are part of the tactics of trying to draw his opposing W-H out of position so that Turner can go have a crack at goal.
'Both the backs are fast and good tacklers. As a result of their tight marking, Waiters in goal didn't have any crosses to deal with. He had no chance with any of the goals. Three of the goals were a result of attacks down the middle and Blackburn could have had another three from similar attacks. The other goal was a penalty when Gratrix handled a long throw into the penalty area. He was pushed when going up to head the ball and grabbed it. The referee, however, didn't give the foul. Turner was unable to subdue Douglas and gave him too much room. It was when Douglas was on the ball, particularly around the halfway line and he had slowed the game down, that Blackpool looked most suspect. McEvoy would make one of his strikes, which was nearly always dangerous.'
As ever, the full report went on for page after page, clinically dissecting the strengths and weaknesses of each player for the edification of the manager, but one gets the picture from this brief extract. Revie adored the depth and detail, which appealed to his analytical mind, but many of the players were less positive.
Norman Hunter: 'I think we did pay the opposition too much respect. But whatever Don did at that time, you had respect for. Though looking back, I would never have a dossier to play against a team, I would have certain points. We analysed teams far too much.
'One thing Don never did was to change his routine. It went on up until the time he left. That was his way ... and sometimes, even though you were thirty-odd, you were sitting there through half an hour, three-quarters of an hour, talking about players you already knew. But that was his way.'
Billy Bremner: 'I'd look at the dossier though I wasn't taking a lot in. But I thought I'd better pay attention because if he said to me, "What was I saying there?" and I wasn't paying attention, he wouldn't be too pleased. Yet if we played Arsenal on the Saturday and then again on a Tuesday, three days later, we'd have the same dossier. The only time I would 1isten was when he was talking about continental players I didn't know.'
United kicked off the season with a game at Aston Villa, and had to do without Peacock, who had further strained his knee in a training session. Villa had just survived a relegation battle and manager Joe Mercer resigned in July after suffering a stroke. He had taken the Birmingham club back into the First Division in 1960 and won the inaugural League Cup competition in 1961. There was little room for sentiment in the game any more, though, and the Villa board had been alarmed by their club's struggle to survive in the big league.
The Leeds team included only five players with First Division experience: Bremner, Charlton, Weston, Giles and Collins. For Sprake, Reaney, Bell, Hunter, Storrie and Johanneson it was the first taste of football in England's premier competition, while Bremner's experience amounted to just 11 appearances in Division One, gained in 1959/60 when United were relegated.
The Scot was naturally excited by having another shot at the big time:
'To me it meant that we were going to be playing against clubs like Manchester United, Arsenal, Tottenham, Liverpool and other teams who were household names and had been part of my soccer education as I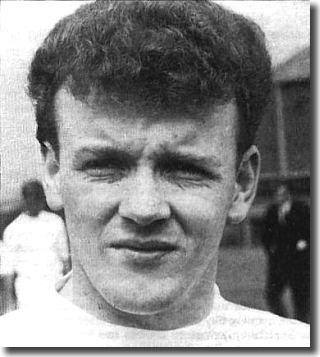 was growing up. If I had not heard of Leeds before I joined the club, I had certainly heard of Matt Busby and his great club. When the fixtures were announced we all gathered round to look at them like a bunch of schoolkids who were looking for their exam results.
'Our first game was against Aston Villa at Villa Park and it was a typical opening day of the season, with the hot sun beating down on the pitch and the stadium packed with fans who were either wearing sunglasses or using one hand to shield their eyes from the sun. We were very keyed up before the game and we could hardly wait to get out there and get the game and the season started.
'When the whistle blew we were like greyhounds let out of the traps. The more experienced Villa players must have wondered what was going on. We launched attack after attack in the first quarter of an hour and ran Villa ragged. You can imagine how we felt when they opened the scoring. It was Phil Woosnam, the Welsh international, who calmly put Villa ahead while we were still chasing about the park. I couldn't believe it. I don't often panic but I distinctly remember a dark cloud of self-doubt passing over. 'We're not going to be good enough,' I thought.
'The boss couldn't wait to get us back in the dressing room. He didn't shout at us, but he told us quite firmly that we were to stop running about like a set of madmen and get down to playing calm football. That moment was another big step in our growing up process. We went back out and played exactly as he had told us and Albert Johanneson equalised. We found that we were now matching Aston Villa pass for pass and gradually taking control of the game. Jack Charlton put us ahead and that is how it stayed until the end of the game. We had won 2-1, taken maximum points and had grown up a little, all in the space of one game.'
Some United players required time to acclimatise, but Johanneson took to the game like a duck to water and tormented Villa from the first whistle, taking his goal coolly when keeper Sidebottom couldn't hold Weston's vicious drive.
According to the Yorkshire Evening Post, 'once they were level United rarely looked like losing, and they probed away at Villa's weakness in middle defence starting from centre-half Sleeuwenhoek with a lot of success. Once they were ahead, with Charlton nimbly exploiting that same weakness with a peach of an attacking centre-half's goal, they never looked like being held.'
Bobby Collins was delighted with the win: 'A great result, and a great start for the boys.' Manager Revie, however, preferred to keep his feet on the ground: 'It was a very good result at Villa Park, but don't let us get carried away. I'm just taking each match as it comes, like we did last season. The next is with Liverpool and Liverpool are a very hard side indeed to beat.'
He was right to be cautious, for the Anfield side were the reigning league champions, having won the title in the second season after their own return to the big time.
Leeds, no respecter of reputations, took the game to the Reds and thoroughly merited a memorable 4-2 victory. Only 36,005 spectators were present to witness the historic triumph - the ground was more than a third empty as chairman Harry Reynolds opted for a return to his premium pricing policy of earlier seasons.
Frank McGhee of the Daily Mirror: 'Leeds lost what they were most anxious to get rid of, a reputation for too much vigour, too much defence and not enough attacking ideas. They certainly had far too much swift striking power for the Liverpool defence, which last season boasted the best record in the First Division. I have never seen them so often rattled, so easily riddled as they were last night by a Leeds team that still plays this game furiously, but on this evidence, has temperament on a tight rein.'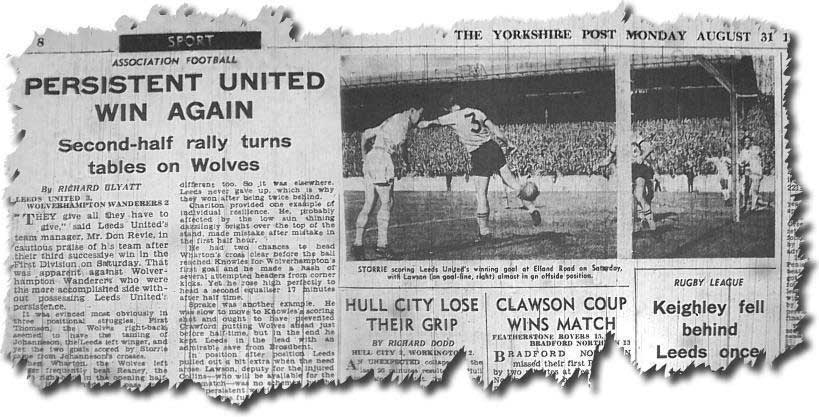 Wolves made United fight hard for victory in the next match, twice leading before two goals from Jim Storrie and another from Jack Charlton secured a third straight win, this time by 3-2, to announce that Leeds were, indeed, here to do much more than make up the numbers.
However, it soon looked like the breakneck start was down merely to a promoted side having the advantage of surprise. United lapsed into a disappointing spell of just two victories from eight games, leaving them in tenth spot. Among four defeats was a dismal 4-0 reverse at Blackpool, when young Alan Ball terrorised the visitors. The dossiers had hinted Ball was a star in the making and the memory of his performance remained long with Don Revie, who would later spend months chasing his signature.
One reason for United's loss of form was a crippling injury list. In addition to Peacock, who now faced a cartilage operation, five first teamers missed part of the initial six weeks: Johnny Giles was out for a month and three games with knee ligament damage; Bobby Collins (one game with a strained thigh); Don Weston (five games with stomach muscle injuries); Willie Bell (three games, ankle); and Ian Lawson (cartilage). Gary Sprake, Albert Johanneson, Billy Bremner, Jack Charlton, Jim Storrie and Jimmy Greenhoff also suffered various sprains and strains, but soldiered on despite the agony.
More worrying for Leeds United, however, was the September news that Don Revie had applied for the vacant manager's job at Sunderland.
Former Wearsiders boss Alan Brown resigned during the summer to take over at Sheffield Wednesday, who had also pursued Revie for a time. The news of the vacancy piqued the United manager's interest. He had been a little disgruntled when Leeds had offered him only a three-year contract following promotion; he had coveted the security of a five-year deal and the contract had lain unsigned on his desk throughout the summer.

The Roker Park club was undoubtedly bigger than United, enjoying a long and rich footballing tradition and hosting significantly larger crowds. Revie had played for them towards the tail end of his playing career and the job would have provided a move back to his native North East.
It may have been down to some Machiavellian ruse on the part of Revie that on 16 September newspapers carried a story that the manager had placed his hat in the ring for the Sunderland job.
The day before, United's board of directors had met to consider Revie's request for a five-year contract. Chairman Harry Reynolds had argued Revie's cause long and hard in a fractious meeting. Some of the directors were reluctant to extend the manager's contract and two of them threatened to resign.
The meeting finished in stalemate. Revie had been due to travel with Reynolds and Don Weston to watch the Rotherham v Portsmouth game, but took himself off instead to the Bradford derby while he considered his future. He had a lucky escape, for on the way back Reynolds' car was involved in a road accident - he collided with a motorcyclist, hitting a wooden electricity pole and ending up in a ditch.
Weston escaped with shock and played the following day in a 3-0 victory against Blackpool, but Reynolds was not so lucky. He was detained overnight in a Barnsley hospital with face and head wounds. Milking the sympathy vote for all it was worth, Reynolds continued to press the case for Revie: 'I myself have fought to get Don's contract amended to five years. Other directors on the board are behind me, but we are not strong enough to carry it through.'
The board met again the next day and relented, granting Revie his five-year contract. Vice-chairman Percy Woodward presided over affairs in the absence of Reynolds and said: 'Everybody is wonderfully happy, and I personally am overjoyed that the question of Don's future has been amicably settled. Naturally we were all upset and rather surprised at the unexpected turn of events, but now everything has turned out all right, and I am quite thrilled about it. Don has got what he wanted - a five-year contract and the salary increase for which he asked, and I am sure he is just as pleased as we are. He didn't really want to leave. We know that.'
It was thought that the Sunderland job had offered £5,000 a year, and that the board now upped Revie's wages to £4,500.
Ever mindful of his public image, Revie sought to stress other reasons for deciding to stay: 'I had landed
the Sunderland job, and was walking into the locker room at Leeds to collect my kit when I came face to face with a group of newly signed apprentices. Believe it or not, they had tears in their eyes when I told them I was leaving, and that touched me. It might seem trite to say that I looked upon my players as sons, but this is true. Most of them had been with the club since they left school, and I promised their mothers and fathers I would look after them. I had repeatedly stressed the importance of loyalty to these lads and thought: "They've been loyal to you, so it's up to you to show the same loyalty in return."'
Storm in a tea cup over, Revie and his charges returned to the job in hand of making their mark in the First Division and within weeks were embroiled in controversy.
They had imported their barnstorming, roughhouse tactics wholesale into Division One, and their approach brought out the worst in their opponents, as noted by the Yorkshire Evening Post's Phil Brown after the 2-0 defeat at Chelsea on 19 September: 'It was all hurry and scurry at breakneck speed, with little time for finesses, invention or the unexpected: the ball was passed incessantly crossfield or backwards in an effort to unhinge packed defensive covering. Both sides resembled a terrier scurrying the length of a hedge in search of a gap. 'Never mind the ball' seemed to be the order of the day as scything, irresponsible tackles ruffled tempers. The midget Collins once retaliated on Harris viciously and had his name taken when he might well have been despatched to the dressing room to ponder his action; McCreadie hooked up Giles painfully and, with half an hour gone, left Leeds permanently reduced to 10 men as the wounded winger was carried away from the scene on a stretcher.'
That tussle was as nothing, however, to a remarkably ill-tempered affair at Everton on 7 November. Four straight wins during October saw Leeds climb to fourth and they were in no mood to return from Liverpool empty handed. Bobby Collins' former club had a proud tradition and were League champions in 1963 - they refused to simply roll over for the uncouth Yorkshire upstarts. It was a case of unstoppable force against immovable object: something had to give, and it was very nearly the good name of football.
From the opening seconds, the match brimmed over with bitter aggression. Everton full-back Sandy Brown was dismissed after five minutes for punching Johnny Giles.
Willie Bell headed home the only goal of the game in the first-half before the referee ordered both sides off the field for ten minutes to calm down as the crowd threw missiles onto the pitch.
Bell was laid out after a collision and had to be carried off. He said: 'I was dazed by the collision and when I came to, Les Cocker, Giles and Storrie were the only other men left on the pitch. I thought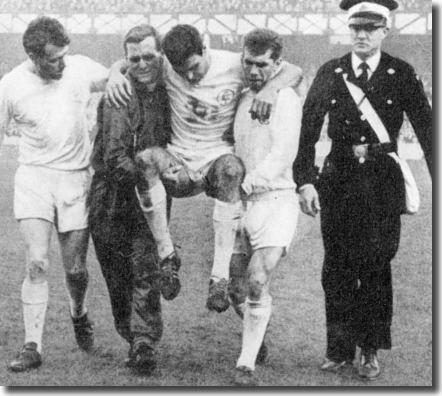 I was dreaming! During the break, which lasted nearly ten minutes, Revie told us to keep our heads, and naturally all the lads started talking about Everton's tactics. Albert Johanneson claimed someone was calling him a black bastard and Revie joked: "Call him a white bastard then!" That relieved the tension a bit, but the game itself got out of hand again.
'It was absolutely frightening. From the kick off, Jack Charlton booted the ball upfield and one of Everton's players came right through and kicked him. It got so bad that one of our players spent most of the match watching the clock, hoping for the game to end! The crowd baited us from the start while Everton appeared to have an obsession about gaining the edge over us, physically. We couldn't help but get involved.'
The popular feeling was that Leeds had got what they were asking for, but it was Everton who committed most of the fouls. For Leeds, the end justified the means and their 1-0 victory cemented fourth place spot, but their reputation for trouble was becoming all-consuming.
Billy Bremner: 'I've never known the Gaffer say to us to go out and kick them, or waste time. But I would say critics of that early side were justified. We were young, we were cocky, and we weren't the most attractive team to watch. When we were away from home and we scored a goal, I can remember thinking that the 25,000 people or so watching would be as well going home there and then. When we came out of the Second Division, we were always winning 1-0 but we could see we weren't contributing a lot to the general entertainment. I could understand people thinking it wasn't nice to watch. And the managers thought we were bloody winning too much!
'We thought a lot about our game and picked up traits from the Continentals. What we called cynical in this country was called professional when the Italians played it. We picked it up from them … how they would just walk out to take a corner, or if the game was getting a bit heated, someone would feign an injury. Things like that.'
Leeds had played a series of games against Italian clubs in the wake of the John Charles transfer deals and had seen first hand how successful those tactics could be in unsettling opponents. Some of that approach had been incorporated into their repertoire as long ago as 1961.
Four days after the battle at Goodison, a blistering performance by Bobby Collins and goals by Jack Charlton,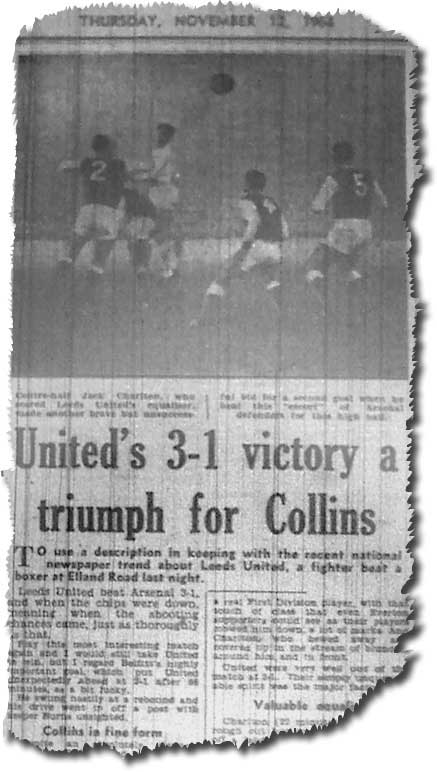 young reserve forward Rod Belfitt and Jim Storrie earned another excellent victory, 3-1 at home to Arsenal. It was Belfitt's third goal in six games as he partnered Storrie.
United continued to impress, beating Birmingham 4-1 at Elland Road to chalk up a seventh consecutive win - Leeds were now third, a point behind Chelsea and two behind leaders Manchester United.
A 3-1 reverse at West Ham rudely interrupted the winning streak, with United managing only a consolation goal from Belfitt after being three down at the interval.
Another youthful striker, Rod Johnson took over from Belfitt for the next match, at home to West Bromwich Albion, and he scored the only goal as United began a run of four straight 1-0 wins, the second of which saw Manchester United beaten on their own pitch.
A smothering, blanket defence blunted the Red Devils' all-star forward line of John Connelly, Bobby Charlton, David Herd, Denis Law and George Best. The home crowd groaned its disappointment as Gary Sprake denied their heroes time and time again in one of his greatest ever performances. Bobby Collins netted the only goal of the game after a deft move by Johnny Giles and Terry Cooper.
Further single goal victories against Aston Villa and Wolves had Leeds second by 19 December, with only Manchester United's superior goal difference keeping them on top. This Leeds United side was enjoying a degree of success that had never been experienced by its predecessors. That they had done so without first choice spearhead Alan Peacock, still two months from fitness, was astonishing.
On Boxing Day, though, Blackburn Rovers came to Elland Road and 'did a Leeds' on the architects of the defensive blanket, grinding out a 1-1 draw after snatching a shock opener. The Lancastrians, inspired by Welsh centre-half Mike England, battled like men possessed, but two days later goals from Storrie and Johanneson earned United revenge with a 2-0 victory at Ewood Park. Derek Hodgson wrote: 'On a night raw enough to keep Wenceslas at home, Leeds finished their merriest Christmas with a victory that makes them joint kings of the First Division. Live, lean Leeds were twice as nimble as Rovers on a heavily sanded, frost bound pitch. They won for the reason that has become so familiar to First Division clubs. Leeds will do twice as much work in half as much time as almost any other team.'
The two points drew Leeds level at the top with Manchester United, who could only draw at home to Sheffield United.
On 2 January, Leeds had the chance to go clear as they hosted Sunderland, with Manchester's game against Fulham postponed.
The Black Cats had come up from the Second Division as runners-up to Leeds after a furious and dogged battle, which had seen a couple of irritable matches between the two sides. The Roker club's courting of Don Revie in the autumn had done nothing to endear them to the Elland Road faithful, but they were by now under the management of former Middlesbrough and England captain George Hardwick.
Leeds held the upper hand throughout the ninety minutes, but Sunderland defended stoutly and their keeper, Sandy McLaughlan (at 5ft 8in, their shortest ever last line of defence), gave a breathtaking performance. Bought as a stopgap at the start of the season from Kilmarnock while regular goalkeeper Jim Montgomery recovered from a broken arm, McLaughlan made save after brilliant save and looked likely to deny Leeds the win they deserved.
The game was drifting towards a goalless draw as United let their frustration show. But then came the breakthrough. In the 72nd minute, Jack Charlton broke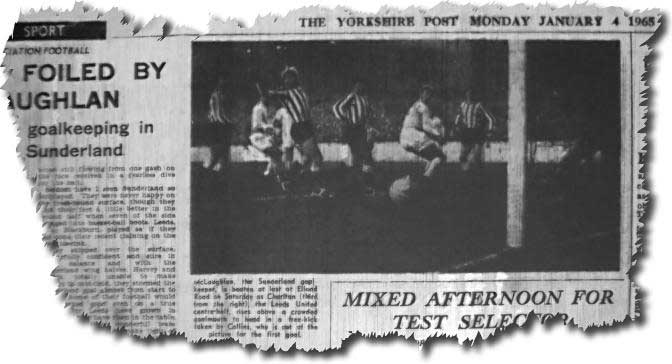 the deadlock when he nodded a Bobby Collins free kick into the net. Nine minutes later, Norman Hunter planted another header past McLaughlan, to make it 2-0. Leeds looked home and dry, but Hood pulled one back a minute later, shooting out of a ruck at close range.
That was merely a consolation, though, and Sunderland had little more to offer.
The 2-1 win ensured Leeds United led the table, two points clear of Chelsea and Manchester United. The chasing pair both had a game in hand, but no one at Elland Road cared as they celebrated a remarkable achievement, less than three years since the side had almost slid into Division Three.
Writing in his weekly column in the Yorkshire Evening Post, Revie expressed his joy: 'That 2-1 victory … has made me just about the proudest manager in soccer. How does it feel to be there? In one word - great! The road to the top has been hard and gruelling, and I am not overlooking the fact that we are now probably going to find it twice as tough to remain there.
'I did not really expect Leeds to do so well. Many of our first teamers had never before played in the First Division, and I felt that it would be a good effort on their part if they could mature to keep in the top half. That we find ourselves challenging for the championship is a pleasant surprise. Personally, without detracting from the lads' achievement, it will be an even greater surprise to me if they win the title this season.
'The hard work of every player is now beginning to pay dividends, but we've got a long way to go before we are a really class team. Providing the players continue to put as much thought and dedication into the game as they have been doing, that target will be reached in two years' time.'
Revie played down the achievement to keep his players' feet on the ground, but he was beside himself with glee at how well his men had done. He knew that it would take a supreme effort to retain their lofty perch, but as the New Year opened, the hungry upstarts of Leeds United had every reason to sport huge grins as they looked down on the rest of the league.
Part 2 - Inches from glory - Results and table