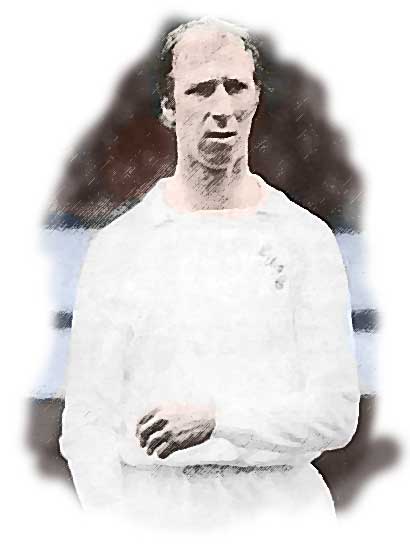 Part 2 1966 and all that - Part 3 Indian Summer: Final Years with Leeds - Part 4 Football Manager - Part 5 The Irish Saviour
Jack Charlton had a remarkable career in football. He was not a gifted player, like his kid brother Bobby, and constantly had to live in his shadow. However, that did not prevent him from rising to the very summit of his profession, first as a no-nonsense, old fashioned stopper and then as a successful manager at both club and international level.
He played 35 times for England between 1965 and 1970. He was on the losing side just twice, and the team conceded a miserly 21 goals. He helped his country win the World Cup in 1966.
He spent all his playing career from 1952 to 1973 with Leeds United, appearing in 629 league games. He won a league championship, a Second Division Championship, the FA and League Cups, two Fairs Cups and umpteen runners-up medals. He was Footballer of the Year in 1967.
As a club manager, he rescued Middlesbrough from the doldrums and turned them into one of the most convincing Second Division champions of all time, winning the Manager of the Year trophy in the process in 1974 and then establishing them in the First Division.
As an international manager with the Republic of Ireland, he welded a shoddy collection of individuals into a team who could compete on even terms with the world's best for several years.
Jack Charlton, OBE, Freeman of the City of Dublin and now Honorary Irish citizen, is an authentic footballing hero. Big Jack, The Boss - a man who specialised in the improbable.
He was born on 8 May, 1935 in the Northumberland village of Ashington, 18 miles north of Newcastle, to a large family with significant footballing traditions. As well as the younger brother who followed him, Jack was also cousin to Newcastle centre forward 'Wor' Jackie Milburn and his other uncles Jack, George, Jimmy (all Leeds) and Stan (Chesterfield, Leicester) played professionally in the top two divisions.
Jack, however, seemed destined to follow many North Easterners down the local pit, but he didn't like it, resigned and applied to be a police cadet.
However, in 1950, aged just 15, a Leeds scout asked him to go for a trial and he played against Newcastle's youth team rather than attending his interview with the police. Charlton was duly taken onto the Elland Road ground staff. Among the players there when he arrived was his uncle, Jim Milburn, but the star of the show was undoubtedly John Charles.
Charlton: 'The rules stipulated that clubs had to retain or release ground staff by their seventeenth birthday. And at noon on 8 May 1952, I presented myself at the office of the club secretary, Arthur Crowther, to await the fateful decision. The manager was away on tour with the senior team in Holland, and it was Arthur's job to deliver the verdict. At that point, I honestly had no idea what to expect. Nobody had ever said to me that I had a future in the game, least of all Major Buckley.
'So when I walked into Arthur's office, I could not guess what lay ahead. He got straight to the point. "Jack," he said, "'The boss has instructed me to offer you a contract. You'll have ten pounds signing on fee, eighteen pounds a week in season and fourteen pounds off." The first thought that entered my mind was, "That's senior team money!"
'I left that office feeling ten feet tall. When I walked across the road to a newsagent's shop directly opposite the ground, the guy behind the counter asked, "Have you signed then, Jack?" And when I told him I had, he said, "Thank God for that! I've had half the scouts in the Football League in here this morning, wanting to know what you were doing."
'I asked how many. "There must have been a dozen of the buggers, all wanting a word," he told me. I was stunned. And in that moment, for the very first time in my seventeen years, I realised that I might have a real future in the game.' Charlton's first season as a pro was uneventful, and he spent most of it in the second team, although he did get dropped down to the thirds for a while. Then, towards the end of 1952/53, the breakthrough came.
Charlton: 'On Friday, 24 April 1953, I got the biggest surprise of my life. No sign of my name on the thirds or on the reserve team - but bloody hell, there it was,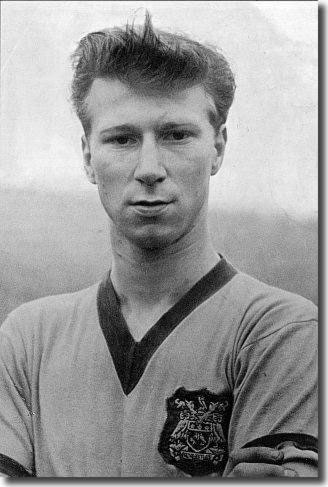 "J Charlton" in the first-team to play Doncaster Rovers the following day! When I looked at the team sheet on the door, I discovered that John Charles had been moved up to centre-forward, and I was taking his place at centre-half. Talk about going in at the deep end!'
Charlton did okay as Leeds drew the last match of the season 1-1, but then had to go off for two years national service, based mainly in Windsor, and the two years down South made a big difference to the teenager.
'I came back to Leeds two years older and much more self-assured. You could say that I went away to the army a boy of eighteen, and came back a man of twenty. After what I'd experienced away from the club, I wasn't in any mood to let myself be pushed around. Maybe I was a bit too full of myself. I remember one run-in I had with John Charles, of all people, when he came back for a corner against us and started telling me where to go. I soon told him where to go, in a way that he couldn't have misunderstood.
'After the game he put me up against the wall and pointed a finger at me. "Don't ever speak to me like that again!" he said.'
However, Charlton was making progress and came back into the first team for a home game against Rotherham on 24 September 1955. He didn't miss another game that season, with Charles again moving to centre-forward.
'It was a wonderful season for Leeds United. We'd been not far off the pace in the Second Division for several years without managing to win promotion, in spite of all the goals that John Charles kept scoring. The trouble was, as fast as he scored them, the Leeds defence had been letting them in at the other end. Now, we established a home record of 34 games without defeat, finishing second to Sheffield Wednesday and winning promotion to the First Division for the first time since 1947.'
Charles was an excellent role model for the young Charlton, as he had first made his name as a centre half, although he was a revelation when he moved up front, hitting a club record 42 goals in 1953/54. He also proved a willing teacher and coached the youngster, teaching him all the tricks of the trade and finding him a very willing pupil.
However, the relationship was ended when Charles moved to Italian giants Juventus for a world record £65,000 fee at the end of the 1956-57 season. Charlton was going through a difficult time in his career at that stage, staying out late, boozing and womanising, and getting dropped for much of the second half of the season. He played just 21 games in the league.
Shortly after he met his wife to be, Pat Kemp, at a dance and they quickly married, on 6 January 1958. The relationship had a major impact on Charlton and he regained his place in the Leeds side, playing 40 games in 1957/58, with his form good enough to see him in (and scoring for) the Football League team which beat the League of Ireland in October 1957.
The team's dependency on Charles became clear in the two years following his departure as the goals for totals shrunk. Raich Carter's contract was not renewed, and he was replaced by his coach Bill Lambton who faced unrest from the players. Lambton's main contribution to the club was the setting up of a youth policy that soon turned up Billy Bremner and then delivered other famous names.
Less than a year later, Lambton was on his way, handing over to Jack Taylor, who saw the club relegated at the end of the 1959/60 season. Taylor resigned in March 1961 with the club firmly in the bottom half of Division Two.
The directors appointed Don Revie as player-manager in March 1961 - a move which was ultimately to change the entire course of Leeds United's history as well as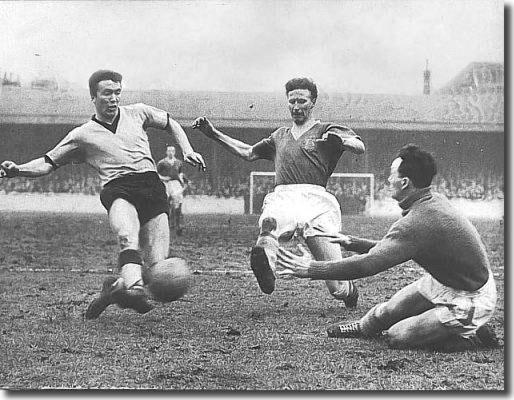 Jack Charlton's career.
While all this was going on, Jack was training for his FA coaching badge. His success in this field only served to increase the frustration he was starting to feel more and more keenly at Elland Road at what he perceived as a lack of professionalism. He was also still fighting against the establishment and proving notoriously difficult to manage.
'I suppose I was feeling rather sorry for myself at the time. It irritated me when Don Revie said that I was spoiling it for the others, "with that chip on your shoulder". Maybe I had a bit of a chip. Maybe I just needed some discipline, I don't know. I remember what Don told me during one practice match. I used to go charging up the field for corner kicks and I ran about all over the park during the play. The crowd liked it when I ran with the ball, although half the time - no, 90 per cent of the time - I'd overrun the bloody thing. Totally unprofessional. Anyway, I'd gone charging up the field with the ball and Don said to me afterwards, "If I was manager, I wouldn't play you - you're always messing about."
'"Well, you're not the manager," I said, "so what the hell?" And then, lo and behold, Don became manager! I was, well ... I couldn't have been one of Don's favourites in those early days.
'The first year with Revie was an interesting one. The day after he took over, he moved me up to centre forward. I tried my best, but the No 9 shirt didn't feel right to me. I didn't know what to do, and nobody showed me. I remember Joe Shaw of Sheffield United laughing at me, I was making such a mess of it. After I protested Don switched me back to centre-half.'
Altogether Jack played 21 league games for the club as No 9 in this period and hit 12 goals in those matches, but he never felt comfortable there.
Charlton had run ins with all the backroom staff, including assistant manager Syd Owen and trainer Les Cocker. Revie despaired of him at times, but persisted with his attempts to convert him into a forward, buying Freddie Goodwin from Manchester United to take his place at the back.
'We had a bloody awful spell and went very quickly down the league. At the end of the season we finished nineteenth, and only just avoided relegation to the Third Division by winning the last game against Newcastle 3-0.
'Revie called me into his office one day and announced, "I'm prepared to let you go." I said, "Wait a minute, are you letting me go as a centre-forward or a centre'half, 'cos I've been playing for you for fifteen games or whatever as centre-forward, which is not my position? But I've been doing it because you asked me - when really I should be coming back to my own position if I'm in the side."
'I started playing for the reserves. The funny thing was that though Don had said that he was prepared to let me go, he never did put me on the transfer list.
'Bill Shankly telephoned me to say that he was negotiating with Leeds to buy me for Liverpool. "I have offered them £28,500 and they want £30,000." he said. "I'm not going to be held to ransom - so the deal's off, for the time being. I'm sorry, son, but that's the way it is."
'I'd been told that Manchester United were interested in signing me, too. They were on a tour of America at the time, but it seemed they were going to come in for me at the end of the summer. So I refused to sign a new contract with Leeds. It caused an unpleasant feeling at the club. Syd Owen took me by the arm and asked me what the problem was, but I told him to shove off. Then I got a message to go over to see Matt Busby. We sat talking in his office, and he explained that while they were in America they had played a young lad at centre-back, someone
who had just come into the side, and Matt wanted to wait until the new season started so that they could have a look at this lad before giving me a decision.
'I couldn't believe what he was telling me. "I have caused ructions at Elland Road, I have refused to sign a contract, nobody there is speaking to me," I said. "I have caused bloody havoc in the club, I have been offered a deal and turned it down - and now you are telling me I have got to wait until the beginning of the new season, until you have had a look at someone else? No," I said, "I am not going to do that, I am going back to Elland Road, and I am going to apologise for what I have done. I am going to sign a new contract with the club and I am not bloody well coming here!"
'I was most upset when I walked out of Busby's office. I went straight back to Leeds to see Don. "Have you got a contract you want me to sign?" I asked him. He said yes, he had. "I have caused you enough problems at this club," I told him, "and I won't cause you any more." And I signed.'
Charlton never looked back after that moment. Revie was convinced that he could play for England and he told him so. He also made him his first choice at the back and started to build his new Leeds team around him and the young Scot Billy Bremner.
'There was a game against Swansea, in September 1962, that marked a turning point in my life. Don had left a lot of senior players out of the side, a very brave thing to do at the time, and he brought in a lot new young players he'd just signed - Gary Sprake in goal, Norman Hunter, Paul Reaney, and a fellow called Rod Johnson. I said to Don, "Well. I'm not going to play the way you've been playing with Fred, I don't want to play man-to-man marking, I want to play a zonal system where you pick up people in your area. I'll sort out the back four for you the way I want them to play" - and Don said OK.
'That, for me, was the moment when I stopped being one of the awkward squad and came on board the Leeds United ship. It was a sign that I would be one of the key players in the new team Don was building. I was sort of the organiser at the back, I was the pusher, I was the one who told the young lads where to go, when to cover, and how to pick up positions.'
Charlton formed an impregnable partnership at the back with the youthful Norman Hunter as Leeds first avoided relegation to the Third Division in 1962, then climbed to fifth in 1963, before securing the Second Division title in 1964. Jack had only missed 14 games in the previous 4 years, but in 1963/64 he had a lengthy lay-off through injuries, from the beginning of November until he returned at the end of February for the home game with Huddersfield. Jack played through from then to the end of the season and despite the next game being a 2-0 defeat at Preston, Leeds won 8 times during a run of 12 matches, with the Preston match being the only defeat.
The partnership formed with Hunter was a particularly effective one and lasted well on into the 70's. Charlton was always very supportive of his partner in crime: 'The centre-half is meant to win the ball and if he starts giving fouls away around the penalty area he'll soon have the manager on his back. Norman was a great tackler, but occasionally he would mistime one. People laugh when I say that and think it's a joke, but nobody should have picked on Norman. We were both Geordie lads and they always teach you how to tackle right, up there. We were a good partnership. My strength was in the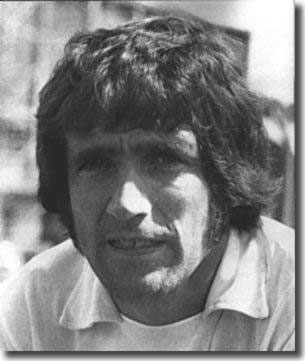 air and Norman's was on the floor. We got on well enough and played for a few years, and then he came to me one day and said "I'm sick of listening to you telling me what to do all the bloody time.' I said, 'Good lad, you'll be all right now, then."'
There were dire predictions of what life in the First Division would be like for Leeds; their previous visits had been ignominious to say the least and their style under Revie was not popular, but as it turned out they took the division by storm.
'The 1964/65 season was marked by an intense rivalry between ourselves and Manchester United. Both teams seemed to have a chance of the double until very late in the season. We went to the top of the First Division and enjoyed a run of twenty five games without defeat before Manchester United beat us at Elland Road - a defeat that eventually cost us the league championship.
'But we were league leaders right up to the last game, when we played Birmingham City away. Manchester United were playing at home that night. We knew we had to win, but in fact we went a goal behind after only four minutes, and soon after half-time we conceded another two goals. We fought our way back in the last fifteen minutes, and four minutes before the end I scored the equaliser. But we couldn't get the win we needed. I don't know whether it was nerves or not. Having to go to a place and win your last match is a different thing entirely from going to a place needing to draw. Being such a high-profile game probably helped them more than it did us - they had a chance for glory in an otherwise lacklustre season. If we'd played Birmingham earlier in the season we'd probably have beaten them. But that game at Birmingham started the notion that Leeds United choked under pressure.
'We ended up losing the league on goal difference. Even though we'd won a massive sixty one points, enough to win the championship in most seasons, we hadn't clinched it.
'We had a chance for revenge against Manchester United when we were drawn against them in the semi-finals of the FA Cup. The first semi-final, at Hillsborough, was a bad-tempered game which ended in a 0-0 draw. I had a number of clashes in the penalty area with Denis Law, nearly pulling the shirt off his back on more than one occasion. You had to hang on to Denis, because he was so sharp and so good in the air. I used to hate playing against him, though I've always regarded him as a good pal of mine.
'We won the semi-final replay 1-0, after a goal by Billy Bremner only two minutes from the end.'
Leeds froze in their first Wembley Final, against Liverpool, and never hit real form, even though they got through to 90 minutes with a 0-0 scoreline. Roger Hunt put Liverpool in front after three minutes of extra-time. This setback would have finished most sides, especially in the heavy rain and on the energy sapping Wembley turf, but not Don Revie's men. Charlton, stealing up into attack, nodded down a Hunter lob, and there was the dynamic Bremner, still full of fire, to hit an unstoppable volley for the equaliser. Liverpool were stunned, but they too were fighters and with nine minutes left Ian St John met a cross from Ian Callaghan with his head to flash it past Sprake. The 2-1 win was no more than the Merseyside team deserved on the day.
It was so near and yet so far for Leeds, who had come from nowhere to be double runners up and amongst the most feared clubs in the country and Big Jack was one of the cornerstones of the side. He played 39 games in the league, scoring 9 times. His form had seen him break through into the England reckoning before the end of that season. He made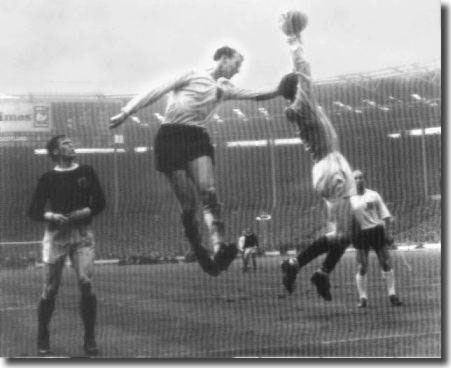 his debut against Scotland at Wembley on 10 April 1965, just a few weeks short of his thirtieth birthday. It was a fiercely fought contest, which a ten man England were relieved to draw 2-2.
Jack retained his place for a 1-0 Wembley win over Hungary and then set off with the side for a short European tour, playing in two of the three games. He was now an England regular, playing many times through the 1965/66 season as the side prepared for the World Cup Finals. His form was good as Leeds continued to make progress on the club front.
'We were again second in the league, this time to Liverpool. It was our first season in Europe, since we'd qualified for the old Inter Cities Fairs Cup. Bobby Collins broke his thigh bone in the opening match in Turin. I remember it very vividly - Bobby was lying there, the referee wanted to move him off the park, and the Torino players were trying to bundle him off. I wouldn't let them move him; I knew that if Bobby Collins wouldn't get up, he must have something broken. I stood over him, whacking one Italian and punching another to keep them back, until eventually the referee realised that Bobby must be seriously hurt and called for a stretcher. We won the game 1-0, but Bobby was never the same player for Leeds again.
'In the third round we were drawn against Valencia. The first leg at Elland Road ended in a bit of a barney between myself and their defender Vidagny. I'd come up for a corner kick, like I always did at the time, and as the ball was cleared, he just kicked me across the ankles. I stumbled and fell, and then I got up and went after him. He ran towards the goal and hid behind the net, with three or four Spanish players blocking my path. I was trying to get past them when the goalkeeper punched me in the mouth, so I went after him instead. The keeper backed away, kicking to keep me off - and then a policeman brought me down.
'The referee took us all off the park, and then he came into the dressing room and told me that I would not be coming back when play resumed. Vidagny didn't come back either.
'The press lads had a real go at us afterwards. There was an FA inquiry. Don defended me, saying that I'd been provoked by being constantly kicked. The referee, a Dutchman called Leo Horn, flew into London and gave evidence. To his great credit, he took some of the blame. "I actually saw the player kick Mr Charlton and I didn't do anything about it," he said. "I maybe should have done something about the incident, but I turned away as the game was still going on. Then I looked back and I saw that Mr Charlton was chasing that man with madness in his eyes." The FA fined me twenty pounds.'
The second leg in Spain was billed a potential blood bath, but it was perfectly normal and Leeds progressed, eventually losing to Real Zaragoza in a semi-final replay. Charlton scored the winner in the second leg and Leeds' only goal in the replay.
Part 2 1966 and all that - Part 3 Indian Summer: Final Years with Leeds - Part 4 Football Manager - Part 5 The Irish Saviour