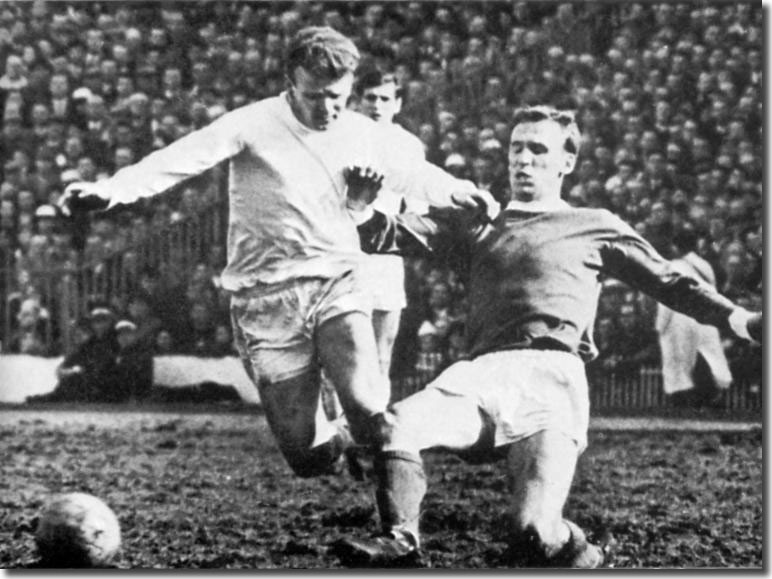 As the two Uniteds from Manchester and Leeds clashed in the semi final of the FA Cup at Sheffield Wednesday's Hillsborough stadium in March 1965, the records of the two clubs in the famous old competition could scarcely have been more contrasting.
Leeds had only once before gone as far as the last eight, when John Charles was centre-half in the side that came close to beating mighty Arsenal in 1950. The Yorkshire club's normal fate was an early exit, and the ten seasons between 1953 and 1962 had yielded not a single victory, an astonishingly tepid record by any standards.
By contrast, the Red Devils had won the Cup on three occasions, with the most recent being only two years previously, and had finished runners-p twice during the Fifties. Add in five league championship successes and six second places, and one can appreciate exactly how much richer was their history than that of their still relatively humble opponents. Indeed, the Peacocks could point to only two Second Division championships, in 1924 and 1964, in terms of any major silverware.
However, as the two sides prepared for the semi-final they were separated by just a single point in the chase for the First Division title, with only Chelsea (due to face Liverpool in the other semi) sitting above them.
The Yorkshiremen's rise to prominence under manager Don Revie had been startling, and they could point to a win earlier in the season at Old Trafford. That victory, gained at the beginning of December, had come during a lengthy unbeaten run, now extended to 20 games after a 4-1 victory against Everton. Leeds had earlier in the season also gained the scalps of reigning Division One title winners Liverpool and were confident as they prepared for the biggest game in the club's history.
Their Manchester rivals were also supremely self-assured, understandably so, given the renown of their all star forward line, John Connelly, Bobby Charlton, David Herd, Denis Law and George Best. They were determined not to be intimidated by the reputation of Leeds for roughhouse tactics. In October, the Whites had participated in an infamous clash with Everton at Goodison Park, when their 1-0 win was gained during a near riot with crowd and players alike losing their heads.
The two sides did not really care for each other at all. The Yorkshire United were the classic outsiders, kicking at the doors of the feast, eager to prick the balloon of much vaunted opposition. Matt Busby's world-beaters, on the other hand, considered their opponents uncouth and poorly qualified for being on the same pitch as them.
George Best's recollection is probably quite typical of the views held by his team mates: 'That Leeds team are now remembered as the most cynical football team of all time. Although they did deserve that reputation, I hated playing against them, I really did, it must be remembered that they also had a hell of a lot of skill, too, but they were still a bloody nightmare.
'But my little anecdote tends to sum them up. It concerns Matt Busby who, in a team talk before meeting Leeds, went through each member of their side. It must be remembered that Busby loved Man United but he was also a fiercely patriotic Scot.
'Anyway, Matt went like this: "Gary Sprake, the goalkeeper ... on his day a nasty piece of work. Right-back, Paul Reaney ... dirty bastard. Left-back, Terry Cooper ... even dirtier bastard. Johnny Giles ... dirty little bastard. Centre-half, Jack Charlton ... dirty big bastard. Right-half, wee Billy Bremner ... good Scottish boy!"'
For Best, Paul Reaney came to be a feared spectre at the feast over the years; he was usually detailed to man mark the gifted Irishman, and had done so successfully during the match between the two teams in December. But Best had enjoyed even closer attention from another player, as recounted by Rob Bagchi and Paul Rogerson in The Unforgiven: 'In one of the autobiographies George Best gives a good example from that Old Trafford encounter of their adventurous aggression: "As the two teams walked down the tunnel," he wrote in The Best of Times, "I felt a terrific pain in my right calf as someone kicked me with brute force. I turned. It was Bobby Collins. 'And that's just for starters, Bestie,' he said." Reprehensible, obviously, and entirely contrary to the spirit of the game, but one can't help being amused by the sheer audacity of the man - and the naked malevolence of the act.
'Collins knew that fear worked. If a player is intimidated, the likelihood is that he will give his opponent more time - a footballer's most precious commodity. Collins took it further than most would dare, far too far for some tastes, but it was highly effective. Over the next five years, as Manchester United conquered Europe and George Best was at his peak, he tore countless teams to shreds, but for all his sublime ability he never once dominated a game against Leeds United. It wasn't because Best was physically frightened by Leeds, simply that Leeds were prepared to use every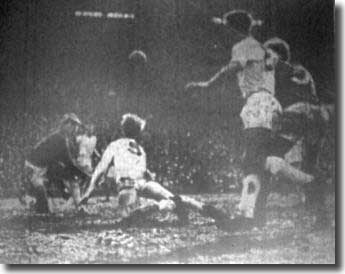 weapon at their disposal to stop him playing, whether physical, psychological, tactical or, like the tunnel assault, borderline criminal.
'But it wasn't a cowardly approach. Nobby Stiles, Best's protector in chief, took his team mate's revenge. "Every time you come down our right hand side and kick George, you filthy bastard," he shouted at Collins, slamming him into the perimeter wall in a forceful tackle, "I'm going to friggin' well hit you like that, only harder." Collins got up to score the only goal of the game. He had started it, taken the retribution as fair punishment, continued to hound Best despite Stiles' injunctions and still led his team to maximum points. That was the hyperactive impudence that came to characterise Revie's Leeds.'
Certainly, Manchester United had little reason to look forward to the clash with Leeds. There was a bitter and unlovely tension developing between the players of the two clubs. The significance of the occasion and the evident determination not to lose only served to heighten that feeling.
Both teams were at full strength for a match played in front of a capacity 65,000 crowd, and from the first seconds it was clear that this was to be a fearful war of attrition and anger, as reported in The Times: 'This was a rough and tumble: tough, with the rumble of trouble from the start when Bremner sawed down R Charlton in full flight. The English player usually is the gentlest of creatures. But now he retaliated immediately in anger, wagged his finger in admonition and from that first act the battle quickly slipped into a black mood that only matched the dark stage itself, a heavy churned up pitch made sticky by heavy overnight rain.
'Manchester, having heard of the dog's bad name, clearly were themselves determined not to be bitten. But, in wishing to be master, some of them took matters too far and in the end it was Leeds, paradoxically, who were more sinned against than sinning as a final ratio of three infringements against the one in their favour showed.'
Eric Stanger in the Yorkshire Post: 'What went wrong? Three things, I suggest. In the first place, both sides tended to overrate each other and resorted to sheer physical intimidation out of fear of the other's supposed superior skill. Secondly, the refereeing of Mr R H Windle of Chesterfield was tolerant to the point of weakness. Lastly, the pitch was all against clever, controlled football. The drying, sticky mud not only tugged at ankles and sapped stamina, but slowed down passes so much that the most simple move looked difficult to execute. A thoroughly wet surface would have been better.'
For all that Billy Bremner provoked much of the early unpleasantness with aggressive assaults on both Law and Charlton, it was the Leeds man who suffered most during the opening twenty minutes. He was felled on a number of occasions, once rising with a bloodied nose, and shortly afterwards nearly scoring an own goal as he volleyed Connelly's centre from two yards out. Sprake fielded his sliced clearance.
Leeds soon rallied, and Peacock came close to steering home Collins' free kick after 18 minutes with Storrie and Johanneson threatening.
But it soon became very clear that this was not to be a flowing game as the teams dug in for trench warfare. Stiles played sweeper for the Red Devils, while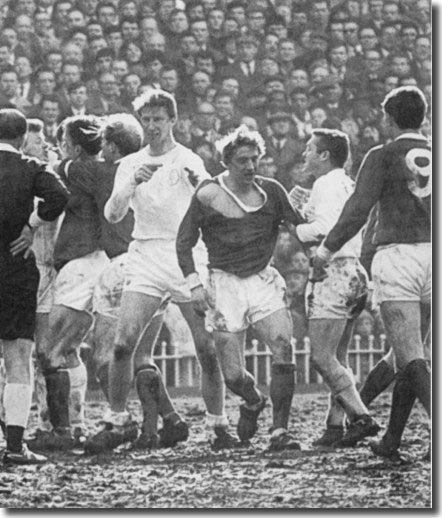 Reaney, Bremner and Hunter seemed to be chiefly concerned with preventing Best, Law and Charlton from making any positive contribution. Throughout, there was little time or space allowed for anybody to get control of the game or display any skill. When a player attempted to do so, they were quickly left in no doubt that savage retribution would be swiftly forthcoming for their impudence.
In an ugly first half Leeds restricted themselves for the most part to launching long range free kicks high into the Manchester goal area for Peacock, Charlton and Bell to contest. Unfortunately for them, goalkeeper Pat Dunne had an exemplary game and dealt expertly with everything coming his way.
When the Peacocks tried a more cultured approach, feeding Giles and Johanneson on the flanks, both men were brutally dealt with, Stiles being the main enforcer. It was no surprise that there was not a goal to show for all the effort at the interval.
Things degenerated even more in the second half, with Stiles and Crerand leaving Johanneson a limping passenger, while Bremner did the same to Best. With Peacock well checked by Foulkes, and Law and Bobby Charlton more concerned with demonstrating their tackling than attacking flair, the game slumped into a messy, undisciplined struggle for survival.
Stiles and Law were booked for bad fouls on Johanneson and Bell, and the only surprise was that more players were not cautioned or even dismissed.
There was one particular clash after an hour that transcended everything that had gone before and referee Dick Windle clearly bottled it, declining to take the action that was required to get the game under control. Denis Law went chasing after Jack Charlton, seemingly intent on making a point. He caught up with the centre-half and blocked him forcefully. Charlton lost control of his temper and fists started flying. The flare up was the signal for the pent up anger of all the warriors to be vented, and players from both sides piled in. Crerand and Bremner clashed violently and Stiles and Hunter had to be physically separated.
It was several minutes before calm was restored, with Law's shirt torn to shreds and left hanging loosely from his shoulder for the rest of the contest. The tussle had resembled a full-scale public house brawl. Windle took no action, choosing only to tick Law off and award a free kick to Leeds. His tolerance was inexplicable.
Law said later, 'I was going for the ball, but my shirt was not going with me. Jack Charlton had grabbed a handful of it and was trying to hold me back, I lashed out at Jack and we began swapping punches. I was unaware that our team mates had joined the fray and there were fists flying all over the place.'
Charlton: 'You had to hang on to Denis because he was so sharp and so good in the air. I used to hate playing against him.'
The match rumbled on fiercely to a goalless draw, with the final scoreline of fouls reading 24 by Manchester to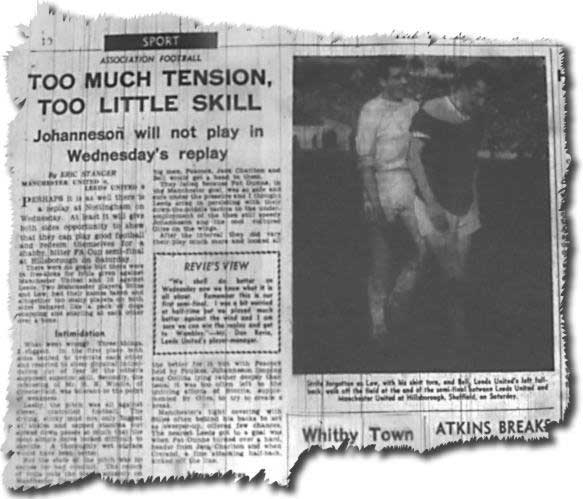 10 by Leeds.
The Times summarised thus: 'The sooner Manchester United and Leeds United take a hard appraising look at themselves and each other in the cracked mirror of Hillsborough, Sheffield, the better for all concerned before they come to shape the replay of this FA Cup semi final tie at the Nottingham Forest ground on Wednesday.
'They will now see behind them only the broken image of two renowned clubs and a sad distortion of the game of football. It would be simple enough to turn to the chilly comfort of philosophy, to suggest that all should be forgotten and a fresh start made, but it is not as easy as that.
'This angry, shabby affair of naked intimidation and moments of physical violence should be held up as a permanent warning to all those who bow to mammon at the expense of ethical standards. Those who live by the sword in the end may find it to be double edged.
'Here, indeed, was a hard day's diet. It was achieved by two sides afraid of each other and unable to look defeat in the eye. The fact that no more than some four or five of the 22 players were the true culprits is neither here nor there. This ill starred coterie poisoned the whole atmosphere, stirred bad blood, brought passages of bedlam and left an unpleasant taste in the mouth of a packed 65,000 crowd already sharply divided in its partisan camps of Yorkshire and Lancashire.'
Bobby Collins: 'The first game was a bit naughty, but that was caused by them; they started things, but typical of the media at the time Manchester did not receive the criticism that we would have for employing similar tactics. There were a number of unsavoury incidents, the worst when Big Jack and Denis Law clashed. Billy and Pat Crerand got involved in the mix and it set the tone of the game. It was a terrible pitch and a really tough match. We were second best before half time but had the edge in the second half. At the end I was convinced we would win the replay.'
It was anybody's guess as to what unpleasantness would emerge the following Wednesday.