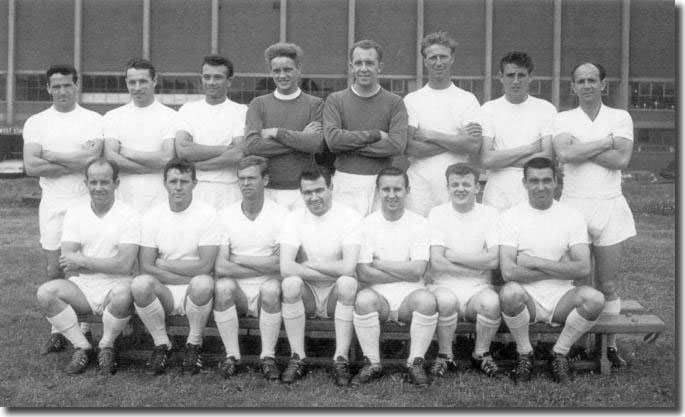 Part 2 - On the march at last - Results and table
When Don Revie was appointed Leeds United team manager in March 1961, he suggested it would take five years to turn the club around. By the spring of 1963, though, the young manager had already developed a side that was good enough to compete with the best that the Second Division had to offer. A bold policy of giving youth its head had reaped exciting rewards as the Whites briefly challenged for promotion before three consecutive defeats in May saw them finish fifth.
Billy Bremner, Paul Reaney, Gary Sprake and Norman Hunter were all first team regulars at 20-years-old or less, teenagers Rod Johnson, Peter Lorimer, Barrie Wright and Jimmy Greenhoff had been blooded and Terry Cooper and Paul Madeley would soon get their chances. Bobby Collins was the old man of the side at 32, and by a long stretch Jim Storrie, Jack Charlton, Don Weston, Tommy Henderson, Willie Bell and Albert Johanneson were the right side of 30.
These willing and energetic young men had benefited from the stringent training routines of Les Cocker, who drove them to the peak of fitness during the mid-winter lay off when football had been rendered impossible by the wintry conditions. After the thaw they swept aside all comers.
Billy Bremner lost his place during that end of season run and asked to go on the transfer list. The Elland Road fans had given him the bird for his faltering contribution during the spring, but Revie still considered the young Scot his outstanding talent. He took steps to stymie the moves of any prospective buyers.
Homesickness had often threatened to cut short Bremner's association with Leeds - Tommy Henderson had originally come down to join Leeds with his fellow countryman before returning north of the border due to a lack of opportunities. They had both agreed that their future lay back home, but Bremner's chance in the first team delayed his departure. Henderson returned to Elland Road in November 1962 but even his presence failed to settle Bremner.
The young right winger continually pestered Don Revie to use him at the heart of things in midfield, but the manager steadfastly resisted his pleas, arguing that he was not ready for such a role. However, the experienced Eric Smith broke his leg against Chelsea in September 1962, sorely weakening the Leeds midfield, and Revie reconsidered his stance. In the run-in to the 1963/64 season, Bremner finally got his wish. Revie deployed him at right-half in a friendly against Roma, arranged as part of the deal which had seen John Charles return, albeit briefly, to Italy.
The little Scot took to the role like a duck to water, and so impressed Revie that he started the season proper with the Bremner-Charlton-Hunter half-back line that was to become so celebrated in the years to come. The manager felt that a Bremner-Collins axis would provide a sound base for success.
Of course, it meant that there was a hole to fill on the right flank, but a long-term solution to that thorny issue would emerge a few days into the new season. In the meantime, Revie used Don Weston in the No 7 shirt. The other change saw half-back Willie Bell in at left-back, a role he had filled for a while in 1961/62. Bell succeeded Grenville Hair, who now moved to the periphery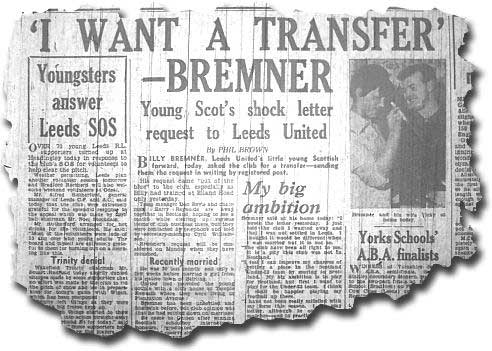 of the first team before taking over as player-manager of Wellington Town in May 1964 after almost 500 games for United.
Leeds' season began four days after the rest of the country; their fixture at Northampton Town had to be switched from the opening Saturday due to a clash with a cricket match. Northampton CCC shared the County Ground with the football club and had first refusal that weekend, so United were left kicking their heels until the following Wednesday, when they commenced operations with the visit of Yorkshire rivals Rotherham United to Elland Road.
Middlesbrough, under the direction of former Leeds manager Raich Carter, had already given notice of their designs on promotion by registering a 5-0 win over Plymouth and a 3-0 thumping of Newcastle United before the Peacocks had even taken the field, and promotion would be no cakewalk. As Eric Stanger wrote in the Yorkshire Post, 'Leeds United's supporters are a good deal more certain about promotion than the officials at Elland Road. Mr Don Revie, the team manager, is realist enough to know that despite the progress made last season, especially by his young players, there are still obvious weaknesses in the side.'
Winning promotion from the second tier of the English League has always been an enormous challenge, more so than with any other division, and only the right approach will bring success.
Jason Tomas: 'Liverpool's manager Bill Shankly once said: "You can't play your way out of the Second Division; you've got to claw your way out." What Shankly meant was that the physical commitment to the game at this level is so fierce that teams are given little chance to express their skill. More often than not promotion is achieved by those with the greatest determination and stamina, rather than constructive ability.'
Those words could have been chosen with the Leeds United team of 1963 specifically in mind … rarely has a more determined and dogged set of players been assembled.
Revie began the season with a forward line comprising Weston, Lawson, Storrie and Johanneson, while Bremner and Collins formed a new midfield combination in front of a rearguard which read Sprake, Reaney, Charlton, Hunter and Bell.
Many of those names were to be stalwarts of the team for the next few years and they certainly acquitted themselves admirably against Rotherham. Bill Mallinson claimed in the Yorkshire Evening Post: 'With any luck at all, and against a less competent goalkeeper than Ironside, the Leeds men would have built up a three-goal lead by half-time. True, Rotherham might have had a couple of goals in that period but they were distinctly fortunate to turn round level. Bremner, at right-half, was the star turn. He was occasionally in difficulty, it is true, when the ball was in the air, but he and acting captain Collins showed amassed array when their educated feet had their say. Bremner's brilliant constructive efforts and his usual gritty work in defence fully justified Mr Don Revie's decision to play him at right-half. There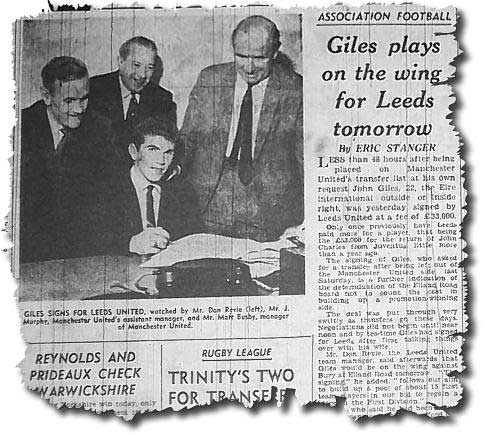 can be little criticism of United's middle line - the bulwark of any side - on this form.'
In the end, a single goal after 51 minutes by Don Weston was enough to settle the contest. The lively Mansfield-born forward was in the right place at the right time, profiting when Albert Johanneson's effort came back off the post after the South African had done wonders to keep the ball in play.
While Collins and Bremner took the plaudits, Mallinson revealed that the younger man was still unsure of where his future lay: 'Despite his display at right-half, which held the promise of a fine new career, Billy Bremner still wants to leave Elland Road. Bremner told me today that the transfer request he put in last February, and which was granted, still holds good. 'I still want to be released - and I am not fussy about whether I go back to Scotland,' he said. United put a £25,000 plus valuation on Bremner, who said at the time that it was too high and would prevent him moving from the club. Last night's display must have increased his value as a utility player and certainly justified United's valuation in present conditions.'
However, the very next day Don Revie gave Bremner some food for thought by posting material notice of his ambition. He completed a surprise transfer deal to secure the services of a man who was to radically enhance the fortunes of Leeds United for the next decade.
John Giles, Manchester United's 23-year-old Irish international right-winger, had been transfer-listed at his own request, along with Albert Quixall, who had been signed from Sheffield Wednesday in a record £45,000 transfer deal in 1958. The pair had featured in the Old Trafford club's FA Cup final victory over Leicester City in May, but manager Matt Busby had left them both out for the season's opener against Sheffield Wednesday.
Giles was born in Cabra, Dublin, on 6 November 1940, the son of a well-known Irish footballer. He enjoyed local fame and celebrity with St Columbus, Dublin City, The Leprechauns, Stella Maris and Home Farm, before following the path of many of his countrymen by joining Manchester United in November 1957, just three months before the Busby Babes were wiped out at a stroke on a frozen runway in Munich.
Giles was an outstanding young footballer, able to operate as either winger or inside-forward, and he became the youngest player to win a full cap for Eire just four days short of his 19th birthday, playing inside-right against Sweden. It took him a mere 16 minutes to make an impact, slamming home a 30-yard screamer in front of a 40,000 crowd at Dalymount Park as Ireland pulled off a shock 3-2 win, just days after the Swedes had beaten England at Wembley.
Giles had made his United debut a couple of months earlier in September 1959, and spent most of his Old Trafford days as a right winger. A rebellious soul by nature, Giles was often at odds with Matt Busby, and his omission from the team finally persuaded him that his face simply did not fit with the Old Trafford hierarchy.
Don Revie was a great admirer of the Irishman and wasted no time in making contact with Busby. A deal was done at a cost of £33,000, a fee second only to that paid by Leeds for John Charles the previous year. It was an extraordinary coup for Revie, who persuaded a classy and promising performer to take an enormous gamble.
Giles said at the time: 'I do not mind going into Second Division football and, who knows, I may be playing in the First Division again soon.' He was excited at the potential of his new club, yet demoralised by his treatment at Old Trafford, later saying, 'I played in 38 games and all the Cup matches. But I'd been there as a young boy and maybe was not appreciated as much as I should have been. And Leeds had had a good run the previous year. When you are in the game, you notice these things. There was a feeling about them. But Don was a big factor … he was a great football man. I would have much preferred to join an up and coming Second Division team than a poor First Division one. They had also signed Bobby Collins a year or two back. That was a big factor too. From the time I joined, Leeds were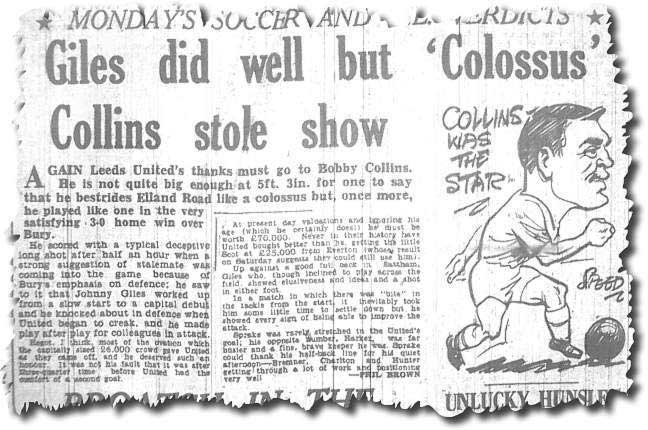 successful. Don had learned from his playing days all the faults of managers. He knew what he wanted to do … he was a very ambitious man, a very driven man.'
Giles was thrust straight into the Whites team a couple of days later, replacing Ian Lawson for the home game against Bury, with Don Weston switching to inside-right.
Leeds pulled off an impressive 3-0 win with goals from Collins, Storrie and Johanneson, while Collins and Weston had further efforts ruled out for offside. Giles had an unspectacular debut, and the honours once again went to Bobby Collins. The Yorkshire Post's Eric Stanger gave tribute, then offered a prophecy: 'But for Collins, Leeds might have been held. Collins not only scored the first goal after half an hour, surprising a retreating defence by going on and on up the middle and surprising it even more by beating Harker with a dipping shot from 25 yards, but he was here, there and everywhere, steadying, coaxing and prodding in turn. "Stop Collins and you stop Leeds," they say in the Second Division. But how? He gets in such out of the way places that he must be just about the hardest forward in the game to mark. The man who may one day succeed him as guide and mentor, Giles, had a steady, if not startling, debut on the right wing. He did many good things, few bad ones, quickly attuned himself to Collins' moves and will be all the better when he has got a better hang of United's style.'
Collins suffered an injury in the next game, an exciting 2-2 draw at Rotherham, with all four goals coming in the final ten minutes, and the little Scot missed the trip to Manchester City. Jim Storrie fluffed a penalty as Leeds lost 3-2, and it seemed promotion hopes were built on shaky foundations.
However, with Collins restored to fitness, United went on a remarkable run, putting together twenty straight League games without a reverse, even though they had to manage for lengthy periods without Storrie and Jack Charlton.
An ankle injury was the initial cause of Storrie's absence, but he later needed a cartilage operation on his knee after being stretchered off at Sunderland in December. It was a disappointing yet eventful season for Storrie. In between injuries, he had to pull on the goalkeeper's jersey at Plymouth when Gary Sprake went off injured for a while.
Just as serious was the loss of Jack Charlton, who was enjoying the form of his life. He was now very much the senior defender and persuaded Don Revie to try a new system.
Bagchi and Rogerson: 'This was the season when Jack Charlton matured as a footballer. He had been attending courses at Lilleshall for a number of years and now, with his new role as mentor to a juvenile defence, was allowed by Revie to co-ordinate his own defensive system. The delegation of duty seemed to inspire Big Jack. His method involved a great deal of moaning and shouting, but his ability to explain his zonal design and teach his team mates the positional awareness to cover for each other, not to mention his own impeccable form, ensured Leeds' best defensive record to date. With Collins and Bremner buzzing about in front as a protective shield and Giles always ready to help out, Sprake's goal was breached on only thirty four occasions in the whole season.'
It proved a remarkably effective system, but Charlton was laid low for a while with a bout of tonsillitis and then suffered a rather more serious knee injury.
The absence of two such key men offered fresh opportunities for club captain Freddie Goodwin and the out of favour Ian Lawson. Both made decent contributions in an impressive run, which saw Leeds assume leadership of the division on 12 October, although the position was rotated for several weeks with a powerful Sunderland outfit.
A win at Huddersfield brought United to the top of the table. Jason Tomas: 'It was a typical local derby, fast, furious,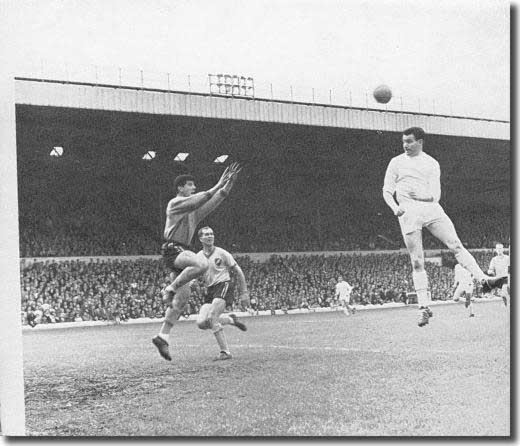 but enveloped by an atmosphere of tension which made it difficult for either side to strike its normal rhythm. Defences were well on top during the first hour - but twenty minutes from the end, Giles broke the deadlock by scoring his first goal for the club.'
Johnny Giles: 'Before the kick off, the Boss told us: "Huddersfield's goalkeeper Ray Wood is not very reliable in the air, so if anyone challenges him for a high ball, make sure there's someone following up in case it breaks loose." Well, Don Weston ran in to challenge Wood for a cross from Albert Johanneson and I positioned myself four or five yards behind him. Wood was unable to get the ball away cleanly, and it dropped just in front of me!'
Nine minutes later Weston scored the second goal in a 2-0 win.
Giles had settled down in a three-man midfield with Bremner and Collins, but the loss of Storrie blunted Leeds' cutting edge. It forced them to adopt an aggressive, ugly approach, all functional containment rather than flamboyant attack. They now had Don Weston playing at breakneck speed on the right, alongside the limited Lawson, while fleet footed Albert Johanneson was enjoying a remarkable season on the left wing. Control and composure was little in evidence up front, despite the deftness of much of Johanneson's work, and United settled into a hard working, pressing game in midfield, supervised and co-ordinated by the remarkable Collins.
A mean-spirited and uncharitable approach was evolving, spiced up with huge helpings of gamesmanship, and Revie's men were encouraged by how successful it proved. Concentration, confidence and composure grew at the back and, as often as not, a goal by Leeds would mean the opposition might as well depart to the dressing room to remove their boots. On only eight occasions in a wonderful season did opponents manage more than a single goal in a game against United, and there were 17 clean sheets.
There were far too many draws (15) along the way for Leeds to distance themselves from the pack, but the Whites proved to be the most durable and difficult of teams. They also demonstrated how far they were prepared to push the rules and the referees. Many of their players fell foul of the man in black during the season, with Billy Bremner receiving a suspension, a punishment rarely meted out in those days.
He had already received a written warning from the FA because of the number of bookings he had been given. Revie suggested he was 'more sinned against than sinning', adding, 'I have not asked him to change his style. I think this lad is singled out for punishment, like one or two other players in the Second Division. People forget that Albert Johanneson, Bobby Collins and Johnny Giles come in for rough treatment. And none more than Billy who, time and again, goes for a ball only to have his legs kicked from under him. It is very difficult for any player to keep his temper and not retaliate in these circumstances. I have had a quiet chat with Billy and told him to go hard for the ball in the tackle, which he does.'
Happily for Revie, Bremner withdrew his transfer request at the end of September, seven months after tabling it. The manager had employed all manner of tricks and ploys to keep other clubs at bay and had finally managed to persuade the player that his future lay at Elland Road.
Andrew Mourant: 'Bremner did not realise it at the time but Hibernian were desperately keen to secure his services. "Later, I got to know they came in for me at £30,000 ... it was a colossal amount of money then. Little did the Hibs manager know the gaffer had made up his mind I wasn't going. Don would want £35,000, then £40,000. Then I gradually settled down and started playing well, although I was on and off the transfer list." Revie was quite desperate not to lose Bremner. He had already fended off a bid from Everton, who were prepared to pay £25,000. The offer had been a considerable temptation to the Leeds United directors, ever mindful of the club's crippling debts.'
Bremner's suspension came after a succession of bookings, mainly for over eagerness and dissent, rather than particularly dirty play, although his team were certainly guilty on many occasions of taking things too far. Many games degenerated into unsavoury battles with performance less important than result.
The local papers were full of it in their match reports, acknowledging United's part in provoking confrontation.
Phil Brown (Yorkshire Evening Post): 'There was bite in the tackle from the start … The mutual zest of the tackling helped to spoil the game's football and bring a stream of free kicks … Fouls, accidental and deliberate, ruined the game, and left a very bad taste … Tackling and challenging, which far too often went over the mark, strangled many attempts at constructive play, and injured several on each side … This stormy game went on without much football, but with all the physical challenge you could want.'

Eric Stanger (Yorkshire Post): 'The tenseness of the atmosphere kept the excitement blazing but it had a detrimental effect on football skill … in a game which needed strong handling because of the intensity of some of the tackling … it was mainly a grim defensive battle that Leeds had to wage … Leeds, in the end, coasted home, tapping the ball about to each other in the Continental manner in the last few minutes to rub in their superiority.'
Richard Ulyatt (Yorkshire Post): 'There were 40 fouls and a similar number of toilet rolls thrown on to the field at Huddersfield on Saturday. The fouls were almost evenly divided: it only seemed that Leeds United were the greater offenders. Morally they were much more to blame. They started the roughness. The first three fouls in the first half and five of the first six in the second were committed by them. Huddersfield Town, weaker in direction, in spirit and in the will to win were lured to their own destruction by retaliating … the game had a needlessly bad tempered spell in the second half … For some time now over-zealous methods have been creeping into Leeds United's play to the detriment of both the quality of their football and their reputation. I can understand the strain on the players but unless some of them can learn more self-discipline Leeds in the end will miss promotion and, even more important, the club will lose many of the new friends they have made through their commendable enterprise.'
Don Revie had drilled into his men the importance of promotion, and exposure to the cynical tactics of Italian opponents in a series of 'friendly' games had shown the efficacy of gamesmanship and time wasting. As promotion became more than just a distant pipedream, and Leeds pulled away at the head of the division with Sunderland, Preston North End and Charlton Athletic, Revie's caution rose to the surface, becoming an all-consuming feature.
There is an often-told anecdote of the game at home to Derby County on October 19. The United players chose to adopt a more expansive approach than was their custom and found themselves badly outplayed by prosaic opponents, trailing by two goals inside 25 minutes. Revie tore a strip off his men at the interval, demanding to know what the hell they were playing at. He ordered them to revert to type.
Chairman Harry Reynolds was more positive, according to the website Twelve At The Top: 'Mr. Reynolds would often speak to the Elland Road supporters over the loudspeaker system at half-time, and on one such occasion United were two goals down to Derby County and not playing well when the chairman took the microphone to tell everyone that Leeds United were going to win promotion, and having done that would attempt to win the First Division championship, not to mention the FA Cup as well. He said that the club was very ambitious and its intention was to be in the major European competitions where he also expected them to win trophies, and - as if that wasn't enough - the money that would be made from all this great success would be put back into the club, in order to build Elland Road into a super stadium!'
It seemed an unlikely forecast, but certainly United fought their way back into the contest with a hard working second half display and goals from Charlton and Weston forced a draw which seemed more like a point gained than one lost after the poor start.
Jim Storrie recalls events this way:
'We reached the top of the table through literally running our opponents off their feet, but became a bit cocky after a while and started trying to play clever-clever stuff. It just didn't work.
'In one home match, against Derby County in October, we took a real panning during the first half and were lucky to be only 2-0 down at the interval. Don was hopping mad. He slammed the dressing room door behind him and shouted: "What's all this namby pamby football? That's not the way we taught you to play; I want it the Leeds United way."
'Well, we reverted back to our normal style of play in the second half, turned on the physical pressure, and Derby crumbled. We eventually forced a 2-2 draw, and it really brought us to our senses.'
Never again that season would United disobey Don Revie's diktat so flagrantly. He had passionately reminded them of the value of a pragmatic approach where points were what mattered, not the manner of their capture.
Leeds' economic style relied on making the most of the few goals that came their way and then simply smothering the life out of the game. Their defence was by no means infallible, however: Gary Sprake showed flashes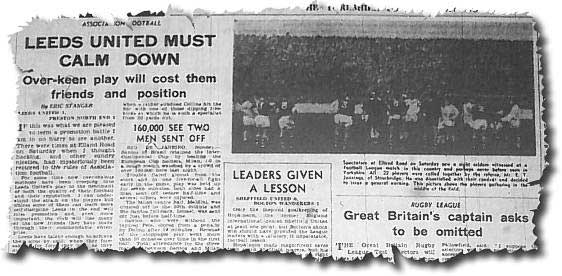 of inconsistency and propensity for error at key moments, mainly through lack of concentration. In addition, the Whites struggled to finish off teams at home, although their astonishing form away from Elland Road kept them at the top of the table. A swift counter attacking game made the most of United's assets.
The goals coming from midfield were down on the year before: Collins, Giles and Bremner contributed fewer goals (15 between them), whereas the two Scots alone had managed 18 previously. Most of the attacking play involved use of the long ball or individual breaks at speed by Weston, Lawson or Johanneson, rather than any concerted passing movements.
The Yorkshiremen remained unbeaten at home but Swindon Town, Derby County, Charlton, Preston and Northampton Town all left Elland Road with a point in the first half of the season. However, wins at Northampton, Scunthorpe, Huddersfield, Southampton, Grimsby, Leyton Orient, Plymouth and Bury in the same period more than compensated. When Christmas brought a decisive double header with Sunderland, Leeds were three points clear of their Roker rivals at the top of table, having played a game less. It seemed as if Don Revie might earn his first managerial success, although it was Sunderland who were enjoying considerably more favourable newspaper coverage, to the intense resentment of the manager. He had joined the Whites from the Roker Park club at the end of his playing days and bitterly objected to what he saw as the favouritism of the press.
However, his men were branded the dirtiest team in the country for good cause. Leeds were involved in too many ill-tempered scraps for Revie's protestations of innocence to gain any credence. The home draw with Preston on 16 November saw referee Eric Jennings halt the game on the hour mark, call the players together and sternly lecture them as to their behaviour. There had been an endless stream of niggling, disruptive fouls and events threatened to get badly out of hand. Things improved after the intervention, but only marginally, and Don Revie commented afterwards: 'While we are at the top, and playing teams with a promotion chance, we have to play extra hard - for the opposition do. And then mistakes of judgement happen on both sides. The essence of it was, that they are better players than they are allowing themselves to be - that they are stopping their good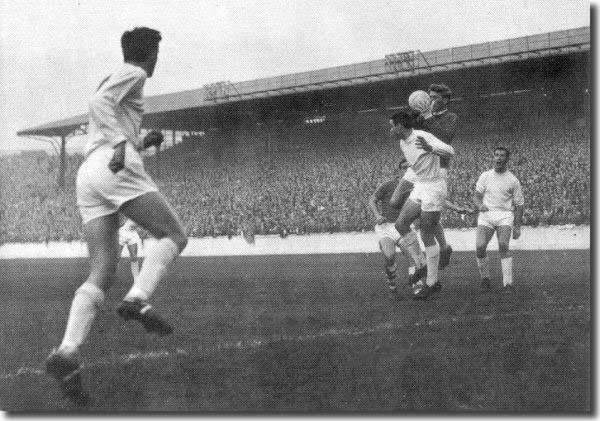 football coming out.'
But that controversy was as nothing next to that generated by the two battles with Sunderland.
The Wearsiders were fighting tooth and nail with United for leadership of the division and it had been nip and tuck for weeks. Consequently immense attention was given to the two games between the sides over the Christmas period, intensifying the pressure on players who were prone to bad temper and pushing things as far as they legitimately (or often illegitimately) could.
Leeds' game was based on a confrontational, combative style, with hard and early challenges on opponents to deny them time and space. Scottish centre-forward Jim Storrie was out with an ankle injury, and his replacement, Ian Lawson, could not match Storrie's guile or control. He was a robust target man, but something of a journeyman with limited ability to hold the ball up and bring oncoming midfielders into goalmouth action. Jack Charlton was also missing at the back, though Freddie Goodwin was proving a capable enough deputy.
The rest of the United team for the home game with the Black Cats on Boxing Day were automatic choices: 18-year-old Sprake, fresh from Welsh honours, was in goal; the experience of Goodwin and Bell, now settled down at left-back, made for a good defensive combination with the youthful Reaney and Hunter; Giles, Bremner and Collins were blending into one of the most gifted midfield forces in the country; and Lawson and Weston gave opposing defences plenty of hard afternoons, while the South African left-winger Johanneson was having a wonderful season, and was at that point joint top scorer with Weston on nine goals.
Sunderland, though, also had their stars, despite the loss of England striker Brian Clough to the terrible injury that eventually brought his playing career to a premature conclusion. Jimmy Montgomery was a gifted young goalkeeper, Charlie Hurley was one of the most admired centre-halves in the game and George Herd was a useful inside-forward. Johnny Crossan and George Mulhall presented constant threats from the left flank and the Wearsiders' all round team play made them dangerous opponents.
They enjoyed more favourable publicity than United and were generally acknowledged as the better and more exciting of the two sides. Paradoxically, however, they had managed only one goal more than Leeds before an Elland Road showdown on Boxing Day. There was little doubt which defence was the more effective - Leeds had conceded just 16 goals in 23 games to Sunderland's 27 in 24.
United also went into the match in the better form. While they were enjoying their eighth successive away win at Bury on Saturday December 21, Sunderland crashed 5-1 to their heaviest defeat of the season at Northampton. That, coupled with Preston North End's defeat at Swansea on the Friday evening, left the Whites with a lead of three points over Sunderland and four over Preston. Sunderland had played a game more than the other two.
The match was all-ticket and, mindful of the money-spinning potential of the clash, the powers that be laid plans for straw to be spread on the pitch over the weekend to protect it from any chance of a postponement for frost. The fixture did indeed go ahead, but despite all the precautions the conditions were still difficult in the extreme as Eric Stanger reported in the Yorkshire Post: 'But for the 40-ton blanket of straw spread over the ground since last Saturday the match, which crackled with more excitement than really clever football, would not have been played. Conditions were treacherous. Pools dotted both penalty areas and part of the midfield; peat blackened the goal areas and underneath the slimy top the ground was hard from the frost. Coherent, planned football in its strict sense was out of the question; so much had to be improvised according to the whim of the impishly bouncing ball and a surface which gave no player a second chance once he had committed himself in a tackle.'
Stanger went on: 'Leeds must have had 80 per cent or more of the play, yet Hurley and Co cut down actual shooting chances to a minimum. Bremner (of whom more later) had three cracks in the first half hour; Irwin and Ashurst each stopped the ball on the line with Montgomery beaten, but generally neither goalkeeper could put in a claim for overtime.
'It was 20 minutes before Sunderland got their first corner, 33 minutes before Sprake had a direct ball to handle. Sunderland did more later, of course, but generally their inside-forwards, Herd and Crossan, were under the thumbs of Bremner and Hunter.
'Now about Bremner. I have been as critical as other writers about his showing too much 'bite' and his too easily lost temper which has led him into trouble with referees. His self-control in this game, despite the utmost provocation, was magnificent. He took far more than his fair share of 'stick', as they say, even allowing for the importance of the game.
'Sunderland never played as if they had real conviction that they could win. Even when they scored after 55 minutes it seemed to take them seconds before they and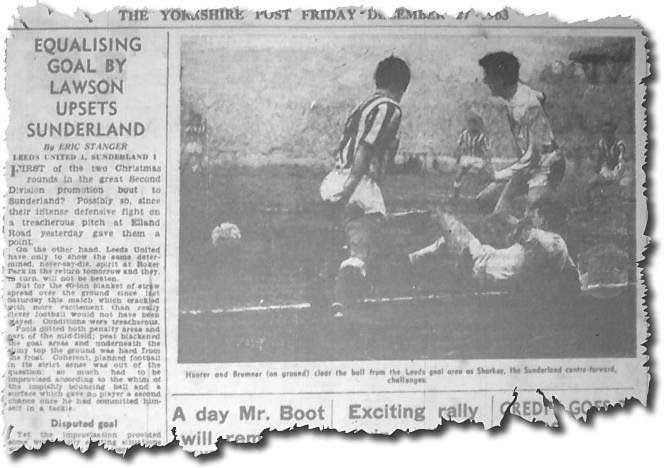 their big following realised that they were in fact ahead. It was a surprise score in that it came directly against the way the game had been going to that point but the chance was well enough made by Usher, the outside-right, who bore through three tackles to square a ball across the penalty area. Mulhall had drifted inside and his shot with his right foot crept inside the far post with Sprake glued to his line. Sprake, I thought, expected the ball to pass outside; afterwards he said he was unsighted.
'United, prompted by Collins, Bremner and Hunter, hammered away afterwards in desperate frontal assault. They might, it is true, have tried more to find a side door by utilising Johanneson's speed more but it made for magnificent, full-blooded cut and thrust.
'Sunderland looked as if they would hold out and United would fall for the first time at home this season and end their unbeaten run, which now stretches to 20 Second Division games, when Weston chased his own through pass. Montgomery got there first but appeared to me to fumble the ball as Weston stuck out a foot and put it into the path of Lawson, who had throughout worked like a beaver chasing the half chance. This time he had merely to tap the ball home. Sunderland protested vehemently. If there was anything wrong with the score it was not in my line of sight, nor the referee's, nor in the linesman's, being almost square to the incident.
'On the game as a whole Sunderland could not grumble. They played primarily, or gave that impression, for a draw. In that, thanks to almost flawless covering in defence, they succeeded. Leeds rescued a point as their great, unflagging efforts fully entitled them to do.'
It was a disappointing outcome, yet left both sides looking forward eagerly to the rematch at Roker Park two days later. The draw at Elland Road extended United's unbeaten run to a club record 20 games, while eight away wins on the bounce made them confident of gaining at least a point.
Don Revie chose to spring a surprise by dropping Albert Johanneson to make way for Jim Storrie. The manager was concerned that the physical approach the Sunderland defenders had used on the South African would be even sterner on their own pitch. At times the left-winger could be intimidated into anonymity by wily and aggressive opponents and Revie chose to go for a more conservative approach. He recalled Storrie, switched Johnny Giles to the left wing and moved Don Weston to the right.
All the manager's best laid plans, however, were torn apart inside the first two minutes.
Only sixty seconds into the game, Hunter committed the first foul of an ugly and rancorous match on Herd. Hurley took the free kick from just inside the United half and lofted the ball into the middle of the penalty area. Sprake came rushing out to catch the ball but dropped it, allowing Herd to slam it home through a ruck of players.
After 25 minutes, another foul by Leeds led to a messy second goal for Sunderland, almost a carbon copy of the opener. This time Ashurst lobbed a 35-yard free kick from the touchline into the goal area. Sharkey, the tallest Sunderland forward, had time and space to get in a back header from which the ball rolled gently into the net off the far post.
The goals, if truth be known, were mere distractions, for the game consisted mainly of a violent running battle and harsh verbal sparring between the two sets of players, with the early foul by Hunter setting an unpleasant precedent.
Eric Stanger's match report in the Yorkshire Post contained detail of the mayhem which ensued: 'I hope there are no more games like that at Roker Park on Saturday. It was so full of spite and malice that it did no credit to the 22 players, the referee or the huge crowd of 56,046. Where the tackling at Elland Road on Boxing Day was vigorous in the extreme here it overstepped the bounds. Thirty-nine free kicks for fouls were given by Mr J A Cattlin of Rochdale - 11 against Sunderland in the first half, 10 against Leeds; five against Sunderland in the second half, 13 against Leeds. I am loath to criticise referees whose job is difficult enough at the best of times but so many today fail to realise that control does not begin and end with the use of a whistle and notebook. A Howcroft, a Pinckston or an Ellis would not have tolerated this nonsense. Two Sunderland players threw punches and got off scot-free: so did a Leeds player who deliberately kicked at an opponent. As for the crowd it sickened me to hear them cheer when a stretcher was called for Storrie, the Leeds inside-right - cheers which increased in volume as he was carried off 20 minutes from the end with damaged knee ligaments.'
Storrie needed an operation on his knee after the match and only featured twice more all season.
It was a bruising encounter, with United's temper not helped by the referee disallowing a 'goal' by Giles six minutes from time for offside against another player. They had been second best on the day, distracted by the verbal abuse of the Wearsiders, and allowed themselves to be drawn into an ugly bloodbath.
Giles: 'We were no angels, far from it. But I honestly believe we were more sinned against than sinning. We were young and inexperienced, and Sunderland knew full well that we could be vulnerable to physical and verbal provocation. They intimidated the Leeds players with such jibes as: "You're a bunch of scrubbers,"' "That was a rubbish tackle," and we eventually lost our heads. I am not condemning Sunderland because I have done this sort of thing myself. Let's face it, most professional footballers have. Unfortunately it took Leeds a long time to learn not to let such tactics put them off their game.'
Their recent history meant that they received most of the blame for the debacle, but Don Revie felt the criticism was one-sided: 'It has become a positive gimmick with some newspapers and some people to call our side dirty. Our lads can't tackle or challenge at all now without somebody calling them foul. It is positive rubbish to call us a dirty team. We have not had one player sent off, and only one, Bremner, given an FA caution this season. Poor Bremner. He has toned his game up, and yet he was repeatedly scythed down in the two Sunderland games. I have seen plenty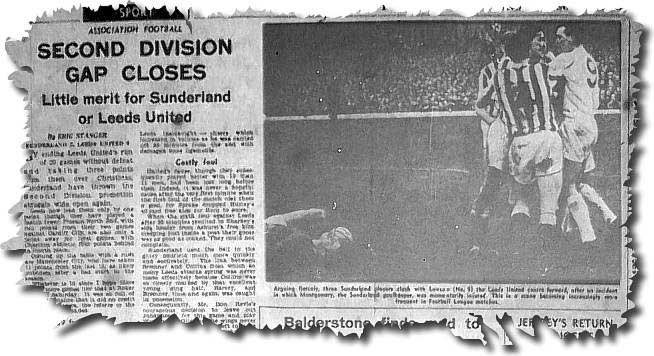 of far worse games than Saturday's, let alone Boxing Day. I have played in quite a few worse. But even if this was a big occasion game I can't see any reason for giving us all the blame. There were two occasions when Sunderland men went for our players with fists - yet the referee did nothing about it. If our men had gone at Sunderland's like that I wonder what would have happened.
'I see no reason at all to lecture my players. I was proud of the way they stood all they did on Saturday, especially after Jim Storrie was lamed. My lads are under orders to play hard, to tackle hard for the ball, and to fight for everything. How on earth else does anyone expect me to instruct them in this season's hot Second Division?
'We have been given rugged opposition in nearly every game we have played, home or away, since we got to the top. Just because we have overcome it, it doesn't mean we are a dirty side but we are having to stand a lot of cheap sneering just the same. And I am afraid that referees are being affected by this sneering. We have had many a fair if hard tackle punished recently.
'Anyway we shall just carry on doing our best, as the boys have been doing. This gimmick - that is all it is - of calling us dirty will not affect us. We can only soldier on under these blows, and that we will do to the utmost.'
All the classic stirrings of a siege mentality could not hide the grim facts: United's three point lead over Sunderland had been whittled down to just one, although they still had a game in hand over their rivals. Preston, 4-0 winners over Cardiff, were level on points with Sunderland, with Charlton three points further away. The promotion battle was already down to just these four clubs, for a gap to the rest had opened up, and was never to completely disappear. It seemed that Leeds United were on a slippery slope as far as their form was concerned, and an inability to beat their closest rivals looked like scuppering Don Revie's cherished dreams of promotion in the New Year.