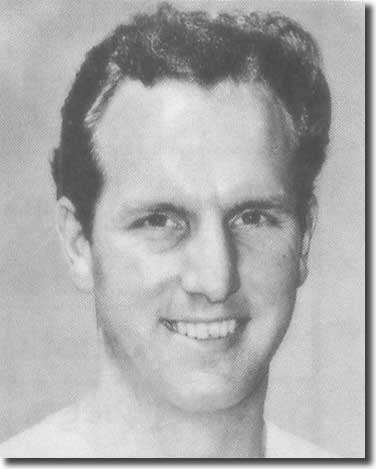 Born: Bradford, 6 November 1945
Barrie Wright joined Leeds United as a defender of rich potential, but never made the grade at Elland Road and was out of senior football by the time he was 25.
After captaining England Schoolboys on seven occasions, Wright joined United's ground staff and signed professional terms for the club on his 17th birthday in 1962. He had already appeared for Leeds in a pre-season friendly with Leicester City, alongside the prodigal John Charles. The Yorkshire Post's Richard Ulyatt spoke of Wright's "excellent form", and said he "looked to have the necessary technique", while accepting that conclusions from "half speed friendlies ... must be taken with reservations."
Wright added youth caps to his list of representative honours and helped England to retain the junior World Cup in 1964; he was appointed captain of Leeds' youthful Central League side and seemed set for a glittering future.
His full debut for United came at home to Preston on 13 April 1963 when he deputised for the veteran Grenville Hair at left-back. Of United's 4-1 triumph, Ulyatt reported: "For a time Preston tried to probe for a weakness on the Leeds left, where Barrie Wright, 17, was playing his first game as a senior. A better forward line might have found him a bit uncertain and occasionally inclined to commit himself too soon to a sliding tackle, but any judge of a footballer would recognise that here was a great talent. His first contact with the game came after about ten minutes when he delicately headed a pass to Johanneson with the artistry of a basketball player. Soon afterwards he tried to pass the ball 20 yards along the touchline edge from a foot inside the field and failed by inches: that was football. In recent years I have seen only Armfield, Ramsey, Allen and Carey do it better."
He retained his place for the following two games, both victories against Charlton, impressing again.
His next appearance came with the trip to Leyton Orient on 23 November 1963, when he deputised for the injured Paul Reaney at right-back. His display prompted this comment from Phil Brown in the Evening Post: "It was most encouraging to see another youngster, Wright, in the side for the first time this season, respond so well to the occasion. He was sharper and sounder than on any of his previous three outings, and that against the fleet and strong Musgrove, and hard trying inside-left Elwood."
Brown was less generous after Wright's next performance, on 1 February against Cardiff at Elland Road: "I was most disappointed with young Wright at left-back. He grew progressively worse, probably through increasing nervousness."
Wright's other three first team outings for Leeds were in inconsequential League Cup fixtures over the next couple of seasons, and he left Elland Road in 1966 to sign for New York Generals, coached by his former United team mate Freddie Goodwin.
Among the other Brits at the club
were Geoffrey Sidebottom and Barry Mahy, who both followed Goodwin from Scunthorpe to the States. The club's most famous player was Cesar Luis Menotti, who coached Argentina to a World Cup triumph in 1978.
Wright played for the Generals in 1967 and 1968, when they were disbanded. At that point, he returned to England, accompanying Goodwin to Brighton when he was appointed Albion manager.
Wright made eight League starts for the Seagulls and two substitute appearances, with a period on loan to Hartlepool in September 1970.
Disillusioned by his lack of progress, Wright quit full time soccer at the age of 25 to become a warehouseman. He appeared in the Northern Premier League with Bradford Park Avenue and Gainsborough Trinity, and spent some time with Thackley of the Yorkshire League.