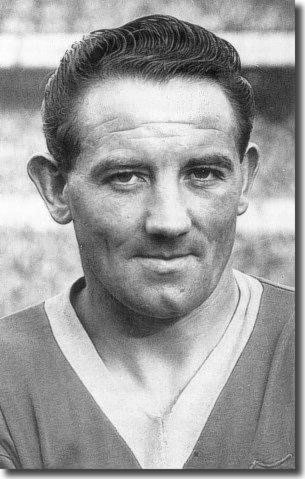 Relegation is never a pleasant experience for anybody, but Leeds United manager Jack Taylor found it particularly hard in 1960 when, within a year of him taking over at Elland Road, the club lost their First Division status. He felt let down by the players and decided that drastic action was called for if the club were to recover their top flight status quickly.
The youth development and scouting policy, which Taylor's predecessor Bill Lambton had instituted, was starting to bear fruit, and by the start of the new season almost 50 local youngsters had been signed as amateurs. However, it was to be a couple of years before any of them were good enough for first team contention and in the meantime Taylor needed experienced new blood to pep up his ailing side.
The club's supporters had little reason for optimism after the tepid performances of the previous year, but the manager set about rebuilding the side. He signalled a dramatic clear out: exciting young winger Chris Crowe left for Blackburn in March, raising a useful £25,000, but that was only the start. Before the new season had kicked off, Taylor had also presided over the departure of Wilbur Cush, Archie Gibson, George Meek and Jack Overfield. The Crowe money had been used to buy Manchester United defender Freddie Goodwin, who had steadied things at the back, but it had proven far too little far too late.
Bagchi and Rogerson in The Unforgiven: 'By the beginning of the 1960/61 season, the bank's apprehension had become palpable, and Taylor's request to recruit a few reliable, experienced professionals had understandably been rejected by the Board. The other alternative, to generate funds by selling one or two players, was also denied him. Of the relegated squad, only three players had any significant monetary value: Billy Bremner, who was just seventeen and had only recently broken into the first team; John McCole, scorer of 22 goals that season but widely perceived as a functional penalty-box predator and little else, and who, anyway, would be vital to Leeds' attempt to achieve promotion; and Jack Charlton, whose inconsistency on the park and militancy off it put off a whole host of suitors. There was to be no quick fix.'
However, Jack Charlton, who was frankly unconvinced of the merits of a future at Elland Road, did not look to be a permanent resident at Elland Road. Leo McKinstry: 'By mid-1960, Jack was so fed up with Leeds that he wanted out. Other clubs learned of his disillusion and showed an interest in buying him. One of them was Liverpool, where Bill Shankly had just taken over as manager. Now Liverpool were hardly a major force in British soccer at the time. They had been languishing in the Second Division for even longer than Leeds, having been relegated in 1954, and were short of class and cash. Nor was Shankly regarded then as a titan of management. But Shankly was consumed with a passionate ambition for his new club. Having seen Jack in action many times, he thought he could mould him into the centre half he needed at the heart of his defence. But Leeds, for all Jack's faults, were reluctant to sell him. So the fee quoted to Shankly was £20,000 plus, which the Liverpool board thought was too high. According to his biographer, Stephen Kelly, "Shankly reckoned Charlton was worth every penny" of this fee, but his views did not wash with the directors, who would allow him no more than £18,000 to be spent on Jack. The strict limit meant that the negotiations went nowhere and the potential deal collapsed, much to the annoyance of Shankly and Jack.'
Taylor recognised that he needed reinforcements, and set about making the best of the limited resources he was able to scrape together. He raided the Scottish League, picking up two rugged defensive half-backs in Eric Smith of Celtic and Queen's Park's Willie Bell, along with St Mirren centre-back John McGugan, who had been in the Scottish squad which toured Europe that summer, and Queen of the South winger Tommy Murray. Taylor also bought former England winger Colin Grainger, known as 'The Singing Winger' for his vocal stints in night clubs, for £15,000 from Sunderland and travelled to Holland to sign Irish forward Peter Fitzgerald from Sparta Rotterdam.
Taylor had also started building a formidable backroom team and in the close season secured the services of two men who would be major influences at Elland Road for years to come - Les Cocker and Syd Owen.
Bagchi and Rogerson: 'Les Cocker, the former Stockport County and Accrington Stanley forward, had learnt, like so many of his contemporaries,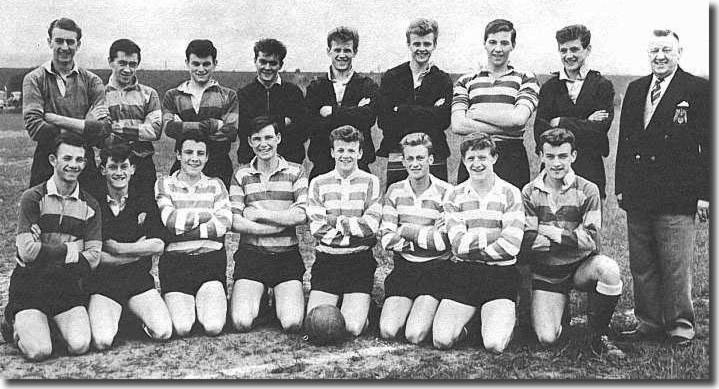 the fundamentals of fitness in his wartime service with the Reconnaissance Regiment in France after D-Day. He was temperamentally and professionally qualified for the position of trainer. One of the first generation to take the FA Coaching Certificate, he supplemented his tactical acumen with exploratory studies in physiology and, more unusually, also dabbled in the avant-garde sports sciences of kinesiology and biomechanics. He had a stormy start with his new charges, who were contemptuous of his dedication to their development, and had many a run-in with that self-styled 'one man awkward squad', Jack Charlton. Yet barely a year after joining Leeds, he was summoned to Lancaster Gate and offered the prestigious job of putting England squads through his revolutionary sequence of sadistic drills, a position he was to occupy from 1966 right through to 1977.
'For all his ructions with Charlton and the initial scepticism of the other 'seen it all' seasoned pros, it was obvious that he was doing something right. Fanatical and often abrasive, there was a touch of zealotry in his soul. Indeed, in Brian Clough's characteristically brusque judgement he was an 'aggressive, nasty little bugger'. 'Pots' and 'kettles' spring to mind, but it was just these qualities that made Cocker so valuable. His loyalty was unreserved and he brought structure, obstinacy and a certain impassive relentlessness to his task, which was to become the cornerstone of Leeds' physical authority.
'Cocker was rather more than the stereotypical 'sergeant-major' coach, but there is little doubt that, more often than not, he played that role to perfection. However, it was the more cerebral Owen who actually conducted the technical sessions. A full England international, from 1941-46, he had served in the RAF with distinction, on active service in Egypt, Austria and Italy. Along with Cocker, he had joined Leeds from Luton Town in the summer of 1960 to help Taylor's beleaguered team achieve promotion in their first season back in the Second Division. Unlike Cocker, he had a distinguished pedigree both as a player and a coach, and had actually, briefly, been a manager himself. Having been sacked by Luton Town after less than a year in charge, he was impatient in his desire to prove that the progressive methods he had discovered at Lilleshall could be a success as much on the field as on the blackboard. He, too, had problems imposing his more modern philosophy on the conspicuously cynical Charlton, but eventually, after one episode when Jack 'offered to take my coat off to him', Charlton realised that he was rapidly beginning to unleash his dormant potential under Owen's shrewd instruction.'
It was little short of a revolution and the Leeds supporters were shocked by the sweeping changes after years of penny pinching by the board. Some even began to half believe that Taylor could yet get their team winning games.
The waters of optimism did not run deep, however. The first game of the season saw Leeds United travel to face Liverpool at Anfield. Shankly's up and coming charges had finished the previous season third in the table, and were on an exciting march to better things - they provided a stern challenge.
Taylor's team included Smith, Fitzgerald and Grainger, along with full back Alf Jones, whom the manager had picked up from non-league Marine in April. Charlton and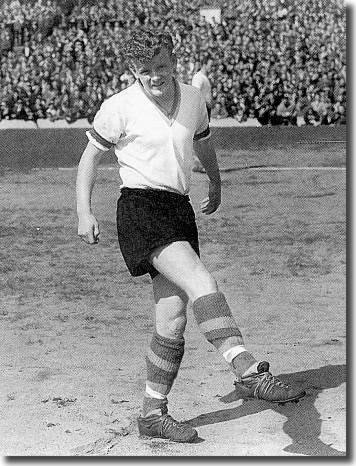 Goodwin remained in the centre of defence, with Bremner and Revie in tandem on the right and big John McCole leading the line.
Over 43,000 fans flocked to Anfield to see Leeds well beaten and lucky to depart with only a 2-0 defeat.
Taylor rang the changes for the second game, four days later at home to Bristol Rovers, with Grenville Hair, South African winger Gerry Francis and Irishman Noel Peyton coming in for Jimmy Ashall, Bremner and Fitzgerald, but there was little improvement. Leeds drew 1-1 in front of just 11,330 fans, with McCole scoring the goal.
The next game, against Rotherham, brought further changes, with Scottish inside forward Bobby Cameron and 18 year old local boy John Hawksby replacing Smith and Revie. The match was Hawksby's first and he marked it with the opening goal, while McCole weighed in to produce a 2-0 scoreline. Hawksby scored the first Leeds goal the following game, too, as Taylor kept faith with a winning side. Grainger, Peyton and McCole were the other scorers as Leeds drew 4-4 in the return against Bristol Rovers.
Yet another switch came in the next match, with Tommy Murray getting his chance in place of Hawksby for a trip to Southampton. Leeds won 4-2 with goals from Grainger, Cameron, Francis and McCole, but the continual changes made it impossible for the team to find any shape or rhythm. Taylor seemed incapable of settling on his most effective line up, although injuries and poor form left him few alternatives but to fiddle while Rome smouldered.
In an unwitting glimpse into the near future, Leeds swapped their standard kit of blue shirts, white shorts and blue and gold socks for an all white strip, trimmed with blue and gold, for the home game against Middlesbrough on 17 September. The match finished in a spectacular 4-4 draw, but the normal club colours were quickly restored.
That match somehow encapsulated the whole season for Taylor and his men. The manager's continual chopping and changing brought no solutions, just uncertainty and inconsistency. Sloppy defending had seen Leeds concede 92 goals in 1959-60. Relegation brought no respite and Second Division forwards gorged themselves, with the three keepers that Taylor used, Ted Burgin, and the youngsters Alan Humphreys and Terry Carling, picking the ball out of their vulnerable net 83 times.
Bagchi and Rogerson: 'Among those stationed in front of the novice goalkeeper, Freddie Goodwin, had joined Leeds to reignite a stalled career over the Pennines at Manchester United. A former "Busby Babe", he had shone intermittently at Old Trafford after graduating into the first team in the aftermath of the Munich disaster but could never quite convince Matt Busby that he had sufficient class to prosper at the highest level. Originally a midfielder, he was converted to centre-half in the hope of capitalising on his perceived versatility.
'Chronically one-paced and over-reliant on his brute strength, he nevertheless had much to offer a struggling side. Good in the air and blessed with natural authority … unfortunately, in contradiction to all his other admirable leadership qualities, he lacked composure. His method was redolent of the 'get some blood on your boots' approach loved by fans, but it failed to mask his technical flaws.
'Managers love forceful characters and are willing to excuse many defects if effort is always shown - but it can have its downsides. Goodwin managed to persuade Taylor that Leeds should adopt a man-to-man marking system. It enabled Goodwin to exploit his powerful tackling style, but other players were run ragged tracking attackers all over the park. Charlton hated it but reluctantly deferred to his senior colleague.'
In sharp contrast to the shaky rearguard, the United attack, spearheaded by John McCole, did well. McCole carried on where he left off in the previous season, scoring 20 goals in the League, following on from 22 the year before. He also provided a good return in a new competition, the Football League Cup, the brainchild of League secretary Alan Hardaker. It was to be several years before the public embraced the competition, but Leeds enjoyed some good performances in the trophy's debut season.
Don Revie scored the club's first goal in the competition, hitting the first in a 3-1 replay success at Blackpool, with McCole and Grainger finishing the job. A 4-0 win at Chesterfield followed and United hit four again in the next round, at Southampton, but still lost in one of the most remarkable games in the club's history.
The Saints stormed into a 4-0 lead with Derek Reeves scoring all four goals. Leeds showed uncharacteristic spirit by pulling level with goals from Noel Peyton, McCole, Jack Charlton and a Bobby Cameron penalty. But with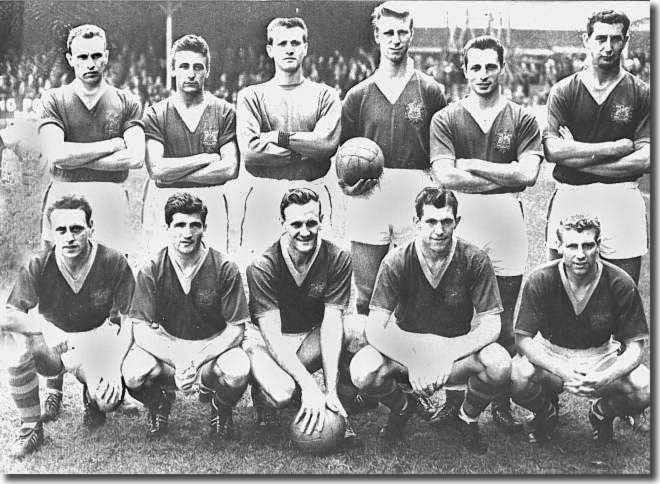 just 25 seconds remaining Reeves crowned a personal triumph by netting his fifth in an amazing game which went on until 10.10pm because of two floodlight failures, making it the longest-ever match in England.
Both teams finished the match a man short. Southampton goalkeeper Ron Reynolds had gone off while United full back Alf Jones, who had only recently regained his first team place from Terry Caldwell, was withdrawn following a knee injury.
Matters continued in a haphazard way all season, with Taylor's indecision and a bad run of injuries prompting the use of 27 different players.
Concentration and professionalism were sadly lacking, with much of the blame laid at the doors of the manager. Eric Smith was appalled by what he found when he arrived from Celtic: 'The club was fifth rate and the players were undisciplined. It wasn't their fault. Jack Taylor had let the thing go. I thought beforehand I was coming to a top club. I found out otherwise in the first three or four days. We would go on long training runs and at the end, some players, quite senior players, would walk in with ice lollies in their hands.'
The problem was not that Leeds were doing particularly badly. Indeed, although they dipped at times into the very lowest reaches of the table, they never looked in serious danger of a second successive relegation. However, for a team which had been in the top flight so recently, they contrived to look very mediocre indeed, against even the most limited opposition. There was an air of despondency and resignation around Elland Road, with team spirit virtually non existent and discipline in shreds. Apathy set in amongst the fans, and gates dwindled significantly. Only the presence of the bigger sides could generate any interest and the average home gate was below 14,000, lower than it had been at any time since the very first steps of Leeds United as a Second Division club in the 1920's. Many matches saw less than 10,000 hardy souls braving the elements in search of what little entertainment could be had at Elland Road.
In fact, the only party who seemed to give a damn were the shareholders, dismayed at seeing the value of their 'investments' plummeting. An extraordinary general meeting was forced in December 1960 amid demands for a vote of confidence in the board. The arguments were long and passionate, but in the end a declaration of support was carried by a poll of seven to one. However, the unrest was acknowledged and changes were afoot. Harry Reynolds, a board member since 1955, became increasingly dominant behind the scenes.
He eventually went on to succeed chairman Sam Bolton, who was becoming weary at having to lead the club through such desperate times. Reynolds was an eccentric self-made millionaire who continued to live in a two-up, two-down terraced house despite having made a fortune as a steel stockholder after starting out in life as a railway cleaner and fireman. He was born in Holbeck, just a few minutes' distance from Elland Road, and was a lifelong Leeds fan, nurturing a vision of the club as a leading power in the land.
The boardroom revolt coincided with a brief revival in the club's results on the field and they went through December and January undefeated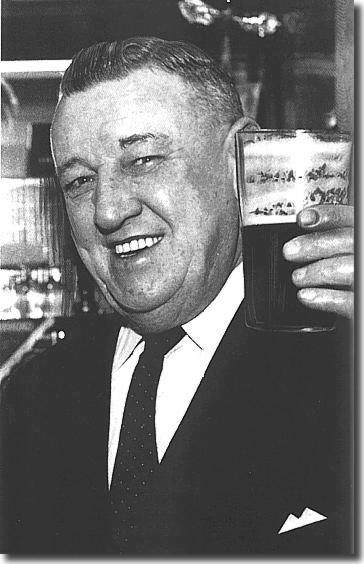 in the league, winning five of their eight games and climbing to ninth in the table from a lowly fifteenth spot.
But, just as it seemed the team's fortunes were looking up, those of Don Revie were in sharp decline. His appearances all season had been sporadic as his form and confidence suffered, and he chose to surrender the captaincy, arguing that the fates did not smile on his leadership. Freddie Goodwin took on the responsibility but enjoyed no better luck with either consistent team selections or results. Revie played his final game of the season in a 3-0 win at home to Southampton on January 14 as his thoughts turned to the future and a potential move into management.
Revie kept his ambitions largely to himself, although Taylor relied on his experience and capacity to evaluate a player. The manager one day invited both Reynolds and Revie to travel with him to look at a player in Bolton. On the trip, Reynolds spoke of his hopes for the club. His views on the way forward coincided in many respects with Revie's ideas about the game, and a bon of mutual respect was forged between them.
The prospect of Revie's departure was not a matter of great concern to the club. At thirty-one the former England international was already past his best when he joined from Sunderland in November 1958. Anxious to secure a player-manager's job as his on-field career drew to a close, he had applied for the job at Bournemouth in February 1961. Chester City and Tranmere Rovers were interested in him and Adamanstown from Australia held out the promise of a five year contract as player-coach.
However, events for Revie and Leeds United were soon to take a startling turn.
The team's strong form around the turn of the year had proven to be a mere flash in the pan and all the old failings came flooding back in February. Four straight defeats and 13 goals conceded were enough - the new board met behind closed doors to discuss the situation and Harry Reynolds pressed for change. Jack Taylor had the final twelve months of his three year contract still to run, and the miserly board were apprehensive about paying out the £2,500 it would take to terminate his contract. Reynolds decided to push the issue and met Taylor to tell him of the board's concern, hinting that he would be pressing for the manager's dismissal.
Leeds managed to beat Norwich 1-0 at Elland Road on 11 March to end their losing run, but Taylor had had enough and decided to call it a day, resigning a couple of days later, despite his team being in a comfortable ninth spot. There were no protests and the story merited few newspaper headlines. Even the local paper, the Yorkshire Evening News, contained only a fleeting report that club secretary Cyril Williamson would assume managerial responsibilities pending the appointment of a successor. Sam Bolton admitted to being more concerned with arrangements for that week's FA Cup semi-final between Leicester City and Sheffield United, to be staged at Elland Road. 'We have not yet had time to consider an official appointment,' a stressed Bolton said. 'We shall give the matter plenty of thought in the near future.'
However, Ronald Crowther, the editor of the paper and a long time supporter of the club, played a part in resolving the issue. Crowther had already written angrily in condemnation of the directors, 'It will not surprise me if United carry on with a secretary-manager - Mr Williamson - at the helm, with chief coach Syd Owen responsible to him for team affairs.' Revealing the insecurity that would always haunt him, Don Revie asked Crowther to draft his letter of application for the Bournemouth post. Crowther instead pressed Revie to apply for the Leeds job.
It is the stuff of legend that Revie asked Reynolds for a reference. The director wrote the letter, recommending Revie in glowing terms, but paused as he did so and, considering his man's qualities, decided to rip up the letter and exploit the potential himself. He managed to persuade his fellow directors to give Revie the opportunity to begin his management career in West Yorkshire, although when Leeds told Bournemouth that it would cost them £6,000 to sign Revie, the South Coast club were given considerable food for thought. The Times celebrated the historic milestone with a terse and economic paragraph: 'D Revie, the Leeds United inside-forward, was yesterday appointed team manager of the club in succession to Mr J Taylor, who resigned on Monday. He has been given a three-year contract. Revie will go on playing as long as he can.'
The beggars on the board could not afford to be choosers - two years before, when they had appointed Taylor, even as a First Division club, they had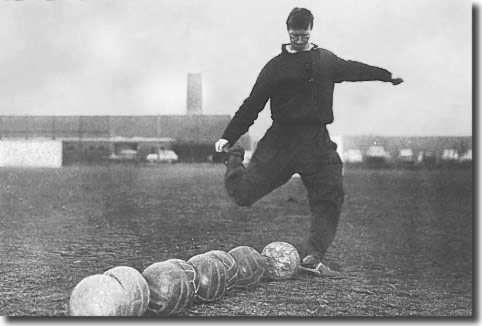 struggled to find a manager. As a side struggling in the depths of Division Two, it would be doubly difficult to do so.
Bagchi and Rogerson: 'In reality, therefore, the Leeds board had little choice but to take the radical option and appoint Revie. Mired in the lower half of the Second Division, they were palpably less marketable to the ambitious or established manager than they had been two years previously. After such a variety of managers and methods since the war, it was little wonder that Eric Stanger in the Yorkshire Evening Post concluded: "Nothing would benefit Leeds United more than a long stable period of sound management. In fact, in their financial position, it is their only hope for the future."
'Not only was Revie available, affordable and impressively full of ideas, he was also, ideally, aware of the staff's shortcomings and the precariousness of the club's standing at the bank. Crucially, he was far more likely to accept the offer than any other candidate suited to the job.
'Three days after Crowther's erroneous prediction, the die was cast. The thirty-three-year-old Revie was appointed on a three-year contract - on terms markedly inferior to those that Taylor had enjoyed. His pay was pegged at the £20 maximum, which had until recently been the maximum wage. The Leeds Board were insistent that Revie should keep his 'playing' contract for as long as possible. It was far cheaper that way. Desperate to stay in football and singularly unsuited for the stock career route of the ex-professional running a pub, Revie knew he had little option but to agree. He never forgot their initial caution, hardly a brilliant tactic to adopt with one so temperamentally vulnerable. In future, even if their compromised position at the bank had given them little choice, they would pay a heavy price for their attempt to screw him.'
A marriage made in heaven had an unpromising courtship.
Revie's first game involved a trip to struggling Portsmouth on 18 March. The line-up in that first game read as follows: Alan Humphreys; Alf Jones, John Kilford; Bobby Cameron, Freddie Goodwin, Peter McConnell; Gerry Francis, Peter Fitzgerald, Jack Charlton, Biily Bremner, Colin Grainger.
Revie chose to spring a surprise by aping a decision of former Elland Road boss Major Frank Buckley. Back in the 1950s the Major had decided to experiment with centre half John Charles in the forward line. Now Revie broke the news that his argumentative centre half Jack Charlton would be asked to repeat the trick by wearing the number nine shirt.
Charlton had often clashed with Revie since his arrival at Elland Road in 1958 as a player, and the defender was apprehensive about the move: 'I tried my best, but the No 9 shirt didn't feel right to me. I didn't know what to do, and nobody showed me. I remember Joe Shaw of Sheffield United laughing at me, I was making such a mess of it. You are the wrong way round up there. The ball comes to you when you have your back to the goal and I prefer to be facing it.'
Despite all his reservations, Charlton somehow managed to get on the scoresheet, hitting Leeds' goal in a disappointing 3-1 reverse. Revie persevered with the experiment, only withdrawing Charlton when Goodwin was unavailable. The manager also blooded a promising new talent on the left wing.
The twenty-year-old black South African Albert Johanneson, later to be christened the Black Flash, arrived at the club in April after Revie was tipped off to his talents by a school teacher. No transfer fee was involved, just the cost of transport from Johannesburg, and the young winger joined his countryman Gerry Francis at Elland Road. It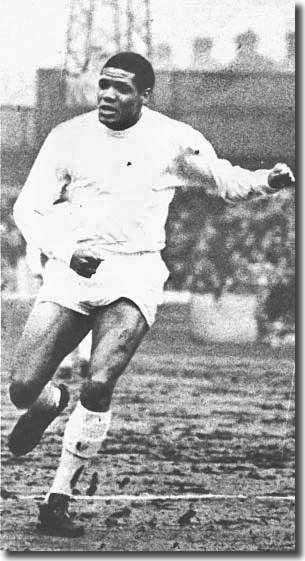 took only a couple of training sessions to convince Don Revie of the boy's talents, and he was pitched into the first team. He was only a shadow of the exciting talent he later became but did enough in a closing run of five games to excite tremendous interest.
With Charlton managing a further four goals to add to the one he hit at Portsmouth, Leeds squeezed enough points out of the final few games to secure Leeds' Second Division status, even though the only win came from an extraordinary 7-0 drubbing of already relegated Lincoln City. Those two points were enough to end any lingering threat of relegation with a couple of games remaining.
It had not been an auspicious start to a fledgling management career, but Revie did well to get any return at all from an ailing and dispirited squad. The Elland Road support were not impressed, however. The cynical jeer of 'Here come the mugs' which drifted from the terraces was by no means the harshest of the taunts the Leeds team suffered in this dreariest of seasons - the final home match of the season against Scunthorpe United, while not a major attraction could draw a crowd of just 6,975, the lowest home attendance since 1934. There was much work to do if the hopes of Revie and Harry Reynolds were to be realised, but at least the devastating impact of two successive relegations had been avoided.
Other Football Highlights from 1960/61
English football was only days away from its first national strike when the Football League backed down in its long running dispute with the PFA. The arguments over player's wages and the terms of their contracts had dragged on for years. There was a maximum wage of £20 a week in the season and £17 during the summer and players were not allowed to move to a club of their choosing at the end of a contract. After five hours of last ditch talks at the Ministry of Labour on January 18, the League finally agreed to abandon the regulations
The moment that the maximum wage was established Tommy Trinder, the Fulham chairman, made Johnny Haynes the first £100 a week footballer in England. That kept Haynes in England, but Italian clubs raided for the best of British talent - Joe Baker moved from Hibs to Torino for £73,000, Denis Law Manchester City to Turin £100,000, Jimmy Greaves Chelsea to AC Milan £80,000 and Gerry Hitchens AC Milan to Inter Milan £80,000
England beat their bitterest rivals Scotland 9-3 on 15 April at Wembley, with Jimmy Greaves scoring a hat trick and Bobby Smith and Johnny Haynes both getting two
Sir Stanley Rous was elected the president of FIFA. Denis Follows replaced him as the secretary of the Football Association
Everybody believed that the Double would never be achieved in modern times, but Spurs and their cultured Irish captain Danny Blanchflower did the impossible this year. Tottenham had a record breaking start, winning their first 11 league matches and only dropped one point in the first 16 games. They were so far ahead by Christmas that bookmakers refused to take any more bets on them. They wrapped the title up on 17 April with three games still to go. Then they completed the job by beating Leicester City 2-0 at Wembley to win the FA Cup
Rangers reached the final of the inaugural European Cup Winners' Cup before losing 4-1 on aggregate to Italy's Fiorentina. The Glasgow club did manage to win the Scottish championship and the Scottish League Cup, however
Peterborough in their first season in the league raced through the Fourth Division and were promoted as champions, scoring a record 134 goals. Terry Bly was their leading marksman with 52 goals, a post-war record
Real Madrid's perfect European Cup record was ended and Portugal's Benfica beat Barcelona 3-2 in the final