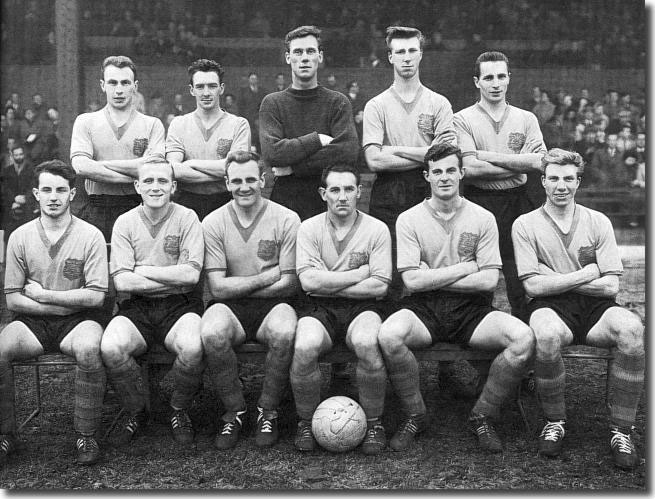 New manager Jack Taylor was wrested away from third division Queens Park Rangers at the end of 1958/59 to set Leeds United back on course following a disastrous period under the ill fated regime of stop gap manager Bill Lambton. Taylor achieved little in his time at the West London club, but the Leeds board were convinced that the Yorkshireman could provide a steadying influence and take United on to better times, even though he had not been their first choice for the job.
The team had rallied at the end of the season to finish 15th in division one, but had enjoyed little success in the years since Raich Carter steered them to promotion in 1956 on the back of the goals of John Charles. Sadly, Elland Road was now but a distant memory for the awesome Welshman, and he had been revelling in the sunshine of Turin with Juventus for three years when Taylor arrived in Yorkshire.
One of the new manager's first duties was to oversee the transfer of two veterans with more than 700 League games behind them for the club. Left half Eric Kerfoot joined third division Chesterfield, while Jimmy Dunn, now 36, moved to the fourth with struggling Darlington. Both players had served the club loyally for years, and Dunn's dependability in particular would be missed. 'He was one of the best full-backs I played with, though I think he could have passed the ball better,' said John Charles, 'but he was very fit, strong and hard; and at covering, unbelievable.'
While the sale of the promising George O'Brien to Southampton brought in £10,000, Taylor's freedom to bring in new blood was restricted by the financial difficulties which Leeds United always seemed to experience. Even though he was allowed the whole of the O'Brien money to sign Bradford City's powerful and confident striker John McCole shortly after the season started, it was only after centre forward Alan Shackleton had left to join division one rivals Everton.
Shackleton led the Leeds forward line for the first two games of the new campaign, both of which ended in 3-2 reverses, against Burnley and Leicester City. Taylor had stuck with the side which had seen out the tail end of the previous season - the acrobatic Ted Burgin in goal, the full back pairing of Jimmy Ashall and the highly regarded Grenville Hair, who had gained representative honours, young Peter McConnell, the argumentative centre half Jack Charlton and Wilbur Cush, who had played in the 1958 World Cup for Northern Ireland, were the regular names in shirts 1-6.
19-year-old Chris Crowe was a rare early product of the youth development programme which Bill Lambton had resurrected and had already played for the England Under-23 team. He had been in the Leeds side for a couple of years on the right wing, although he featured at No 10 for much of 1959-60. The Scot George Meek was another outstanding player on either flank, and partnering Shackleton up front was a former England inside forward, the classy Don Revie, who captained the side.
Belfast born right winger Billy Humphries had shown enough promise at Ards to convince Leeds to sign him for £5,000 the year before and completed the line-up for the first match. However, Humphries was only seen as a deputy for Meek, Jack Overfield or Crowe for most of his time at Elland Road and he returned to Ards in November 1959, having failed dismally to live up to his billing.
The two opening defeats were the final games that Shackleton played for Leeds. After arriving at Elland Road for £8,000 from Burnley the previous October, just a month before Revie was signed, he finished the season as top scorer with 16 goals from his 28 games.
Revie, who had already figured at inside-left, inside-right and right-half in his year at the club, was obliged to act as stop gap No 9 until John McCole's arrival, in time for the trip to West Bromwich Albion on 19 September, with Leeds already deep in trouble. Their 6-0 defeat at Manchester United in the early part of the month was bad enough, but McCole's arrival coincided with three straight defeats. The last of them, a 2-0 reverse at Birmingham on October 3, left Leeds with just eight points from their 11 matches. Birmingham City and Luton Town on seven were the only two sides below them in the table.
McCole impressed in that spell, however, and got off the mark with a goal in his second game, a 3-2 defeat at home to Newcastle. He managed a good little run of six goals in his opening eight matches and in fact scored prolifically throughout the season. No blame could be attached to his efforts, but he was one of the few players to emerge with any honour from a pretty abysmal year.
It was in defence that the problems lay, and no matter how many goals came from McCole, Crowe, Revie and 5ft 5in Dubliner Noel Peyton (who made a useful contribution after appearing sporadically in the autumn), Leeds usually managed to concede one (or, more normally, several!) more. The run through to the beginning of December was dismal - Fulham's 4-1 win at Elland Road on 5 December was the fourth defeat in a row and the 11th from 20 games. The defence had shipped three or more goals on 11 occasions and had conceded 50 in total. Leeds United were now 21st in the table.
Astonishingly the Fulham reverse acted as the trigger for an improvement in form and the side rallied for the rest of the month. Don Revie scored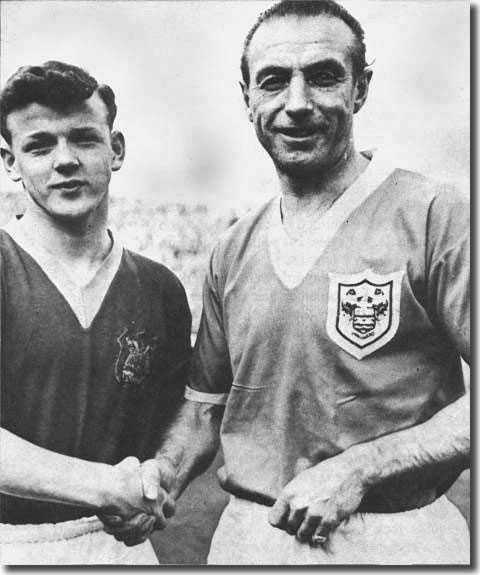 Leeds' first goal and half-back Archie Gibson (now restored to the side and providing much needed backbone) the third in a hard-fought 3-3 draw at Manchester City on 12 December.
A week later, Leeds visited third in the table Burnley and came away victorious after Jack Overfield scored the only goal of the game.
On Boxing Day, table-topping Spurs won 4-2 at Elland Road, but two days later Leeds shocked the football world by visiting White Hart Lane and pulling off an amazing 4-1 triumph in the return, with McCole scoring twice. It was enough to take Leeds out of the relegation places for a day at least and stirred frozen Yorkshire hearts. The game at Elland Road had pulled in over 36,000 fans, by far Leeds' biggest gate of the season, and the contest at Tottenham drew a crowd of more than 54,000.
To put the victory into context, one should remember that this was a redoubtable Tottenham side, on the verge of greatness and a Double triumph a year later. Striker Les Allen (father of Clive, who went on to such goalscoring feats in the 80's with QPR, Spurs and Crystal Palace), made his debut in the game at Elland Road after signing from Chelsea and scored twice, but was always considered the junior partner to the big, bustling Bobby Smith at centre forward. The real stars of the side, however, were Danny Blanchflower, John White, Dave Mackay and Cliff Jones, football immortals all, forming one of the best midfield line ups ever to play in the Football League. Tottenham manager Bill Nicholson was building a superb outfit, but they were not yet the finished article and Leeds simply tore them apart in one of the upsets of the season.
It was all the more disappointing, therefore, when Leeds could only draw 1-1 at home to bottom club Luton five days later, and then the following weekend lost 2-1 to second division Aston Villa in the third round of the FA Cup. Decent form returned for a while after that and wins by 3-0 against West Ham and 3-1 at Chelsea saw Leeds look more the part. Their more optimistic fans prayed that they had turned the corner and would start to climb away from the foot of the table.
The Chelsea match enabled them to consider the talents of a young Scot by the name of Billy Bremner who was making the first of almost 800 first-team appearances for the club.
Bremner came in on the right wing, and playing inside him was Don Revie - the two, resembling father and son in age difference, almost immediately formed a lasting bond. Bremner was just 17, and had opted to join Leeds rather than any one of several other, much bigger clubs such as Rangers, Celtic, Arsenal and Chelsea. He was unsure of himself and homesick, but delighted to be in the same team as Revie, whom he already admired as an outstanding passer and a deep thinker about the game. 'What impressed me more than anything else was his vision on a football park... it was tremendous. And after he had struck the ball, he would pose, as if for a photograph.'
By chance it was Revie who broke the news to the incredulous Bremner that he was to make his first-team debut against Chelsea. 'He saw me in the car park and gave me the news. Chris Crowe was doing National Service and had to play for the army. So I played on the right wing.'
The night before the match, Revie and Bremner shared a hotel room in London. It was an occasion for the senior player to show an early sign of the paternalism that would become one of his managerial hallmarks. He insisted Bremner be in bed by 10.00 pm and then, the next day, forced the young Scot to accompany him on a long walk.
Bottom of division one - 5 March 1960

Pos

P

Pts

14th

Chelsea

32

30

15th

Blackpool

31

29

16th

Leicester City

32

29

17th

Nottingham Forest

32

28

18th

Manchester City

31

27

19th

Everton

32

26

20th

Birmingham City

30

23

21st

Leeds United

31

23

22nd

Luton Town

31

21
Bremner: 'I don't think any player ever really forgets his debut. I wore a No 7 shirt and before the kick off I looked around and could see famous faces everywhere. Once the game started, though, I forgot about that, and it was not until it was all over that I once again took in the fact that I had been playing football in the First Division surrounded by internationals. We won the game 3-1, so you can imagine how I felt once it was all over. Noel Peyton scored one and John McCole hit two.'
That little run of success proved to be a false dawn for Leeds United, but represented the big breakthrough for Bremner. He missed a few games, but managed for the most part to retain his spot on the wing, flanking Revie, and did so well, in fact, that within a couple of months manager Frank Taylor felt able to part with another prized asset, Chris Crowe. Blackburn Rovers stepped in with the sizable bid of £25,000 and Taylor felt obliged to accept. Crowe had potential, but was often unnerved by heckling from the fans, and allowed his form to suffer.
Following the Chelsea match, West Brom came up to Elland Road a week later and ended Leeds' run with a 4-1 victory. Three straight defeats followed, including a 5-0 drubbing at Fulham, and Leeds were once more battling for survival. There were still more than ten games to go, but it already looked like bottom club Luton Town were relegation certainties, with Birmingham and Leeds looking the clubs most likely to join them.
Leeds struggled to a 3-3 draw at home with Birmingham on 9 March with Revie scoring twice and Bremner hitting his first goal for the club. A major opportunity to improve their position had been squandered.
Manchester City were another club in the throes of a relegation struggle and Elland Road hosted a match against them on 19 March. The tussle saw Bremner in direct conflict with another talented young Scot making his way at a new club, the legendary Denis Law.
The Times: 'There was quite a flutter one way and another at Elland Road, Leeds, on Saturday. Not only was this one of those edgy meetings between sides groping in the dark wood of relegation, but there was also about it a touch of the eternal Yorkshire-Lancashire argument in broad accents, where words are chosen carefully and are meant to sting.
'To add spice to the occasion, too, here was the first appearance of Law for Manchester City in the Championship. A fair haired young man, frail in appearance, but of whip lash quality, he himself seemed the least conscious of the golden yoke, valued at some £53,000, around his slender neck. A fading fortune to revive, a duty to be done in a game which he patently loves, he set out with a firm step under his new banner. Yet in spite of his hypnotic appearance Leeds won desperately at the very last breath and some 35,000 Yorkshiremen breathed a sigh as their team, for the moment at least, took a step towards the light.
'That it needed two penalty kicks by McCole in the final stages to turn apparent defeat into sudden victory merely added to the tension, though in neither case did any real stigma remain with Manchester. They were the sort of things that often happen in a match of this character where nerves twang and where gentlemanly thud follows human blunder. Yet justice was finally done in a roundabout way, even if the first of those penalties - making it 3-3 - surprised even the mildest of Yorkshiremen, for in the last analysis it was the goalkeeping of Trautmann, the eagle under the Manchester bar, which for so long supported the attacking touches of Law caught in the ebb and flow of an untidy battle.
'All eyes, of course, burnt deep into the figure eight on the back of Law's shirt. He was the focal point of attention and long before the end the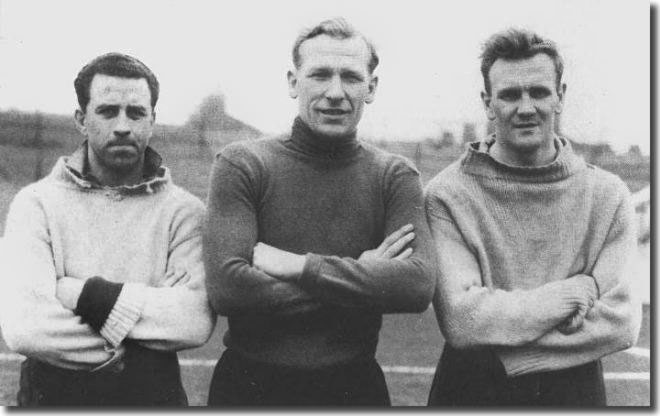 assembled company - twice its normal size - had turned both judge and jury. Curious, somehow, that Law's opening trial should now come at a club whose motto is Pro rege et lege.
'The verdict on the larger issue - is any British footballer worth such a sum of money? - may be withheld. The time to judge is at the end of Law's career. Meanwhile he finds himself involved in a matter of values. And at this moment Manchester City are badly in need of success.
'As to the player himself, judged in a less hysterical context, he is an obvious footballer of flair. Poised, stylish, efficient and quick witted, he is a combatant disguised in a slim frame. But his full value will only be felt by Manchester City when his new colleagues learn to think as swiftly and as broadly as himself. He has an eye and a touch more suited perhaps to the subtle Latin gifts of di Stefano, Suarez, Kopa, and company than to the more formal lines of the British game.
'Indeed, at times in the opening half Law must have doubted whether he had stepped up into the supposedly higher grade of the championship, so inaccurate and hesitant was the general pattern. Both sides struggled with the neurosis of survival as first Revie with a sharp pass sent Peyton in to put Leeds ahead, only to see the lead quickly squandered, as Gibson, with a blind disregard, pushed the ball past his own goalkeeper at the other end. Next Bremner, a 17 year old winger of some promise, sent Leeds clear a second time through a scattered defence with a shot in off the far post, but almost immediately, at the 25th minute, Law began to make his presence felt.
'Manchester, indeed, now seemed to be heading for their first away win since 15 December. A colonnade of tributes began to be prepared for Law when suddenly the tide turned. Revie, slower than of old but still sophisticated of touch, inspired a storming Yorkshire revival. Supported by the strength of his full backs and Goodwin, a new colleague from Old Trafford in the rear, and by the liveliness of little Bremner at his side, Revie mounted the last counter challenge against a tottering, yawning defence.
'At the kick off the massed flight of photographers, amid mock boos and cheers, had settled like vultures around the Leeds goal. Now Law produced something for them to embalm on film and plate. Flicking a pass to Hayes and sidestepping Gibson, he took the return in his stride, beat Ashall's tackle, and flashed in a fine goal to make it 2-2. More and more now he became the puppet master. But the cultured Barnes apart, few of the figures around him answered his touches promptly until at last, 20 minutes after the interval, another proficient pass from him sent Barlow in to put City 3-2 ahead.
'Trautmann made superb saves from Revie himself and McCole, both at point blank range, then from Bremner: when he was beaten Branagan and Sear cleared off the Manchester goal line. But with 10 minutes left came the twist. McCole and Branagan both stumbled over the ball harmlessly. A penalty was awarded mysteriously. McCole drove it home and then repeated the dose in the dying seconds when Oakes impulsively handled Bremner's centre. Leeds were home and Law, Barnes, and Trautmann, their efforts wasted, became figures of dejection. It was payment deferred.'
Bottom of division one - 16 April 1960

Pos

P

Pts

14th

Chelsea

39

35

15th

Leicester City

39

35

16th

Everton

39

34

17th

Blackburn Rovers

38

34

18th

Manchester City

38

33

19th

Nottingham Forest

38

32

20th

Birmingham City

37

31

21st

Leeds United

37

29

22nd

Luton Town

39

27
The two points enabled Leeds to move ahead of Birmingham City, who had crashed 5-2 at home to Bolton, and left them just a point behind Manchester City themselves. Again, however, it heralded no sustained improvement in form and it was another four games before Leeds won again, by the only goal at home to Bolton on April 16 with Jack Charlton the scorer. The win was enough to take United off bottom spot, where they had been dumped by Luton's 2-0 win at Blackburn the day before, but by now, Leeds had fallen a couple of points behind Birmingham, and looked in the greatest peril. There were just five games left.
This was the start of the Easter programme, and Leeds now faced two games in a couple of days against a Preston North End side with Tom Finney about to finish his career. 14 years earlier, the same Finney had marked his League debut with a goal in a victory against Leeds at Deepdale, but now it was United who had the upper hand, drawing away and winning 2-1 at Elland Road with Charlton and black right winger Gerry Francis snatching the goals. Leeds had clawed back one valuable point on Birmingham, but the Midlanders had by far the superior goal average, thanks to Leeds' abysmal defensive record.
Things had actually started to tighten up at the back, with much of the credit going to former Manchester United centre-back Freddie Goodwin, who had been signed for £10,000 in March and now partnered Charlton in the rearguard. Goodwin had emerged at Old Trafford following the Munich air disaster and the loss of the Busby Babes and played in the 1958 FA Cup final defeat against Bolton. He brought a steadying influence to bear in a chaotic situation, but the damage had been done earlier in the season.
Bottom of division one - 24 April 1960

Pos

P

Pts

17th

Manchester City

40

35

18th

Blackburn Rovers

40

35

19th

Nottingham Forest

41

35

20th

Birmingham City

40

34

21st

Leeds United

40

32

22nd

Luton Town

41

30
He could do nothing to prevent Leeds losing by the only goal at Everton on April 23, a defeat which was doubly damaging as it allowed the Merseysiders to confirm their own safety. The same day, Birmingham won 4-2 at Sheffield Wednesday and Nottingham Forest thrashed Newcastle 3-0 to give the bottom of the table an alarming look for Leeds United, now favourites to accompany already relegated Luton Town into division two.
The following Tuesday evening promised to be decisive with a couple of games which would have a massive impact on the relegation dogfight. Birmingham played hosts to a Burnley side still hopeful of winning the league championship, while Leeds had to travel to Blackburn, themselves not yet clear of relegation. And despite all the gloom, Leeds' fate still lay in their own hands. Their final game of the season was at Elland Road against Nottingham Forest, and two wins would leave them a point clear of the East Midlands club.
Given the importance of the match to the club, one would have thought the preparation would have been meticulous, but Leeds United were a very disorganised club in those days, as Billy Bremner recalled: 'We went to play a very important game towards the end of the season at Blackburn Rovers. I remember thinking: "I wonder where we're going to eat." In the end, we stopped off at a cafe and had beans on toast. It was all a bit of a rush ... nothing had been arranged. And this was the most important game of the season. We lost 3-2. Even as a young fellow, I thought "we haven't really prepared well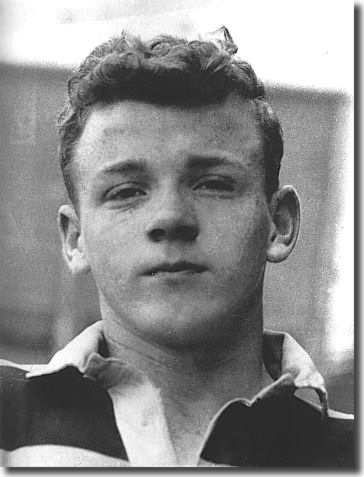 for this game."'
As if to compound the agony and make Leeds yearn for what might have been, Birmingham lost 1-0 at home to Burnley, who went on to win the title.
The die was almost cast, but United still had a mathematical chance of staying up. However, it involved Birmingham losing their final game, at home to Blackburn, 4-0, while Leeds would need to beat Forest by the same score. Stranger things have happened, but only rarely.
Leeds beat Forest 1-0 with a penalty from John McCole (his 22nd goal of the season) before a resigned but hardy crowd of just 11,699, while Birmingham confirmed their survival after winning by the same score. The Elland Road club had survived four years in the first division, but their time in the top flight was over.
New stars had been thrown up in McCole, Bremner and Goodwin, but Leeds United had conceded 92 goals and looked a very poor team indeed.
Andrew Mourant from Revie: A Footballing Enigma: 'Over two seasons, 30 players had been employed, with Revie among just a handful who had appeared more or less consistently. When, in 1960, Leeds United crashed into the second division, there was no air of buoyant impatience for the new season, no conviction that a return to the first would be swift and successful.'
Jack Taylor's influence had made scant difference, and the football loving public of West Yorkshire had little reason for optimism that their exile from the top flight would be a brief one.
Other Football Highlights from 1959/60
The Football League launched its new League Cup competition in June 1960, despite their earlier concerns about fixture congestion. Many of the top clubs refused to take part
Brian Clough's scoring feats at Middlesbrough got him a place in the Football League side which faced the Irish League in Belfast on September 23. He scored all the goals in a 5-0 win and earned himself a first full cap against Wales, but though he kept his place for a Wembley match against Sweden 11 days later, he did not play well and was dropped, never to play again. However, his club form continued to impress and he hit another 39 League goals for Middlesbrough
Real Madrid secured their fifth successive European Cup win at Hampden Park in May as they conclusively beat Eintracht Frankfurt 7-3 in the final. The game will be remembered as one of the finest matches ever played with 33 year olds Ferenc Puskas and Alfredo di Stefano inspiring an amazing show by the Spanish side
Birmingham City lost 4-1 on aggregate to Barcelona in the Fairs Cup final
In a dramatic finish to the season Burnley beat Manchester City 2-1 at Maine Road on the last day of the season to sneak past Wolves and snatch the League title by a single point
Yet another Cup final injury left Blackburn a player down after 30 minutes. The ten man Rovers team had no answer to Wolves, who triumphed 3-0
Peterborough were finally elected to the League on May 1928 at the 21st attempt
The first European Nations Cup, which had started in 1958, was decided when the Soviet Union beat Yugoslavia 2-1 in extra-time in the final in Paris on July 10
Denis Law's move from Huddersfield to Manchester City in March was the first transfer between British clubs to exceed £50,000
England were chosen to host the 1966 World Cup finals
Tom Finney retired at the end of the season after 24 years, 472 matches for Preston and 76 England caps