The summer of 1955 was a time for taking stock for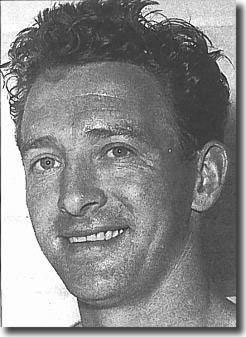 Leeds United manager Raich Carter - during his two years in the hot seat at Elland Road he had seen his charges climb from mid table obscurity to end 1954/55 fourth in one of the closest promotion races for years. They had finished with a strong burst of form. Carter was also fortunate enough to be able to call one one of the biggest assets in the game, Welshman John Charles, a giant of a man who was equally adept in defence or up front.
Leeds were consequently among the favourites to secure promotion and the form of his side had persuaded Carter to leave what little money there was in the bank and persist with his existing squad of players. There was very little transfer activity that summer and the only move of consequence saw inside forward Ray Iggleden leave for Exeter City. He had scored almost 50 goals for Leeds in 169 league matches since his arrival in 1948, but had only played five times in the previous twelve months following the arrivals of Harold Brook and Jock Henderson. He was 29 and his future prospects at Elland Road seemed limited.
Carter did have two 'new' additions to his playing staff, however, courtesy of National Service. Glaswegian winger George Meek had returned in the Spring and contributed to the wonderful closing run while lanky young centre half Jack Charlton had become a hardened man of the world during his time away from Elland Road and was now available for selection. Charlton was still rough and ready with little experience but his presence gave Carter the option of moving Charles back into the front line after a year spent in the rearguard.
However, he started the new season with Charles the kingpin in a defensive line which had proven near impregnable in the last 8 games of the season, conceding just three goals. Goalkeeper Roy Wood, full-backs Jimmy Dunn and Grenville Hair and the half-back line of Archie Gibson, Charles and Eric Kerfoot had proven sure footed and reliable.
Wood and Gibson had made the breakthrough during 1954/55, but the others had been mainstays of the team for years - Dunn had missed 11 games in six seasons, Hair had played 151 games out the previous 156, Kerfoot 154 out of 164 and Charles 137 out of 150. They were consistency personified. Gibson had been a welcome addition to the team. After four years in the reserves, he had filled the gap left by long time captain Tommy Burden and had impressed Charles: 'I thought he should have got a Scottish cap - he was a mixture of Burden and Kerfoot - good on the ball, could pass and worked very hard.'
Leeds also had considerable stability in attack. The opening formation was Harold Williams, Albert Nightingale, Harold Brook, Jock Henderson and George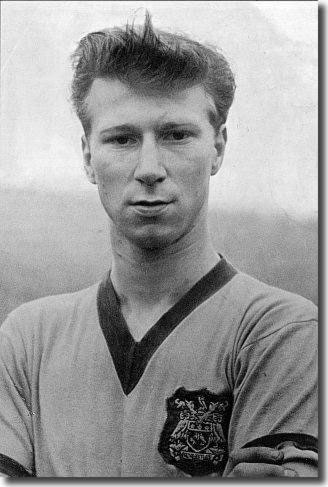 Meek, the same five players who had played unchanged in the final six games of the previous season and hit thirteen goals. They were a fearsome unit.
It was a surprise, then, when the opening day visit to reigning Third Division North champions Barnsley ended in a disappointing 2-1 defeat. The setback took a little of the wind out of United's sails, but on the following Monday Jock Henderson scored the only goal of the game at Elland Road against Bury and another home win followed on the Saturday when Middlesbrough were the visitors. They lost their next game, 1-0 at Bury, but then won two further matches, both by 1-0. After six matches they were handily placed, just off the promotion pace but within touching distance of the top. The defence, which was unchanged as yet, was proving as mean as it had been previously with just three goals conceded.
It had an off day in the match at home to West Ham, however, when Leeds conceded three goals. No serious damage was done as they also scored three, with Keith Ripley notching the first. Ripley had come in for Henderson and was making a good fist of things. He went on to hit a wonderful hat trick a couple of games later on 24 September, when Leeds hammered struggling Yorkshire neighbours Rotherham 4-1. In that short burst Ripley hit five goals in five matches.
The Rotherham win marked the start of a run in the Number 5 shirt for twenty-year-old Jack Charlton, following an injury to Archie Gibson. John Charles moved across to right-half and prompted Charlton through his early games with some sound advice and help.
Charlton was eternally grateful for the support the Welshman gave him: 'I learned loads of things from John. I remember him saying to me, "When the centre-forward's got the ball and he's coming at you, just turn sideways on slightly, just slightly, make a little dart towards him as if you're going to tackle him, and he'll push it the other way. Then check, turn and go the way he's running. You'll have a yard or two's start on him anyway, so you'll get to the ball first. You'll get him." That was one of the great lessons I learned in my early twenties.
'He taught me another trick, which was not to head the ball where you're looking. "When you go up to head the ball," he said, "just change your mind where you want it to go at the last moment. All you've got to do is turn the head, and the ball will follow. It's as simple as that. The keeper will be watching which way you're looking and he will say to himself, 'Oh, it's coming that way.' You'll send him the wrong way and then just change your mind." John taught me how to do it, but I was never as good as he was.'
In the first week of October, Leeds visited Wales to take on a high flying Swansea side and came away with a 1-1 draw after a goal from Harold Brook. The result left Leeds 8th in the table, a couple of points below Swansea and three points behind Second Division leaders Bristol Rovers. The position improved a week later when goals from Ripley, Brook and Charles secured a 3-0 victory over Nottingham Forest at Elland Road to move them up to sixth in the table. The match marked the debut of 23-year-old left winger Jack Overfield, who came in for the injury-prone Harold Williams, now approaching the twilight of a wonderful career. Overfield was another young man who had recently returned from National Service. He was an intricate ball player who provided wonderful crosses, although he was never really confident enough in his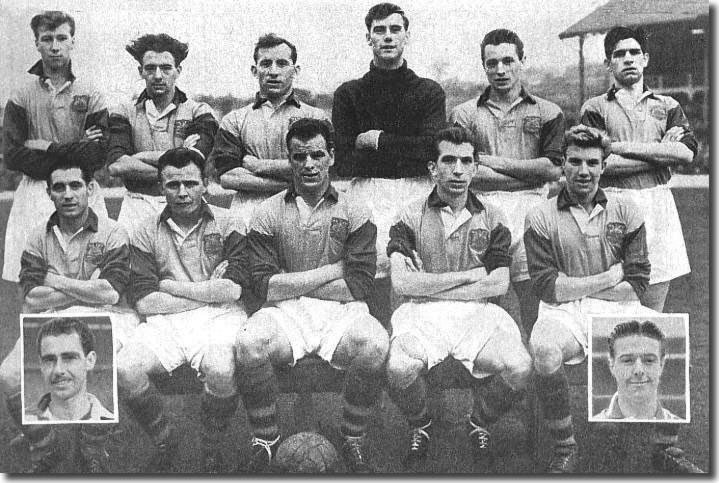 abilities.
His confidence certainly took a knock in the next match as Leeds copped a 4-0 hiding at Sheffield Wednesday, a result which enabled the Hillsborough club to move above Leeds in the table. Swansea were new leaders on 18 points with Port Vale, Fulham, Bristol City and Stoke City all on 16. Wednesday and Bristol Rovers had 15 points, while Leeds and Barnsley were level on 14.
It was about now that Raich Carter decided to make an important change. He was still without the injured Gibson, but moved Ripley to right-half, allowing him to push John Charles into attack. The Welshman had only scored once all season from his defensive role and Leeds badly needed his presence up front as Harold Williams, Albert Nightingale and Harold Brook all struggled with injury. After a 4-1 defeat at Bristol Rovers on 29 October, Leeds had fallen to 9th place, six points behind leaders Swansea. It looked like they were starting to drift away to mid table anonymity, but Charles scored the only goal of a tight game with Stoke City on 5 November to help Leeds move level on points with the Potteries club. It was the start of a sequence of 9 goals in 6 games for Charles.
The second of those six matches saw a 4-3 defeat in a seesaw game away to struggling Plymouth, but then Leeds entertained Liverpool at Elland Road on 19 November. Jack Overfield scored his second goal of the season and Brook his sixth, but Charles was coming up fast on the rails and scored his fourth and fifth goals in an exciting 4-2 win which enabled Leeds to leapfrog the Anfield club and move back up to sixth, now just five points behind new leaders Bristol City. City had just come out of the Third Division and were led by old Elland Road stalwart Tommy Burden. They had taken the division by storm after a run of 10 points out of a possible 12 and were the fourth different team to head the table in less than two months, moving a point clear of Swansea and three ahead of Sheffield Wednesday, Fulham and Bristol Rovers.
Unfortunately for Leeds, the following weekend saw a rampant Leicester side hit them for five, although Charles' two penalties were some consolation. The victory saw Leicester move above Leeds, as did Stoke, Lincoln, Blackburn and Liverpool, on an awful day for the Elland Road club. However, Leeds then had three excellent wins, scoring three goals in each to climb back up the table. They also hit three in the next match, away to Middlesbrough on Christmas Eve, but conceded five while they were doing so. They won one and lost one in the few days that followed against a Notts County team which was struggling against relegation. After the 2-1 defeat at Meadow Lane on 27 December, Leeds were left sitting on 28 points in 7th spot. Sheffield Wednesday had become the new leaders with 31 points and Bristol City and Swansea shared second place on 29 points. Liverpool, Leicester and Stoke had the same points as Leeds, but all enjoyed superior goal average.
New Year's Eve gave Leeds the chance to improve their position as they entertained Tommy Burden's Bristol City side, and they duly obliged with Brook hitting the winner in a 2-1 victory in front of 31,751 delighted fans, the biggest crowd at Elland Road so far that season.
A week later, the gate was up to 40,000 as Leeds welcomed First Division Cardiff City in the FA Cup third round. It was a good test for a side which aspired to top flight football but a goal from Brook was the only reward in a 2-1 defeat. The disappointment of that game was the precursor to a month without a win as Leeds drew three straight league games before they welcomed Second Division leaders Sheffield Wednesday to Elland Road on 25 February. It was an important day in the promotion race as it also saw second placed Leicester visit Bristol City who were fifth, while third met fourth with Swansea's home advantage giving them the hope of swapping places with Bristol Rovers.
| | | | | |
| --- | --- | --- | --- | --- |
| | Pos | | P | Pts |
| | 1st | Sheffield Wednesday | 32 | 39 |
| | 2nd | Leicester City | 32 | 37 |
| | 3rd | Bristol Rovers | 31 | 37 |
| | 4th | Bristol City | 31 | 35 |
| | 5th | Leeds United | 29 | 35 |
| | 6th | Port Vale | 31 | 35 |
| | 7th | Swansea | 31 | 35 |
The Yorkshire derby drew a crowd of 43,268, the biggest attendance in more than four years and they were not disappointed as John Charles and Bobby Forrest (in a rare appearance) saw them home by two goals to one. Bristol City and Leicester had drawn 1-1, Bristol Rovers won 2-1 at Swansea and the day ended with the table reading:
Leeds' games in hand seemed to give them a crucial advantage over their nearest rivals, but when they travelled to eighth place Liverpool the following Tuesday for one of those matches they seemed afraid to grasp the opportunity and went down by the only goal. Worse was to follow when they managed to take just a single point from their next three fixtures. The 2-1 defeat at Stoke City on 17 March saw them slip away to ninth place, now a full seven points behind Wednesday and five points off the promotion pace. Leeds had now won just once in the eight league games in 1956 and it looked like their promotion hopes were turning to ash.
However, Albert Nightingale and George Meek were both now available up front after injury and manager Carter could choose from a position of strength. Just as they looked to have shot their bolt, Leeds gathered their resolve and got a second wind. Plymouth Argyle, sitting second from bottom, provided mediocre opposition at Elland Road on 24 March and Brook, Nightingale and Charles (2) scored the vital goals in a 4-2 win before a crowd of just over 12,000 apprehensive fans.
| | | | | |
| --- | --- | --- | --- | --- |
| | Pos | | P | Pts |
| | 1st | Sheffield Wednesday | 38 | 50 |
| | 2nd | Bristol Rovers | 38 | 44 |
| | 3rd | Blackburn Rovers | 38 | 43 |
| | 4th | Port Vale | 39 | 43 |
| | 5th | Leeds United | 37 | 42 |
| | 6th | Nottingham Forest | 36 | 42 |
| | 7th | Liverpool | 37 | 42 |
| | 8th | Leicester City | 38 | 42 |
| | 9th | Bristol City | 38 | 41 |
As the season entered the vital Easter period, a glimmer of hope was still shining. Brook and Charles were on the score sheet again on Good Friday when Leeds travelled to London and came away from Fulham with a 2-1 win. They stumbled to a 2-0 defeat the next day at Nottingham Forest, but then came storming back to form on Easter Monday. John Charles hit a blistering hat trick and Nightingale two more with Brook adding the other in a 6-1 mauling of Fulham at fortress Elland Road.
Sheffield Wednesday looked to have wrapped up the title, but just three points covered the eight positions below them. Leeds were very handily placed and did themselves no harm at all on 7 April as two more goals from Charles inspired a 4-0 win over Leicester City. They were now staring down the barrel of promotion as the season boiled to a climax.
The position remained virtually unchanged the following week, although Wednesday stumbled at home to Fulham. Bristol Rovers, Leeds, Blackburn, Liverpool and Leicester all won. Forest and Bristol City, however, both lost, and for City it was the end of their challenge.
The tension came to a head on 21 April - Leeds in third spot welcomed second placed Bristol Rovers for the match of the day. Again Elland Road was packed to the rafters, this time with 49,274 fervent fans, eager to see how things would pan out. Things looked ominous when Rovers took the lead in the third minute and you could almost hear the sharp intake of breath all around the ground. United were not to be denied, however, and they won a fourth game on the trot, by 2-1, with Charles and Overfield the scorers.
| | | | | |
| --- | --- | --- | --- | --- |
| | Pos | | P | Pts |
| | 1st | Sheffield Wednesday | 41 | 53 |
| | 2nd | Leeds United | 40 | 48 |
| | 3rd | Bristol Rovers | 41 | 48 |
| | 4th | Liverpool | 40 | 46 |
| | 5th | Leicester City | 41 | 46 |
| | 6th | Nottingham Forest | 40 | 46 |
| | 7th | Bristol City | 41 | 45 |
| | 8th | Blackburn Rovers | 40 | 45 |
It was a momentous day in the history of Leeds United as promotion was now in their own hands, although Wednesday had secured the title with a wonderful 5-2 win at Bury. Liverpool had won at Rotherham and Leicester at Port Vale, but Blackburn had lost 2-0 at Bristol City and Forest could only draw 1-1 at Barnsley. Those results left the table looking like this:
Bristol Rovers, Liverpool, Leicester City, Nottingham Forest and Blackburn were all still in with a chance of pipping Leeds, but United still held the advantage. Their match at Rotherham on the evening of Monday, 23 April, was crucial and The Times recorded happenings thus: 'Leeds took another big stride towards regaining the First Division status they lost immediately after winning the war by winning 2-0 at Rotherham.
'Enthusiasm was so intense that when the gates were closed with Rotherham's biggest crowd of the season, 19,871, inside, several hundreds clambered onto roofs, slag heaps and chimneys overlooking the Millmoor ground. Leeds nearly wasted their chance through the hasty shooting of Charles and Brook in the first half, but, after Rotherham were reduced to 10 fit men though an injury to Johnson, Nightingale won the game with two goals in three minutes. Leeds need only draw their final game at Hull to put themselves beyond the reach of Bristol Rovers, Liverpool and Nottingham Forest.'
Raich Carter was in high spirits as he took his team to the scene of his old triumphs in East Yorkshire. He had been idolised while in charge at Boothferry Park, when he had led the Tigers to an unprecedented Third Division title, but his old team had been doomed to relegation for weeks and seemed unlikely to put up much of a barrier on United's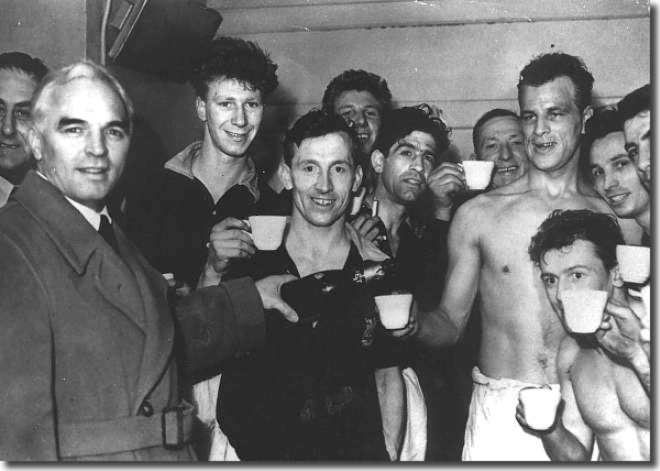 path to glory.
It looked like there would be an easy win when John Charles gave Leeds the lead after six minutes with a powerful left foot drive, but Hull refused to lie down and got back in the game seven minutes later when Martin equalised. Tension was evident in the Leeds play during that first half and by the interval the score was still 1-1. The pressure was eased in the second half, however. After 62 minutes George Meek made a foray into the Rotherham penalty area and was brought down. Charles stepped up to bury the resulting penalty, in the process scoring his 29th goal of a memorable campaign. After that Leeds settled to their task more confidently and assumed a tight grip on proceedings. Harold Brook scored his 15th and 16th league goals during the last 15 minutes to leave United home and dry, worthy 4-1 winners and uncatchable in the runners up spot. Their exile from the big time was over at last and the side celebrated long and hard in the dressing room after the game.
Leeds owed much of the glory to the powerful play of Charles, who had scored 28 of his goals in the final 28 matches. For seven years he had been their outstanding player as well as one of the finest in the country and their whole style of play was built around him, whether he was at the back or up front. Such talent, however, did not go to his head and Charles gave due credit to his teammates: 'The four people in the middle, the wing-halves and inside-forwards did all the work; they were the bees. Raich Carter didn't change the system - most teams played the same way. We were all on the same money; nobody was any better than anyone else. We gelled ... there was a good team spirit; we played a lot of games together. The spectators were behind us to a man. It convinced us we could win promotion.'
The side had, in fact, been magnificent all season, particularly, at Elland Road where they had gone undefeated for 34 matches before Blackburn's 2-1 win on 3 March. They had ended the season with six straight wins and eight wins in the last nine matches. Leeds would normally have crumbled under the pressure but the class of '56 was a resolute one. Roy Wood, Jimmy Dunn, Charles and Eric Kerfoot had only missed one game between them and after breaking into the team young Jack Charlton had played the final 34 matches and shown himself to be of enormous potential as a stout and dependable stopper. It marked the start of a wonderful Elland Road career for the Geordie as he and his teammates celebrated Leeds United's return to Division One after nine years in the wilderness of the Second Division.
Other Football Highlights from 1955/56
Stanley Matthews was the star of the show as England beat Brazil 4-2 at Wembley under floodlights despite missing two penalties. During their summer tour, England beat West Germany 3-1 in Berlin
The French sports newspaper, L'Equipe organised the first European Cup competition and invited what they regarded as the top 18 clubs in Europe to a meeting in Paris. Chelsea and Hibs were among the 16 clubs who attended and endorsed the proposals and FIFA sanctioned the new competition on 8 May 1955. Chelsea were advised by the Football League not to compete and withdrew, but Hibs played and reached the semi-finals. They lost to French club Stade de Rheims, who played Real Madrid of Spain in the final in Paris. Alfredo di Stefano was the star of the show as the Spanish club won 4-3
UEFA started the Inter Cities Fairs Cup, for teams from cities that staged industrial fairs and trade shows. The first tournament took three years to complete
Manchester United won their fourth championship despite struggling early on. They had lost four matches by November but went on to finish 11 points clear of runners up Blackpool. The average age of Matt Busby's side was just 23 and there were only two survivors from United's previous win in 1952
Harold Bell, the Tranmere centre half, finally missed a league match in September after playing a record 401 consecutive matches since the start of the 1946/47 season
Floodlights were first used in the FA Cup on November 28, for a second round replay between Carlisle and Darlington at Newcastle. The first league match to be played under lights was between Portsmouth and Newcastle on 22 February
Manchester City's 3-1 win over Birmingham in the Cup final featured two notable performances. Don Revie ran the show as a deep-lying centre forward, much in the way that Hidegkuti had done for Hungary against England in 1953. Bert Trautmann, City's blond German goalkeeper, played the last 15 minutes of the match with a broken neck after he flung himself at the feet of Birmingham's Peter Murphy