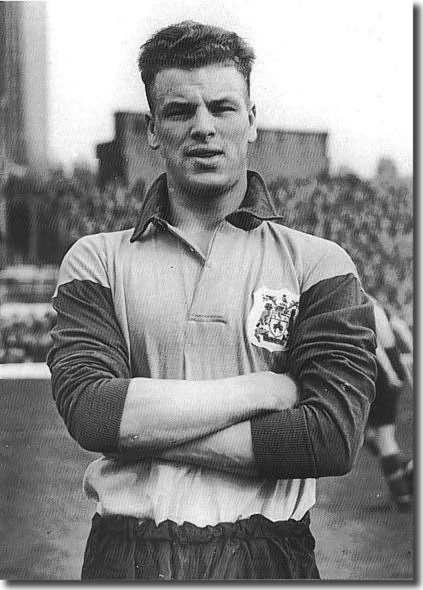 1953/54, Raich Carter's first season as manager of Leeds United, had been notable only for the extraordinary individual achievements of John Charles, who broke the club's scoring record with 42 league goals.
Carter made only minor tweaks to his squad during the summer. His old ally, Eddie Burbanks, retired at the age of 41 and Carter sold Jim McCabe and Arthur Tyrer. His only major signing was 32-year-old forward Harold Brook, whom First Division strugglers Sheffield United freed for £600 after 13 years and 89 league goals. They reasoned that Brook's best years were behind him, but he was to have an Indian Summer at Elland Road.
The arrival of Brook was partly insurance against the potential loss of Charles. After his startling performance the previous season, Charles longed for First Division football. He submitted a written transfer request and there were a host of clubs eager to secure his talents, including Arsenal and Cardiff, but the club directors were not prepared to release their greatest talent. Chairman Sam Bolton was unequivocal: 'Our aim is to get United into the First Division and we cannot do that by selling our star player.'
In the end, swayed by the strength of support from above, Charles backed down and withdrew his request for a move.
With that cloud gone, Carter readied his side for an opening day visit to his old club Hull City. The team that he fielded was basically the one that had played throughout the second half of 1953/54 - John Scott in goal, Jimmy Dunn and Grenville Hair at full-back, Eric Kerfoot, Jack Marsden and Tommy Burden at half-back and Albert Nightingale and John Charles up front. Forwards Jim Toner, a new signing from Dundee, Andy McCall and Brook were newcomers in attack. Brook and Charles got the goals as Leeds kicked off their campaign with an impressive 2-0 win before 32,071 fans. It looked like it was going to be a good year.
However, Brook had picked up an injury and was replaced by Harold Williams for the second match, at Elland Road against Rotherham. Charles got another two goals, but a strong Rotherham side, which had finished the previous season in fifth spot, ran out 4-2 winners. Lowly Lincoln City repeated the dose three days later, departing Leeds with a 3-2 victory. 20-year-old forward Peter Vickers and 19-year-old Jack Charlton had been drafted in as cover for Marsden and McCall. Both of the missing men returned for the next game, the return at Rotherham, but Vickers now covered for Toner. Leeds lost 3-0 and were sinking fast.
Even worse was to follow, however, when Leeds took a trip across the Pennines to Bury on 4 September. They were hammered again, this time 5-3, and the dressing room post mortem was stormy. Carter tore a strip off goalkeeper Scott, blaming him for one of the goals. Tommy Burden snapped at what he thought was unfair treatment and gave the manager a piece of his mind. The goal had followed a free kick situation that went badly wrong and Burden laid the fault at the feet of Carter.
There could be only one victor in that dispute and Burden, who since 1948 had regularly travelled the 250 miles to Leeds from his Somerset home, was soon on his way out of the club. He opted for a move back to his beloved West Country and signed for Bristol City for an initial fee of £1,500, plus further payments of £500 a year for three years. A key figure at Elland Road for six years, he had missed just eight league games in that time and proved himself a marvellous captain. It was as if the heart had been ripped out of the side.
Burden went on to win a Third Division South title that season with Bristol, but Carter used his departure as the catalyst for some much needed changes.
Leeds had conceded 15 goals in the previous four games and the defensive frailty that had plagued them for years was evident. John Charles had picked up where he had left off in May 1954, and had already scored four goals in five games, but Carter was desperate, and withdrew his star into a defensive role. He also took on Burden's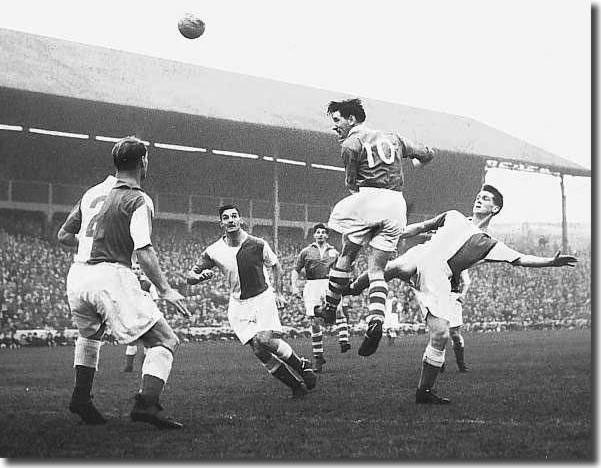 mantle as skipper. Young Keith Ripley came into the side at half back for Burden and 23-year-old Bobby Forrest got a run in the team in Charles' Number 9 shirt.
Things didn't click immediately, but the midweek home game with Stoke City saw a much improved defensive performance as Leeds went down to a single goal in front of just 15,357 fans. After that, the side grew in confidence, losing just one of the next 16 matches and climbed away from the basement. The change was startling, and Carter must have smiled inside as all fears of a potential sacking were dispelled and blue skies returned to Elland Road.
The following Saturday saw an immediate and massive improvement. Leeds turned in their most impressive performance thus far, with a hat trick from Nightingale inspiring a 5-2 win at Elland Road against Swansea. The Nightingale-Forrest-Brook partnership up front had started to gel and, with Charles shoring up the rear, Leeds moved steadily up the table.
United visited Bristol Rovers on 23 October and had a rare off day. They lost 5-1, in the process dropping only their second and third points in 8 matches. They were quickly back on song thereafter with another four straight wins that saw them rise to fifth by 20 November. Blackburn led the table with 26 points, Fulham were second on 24 points and Leeds on 23 points were level with Bristol Rovers and Rotherham. Stoke, Luton and West Ham were all within two points of the top five teams as the tightest promotion battle in years heated up.
It was all very exciting for a club that had long been in the doldrums and following a 2-2 draw at home to Liverpool, Leeds prepared to visit Second Division leaders Blackburn on 4 December in high spirits. The 13-atch unbeaten run was unprecedented, their best spell of form in years, leaving them just a couple of points behind Rovers.
Two smash and grab goals from Nightingale against one of his old clubs saw Leeds come away with both points and move into a three way tie at the top of the table with Rovers and Fulham. The London club were the visitors a week later to Elland Road, when a crowd of 30,714 saw John Charles' sixth goal of the season earn a 1-1 draw. Blackburn had lost again at Bury, but Stoke sneaked through into top spot with a 3-1 win over Plymouth.
Stoke, Fulham and Leeds were now level at the top with 27 points, with Blackburn, Luton and Rotherham on 26 points and just seven points covering the top 15 clubs. Leeds were the form team and things looked distinctly rosy to the Elland Road faithful.
By now young Roy Wood had replaced John Scott in goal and was to prove the model of consistency over the next four years, being a virtual ever present. He was also one of five players in that side under 25, along with Grenville Hair, John Charles, Keith Ripley and Bobby Forrest. In fact, only Nightingale and Brook were over 30 and the future looked as promising as it had ever done at Elland Road.
Wood had made his debut the season before, conceding twenty goals in 10 games, including five goals in one game at Nottingham Forest. However, a year had transformed him and in 1954/55 he kept 12 clean sheets in 28 league appearances, unheard of for a Leeds goalkeeper.
On 18 December Leeds entertained Hull City at Elland Road and romped home, easy 3-0 winners with Brook, Nightingale and Forrest getting the goals. The same day, Stoke City lost 2-0 at Birmingham and Blackburn beat Fulham 3-1, leaving Leeds unexpectedly a point clear at the top of the table. Two points still covered the top six and Luton affirmed their title challenge with an impressive 5-1 victory away to lowly Nottingham Forest, moving level on points with second placed Blackburn as the season reached the crucial Christmas period.
Leeds had a miserable festive period, taking just one point from two games with Middlesbrough. The defeat on Teesside on 27 December was only their second loss in 18 matches. When they then lost 2-0 away to Lincoln City on New Year's Day, however, it looked likely that Leeds would start to fall away. They had now slumped to seventh, but remained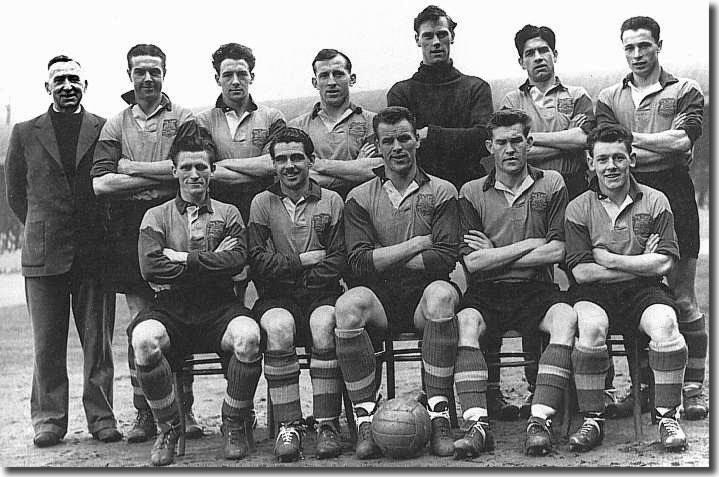 just four points behind leaders Blackburn.
The FA Cup provided its usual depression. Leeds drew 2-2 at home in the third round to lowly Torquay and crashed 4-0 in the replay.
There was another league defeat on 22 January at Swansea, but when Leeds came back to form by beating bottom side Ipswich Town 4-1 at Elland Road on 12 February, they had managed to claw their way up to third place. The teams round them were also struggling. Luton and Blackburn looked solid at the top and were level on 38 points, but now just five points covered the next eight clubs, with Leeds on 35 points leading the chasing pack.
The side's form continued to be rocky though the early part of March, with a run of three defeats in four games, but crucially they stayed in touch as the other teams also toiled. When Leeds saw off strugglers Port Vale and Doncaster as the season moved into April, it was clear they would be in the fight to the very end. The vital Easter period was at hand and on Good Friday, 8 April, Leeds came away from a visit to fierce promotion rivals Luton Town with a precious goalless draw. The next day they beat another leading side, Notts County, 2-0 at Elland Road. A glorious Easter campaign was crowned by the home game with Luton on Easter Monday. Two John Charles penalties, plus goals from Harold Brook and 31-year-old Scottish inside-forward Jock Henderson (who had joined from Rotherham just before the March transfer deadline) saw Leeds massacre major promotion rivals by four clear goals. Two other 21-year-old Scots, George Meek and right-half Archie Gibson, had also bolstered the side. Meek returned from National Service and Gibson had finally forced his way into the side after arriving from Scotland in May 1951.
A visit to Anfield, the ground of bottom half team Liverpool, ended in disappointment as Leeds had to settle for a 2-2 draw. The result left an intriguing position at the top of the table. Long-ime leaders Blackburn still led the table, but now only on goal average. Both Leeds and Blackburn had 49 points from their 40 matches. Luton Town, Stoke City (both 39 matches), Rotherham United and Birmingham City (both 38 matches) all lay in wait with 48 points. The division had never seen an end of season battle like it.
23 April saw the top two teams come face to face in a clash of the giants at Elland Road. Leeds went into the game in good heart - they had won at Blackburn in December and Rovers' recent form had betrayed a bad case of promotion jitters. The game went to form and Leeds simply overran the opposition. The forward line (Harold Williams, Albert Nightingale, Harold Brook, Jock Henderson and George Meek) were a formidable unit and had a hatful of chances in the first half.
The Times: 'After Meek had wasted a great chance initiated by Williams, Leeds took the lead two minutes before the interval. Collusion between Brook and Williams had forced a corner on the right from which Nightingale was at hand to chip back for Brook to head home at close range. Four minutes later, after the resumption Nightingale should have settled the issue from Williams' short back pass from the bye line, but Blackburn's fate was finally sealed in the 61st minute when Meek neatly tricked his man and centred shoulder high for Brook to head a glorious goal in full stride.'
It was a memorable and heart-warming afternoon at Elland Road and left Leeds clear at the top, but they had not shaken off the pack. That same afternoon, Birmingham had only managed a home draw with Notts County, but Luton, Stoke and Rotherham all had comfortable home victories against sides with nothing to play for. Leeds now had 51 points, with only a trip to Fulham to come. Luton and Stoke both had 50 points with two games left apiece. Rotherham also had 50 points, but had three matches left to play, while Birmingham also had three games remaining. Blackburn were level with the Midlanders on 49 points but looked out of contention as they had just one game left. However, all six teams remained in with a shout.
During the week, while Leeds and Blackburn rested their weary limbs, the other four sides all won. Luton, Stoke and Rotherham now had 52 points apiece; Birmingham and Leeds were on 51 points. Blackburn were now out of the running. Rotherham seemed to have the strongest chance as they had two games still to play, but things remained too close to call. Leeds looked to be outsiders and there was a deep sense of foreboding at Elland Road. The victory over Blackburn only a few days before had been critical, but now it seemed that it would be in vain.
The Saturday programme of matches was a tense affair with all five challengers on the road. An own goal plus efforts from Henderson and Nightingale were enough to see Leeds secure an impressive 3-1 win at Fulham, but Luton went one better, running out 3-0 winners at Doncaster. Birmingham snatched a 2-2 draw at Liverpool, but Stoke lost 2-0 at lowly Plymouth, while Rotherham went down to a single goal at Port Vale, who were also struggling.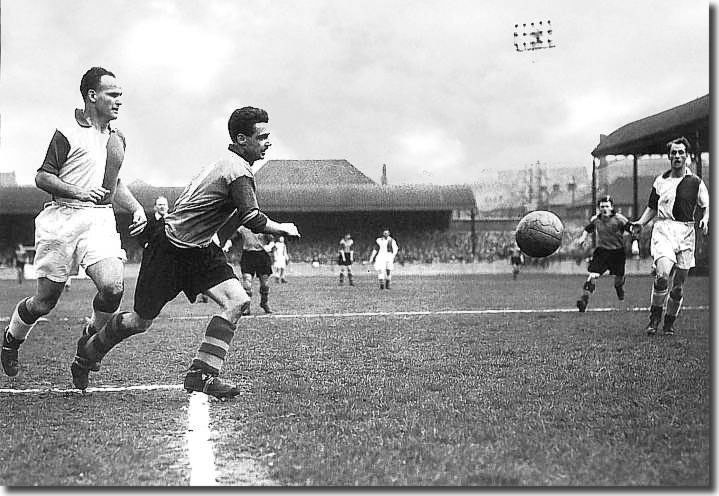 Still nothing was settled. Birmingham and Rotherham both had one game left. Luton Town were almost home and dry on 54 points and their goal average was so superior that it would take a miracle for them to miss out. Leeds had some cause for hope in second place with 53 points, but Birmingham and Rotherham (both on 52 points) could yet finish above them. Stoke City also had 52 points but had completed their fixtures.
Birmingham's midweek 5-1 runaway success at Doncaster secured the championship for the St Andrews club. Luton hung onto second spot, but Rotherham's midweek win enabled them to slip past Leeds into third. Birmingham, Luton and Rotherham all finished on 54 points, with Leeds a point further back. It was heartbreaking and Raich Carter and his squad were left to reflect ruefully on that dire opening run of five defeats in the first six games and what might have been.
Two of those defeats had been at the hands of Rotherham who had just pipped them in the final shake up. Leeds had later beaten Birmingham at Elland Road, taken three points out of four from Luton, won at Stoke and done the double over 6th placed Blackburn Rovers. Their form against the top sides had been excellent. If they could have just overturned Rotherham at Elland Road, Leeds would have been Second Division champions.
Such remarkable progress from the previous year's 10th place was cause for some considerable satisfaction when the immediate disappointment of missing out had faded. Raich Carter's Leeds United were on the march…
Other Football Highlights from 1954/55
Newcastle blazed into the record books when they beat Manchester City 3-1 in the FA Cup final. They became the first team to win the Cup three times in five seasons; their sixth victory meant they equalled the Cup-winning records of Blackburn Rovers and Aston Villa and they were the first club to compete in 10 Cup finals. To cap it all, their first goal, score by Jackie Milburn in 45 seconds, was the fastest at Wembley
Seamus O'Connell scored a hat trick on his debut for Chelsea but was still on the losing side at Stamford Bridge. Manchester United led 5-2 early in the second half but only just managed to hang on to win 6-5. However, Chelsea went on to win their first title, finishing four points clear of reigning champions Wolves. They were scheduled to play Djurgaarden of Sweden in the new European Cup competition next season, but withdrew on the advice of the Football League
For only the second season in history, neither Celtic nor Rangers won a trophy in Scotland. Clyde beat Celtic in the replayed Scottish Cup final, Aberdeen won the championship and Hearts the League Cup
Wolves pioneered games against foreign teams by playing some friendlies, starting in October when First Vienna were lucky to get a draw at Molineux. A fortnight later Maccabi Tel Aviv were beaten 10-0. Spartak Moscow, who had got five against Arsenal in Moscow and won the Highbury return 2-1, were next and went down 4-0 in November. A month later Wolves took on Hungarian side Honved, who fielded Ferenc Puskas and several other member of the powerful Hungary side, and came back from 2-0 down to win 3-2 after a storming second half display
Scotland saw themselves as the best side in Britain when they were only beaten 4-2 by Hungary, but had a rude awakening when an England side driven by inside forward Don Revie and 40-year-old Stanley Matthews beat them 7-2, with Dennis Wilshaw getting four and Nat Lofthouse 2. Revie was the other scorer
Wales played two pairs of brothers, John and Mel Charles, and Len and Ivor Allchurch when they beat Northern Ireland 3-2. John Charles got all three Welsh goals