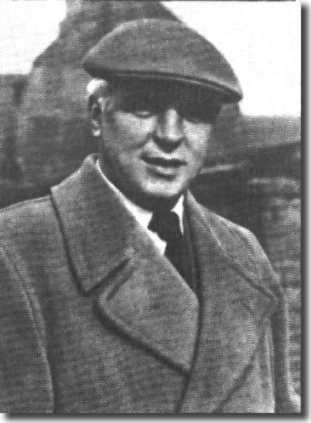 After five trying years at the helm of Leeds United, manager Major Frank Buckley quit at the end of the 1952/53 season, having lost patience with the continual financial constraints at Elland Road. He had achieved much while he was in charge and had revolutionised the club from top to bottom, although he never quite managed the breakthrough of promotion back to Division One. Immediately following his departure, Buckley took charge at Third Division club Walsall, sending out the clear message that he thought Leeds were going nowhere. He had led a number of assaults on promotion, but in the season just ended they had finished a hugely disappointing 10th.
When casting around for a successor, chairman Sam Bolton and the Leeds board sought another known and proven quantity. They eventually settled on Raich Carter, who had a glittering playing career in the Thirties and Forties as England's most gifted inside-forward, starring for Sunderland and Derby County.
His silky soccer skills had delighted millions for two decades and he showed his flair in an off the field role when succeeding Buckley at Third Division Hull City in 1948. He doubled up as player-manager and inspired a Division Three championship win the following year before departing Boothferry Park in 1952 after a number of disagreements with the board.
After a brief and successful spell in Ireland with Cork Athletic, he answered the call from the Elland Road Board without hesitation and arrived with the stated intention of regaining the First Division place Leeds had lost in 1947. Buckley had done some first class groundwork, establishing effective youth development and scouting programmes which had unearthed one of the stars of the 1950's in Welsh giant John Charles. After blooding him as a centre half, Buckley switched Charles to centre forward and was duly rewarded when the Welshman rattled home a shedful of goals.
In his first season at the club, Raich Carter generally kept faith with the Buckley eleven that had performed so well in the second half of 1952/53, with one notable exception. Winger George Meek was away for a year on National Service and in his place the new manager enlisted an old ally, 40-year-old Eddie Burbanks. The veteran had played alongside Carter in Sunderland's FA Cup triumph in 1937 and for him in Hull's promotion-winning team in 1949. The move to Leeds wasn't a success and Burbanks retired a year later, after captaining the team in the last game of the season. Burbanks played in the opening 12 games but then 23-year-old Arthur Tyrer, who had signed three years before from non-league Mossley, took over from him on the left wing.
The rest of the team that kicked off Carter's spell in charge was tried and tested. 25-year-old keeper John Scott had made the spot his own after arriving from Workington in 1950; reliable full-backs Jimmy Dunn and Grenville Hair were quick, tactically aware and both unlucky not to win full international honours during lengthy Elland Road careers; a sound half-back line up of Eric Kerfoot, Jim McCabe and Buckley's skipper, Tommy Burden, provided the backbone of the team. Between them, Scott, Dunn, Hair, Kerfoot and Burden had only missed five games throughout the whole of the previous campaign.
Welsh winger Harold Williams and inside forward Ray Iggleden were skilled providers for the twin menace up front of Charles and 29-year-old Albert Nightingale, a fiery forward who had done the rounds with a number of Yorkshire clubs and was a constant thorn in the side of opposing defenders. It was a strong and potent side and one that had been unlucky on several occasions to miss out on promotion.
The team kicked off the new season in determined style with two memorable wins at Elland Road - 6-0 against Notts County (John Charles scoring four times) and 4-2 over Rotherham with another Charles hat trick. Leeds were then unlucky to lose by the odd goal in seven in the next match, away to Swansea, but faced a rude awakening on 29 August when they crashed 5-0 at Leicester.
Though they won their next game, the return at Elland Road against Swansea 3-2, they then went through a nightmare spell, winning just one of the next nine games. By the time they drew 2-2 at Blackburn on the last day of October, they were well off the promotion pace, some eight points behind leaders Leicester City and way back in 12th position.
They were proving a deadly proposition in front of goal, however, with Charles hitting 19 goals in 15 matches and Nightingale adding another 6. Winger George Willis played three matches as replacement for Burbanks, but quickly gave way to Tyrer on the left, while Bobby Forrest covered for Charles and scored a hat trick in the 3-3 home draw with Bristol Rovers at the beginning of October. Other team changes saw Jack Marsden take over at Number 5 from Jim McCabe, while 23-year-old Roy Wood made his debut in goal and had a run of 10 matches when Scott was out injured. Wood went on to have a long and distinguished career at Elland Road.
Manager Carter's touch was proving less assured than in the Third Division, although a brief improvement in form during November saw his new club climb the table. A Nightingale hat trick saw off second-placed Doncaster Rovers by 3-1 at Elland Road on 7 November, another Charles hat trick was the highlight of an amazing 4-4 draw at bottom club Bury and goals from Forrest and Nightingale earned a 2-1 home win over struggling Oldham. However, a 2-1 reverse at third-laced Everton on 28 November sparked off another spell of mediocre form, with just one win in six games in the run up to the New Year.
That isolated success featured yet another Charles hat trick (his fourth of the season), as Leeds won 4-2 away to a Rotherham side in the running for promotion, but two defeats by Nottingham Forest on Christmas Day (5-2 away) and Boxing Day (2-0 at Elland Road) plunged Leeds back down to 11th place, now 10 points behind Leicester, who headed the table. It was with much trepidation, then, that United prepared for the leaders' visit to Elland Road on 2 January.
As it turned out, Leeds had a field day, hammering the long time table toppers by 7-1 with Ray Iggleden hitting a hat trick against his former club and Williams, Charles, Nightingale and Tyrer getting a goal apiece. How could a team that could play so brilliantly struggle so badly and become bogged down in a mid table morass? But inconsistency was the word, and, following the customary third round FA Cup exit (1-0 away to First Division Tottenham after a 3-3 draw in the first match at Elland Road), Leeds suffered three straight defeats - 4-0 at Stoke City, 2-1 at home to Fulham and 5-2 at West Ham. They had now sunk to 15th, just five points clear of the relegation positions.
Carter was suffering the same sort of headaches that all his Elland Road predecessors had experienced. He was exasperated by the fluctuating form, particularly when Charles' fifth and final hat trick of the season inspired a 5-2 triumph over Lincoln on 13 February to once more bemuse the critics. Hopes of a promotion spot had long since faded, but there was still much to do to guard against an unprecedented fall into the Third Division.
The self-assured Carter had developed an unswerving self belief during his playing days, when he had won everything the English game had to offer by the time he was 24. His unabashed self promotion bred unrest among the players and the new broom was ruffling a few feathers. He was convinced of his abilities and scathing and dismissive in his put downs of the players, whom he deemed lesser talents. Team spirit suffered as he lavished all his attention on the star player, John Charles. The modest young Welshman was embarrassed by such patronage and his humility was in stark contrast to the high self esteem of The Silver Fox, who refused to accept that any of the side's failings were down to him, but that all their successes stemmed directly from his leadership. It was not good for team spirit.
However, despite all the mutterings, the side had not suddenly become a bad one overnight and the Lincoln win marked the start of a strong closing burst. They went six games without defeat and, in fact, only lost two matches out of the last 13, easily securing a mid-table finish. The focus had switched, however, from the form of the team towards the individual triumphs of Charles. His three goals against Lincoln in February moved him onto 32 in just 28 league games.
The Welshman had been consistently deadly in front of goal throughout the season. The most games he went without a goal at any one time was two, and he was always likely to pop up at the vital moment. After his astonishing opening burst of 4 on the opening day against Notts County and a hat trick in the next game against Rotherham, he simply kept on plugging away and the goals continued to flow. The statistics from then on made amazing reading:
7 August Swansea away - 1 goal
29 August Leicester away - 0
2 September Swansea home - 2
5 September Stoke home - 1
7 September Plymouth away - 1
12 September Fulham away - 2
16 September Plymouth home - 0
19 September West Ham home - 1
26 September Lincoln away - 0
3 October Birmingham away - 1
17 October Brentford away - 1
24 October Derby home - 2
31 October Blackburn away - 0
7 November Doncaster home - 0
14 November Bury away - 3
28 November Everton away - 1
5 December Hull home - 0
12 December Notts County away - 0
19 December Rotherham away - 3
25, December Forest away - 1
26 December Forest home - 0
2 January Leicester home - 1
9 January Spurs home in the Cup - 1
13 January Spurs away in the Cup - 0
16 January Stoke away - 0
23 January Fulham home - 1
6 February West Ham away - 0
13 February Lincoln home - 3
The club's record scorer in any one season was still the phenomenal Tom Jennings, who had bulldozed his way to 35 back in 1926/27. The marvellous form in front of goal that Charles had shown all year had put him within touching distance of Jennings' long lasting record. There were 12 games still to play and the odds were in the Welshman's favour. He drew a blank in the next two games, both 1-1 draws, but then notched another two goals in the 4-0 victory at Elland Road against struggling Brentford on 6 March.
The following week saw a 2-0 victory away to Derby County, but Charles missed the game and had to watch his replacement Bobby Forrest notch both goals. However, Charles was back a week later for the next match, a home game against Blackburn Rovers. He got the winner from the penalty spot in a 3-2 victory to draw level on 35 goals with Jennings' record, and there were still seven games to go.
The suspense did not last long, and Charles hit his 36th, record-breaking goal in the very next match, when he scored United's second in a 4-2 defeat at Oldham.
It was a remarkable achievement, for it was just his 33rd game. What was even more startling was that Charles had started the season with only 38 goals in 136 games since his debut in April 1949. The improvement had been startling and since Charles had moved permanently to the Number 9 shirt on 11 October 1952, he had hit a startling 62 goals in 61 games. He wasn't finished yet, however, and hit another six goals in his last four matches of the season to push the new record up to an incredible 42 goals from just 39 matches.
He had rapidly become one of the hottest properties in the game and firmly imprinted his name on the nation's consciousness. After becoming the youngest Welsh full international debutant back in 1950, he was now an established international with 9 caps to his name. His Welsh record in 1953/54 was three goals in 4 games, so with his Cup goal, his remarkable return was 46 goals from 45 matches. It was difficult to remember that this colossus of the British game was as yet still just 22 years of age.
For all their centre-forward's startling efforts, Leeds United had a lacklustre season. Albert Nightingale had contributed a further 17 goals, but the rest of the squad could only scrape together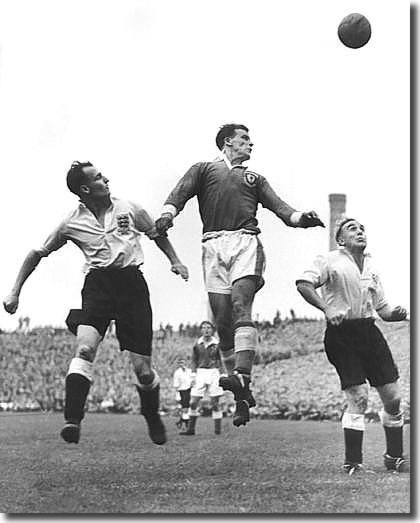 30 between them. The club finished in 10th place with 43 points, exactly the same as in 1953, a full 13 points behind champions Leicester and runners up Everton. It was unfortunate, because on their day United could mix it with any side in the division and they had beaten all of the top three teams at home, notching up 13 goals against just four conceded. In fact, of the top seven teams, only Nottingham Forest came away from Elland Road with a win and only 13 points were conceded on home turf all year.
Had they been able to find anything like decent form on their travels, Leeds would have been well up with the promotion candidates, but for the time being Raich Carter and his men basked in the reflected glory of Charles' incredible season and prepared for better things in the year to come.
Other Football Highlights from 1953/54
All the hard work that Stan Cullis had put in at Wolverhampton was repaid when his team won the championship for the first time. Wolves won the title by four points from West Bromwich Albion, scoring 96 goals in the process. Cullis had suffered two great disappointments as a Wolves player - losing the 1939 FA Cup final and missing out on the championship in the 1946/47 season in his last match before he retired
West Bromwich Albion beat Preston 3-2 in the FA Cup final
Hungary, the 1952 Olympic champions, came to Wembley in November 1953 to take on England and went away leaving the home side shell-shocked after a stupendous footballing lesson. England had never lost at home to Continental opposition, but that record was going from 60 seconds when Hidegkuti opened the scoring from 20 yards. The Hungarian was notionally playing at centre-forward, but took a deeper role and the Magyars were simply too swift thinking and flexible for an England team that looked clumsy and slow by comparison. Ferenc Puskas pulled the strings for most of the game, hitting two to put alongside Hidegkuti's hat trick as the Hungarians ran out 6-3 winners. England's long held delusions of supremacy were swept away for ever
Six months after the 6-3 mauling that England took at the hands of Hungary at Wembley, they set off for Budapest intent on getting revenge, but came away with their tails between their legs. They made seven changes in the side, but again had no answer to some breathtaking football as Hungary ran out emphatic 7-1 winners
Alf Ramsey scored a penalty in the last minute to spare England's blushes as they came back from 3-1 down to salvage a 4-4 draw with the Rest of Europe in a match at Wembley as part of the FA's 90th anniversary celebrations
Sam Bartram set a league record when he made his 500th appearance for Charlton on 6 March
Celtic, who had not won the championship since 1938 and had won the Scottish Cup only once since that, ended their barren period by walking off with the Double. Even more remarkable was that the architect of their triumph was a veteran has been, Jock Stein. He was plucked from Welsh League obscurity with Llanelli and injuries brought him to the fore in the team
UEFA was formed at a meeting during the World Cup finals in Switzerland
England reached the quarter-finals of the World Cup before going out 4-2 to reigning champions Uruguay
Hungary were clear favourites to become the new champions and breezed through to the final. They had already beaten their opponents 8-3 in a group came so were understandably confident and things looked good as they took a 2-0 lead within eight minutes. However, Puskas was carrying an injury and was a liability as the Germans came storming back to take the trophy 3-2