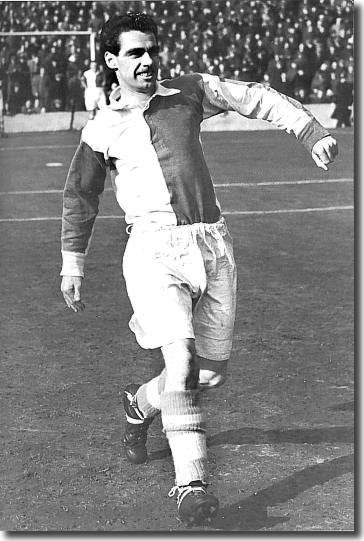 In May 1952, Major Frank Buckley celebrated his fourth year as manager of Leeds United. When he joined them in 1948, they had just finished 18th in the Second Division. After one season spent scurrying around in the basement of Division Two, he transformed them into a notable force in the division on the back of a sound youth and scouting policy, strong team work and the redoubtable defensive excellence of the young Welsh giant, John Charles.
But try as they might, Leeds United just could not make the real breakthrough. For three seasons in a row they had finished within five points off promotion and 1951/52 had seen the strongest challenge yet, when only a loss of form over the last five weeks had cost them dear. Buckley was continually peeved by the lack of financial resources available to him and was approaching the end of his patience.
The Major's shortage of funds could have been solved at a stroke, at least temporarily, if he had chosen to capitalise on the talent of Charles.
Captain Tommy Burden had been left in no doubt that it was on the Major's agenda for some time in the future: 'I remember when a lot of clubs were after him saying to Buckley, "You're not going to sell him, are you?" He said, "You watch me ... I like money in the bank to cover my salary ... he'll go if I get the right money for him".' But, as yet, Charles was still happy at Elland Road and the Board knew he was more valuable to them than money. The Major, however, had built his entire career on trading players, and it is surprising that he did not choose to realise the profit he could have made on his greatest asset.
Buckley was now 68 and did not have too many good years left in him. He was ready for one last big push for the top and made a number of changes during the summer of 1952.
At the end of the previous season, goalkeeper John Scott and full-back Grenville Hair had taken over the roles previously held by Harry Searson and Jimmy Milburn. Before Christmas both Searson and Milburn were to depart Elland Road, along with forwards George Miller, Billy Hudson, Ron Barritt, Ernie Stevenson, Peter Harrison and Frank Fidler, plus half-back Don Mills. Buckley brought in goalkeeper Roy Wood and forwards Ken Hastie, Andy McCall and Glaswegian George Meek. In October he forked out £10,000 for Blackburn forward Albert Nightingale and snapped up Bobby Forrest from junior football.
Meek had fewer tricks in his repertoire than the skilful Harold Williams, but made up for it with his hard working approach. He seemed to have endless stamina and was a key provider for the forwards, hitting speedy and precise crosses from either wing. Nightingale was a renowned inside-forward, born in Rotherham in November 1923. Leeds had tried to sign him twice before, in March 1948 when he left Sheffield United but chose to join Huddersfield, and again in October 1951, when Blackburn had paid £12,000 for him. He played with the fire, commitment and wily gamesmanship that Buckley's Leeds side could often be accused of lacking. Tommy Burden: 'You were pleased to have him on your side - he was a bugger when he was tackling.' John Charles: 'He'd get tackled on the halfway line and fall down in the area.' Jack Charlton: 'Albert was notorious in the six-yard area. As the ball was being played into the box, he would tap his opponent on the ankle, the fellow would howl and grab his foot - and our Albert would be free to knock the ball into the net. Nine times out of ten, the referee didn't spot it because he was following the ball, but the other players knew exactly what had happened, and I saw them chasing him around the pitch or complaining to the ref.'
Buckley opened his campaign with Scott in goal, Jimmy Dunn and Hair at full-back and a half-back line of Eric Kerfoot, Charles and skipper Burden. His forward line read Williams, Ray Iggleden, Mills, Andy McCall and Arthur Tyrer, but it was a lightweight combination with only Williams and Iggleden offering any real punch. They went down 1-0 at Huddersfield on the first day of the season and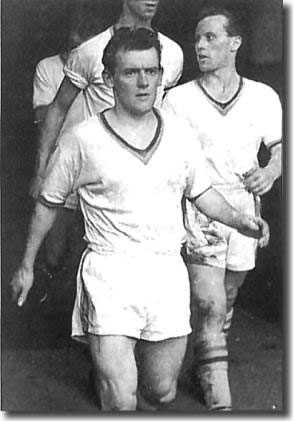 never looked like scoring against a team that had been relegated the previous year after conceding 82 goals. The Yorkshire derby attracted a crowd of more than 35,000 to Leeds Road.
Frank Fidler and Jim Langley, notionally a left-back, came into the side in the next match for Mills and Tyrer. Langley got a goal, as did Iggleden, in a 2-2 draw away to Bury who had finished the previous season in 17th spot. The same eleven were named for the visit of Third Division (South) champions Plymouth Argyle on 30 August, but had to thank an own goal for a scrappy 1-1 draw. Leeds had just two points from three matches, all of which they could have expected to win. They managed to overturn Bury 2-0 when they visited Elland Road on September 3, with Iggleden and Langley the scorers again, but then lost 3-1 at Rotherham and 1-0 at home to Birmingham. The Midlanders were a strong team, only missing out on promotion the previous season on goal average and widely tipped to make it this time. However, after six games Leeds had just 4 points, relegation form in anybody's book.
Buckley continued to mix and match his forwards for the next few games. He thought he had struck gold when 17 year old Barry Smith and South African Ken Hastie both had scoring debuts in the autumn, but it was clear that he was not happy with his attack. Shirt numbers 1 to 6 were filled by the same players for the first 12 matches and the defence had been strong and quite reliable, but the team did not have enough punch up front. After 12 games, Leeds' points total had struggled to a disappointing 9, with just two victories, and by 19 October, United were down in 16th place, just three points clear of the relegation spots.
For Buckley, the die was now cast. He brought Irishman Jim McCabe back for his first start of the season at centre-half and pushed Charles up front, alongside debutants Meek and Nightingale and the old firm of Williams and Iggleden. The first game, away to long time leaders Sheffield United, who were on their way to the Second Division title, resulted in a 2-1 defeat, with Nightingale getting Leeds' goal. Buckley persevered, however, and Charles and Nightingale partnered each other in the next 17 games. Meek missed just two more games all season.
The new forward line seemed to hit it off immediately and after the Sheffield defeat they went on a quite remarkable run. Nightingale got two goals and Charles another in a 4-1 hammering of Barnsley and then the Welshman went into overdrive. He hit Leeds' next 12 goals, in a run of seven unbeaten matches, which brought him two hat tricks. In fact, from his first match at No 9 on October 11, Charles scored 27 goals in 29 appearances, a quite startling return. Buckley had tried Charles up front before, but he had never previously shown sharpness like this and he was a revelation. He was an outstanding centre-half, extremely difficult to best either in the air or on the ground, but seemed to be twice the player in the opponents' half.
Buckley's only regret was that he did not have two of the Welshman because, reliable as McCabe was, he was no John Charles and the defence was nowhere near as tight without him. Beggars cannot be choosers, however, and the Major stuck boldly by his new line up, even when they went through a tricky spell in March and April. Leeds had worked their way up through the division into quite a handy seventh position by the end of January, ready to challenge for promotion, but succeeded in winning just five of their last 16 games in the league. As a result they spiralled back down the table, finishing a hugely disappointing 10th, with a single away win to their credit.
Jack Charlton, a few days short of his 18th birthday, made his debut in the last game of the season, a 1-1 draw at Elland Road against Doncaster. He had
the distinct honour of playing in Major Buckley's last game in charge at the club, because immediately afterwards he tendered his resignation after five years at the helm. The continual scrimping and saving and scrabbling for cash had had their impact on one of the most charismatic names in English football. He almost immediately took over at Walsall, who had just finished bottom of the Third Division (South).
Charlton recalls the time well: 'My first season as a pro at Leeds was pretty uneventful. I did my physical work, and played in five a side games involving some of the senior players, but otherwise never came in contact with them. They were in one dressing room, the young pros in another - and the demarcation lines were such that you never crossed over.
'By this stage, I was regarded as a regular on the second team, though it has to be said that on occasions I played with the thirds. Still, I was happy enough with my progress as we approached the last weekend of the season.
'I've said that we never set foot in the senior dressing room. Well, that's not quite true. You see, the manager never read out his team to the players. He'd just post them on the back of the door in the senior dressing room. All three teams played on a Saturday, so when you finished training on the Friday, you'd peep through the door and see where you were playing. And on Friday, 24 April 1953, I got the biggest surprise of my life. No sign of my name on the thirds or on the reserve team - but bloody hell, there it was, "J Charlton" in the first-team, to play Doncaster Rovers the following day! And here's all these senior players looking at me, not saying a word.
'Some of them had possibly never heard my name to that point. And when I looked again at the sheet on the door, I discovered that John Charles had been moved up to centre-forward, and I was taking his place at centre-half. Talk about going in at the deep end!' (Big Jack's memory is not 100% accurate. Charles had been playing up front for some time, in the No 8 shirt alongside centre-forward Bobby Forrest, with Jim McCabe at No 5, but both McCabe and Forrest had been dropped for the game.)
'Incredibly, the manager never came near me that day, never told me why he had put me in his team, nothing. And when I climbed aboard the first-team bus taking us to Doncaster the next day, I was left completely alone, without as much as a word from my new team mates. I mean, nobody told me what I was expected to do, no tactical talk, nothing. I was left to my own devices until Eric Kerfoot, perhaps sensing my predicament, came across and said, "Son, they've picked you because they think you're good enough. Now, go and prove them right."
'Fortified by those few words, I stripped and made ready for my big test. Doncaster didn't have a bad team in those days. I discovered that it was my responsibility to look after Eddie McMorran, a big, bustling Irishman who normally hit first and asked questions afterwards. To be fair, however, he didn't abuse the raw kid playing against him and the report in the paper the next day said that Jack Charlton hadn't let Leeds down in a 1-1 draw. And that was the first occasion that I had the doubtful pleasure of reading about myself in the papers. I had made it into the first team but nobody needed to remind me that I still had a lot of learning to do in the business.'
Other Football Highlights from 1952/53
When Blackpool reached the Cup final again everybody in the country, apart from the residents of Bolton, were hoping that they would win. Stanley Matthews, at 38, was playing at Wembley for the third time and everybody believed that this was his last chance to collect a winner's medal. It didn't look likely when Bolton led 3-1 after an hour. But Matthews then took over and supplied the ammunition from the right wing to allow Blackpool to turn it around to end up 4-3 winners with Stan Mortenson hitting a hat trick in what will always be known as the Matthews Final
Derek Dooley's uncompromising play at centre-forward had worked wonders for Sheffield Wednesday as they won promotion but it was less well received in the First Division. Nevertheless Dooley had still scored 16 goals in 29 games before his career was ended by a terrible accident. He broke his right leg in a match at Preston in February when he challenged the keeper for a 50-50 ball. At first it seemed to be a straightforward injury but gangrene set in when a cut became infected and Dooley had to have his leg amputated and his career was over at the age of 23
Arsenal's final league match on the Friday before the Cup final was every bit as dramatic as the events that unfolded at Wembley the next day. For the second year in a row the First Division was a close run thing which, in the final months, had four contestants - Arsenal, Burnley, Preston and Wolves. First Burnley, then Wolves faded, reducing the field to a two horse race. When Preston beat Arsenal the Saturday before and condemned Derby to relegation on Wednesday they led the table by two points with all their matches completed. Arsenal had to beat Burnley in their last match and then goal average would come into play. The Gunners came back from a goal down to take a 3-1 lead, but let Burnley in for a late goal which gave them the jitters, but they held on to take the title on goal average. Skipper Joe Mercer finally announced his retirement after the triumph, six years after he first decided to go