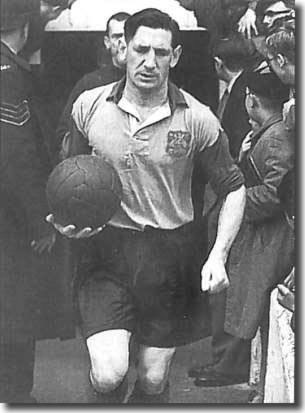 After narrowly avoiding relegation to the Third Division in April 1948, Leeds United appointed Major Frank Buckley as their new manager. The Major was one of football's legendary names. In the 1930's he transformed Wolves from Second Division mediocrity to elite members of the First, where they were championship runners-up in 1938 and 1939. A brilliant assessor of potentially great young players, Buckley also had a deep knowledge of tactical and psychological matters, combined with an intuitive feel for the game. Furthermore, he excelled in the transfer market, netting Wolves more than £100,000 in assorted deals. He was committed to turning the club around both on the field and off and raised the admission prices at Elland Road. He also started clearing out the dead wood and building a new team.
Half-back Tommy Burden, recommended by former manager Willis Edwards, was signed from Chester in July 1948 and eventually appointed captain, although it was the middle of September before he made his Leeds debut. Burden, who had played as a forward at Chester, was a reliable, intelligent, even tempered player - though quite capable of standing up to Buckley - and an excellent passer of the ball. He became a popular captain. 'He had a nice way of encouraging people not by bollocking them, but through leading by example. He was a wonderful lad,' full-back Jimmy Dunn recalls.
Buckley had known Burden since he was a teenager from his days at Wolves and he was only one of a number of new men whom Buckley brought to Elland Road that summer. He signed centre-halves Jack Marsden and Roly Depear, half-back David McAdam and winger Peter Harrison before the end of August. He continued making changes throughout the season.
There were also a number of departures with Ken Willingham retiring and Buckley raised £20,000 through the sale of internationals Aubrey Powell to Everton and Con Martin to Aston Villa.
Leeds started off the new season badly, with a disappointing 6-2 defeat at Leicester, but picked up a point in their next match, a goalless draw at home to Bradford City. They then won three games in a row. Ken Chisholm, who had arrived from Partick in January 1948, was in good form, hitting six goals in those first five matches, and he got good support from John Short, who had managed four. The two of them formed a spearhead alongside centre-forward Albert Wakefield, with Irish winger David Cochrane supplying much of the ammunition. Three other Irishmen, 34 year old Jim Twomey in goal, versatile Con Martin (before his departure) and Jim McCabe, who had cost £10,000 from Middlesbrough in March 1948, were in the side. 34 year old centre-half Tom Holley was a massive presence in front of the consistent and reliable full-back partnership, Jimmy Dunn and Jim Milburn. That side was more or less the one that Buckley had inherited, but despite the reasonable start he was soon making changes.
His new signings, Burden and McAdam came into the side in September and Martin, Short and Chisholm were all off before the turn of the year. 20-year-old reserve Len Browning was drafted in as centre-forward and Ray Iggleden arrived in a swap deal that took Chisholm to Leicester. Full-back Grenville Hair (who went on to make over 400 League appearances for Leeds) arrived in November, although it was more than two years before he made his debut. January was a very busy month with goalkeeper Harry Searson and forwards Peter Vickers, Eddie McMorran, Ralph Harrison and Jack Moss all arriving at the club.
While Buckley was working on improving his personnel for the future during the autumn and winter, his current side was struggling. By New Year's Day they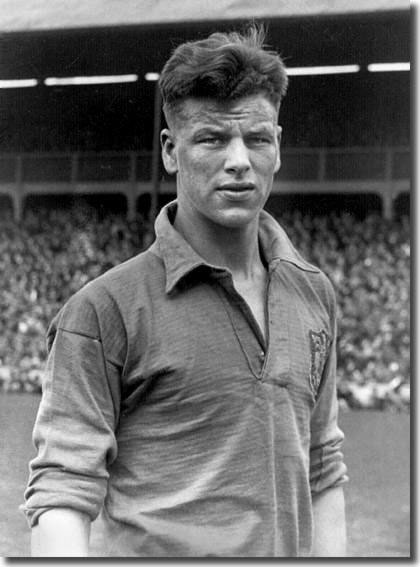 had only six wins and six away points to their credit. They tumbled to an embarrassing 3-1 home defeat against struggling Third Division side Newport County in the FA Cup third round. Leeds' League position was shaky and they struggled through the rest of the season, winning just about enough points to keep their heads above water. They finished 15th, an improvement on the previous season, but were just two points clear of relegation. Wins over Nottingham Forest and Plymouth during April were vital in the final analysis as both clubs both finished below, but within two points of, Leeds. Forest went down with bottom side Lincoln. Even a failure to win a single one of the four games following the Plymouth win was not too damaging and Leeds had a safe but uncomfortable end to Buckley's first year in charge.
He had used 30 players in all and blooded 17-year-ld John Charles at centre-half in the last three matches of the campaign. Buckley had always been a keen advocate of youth at football clubs and the massive young Welshman clearly had both a lot of potential and exactly the right attitude. He had natural ability, but never took it for granted and showed immense dedication in honing his abilities to make them even greater.
Charles had been spotted as a 16-year-old at Swansea by one of Buckley's scouts, Jack Pickard, and taken to Elland Road for trials around Christmas as he turned 17. He was to prove one of the biggest British talents of the next decade.
It was notable that the only player over 30 in Buckley's team for the last game of the season was Jim McCabe. He was also one of just two survivors of the side from the opening day. Clearly the Buckley revolution was well under way. The Elland Road crowd evidently thought so, because the average attendance set a record for the second successive season, rising to more than 29,000.
Given the amount of interest that Buckley was stirring in West Yorkshire and even nationally, the long suffering supporters of Leeds United were justifiably convinced that the new broom would be good for the club. They had had enough of under achievers and managers who were not equipped for the big time. There was a lot of confidence in Buckley and his ability to get the club to the top, as he had done a decade earlier at Wolverhampton Wanderers, but what was even more certain was that while he was around there would never be a dull moment at the club. Elland Road was in need of a good shaking. It had fallen badly into disrepair since the time of Fairclough and Ray and Buckley's innovative, visionary approach was exactly what the board were seeking.
Other Football Highlights from 1948/49
Portsmouth had their best ever start to a season and were on course for the Double but they were caught napping by Leicester in the FA Cup semi-inal and the Second Division team, inspired by Don Revie, won 3-1. The defeat helped Pompey focus their attention on the league and they secured their first title when they won 5-0 at fourth placed Newcastle United in April
Wolves beat Leicester 3-1 in the Cup final. The Filbert Street club were forced to play without their star inside forward Revie, who had sustained a serious nose injury
Alec Stock, player-manager of Southern League Yeovil Town, inspired them to a remarkable FA Cup run. They beat Second Division Bury in the third round and First Division giants Sunderland in the fourth before crashing out 8-0 against Manchester United in the last sixteen
Rangers won their first Scottish treble North of the Border, inspired by their massive centre-half, George Young, who went on to win more than 50 caps for Scotland, a record
Raich Carter continued the renaissance he had started at Hull, proving himself the most skilled player in the Third Division North, even at 35. City won nine straight matches at the start of the season and won promotion to the Second Division. They also reached the Cup quarter-finals before losing 1-0 to Manchester United
Derby broke the British transfer record again when they bought Johnny Morris from Manchester United for £24,500 in March
The cream of Italian football died in an air crash on 4 May, when a plane carrying the Torino team back from a game in Portugal hit the church of Superga in the hills over Turin. The tragedy claimed the lives of 18 players, including the bulk of the Italian national side. Among the stars who died was Italy's captain, Valentino Mazzola