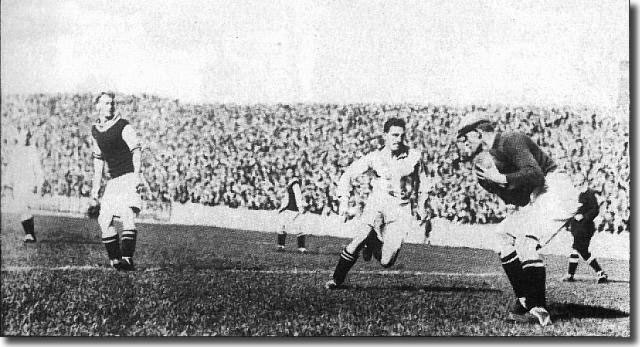 After Leeds United's close brush with relegation in 1925-26, manager Arthur Fairclough wasn't too active in the summer on the buying front. In fact, there was just one arrival - full back David Robinson from Solway Star, and he never made any impact at Elland Road. There were a number of fringe players who left the club, though, including Cuthbert Robson, John Martin, Len Smith, Tom Duxbury, David Russell and Wilf Chadwick, but the most notable departure was Jim Baker, who was off to Nelson Town after 200 League games for United in the League.
The commanding presence of Baker, a stalwart who had made 208 appearances in League and Cup, was hard to replace and, despite their attacking flair, defensive weakness brought about Leeds' downfall. The offside law had been changed the previous season, reducing the number of men who had to be between attackers and the goal line from three to two. Defences were still trying to get to grips with the new law and find the best way to deal with it, and this year saw a hatful of goals everywhere.
Like most sides, Leeds benefitted in attack, but struggled at the back. Tom Jennings, in particular, had a blistering year, easily bettering the scoring records of both City and United. Billy McLeod had hit 27 for City in both 1912-13 and 1913-14, while Jennings himself had set the United scoring record the previous year with 26. In 1926-27, Jennings hit a remarkable 35 goals in the League, with another two in the FA Cup.
In a real purple patch between September 25 and November 20, he netted 19 goals in just 9 matches, with the sequence running thus: September 25, 3 in a 4-1 win over the previous season's runners up Arsenal; October 2, 4 in a 4-2 win at Liverpool; October 9, 4 in a 4-1 win at home to Blackburn; October 16, both goals in a 3-2 defeat at Leicester; October 23, the only goal in a 3-1 home defeat against Everton; October 30, the only goal in a 4-1 defeat away to Huddersfield; November 6, 1 in a 2-2 home draw with Sunderland; November 13, missed out in 4-2 win against West Brom; November 20, hat-trick as Leeds beat Bury 4-1. It was a truly remarkable sequence, and it was during Leeds' best run of the year.
The Yorkshire Post reported the demolition of Blackburn thus: "A personal triumph for Jennings, but United had much the stronger half back line, and Townsley was masterful in his straight and low passing up the field. Leeds showed good control in a high wind." Townsley,
signed from Falkirk in December 1925, had begun his Leeds career by replacing Baker before converting to full back. But although the half back line had been strong against Blackburn, too often it came off second best. For all Jennings' marksmanship, the defence was shipping goals faster than he could score them.
Leeds managed to beat Sheffield Wednesday 4-1 on December 18 and overturn Sunderland 3-2 in the FA Cup Third Round in January, but they were the only wins between November 20 and April 2. By then, Leeds had lost more than half of their 34 League games, with the last one a crushing 6-2 reversal at Sunderland. They had spent £5,600 in buying Hearts inside forward John White in February, but even though he had improved matters, Leeds were struggling badly. White was an excellent ball player with a sharp turn of speed, who linked up well with Jennings, Edwards and outside right Bobby Turnbull, a tricky darting winger Fairclough had signed from Bradford Park Avenue in May 1925.
They won three of their last eight League matches, with the most notable being a 6-3 home win over West Ham on April 30, their penultimate performance, but it was all in vain. They were already relegated and a 1-0 defeat in the last game against Sheffield Wednesday was irrelevant. They had established a new club scoring record with 69 goals, but they had also conceded a record 88, far worse than United or City had ever suffered before. They had managed just 30 points, with only 5 of them coming in away games, again the worst by either club.
It was a remarkable but dismal season, and there was little surprise when manager Fairclough resigned at the end of the season.
Other Football Highlights from 1926-27
Newcastle's raid into the transfer market in December 1925 paid excellent dividends when Hughie Gallacher, their £5,500 purchase from Airdrie, inspired them to their fourth League Championship. Gallacher had worked miracles at the little Lanarkshire club: in three seasons they had won the Scottish Cup and been League runners up each year. In 1925-26 Gallacher had scored 23 goals in just 19 games, but he capped that feat in 1926-27 by establishing a club record with 36 goals in 38 games as Newcastle comfortably won the title, by five points from Huddersfield Town
For the first time since the FA Cup was started in 1871 the trophy left England when Cardiff beat Arsenal courtesy of one of the most incredible goalkeeping blunders ever seen in a final. 15 minutes from time, Arsenal's Welsh keeper, Dan Lewis, seemed to have comfortably gathered a 20 yard shot from Ferguson. Suddenly it slipped out of his grasp and, perhaps distracted by the onrushing Ferguson and Davies, the Arsenal keeper struck the ball with his elbow and could only watch helplessly as it slowly trickled over the line
Middlesbrough won the Second Division title largely through the efforts of centre forward George Camsell. His League record of 59 goals made up almost half of their total, 122, also a League record. Camsell hit nine hat tricks
England beat Scotland 2-1 at Hampden Park for the first time since 1904, thanks to two goals from Everton's Dixie Dean, who had now scored 12 goals in five games for his country, including hat tricks against Belgium and Luxembourg