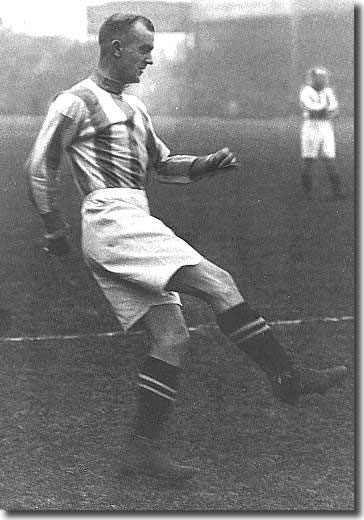 Their first season in Division One had been a major struggle for Leeds United, but the signings of Willis Edwards, Tom Jennings and Russell Wainscoat at the end of the season had proved just enough to keep them safe. In the close season manager Arthur Fairclough made a number of notable additions to his squad, including wingers Billy Jackson, Harry Duggan, Jackie Fell and Bobby Turnbull plus full back Jimmy Allan.
To finance his player recruitment, Fairclough shipped out Sam Powell, Lawrie Baker, Albert Bell, Alan Noble, Fred Graver, Tom Bell, Bill Moore, James Clark and Walter Coates, with George Speak retiring and Billy Down, Jack Swan, Joe Harris and Bert Duffield leaving in the first three months of the new season.
Clearly the high level of player turnover and financial outgoings were an endorsement by the board of what they saw as a successful manager, but it was a high risk approach by Fairclough which did not pay off too handsomely. Indeed, Leeds United had to struggle against relegation right to the very last day of the season.
They didn't start off too badly - despite an opening day defeat at Notts County, Leeds United won five of the next 8 matches, with their forwards in fine form, Jennings hitting 8 and Wainscoat four. Turnbull, Jackson, Percy Whipp and Joe Harris managed five between them. They looked on the way to a good season, but things soon turned distinctly sour.
After a 4-0 thrashing at home to Huddersfield Town, who had just won their second successive championship and were on the way to completing a hat-trick of titles, Leeds lost 4-2 at Everton and then 3-2 at home to Bury. They had already conceded four in a defeat at Arsenal and the defence was proving as leaky as in the old days. The run up to the New Year was dismal: United won just once in the 13 games between 10 October and a 6-3 hiding at Burnley on Boxing Day, conceding 34 goals in the process. The departures of Down, Swan, Harris and Duffield had severely depleted their options, though they had found £5,000 to capture Falkirk centre-half Tom Townsley, he kept Ernie Hart on the sidelines for the next couple of years before being successfully converted to right-back. Following his debut on Christmas Day, Townsley missed just one league game in a run that stretched right through to 30 March 1929, playing in 136 matches out of 137.
United were still scoring freely, mainly due to the change in the offside law, and John Armand was a key contributor. In the 22 games to Boxing Day, Jennings had scored 12, Wainscoat 6, Armand 5 (in just seven matches) and Turnbull 4. Armand followed up with another two penalties as Leeds beat Sunderland, Notts County and Leicester in their first three league games of 1926to give the United supporters some brief hope of a revival, but it was short-lived. During the run, there was another first time exit from the FA Cup, with Leeds on the wrong end of a 5-1 thrashing at the hands of Second Division Middlesbrough.
After the Leicester victory, things started going badly wrong. Tom Jennings scored in each of the next five games, but there was only one win. It was a glorious one, however, 4-2 over Arsenal (who were on their way to runners-up spot), including a Jennings hat-trick. The Yorkshire Post: 'The forwards gave an exhibition of skill ... that made their supporters wonder why they had not won more matches this season. The result was a personal triumph for Jennings: his tally of three goals ... indicates that he has come back to the form which made him such a formidable centre-forward in the early months of the season.'
They managed to put together a decent little run of three wins in the four games to April 3, but then faltered again, losing four out of the next five games and scoring just once. Goalkeeper Jimmy Potts had arrived from Blyth Spartans towards the end of February and took over immediately from Bill Johnson. He made a difference almost immediately, although United kept losing.
On a brighter note Willis Edwards was honoured with his first cap for England in March. Despite defeat to Wales, Edwards retained his place for the defeat against Scotland in April.
Now, in the end of season pressure cooker at the end of April, Leeds were staring relegation squarely in the face. They had just one match left, on 1 May at home to Tottenham and there was a simple equation facing them. Bottom club Notts County were already certain of finishing bottom. Above them, Leeds and Burnley were level on 34 points, and Manchester City, who had lost in the Cup final a week earlier, had 35. City looked safe as they only needed a draw at Newcastle to be certain of staying up.
If Leeds failed to beat Tottenham, they would be pitched back down to the Second Division.
Burnley soon established a winning lead against Cardiff City, taking a three-goal advantage by the interval. Leeds had a stiffer fight against Spurs. The match was played on very heavy ground, and though the London club played the cleverer football the conditions were all against them, though the sides remained level at the break. The United players came out like a tornade in the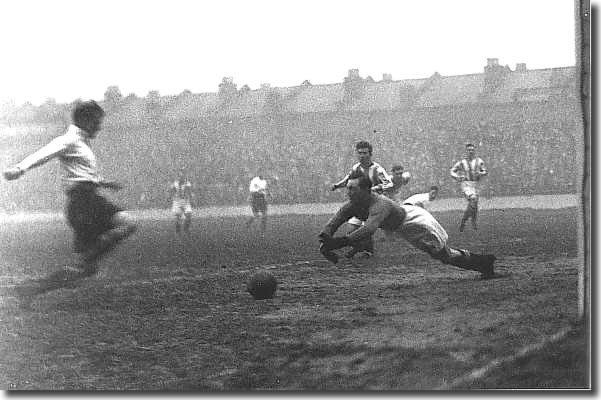 second half and ran out 4-1 victors, with Jennings scoring twice.
Manchester City showed their old disastrous weakness in defence, conceding three goals to Hughie Gallacher, Newcastle's Scottish centre-forward. City missed a golden chance of securing safety when Austin fluffed a penalty after Roberts had pulled one goal back. Browell scored a fine goal to bring the score back to 3-2, but it was not enough and United were safe, a point clear of City and level with Burnley, finishing above them by virtue of a superior goal average. It was a narrow squeak.
Jennings'goals made all the difference - he top scored with 26, and was the only ever-present. It was United's best individual goal haul so far but there was no-one else in double figures.
Other Football Highlights from 1925/26
The alteration in the offside law shook things up and the expected goal glut duly arrived. The total number of goals scored in the Football League rose from 4,700 to 6,373. On the opening day of the season Aston Villa scored 10 against Burnley; then Newcastle beat Arsenal 7-0; Arsenal retaliated by putting five past Cardiff; Tottenham and Huddersfield drew 5-5
New Arsenal manager Herbert Chapman bought 33-year-old Charlie Buchan from Sunderland. The financial arrangements were handled by the Arsenal chairman Sir Henry Norris, who refused to pay the £4,000 Sunderland wanted. When Bob Kyle, the Sunderland manager, justified the fee by claiming that Buchan would score 20 goals in his first season, Norris challenged him to put his money where his mouth was and the deal struck was £2,000 down with another £100 per goal. Buchan eventually hit 21 and won an argument with Chapman about a formation to cope with the changed offside law. The old 2-3-5 formation was now moving to 3-3-4 as the centre-half dropped into defenceand and an inside-forward was withdrawn
League champions again, Huddersfield became the first club to win the title three seasons running. They finished five points clear of Arsenal
Manchester City, relegated from Division One to end a 17-year stay, also lost in the Cup final. On the way to Wembley, they beat champions Huddersfield 4-0, Crystal Palace 11-4 and neighbours United 3-0 in the semis. A goal from Bolton's David Jack saw Wanderers win the Cup 1-0. Jack had also scored the winner in the 1923 final
Bobby Skinner of Dunfermline set a British record with 53 goals in the Scottish Second Division