Leeds United had secured promotion to the top flight after just four attempts. Their predecessors, Leeds City had been unsuccessful in every one of their 10 completed seasons and success had come to seem an impossible dream to the ambitious Board. Their choice of Arthur Fairclough as manager had been vindicated and now, working alongside his assistant Dick Norman, he sought to strengthen the team during the summer in preparation for their first assault on Division One.
There were a number of departures including goalkeeper Fred Whalley and Jimmy Frew, who had been succeeded at left back by Bill Menzies, but there were a lot of imports including goalkeeper Bill Moore, forwards James Clark, Jock Thom, Cuthbert Robson, John Martin, Frank Mears and Fred Graver, half backs Josh Atkinson and Tom Duxbury and full back Jim Kirkpatrick. Of these, however, only Robson and Atkinson made any impact.
In general, it was business as usual at the back with Bert Duffield, Ernie Hart and Jim Baker holding down the key spots for most of the time alongside Menzies, but they were understandably not as effective in the top division, conceding some 61 goals.
Life in the top flight could not have started with a more difficult challenge. The first day of the season had Leeds at home, but the opposition was one of the strongest teams in the country, Sunderland. The Wearsiders had a long history of success at the top and the contrast between the two sides could hardly have been starker. Leeds had won the Second Division title on a shoestring and had little experience of big time football in their ranks. Sunderland, with 45 years of history and five League championships behind them, the most recent in 1922-23, had invested £8,000 in new blood during the summer.
The West Yorkshire public flocked to Elland Road to see the start of a new era, and the attendance of 33,722 was a club record for a League match. The Yorkshire Post reported the day thus: "A knowledge of the training methods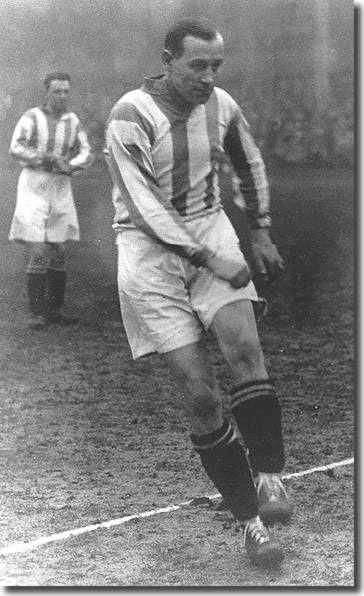 led to the expectation that United players would lack nothing in physical fitness, but the speed and alertness of the whole side and the incisive methods of the forwards astonished even the most fervent admirer ... the Sunderland half backs ... were overwhelmed by the whirlwind attacks."
A header from Swan "greeted with a wild celebration of enthusiasm" gave Leeds an unexpected advantage, but the lead lasted just two minutes before Sunderland equalised. There were no further goals and the result was welcomed by Leeds fans as an indication they might just be able to survive at the top end of the game. But even as the team savoured their first point in the First Division football, their shortage of funds was continuing.
After the match, the club began a 'Lend us a Fiver' campaign to urge supporters and well wishers to help raise funds. Chairman J Hilton Crowther had backed the club's cause heavily following his arrival from Huddersfield Town, and Leeds United were indebted to him to the tune of £54,000. He now wanted to step down from the role of Chairman and wanted £35,000 of his money back. Few could have grounds for complaint, and a meeting that night was told "He has acted as a sort of fairy godfather to this club ... if 7,000 rank and file supporters interested in the maintenance of high class soccer subscribe a £5 note each, then the problem would disappear." Among those joining the appeal were the MP for Leeds South East, James O'Grady, and Crowther's successor in waiting, Major Albert Braithwaite, who was in cajoling mood. "Unfortunately many people appear to be oblivious to the obvious advantage of Leeds United retaining the position they have won," he said.
After the Sunderland game, even though they had home wins in September over Preston 4-0 and Everton 1-0, by October 11 Leeds United had just 8 points from their 10 games and were firmly stuck in the bottom half of the table. They were finding life at the top difficult. They did manage three successive victories against Tottenham, Blackburn (a rare win away from Elland Road) and West Ham in the fortnight leading up to November 1, but their run through to Christmas was pretty dismal, taking just three points out of the next fourteen and culminating with a 6-1 thrashing on their visit to Arsenal on 20 December.
A 6-1 thumping of Aston Villa on Christmas Day (including a hat-trick from Percy Whipp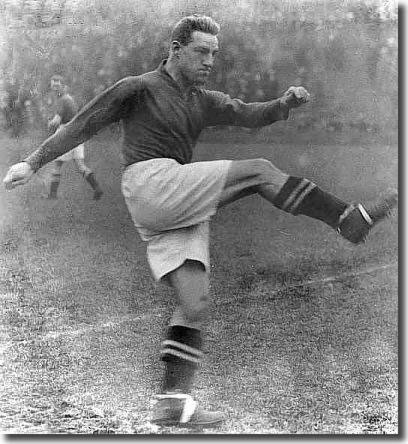 and two goals by Jack Swan) and a 4-1 win at Preston on 17 January were two rare victories, but the side was in dire straits, not winning again until the end of March. During this period, there was defeat at the first time of asking in the FA Cup, this time by 3-0 away to Liverpool. Clearly action was required.
Manager Fairclough had never shirked difficult decisions when they were required and brought in some new blood to stem the tide, enlisting big name captures, Tom Jennings, Willis Edwards and Russell Wainscoat during March 1925.
Jennings was an established goalscorer with Scotland's Raith Rovers and during his years at Leeds achieved a prodigious strike rate - 112 goals in 167 League appearances. He was a sturdy determined striker, hard to knock off the ball and were it not for bouts of illness might have scored many more for Leeds. He was 23 years old.
Edwards had been making a name for himself as a rounded wing half in the Third Division (North) with Chesterfield and went on to serve Leeds as a player for the next eighteen years, also featuring in the England team. He cost £1,500.
Wainscoat had made a dream debut in the Football League, scoring a hat trick for Barnsley against Fulham in Match 1920. He moved to First Division Middlesbrough for £4,000 in December 1923 and cost Fairclough £2,000. A tall, broad shouldered inside left, Wainscoat was a sharp, intelligent player, creator and goalscorer, whose abilities were recognised by England when he was capped against Scotland in 1929.
The three players were all signed within the space of a few days in March and came into the team for the run-in along with Josh Atkinson, goalkeeper David Russell, a January buy from Doncaster, and Indian forward John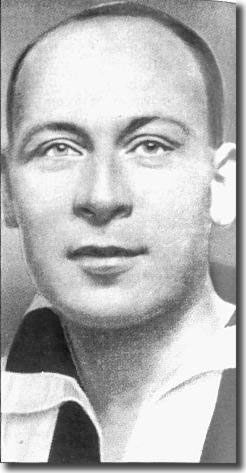 Armand. Jack Swan was dropped, along with keeper Billy Down, who joined Doncaster the following September, long serving skipper Jim Baker and forward Joe Richmond.
From the match on March 21 at Newcastle until the end of the season, Atkinson, Edwards, Jennings and Wainscoat were ever present. The revolution didn't start too well - they lost the Newcastle game 4-1, but then things started to improve and United won four of their last eight games, including an impressive 4-1 win over Liverpool who ended the season in fourth spot. Jennings and Wainscoat both got three goals in that closing run and the improvement was just about enough to see the club safe in an 18th place finish. In the end they had eight points to spare on the relegation spots but for a while it was touch and go there.
Nevertheless Leeds had survived their First Division debut season and had cause for some optimism for the future.
Other Football Highlights from 1924-25
Huddersfield's joy at retaining the League title was tempered within a few weeks when their manager, former Leeds City boss Herbert Chapman, decided to take over the helm at Arsenal. It had been Chapman's appointment in 1921 that had transformed Town from also rans into one of the most successful clubs in the country. As well as their two championships, they also won the FA Cup in 1922
Having suffered the agony of losing the championship by two hundredths of a goal the previous season, Cardiff lost the FA Cup final to Sheffield United because of an error by their right half Harry Wake. He hesitated and allowed United's brilliant winger, Fred Tunstall, to score the only goal of the game
Arthur Chandler scored in 16 consecutive Second Division matches for Leicester City, the champions. He also finished as the division's leading scorer with 33 goals
The decision to alter the offside rule by the International Board in June 1925 changed the face of football forever. The rule change was straightforward. From the 1925-26 season, instead of three men being required to be between a player and the goal when the ball was passed, only two would be necessary. The intention was to cut down on the number of offside decisions and to prevent sterile defensive play. Matches with 40 offside decisions had become commonplace. Newcastle, with their two international full backs, Bill McCracken and Frank Hudspeth, had turned the offside trap into an art form