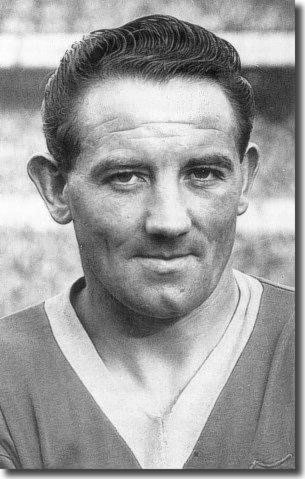 The World Cup finals held in Sweden in the summer of 1958 had been the most compelling and exciting ever. The fact that they were the first to be televised undoubtedly helped, but the sense of occasion was without question - a gifted Brazilian side had won the Jules Rimet Trophy for the first time with some breathtaking football, boasting an awesome 17-year-old talent called Pele among their ranks. Northern Ireland and Wales too had enjoyed outstanding World Cups, progressing further than their more illustrious British rivals from England and Scotland. Former Leeds United idol John Charles had spearheaded the Welsh challenge, even though he was deployed for the most part at the back and was kicked out of the tournament by robust Hungarian defenders.
His former employers at Elland Road could only look on enviously. While the rest of the footballing world was rushing expectantly towards the excitement of a new decade and a new era in football, humble old Leeds United Football Club were helplessly drifting. They were still a First Division team, but they had long since bid farewell to Charles and had parted company with manager Raich Carter at the end of the previous campaign, when the team had trailed in a disappointing 17th.
They had only collected seven points fewer than in Charles' final season and were never in any real danger of going down, but the United directors still elected not to extend Carter's contract, dispensing with the man who only two years previously had delivered the long sought after Holy Grail of promotion to the top flight. Carter was bitterly disappointed at the decision, suggesting ruefully and quite accurately, 'It could never be any more than a holding season once Charles had gone.'
The manager had also protested that he had not been given enough of the record £65,000 proceeds to replace Charles. Nevertheless he did have enough to draft in two international newcomers, Scottish centre forward Hughie Baird, who finished top scorer, and Irish midfielder Wilbur Cush, who took over the captaincy.
The removal of Carter, an opinionated and arrogant leader, left the club lacking direction. A successor was needed who could bring experience and vigour to the job, but there was little on offer to attract such a character, with Elland Road more closely associated with financial restrictions and compromise than ambition and headlines. The club had been lucky with the appointment of Carter, and that of his predecessor, the charismatic Major Frank Buckley, but struggled this time to find a manager of any status. In the short term chairman Sam Bolton settled for a temporary appointment, promoting trainer coach Bill Lambton to the role of acting manager.
Lambton had been hired by Carter previous November and had no experience of running a football club. He had not been a great success as coach and commanded little respect among the playing staff. Veteran full back Jimmy Dunn's comment that Lambton was 'a bloody comedian' was pretty representative of the views of most of his colleagues.
The omens were not exactly promising as Leeds United approached the 1958/59 season. It had been expected that in the absence of Charles Leeds would struggle in front of goal, and so it was: not only was their goals for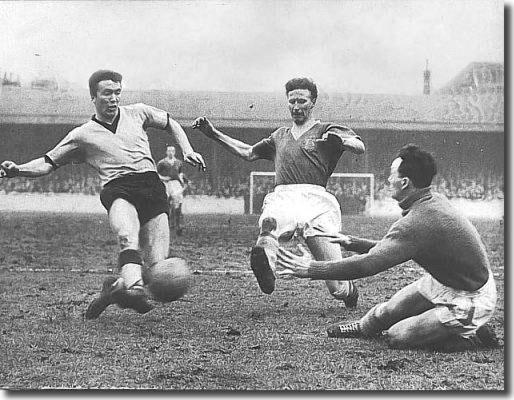 total of 51 in 1957/58 the lowest in Division One, but only three teams in the entire Football League were less productive.
On the other hand, Leeds did have a pretty decent defence and only champions Wolves and runners-up Preston had conceded fewer goals than the 63 that United had shipped. Such meanness was due in no small part to the rearguard's lengthy experience of playing as a unit. For the most part, Leeds fielded their old guard in shirt numbers 1-6 - goalkeeper Roy Wood, right-back Jimmy Dunn, left-back Grenville Hair, right-half Archie Gibson, centre-half Jack Charlton and left-half Eric Kerfoot, although Cush had ousted Gibson for the majority of games since Christmas.
Bill Lambton brought in no new players during the summer and stuck for the most part by the regular defence for the opening day and a visit to FA Cup holders Bolton Wanderers. The one exception was 34-year-old Kerfoot, who was nearing the end of his career, and gave way to Cush, with Gibson reinstated.
The manager could have been forgiven for wondering what was happening as the normal defensive assurance evaporated - Leeds finished day one on the wrong end of a 4-0 hiding, setting an ominous tone for the season to come.
Just as worrying as the defensive shortcomings was the lack of punch up front. The previous March, the veteran Harold Brook had followed Charles out of Elland Road, and Lambton was left with few options up front. United fielded a promising young right winger called Chris Crowe, a precocious teenager who had broken through the previous season and went on to win Under-23 caps for England, but he was a rare exception and there were few other youngsters of any note emerging. Raich Carter had let Major Buckley's cherished youth development programme slide into disrepair and Leeds were thus deprived of that particular avenue for new recruits. It was to Lambton's eternal credit that he was to relaunch the development programme, a decision for which his successors were eternally grateful. For now, however, he had to make do and mend.
Lining up alongside Crowe against Bolton were Irishman Noel Peyton, the hard working but limited Bobby Forrest, the Scot George O'Brien and left winger Jack Overfield. Hughie Baird along with another Scot, winger George Meek, were missing and in their absence there was neither presence nor bite up front.
The two were soon back in action and on the scoresheet, but Leeds continued to struggle, winning just one of their opening nine games. The point surrendered in a 0-0 draw at home to bottom club Aston Villa on 18 October was enough to drop the team into the bottom two, with a return of just 10 points and 12 goals from 13 games. On the positive side, only 4 points separated Manchester United in 10th place from Villa at the bottom.
By now Bill Lambton was chopping things around a bit in an attempt to change the side's fortune in front of goal. The board had not managed to make a permanent appointment, but Lambton had been given permission to buy players, forking out £5,000 for winger Billy Humphries from Ards and another £8,000 to secure the services of Burnley centre forward Alan Shackleton. He recouped most of the outlay when Hughie Baird returned north of the border in October, joining Aberdeen in an £11,000 deal.
Shackleton scored in his first game for Leeds, a 2-1 defeat at Manchester United, and added a hat trick three weeks later,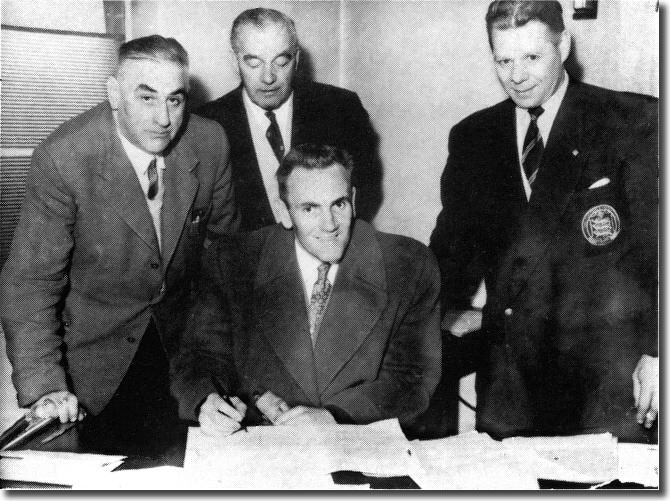 with Humphries completing the scoring in a much needed 4-2 victory at Blackburn. Three straight wins then followed, moving Leeds up to a creditable 11th. The improvement in form prompted the board to make Lambton's appointment permanent.
As well as the turnaround in results, November brought more excitement when another £14,000 was laid out to secure the signature of an illustrious name, the former England inside-forward Don Revie. Revie had a reputation for switching clubs, so much so that the autobiography which he had already written bore the title The Happy Wanderer. The book laid out at length the details of the so called Revie Plan, which had its greatest success during Manchester City's FA Cup triumph over Birmingham in 1956. A year earlier Revie had won the Footballer of the Year award as City pressed in vain for the Double, and his was a name to conjure with. He was now 31, and past his prime, having been largely an expensive luxury at Sunderland, from where he had moved to Elland Road. However, the signing got Leeds United back in the headlines in a big way. At last a star had been found to partly eclipse the fond memories of John Charles.
Revie made his debut on 29 November in a 3-2 success at home to Newcastle, right in the middle of Leeds' run of four wins, and brought a cultured touch to the colourless football of the team. But poor, erratic form soon set in once more.
Six weeks after Revie's arrival, Wilbur Cush stood down as captain and, following a meeting of players, Revie was voted unanimously into the job. 'I feel honoured and will give the job all I can on the field and off,' he said at the time.
Shortly afterwards, discontent with Bill Lambton reached a peak. There was little respect for his methods among the players and Grenville Hair and Jack Overfield both demanded transfers. Jimmy Dunn: 'He had no experience. I remember he once took his boot off on the Fullerton Park training ground and said, "You don't need boots when you're crossing a ball." Eventually, there was a players' meeting in protest. It was a rebellion. Eric (Kerfoot) and I had complained about him. I can't remember exactly what we said but it came down to the fact that he couldn't manage the club.'
Jack Charlton: 'The chairman called a meeting, and after some of the lads had their say, he asked if we wanted the manager to leave - and every one of the players said yes. Bill said pathetically, "If you let me stay, we'll have a new start," but nobody said a dicky bird.'
Leeds' disastrous 6-2 defeat at Wolves on 14 February 14 was the last straw, and with club directors openly expressing their disquiet, the beleaguered manager bowed to the inevitable and resigned, muttering darkly that there had been 'interference ... in my training methods'.
Leeds were unable to replace Lambton immediately and the side spluttered on, but somehow managed to finish 15th, with little real danger of relegation. A closing run of three wins and a draw banished any lingering fears. However, the optimism of the Revie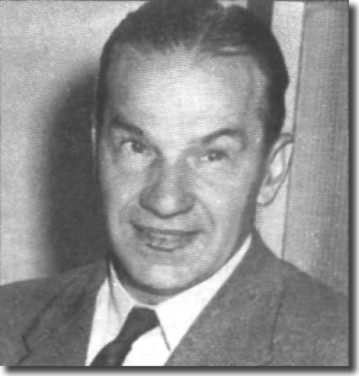 signing had long since disappeared, swamped by the malaise which had gripped Elland Road and the disinterest of the players. The mood had spread to the long suffering supporters. Public interest in Leeds United was slumping. Gates had declined steadily and from the end of January the club attracted just one League crowd above 20,000. Despite their struggle of the previous season, Leeds had attracted substantially more people to Elland Road over those latter months.
Shackleton and Crowe weighed in with 16 and 12 goals respectively, but once again Leeds United were the division's lowest scorers with 57 goals. This time they could not counter by pointing to their reliable defence. Leeds had lost shape at the back, conceding four or more goals on six separate occasions, and another five when bowing out of the FA Cup at the first time of asking (as usual) at struggling Luton Town.
It was a poor testimony to the set up at the club that the first choice replacement for Bill Lambton, Arthur Turner, preferred to stay at non-league Headington (later Oxford) United rather than run a First Division club. Former Leeds favourite Tommy Burden also turned down the post when it was offered.
Lambton's eventual successor was Jack Taylor who had managed Queen's Park Rangers through the 1950s, though without conspicuous success. Somehow, with almost no money, he was expected to do better at Leeds United. It was almost impossible for anyone to envisage just how as the club entered one of the darkest periods in its history.
Other Football Highlights from 1958/59
The record for a transfer between two British clubs was broken when Manchester United bought Sheffield Wednesday forward Albert Quixall for £45,000
Billy Wright became the first man in the world to play 100 times for his country when England Beat Scotland 1-0 at Wembley on 11 April. The match was his 65th consecutive appearance and he had been captain 85 times. He had moved his total onto 105 caps by the time he retired on 8 May
Jimmy Greaves scored on his debut for Chelsea against Spurs in August 1957 when just 17. A month later he scored on his debut for the England Under-23 side against Bulgaria. In August 1958 he scored five for Chelsea against League champions Wolves, then scored on his full England debut against Peru in Lima in May. He was the First Division's leading scorer with 33 goals
Brian Clough, five years older than Greaves, was the Second Division's leading scorer for the second consecutive year, with 42 goals. This was the third season that Clough had averaged a goal a game, and he reached 100 league goals in fewer games than any previous player
There was another FA Cup final injury when Nottingham Forest winger (and Elton John's uncle) Roy Dwight broke his leg, but it couldn't prevent Forest beating Luton 2-1
Tottenham celebrated the appointment of Bill Nicholson as their new manager by beating Everton 10-4 in the highest scoring First Division match this century
Aston Villa were relegated from the First Division when they conceded the only goal of the match against West Bromwich Albion on the last minute of their last match of the season
Wolves retained their league title, finishing five points clear of Manchester United