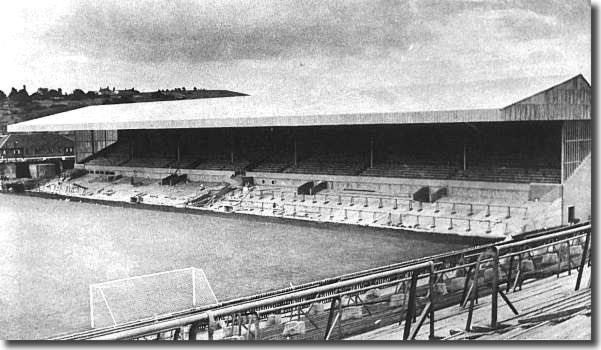 For almost a decade Leeds United had to all intents and purposes BEEN one man. The legendary John Charles had towered over Elland Road like a huge Colossus, first as an awesome defensive lynchpin, then effortlessly transferring his talents to a forward role and becoming one of the most sought after talents in world football. As the curtain fell on the 1956/57 season after a promising return for Leeds to First Division football, however, the club were coming to terms with the realisation that they now faced an uncertain future without the Welsh maestro.
A long-unning battle to hang onto Charles had finally been lost when the directors accepted a world record transfer fee from Italian giants Juventus. The decision was taken partly because of the need to bolster the club's financial standing after the damage to the Elland Road stadium caused by fire the previous autumn. A public appeal had raised £60,000 towards a replacement stand and at the start of the season the new £180,000 West Stand was unveiled. Tickets for the 4,000 seats cost 7s 6d each per game in those days and in front of the seated arena was a large paddock capable of holding 6,000 standing spectators.
Charles' departure left a massive gap, and manager Raich Carter had hoped that much of the £65,000 fee would be made available to him to improve his squad. He had already started planning for the future when he brought in Scottish inside-forward George O'Brien from Dunfermline Athletic in March, although he didn't find the net in any of his eight games in 1956/57. Carter splashed out £12,000 on another Scot, Airdrie's Hugh Baird, during the summer and then also secured the services of black South African right winger Gerry Francis.
Baird had already won a Scottish cap while he was with Airdrie and had scored 165 goals for them in six seasons. He looked like a promising replacement for Charles, but the weight of expectation hung heavy upon him.
Francis had come to England from City & Suburban in Johannesburg and had signed initially as an amateur. He was the first black player to play for Leeds, although it was to be a couple of years before he made his debut.
Raich Carter was disappointed and disillusioned that he was given little cash to work with and feared the worst as he prepared for the new season.
He did have the reassurance, however, of a settled and experienced defence - goalkeeper Roy Wood, full-backs Jimmy Dunn and Grenville Hair, and the half-back line of Archie Gibson, Jack Charlton and Eric Kerfoot had played virtually unchanged for what seemed like years and remained first choices as the new season dawned.
The concern, however, was for the team's firepower, and things looked bleak when Leeds lost their first two games, at Blackpool and Aston Villa, without even looking like they were going to score. Baird got off the mark with a penalty and winger Jack Overfield netted the other goal in a 2-1 win against Leicester City as the club christened their new look stadium at Elland Road. The Scot added another couple, while O'Brien and veteran Harold Brook completed the 4-0, win in the return with Villa, but it was a false dawn. Leeds visited champions Manchester United and crashed 5-0 and then managed just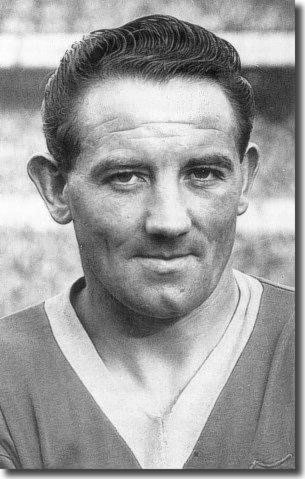 one goal during the two home defeats which followed. The team had managed just four points from their opening seven matches and they were struggling to find the net.
They still had a wonderful new stand, most of the same players that had taken them up and their First Division status, but they had lost John Charles and much of their spirit had gone with him - all they had to look forward to was a long hard winter struggling against the spectre of relegation. While Charles was inspiring his new team to the Italian championship, Leeds United were aimlessly drifting.
A 2-0 defeat at Tottenham in October was pretty representative of the dismal period. The Times: 'This was one match which will fail to stir the memory. With little at stake Saturday afternoon at White Hart Lane wore an air of untidiness which was a particular disappointment after Spurs' general improvement of late. Leeds United played as a team of individuals without any coherent plan. That their defeat was confined to a pair of goals was due more to the Spurs' inept finishing than to any stubbornness on their part in defence.
'In fact Leeds should have sprung a surprise from the kick off for after a sharp thrust down the left between Overfield and Baird, Brook was left with a clear sight of goal only to hesitate and lose his opportunity.
'At first Spurs seemed still charged with invigorating Swiss air, but then the mistakes began to creep in. There were muddles in defence, passes began to go astray; Baird completely beat Norman and Baker only to shoot straight at Ditchburn. Then, as suddenly, Leeds were under severe pressure. Four corners were given away in succession until in the thirty first minute Robb was awarded a free kick out on the left. He pitched to the far post for Medwin to head down and past the helpless Wood.
'Baird nearly brought Leeds back into the game with another individual effort which flashed the wrong side of the post, but in the seventy fifth minute Smith made the game safe for Spurs by beating Wood at close range following a move between Blanchflower, Robb and Dunmore.'
Baird was regularly on the score sheet throughout the season, but was not in the same league as Charles and there was no one else around who could take on the mantle of leader. Raich Carter brought in Irish midfielder Wilbur Cush in November for £7,000 and appointed him captain, but he made his debut in the middle of a five-game losing run and when Leeds were on the wrong end of a 3-1 scoreline on November 23 they lay three from bottom of the table, just a point clear of the relegation places.
29-year-old Cush was an Irish international and Ulster's Footballer of the Year winning a host of Irish trophies with Glenavon, his first club. His arrival helped somewhat to stem the tide in United's fortunes and his first goal for the club earned a 1-1 draw at home to Birmingham on 30 November. Even though their trip to Chelsea ended in another defeat, Leeds then unexpectedly won two home games against Newcastle and Blackpool. The 3-0 win against the Geordies was particularly valuable as they were also embroiled in the battle against the drop, while the victory over the Seasiders saw Leeds rise to sixteenth spot and a five point cushion over the teams in the relegation zone.
From then on the team's form settled down somewhat in the league with a number of important wins and even a home draw against reigning champions Manchester United, about to have the heart ripped out of their fine young side by the Munich Airport tragedy.
Away from league action, the FA Cup may have seen Leeds take their customary exit at the first time of asking, but did generate a little piece of footballing history. In both 1956 and 1957, the third round draw pitted United at home to Cardiff City at Elland Road and on both occasions the score was 2-1 to the Welsh team. 1958 incredibly saw the tie repeated and even more astonishingly Leeds again lost 2-1. It was a disappointing way to mark their season, but better that than relegation and the club's results during March and April were surprisingly good. In fact, the team lost just one of the final nine matches.
It was just as well, however, because the game that preceded that run ended in a 3-0 defeat at Preston North End, leaving Leeds level on points with Sheffield Wednesday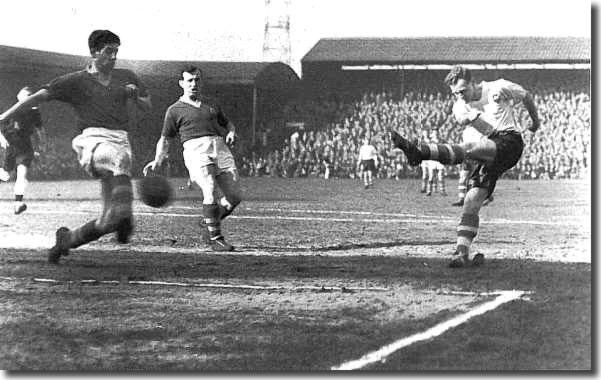 and Sunderland at the foot of the table. Tom Finney who was on his way to the World Cup finals with England hit two of the Preston goals that day. More than a decade earlier, the same Finney had scored his first League goal against Leeds. Despite the Preston defeat, the improvement in form which followed was so marked that a 1-1 draw away to Birmingham on April 12 left Leeds safe from the drop with two games still to play.
They finished 17th and breathed a sigh of relief having hung on to their hard won top flight status, but manager Raich Carter had little time for celebration. Carter's five-year contract came up for renewal at the end of the season and the directors decided on the strength of just one poor campaign that they would not give him an extension on his contract. Carter was mortified by the decision and complained that he had been given insufficient money from the John Charles transfer deal to replace the Welshman and that the team would always struggle without their star. The board was adamant, however, and showed Carter the door, inviting his inexperienced assistant, trainer Bill Lambton, to take temporary control as acting manager.
A couple of years previously things had looked particularly rosy for Leeds United Football Club, but while the country was looking forward with excitement to the World Cup in Sweden in the Summer of 1958, clouds of dismal indecision and uncertainty descended upon Elland Road.
Other Football Highlights from 1957/58
The plane carrying the Manchester United party back from a European Cup tie in Belgrade crashed in the snow at Munich airport on February 6. 23 passengers, including eight of the legendary Busby Babes and former Manchester City goalkeeper Frank Swift, all died
United recovered sufficiently to battle their way to the Cup final but they lost 2-0 to Bolton, for whom Nat Lofthouse scored both goals. The second goal came when Lofthouse shoulder charged goalkeeper Harry Gregg over the line with the ball in his hands
Wolves won the League title, finishing five points clear of Preston
Hearts' first Scottish championship this century was one of the most convincing ever seen in Britain as they lost just one game and scored 132 goals, conceding just 29
There was an amazing Second Division match at The Valley on December 21. Huddersfield were playing at Charlton and went in 2-0 up at half time, but by the 52nd minute had moved into a seemingly unassailable 5-1 lead. Then Charlton's veteran journeyman forward Johnny Summers hit a six-minute hat trick and then a further two goals, all with his weaker right foot, to give Charlton a 6-5 lead. Huddersfield equalised with two minutes to go, before Summers set up Ryan for Charlton's winner in the last move of the match
The Football League decided to scrap the Northern and Southern sections of Division Three for next season and replace them with Third and Fourth Divisions
Sunderland were relegated to the Second Division for the first time in their history and their Clown Prince inside-forward Len Shackleton was forced to retire after 320 league appearances for the club
All four British teams qualified for the 1958 World Cup finals held in Sweden in the summer of 1958. England drew all three group games and finished level with the Soviet Union, but went out on a play off. Scotland finished bottom of their group, below France, Yugoslavia and Paraguay. Northern Ireland battled through to the quarter finals before losing 4-0 to France. Wales also reached the quarter-finals and were unlucky to lose 1-0 to eventual winners Brazil
The Brazilians were inspired by 17-year-old Pele and beat host nations Sweden 5-2 in a memorable final with the youngster hitting two of the five goals. It was the first time that any side had won the trophy when playing outside their own continent