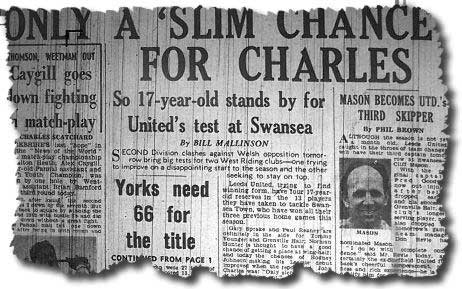 Part 1 - Return of the king
As the 1962/63 season entered September, Leeds United were in a sorry state.
They had broken their transfer record in the summer to sign former star John Charles, but the Welshman had struggled to recover his former glories and the team was not living up to pre-season hopes.
Manager Don Revie was in despair at the mediocrity of his team's performances. After a dismal defeat at home to Bury, he took radical action for the trip to Swansea on 8 September, dropping both Tommy Younger and Grenville Hair, and making Cliff Mason his third different captain of the season. What was even more drastic, however, was the way he chose to remodel his team, drafting in four teenagers - goalkeeper Gary Sprake, right-back Paul Reaney, left-half Norman Hunter and centre-forward Rodney Johnson, who deputised for Charles, not fit to play. Sprake had made his debut the previous season, but the others' only experience was in the reserves.
Revie had intended to bring United's promising youngsters through gradually but now he decided enough was enough. Desperate times call for desperate measures and the manager decided that the time was right to give youth its head.
The experiment could have gone disastrously wrong and left Revie with egg on his face, but Johnson scored on his debut and Billy Bremner added a second to earn a startling victory. It was as much the grit and style of the performance as the result, however, which was of import, for the new team looked as good as Leeds United had for an age. In particular, according to the Yorkshire Post, 'Bremner and Collins provided the best display of inside forward work that United have had for years. United moved faster and played more accurately than at any time this season, or last, the youngsters bringing a zip the side has badly needed.'
Charles was back for the next match, at Elland Road against a Chelsea side that was pressing for promotion back to the First Division after being relegated the previous season. Johnson sustained a knock at Swansea, and was left out to allow the Welshman to return. Don Revie consoled him with the words 'He did a good job at Swansea and he has plenty of time ahead of him.'
Sprake, Reaney and Hunter retained their places, but it remained a gamble for Revie to rely on such unproven talent against one of the most powerful sides in the division. Chelsea had dropped just three points from their first seven matches.
Under their formidable young manager Tommy Docherty, Chelsea were on the way to becoming one of the country's best teams in the mid-60's. Terry Venables, Peter Bonetti, Ron Harris, Eddie McCreadie, Barry Bridges and Bobby Tambling were among the youthful stars who had made the Londoners promotion favourites.
However, on the back of the Swansea triumph and with Charles restored after losing 9lb in a fortnight, Leeds United had new confidence and looked forward to the game with genuine hope. The fans shared the optimism and another crowd in excess of 27,000 flooded in to Elland Road.
Unfortunately, their hopes were severely dented with just four minutes on the clock. Leeds had started well and a Bobby Collins goal was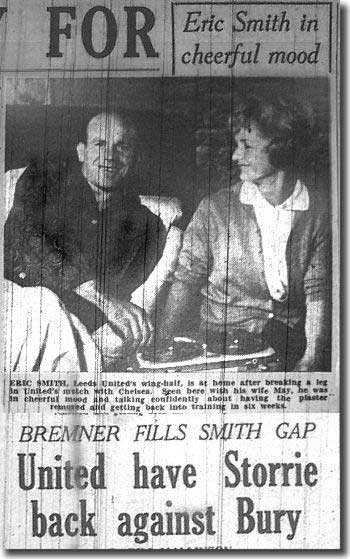 ruled out for offside, but when right-half Eric Smith crashed into a tackle on Moore he came off worst and had to be stretchered off with a broken leg. It was a bad injury and Smith only ever played once more for United before his transfer to Morton in June 1964.
In those days, substitutes were still not allowed and playing a man short set Leeds back on their heels. Billy Bremner was forced to reinforce the defence, reducing the attack's effectiveness. However, Chelsea over elaborated in their approach work, playing into United's hands. The Yorkshire Evening Post's Phil Brown wrote, 'Chelsea were too studied and deliberate in their attack, lost a shooting chance by "after you" passing and Tambling hit the defensive wall with a free kick just outside the penalty box. They were not at all impressive against 10 men and Bridges shot over the bar from nine yards after Venables had reached him with a pass through a ruck.'
The Stamford Bridge side would have been better advised to stretch their opponents by pulling them wide and upping the pace of the game, but they allowed Leeds to get a foothold in a scrappy game, with Albert Johanneson a constant outlet on the left. It looked like a stalemate as the interval drew near but with two minutes to go, Johanneson opened the scoring with a superb effort. Charles and Noel Peyton made the opening on the left and the South African evaded three tacklers with a shimmy and cut in to clip the ball past Bonetti in the Chelsea goal.
The Londoners fared no better after the break and struggled to exert any control. Johanneson netted a second to make the game safe two minutes from time, seizing on Bremner's free kick into the area to leave Bonetti helpless again.
The loss of Smith generated the same backs to the wall spirit which had carried Leeds through at Swansea and the spirit which flooded through the team brought new hope to Elland Road.
Unfortunately, however, the improvement couldn't be sustained - the next six League matches brought only three draws and three defeats. Charles continued to struggle to find any kind of form, and newspapers hinted at a transfer back to Italy.
Juventus' local rivals Torino came in with a bid, but soon it became clear that Roma were favourites to secure the Welshman's signature. They were undeterred by Charles' lack of form, as he toiled without success against the defences of Second Division sides. He played one tremendous game, away to Southampton at the end of September, when he was forced to drop back to centre half to replace Jack Charlton after the defender was injured, forced to see out the game on the wing.
Charles was outstanding in his old defensive position, as Norman Hunter recalls: 'Southampton had this striker called George Kirby and he had already sorted Jack Charlton out. He was giving all of us a bashing but John came back into defence and that was the end of Kirby. He was heading the ball away before Kirby had got off the ground. I was a very young man at the time and I remember John telling me, "Slow it down." He was telling me what to do and what not to do. It was a defensive display I'll never forget. I'd have loved to have played more games with him.'
But good as Charles was as a centre-half, he had been bought to score goals, and in that respect was a dismal failure. The youngsters, driven and shaped by the fiery Bobby Collins, had shown Don Revie what could be achieved without Charles, and the Welshman was keen to return to sunnier climes, constantly pestering the directors to agree to his transfer request. In the end, despite strenuous denials, the board finally decided to cut its losses and call an end to a disastrous gamble.
At first the board had been resolute, stating 'We are not prepared to release John Charles. There is no question of the matter being reconsidered.' However, they could not ignore his lack of form for ever.
Throughout a drab goalless draw at Derby on 13 October, Charles was dismally ineffective, exhibiting an almost habitual tendency to drift far too deep, leaving Leeds with few attacking options. The Welshman's frustrations were evident after the game when he commented on his desperation: 'I have reached the stage now where I can't sleep at nights. This is the first time my football has left me so long and I feel shattered. It was a mistake for me to come back.'
Eric Stanger: 'He has not been the old John Charles they knew so well and admired. He returned badly overweight, and though he has since shed several pounds in training he has lacked much of his old speed and almost all his deadly finishing. In 10 Second Division games at centre-forward he has scored only three goals, the last being at Huddersfield as far back as September 1. In my opinion Charles has found the speed in tackling in Second Division football too quick after his years on the Continent. There the style of play often deliberately permits a player to hold the ball in midfield while a retreating defence positions itself. In the Second Division the tackle is made as quickly and as strongly as possible. When I have seen Charles since his return he has often been tackled in possession and looked a little surprised that the challenge should have been made so soon.'
As it turned out, the whole Charles episode brought a healthy £17,000 gain as a deal worth £70,000 was agreed with Roma. At 6.59 pm on Friday, 2 November the formalities were completed, with Charles flying off to Italy to make his debut that same weekend for his new club against Bologna.
He scored in the game, but he had no dream stay in the Eternal City. He was back in the Football League within a year, signing for Cardiff City, who had long coveted his talents.
For Revie and Harry Reynolds the Roma money was hugely welcome, although the promise of the teenagers meant they could be judicious in spending it. In the Southampton game when Charles had played so well, the young Scot Peter Lorimer became Leeds' youngest ever player at just 15 years, 289 days old, while 19-year-old Mike Addy was playing his fourth first team game, bringing the number of teenagers in the side up to five.
Dundee-born Lorimer was one of the hottest young properties around after some prolific success in schoolboy football, with 176 goals in one season for Stobswell School and decent performances in his games for the Scottish Schoolboys. Revie had beaten almost 30 other top class clubs to Lorimer's signature, driving all through the night to Scotland to sign him and receiving a speeding ticket for his trouble.
Addy had more limited credentials, but the fact that Revie could snap up virtually any youngster he wanted was testimony to the man's charisma and sure touch with parents. As Syd Owen recalls, 'There was a lot of competition for the boys, so we invited the parents to come

down to the club as well. We put them up in hotels and let them stay a short time. We took them to see the people who looked after the boys in digs. We even had a church minister come down to the ground every Thursday to walk round the dressing room and ask the young players if they had any problems.'
In a show of gratitude for the efforts of his young manager, chairman Harry Reynolds decided to offer visible signs of support, making some of the Charles money available for Revie to reinforce his squad.
It was impressive testimony to the enormous confidence of the board in their man because during November the club had announced a record trading loss of £72,259, with the bank overdraft almost £70,000.
Reynolds had little option, however, as a spate of injuries decimated Revie's squad, while Tommy Younger returned to Scotland after announcing his retirement following a recurrence of his old back problems.
£1,500 was paid to St Mirren for young Scottish winger Tommy Henderson at the beginning of November, while Rotherham's bustling forward Don Weston signed for £18,000 on 13 December. A couple of weeks earlier Crewe Alexandra goalkeeper Brian Williamson had arrived at Elland Road as cover for Gary Sprake.
It was the second time that 19-year-old Henderson had signed for the Elland Road club. He had first arrived with Billy Bremner in 1959, but had returned to Scotland shortly afterwards for spells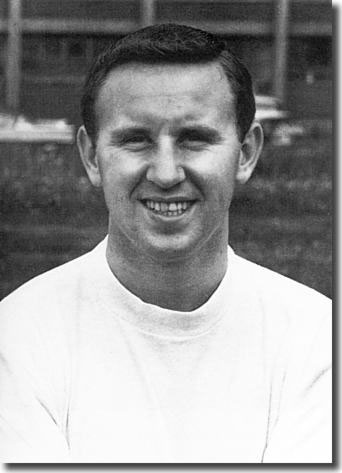 with Hearts and St Mirren and an appearance in the 1962 Scottish Cup final for the Saints against Rangers.
Weston had earlier that season torn the United defence apart when scoring twice in Rotherham's exciting 4-3 win at Elland Road. He had proven himself a dangerous striker with Wrexham and Birmingham and was renowned for his power and pace. He brought exactly the sort of threat which Don Revie had vainly hoped that John Charles would deliver and marked his debut on 15 December with all three goals in a sterling win at Elland Road against Stoke City, who were handily sitting third in the League.
Leeds' form in the weeks before the game had continued to be patchy, although a Jim Storrie hat trick had been the inspiration of a 6-1 win against Plymouth.
Before the game, Stoke had conceded just eight goals in 10 away matches, but the United attack, with Storrie in fine form, shredded them. It was Weston, however, who brought the edge, coming close to a fourth goal when he hit the crossbar late on.
Richard Ulyatt: 'It might have been five goals for Weston instead of the most spectacular hat trick I have seen a Leeds United player score at Elland Road in 25 years of intermittent watching. It was an individual triumph because while Henderson provided the pass for the first goal, Collins, Storrie and Johanneson the passes for the second and Clamp's hasty attempted clearance the opportunity for the third, no other player on Leeds United's books either now or in recent years would have had the combination of speed, self assurance and accuracy to take all the chances.'
It was a stunning debut and the Storrie-Weston partnership hinted at better things to come.
However, high-flying Sunderland saw Leeds off 2-1 a week later at Roker Park, and it was to be weeks before United could recover from the setback because it was at this point that one of the worst winters on record put the season on hold for more than two months, leaving the Leeds players to kick their heels in frustration until 2 March.
Most of the country's grounds, and all those in the North, were rendered unplayable by the cold weather and all consuming ice. More worrying still for Leeds was the loss of income from gate receipts throughout the period, with no corresponding reduction in expenditure. Harry Reynolds, Manny Cussins and Albert Morris made further loans to the club to tide them over the winter and increased personal guarantees by the board were required to secure an increased bank overdraft. It increased the club's debt burden, but at least gave them the necessary funds to keep them afloat.
Leeds had slumped to 13th place during their lay off as most of their rivals returned to action in advance of the Elland Road club. However, the tyrannical training regime of Les Cocker brought the United players to the peak of fitness during the break and they resumed action in far better condition than their opponents, announcing their return with an impressive 3-1 win against Derby County.
Even a shock transfer request from Billy Bremner could not put a dampener on the Elland Road revival, but it certainly worried Don Revie, who was a big advocate of Bremner's talent and commented: 'If he goes, I go, because I want to build a team around him.'
Bremner spoke of his reasons for the move: 'I told the club I wanted away and that I was not settled in Leeds. I thought it would be different when I was married but it is not so. The club have been all right to me. It is a pity this club was not in Scotland. I feel I can improve my chances of getting a place in the Scotland Under-23 team by moving to Scotland. I think I shall be happier playing my football up there. I have not been really satisfied with my form this season.'
Bremner had actually been in and out of the side for some time, suffering with his form, but Leeds were proving that the team was bigger than any single player. They had shown they could cope without Charles, and could do so without Bremner, accepting his request and agreeing to put him on the transfer list. Tommy Henderson had made the right wing berth his own with some impressive displays and United were the form side of the spring, winning game after game and soaring up the table. They continued to have matches in hand on their rivals, and by the end of April they sat on the verge of an unlikely promotion.
What was even more exciting, for the fans at least, was that Leeds United had finally been able to put together something of a decent FA Cup run. The club had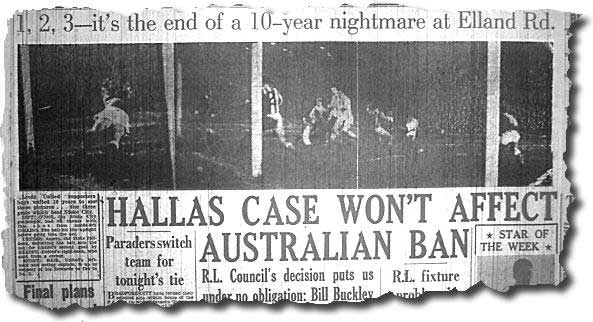 by far the worst FA Cup record in the country and had not won a tie since February 1952, when goals by Jim Milburn and Ray Iggleden had seen off Bradford 2-1 in the fourth round.
Leeds' first match was at home to Stoke City, but because of the weather the match was postponed twelve times. Rather than the first weekend in January, the tie actually took place on Wednesday 6 March. It was a titanic struggle between two sides battling for promotion.
The bog of a pitch had been left ankle deep in cloying mud after the thaw and Leeds' superior fitness told in the first twenty minutes as they raced into a 2-0 lead. Bobby Collins was again in great form and opened the scoring, taking Hunter's square pass to beat goalkeeper O'Neill from 20 yards with a hard low shot which went in off a post. Eric Stanger: 'It was fitting, for Collins strode the battlefield throughout like a pocket Napoleon, guiding his troops hither and thither with long passes to either wing or with shrewd lobs over the bogged down Stoke defence.'
Eight minutes later Paul Reaney added the second, coming up to take Tommy Henderson's short corner and shoot through a packed area.
If Don Revie and his men thought they could coast home they were wrong, for City began to get to grips with the conditions after that, adopting a long ball game and pressing Leeds hard. However, Gary Sprake and his beleaguered defence stood up well to the test, and it was the 70th minute before Stoke managed to narrow the deficit, Bebbington netting the rebound after Sprake spilled Ratcliffe's effort.
That prompted a few jitters in the Leeds defence, but acting skipper Grenville Hair, the only Leeds player who had experienced a win in the tournament, netted a decisive goal to round off a memorable 3-1 victory. He uncharacteristically made his way forward in support of his attack to force a shot between keeper and near post and bring relief to his hard pressed team mates.
Afterwards he said: 'That was my gladdest moment in football. It's only the second goal I've scored, and I don't suppose I'll score another one now but I've had my moment. Stoke were a very good side to beat and I think we did splendidly to score three on that pitch. I was very proud to be acting captain last night and I could not have had a better lot of lads. It was all compensation for those last 10 Cup years. There's been many a joke about them in the town, but it wasn't fun to be a player in there, I can tell you.'
Goals by Storrie and Johanneson secured a hard won 2-0 victory at Middlesbrough in the fourth round. Former United manager Raich Carter had just taken charge at Boro and was disappointed when his keeper Emmerson gifted Leeds both goals, but the Teessiders had never seriously threatened Sprake's goal.
Three days later, Nottingham Forest, a formidable First Division outfit, outclassed a tiring United side 3-0 at the City Ground. They set out to 'stop Collins and keep Johanneson on the touch line', and those tactics stymied a one dimensional attack, rendering Storrie and Weston virtual bystanders. It was a sad end to a heroic Cup run, but Leeds had finally shown that they could find some success in the competition.
Harry Reynolds nonchalantly predicted that the Cup exit would allow Leeds to concentrate on promotion, but four days later United struggled at Norwich, finding themselves trailing 3-0 before half-ime. A rally after the interval brought them back to 3-2, and they had enough chances to win the game, but wasted them all to finish with nothing to show for all their efforts.
They had played seven games in just 22 days and were looking jaded. They enjoyed games in hand, but lay twelfth in the table, eight points off the promotion places, with seemingly too much ground to make up. It was now, however, that Leeds discovered their real form and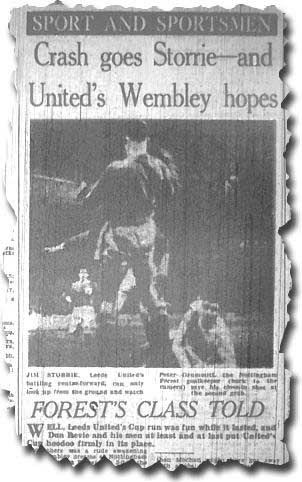 launched the most unlikely of promotion bids.
A week after the Norwich reverse, United hammered a dour Grimsby side 3-0, with Brian Williamson making his debut in goal. Leeds weren't on their best form, but the goals came at the right time and they were never seriously threatened. The game was dead at the hour mark with the Yorkshire club safe with a 2-0 scoreline. Bremner netted the first with a spectacular 20 yard drive and shortly after the break Collins added a second. He completed the rout in the closing seconds with the best goal of the game, getting on the end of a passing move which had begun in the Leeds half to finish with calm assurance.
Bremner got the only goal to secure a lucky 1-0 win at home to Scunthorpe, but then came a disappointing 3-1 defeat away to a decent Plymouth Argyle team, for whom McParland netted a hat trick. That again seemed to spell an end to any hopes of going up, but Leeds fought back. They cruised into an impressive spell of form, hammering Preston 4-1 before enjoying an Easter period double over Charlton.
The Charlton games were among the first in which the negative, timewasting tactics of later years were to be displayed by a Leeds United side under orders by manager Revie to stifle the opposition and secure the points after earning a lead.
The crowd 'strongly objected to the way in which they taunted Charlton in the closing stages by rolling short passes to each other in midfield or putting the ball back to Sprake'. Don Revie saw nothing wrong with the tactics: 'It is really just making absolutely sure that you keep possession by making safe, short passes, and that accordingly you preserve the score with your team leading. It demands real skill, control and concentration by the players doing it - you can easily make an expensive mistake if you slip. But Continental crowds cheer it when successfully done, and rightly so, in my view.'
It was an approach which would infuriate critics over the years which followed as Don Revie honed the style. For the time being, however, Leeds were only toying with the tactics and had not yet mastered the art of impregnable defence.
In the next game United inexplicably collapsed 3-0 at Portsmouth, before wins against Scunthorpe and Cardiff moved them firmly into the promotion frame. Jim Storrie scored all three goals in the trouncing of the Welsh side and was proving a tremendous asset, following his switch to centre forward after the departure of John Charles.
The Scot had not welcomed the move: 'Really, I was an old fashioned inside-forward carrying the ball through, playing one twos. In Scotland, no one bothered how you played and I always seemed to be looking for people to play off. But when I was the target man, I had the goalkeeper behind me. Individually, I think I became a worse player. My wife Nancy told Revie this at a function one night, but he just laughed and said, "you may be right but they are a very successful team." That was true. The success glossed over a million deficiencies. I adapted because I was caught up in all the enthusiasm.' Whatever the truth, the trick was working, for the hat trick against Cardiff took the Scot onto 21 goals for the season.
Top of Second Division - 27 April 1963

Pos

P

Pts

1st

Stoke City

36

49

2nd

Chelsea

38

47

3rd

Sunderland

37

45

4th

Bury

38

44

5th

Leeds United

36

43

6th

Huddersfield Town

36

43

7th

Newcastle United

38

42

8th

Plymouth Argyle

41

42

9th

Norwich City

37

41
In truth, all the United forwards were doing well, and the attack as a unit was far more cohesive than it had been for years. The previous season, Leeds had managed just 50 goals in the League all season. Thus far, they had already netted an impressive 47 goals in 18 games at home, an astonishing turnaround. Bremner, Collins and Johanneson were regular contributors on the score sheet, although Don Weston's initial goal rush had dried up.
Leeds now faced a major challenge, with a trip to Chelsea, handily placed at second in the table, and favourites to go up with leaders Stoke City. They had endured a difficult run following the resumption after the big freeze, but still boasted some of the best young players in the country.
On the day of the game, Tuesday 30 April, Don Revie was given a major confidence boost.
The young manager had begun to generate national interest for the impact he was having at Elland Road. In October he had been forced to dismiss as 'ridiculous' a report that his name was being mentioned on the Soccer grapevine as a possible successor to Walter Winterbottom as England's team manager: 'As far as I am concerned it is ridiculous even to mention me for the job. I am very happy at Leeds - even with all the ups and downs. What I want to do is put Leeds back on the soccer map. I have made mistakes in buying and I may make more, but I am learning. I honestly think no manager can have a better board of directors. They have backed me and never interfered once. I'll do everything I can to put this club on the map. If I fail I'm entitled to the sack.'
It was Ipswich Town manager Alf Ramsey who eventually replaced Winterbottom, but chairman Harry Reynolds decided to give his man a visible sign of support, prompting his fellow directors to extend the manager's contract.
In March, the Yorkshire Evening Post's Bill Mallinson wrote, 'Don Revie has just completed two years as Leeds United's team manager. When he was appointed, he signed a three year contract, but the question now is whether United will follow the lead of other clubs who think they have the right man at the helm and make sure in good time that he stays at Elland Road. With the help of the board he has set in motion a trend which this season has brought about the desired revival at Elland Road. But it is the general spirit prevailing at Elland Road and the store of young talent which Mr Revie and his staff have got together over the last two years (often in the face of keen competition from First Division clubs) which suggest that it is now time for United to be considering ensuring the continuity of this progress. It is known that last close season a club in a lower grade of football was prepared to find a bigger salary for Mr Revie than his present one, but United, of course, with their potentiality and progressive attitude must surely present a greater appeal for him.'
The board offered him a three year extension on his contract, tying him to Elland Road until March 1967, in recognition of his achievements thus far in building an exciting new team. The new contract also made him the best paid manager outside the top flight, a status which gave Revie the material reassurance his insecure personality demanded and appealed to his vanity.
Revie's new contract set the team up nicely for the Chelsea test. It was a tremendous battle, with honours shared in a 2-2 draw. Chelsea opened the scoring when Barry Bridges forced the ball home off the post after Gary Sprake pushed out a 25 yard shot by Moore, but Ian Lawson's hopeful lob was fumbled into the net by Peter Bonetti three minutes later to bring the sides level. Two more minutes and Leeds were ahead when Lawson volleyed home after Storrie had nodded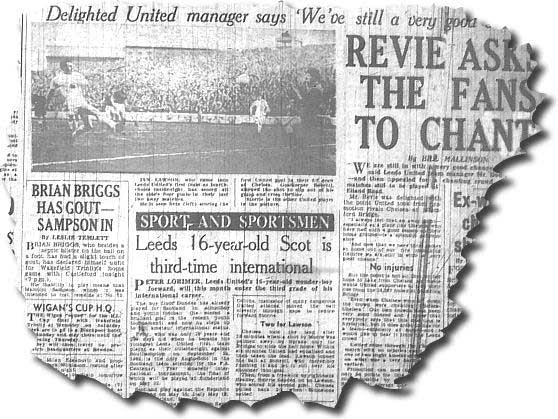 Reaney's header on with the defence trying to play the offside trap.
The gangly Lawson had scored both goals against Scunthorpe the week before and was obviously keen to impress in his increasingly rare appearances - he now had four goals from his four appearances in 1962-63. In September he had asked for a transfer following the arrival of Charles and Storrie, but his recall to the side and improved form now persuaded him to withdraw his request for a move.
Chelsea refused to panic at falling behind and equalised before half time when Blunstone powered a shot home from the edge of the box.
After the excitement of the first half, the rest of the match was a battle of attrition, with neither side willing to give any ground and there were no more goals. Leeds United had been fortunate with both their goals and had been outplayed, but manager Revie claimed afterwards, 'We are still in with a very good chance of promotion. I always feel that an away draw - especially at a place like Chelsea who have had such a good season on their home ground - is a splendid performance. And now that we have three matches at home out of our five remaining fixtures we are still in with a very good chance.'
That same night Sunderland drew at Southampton, while a day later Newcastle beat leaders Stoke City 5-2, to keep things extremely tight. When Stoke lost 3-2 at home to Scunthorpe the following weekend as Chelsea took a day off, the challenges of Sunderland and Leeds gathered momentum. Sunderland hammered Southampton 4-0 while two Jim Storrie efforts (one in the last minute) and one from Don Weston gave Leeds a flattering 3-0 win at home to Luton Town.
Bobby Collins, according to Eric Stanger a 'presiding genius', was the architect of all United's best football, controlling the play against Luton. Stanger: 'Collins helped in Storrie's first goal with a delightful flick inside the back and he also helped to make the second for the dashing Weston early in the second half. It was his centre which Baynham dropped as he was hampered by one of his own defenders. Collins' greatest value to Leeds, though, was his steadying influence when some of his younger colleagues in their enthusiasm were apt either to try to play at too fast a pace or get themselves out of position. A foot on the ball by Collins to slow down play helped to calm taut nerves and give the others time to sort themselves out.'
Top of Second Division - 4 May 1963

Pos

P

Pts

1st

Stoke City

38

49

2nd

Chelsea

39

48

3rd

Sunderland

39

48

4th

Leeds United

38

46

5th

Newcastle United

40

46

6th

Huddersfield Town

38

44

7th

Bury

38

44
Leeds were very much the form team, having dropped just three points in eight games. They looked to be on the verge of a remarkable promotion success, with their rivals clearly showing their nerves. However, despite battling performances and phenomenal effort, United's season collapsed as their luck deserted them.
Sprake blundered twice in the first half at Middlesbrough to gift the Teessiders a 2-0 lead and even a fierce second half fightback could achieve nothing more than a consolation goal.
Chairman and manager knew that the setback was a serious one, but sought to emphasise the positive. Harry Reynolds: 'The players could not have given one ounce more. We made mistakes, yes, but who doesn't in the course of the season? I have no blame, nothing but praise for a magnificent fight away from home. Nor are we finished yet, or anything like it. All our ambitions are as high as ever.'
Don Revie: 'The lads were absolutely done when they came in from a match which made me prouder than ever of them. They had made one of the finest efforts this season, and if the result went against us, well, isn't that football?'
The effort of having to catch up on their fixture backlog was finally telling on the young side. The matches at home to Huddersfield on 11 May and at Southampton four days later were the side's 17th and 18th matches in 75 days since returning to action after the Big Freeze - and were clearly a step too far.
Leeds lost both games and never looked in touch as their promotion dream disintegrated. It was a disappointing end to a tremendously promising season. However, when the final match brought a rousing 5-0 victory at home to Swansea (guaranteeing a fifth place finish), it recalled the heady days of the win away to the Welsh side in September when Revie's teenagers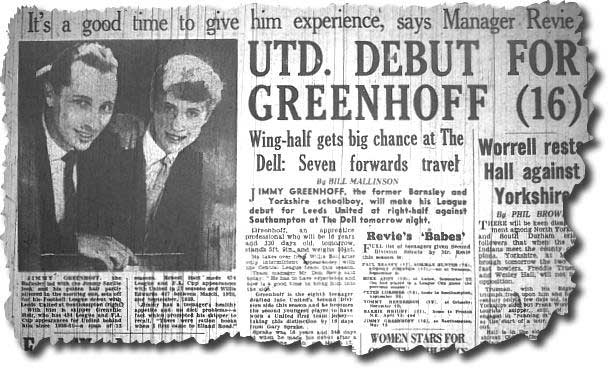 announced their arrival. The manager chose to use the last couple of games to blood another young hopeful, 16-year-old wing half Jimmy Greenhoff, who thus became the second youngest player to appear in the first team, and the eighth teenager to feature in an extraordinary season.
The gamble with John Charles had been a disastrous failure, but Don Revie's experiments with youth were far more rewarding. The kids had paid off in a way even the optimists could not have hoped, and the manager had every reason to congratulate himself, ending the season by formally confirming his retirement as a player when he announced his retained list. Billy Bremner and Willie Bell remained on the transfer list, along with Irish international Noel Peyton and reserve defender Tom Hallett, but the squad sparkled with youthful talent, giving more cause for optimism at Elland Road than for many a long year.
Of the 28 players on the retained list, 12 (Mick Bates, Terry Cooper, Greenhoff, Henderson, Terry Hibbitt, Hunter, Johnson, Paul Madeley, Reaney, Bobby Sibbald, Sprake and Barrie Wright) were teenagers, while 8 more (Addy, Bell, Bremner, John Hawksby, Johanneson, Ian Lawson, Storrie and Brian Williamson) were 25 or under. Peter Lorimer, David Harvey and Eddie Gray had arrived at the club but were still too young to sign professional forms.
Led by the phenomenal Bobby Collins, enjoying the most glorious of Indian summers, the exciting new United outfit looked as good as anything around, brimming over with confidence and exciting young talent. Eric Stanger had enthused about the team in his columns in the Yorkshire Post: 'Their football at times, imaginative, fast and crowned by hard shooting was better than much that has been seen even in the First Division this season. Leeds are blending in a harmony of purpose which comes from every player being prepared to put team needs before personal achievement.'
A revolution was firmly under way, the like of which has rarely been repeated in British football.
Other Football Highlights from 1962/63
Ipswich manager Alf Ramsey was appointed to replace Walter Winterbottom as England manager. After a successful summer tour, Ramsey declared, 'England will win the World Cup in 1966. We have the ability, strength, character and players with the right temperament'
The big winter freeze that gripped the country played havoc with football for months and forced the season to be extended by several weeks
Stanley Matthews chose the perfect moment to score his first goal of the season for Stoke. They were leading 1-0 at home to Luton in their last match of the season, and Matthews' goal made sure of victory and the Second Division championship
Tottenham continued to pile up the trophies, beating Atletico Madrid 5-1 to win the European Cup Winners' Cup. They thus become the first British side to win a European trophy
Despite the weather, Everton cruised to their first league title since the war. Manager Harry Catterick had spent £175,000 on five players in 1961/62 and their strength in depth enabled them to see off the challenge of Tottenham, Burnley and Leicester with games to spare
Manchester United were still in a transitional stage after the Munich air disaster in 1958, so had to buy players to keep the team afloat. Manager Matt Busby bought Denis Law back from Italy for £115,000 at the start of the season and added Pat Crerand from Celtic. United struggled all season in the league and it was only in their final match away to neighbours City that they ensured their safety. Law won a penalty against his old club in a 1-1 draw which meant that City, rather than United, were relegated
United were in better form in the Cup, however, beating Leicester 3-1 in the final with one goal from Law and two from David Herd. It was United's first trophy since 1958
Billy Wright, the former England captain, was appointed Arsenal manager