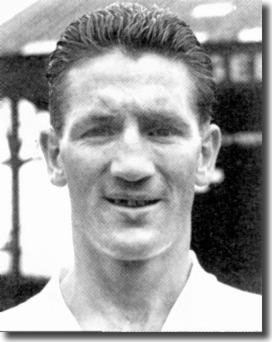 Part 2 - Dawning of a new era
1961/62 was the first full season of Don Revie's reign at Leeds United and the team came within a whisker of an unprecedented drop into the Third Division, requiring a last day victory at Newcastle to ensure a future in Division Two. For all the unsettling jeopardy of their situation, however, and the pervasive financial difficulties, there was a new found air of optimism about Elland Road that summer.
The battling performances of the spring, inspired by the terrier like qualities of Scottish international Bobby Collins and the reborn defensive fortitude of Jack Charlton, coupled with boardroom support for Revie's ambition, offered hope for the new season. In the midst of the relegation fight, £70,000 had been provided to fund the purchases of Collins, Billy McAdams, Cliff Mason and Ian Lawson, increasing the club's debt to around £150,000, underwritten by United's wealthy directors.
McAdams, had been a dismal failure, and left in the close season for Brentford in a £8,000 deal, while players on the periphery of the side, Alf Jones, John Kilford, Alan Humphreys, Terry Carling, Bobby Cameron and Derek Mayers, also departed. The sales generated just £22,000, and the debt remained a grave concern.
Nevertheless, such was the faith in Revie and his new side, that the directors were ready to go a step further when they heard the rumours from Italy that a former favourite was on the market. On Tuesday, 13 March, the Yorkshire Evening Post carried the headline: 'Now what price John Charles for United?'
It is unlikely that the Welsh superstar would have contemplated playing in Division Three if Leeds had gone down, but the United hierarchy opened discussions with Juventus regarding a possible transfer.
Charles had already set his mind on a return to the Football League and was positive about United's overtures, seduced by the memory of his first, glorious spell at Elland Road. The directors and manager were similarly besotted and were resolved to raise the money, thought to be around £50,000, to make their dream come true.
Originally, their strategy under Revie had been to build from the bottom by attracting and nurturing the best of the country's teenage talent, but the urgency of the relegation battle saw patience cast aside and the cheque book flashed.
The team's shortcoming had been a distinct shortage of goals, and if Charles could remedy that failing and inspire a promotion push, the directors reasoned, it would be money well spent.
And so began a protracted courtship which dragged on for weeks, fraying the nerves of all connected with the club. There was a series of emotional peaks and troughs as negotiations fluctuated regularly with doubt as to whether a deal would ever go through.
On 12 June, Charles welcomed United's interest: 'With my wife coming from there and in view of the fact Leeds released me to come to Juventus, I must give them every consideration.' Phil Brown reported on 3 July in the Yorkshire Evening Post: 'A United negotiating party of four will reach Turin on Thursday afternoon to have talks with the Juventus board … arrangements were rushed through this morning for Mr Reynolds, vice chairman Alderman Percy Woodward, and team manager Mr Don Revie to fly to Turin early on Thursday morning. Another director, Mr Albert Morris, is on holiday at Monte Carlo and will join them in Turin. Talks will begin immediately.'
Manchester United, still rebuilding after Munich, were reputed to have readied a £75,000 bid in 1959, but now Leeds' main rivals for the signature were Cardiff City, who had sought to acquire Wales' favourite son during his first spell at Elland Road. However, Charles' professed preference for returning to his spiritual home kept United in the driving seat.
The issue was not so much where Charles would end up as whether he would be allowed to move at all. The sticking point was Juventus' need for a replacement. The Brazilian World Cup player Amarildo, for whom they were ready to fork out £185,000, was their target. The Turin club were reluctant to sign any deal which could not be voided if they were unsuccessful in their chase - Leeds were understandably just as fixed on a deal without strings. The clubs kept talking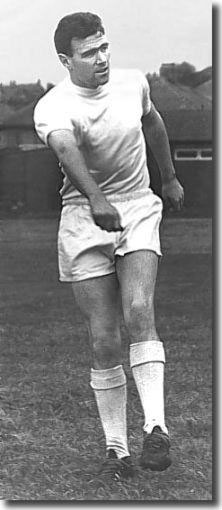 and in the end, even though there were complications in the Amarildo negotiations and the Juventus president Umberto Agnelli resigned part way through talks, the deal eventually went through on Thursday, 2 August. The fee was £53,000, increasing Leeds' debts to more than £200,000.
During the negotiations, Don Revie briefed Charles on his ambitions for the club, and how central he was to his plans. It was the manager's gifts of persuasion which sealed the Welshman's commitment.
Revie had a knack for getting his man, and used the fame of Charles to convince another player that his future lay at Elland Road. Free scoring Airdrie inside-forward Jim Storrie had turned down initial advances the previous season, but when Revie came calling a second time, the Scottish part timer was convinced. He said: 'One of the reasons I went to Leeds was because they had signed John Charles. I had no particular desire to go to Leeds because they were in the Second Division but Revie told me they had got Bobby Collins and John Charles and all of a sudden the package looked pretty impressive.'
The £15,650 fee and the Charles settlement took Revie's spending on players to a shade under £135,000 in less than six months, a phenomenal sum in those days.
But it was not the largesse of the directors which was being relied upon. The purchase of Charles was a key component of a new strategy.
The directors estimated that the club needed to generate around £83,000 a year from gate receipts to break even financially. In 1961-62 average home crowds had been less than 13,500, which, with a ticket price of 3s, would have generated around £40,000. The attraction of the returning hero, it was reckoned, would boost crowds to at least 20,000, which at the same admission price would generate receipts of £63,000. A bold decision was taken to increase entrance fees by 150% to 7s 6d, upping likely takings to over £150,000. It made Leeds United the most expensive Football League side to support outside London.
The Yorkshire Evening Post noted that 'United's first thoughts on the increased prices hovered for a long time on the basis of charging £1 to go in,' but such notions were swiftly dismissed. As it was, rebellion was still very much in the air when the more conservative prices were announced.
The Yorkshire Evening Post carried the news of the club's intentions in its 9 July edition, more than three weeks before the Charles deal was completed: 'Leeds United today asked reserved seat ticket holders to pay 3s a home match more next season for the privilege of watching John Charles playing again in United's colours. The Board, which has shouldered the burden of the earlier transfers is giving the public a chance to show the firmness of the promises to support the club if the directors embarked on a policy of team-building and bringing personalities to Elland Road.
'Season ticket holders, who had already been warned that prices were subject to increase if Charles was signed, are being asked to pay 10 guineas for West Stand seats and 8 guineas for the Lowfields Road Stand.
'The stand ticket increases, said Mr Reynolds, were the first in six years. He said: "I have a feeling that the public response to this appeal will be an overwhelming vote of confidence in the new policy that is being adopted at Elland Road and the spirit, enthusiasm and effort that must be apparent to all."
'Mr Reynolds went on: "All must agree the Board has done a great job in providing finance to make the progress that has been made since the new policy was formulated. Now it is the turn of our supporters and well-wishers."'
However, United fans were distinctly unimpressed by the news and were vitriolic in their response, with the Yorkshire Evening Post printing many of their letters.
Mr T Young, Cookridge: 'Whilst the directors are to be commended on their achievements and ambitions, they are unrealistic in expecting a return of capital outlay in too short a time. I feel sure that old and new supporters would not have minded paying an extra guinea, or even 30s, but three guineas will put season tickets beyond the reach of many, and will antagonise not a few.'
Mr D Siddle wrote on behalf of 49 employees of a local printing firm: 'We supporters have finally been let down by this outrageous exploitation of the loyal followers. In the last two to three years, the Leeds public have had to put up with a struggling team and second class entertainment. Now, after all the promises, we have to pay these absurd prices. Until there is revision we shall not attend any first-team game.'
'Ten Angry Supporters' from another printing firm wrote: 'We would like to thank Mr Reynolds and his directors for bringing Charles back. What a pity we can't afford to watch him.'
'Disgusted', North Park Avenue, Roundhay: 'For 40 years I have been a faithful supporter at every home game and many away. During last season, I suffered, but United did not reduce their prices. They have made a profit of £12,000 on Charles by selling him for £65,000 and having him back for £53,000 but at the expense of the supporters meantime. After 40 years I shall find myself watching the old blue and white stripes of years ago - but this time Huddersfield Town's.'
Club chairman Harry Reynolds was enraged by the reaction, retorting: 'We have pinned our faith in the public by giving them what they have clamoured for and all we ask is their support. When the return of Charles was 99 per cent sure, we appealed to our supporters to help us financially, and we started with an appeal to the season ticket holders to help us by paying 3s a match extra for 21 matches. We are pleased to say the response has been excellent. We feel that it is now the turn of supporters who use the turnstiles to do their share. It has been decided that the first two home League matches should be all-ticket and that we would appeal to our supporters to help us by paying the following charges. 5s for the Boys' Enclosure, 7s 6d for the 3s enclosure, 10s for the 3s 6d enclosure and 12s 6d for the paddock. Any seats that have not been taken up will be 20s for Lowfields Road Stand and 25s for the West Stand.
'We have had many criticisms on the poor standard of play and negative results that have been the spectators' lot for many years, but let us forget the past, look to the success of the future that we are starting to achieve and help the board and all connected with United to achieve honours.'
The controversy rumbled on for weeks, even temporarily superceding the news about how the Charles negotiations were proceeding. There was considerably less dispute about Don Revie's on field tactics than there had been about the 'Reynolds Plan'.
Leeds' only weakness in the closing months of the previous season - they had conceded just four times in the final nine matches - had been their lack of goals. With the arrival of Storrie and Charles, Revie reasoned that their chances would be much improved.
Despite some recent innovations in tactical arrangements - Brazil won the World Cup with a revolutionary 4-2-4 set up, Alf Ramsey's humble Ipswich Town scooped the 1962 league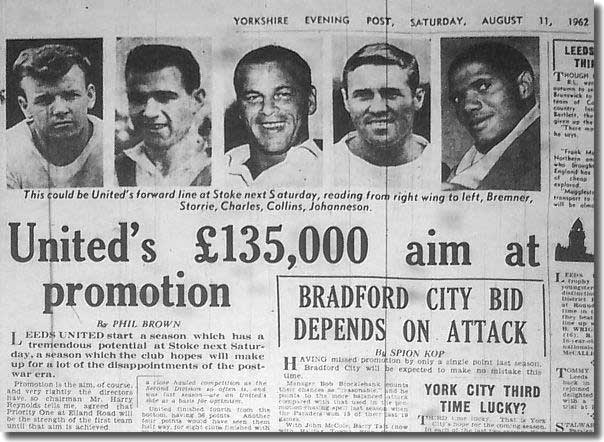 title by abandoning wingers, while Revie himself was the fulcrum of the deep lying centre-forward style which had won Manchester City the FA Cup in 1956, aping the original revolution by Hungary - most teams still operated minor variations on the basic 'WM' formation.
This involved a big centre-half leading the defence, flanked by full-backs and protected by wing-halves. Up front, a powerful centre-forward would be served by wingers, while skilful inside-forwards played down the channels, controlling play from their withdrawn positions.
Don Revie's favoured approach stuck to this main theme, but threw in a few individual flourishes. Scottish keeper Tommy Younger played behind Jack Charlton and the veteran full-backs, Grenville Hair and Cliff Mason. Skipper and half-back Freddie Goodwin's natural inclination was to defend, so he normally withdrew to shore up the centre with Charlton, leaving combative Scottish wing-half Eric Smith to range in front of them.
Further forward, Revie sought aerial dominance via Charles, with fleet-footed South African Albert Johanneson a constant outlet on the left flank. Billy Bremner, a notional right winger, was in reality an energetic midfielder who took the opportunity to get up and down the right wing. Inside-left Bobby Collins was the general of the side, and played deeper, balancing Smith's holding role. Revie deployed Storrie as a second-centre forward, although expecting him to drop back when required, particularly in away matches.
The game plan was simple - play a pressurising game, denying the opposition space and time, and get the ball forward quickly to Charles. He would secure possession and bring the other forwards into the play, making openings for them to run onto. It sounded effective, but there were flaws.
Firstly, many of the team were into their thirties and ill equipped for the hard running game which Revie's plans demanded.
Secondly, Charles had never been an orthodox target man. In his first spell at Elland Road, he had often played off another forward, and was much more effective coming on to the ball than playing with his back to goal. Italian football had demanded a subtle and cerebral approach, where guile was needed to avoid the cynical defensive tricks, rather than brute force. Charles retained the physical presence to hold his own against big defenders, but preferred playing to scrapping.
Furthermore, his love of Italian food and lack of pre-season training had eroded his fitness. When he returned to Elland Road, Charles weighed in at 15 and a half stone - he was still an impressive physical specimen, but his edge had been blunted, and he proved a difficult challenge for trainer Les Cocker, who drove his troops hard, demanding that they should be among the fittest in the country.
Cocker pulled his hair out at the antics of his new charge. Mario Risoli, in his autobiography of the player: 'Cocker's job was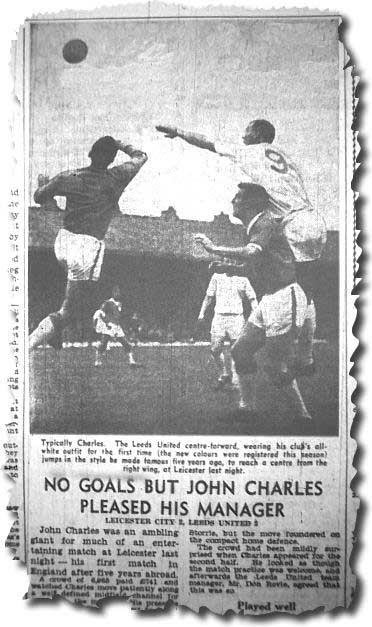 made harder by the fact Charles had grown accustomed to the more sedate Italian methods of training. "John drove Les and Syd spare in training," reveals Storrie. "The training at Leeds was very hard. It was a lot of stamina work and running and the big fella was having trouble with that. John would amble along and Les couldn't handle that. He would scream and shout at John and John would look at him as if he was daft. A lot of the young players like myself accepted it because we were young and enthusiastic but John was in the autumn of his career and he didn't want to go through all that crap."
'Willie Bell remembers one occasion at training when Charles left Cocker lost for words. "Les would select different players and take them outside to do a warm-up. On this day he picked John. They went outside and John just stood there, put his two arms out in front of him and started flopping his wrists while the other players were stretching and working. 'What are you playing at?' said Les. And John just said, 'Three championship medals.' Les had no answer to that."
''We were a very physical, hard-working and hard-running side," explains Jim Storrie. "It was high-pressure football. We had to put the opposition's players under pressure all over the park. We harassed and chased. Revie was one of the first managers to introduce that way of playing. I was a forward and my first job was to defend. That was the mentality. John was like a duck out of water playing that way. Had he been younger he might have adapted. He wanted to play one-touch football and flick the ball here and there. At the time that wasn't Leeds' style. Long balls were played to the corner flag and John was expected to chase after them. At half-time in one game I remember John saying, 'I'm not running my pants off for long balls.' And wee Billy Bremner said, 'You're making that f***ing obvious!'"'
With the benefit of hindsight, it is clear that Leeds had taken a huge gamble by throwing Charles into their mix, an overweight 30-year-old with dodgy knees and a love for pasta, but the mythology of Charles as he had once been blinded even cynics to the facts.
Even in a pre-season friendly the signs were there. Charles made his first appearance on Monday 13 August away to Leicester City, and the report in the Yorkshire Post was scarcely flattering: 'John Charles was an ambling giant for much of an entertaining match at Leicester. A crowd of 6,965 paid £741 and watched Charles move patiently along a well-defined midfield channel for most of the match. His presence was undoubtedly a comfort to Leeds but his part in the game was rarely more positive than that of linker. His first genuine attempt to score came in the 65th minute when he failed to twist a header round sufficiently. Then came a startling 40-yard sprint and a glorious flick to Storrie, but the move foundered on the compact home defence.'
The burly Leicester defenders gave their illustrious opponent a rough ride. He came out of the game needing a stitch in a head wound, and he felt the pace: 'I'm stiff nearly all over, I am not yet fit, not match fit. But it won't take long.'
Despite reservations about the time it would take Charles to readjust to the physical English game, the local papers were very positive about Leeds United's chances for the new season, amazingly so, given their mediocre performances over the previous twelve months.
Phil Brown: 'I must say it feels strange to be talking about promotion when it is only a few weeks ago I was talking of relegation fears. Not many clubs finish the last Saturday of one season sweating on relegation and start the next hoping for promotion as United are doing. But it is not as daft as it looks. The side finished the season with far better results and sometimes far better football than that with which it began and played so much in 1961/62.
'United finished fourth from the bottom, having 36 points. Another four points would have seen them half way. Another 10 points - and they threw away just about as many as that - would have seen them fifth.
'For all their poor final position there was little wrong with the defence. They had 61 goals scored against them, and there were only seven clubs with fewer. But the attack was the worst in the division with the exception of the bottom club, Brighton. United had but 50 goals. Charles and Storrie should alter that, I am as certain as can be.'
It would be a while before the reaction to the price increases could be tested, for the opening day fixture was away to Stoke City. It represented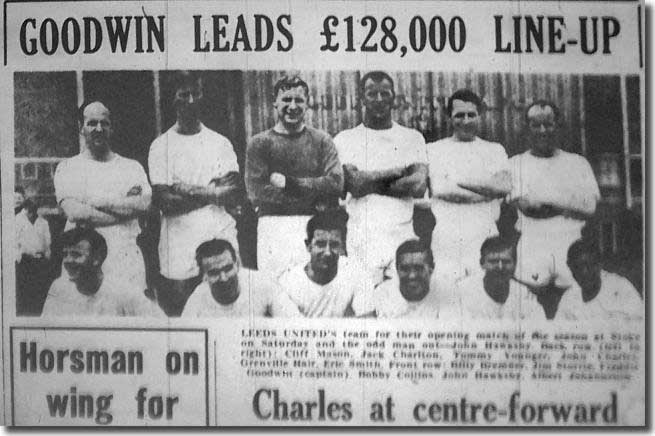 a stern challenge against fancied promotion candidates, who could boast their own international superstar in 47-year-old outside right Stanley Matthews, reunited with his home town club after a lengthy spell at Blackpool. The Potters had other talented individuals and it would be a difficult test for Don Revie's new XI, lining up exactly as the manager wanted, with Storrie playing an orthodox inside-forward's role.
In the end, the sense of occasion got to both sides, and there was little football of any real quality. Phil Brown confirmed as much in his match report: 'United's longest-serving player, Grenville Hair, said to me as we walked into the ground together: "Phil, I have never had butterflies worse than this." For all his long service with United, and his three heavy tours all over the world, Hair was feeling the high drama of the match. And behind John Charles' cheerful laughing there were signs of nerves, too. The "big feller" knew this was an occasion revolving around him and his team like nothing before in the history of the club.'
Neither Charles nor Matthews could impose themselves on the game, although the Welshman did manage to show some decent touches. Phil Brown: 'Charles overwhelmed Stuart in a header after a cross by Storrie. Charles was varying his positional game between deep and forward. From a deep position he nearly had Collins through with a long flick header … but the Welshman is not yet jumping as high as he used to.'
Stoke had the better of the game, but Storrie, Collins and Johanneson played well, and Leeds managed to come away with the points after Storrie scored the only goal five minutes before half-time. Stoke had a throw in near their own corner flag, but wing half Eric Skeels miskicked it into Storrie's path inside the area. The Scot was perfectly placed and took his time to drive home from 10 yards with keeper O'Neill well beaten.
The lure of the returning Charles clearly had the desired effect, for a crowd of 27,118 flocked into the Victoria Ground. However, the promised rejection by Elland Road home supporters of the new prices was evident four days later, as United entertained Rotherham United - just 14,119 fans were in the crowd, less than a thousand more than the previous season's average. Chairman Harry Reynolds was apoplectic with rage - 'It is very disheartening, in fact, I almost feel like saying to the Board that if we cannot get support, and the public do not want football in Leeds, what is the use of trying?'
He branded those who had complained so vigorously at the price increases 'nigglers', going on, 'What would they have to say if we could not meet our obligations - we still have payments to make on players we signed last season - and that to pay them we were going to have to go back to the old policy of selling our players? There would be an outcry. Why should we spend time and give money away. We are not obliged to foot the bill any more than the supporters are. They have clamoured for this thing. They wanted it.'
Those who stayed away from the Rotherham match, the 'summat for nowters' (as Reynolds' contemptuously termed them), missed some rare excitement for the match was a thriller. Don Revie kept faith with the team that had played at Stoke, although he pushed Storrie forward to support Charles.
Leeds were left light in midfield as a consequence, and fell a goal behind after just three minutes. McIlmoyle broke clear on the right and sent the ball across the area. Grenville Hair and Tommy Younger were not on each other's wavelength at all and allowed Alan Kirkman to tap home.
Rotherham, cheaply assembled and eager to impress, worked hard and got the better of the game where it mattered most. The nippy Don Weston on the right wing was far too quick for Cliff Mason, while Freddie Goodwin and Eric Smith, who ended the game limping with a knee injury, were simply overrun. Bobby Collins and Albert Johanneson had decent games, but Billy Bremner had an off day.
After 36 minutes Weston outstripped a loose and leaden footed defence to get on the end of left winger Ian Butler's free kick to put Rotherham two up, and the same man made it 3-0 five minutes after the interval. A Leeds defender appeared to handle Butler's shot on the line but as the ball came out Weston scored spectacularly with an overhead kick.
The crowd were silenced by what they were seeing, but Leeds came back into things a minute later with Storrie heading in from Bremner's free kick. After that, United seemed to finally realise they were in a match, according to the Yorkshire Post's Eric Stanger: 'Raid after raid, hammering after hammering fell on the stout Rotherham defence but Ironside, Jackson, Morgan and Madden were magnificent even if their tackling was sometimes more vigorous than discreet.'
For all Leeds' attacking frenzy, it was the 75th minute before the Rotherham defence was pierced again. Bremner was brought down in the area by centre-half Peter Madden and the referee had little hesitation in pointing to the spot. John Charles had been the penalty taker during his first period at Elland Road, and the crowd expected him to take it, but it was Albert Johanneson who stepped forward, converting the spot kick with ease.
Five minutes later, the United fightback seemed to be complete, as Charles got in the spirit, recalling the glories of his earlier days at Elland Road by blasting home a splendid equaliser. The Welshman had already seen a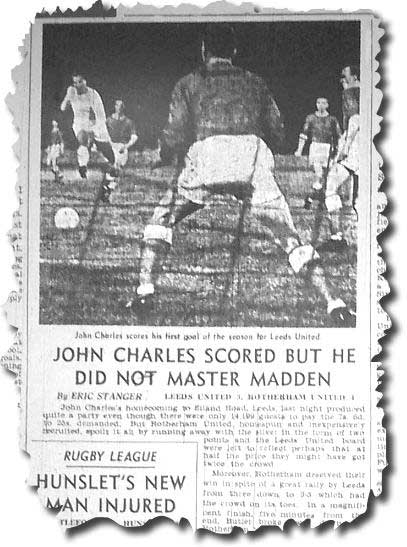 shot on the burst kicked off the line, before playing a one-two with Storrie on the edge of the Rotherham area and driving the ball home without breaking stride to beat keeper Roy Ironside.
The crowd rose as one to acclaim the sort of goal with which Charles had earned his fame. At that point the heartaches of the summer and the controversy of the ticket prices seemed to be irrelevant. King John had shaken off the cobwebs and returned from the dead.
Unfortunately, the gallant Rotherham side had sufficient resolve to come back for a last gasp winner. With five minutes to go, Butler sprinted down the left wing and centred perfectly for Kirkman to finish things off with his second goal. It was 4-3 and the Elland Road faithful were devastated.
They went away crowing, however, at Charles' magic moment, although in truth his contribution was mediocre. Eric Stanger: 'By his own standards Charles had a modest match until late in the game when he was set aflame by the spark of the Leeds rally. To that point he had been outjumped and often outfought on the ground by Madden. Perhaps too much is expected of him. He was not last night the Charles of old; no doubt he will be with a few pounds off as the result of some hard training.'
United and Charles were still getting to know each other, as Phil Brown commented: 'He has not yet fully adjusted to the side, nor the side to him. There were too many high centres altogether last night, for instance.'
Stanger echoed the comment: 'There is one lesson his colleagues must learn and that is to play with him as well as to him. Often he was a move ahead of them especially in the first half.'
It had been a disjointed and disappointing performance, with the formerly tight rearguard exposed as hesitant, flatfooted and slack, while the attack looked one dimensional and over eager for much of the time.
The following Saturday brought the real test of the policy of high prices, with the visit to Elland Road of a promising Sunderland side. Willie Bell was recalled in place of the injured Eric Smith, but otherwise the side was unchanged. All the talk before the match was of the contest between Charles and the away side's celebrated centre half, Charlie Hurley, acclaimed by many as the best defender in the country.
Despite an early morning apology from Harry Reynolds to the fans following his previous outbursts against them, the crowd was only marginally up on the Rotherham game - 17,753. It was much better than many of the home crowds enjoyed the previous season - less than 8,000 witnessed December's goalless home draw with Leyton Orient, while 4,517 had been present to watch John McCole's four goals defeat Brentford in the League Cup - but after the big money signing of Charles, a useful away win and a thrilling home match, it was too disappointing for words as far as the board were concerned. In fact, it could have been worse, for, according to Phil Brown, 'at 2.30, with only half an hour to go, there were hardly 4,000 inside'.
It was evident that the Leeds public felt strongly about the scheme, for Sunderland were one of the big guns of the division, managed by Alan Brown, and featuring the goalscoring talents of the remarkable Brian Clough, the promise in goal of young Jim Montgomery and the hard working Anderson at right-half.
Sunderland had the better of the opening exchanges, but were thrown into disarray after 26 minutes when inside left McPheat was taken off on a stretcher with a broken leg after a clash with Bobby Collins. The Sunderland manager was furious, claiming that the damage was intentional.
Leeds should have been ahead by then, despite some scares, as Albert Johanneson had fluffed a penalty. Anderson appeared to take Bremner down at the edge of the box to bring a fortunate penalty award. Again Charles was passed over for the penalty because he had lost confidence after missing six spot kicks in a row during his last season in Italy. Johanneson was again preferred, but his shot was weak and Montgomery was able to pounce on it.
Despite his miss, Johanneson continued to trouble Sunderland, combining well with the aggressive Collins on the left, although it was the North East side who continued to have the better of the game, with Hurley dominating Charles for the most part. The 10 men of Sunderland worked much harder than United and it was little surprise when the match reached the break without a goal.
In the second half, the greater numbers eventually told and Leeds were able to generate some momentum, scoring the only goal of the game after 57 minutes. Billy Bremner cleverly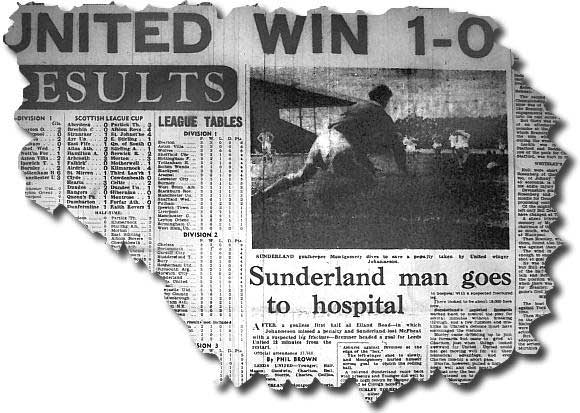 steered home Johanneson's centre from 10 yards with his head.
The game signalled the end of the experiment with ticket prices, Harry Reynolds finally admitting that the move had been a mistake: 'I have been wrong, as wrong as could be, I can see that now. We have to have a lot of money by September, and I was sure that the public of all ranks would come in behind us when we had made that tremendous effort to get them Charles back. I was misled by my own experiences of people saying to me how they would give us every support for Charles. Very clearly I did not judge the average reaction, and I must take full blame for the whole business.
'I want to make it clear that my co-directors opposed the increases in the form we made them. They said they were too steep. I told them I was absolutely positive that they were not - that people would willingly pay them. So they agreed to my way. You know the rest. Then I got mad. I am a plain-speaking man, and I said a few things out of the heat of my disappointed enthusiasm that I should not have said. I am very sorry if I have given offence.'
Before the impact of the change of heart could be assessed, Leeds United had two away games to face during the next week, against Rotherham and Huddersfield. For the Rotherham trip, Ian Lawson and John Hawksby came in for Goodwin and Johanneson. The half-back was dropped, but while he was out he sustained an injury which kept him out of the side until the beginning of November. Grenville Hair took over as captain from Goodwin. John Charles scored his second goal of the season in a 2-1 defeat, a match chiefly remembered for a clash in the Leeds dressing room at half time.
Jack Charlton: 'There'd been a corner against us in the first half, and their centre forward had sent in a floating header from the edge of the eighteen-yard box. Tommy [Younger] should have collected it easily, but as the ball hit the ground he dived over it and it bounced into the net. When Don [Revie] came into the dressing room at half-time he was not best pleased. He pointed at me and said that I should have picked up the centre-forward on the edge of the eighteen-yard box. "Wait a minute," I said, "the bloody ball was headed from about twenty-five yards away. I'm not bloody responsible. If a guy gets in and heads a ball within ten yards, that's my responsibility. If I'd have gone out there and somebody else had headed the ball where I should have been positioned, then you would have bollocked me!"
'I had a teacup in my hand and I threw it against the wall. It missed Don by about a foot and smashed to pieces. Everyone else went quiet while I went ranting on. Then Don just walked out of the dressing room.'
Jim Storrie: 'I remember John [Charles] looking around with a "What have I come back to?" expression on his face. There was shouting and bawling. It was pandemonium.'
Charles scored his third goal in a 1-1 draw at Huddersfield, although he was again disappointing with Town defender John Coddington eclipsing him. According to the Yorkshire Post's Richard Ulyatt: 'Coddington seldom was slipped by Charles and often outjumped his famous rival,' although Phil Brown argued '
Charles had been 100 per cent improved right from the start.'
Whatever, Charles had one goal disallowed and equalised for Leeds in the 34th minute, driving home from 16 yards after a battle in the area.
Ulyatt reserved his main praise for the previous season's heroes, Bobby Collins and Jack Charlton: 'The vastly experienced Collins and the greatly improved Charlton held United together. Collins got through such a great amount of work in the first half - back in defence, forward in attack, that he might have been expected to flag, but at the end he was still going strong, still half a thought ahead of most other players. It seemed as though he played strictly to orders, plugging, prompting, urging. Every other Leeds United player must have been grateful at one time or another for his assistance. Charlton's merit was in preventing Stokes scoring and rescuing his team when White or Massie seemed on the point of scoring. Some of his clearances were inelegant, but at least one pass, along the touchline side, was a memorable part of the game.'
After five games, United were sitting in a disappointing eleventh position, and questions were being asked about when the star would start to shine. Richard Ulyatt had been a stout supporter of John Charles ever since his debut as a youngster and gave the following insight in Monday's Yorkshire Post following the Huddersfield match:
'John Charles is finding life as Leeds United's most expensive footballer slightly burdensome. Even in England's Indian summer of the last week he has missed the heat of Italy. He shivers off the field and sweats frustratingly on it.
'Charles realises as well as those of us who have watched him play in five matches for Leeds United that he has a long way to go before he becomes the man who can lead his team to promotion. Charles has not been the footballing giant he was five years ago when leaving Leeds for Turin.
'At the same time, he has scored three goals, which is a reasonable average and which suggests that once he is match fit he will do nearly as much as has been expected of him. On the day in July Charles signed, Mr Revie said it would be mid October before he was fully fit and supporters were warned not to demand too much before then.'
The same day, Phil Brown ran a less supportive story in the Evening Post, noting the rumours that had started circulating:
'The crop of national newspaper stories about John Charles being already unsettled and wanting to go back to Italy will be the subject of a special report by team manager Don Revie to United's directors this afternoon. Mr Revie tells me: "I have already interviewed Charles, for I was greatly upset by the stories and I have had his firm and ready assurance that he does not want to leave United."
'Charles said he thought the reports this weekend stemmed from what he described as exaggerated remarks he had made as friend to friend, rather than as a newspaper interview with a reporter on a Sunday newspaper. Coming from a highly paid man who is currently short of form and fitness, Charles' widely reported comments yesterday may well have left a bad impression with many supporters, even after his explanation.'
Charles had told the Sunday Express' Alan Hoby: 'I haven't told anyone this before but never in my life have I been so worried. Normally I never worry. But night after night I've lain awake unable to sleep trying to work out what is wrong, why I should feel like this, why my confidence seems to have gone, why my form has been so disappointing.' It was a mark of Charles' habitual naïveté that he was surprised when the confidence was broken.
Despite all the gossip, the directors could at least comfort themselves with the knowledge that reducing their ticket prices paid off handsomely in the midweek match at home to Bury - the crowd swelled to a healthy 28,313, the biggest seen at Elland Road since September 1959, when they were still in the First Division.
Matters went less well onfield, however, and after 20 minutes Charles strained his back in a heavy fall, and was rendered an ineffective passenger on the left wing, hobbling his way through the remainder of the game. Even before the mishap, however, Leeds were second best, although Billy Bremner opened the scoring in the 26th minute, after being slid in by Bobby Collins. Leeds could not retain their lead, and ended up on the wrong end of a 2-1 defeat, which could easily have been far heavier. The home side had simply not been at the races, although once again one player had shone out.
Eric Stanger: 'Collins time after time shrewdly created order out of disorder in midfield … Collins apart - he was the best forward on the field - Leeds could scarcely raise a gallop. Bury swarmed around the Leeds goal and it was as much good luck as good management which kept them from a third score.'
The crowd were hugely disillusioned, as was the manager, and Don Revie knew as his side dropped into the bottom half of the table that it was simply not good enough - things had to be done.
And things were done … things which were to impact on the Elland Road club in a way that could never have been imagined.