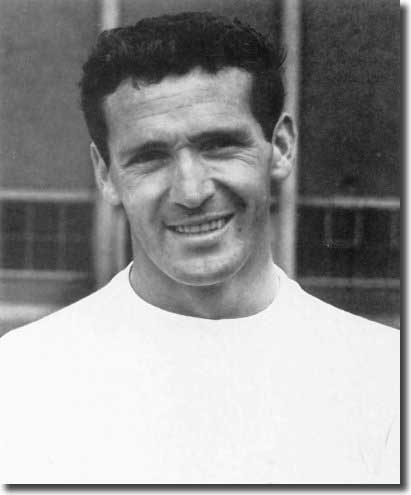 After a failed gamble on the return of John Charles to Elland Road in 1962, Leeds United manager Don Revie's response was to sign Rotherham's fleet-footed forward Don Weston for £18,000 in December.
The early signs were promising with Weston scoring a debut hat trick in a 3-1 defeat of Stoke City on 15 December. If truth be known, Weston never really topped that display for United, though he was a constant threat up front for Leeds when they won the Second Division title in 1964.
Ivan Ponting in The Independent: 'When the progressive young manager Don Revie guided Leeds United into the top tier of English football as champions of the old Second Division in the spring of 1964, Don Weston was one of his most potent attacking weapons. The foundation of the Yorkshiremen's success was a formidably flinty rearguard featuring the likes of Jack Charlton, Norman Hunter and Paul Reaney, while the most influential individuals were the tiny but inspirational Scottish schemer Bobby Collins and his rising midfield henchmen Billy Bremner and Johnny Giles. But it was the wing-heeled Weston, frequently damned by historians' faint praise as a mere journeyman front runner, who supplied much of the crucial cutting edge.
'As Collins put it, "Don had a turn of foot like nobody's business," and, during that memorable season, as Revie proceeded with his painstaking construction of a team destined to bestride the national game by decade's end, the North Midlander employed it to such devastating effect that he finished joint top scorer, on 13 goals, with the left winger Albert Johanneson.
'Usually operating at centre-forward or inside-right, the shortish, wiry Weston relished dropping deep, where he was difficult for his designated marker to locate; then he would sprint at wrong footed defenders, frequently climaxing his dash with a powerful shot. He compensated for lack of extravagant natural talent through fitness and dedication to his craft, though later he would be revealed to lack the necessary class to thrive among the First Division élite.'
Andrew Mourant: 'Speed and fitness were his great assets ... it was this pace and mobility that had attracted Don Revie. Weston could unsettle opposition defences by bringing the ball under control in midfield and launching his attacks from deep. He was canny enough to play within his capabilities and dedicated to keeping himself in peak physical condition; a sound, unfancy player rather than an extravagant one.'
Donald Patrick Weston was born 6 March 1936 in New Houghton, Derbyshire. He represented East Derbyshire Schoolboys, and then played for Pleasley Imperials, while working as a coalminer near Mansfield. He was given a trial by Leeds United as a 16-year-old amateur, but declined to sign professional forms for the club.
He did his National Service at an Army camp near Rhyl, serving in the 31st Training Regiment Royal Artillery (North Wales) and the Kinnell Park Barracks. It was while with the forces that Weston attracted the attention of local club Wrexham, for whom he signed as an amateur. He went AWOL from the Army to play in one game for the Welsh club and was confined to barracks for a fortnight when he returned. However, he had done enough to earn a professional contract, which this time he willingly took up. Weston appeared regularly for Wrexham in 1958/59 and the first half of the following season, scoring 21 goals in 42 appearances for the Third Division outfit.
In January 1960, he signed for First Division Birmingham City in a £15,000 deal, but failed to settle at St Andrews and in December dropped a division to join Rotherham United for £10,000. He celebrated his Millmoor debut with the only goal against Liverpool and finished the season with 12 goals from 25 games.
The move paid dividends for Weston and he became an instant hit with the South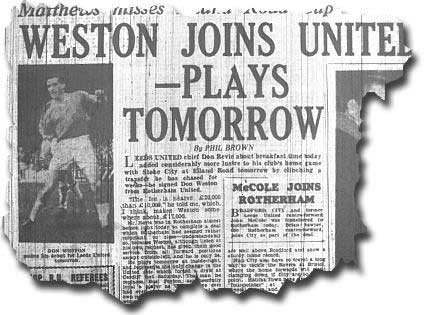 Yorkshire club, helping them reach the two-legged inaugural League Cup final in 1961. Two Weston goals were crucial as Rotherham beat QPR 3-0 in the quarter finals and he scored the extra-time winner against Shrewsbury in the semis. The Millers beat Aston Villa 2-0 in the first leg of the final at Millmoor in August, but Villa won 3-0 at home after extra time to secure the trophy on aggregate.
The pacy striker repeated his winning goal feat against Liverpool at home on Boxing Day 1961.
Weston imprinted his name firmly on Don Revie's memory as two goals crowned an impressive display when Rotherham beat Leeds 4-3 on 22 August 1962. It was the first time John Charles had played at Elland Road since his big money return from Juventus in the close season, but it was Rotherham, 'homespun and inexpensively recruited', according to the Yorkshire Post's Eric Stanger, who took the honours.
Rotherham took the lead through Alan Kirkman after three minutes, and Weston doubled the advantage in the 36th minute when he nipped in to beat a flat footed Leeds defence to Ian Butler's free kick. Five minutes after the resumption Weston got his second with an overhead kick. Leeds fought back to level the game at 3-3 with goals from Jim Storrie, Charles and Albert Johanneson before Kirkman got the winner five minutes from the end of an enthralling contest.
Weston requested a transfer a few weeks later. He claimed he had no quarrel with Rotherham, but simply wanted a move. Former club Wrexham made an enquiry but were deterred by the asking price of £15,000.
With Charles back in Italy with Roma, Don Revie revealed his interest in Weston as a potential replacement. The manager watched him in Rotherham's home draw with Derby on 30 November and was impressed, saying, 'He again played well. I think he would do us good, and I am thinking out the size and shape of an offer.'
After making his farewell appearance for Rotherham in a 4-1 defeat at Newcastle on 8 December, Weston signed for Leeds for £18,000 six days later, finishing with a record for the Millers of 21 goals from 76 league games. He was straight into the starting line up for Leeds at inside-right, partnering Jim Storrie up front the following day against Stoke. He had an extraordinary game.
Richard Ulyatt in the Yorkshire Post: 'No forward has made a more auspicious start to a career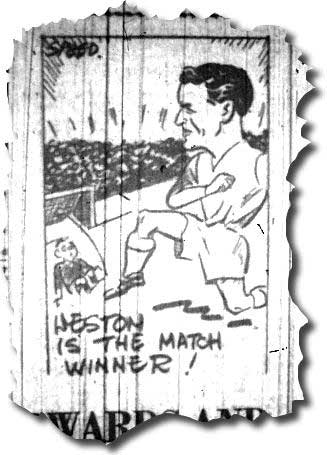 with Leeds United than Don Weston did on Saturday. Signed on Friday from Rotherham United he looked to be, for half an hour at least, the most dangerous raider United have had since the best days of Frank Dudley 10 years ago. Weston ... had five shots at goal. The first from long range was spectacularly tipped over the bar by O'Neil, the second, third and fourth went into goal, the fifth from long range hit the crossbar.
'It might have been five goals for Weston instead of the most spectacular hat trick I have seen a Leeds United player score at Elland Road in 25 years of intermittent watching. It was an individual triumph because, while Henderson provided the pass for the first goal, Collins, Storrie and Johanneson the passes for the second and Clamp's hasty attempted clearance the opportunity for the third, no other player on Leeds United's books either now or in recent years would have had the combination of speed, self assurance and accuracy to take all the chances.
'Weston did little in the way of foraging or covering. He was never, as was the industrious Storrie, to be found behind his own centre-half blocking the way to goal, but a forward who scores three times does not need to do anything else.'
Weston was a fixture in the United side thereafter, pepping up what had been a limited attack. After United lost 2-1 at Sunderland on 22 December, the great freeze set in and United were without another fixture until 2 March, when Weston scored in a 3-1 defeat of Derby.
The Yorkshire Post: 'Had the Leeds shooting been as excellent as the approach work, this would have been United's biggest win of the season. Weston was exaggerating afterwards when he said he ought to have had ten goals, but he might have had three or four. Oxford, Derby's goalkeeper, baulked him three times and on one other occasion Weston toe ended the ball over the bar from three yards out ... Bell served as dummy to confuse the Derby goalkeeper when Weston opened the scoring from Henderson's cross.'
Weston's goal touch let him down a little thereafter, as he pulled stomach muscles and strained a groin. Nevertheless he still ended the campaign with seven goals from 17 appearances; seven of those games, including the final three, were lost as United's promotion hopes were dashed by overwhelming fixture congestion.
Leeds had an outstanding 1963/64 season, securing the Second Division title with Weston a fixture in attack. He finished joint top scorer with Johanneson with 13 goals in the League from 35 appearances, including seven in the first 14. He had an ankle injury in the spring, but even when his goals became scarcer over the later months of the campaign, they secured vital points from tight games.
That said, Weston was seen as something of a one trick pony, with his pace masking a lack of control. Rob Bagchi and Paul Rogerson in The Unforgiven: 'It was unfortunate that Leeds should lose Jim Storrie to injury after only nine games of the season, since his absence tended to make their game one dimensional ... Weston deputised for Storrie for most of the first half of the season but, like Johanneson, his game was based on speed. He matched Albert's strike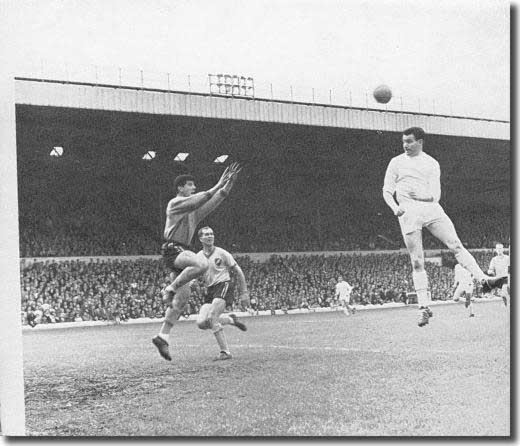 rate, but these two sprinters, often playing at breakneck pace, at the very edge of their capability, were as liable to make elementary blunders as torment the opposing team ... Their styles necessitated a higher tempo; they would receive the ball, dribble with it, pass, cross or shoot it in a matter of seconds.'
Weston's absence in the spring of 1964 was mitigated by the arrival of England centre-forward Alan Peacock from Middlesbrough, but with Peacock missing the majority of the 1964/65 campaign Weston's status as one of the few United men with First Division experience was of key importance. Nevertheless, injury to Peacock was seen as offering a reprieve for Weston, with Revie unsure he could cope with the more subtle requirements of the top flight.
Leeds won their opening three games and Weston scored in the startling 4-2 defeat of champions Liverpool on 26 August, nipping in to put United 2-1 ahead by nodding home a Jim Storrie cross at the end of the first half. The Yorkshire Post's Eric Stanger rated Weston one of United's star turns, 'his searing pace was a constant threat.'
Weston got an ankle injury in the following game against Wolves, and, though he recovered to play in the return with Liverpool at Anfield on 2 September, missed the following three matches with strained stomach muscles.
The problem persisted, along with the recurrence of a groin strain, and Weston didn't appear at all between the end of September and the end of January, when he was restored for the FA Cup fourth round clash with Everton. It was he who got the winner in a 2-1 victory on 2 February in an Elland Road replay against the Goodison men, picking up a loose ball 30 yards out and beating two defenders before slipping the ball past the advancing keeper.
Weston's goal also won the League game at Arsenal on 13 February and a brace saw off Stoke in a 3-1 victory at the beginning of April. The Times: 'Weston has not had the best of luck this season, being out of action for a long period with a stomach injury and not being able to command a regular place when fit again because of the consistency of Storrie. In this occasion, everything came off for him and he allied deadly shooting power to his undoubted speed off the mark. If only he could retain this consistency he would be assured of a permanent place.
'The irrepressible Collins, however, was behind the first two goals. In the eleventh minute he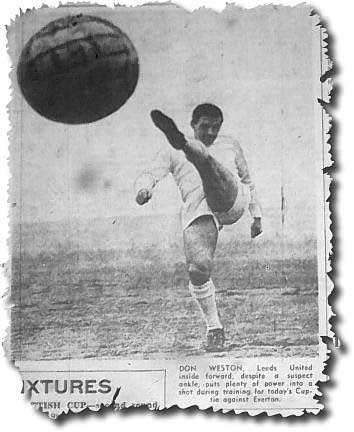 floated the ball through the middle and Weston, showing a fine sense of anticipation, raced through and crashed the ball past Leslie. After 24 minutes Bremner was unceremoniously crashed to the ground. Collins took the free kick and chipped the ball towards the right hand post. Weston again dashed through and shot in.'
Despite returning for the final few weeks of the league campaign, Weston was overlooked for the FA Cup final against Liverpool and ended the campaign with five goals from 18 appearances.
During the summer he sought to clear up his chronic body muscle strains with visits to 'curative baths at Harrogate Royal Hospital'. He was back in the starting line-up for the opening three games of 1965/66, though he was deployed on the right wing and failed to score.
Don Revie dropped Weston after the 2-1 defeat at West Ham on 28 August, preferring the potential of the young Scot, Peter Lorimer. Disheartened by the course of events and, at 29, desperate for regular first-team football, Weston asked for a transfer and on 15 October 1965 signed for Second Division Huddersfield Town.
His time at Leeds Road was patchy, with seven goals in twenty league starts and two appearances as substitute before rejoining Wrexham, now of Division Four, in December 1966.
Weston managed 19 goals in 42 games for the Welsh club and then signed for Chester City in the summer of 1968/69. Despite scoring in a pre-season fixture against Dumbarton he was named as a substitute for the first game against York and as the goals flowed freely for the Chester forwards he found it impossible to break into the side. After making his debut, as a substitute, at Bradford City, Weston made one other appearance from the bench before his only start, at Grimsby, in October.
In January 1969 he moved into the Northern Premier League with Altrincham. His debut brought a hat trick in an 8-1 thrashing of Northwich Victoria. He notched nine goals in 16 games before moving on to Bethesda Athletic the following season. After a lengthy period with Bethesda in the Welsh League, Weston returned to Mansfield, taking up employment as a car salesman, before going on to run a car dealership.
Weston was a decent cricketer, turning out for his birthplace New Houghton and also enjoyed a game of bowls.
He passed away on 30 January 2007, aged 70.