Don Revie signed Jim Storrie for Leeds United in June 1962 as a foil for the returning Welsh superstar John Charles. When it became clear that the Charles experiment was a dismal failure, it was Storrie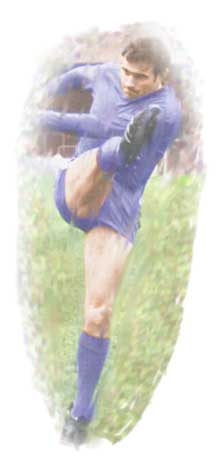 who provided the solution to United's goalscoring difficulties. The bustling Scot repaid his £15,650 fee tenfold as he led the West Yorkshire club back to the First Division and beyond.
Diamond Jim Storrie was one of the shorter centre-forwards in the British game - he was less than five feet nine - and never looked the most composed or accomplished of footballers. He made up for his shortcomings with a hard running style that unsettled defenders, creating goalscoring opportunities for himself and his colleagues.
He was a very popular guy with players and fans alike for his genial good humour and fondness for a laugh.
The young Scottish starlet Eddie Gray was the butt of Storrie's humour on more than one occasion. Gray: 'One of my most embarrassing experiences at Leeds was when, at fifteen or sixteen, I was in Bobby Collins' team for pre-season training. As I was regarded as one of the best runners at the club, Bobby felt that victory for the team in the cross-country race was virtually a foregone conclusion. The only threat came from Jim Storrie … Sure enough, half a mile from the end, Jim and I were at the front; it was between him and me. I felt I had loads of power in reserve but as I was thinking of unleashing it, Jim said, "Eddie, we don't need to race. If we stay together, we will both get ten points." I fell for it hook, line and sinker - how naïve can you get? About 100 yards from the line, Jim, a real character with a tremendous sense of humour, sprinted flat out to win.'
On another occasion, Storrie good naturedly chided the inexperienced Gray, 'I hear you've been saying that it won't be long before you're in the team.'
Jim Storrie was a wonderful clubman, who played a major part in Leeds United's rise to fame under Don Revie and adapted admirably to the target man role. Defenders were never able to relax when the thick set Scot was around. He was prepared to go in where it hurt and tell defenders where to get off.
Two United fans recall Storrie for the Leedsfans.org.uk website:
Alan Farrar: 'He never quit and gave everything. I have a vague memory of him crashing heavily into the goal posts at Blackpool in the early Sixties while trying to get on the end of a cross.'
Mike Gill: 'Anybody remember an away game in 1965/66 when Jim baited Adam Blacklaw, the Burnley keeper, throughout the match? How they both weren't sent off I don't know. But they both went off with their arms around each other … Different days.'
Leeds fans have always appreciated the willing trier and Storrie won himself a fan club on the Lowfields for his sterling performances. One minute he would be converting the most difficult of chances and the next he would be missing the biggest sitter in the world. But he was adored by the fans for the effort he put in at a crucial time in the club's history. Members of waccoe.com remembered him this way:
'Storrie chased down almost every back pass to the keeper no matter how much of a lost cause it was and where he had to run from to do it.'
'He was such a frustrating player to watch at times, the only way to relieve the stress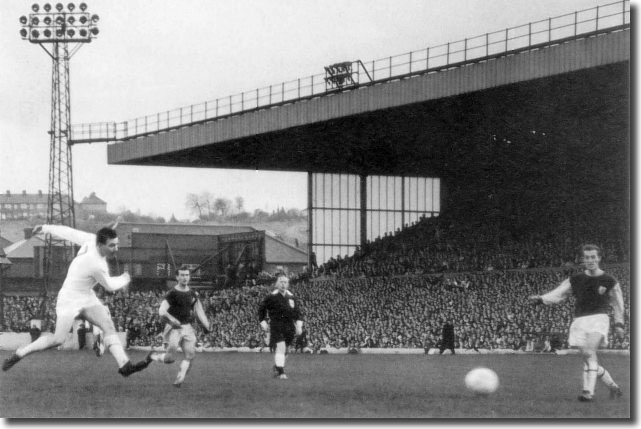 was to count the goals he scored, not the many, many misses.'
'The biggest plus about Diamond Jim was that he played with a big smile on his face, without malice and ALWAYS played for the shirt. More technically gifted players have been both before and since but no Leeds fan can ask for more than what he gave us.'
'One memory I have is of a West Riding Cup game against Halifax when I seem to remember Jim missing 10 to 15 pretty easy chances. One of these chances he was stood very near the goal line, certainly inside the goal area, and still managed to get it up and over the bar.'
'Another Storrie moment was in front of the Scratching Shed (against Burnley in October 1965). Jim beat the left-back and came in on the byline. The keeper expected him to cross, their defence expected him to cross, our other strikers expected him to cross. Perhaps even Jim himself expected to cross it - instead of which he absolutely hammered it inside the keeper and in off the back post and then he turned round and trotted back to the half way line as if it were the most natural thing in the world.'
Tony Hill: 'I would call Diamond Jim splay-footed and often wondered at his ability to beat a defender, they were probably mesmerised by his feet! He was also the first player I saw do the trick of centring with any force by bringing one foot behind the other to deliver the cross, something that Harry Kewell later did quite often, although with his left as opposed to Storrie's right. Many happy memories of the "Pillock from Kirkintilloch" as a friend of mine used to endearingly call him, jokingly rather than with malice.'
Jim Storrie was born on 31 March 1940 in Kirkintilloch, Dunbartonshire, in the West of Scotland. He became well known locally with nursery outfit Kilsyth Rangers, one of the most successful junior clubs of the 1950s, and attracted the interest of First Division club Airdrieonians. In December 1957 Storrie signed for them as a part timer.
At an early age, Jim married local girl Nancy, whose father, Tony Weldon, played for Airdrie, Everton, Hull, West Ham, Lovells Athletic and Rochdale.
His debut for Kilsyth came in a friendly at Doncaster on 15 February 1958. He was allowed to come on as a substitute at half time after an Airdrie player suffered a broken nose during the first half. He scored the third goal in a 3-3 draw. Storrie's first start came in a Lanarkshire Cup tie at home to Albion Rovers on 7 April, when he scored in a 3-1 win and he made his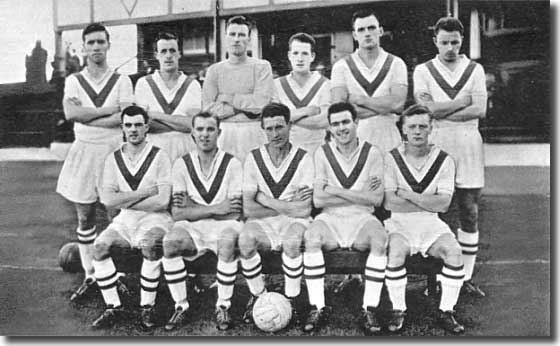 League debut away to Third Lanark. Airdrie lost 3-1 and finished the season 16th out of 18.
Storrie established himself in the first-team thereafter and built a decent reputation, scoring 48 goals in 89 appearances over the next four and a half years. The Diamonds climbed to a hugely impressive fifth spot in 1959, before finishing 16th again the following year.
In 1961 they made it to the Scottish Cup semi-final where Celtic thrashed them 4-0.
Storrie's performances brought him to the attention of Leeds United's Scottish scouts, who recommended him to the club's young player manager, Don Revie.
Leeds were struggling against relegation from the Second Division at the time (the winter of 1961/62) and when Revie made his initial approach, Storrie was not terribly impressed. He said later: 'The first time Don came for me, I virtually turned him down out of hand. I didn't fancy Leeds at all at first ... I thought they were heading for the Third Division.'
Revie was desperately seeking recruits to help dig United out of a hole and by transfer deadline day he had signed Burnley reserve forward Ian Lawson, along with veteran Sheffield United full-back Cliff Mason and Everton's former Scottish international schemer Bobby Collins.
Revie's transfer market dealing paid off and United secured their survival with a decent unbeaten run. Buoyed by survival and a transfer kitty, Revie set out to build a new team, ditching players like Billy McAdams, Derek Mayers, Peter McConnell and Bobby Cameron. Undeterred by Storrie's earlier rejection, Revie chanced his arm again. This time he was successful, partly due to the signing of Collins and the promise of John Charles' imminent arrival. The overriding factor, though, was Revie himself, with his high ambition and persuasiveness.
Storrie: 'Don Revie and Harry Reynolds came up to our house. My wife said I was at work, so they came to the works. They were very persuasive. I listened to what (Revie) had to say and was immediately impressed by his sincerity. He laid his cards on the table. I remember his telling me: "The sky's the limit - we're going to be like Real Madrid." Well, I did feel that was a bit ludicrous; Leeds weren't even the best team in Yorkshire then.
'I had no particular desire to go to Leeds because they were in the Second Division but Revie told me they had got Bobby Collins and John Charles and all of a sudden the package looked pretty impressive.'
Revie earned a reputation in the early Sixties for getting his man, whether it was a much sought after schoolboy international, such as Eddie Gray and Peter Lorimer, or a seasoned professional, like Collins and Charles. His silver tongue and persistence did the trick on Storrie.
The 22-year-old Scot signed for United on 19 June 1962, and John Charles followed suit shortly afterwards for a club record £53,000. The United approach and training methods came as a shock to both men, as recalled by Storrie: 'When I joined Leeds, it was like going into a different world. I found them so much more professional than clubs in Scotland - everything was so well-organised that it made you WANT to work hard at your game. One cannot help getting caught up in an atmosphere like this. All managers like to think that their players are prepared to run through a brick wall for them, but this was true as far as Don was concerned. He treated us as men, as individuals.
'His attention to detail is remarkable: one morning I happened to mention that my son wasn't well, and he immediately arranged for the club doctor to give him a thorough check-up. He knew that if I was going on to the field worrying about my little fellow, I couldn't give of my best. All this might seem trivial to outsiders, but you'd be surprised how much these little kindnesses help to establish a good team spirit and player-manager relationship.'
As remembered by Storrie, Charles was not as receptive to his new surroundings. 'John just didn't fancy it at Leeds when he came back from Italy. He and Les Cocker didn't get on. He wouldn't train as rigorously as they wanted - in Italy he was used to flicking the ball about and wandering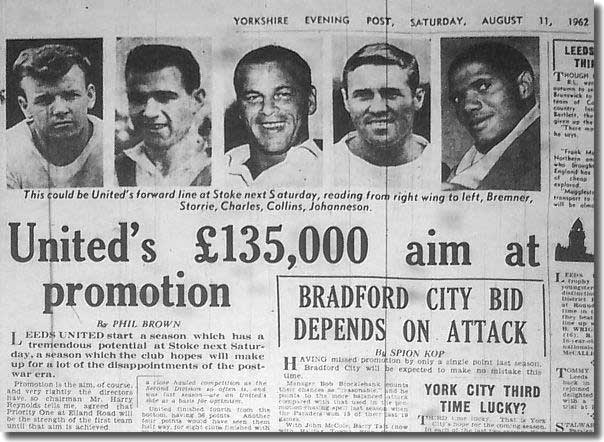 about the park. Italian teams don't train as hard as those in England, and Charles did not possess sufficient speed and stamina for league football in this country.
'In this respect, I will always remember a match he played at Huddersfield. They cleared the ball upfield following a Leeds attack, and our forwards made their way back into covering positions. After about ten seconds, the ball was booted into Huddersfield's area again - and John was still struggling up to the halfway line. He and Huddersfield's goalkeeper were the only players in that half of the field!
'We were a very physical, hard working and hard running side. It was high-pressure football. We put the opposition's players under pressure all over the park. We harassed and chased. Revie was one of the first managers to introduce that way of playing. I was a forward and my first job was to defend. That was the mentality. John was like a duck out of water playing that way. Had he been younger he might have adapted. He wanted to play one touch football and flick the ball here and there. At the time that wasn't Leeds' style. Long balls were played to the corner flag and John was expected to chase after them. At half-time in one game, I remember John saying, "I'm not running my pants off for long balls." And wee Billy Bremner said, "You're making that f***ing obvious!"'
Charles and Storrie were signed to address United's problems in front of goal. Billy Bremner had top scored with 11 as the Peacocks managed just 50 goals in 1961/62. Revie had tried six different players at No 9, including big Jack Charlton and even himself. The two recruits appeared together in the August 1962 opener at Stoke City, in a side that included Bremner, Charlton, Tommy Younger, Grenville Hair and Albert Johanneson.
Storrie: 'On the eve of my first match for Leeds I was wandering around the hotel looking for the other players, and bumped into Don in the foyer. "If you're looking for the other lads, they're in the bar," he said. "Go in and have a drink son." I thought he was trying me out to see whether I drank; you know, managers in Scotland frowned on that sort of thing. But sure enough, they were in the bar, knocking back beer. Don trusted his players not to overdo it - his attitude was: "If they want to drink, I prefer them to do it in front of me rather than behind my back."'
While the headlines before the game were all about the Welshman, it was Jim Storrie who earned the plaudits, netting the only goal of the game five minutes before the interval to get United off to a winning start. He had a storming match and capped it with his score, a rising drive from ten yards.
Storrie settled in quickly at Elland Road, helped by the presence of a number of countrymen,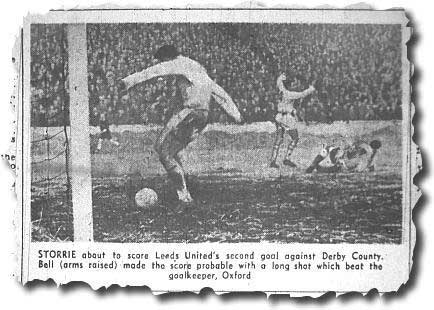 including Collins, Bremner, Younger, Eric Smith and Tommy Henderson. He featured again during the week in the second match, at Elland Road against Rotherham United.
Leeds were three goals behind after 50 minutes and treading water desperately as Don Weston led their defence a merry dance. Then Storrie headed home a Bremner free kick to give some hope of a revival. An Albert Johanneson penalty brought a second and then Charles played a one-two with Storrie on the edge of the Rotherham box before driving home the equaliser. The move was about the only example of Storrie and Charles clicking as a partnership in their time together. The Millers were not to be denied and got a winner ten minutes from the end of a gripping struggle.
It quickly became painfully apparent that John Charles had made a big mistake in returning to Elland Road, and after just three goals in eleven appearances he was on his way back to Italy. Don Revie used some of the £70,000 fee to buy the fleet-footed Don Weston, who had made United's life so difficult against Rotherham.
Weston and Storrie formed a twin spearhead for most of the season as United recovered from a mediocre opening to launch a promotion challenge. Weston never lived up to the sparkling promise of his debut day hat trick against Stoke City in December, and Storrie carried the attacking burden for most of the season, as recalled by Norman Hunter:
'The youngsters … had repaid the faith [Revie] had shown in them and his signings had played their parts to the full, none more so than Jim Storrie. He had the goalscoring knack although the ball didn't always go in off his head or his boots. It would fly in off his knees, his thighs, almost any part of his body - but in it went, which was the main thing. During that 1962/63 season, Jim netted 25 goals in 38 league appearances.'
Hunter had good reason to remember Storrie fondly, for it was partly down to the Scot that he was converted from an inside-forward to earn himself a world wide reputation as a tough tackling defender: 'I was playing for the juniors when Revie took me to one side for a chat. He told me that Jim Storrie had remarked what an awkward "so and so" I was to play against. Apparently, Jim had told the Gaffer that every time he played against me I always managed to get the ball off him and that I seemed to be able to get a foot in and do this, that and the other and come away with the ball.'
If Storrie was an outstanding success as a target man that season, he wasn't altogether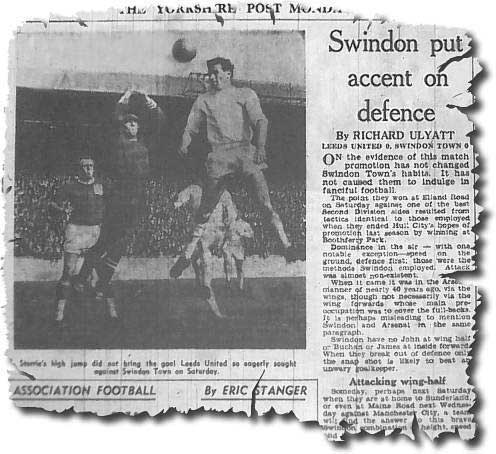 enamoured with the role, as he recalled later: 'Really, I was an old fashioned inside-forward carrying the ball through, playing one-twos. In Scotland, no one bothered how you played and I always seemed to be looking for people to play off. But when I was the target man, I had the goalkeeper behind me. Individually, I think I became a worse player. My wife Nancy told Revie this at a function one night, but he just laughed and said, "you may be right but they are a very successful team." That was true. The success glossed over a million deficiencies. I adapted because I was caught up in all the enthusiasm.'
In fact, so engaged was Storrie with the Leeds cause that he even went in goal for an injured Gary Sprake, after he was injured at home to Portsmouth in December. He wasn't an outstanding success, succeeding a goal in the five-minute spell he served between the sticks.
Storrie netted hat tricks against Plymouth and Cardiff and, after two more in a 3-0 win against Luton at the beginning of May, Eric Stanger remarked in the Yorkshire Post, ;Storrie's two goals would have graced any game. There is no doubt that Storrie is becoming one of the most dangerous leaders in the Football League. From the way in which he worries the opposition, seeks to exploit the slimmest of chances and bangs away at goal at every opportunity, he reminds me more and more of that other Scot of yesteryear who got so many goals for Leeds - Tom Jennings.'
Ultimately, United's promotion chase was unsuccessful, but they had a memorable season, building the foundations for the success of the next decade, as recalled by Storrie.
'We were a ball-winning side, free of injuries, and champing at the bit to go. We played a method game, high-pressure football. Bobby Collins would get hold of the ball and spray passes all over the park for people to chase after. The forwards would hustle, cutting off the supply of back passes to the goalkeeper. I reckon we scored about 10-15 goals a season through forced errors that way.'
United finally achieved the promotion that Revie sought in 1964, though Storrie only enjoyed a cameo role, with 3 goals in 15 Second Division appearances.
Storrie: 'I scored quite a few goals the first season I was there, but the next season hit a bad patch. It seemed the harder I tried to get out of it, the worse it became. Don called me into his office and told me he appreciated my problem and would support me to the hilt. 'Get your wife and kiddie and have a fortnight's holiday in Scotland,' he said. 'You can do anything you like - as long as it's not connected with football.' When I came back, I would have done anything for him. He was never too busy to spare a few minutes asking you how the wife and family were. Most managers do it out of politeness, they don't really mean it. But with Don, you felt he really was interested.'
As well as a loss of form, Storrie had a lengthy lay off with damaged knee ligaments. He was carried off during an ill-tempered Christmas confrontation with promotion rivals Sunderland and missed the rest of the season, playing just two more games. Storrie recalls the spiteful clash at Roker: 'Johnny Crossan was antagonising Billy Bremner from the beginning, but both were having a dunk at each other off the ball. Crossan said, 'You're mad, you Leeds.' When I was carried off, the fans were spitting at me. But Bobby Collins went out and sought retribution - later Len Ashurst was carried off, too.' Storrie had only just returned to the team after injuring an ankle against Norwich at the end of September.
Deprived of his first choice centre-forward, Don Revie signed Middlesbrough's former England front man Alan Peacock to give a fillip to United's promotion challenge. The move was a success and Leeds outdistanced Sunderland and Preston to win the title, returning to the First Division after a four-year absence.
Jim Storrie returned fully fit at the start of the 1964/65 campaign and was a mainstay as United came close to a League and Cup double. The Scot top scored with 16 goals in 37 league games, managing another couple on the way to the Wembley Cup final.
It was feared that Storrie had broken his leg during a 4-0 defeat at Blackpool in September, but the fears proved groundless. An X ray showed that he had merely trapped a nerve and sustained a bad bruise.
The Leeds way unsettled sophisticated First Division opponents, as remembered by Storrie. 'Revie used to say: "Anyone who beats you at home must know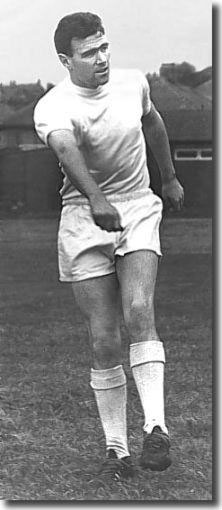 they've been in a game." We tended to take this a bit too literally; it became an offence for an opponent to encroach our eighteen-yard line! I think we were over-exuberant more than anything. But Revie must take part of the blame because when we were getting all that bad publicity, he told us: "Don't worry about the press ... what matters is the fact that they are talking about you." I am sure he later regretted this attitude.'

Andrew Mourant: 'Jim Storrie recalls how Revie's ambition and enthusiasm infected the players. "After winning promotion, most managers would talk in terms of consolidation. He spoke in terms of finishing in the top four. He said, 'We will come up against some world class players but we will be the best team in the league.' So he had the optimists among the lads thinking we would win the League and even the pessimists thought we might finish halfway up."

'The club had never before been run as Revie ran it. He was the most driven manager in Leeds United's history. At the outset, he set impossible targets for the squad, of whom only a handful had First Division experience. The psychology was unsophisticated but effective.

'Victories in the first three games … gave Leeds more confidence than could ever have come from Revie's words alone. They badly needed the points as injuries to Bell, Giles and Weston, and the prolonged absence of Alan Peacock caused their form to falter. They lost four of the next eight games. The striker's burden was once more thrust upon Jim Storrie: Leeds had not taken the opportunity to strengthen the squad during the close season.

'By mid-April, as Chelsea's form wavered, the title became a two horse race involving the Uniteds of Leeds and Manchester. The Yorkshire team, which had won nothing save for a couple of Second Division championships, was on the threshold of winning the League and Cup double, a far cry from their Second Division days. On 17 April, 52,368 people packed Elland Road for the most momentous League match in Leeds' history. But with Bremner replacing the injured Storrie at inside-right and Jimmy Greenhoff drafted in at Number 4, Leeds' swaggering home form (four successive wins with 14 goals scored) deserted them when it mattered most.

'For Jim Storrie, watching in the stand, the frustration was enormous. "We lost 1-0 to a daisy cutter from outside the box. It was a dour game but enough to give Manchester the championship," he said. With four matches and eight points still to play for, the morale of Revie's men had been shot to pieces, and they still appeared in shock two days later, losing 3-0 at Sheffield Wednesday. Their defiance in fighting back from 3-0 down at Birmingham to draw the final match of the season 3-3 was not enough. Both Uniteds finished with 61 points, but Manchester's goal average was far superior.'

Storrie was recalled from injury to face Liverpool at Wembley in the final. Bobby Collins recalls that Storrie 'was injured but never told anybody because he was desperate to play and get a medal.'

United were badly outplayed on the day, with Albert Johanneson a timid shadow of himself, and Storrie a limping passenger on the flanks. The Reds won the game 2-1 after extra-time to leave United with nothing to show for a wonderful campaign.

Storrie: 'At the finish, the Leeds players felt sorrier for Revie than themselves. We were sitting with our heads bowed when he came into the dressing room, and someone said: "We're sorry boss ..." He replied: "You've run your guts out all season, have nothing to show for it, and you're sorry for ME? Don't be so bloody daft. Get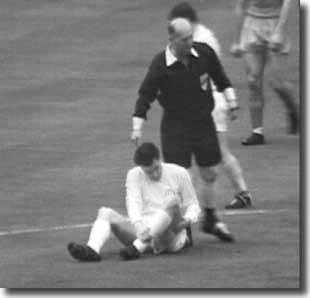 dressed, we're going back to the hotel for a booze up."'
Whether it was simply due to a loss of form, or a case of Revie feeling that Storrie had let him down by not coming clean about his injury, the Scot was never quite the same player for Leeds again. In 1965/66 he managed 13 goals in 30 league games and featured in 9 Inter Cities Fairs Cup-ties, but spent most of the season consigned to the wings, out of sorts and out of position. He was not a natural wide man and it showed. As Eric Stanger observed after a home defeat to Liverpool in December, 'Storrie tries hard on the right wing but that will never be his best position.' He would often beat three or four men out wide but then spoon his cross out of play.
It was something of a mystery that Revie persisted with Storrie as a winger, but he had few alternatives with Johnny Giles moving inside to replace Bobby Collins when the Scottish veteran broke a thigh. Storrie had a thankless task, but played his part with courage and tenacity.
After the injury prone Alan Peacock broke down once more at the end of January, Storrie led the United attack through the last months of the season. Storrie's play and the team's results improved but they were outplayed and beaten in a Fairs Cup semi-final against Spain's Real Zaragoza.
Storrie put his apparent loss of form down to the Giles-Collins switch: 'My game was based on speed off the mark - the ability to lose a defender for a split second or so. Bobby's style of play suited me because as I ran into an open space, I knew he would immediately put the ball into my path, no matter what position he was in. Johnny, however, liked to hold the ball more, so I was often caught in two minds, whether to run forward to receive a pass or move to the side so he could play a one-two off me.'
Matters came to a head in 1966/67 when Storrie played just six ;eague games, three of them as sub. He was selected at No 7 in a pre-season friendly against a Glasgow Select XI, but was then consigned to the bench for most of the year, having to wait until October for a rare League start.
Disheartened by the course of events, Storrie requested a transfer at the beginning of November in the hope of first-eam football elsewhere. In February 1967, he got his wish, returning to Scotland in a £13,500 move to Aberdeen.
He scored one of the goals in a Scottish Cup quarter-final replay against Hibs as Aberdeen won 3-0, but rather blotted his copybook by missing a penalty in the semi final against Dundee United. The Dons won the game 1-0 courtesy of an own goal by Tommy Millar before losing 2-0 to all conquering Celtic in the Hampden final before a crowd of 126,000.
Storrie lost his first-team place in November 1967, despite being the club's leading scorer. Disillusioned by events, he asked to go on the transfer list, posting a reminder of his talents with five goals for the reserves against Partick. Just after Christmas Storrie joined Rotherham United for £7,000, after turning down moves to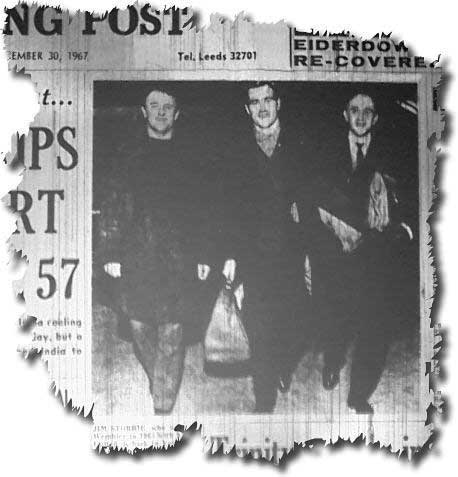 Southend and Barnsley.
The deal was one of the first completed by new Millers manager Tommy Docherty. The controversial Scot had built a tremendous young team at Chelsea, leading them to the 1967 FA Cup final, but resigned in October after receiving a 28-day suspension following incidents on the club's summer tour to Bermuda.
Rotherham were rooted at the foot of the Second Division at the time, but Storrie's debut on 30 December brought a 1-0 win against Preston and saw the South Yorkshire club climb above Plymouth in the rankings.
They crashed 6-0 at promotion chasing QPR a week later, but then went nine games unbeaten in the League and enjoyed an exciting FA Cup run. In the third round, Storrie's 58th minute goal was enough to see off Wolves. Paul Fitzpatrick in The Guardian: 'Quinn made the pass and Storrie, who did well to hold off Woodfield, did the rest, the ball rolling home after striking a post.'
Five minutes from the end of the fourth round tie at Aston Villa, Storrie scored another famous winner, seeing Rotherham through to the fifth round for the first time since 1953. The Scot had rediscovered his touch. The Yorkshire Evening Post reported, following another valuable goal, the winner against Huddersfield at the beginning of March: 'Storrie had the last word for it with his brilliantly headed goal which gave Rotherham both points. A much leaner Storrie than in his Leeds days has now scored five goals in the last six games.'
The Guardian featured United as they prepared for the fifth round: 'The jaded, sorrowful football backyard which was Millmoor is now a place where everyone from first team to sweepers up (the brush variety) has lightness in his step. This is the small, new world of Docherty. Tommy Docherty, often easy to love and sometimes difficult to disagree with, is producing a noisy little revolution in South Yorkshire.
'He has been able to restyle and revitalise the entire playing staff. Established, proven favourites have gone. Other players, some barely old enough to shave, have come in, some signed on instant decision.
'He has promised - and not lightly - that he will take Rotherham to the First Division, and to Europe. He qualifies this by saying: "It may take time." This is doubly delightful to his new admirers in the coalfields and steel making plants. It smacks of "big man".
'So it is that this week a new style of football dictator holds often hilarious court in his pre Cup tie hotel at Scarborough, races his men across the unwelcoming sands before breakfast, out talks the interviewers, chuckles at adversity, and beams happily upon man and creature around him. Tommy Docherty was never happier - you have his word for it.
'A United side with average ago of just over 20 is in step now with the courage and ambitious thinking of their manager. The team that accounted for Wolverhampton Wanderers 1-0 at home, then Aston Villa 1-0 at Villa Park, take on Leicester City in an all ticket tie at Millmoor.
'The side's line up is based on 4-3-3. Alan Hill, from Barnsley, is in goal. The back row is formed of Trevor Swift, a crash tackler, at right-back; Dave Watson, a bargain from Notts County, at centre-half; Brian Tiler, the captain, who at the age of 24 had more than 200 League games to his credit; and Neil Hague, and 18-year-old youth international, at left-back.
'John Quinn, the man Docherty bought for £27,000 from Sheffield Wednesday, joins the outside-forwards, Andrew Wilson (21) and David Bentley (17) in the middle row. Jim Storrie, a former Leeds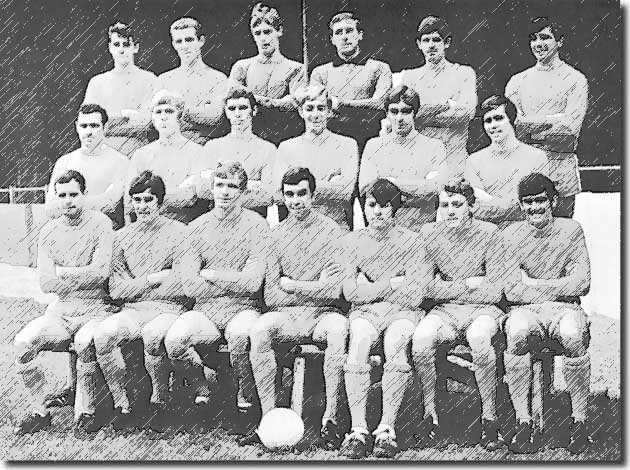 United player, operates just behind the rest of the front row. Like Quinn, Storrie has known Wembley as a member of the losing side. His goals defeated Wolverhampton and Aston Villa, yet he cost Docherty only £7,000 from Aberdeen. He has scored five goals in his last six matches.
'In front will be John Shepherd (21), a local player who is unpredictable but sometimes exceptional, and 18-year-old Stephen Downes. Downes, says Docherty, has a remarkable flair for goals. In two and a half senior matches he has scored once and created two other goals. He has scored 27 times for the reserves.'
It was the self same Dave Watson who later went on to play for Manchester City and England. Also in the Rotherham ranks at the time was 'a bustling though none too quick wide midfielder', the young Neil Warnock.
The Millers fought back from a poor opening against Leicester - they could have been three goals down in the first 20 minutes, though only a twice taken penalty by David Nish gave the Foxes a slim advantage - before recovering strongly to lay siege to the Leicester goal for the final 20 minutes. 'Storrie was a livewire,' wrote Terry Lofthouse in the Yorkshire Evening Post, while Roderick MacLeod of the Yorkshire Post recorded: 'Storrie came within inches of scoring and with 40 seconds left, players beat the ground in frustration as a header from Hague was on its way into the net when Downes instinctively helped it on, but over the top, from three yards out.'
In the end, Rotherham got their just reward eleven minutes from time when Steve Downes angled in a fine equaliser. The Leicester defence was in ruins and it was only lack of time that prevented a third Cup upset.
The best chance of glory had gone, and even though they forced City to extra-time at Filbert Street. MacLeod: 'Rotherham did get the ball into the net after 16 minutes when Downes, tackled by two defenders, headed down to Tiler. Tiler's shot flashed well wide of Mackleworth, but the referee gave a free kick against Downes. Storrie had two flying headers saved by the Leicester reserve goalkeeper and Tiler wasted two chances, first slicing wide and then ballooning over the top.' Goals by Frank Large and Mike Stringfellow ended South Yorkshire hopes.
The heady excitement of their Cup run over, Docherty's side returned to the grim struggle against relegation. Storrie's initial burst had petered out, with the winner against Huddersfield on 2 March his final goal of the campaign. Nevertheless, a 1-0 success at Bristol City on 29 March was United's fourth in a nine-match unbeaten run and took them a point clear of relegation.
Three successive defeats thereafter brought a sharp dose of reality and another at Hull on 25 April left Rotherham in need of a miracle, three points from safety with only two games remaining. Preston beat Portsmouth 3-1 at Deepdale on 11 May to end their own relegation fears, confirming that Rotherham's battle was over.
Tommy Docherty left Rotherham in October 1968 to take over at QPR. He was in charge at Loftus Road for just 29 days before becoming the first manager appointed by Doug Ellis at Aston Villa.
In his absence, Storrie enjoyed a successful 1968/69,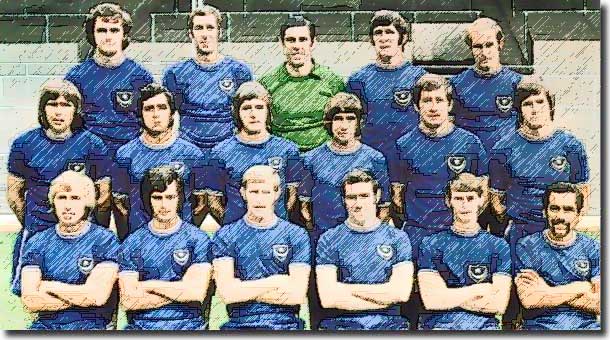 becoming the leading scorer with 14 league goals, four of them in the final four games, as Rotherham stabilised in mid table. He switched to inside-right for the latter stages of the season, using his vast experience to bring on young Steve Downes.
In December 1969 Storrie returned to the Second Division with Portsmouth in a £5,000 deal, and remained at Fratton Park until October 1972. He managed 12 goals in 43 games for a team that consistently laboured in the lower half of the table. He was a fans' favourite fir the effirt he showed Storrie spent most of his time at Pompey partnering former Burnley and England striker Ray Pointer or Ray Hiron, but eventually lost his place to Mike Trebilcock, the Cornishman who famously scored twice for Everton in the 1966 FA Cup final win over Sheffield Wednesday. The star of the show, though, was the talented England Under-23 midfielder Norman Piper.
Storrie's time at Pompey was best remembered for the goal that wasn't. The moment came as Portsmouth played Leicester at Filbert Street in September 1970. The design of the Foxes' triangular goal stanchions had been criticised previously - the previous season Aston Villa's Pat McMahon had fired home only to see his effort rebound off a stanchion and back into play. McMahon's goal was disallowed by the referee and the decision contributed to Villa's relegation. A year on Storrie suffered the same fate. Leicester keeper Peter Shilton told the referee that the ball had crossed the line (different days, indeed), but the official still wouldn't allow it. Newspaper photos after the game clearly showed the ball over the line with Shilton looking straight at it. Pompey lost the game 2-0.
Storrie played 3 matches on loan to Aldershot in March 1972 and was granted a free transfer by Portsmouth two months later. He joined St Mirren as player coach at the end of 1972. He later spent a while as player manager at non-League Waterlooville.
Premier League St Johnstone appointed him manager five games from the end of the 1975/76 season, with the Saints doomed to relegation. With nothing to play for, Storrie had some impact - the Saints beat Aberdeen 2-0 and drew another couple of games - but by the end of the season a poor team had amassed the dismal total of 11 points.
The young manager struggled to arrest the slide the following season and it required a 4-1 win on the last day of the campaign to prevent a second successive relegation.
Storrie was responsible for signing the player who was to become the holder of the club's appearance record, defender Drew Rutherford. Jim Slater in the Who's Who of St Johnstone 1946-92: 'When manager Jim Storrie paid only a small fee to East Fife for their young central defender he did possibly the best piece of transfer business in the club's history. At the time Jim was no doubt thinking purely in terms of surviving the 1976/77 season as a First Division outfit. With Drew's enthusiasm and commitment in the team, we picked up 14 points from the last 14 games to avoid relegation ... In February 1982, the 5th anniversary of his transfer, Drew played his 217th match for Saints. In that time he had missed only 5 games.'
Storrie resigned early in 1977/78 after a disappointing goalless draw against Berwick and later took a job coaching his first club, Airdrie. He worked at a sports centre in Cumbernauld for 14 years and later at Stirling University before retiring.
Diamond Jim Storrie pulled up few trees after quitting Elland Road, though he will always be remembered for helping to transform the fortunes of Leeds United. Richard Longley from Leedsfans.org.uk: 'To this day I don't think most people realise just how important a part Jim played in the foundations of the successes Leeds had in the 60s. He was such a hard working player and what he lacked in natural skills he more than made up for in effort and scored many goals and indeed won matches with his tenacity.'