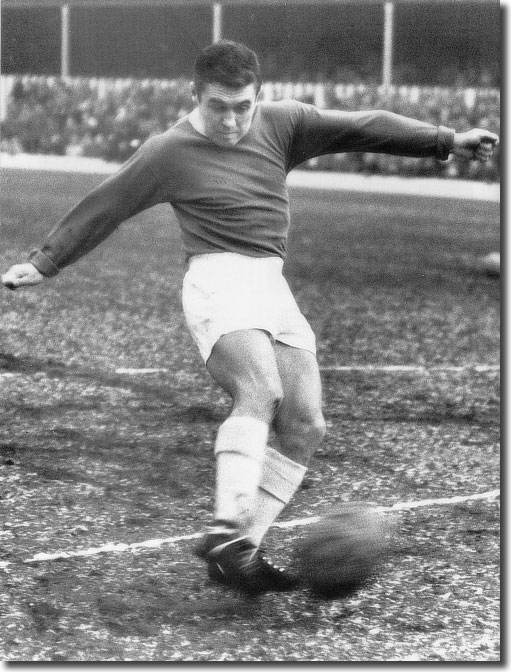 Part 1 - The Real Thing
The winter of 1961 was a dire one for Leeds United as the brave new world of young manager Don Revie seemed set to end in despair after poor form in the autumn. Since coming in following the sacking of Jack Taylor the previous March, Revie had enjoyed the support and backing of the board at Elland Road and was planning for the future with dynamic chairman Harry Renolds. A decent youth development programme promised much for the future but in the here and now all that looked in the offing was the prospects of Third Division football.
November and December had brought a brief respite. After beating Middlesbrough and Walsall, Leeds saw off prospective champions Liverpool on 23 December with Bremner scoring the only goal. However, in the middle of those victories came a disappointing 3-1 defeat at bottom club Charlton and victories were rare following the Liverpool triumph. A 3-2 reverse at home to Plymouth Argyle on 24 February saw Leeds slump to the foot of the table, confronting the very real threat of an unprecedented plunge into Division Three. So much for the Real Thing at Elland Road and a new Revie Plan!
The club's financial standing had always been pretty precarious - who knows what a plunge into Division Three might have done? Certainly, high winds had inflicted such damage to the Lowfields Road stand in the last days of winter that it had to be closed for the final ten weeks of the season, decimating Leeds' gate receipts.
However, the largesse of the Board offered the option of recruiting externally. The manager knew how important it was to preserve Leeds United's Second Division status. Relegation would have signalled the end of all the plans and dreams. Revie had already been given the money to buy his former Manchester City teammate, forward Billy McAdams, but he was proving less than productive in front of goal.
March's transfer deadline was looming and Revie had to act swiftly if he wanted to bolster his squad, as he knew he must. Harry Reynolds sanctioned a transfer kitty and the manager set off in pursuit of six signings. However, time was against him and selling clubs were hard to find, at least those who were prepared to release players who were within the budget with which Revie had been entrusted. In the end, he managed to bring in three newcomers.
The first arrival was Burnley reserve centre-forward Ian Lawson, for whom the Turf Moor club demanded an inflated price of £20,000. But goalscoring was the major shortcoming and Revie reasoned that if the player came good the gamble would be well worth it.
Lawson made his debut on 3 March in the Yorkshire derby at Huddersfield's Leeds Road, partnering Jack Charlton up front. Revie recalled himself for his first game since September in a desperate ploy to secure a much needed victory. Charlton got on the scoresheet, but Leeds went down 2-1, registering their fifth defeat in six games. The only glimmer of hope on a dismal day was that relegation rivals Brighton, Bristol Rovers and Charlton also lost.
The match marked the end for Don Revie as a player, as he finally accepted Tommy Younger's advice that he would do well to concentrate on management and leave onfield action to younger men. However, the manager had not seen that many summers more than his immediate midfield replacement.
Revie shelled out £10,000 to secure experienced left-back Cliff Mason from Sheffield United. According to Andrew Mourant, Mason, although 'by no means the hardest left-back in the division, proved invaluable as an intelligent, calming influence on the team. His greatest asset was anticipation: few were more adept at spotting the intentions of opposing forwards and nipping trouble in the bud.'
Bottom of Second Division - 24 February 1962

Pos

P

Pts

15th

Newcastle United

30

26

16th

Swansea Town

30

26

17th

Bury

29

24

18th

Brighton

30

24

19th

Bristol Rovers

30

23

20th

Charlton Athletic

27

22

21st

Middlesbrough

29

22

22nd

Leeds United

30

22
It was Revie's other signing, however, who made the lasting impression. On 9 March, The Times reported the transfer in muted terms: 'R Collins, the Everton and former Scotland and Celtic inside-forward, was transferred to Leeds United last night. The fee (£25,000) was the highest paid by Leeds, and the highest received by Everton.' It was a terse record of a move which transformed the history of Leeds United, although the club's overall debt consequently soared to a daunting £150,000.
Many critics were astonished that the club's very future had been staked on a 31-year-old who stood just 5ft 4in tall, and seemed to have his best days behind him. However, as Rick Broadbent remarked, 'It was Collins who dragged Leeds United up from the verge of the Third Division and set them on the road to becoming the most feared side in the country. Bobby Collins was simply THE DIFFERENCE.'
Collins was one of the most inspirational and admired of post-war inside-forwards, making his name with a more than useful Celtic team. He joined Everton in 1959 and cemented his status. But the Merseyside club were starting to rebuild under manager Harry Catterick, who believed Collins was past his best. The chance to recover their initial outlay was too much to resist and Leeds' offer was swiftly accepted.
The deal may have made business sense for Everton, but it was something of a shock that a player with 28 Scottish caps and a celebrated past should agree to join a club battling against the drop to Division Three. Collins says: 'It was up to me. I had had some glorious years and then I was told by Harry Catterick that I would have to fight for my place after playing like a demon. I left in anger. Everton had just bought Denis Stevens from Bolton, so I had an idea my days were numbered. I still knew I could play and I wasn't the type to drop down the divisions for the hell of it. I wasn't coming to Leeds to take life easy and I wanted more success. In the game before I left, I only scored the first goal and the third goal! Harry Catterick could only say, "You're not the same player any more, son!"
'I just thought, fine, there's something wrong here. If they don't want me I'll leave. One day when I came home from training, Don Revie, Harry Reynolds and Manny Cussins were waiting for me on the doorstep. We got talking and then I agreed to sign. I was impressed by how badly Revie wanted me.
'Don Revie was a lovely fella and was a good talker. He outlined his plans and he offered me the same money as I was on at Everton. Considering Leeds were in the Second Division, I thought that was something. It showed a lot of faith. I knew they had some good players, too. What I didn't know was they were second bottom of the Second Division at the time.'
Liverpool boss Bill Shankly just failed to pinch the player from under Leeds' nose, detecting the same qualities which so attracted Revie. Collins had a fierce will to win and an aggressive, confrontational style, also possessing vision and a keen football brain. He would be an ideal leader for Revie's youngsters and a rallying point for an apathetic Leeds public - bottle and fight had long been absent from United sides, but you could never accuse the Scot of lacking either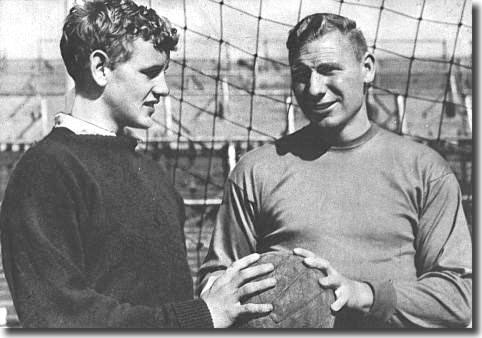 quality.
Collins wore Revie's number eight shirt for the first time on 10 March in a home game against Swansea, among Leeds' closest relegation rivals. Mason and Lawson also featured, while Billy McAdams was recalled with Jack Charlton banished to the reserves. The crowd of 17,314 was Leeds' third best of the season and Collins drove the side to a first win in seven games, scoring the opener himself in a 2-0 win.
However, the next match brought a setback, despite a newsworthy debut for one of Don Revie's bright young things. The Swansea match signalled the third clean sheet in eight games, but that record disintegrated on 17 March in Southampton.
Goalkeeper Tommy Younger was taken ill suddenly with tonsillitis on the morning of the game, and reserve player Alan Humphreys was unfit. The other keeper on the books was Welsh apprentice Gary Sprake, still a fortnight short of his 17th birthday, and having a lie in at home before a youth match. The Football League gave special permission for the kick off to be delayed until 3.15 while a nervous young man was rushed south. A taxi took him to board a chartered flight, during which Sprake was violently sick, before another breakneck taxi journey to the Dell, where he arrived just in time.
Sprake performed creditably despite the panic, although Leeds were hammered 4-1, with Ian Lawson getting his first goal for the club. There was little cohesion or confidence and the club were left three points from safety, with only Brighton below them. Collins continued to impress, although he clearly had a job on to inspire an unlikely revival.
He was still living and training in Liverpool and there was gossip that he had asked for a transfer, although he strenuously denied the rumours. However, he was a man you could rely on in a crisis, as Andrew Mourant noted, 'A near miracle was being asked of Collins. He was a wonderful ally but a fiendish opponent, his game an amalgam of craft, vision and fearsome tackling. Although only 5ft 4in tall, Collins was the last footballer in the world to be pushed around. At Leeds, his joy was to grab a drifting team by the scruff of its neck, to instil passion and order - to be the embodiment of Revie on the field.' Certainly, rejection by Everton left him feeling he had a point to prove, and he was a man on a mission in the last days of the season.
The Collins influence came into its own following the Southampton disaster. The diminutive Scot had sterling support from Jack Charlton, now restored by Revie to his favoured position and suddenly the dominant partner in a defensive pairing with Freddie Goodwin. The defender was a revelation in those last few games, as Leeds explored the dark art of shutting up shop - just four goals were conceded in a nine match run in, with Charlton demonstrating more purpose and discipline than for many a year.
Indeed, Revie was so impressed that he took Jack to one side for a supportive word. 'If you keep going like that, you'll play for England. I mean it. As long as you screw the nut. All the time, not just some of the time.' They were prophetic words, although Charlton was convinced that the young manager had finally lost his marbles.
Billy Bremner was another who contributed much in those fateful days. His two goals saw off Luton in a 2-1 victory at Elland Road on March 24, and he went from strength to strength, inspired by the arrival of Collins, one of his greatest idols as an avid fan of the national side.
After the Luton win came a hard fought scoreless draw at high flying Leyton Orient before a rare strike from Grenville Hair and an own goal brought a vital 2-0 triumph at Middlesbrough. However, the threat of relegation stubbornly refused to recede and Leeds now faced a gruelling run in - a fixture backlog meant that the Boro game was the first of seven to be played in just 22 days in April.
A combination of two games in a week for Leeds, Bristol Rovers' 5-0 defeat at Middlesbrough and Swansea's enforced lay-off during the smallpox epidemic in South Wales finally saw United edge momentarily away from the bottom of the table by the middle of the month.
Leeds drew 1-1 at Preston on the 9th (thanks to another own goal) and repeated the score at Walsall on April 14, with the goal coming from Albert Johanneson, now restored to the side and in excellent form, after just one game in seven months. The South African had been badly missed and brought new edge up front. It was just in time.
Bottom of Second Division - 14 April 1962

Pos

P

Pts

17th

Charlton Athletic

37

34

18th

Middlesbrough

38

33

19th

Leeds United

38

31

20th

Bristol Rovers

38

31

21st

Swansea Town

37

30

22nd

Brighton

38

27
Brighton were now all but relegated, but Leeds were in a desperate struggle with Middlesbrough, Bristol Rovers and Swansea to avoid filling the other place.
Free flowing football was not part of the survival gameplan. Instead, resolute meanness at the back allied to a fierce combative streak, designed to disrupt and frustrate the opposition, took centre stage. If it was difficult to score against this new unit, it was twice as difficult to retain a lead … if Lawson and McAdams struggled up front, the Leeds net was desperately protected.
However, some newspapers later hinted that less savoury methods were employed to preserve United's status.
The club had four games still to come, taking in the Easter holiday week. The first was on Good Friday, against a Bury side whose player manager was almost as new to the game as Revie, former Newcastle defender Bob Stokoe. A day later, Derby were visitors to Elland Road, which staged the return with Bury on Easter Tuesday. The following Saturday, a challenging trip to Newcastle would conclude the campign.
The battles with Bury provided the background for a controversy which was exposed 15 years later by the Daily Mirror. The paper claimed that Don Revie tried to influence the outcome by offering Stokoe £500 if his team would throw the match. Matters have never been proven either way, but Stokoe has always been a bitter Revie critic. He claimed, 'I remember the situation very clearly. He offered me £500 to take it easy. There were no witnesses. I said no. And when I said no, he asked me if he could approach my players. I said under no circumstances ... and reported it to my chairman and vice-chairman. I was just starting out in my managerial career... and I was never motivated by money. Though anyone who knows Bob Stokoe will tell you he's fiercely competitive. I have a reputation for being a bad loser.'
Whatever the truth of the matter, the game at Gigg Lane was a fierce encounter, ending in a 1-1 draw when Jack Charlton equalised in the second half. Bury went at their opponents as if their very lives depended upon the outcome, even though their own Second Division future had been safe for some weeks. Bobby Collins recognised a football war when he saw one: 'It was a tough game... they were always tough games against Bury.'
The Saturday game against Derby County was no less frenetic, with a goalless draw offering 'plenty of bodily impact' but 'precious little sustained football'. Leeds could have done with the win, but were now a precious three points clear of Swansea, who nevertheless retained two games in hand, and led Bristol Rovers on goal average. The relegation morass was resolutely inescapable.
Bottom of Second Division - 21 April 1962

Pos

P

Pts

18th

Middlesbrough

39

33

19th

Leeds United

40

33

20th

Bristol Rovers

40

33

21st

Brighton

40

31

22nd

Swansea Town

38

30
Three days later, the return against Bury was introduced by programme notes which could not have been more incongruous given the fractious nature of the relationship between Revie and Stokoe: 'Bury are home and dry after a splendid rally in the last few weeks - and this before they began their Easter task which consisted of home games against ourselves and Huddersfield Town and today's match ... The hope of United's supporters is that this time, Mr Stokoe and Mr Revie will both have achieved their objective in the same season.'
Stokoe again: 'After that match, I lost all respect for Revie. On that Tuesday night we went to Leeds, Revie never spoke. But I had one of the finest games of my life. We drew 0-0.'
It was a fifth successive draw, leaving Leeds needing a point to guarantee survival - Bristol Rovers had gone down 2-1 the day before at Charlton, but Swansea's Easter campaign had brought a win, a draw and a defeat.
The final Saturday of the season saw Brighton and Bristol Rovers travelling to Derby and Luton respectively, while Swansea entertained Sunderland. Leeds travelled to Newcastle United's St James' Park knowing they enjoyed by far the best goal average, but equally aware that a Bristol victory could yet see them overtaken. As Leeds had won just two away games all season, the pressure remained firmly on as the day of destiny approached.
There was little that Revie could do, other than to remind his charges to keep things tight and take no chances. He was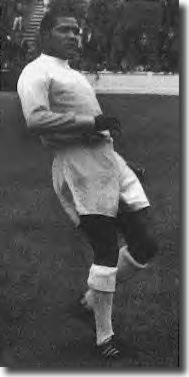 understandably apprehensive as the kick off neared.
However, as is often the case in such tense situations, there was something of an anti-climax. Leeds, with Johanneson and Collins in brilliant form, exerted a stranglehold from the off and were the more comfortable side in windy conditions. They pressed early on and could well have taken the lead - although they had to wait until the 37th minute for Johanneson to open the scoring. McAdams, who had returned to the side in midweek, increased the lead halfway through the second half, and Leeds were firmly in the driving seat. An own goal fifteen minutes from time completed matters, as Leeds swept to an easy 3-0 win.
With Bristol Rovers going down 2-0, the result was irrelevant, but still the final whistle saw Revie and Reynolds embracing in relief, safe in the knowledge that their revolution had been granted time to reap rewards. After a momentous and nail-biting season, Leeds United had survived. The arrival of Collins and the rebirth of Charlton were milestones in the club's history, and the next two years would generate even greater advances. For now, however, the summer brought the chance to refresh tired limbs and stressed minds as Stage Two of the Revie Revolution started to take shape.
Other Football Highlights from 1961/62
46-year-old Stanley Matthews left Blackpool to rejoin his home town team Stoke City for £3,500. The Potters paid him £50 a week, plus £25 appearance money. The presence of the great man saw attendances rise from 8,000 to more than 35,000.
Ipswich Town were strongly tipped for relegation after being promoted to Division One in 1961. However, under the management of former Spurs and England full-back Alf Ramsey, they won the championship after they sneaked through under the noses of reigning champions Tottenham whose attention was distracted by the twin challenges of the European Cup and the FA Cup
Spurs lost in the European Cup semi-inals to holders Benfica who went on to retain the trophy by beating old maestros Real Madrid 5-3 in the Amsterdam final on May 2. Spurs, however, retained the FA Cup by beating league runners-up Burnley 3-1 in the final
Jimmy Greaves returned home to London when Spurs boss Bill Nicholson bought him from AC Milan for £99,999
The first League Cup final was held over to the start of the 1961/62 season and Aston Villa became the first winners, beating Rotherham 3-2 on aggregate
Brian Clough, who had scored 197 goals in 213 matches for Middlesbrough joined Sunderland for £45,000 at the start of the season
Accrington Stanley resigned from the Football League on 6 March, due to financial difficulties. Stanley had been founder members of the League in 1888
Bill Shankly, in his third season as Liverpool manager, saw his team win the Second Division by eight points
England set off for the seventh World Cup finals in Chile with high hopes but lost 3-1 in the quarter-finals to holders Brazil, who retained the trophy by beating Czechoslovakia 3-1 in the final