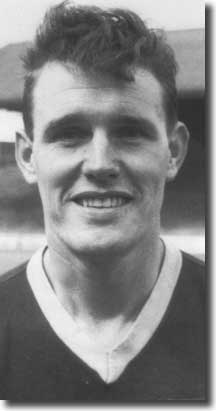 Born: Onslow, County Durham, 24 March 1939
Ian Lawson was one of a clutch of signings that novice Leeds manager Don Revie made in the spring of 1962 to save the club from relegation: Bobby Collins would go on to become an Elland Road legend, but Lawson and Cliff Mason enjoyed only bit parts in the club's rise to prominence.
Frederick Ian Allison Lawson was born in County Durham, but was signed by First Division giants Burnley when he left Pelton School in March 1956. Lawson was spotted by Burnley's North East scout along with teammate Jimmy Robson when the two were playing in a Schools Cup final. Both men were recruited on amateur terms by the Turf Moor club.
Lawson enjoyed the most sensational debut for Burnley, scoring four goals in an FA Cup-tie against Chesterfield on 5 January 1957.
Tony Scholes from the Clarets Mad website: 'When a player gets his first opportunity of first-team football it is a big occasion and one that surely he hopes will go really well. When a player is just 17 years of age then he must hope to make something of an impact to set up his career with a good start. Back in January 1957, Burnley were looking for a new centre-forward. The diminutive Peter McKay was set to return to Scotland and manager Alan Brown had used Les Shannon in the role for four games in which the wing-half had scored twice. However, successive defeats as 1956 came to an end saw Brown opt for youngster Ian Lawson when we played Chesterfield at home in the third round of the FA Cup. To say Lawson made an impact is something of an understatement.
'He scored after just four minutes to give Burnley the lead. It was 2-0 at half-time but Lawson soon added the third and nine minutes from time completed his hat trick for our fifth goal. He added a fourth for himself with the final score Burnley 7 Chesterfield 0.
'He kept his place for the league, but he'd certainly taken a liking to the FA Cup. The next round saw non-League New Brighton at Turf Moor and Burnley recorded a 9-0 win. No four goals this time for Lawson, just three to take his total to seven in two ties.
'Incredibly he wasn't even a reserve team regular, but here he was being allowed to lead the team off twice in these Cup matches. He was the talk of the town and everyone was tipping him for stardom.
'He played another two FA Cup-ties that season, also played in seven league games, and his total of goals was ten in eleven games. Such was his impact that he was called up for England at youth level in the September and played alongside club teammate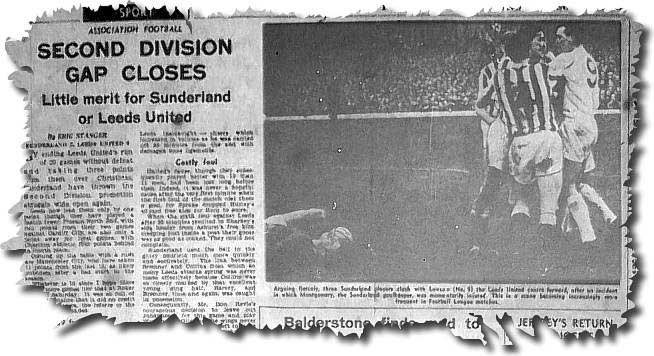 John Angus against Spain at Birmingham's St. Andrews.
'Things didn't quite work out though and in the next two seasons (1957/58 and 1958/59) he didn't play a single game in the first team and had to settle for reserve team football. The 1959/60 season saw him play nine times, eight of them in the League. By now he was at inside-right and came in as understudy for Jimmy McIlroy. Despite his lack of first team football he still made his mark. He scored three goals including the winner against Manchester United at Old Trafford.
'Such was football fifty years ago that he was serving his National Service at the time and Burnley had to get permission to play him in some of those games. The 1960/61 season saw him play another ten games, but still he couldn't establish himself in the first team and there wasn't a single appearance again during the 1961/62 season.'
First-team opportunities for Lawson were scarce at Burnley, who were league champions in 1960 and he was limited to 23 starts in his six years at Turf Moor, scoring seven goals. His final appearance came on 29 April 1961 at West Ham.
Nevertheless, the striker had done enough to persuade at least one other club he could be the right man for a desperate situation. Andrew Mourant: 'Don Revie was looking for goals to buttress his sagging team when he cast across the Pennines and brought Ian Lawson to Elland Road from Burnley in March 1962 for £20,000. He was not, perhaps, the most obvious choice, a no frills 23-year-old ... Arriving as Leeds fought their desperate rearguard action to avoid relegation to the Third Division, Lawson was immediately drafted into the first-team but scored just one league goal in eleven matches.
'Lawson, a leggy and somewhat ungainly centre-forward, played a fairly limited game, distributing the ball outfield with the aim of receiving crosses knocked into the penalty area. Though not a striker out of the top drawer, he often displayed bravery as a target man besides the intuitive goalscorer's positional sense, enabling him to score goals that might have eluded other players.'
Despite the lack of goals (the only one Lawson scored was in a 4-1 defeat at Southampton, on the day Gary Sprake made his debut following a hair-raising helicopter journey to the South Coast), United did enough to avoid relegation.
Unsettled by the arrival of John Charles and Jim Storrie at the start of the 1962/63 campaign, Lawson asked Don Revie for a transfer. There were no takers and eventually Lawson was given another run in the first team. After just three appearances in the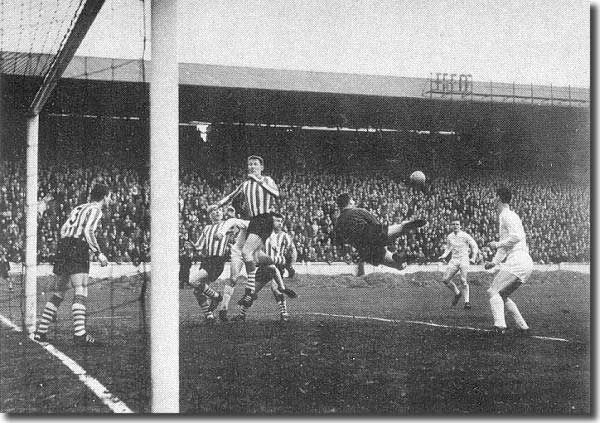 eight months to the end of April, two of which were in the League Cup, the manager gave Lawson a string of opportunities at the end of the season; he played in five of the final eight games, scoring five goals in the process.
Lawson scored both goals that saw off Scunthorpe on 23 April and returned another brace in the 2-2 draw at Chelsea a week later. The success persuaded him to ask to come off the transfer list, and he was retained by Revie for the following season. On 18 May, Lawson scored and hit the bar twice in the 5-0 thumping of Swansea and seemed to have breathed new life into his Elland Road career.
The striker netted the winner in a pre-season friendly against Bradford City at Elland Road and was named by Don Revie to play alongside Don Weston, Jim Storrie, Bobby Collins and Albert Johanneson in the season's opener against Rotherham United. However, Lawson was dropped thereafter to make way for the arrival of Johnny Giles from Manchester United. He did return with a bang at the end of September, scoring five goals in four games, and was a regular starter for the rest of the campaign as Leeds captured the Second Division title.
After Lawson's two goals in the 4-1 defeat of Southampton on 26 October, Phil Brown claimed in the Evening Post, 'Lawson's form, his goals apart, was staggeringly good. He was the best all-round forward of the game and a real menace.'
Nevertheless, Lawson struggled to win Leeds supporters over, and grew unsettled again when Don Revie signed England centre-forward Alan Peacock in February 1964. Johnny Giles: 'Although Peacock and I became great pals, I couldn't help but feel sorry for the player he replaced in the Leeds side, Ian Lawson.
'The Leeds fans held a grudge against Lawson because they considered he was to blame for the club's FA Cup fourth round defeat by Everton in January. Lawson gave Leeds the lead earlier when an intended clearance from an Everton defender bounced off his shoulder into the net. Everton equalised 10 minutes from the end through a penalty by Roy Vernon, but definitely did not deserve to be on level terms. We played brilliant football that day, but missed a number of good scoring chances. The match ended 1-1, and afterwards Lawson was strongly criticised for having missed what looked the best chance of all.
'What people didn't appreciate was that Lawson did wonders to create the opportunity in the first place. By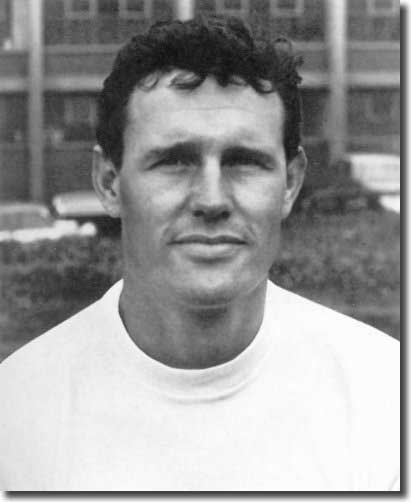 sheer tenacity he won the ball from Brian Labone in the Everton penalty area, and then resisted a desperate challenge by keeper Gordon West. Lawson had the goal at his mercy, but unfortunately the ball was spinning away from him and he sliced it wide. So in my view this was bad luck rather than bad finishing. Everton, incidentally, won the replay at Goodison Park 2-0.
'Lawson looked clumsy at times, but was very effective, and scored some memorable goals for Leeds. One which sticks out in my mind was against Southampton, when he picked up a loose ball in the inside-left position and struck an incredible shot into the net from 30 yards.
'Lawson was the type of player who never gave up trying hard on the field - a quality which, indeed, was the hallmark of the Leeds team as a whole that season.'
Leeds agreed a £15,000 fee with Scunthorpe for the transfer of Lawson at the end of February 1964, but the arrangement ran aground when Scunthorpe refused to meet Lawson's demanding personal terms.
After a run of three games out of the first six for Lawson in 1964/65, he suffered a knee injury. A cartilage operation in September put paid to his return, and he never got back into the United first-team.
In June 1965, Lawson moved to Crystal Palace in a £9,000 deal, after 21 goals in 51 appearances for Leeds over three years.
He earned the distinction of being the first Palace player to be substituted, but only remained at Selhurst Park for a year, scoring 6 times in 17 appearances for the Second Division club.
Lawson moved on to Port Vale for £1,000 in August 1966, and went straight into the first-team, making his debut in a 2-1 victory at home to Southport on 20 August. He lost his place the following month and failed to score in his eight appearances for the Potteries outfit.
He moved to Barnsley on a free transfer in May 1967 but failed to make the senior team at the South Yorkshire club and at the age of 28 dropped out of the professional game.