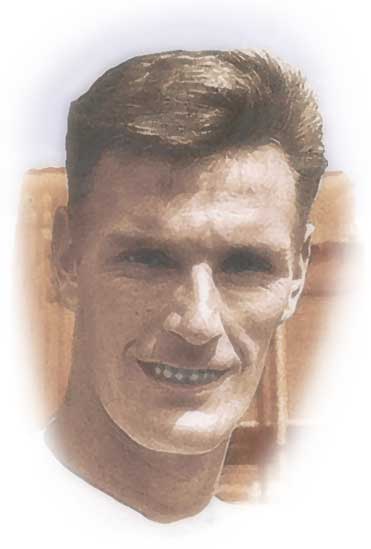 Alan Peacock was among the unluckiest of all footballers, losing the best of his playing days to a succession of crippling knee injuries. If he had remained fit, it might well have been Peacock rather than Geoff Hurst who spearheaded England's World Cup winning line-up in 1966 - he had been added to the England set-up by Alf Ramsey in late 1965 when he was on top form for Leeds. He scored his third goal in six games for his country and seemed to be set fair for an exciting 1966.
As it was, Peacock slipped into the shadows after more injuries. He dropped into the Second Division with Plymouth Argyle for whom he played a mere 11 games before surrendering to the inevitable and retiring at just 30.
He took his tribulations with amazing fortitude. Johnny Giles: 'I rated Peacock highly. Quite apart from his heading power, he was an accurate passer of the ball, and one of the most astute positional players I have seen. Peacock also had a wonderful sense of humour. He suffered badly with cartilage trouble not long after joining Leeds, which ruled him out of the game for long periods. But I never once heard him complain or walk around with a frown on his face. And if anyone tried to show him any sympathy he would reply: "Look, if I didn't have both cartilages missing I would be half a stone heavier!"'
Former England manager Walter Winterbottom described Peacock as 'the finest header of a ball in the country', and he was indeed deadly in the air. His height, strength and bravery (some might say recklessness) made him a rare handful for opposing defenders.
He provided the threat up front that Leeds manager Don Revie desperately needed and United's tactics relied heavily on Peacock's willingness for a fight, as they launched a stream of crosses into the penalty area. Andrew Mourant: 'He was an excellent team player, always on hand to link up with play, though sufficiently aware of his modest skills on the ball not to try things beyond him.
'Much of Peacock's bravery went unseen save by colleagues and the Leeds management. Such was his commitment to the cause, he all too frequently launched himself into dangerous places where bodies were thrashing and boots flying. He had a succession of cartilage operations, doing his utmost to regain fitness each time. Yet such was his luck, his knee gave out sooner or later. Lesser men might have had bouts of black despair but, if Peacock grieved, he did so privately. He is remembered for his good cheer and humour in trying circumstances. Without him, the Leeds forward line was a blunter instrument.'
Norman Hunter: 'Alan led the front line so well and was a great header of the ball. Despite having dodgy knees he was still a very fit man. In the gym the weights he could lift were amazing. I could hardly move them while he lifted them with ease. I remembered having played against him and thinking what a good player he was, so I was delighted when we bought him.'
Born on 29 October 1937 in Middlesbrough, Alan 'Peachy' Peacock joined his hometown team in November 1954 as a gangling inside-forward and made his debut a month after turning 18. After being selected for the England youth team, he established himself midway through the 1957/58 season and forged a productive striking relationship with prolific centre-forward Brian Clough.
Clough, Peacock's senior by two years, was the higher profile player with some phenomenal goalscoring feats during the late Fifties. He was Boro's top scorer in five successive seasons between 1956 and 1961, with a lowest League total in any season of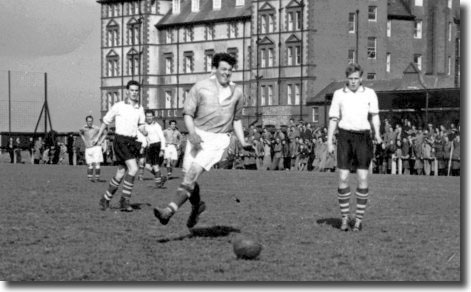 34!
They were like chalk and cheese: Peacock, the selfless team player, endlessly loyal to club and colleagues; Clough, arrogant, abrasive and selfish. As Old Big 'Ead used to say: 'Get that f***ing ball over to me. I'm here to put it into the net, not you.'
Peacock: 'We go back years and years. We first met in 1954. He was 19 and I was 17. He was in the RAF and I was in the steelworks. But he was a terrific goalscorer, one of the best. When we first started at Middlesbrough we just seemed to start well and we went from there. From one season to another we just got better and better … we enjoyed a great partnership.'
Peacock was a willing and able provider and the two seemed an ideal combination, a goalscoring marriage made in heaven. The pairing was razor sharp, one of the club's most prolific of all time. Between them they managed 262 League goals during their years together at Ayresome Park.
The duo's biggest haul came in the 1958/59 campaign when they scored 62 - including an incredible 43 goals in 42 league appearances for Clough. Boro kicked off the season in the way that they were to continue, with a 9-0 hammering of Brighton, Clough snatching five and Peacock two. In another memorable game in November, both men grabbed hat tricks in a 6-1 victory against Scunthorpe United.
Boro were in good form that month, thrashing Derby 5-0 with Peacock netting the third. The following August, the same teams met at the Baseball Ground and the Teessiders did even better, winning 7-1. Clough was not on the score sheet, but Peacock netted four times. Wilf Shaw writing in the Derby Evening Chronicle: 'My eyesight is quite good and I saw what happened clearly, but somehow I telephoned Clough and not Peacock as the scorer of Boro's second goal. I apologise for the weekend arguments unwittingly caused, and to lanky four-goal National Serviceman Peacock. One can rave about 20-year-old Peacock. He was a craftsman with the killer instinct in front of goal. The goal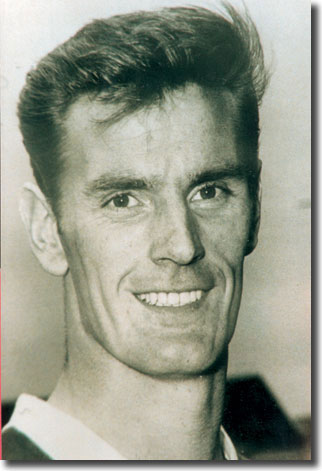 I misread was the perfect example of wonderful split-second opportunism.'
In November 1960 came another incredible game, 6-6 at Charlton - another Clough hat trick, a trio from the Addicks' Dennis Edwards and Charlton levelling the game for the fifth and final occasion a minute from time.
Clough left Middlesbrough for Sunderland in July 1961 in a £42,000 deal, sick of the team's inept defensive performances. He wrote in his autobiography: 'It was not long before I told [Middlesbrough manager] Dennison I wanted out … my patience snapped. Middlesbrough were letting them in quicker than I could score them. I told the manager I was sick and tired of banging goals in at one end, only to turn round and see the team conceding even more at the other.'
Peacock kept up the good work the following season, assuming the No 9 role with enthusiasm, and returned an impressive 32 goals in 41 games. Bob Dennison said of him, 'Alan is a top class striker. His workrate is magnificent, he shields the ball so well and as well as scoring goals he is unselfish and a real team player.'
His record brought Peacock to the attention of England manager Walter Winterbottom as the 1962 World Cup finals neared. Wearing the No 19 shirt, he took his place in a squad that boasted such illustrious names as Jimmy Armfield, Bobby Moore, Jimmy Greaves, Bobby Charlton and Johnny Haynes.
He was yet to make his debut as the squad flew out to Chile, but Winterbottom had no doubts about blooding the 24-year-old. He made his debut in England's second game, against Argentina in Rancagua after Gerry Hitchens turned in a lacklustre performance in the opener, a disappointing 2-1 defeat to Hungary.
Peacock lined up as centre-forward alongside Greaves, with Haynes pulling the strings from midfield. Charlton on the left wing and Blackburn's Bryan Douglas on the right supplied the ammunition.
Peacock got off to a bright start, firing wide early on, then forcing the penalty that earned England the opening goal after 17 minutes. A cross from Charlton floated invitingly to the far post where Peacock powered a header goalwards only for Argentina captain Navarro to turn the ball over with his hand. The Russian referee pointed to the spot and Ron Flowers drove home the penalty.
Jimmy Armfield hit a post soon after, then Charlton fired in a sizzling low shot for a second just before the interval as England took control.
In the second half England sat deeper and soaked up a lot of Argentinian pressure but Peacock worked hard, closing down defenders and chasing back to help the defence. And he had a hand in England's third on 66 minutes
when he pushed a first time ball out wide for Douglas to get down the flank and put in a fierce cross shot. The keeper could only punch away as far as the edge of the box where the lurking Greaves pounced to drill home.
Argentina pulled one back through Sanfillipo ten minutes from time but Peacock had done enough to keep his place for the final group game with Bulgaria five days later. He had less chance to shine as the Bulgarians defended in depth from the off and set out to frustrate and intimidate with a very physical approach. In a rare first half break Greaves rounded the keeper but hit the upright.
The second half was just as drab but Peacock almost notched his first England goal on the hour as Flowers crossed into a crowded box. Peachy climbed highest to send a looping header over the keeper but it clipped the post before going behind for a goal kick.
The Argentinians in the crowd were whistling with disdain and booing the turgid fare as the game sleepwalked towards the draw that would put both sides through at the South Americans' expense.
Peacock was selected for the quarter final against holders Brazil but suffered a stomach upset overnight and was replaced by Hitchens. Brazil won the game 3-1 and went on to retain the trophy.
Peacock featured again in two autumn internationals, a 3-1 win against Northern Ireland and a 4-0 hammering of Wales in Winterbottom's final match in charge. Peacock snatched two goals in the latter game, one of them a wonderful drive from the right hand side of the area. Alf Ramsey was among the crowd of 27,500 - the lowest ever for a Wembley international - in readiness to take over as England manager.
With Winterbottom's departure, Peacock slipped out of the international reckoning, though he scored 21 goals in 40 Second Division appearances in 1962/63. One memorable performance saw him score twice as Middlesbrough pulled off a remarkable 5-4 win at Plymouth in February.
The previous month manager Bob Dennison had left Ayresome Park after nine years of struggling unsuccessfully for promotion to be replaced by former England inside-forward Raich Carter. Because of the bitter winter that year the Plymouth game was Boro's first for six weeks, only playable because of the milder conditions prevailing in the West Country.
After the victory, Carter said, 'No player who can assist the club to win promotion will leave. That is definite and includes Alan Peacock.' Middlesbrough enjoyed a strong closing run but ended the season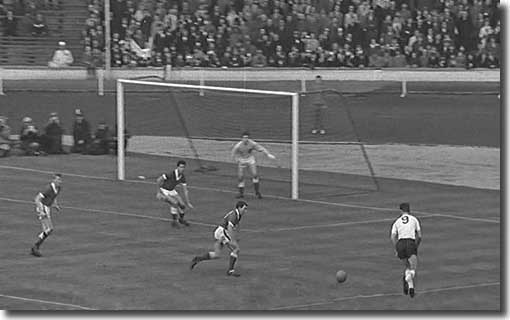 fourth.
Boro made a promising start to the following campaign, winning four of the first five games, scoring 18 goals and conceding just four. During that time, Peacock's delightful 87th-minute headed effort provided the decisive moment in a 3-2 win away to Leeds United, featuring John Charles in the wing-half role that he occasionally filled. Bill Mallinson in the Yorkshire Evening Post: 'England's World Cup leader had a thin time until the last 12 minutes against the wide-awake Charlton, but Peacock, like his predecessor, Clough, has that instinct for the pay-off, and the decider came from as good a piece of work in the air as I have seen for a long time.'
Middlesbrough slumped as winter drew on with both Peacock and winger Bobby Braithwaite out injured. The striker suffered a series of knee problems, culminating in the requirement for a cartilage operation on his left knee in November 1963.
Three months later Leeds United manager Don Revie signed Peacock for a fee in excess of £50,000, set to rise to £55,000 if United secured promotion. The deal was a record for both clubs. Revie said at the time, 'I have always been impressed by Peacock, whose goal record speaks for itself. Naturally we hope that he will do for United what he has done for Middlesbrough. He is a perfect type and undoubtedly will settle down well at Elland Road.'
Rob Bagchi and Paul Rogerson in The Unforgiven: 'In normal circumstances he would have been far beyond Revie's resources. Memorably described by Brian Glanville as "a tall, straight guardsman-like figure even to the short haircut", he was just over 6ft tall, yet his timing and vertical leap placed him up with Tommy Taylor, John Charles and Nat Lofthouse as the finest exponents of the aerial arts since the maestro Tommy Lawton. His pedigree did not augur well for the club's bank manager, especially since Peacock was only twenty-six. Eighteen months earlier, Denis Law had signed for Manchester United from Torino for £115,000, and while Peacock, splendid player though he was, was not quite in Law's class, he should easily still have been above Leeds' price bracket. Luckily for Leeds, the discount on "damaged goods" also applied in football. Peacock's persistent knee problems and recent serious cartilage operation, a career-threatening procedure back in 1963, meant that Middlesbrough were resigned to cashing in on the player while they could.'
Despite the club's £80,000 overdraft, Revie was prepared to gamble on Peacock's fitness to boost a faltering Second Division title challenge. Peachy had only managed nine Second Division appearances and a couple more in the League Cup, but had scored 8 times.
United were desperate for goals, and Eric Stanger wrote in the Yorkshire Post: 'Peacock should undoubtedly give a new cutting edge to this Leeds attack which has been so badly blunted of late. On his day there are few better centre-forwards in the country and apart from being exceptionally clever in the air, where he makes full use of his height of six feet, he has a strong shot. But more than that, he is one of those centre-forwards, not plentiful in the modern game, who can hold a line together by his distribution from midfield. He should, too, fit easily into Mr Revie's team plan of the twin thrust down the centre, whether he has Weston or Lawson alongside.'
Peacock took a while to find his form, though he managed a score in his first appearance, at Norwich. Phil Brown in the Yorkshire Evening Post: 'Peacock obliged a touch of the ideal, a goal on his debut, beautifully snapped with his head. But he obliged a lot more by the rest of his keen play against a strong, well timbered defence out to mark him, and led by one of the best centre-halves in the Division these last few years, Barry Butler. Allowed not a single full chance - he scored off half a chance - Peacock probed hard and thoughtfully.'
Peacock managed another goal on his return to Ayresome Park in mid March, emerging from a ruck of players to head Leeds into the lead in the 86th minute before Johnny Giles completed a 3-1 scoreline three minutes later. It took some time for Peacock and his new teammates to adapt to each other. Ian W Guild, after a narrow home win against Scunthorpe in February: 'Peacock, making his first appearance at Elland Road, has the right ideas at centre-forward, but his colleagues have either still to fathom them, or are not clever enough to do so. Perhaps it was because Collins had an off day that the forwards fell into their old habit of passing aimlessly from one to the other instead of thrusting at goal.'
Things eventually started to gel with Albert Johanneson and Giles providing better service, capitalising on Peacock's aerial prowess to bring a new sharpness to United's game. The centre-forward netted 8 times in 14 appearances as Leeds gathered momentum during the run in. His two goals in a four-minute spell earned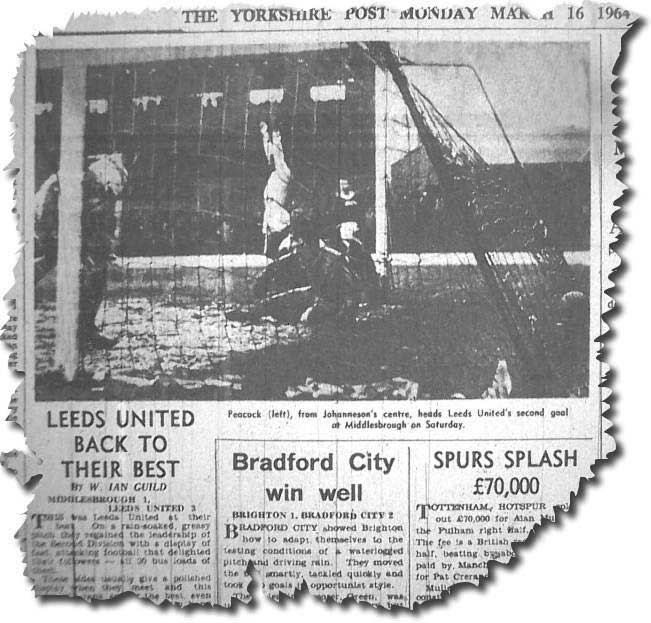 United the 3-0 victory at Swansea on 11 April that confirmed their promotion (Phil Brown described it as 'his best match yet') and he got another brace at Charlton as they secured the title.
During a summer tour of East Germany, Peacock injured his right knee. He aggravated the problem in training and missed the first two months of the 1964/65 season after a cartilage operation. Revie: 'I'm very sorry for Alan, who was so keen to do well in the First Division for us, and we all wish him the best and speediest of recoveries.'
Peacock made his comeback in the Central League against Bolton in November but broke down after 20 minutes with a recurrence of his knee injury, necessitating a second operation.
In his absence, United impressed during their First Division comeback and were soon up among the leaders. Peacock was back on the goals trail after returning to the side in February, scoring six goals in 10 games, plus a brace in an FA Cup-tie against Crystal Palace. Bagchi and Rogerson: 'All winter Revie had remained steadfast in his decision to wait for Peacock's return before admitting that Leeds could win anything … Fortuitously, after several frustrating delays, Peacock finally re-emerged … His presence revitalised Revie's team as an attacking force, knitting the whole side together with his precise and intelligent play. Significantly in the ten League games he managed to play in all season, the team scored 27 goals compared to the 56 they scored in the thirty-two games he missed. Put another way, he was worth a goal a game more to the team when he played.'
Like most of his team mates, Peacock had a game to forget in the FA Cup final defeat to Liverpool, and was outjumped, outfought and outmanoeuvred for the most part by the Reds' towering skipper and centre-half, Ron Yeats. His inadequacy left United toothless, unable to get a foothold in Liverpool's half.
The striker was back to his best at the start of the 1965/66 season. He showed sparkling form and returned nine goals in his first 16 games, including the winner in United's first European tie, at home to Torino at the end of September. Peacock was switched to No 7 in Don Revie's gimmicky attempt to unsettle the Italians. Phil Brown: '[Peacock] was being tailed everywhere by two men, even when 50 yards from the ball, and last night there was not another good finisher in United's forwards. Peacock did wonderfully well to head home from a brilliant passing round three minutes after half time.' The goal put United two up before Torino pulled one back late on. He had a second effort disallowed when the referee ruled that Italian keeper Vieri had cleared another header before it crossed the line. Peacock afterwards claimed the ball 'was a good 18 inches over the line'.
His form at the time was first class, as good as at any time in his career, and it was no surprise when England manager Alf Ramsey recalled Peacock to the England side for a match at Wembley against Wales in early October. Peacock was said, by one source, 'to have come out of the wilderness'.
Everyone at Elland Road was delighted for one of the most popular players at the club and Phil Brown paid glowing tribute in the Yorkshire Evening Post: 'Peacock had four caps for England already … but this is the one he will prize above all … his last cap was in 1963, and since then he has had a gruelling fight against recurrent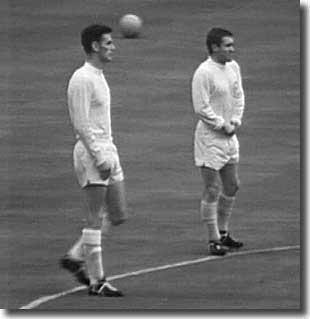 knee injuries. Last season because of them, he did not start to play at all until February, and had his first senior match only on February 27 against Spurs in London. While playing more than usefully he understandably did not pull up any trees last season but this season he has been in brilliant form - dashing, alert, ready with head or foot, and always with brilliant and tenacious heading. He has scored six goals so far. Last season he ground away, day after day, Sundays as well, at rehabilitating exercises for his legs.'
Peacock acknowledged the support of everyone at the club, saying: 'They have been great, for without the continued help of such as Les Cocker and Syd Owen I might never have got back to peak fitness. Now I feel better than I've ever felt. Naturally I am pleased with my selection. Who wouldn't be? But it was something of a surprise.'
When asked if he had felt that his England playing days were over, Peacock added, 'No, not really, for I have now got back some of that old edge to my game, the result of being pushed all the time by the training staff.'
Manager Don Revie expressed his pleasure, tinged with relief that Peacock finally looked to have put his problems behind him, saying, 'I couldn't have been more pleased had I been selected myself. It is tremendous compensation for the courage and determination which Alan has shown in his fight back to fitness when people were saying he was finished and that we had bought a boner.'
The game was a dour goalless draw. Fielding six players from outside the First Division, Wales managed to prevent England from scoring for the first time in thirty-three years. They had the most productive player on the pitch in balding, 35-year-old Ivor Allchurch, an artist of a player with a beautiful range and weight of pass even now that he was seeing out his dotage in the Third Division with Swansea.
Peacock missed the 3-2 defeat to Austria three weeks later through injury, but was recalled for the game against Northern Ireland on 10 November. Joe Baker, deputising for the hospitalised Jimmy Greaves, put England ahead in the nineteenth minute. The Irish equalised sixty seconds later when Willie Irvine turned a George Best centre through the legs of an embarrassed Gordon Banks. Persistent rain made the surface treacherous, and the Irish defenders were slithering around when Peacock scored England's winner in the 73rd minute, capitalising on an attempt from Baker to hook the ball home from close in.
The striker lost his way a little for Leeds in the weeks that followed, as the Yorkshire Post's Eric Stanger noted after a home defeat to Liverpool on 28 December: "Peacock has lost all that early season determination which won him back an England place. He has not scored since October 23, nor is he making much play for his colleagues. Yesterday his challenge to Yeats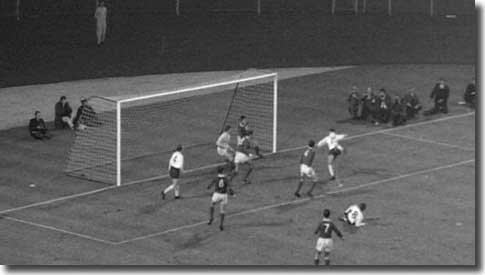 was never much more than nominal."
When Leeds beat Bury 6-0 in the FA Cup third round on January 22, Stanger was equally concerned, saying, "Leeds had one worry … That was the continued and startling loss of form by Peacock. Again he could scarcely put head or foot right and this on a day when all his colleagues were doing very much as they wished. He is not the same man who began the season with such zest."
A week later there was even worse news when Peacock was stretched off during a 2-0 defeat at Sunderland. In the 27th minute, with United a goal down, he tried to head home a cross from Albert Johanneson and got his legs locked with those of a defender. He went down heavily and had to be carried off.
The news was bad - Peacock had more ligament damage in his right knee. At first it was thought that he would only be out of action for a few weeks, but his troubles persisted and he went into a Leeds nursing home at the beginning of March for another operation. That was the end of his season and it was September before he was fit enough for a recall after requiring more surgery during the close season.
He scored the only goal in a League Cup-tie against Newcastle on 13 September 1966, marking his return 'with a characteristic header as powerful as it was accurate' (Stanger) and planting another onto the bar. The crowd gave him a standing ovation.
He missed the following game with a bruised ankle but made a long awaited League return in a draw against Everton on 24 September.
Sadly, his return lasted just three games and Peacock was out of first team action from October 4 to March 25. He then scored twice in three games, but limped out of an FA Cup quarter-final against Manchester City with a thigh strain.
It might have been thought that would be the end of a sad season, but Peacock was selected and did splendidly as a stand in centre-half for the final league game, a meaningless encounter with Sheffield Wednesday. Don Revie selected a line-up composed almost entirely of reserves.
Sadly, that was to be Peacock's final appearance in United's first-team. He made some appearances for the reserves, but knew the writing was on the wall when Don Revie paid out a club record £100,000 to sign England centre-forward Mick Jones from Sheffield United in September 1967.
Peacock chose to move on to Second Division Plymouth Argyle in a £10,000 deal at the beginning of October, making his debut on the 7th in a 1-1 draw against Huddersfield, as reported in the Yorkshire Post: 'Plymouth's new centre-forward, Alan Peacock, the man who was written off as England's attack leader after three serious knee operations, did not set the Home Park stands ablaze with excitement. Nobody expected that he would after such a long lay off. But with a header that was cleared off the line, a shot that rattled the crossbar and a return pass to inside-forward colleague Reynolds that levelled the scores he did enough to make Plymouth supporters feel a good deal happier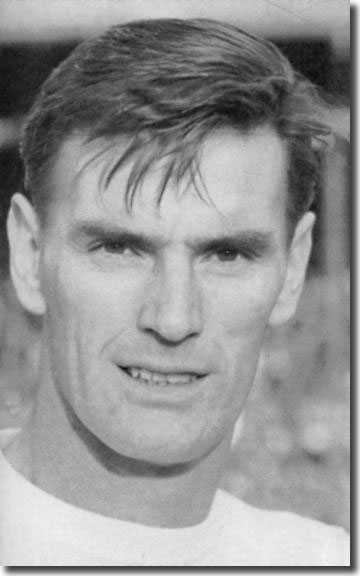 about Argyle's future prospects.
'A lot rested on Peacock's shoulders in this match. Plymouth had not gained a point since August 28 and scored only one goal. Peacock's play was determined and gave considerable satisfaction, but at the same time Mielczarek, Town's new centre-half from Wrexham, was just as impressive. It is in the air that Peacock has always been most dangerous and in this match the rugged Mielczarek limited him to no more than three headers at goal.'
After two games, the striker limped off with more knee trouble, but was out for just a fortnight.
Peacock's first goal for the Pilgrims came in his fifth match, on December 2 in a 3-1 win against Carlisle, but Plymouth were struggling at the foot of the table and were soon having to cope without their new man. Following his eleventh appearance, on 20 January against Derby, the former England man was given medical advice that he should retire from playing, aged just 30. It was heartbreaking news.
After such a depressing end to his playing days, it would have been perfectly understandable for Peacock to have descended into self pity, like so many other ex-players, but that was not his style. He returned to his hometown and became an active behind-the-scenes stalwart at Middlesbrough, for a time also running a newsagent's business.
He worked as a match day host at the Riverside and founded the Middlesbrough Former Players' Association in 2005, gaining the inspiration from attending similar events at Elland Road and White Hart Lane. The Association continues to identify and help the club's former players in addition to raising funds for local charities.
Peacock: 'The former players' association is going really well and it's great to be able to invite some of the old players along to Riverside. We had Rolando Ugolini and Arthur Fitzsimons there the other day and not only was it great to see how much they enjoyed it, but what a wonderful reaction they got from the fans. But that's not just why we are doing it. We want to do what we can for some of those old players who did not always have things easy when they finished their playing careers.
'I was fortunate but there were many lads from my era, particularly in the Durham area, who were household names but had to go down the mines to makes ends meet once their professional careers were over. You don't forget things like that. But there are needy people in all walks of life and it's great to be able to give a little bit back through our charities. All I have ever done throughout my life is want to play football and be involved with football. But there is more to life than football and it's such a pleasure to be able to give something back.'
In November 2005, Peacock became president of non-;eague Guisborough Town and in December 2006 he was awarded a Lifetime's Achievement Award by the Evening Gazette in Middlesbrough for his services to the club, a fitting tribute to one of the nicest but unluckiest men in football.