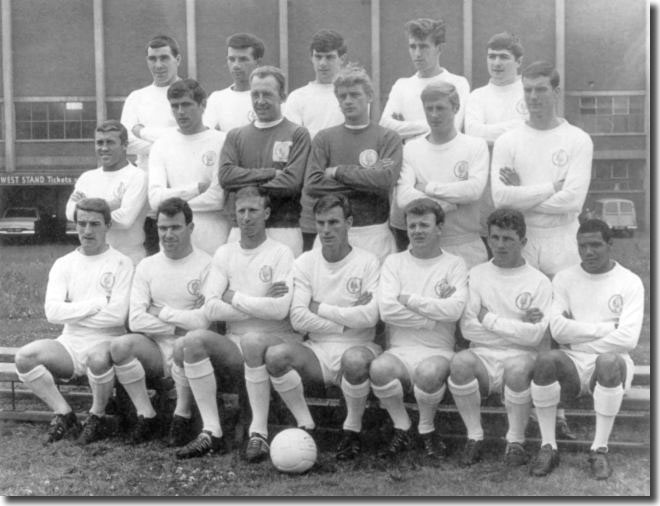 Part 2 - Runners-up once more - Results and table
Leeds United Football Club had never experienced anything to match the excitement of the 1964/65 season. In the end, the greater experience and class of Manchester United and Liverpool told, as Leeds lost the League on goal average and were defeated in a drab FA Cup final - the ultimate analysis showed that it was a step too far for the brash young men from Elland Road.
Nevertheless, they had every reason to believe that their chance would come. They hoped for domestic and European success in 1965/66, though the popular school of thought was that they would be one-season wonders. It had happened before - newcomers to the First Division often enjoyed the element of surprise, with television appearances few and far between, only to find themselves quickly rumbled, unable to adapt when opponents had figured them out.
Though manager Don Revie was convinced of the club's potential, he sought to strengthen his squad over the summer of 1965. He was obdurately judicious with United's resources, and the Elland Road coffers had been closed since February 1964 when he signed Alan Peacock from Middlesbrough.
Revie was delighted with how well his men had coped with the big time, but was mindful that Bobby Collins wasn't getting any younger, and set out to find a successor. He had earmarked Johnny Giles as Collins' long-term replacement, but that would leave a troublesome gap on the right flank.
20-year-old Blackpool winger Alan Ball, a fiery, hard working dynamo, had already broken into the England team. The redhead had impressed Revie during United's clashes with the Lancashire club and was one of the most promising young talents in the country. He was much sought-after and would not come cheaply, but Revie managed to persuade the Leeds directors to underwrite a move. Their resources had been swollen by record profits of £78,918 and chairman Harry Reynolds sanctioned the chase for Ball, though he wouldn't go above a £100,000 asking price.
Blackpool boss Ron Suart was not yet ready to trade, pronouncing that he would not listen to offers. Revie's famous powers of persuasion could not prompt a change of heart and he skulked back to Yorkshire empty handed.
The interest in Ball unsettled Bobby Collins who was quoted as saying, 'If there is any transfer talk I would definitely not dismiss the idea of moving on.' Revie reassured Collins, and in the end the Scot promised to stay: 'I have had this talk with Mr Revie to clear the air on my future. Mr Revie has put a long-term proposition to me … and I shall be continuing with United.'
The manager was determined to get his man, however, and sustained a long-term campaign to entice Ball to Elland Road. For the moment, he consoled himself with the promise of his young reserves - Jimmy Greenhoff, Peter Lorimer, Terry Cooper, Paul Madeley, Eddie Gray, Rod Belfitt, Terry Hibbitt, Mick Bates, Rod Johnson and David Harvey.
A number of them had been blooded but used sparingly by Revie, but now some of them were ready to have a bigger say in events. Indeed Greenhoff was so certain of himself that he asked for a move to get first-team action elsewhere, joining reserve keeper Brian Williamson on the transfer list. The custodian moved on in February to Nottingham Forest for £5,000, while Greenhoff eventually decided to stay and fight for his place at Elland Road. A couple of players who did depart during the close season were Ian Lawson to Crystal Palace in a £9,000 deal and winger Tommy Henderson to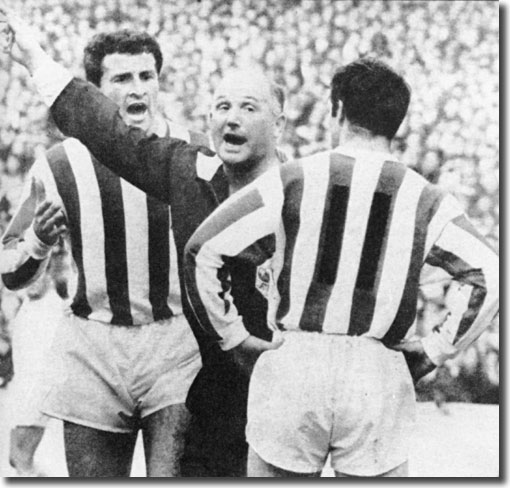 Bury.
United kicked off the 1965/66 campaign with a warning from Don Revie echoing in their ears: 'Because of that dirty tag given us by the FA after the season before last and the effect on other teams and their supporters, our players will have to behave, to play like perfect gentlemen this coming season, and I have told them this. Above all they must steel themselves against retaliation.'
Sunderland, United's opening day opponents, gave a debut to Scottish international schemer Jim Baxter, signed on a £72,000 deal from Rangers after recovering from a broken leg sustained against Rapid Vienna in the European Cup.
For Leeds, Don Weston was given the nod at No 8, ahead of the claims of Jim Storrie and 18-year-old Peter Lorimer, with Terry Cooper deputising for Albert Johanneson (injured ankle), but the rest of the side was as expected: Sprake, Reaney, Bell, Bremner, Charlton, Hunter, Giles, Weston, Peacock, Collins, Cooper. Storrie was named as 12th man for the game, following the League's decision to allow substitutes.
Sunderland started well and enjoyed a promising opening quarter with Baxter pulling the strings, before Leeds got to grips with the game and the Scot's influence waned. Thereafter United had the best of things, though chances were sparse.
On the hour, Sunderland winger George Mulhall was controversially dismissed for a comment made to the linesman. His removal allowed United to take the initiative although they never dominated. Their attacking moves were one-dimensional and easily stymied by centre-half Charlie Hurley; it seemed unlikely that the deadlock would be broken.
However, Leeds' spirit was renowned and they maintained their pressure, finally reaping some reward four minutes from time. Hurley struggled to head clear under challenge from Alan Peacock and Weston, and the ball dropped for Norman Hunter to volley home from near the penalty spot after coming up at full pace.
Leeds just about deserved the points, but it had been a distinct struggle.
They won well at Aston Villa two days later, but got their comeuppance when they visited West Ham. Against the run of play, Peacock scored after 12 minutes, but Leeds were undone by mistakes from Gary Sprake.
Both sides had young talent on display: Peter Lorimer made his first appearance of the season at inside-right; Harry Redknapp was three months younger than Lorimer but had the bigger influence on the game with a classic display of the wingman's art, peppering United's defence with a string of crosses. However, it was the other Hammers winger, John Sissons, who made the equaliser on half time when his high cross was fumbled by Sprake and Martin Peters prodded the ball home.
After that West Ham dominated, though the decisive goal was a long time coming. Nine minutes from time Geoff Hurst smashed his way through four tackles to ram home the ball and earn the London club their first win of the season.
The defeat blew away any trace of United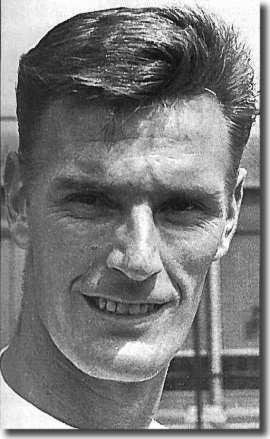 complacency and Leeds lost just one of their 9 September matches; the defeat came by the odd goal in five at Tottenham, the winner coming with three minutes remaining.
By the end of the month, United were level on points with Burnley at the top of the table, and owed much to the sparkling form of centre-forward Alan Peacock, recalled for England after three years in the international wilderness. He led United's scoring chart with seven in eleven appearances.
Selection by Alf Ramsey came as an immense fillip for Peacock, the victim for years of terrible knee problems. He said: 'Without the continued help of such as Les Cocker and Syd Owen I might never have got back to peak fitness. Now I feel better than I've ever felt.'
Peter Lorimer was offering Peacock sterling support, while Terry Cooper proved an able deputy for Willie Bell and Albert Johanneson, both injured. Their absence gave Paul Madeley his chance and he was at left-back with Cooper at No 11 when United made their European debut.
Finishing League runners-up had brought entry to the Inter Cities Fairs Cup, and a first round tie against Italy's Torino.
Leeds went into the first leg at Elland Road on 29 September, fresh from an excellent Elland Road victory against relegation-threatened Blackburn. United had raced into a 3-0 lead within 28 minutes before deciding to close up the game and save their best for the Italians.
The Elland Road crowd, spoiled by the earlier excitement, vented their frustration with a prolonged bout of slow handclapping, infuriating Don Revie: 'The slow handclap greatly upset our players … I have never heard anything so unfair about what must be the hardest trying set of lads in the league.'
Revie's words were calculated to create a siege mentality in his players - a standard trick of 'Us against the world'. He desperately wanted United to do well in Europe and Torino were difficult opponents, having just enjoyed their best finish in Serie A for more than 15 years.
Coach Nereo Rocco had built a wonderful team, boasting the celebrated Gigi Meroni on the flank. Unfortunately for Torino, Meroni was missing at Elland Road through injury, and the Italians were intent on a defensive approach, relying on quick fire counter attacking football.
Don Revie tried a somewhat hackneyed trick in mixing up the shirt numbers of his forwards; it unsettled the Italians initially, but they soon came to terms with the gimmick and settled down to their game.
Leeds had the best of the early minutes, but Torino made chances of their own. Phil Brown reported in the Yorkshire Evening Post: 'Gloriously timed and executed passing by their forwards left even United's defence standing, but it also showed the long standing Latin fault of making a pass too many near goal.'
Bremner and Giles bossed midfield, with the Scot breaking the deadlock. Phil Brown: 'Bremner put United ahead with a touchline shot with a wet ball that caused Torino's gallant keeper's only mistake and the first goal as it spun in off his shoulder at the far post. That was after 25 minutes and fit reward for the best player on the field and the more aggressive side. United reeled off some mesmerising football front and back before and after that goal, and better finishing might have made it three by half time.'
The Italians had done their homework thoroughly and posted two men on Peacock, the focus of United's attacking options, even when the ball was at the other end. Somehow he escaped their clutches to head a second goal in the 48th minute.
United were now caught in two minds - whether to sit back and protect their lead, or to go all out for a decisive third goal. They opted to attack and paid for it. Phil Brown: 'With all United's left flank up in attack, Orlando, Torino's centre-forward, stole away in the wide open space left, and using two decoys, pushed home his side's goal 12 minutes from time.'
The 2-1 advantage was a slim one and the popular money was on the Italians to secure the outcome in the second leg a week later.
Leeds defended resolutely in the first half in Turin, but things looked bleak when left-back Poletti put skipper Bobby Collins out of the game with a nasty tackle. Billy Bremner: 'That foul was just about the worst I have ever seen. When I realised what had happened, I lost my head completely, and I snarled at the opponent who had felled Bobby: "I'll kill you!" Believe me, right there and then, I meant it. Tears were spilling from my eyes; tears of hot anger and rebellious resentment. I don't imagine that the player knew what I had said, or that he even understood one word; but there was no doubt that he got the message, for he never came within a mile of me during the remainder of the game.'
Substitutes were still not allowed in European competition and the ten men of Leeds faced the fight of their lives. Phil Brown: 'To hold up the goal hungry Italians while a man short, United's renowned defence had to rise above even the levels which had brought them renown. The half-back line of Bremner, Charlton and Hunter had possibly its greatest hour, remembering the quality of the opposition and just how much indomitable Collins meant in the defensive strategy United used last night.'
Somehow, Leeds held on, defying all Torino's attempts to score. They progressed to the next round, while Bobby Collins remained in a hospital in Turin, having a pin inserted in his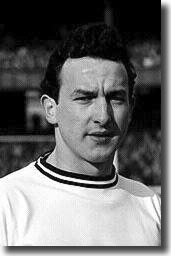 broken thigh, his season in tatters.
If the pursuit of Alan Ball had been successful, there would have been a natural solution, but now Don Revie had to find an alternative, and quickly.
As a holding tactic, he used Rodney Johnson as No 10 in the weekend's trip to Sheffield Wednesday and appointed Jack Charlton captain. Johnson looked what he was, a fish out of water in midfield, but United earned a goalless draw.
Revie had earmarked Johnny Giles as Collins' long-term replacement, trying him in the playmaking role at West Ham. The move came much earlier than either manager or player had planned, but both were comfortable enough with the switch. It would take time, though, for the Irishman to master the role, as noted by Andrew Mourant, in Don Revie, Portrait of a Footballing Enigma: '(Giles) had first to learn to play further forward than previously and also to deliver longer passes to front-runners instead of short square balls.'
With Albert Johanneson some weeks from a return, Revie decided to bring in a wide man to supplement his forces. On 13 October he made the 20-mile trip across the West Riding to sign Mike O'Grady from Huddersfield Town for £30,000. The 23-year-old Leeds-born winger joined Town from school and had starred for them in the Second Division, contributing 26 goals in 160 games. He scored two goals on his England debut in a 3-1 win in Northern Ireland in October 1962, before illness forced him out of the next match; after that he slipped out of the picture. O'Grady's form had been outstanding all season, and he had always impressed Revie when playing against Leeds. Don Weston, who had been transfer listed at his own request, made the reverse trip, quitting United for Leeds Road.
O'Grady debuted as outside-left against bottom club Northampton Town on 16 October. There were a number of other changes: Johnny Giles assumed the No 10 shirt; Jim Storrie moved to the right flank; and Willie Bell recovered from a knee injury to return at left-back, with Paul Madeley dropping to the bench.
Three days earlier a makeshift side had lost 4-2 at Elland Road against West Bromwich Albion to end interest in the Football League Cup at the third round stage. The team included young reserves Rodney Johnson, Rod Belfitt, Barrie Wright, David Harvey, Nigel Davey and Dennis Hawkins, the last three making their debuts. The selection emphasised Don Revie's lack of interest in the competition rather than any injury crisis. The manager had used the second round clash with Hartlepool to blood another 18-year-old, midfielder Mick Bates, a pattern that had persisted throughout Revie's campaigns in the competition.
His focus this year was on the twin fronts of league championship and Fairs Cup. Three draws in five games had taken the sheen off United's title challenge, but with Torino despatched, Revie relaunched his assault, and Northampton were just the sort of sitting ducks required.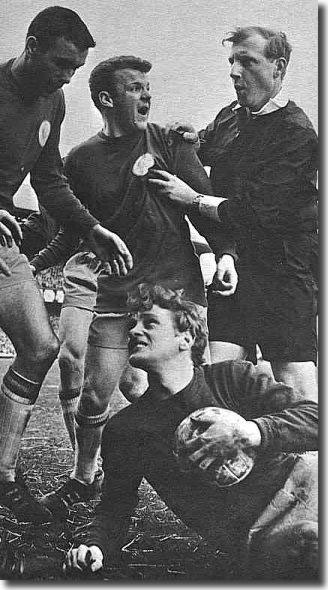 Although the Cobblers had enjoyed a startling rise to prominence, being a Fourth Division club as recently as 1961, they were bottom of the table with just 6 draws and 6 defeats to their name after winning promotion as runners up to Newcastle United.
United enjoyed the best of the early minutes, played in brilliant sunshine, but it was Northampton who opened the scoring after 14 minutes. Midfielder Billy Best's shot on the half turn left Gary Sprake out of position and helpless. Two minutes later, Bobby Hunt hit the crossbar and United were fortunate not to be two goals down - this was definitely not what the Don or the doctor had ordered!
The shock brought Leeds to life and in the 20th minute, Billy Bremner equalised. Jim Storrie broke on the left and enjoyed the luck of the bounce when right-back Theo Foley challenged him. Bremner headed home Storrie's chipped cross with goalkeeper Bryan Harvey caught outside his six-yard box.
The custodian atoned with some useful stops from Peter Lorimer and Alan Peacock as half-time beckoned, while Hunt was twice unlucky for Northampton. He struck the bar again and then saw Willie Bell chest an effort off the line with Sprake beaten.
Leeds nullified all Town's hard work in a productive 44th minute - first Jack Charlton headed home a corner to give them the advantage, and from the restart Peacock ran the ball into the net after the keeper could only parry Lorimer's header.
The double setback crushed Northampton's spirit and Leeds assumed total command after the break, though it was the 67th minute before they increased their lead, Lorimer hooking in a pass from Hunter. Storrie finished off the best move of the match with almost contemptuous ease to net the fifth and in the 83rd minute, Lorimer sidestepped and shot to complete a crushing 6-1 scoreline, equalling United's best in Division One since hammering Leicester City 8-2 in October 1938.
The win saw Leeds climb to second, two points behind Sheffield United. Billy Bremner's booking, his fourth of the season, after 65 minutes for a foul on Hunt took the gloss off the occasion. Andrew Mourant: 'Revie's players were a season older but still not without their rough edges. Billy Bremner in particular was in constant trouble with referees ... Driven by the fear of losing Bremner to suspension once again, Revie approached the match referee Ray Tinkler and pleaded with him not to make an official record of the booking. He was given short shrift by Tinkler.'
The FA's Disciplinary Committee considered the matter on 19 January, issuing the following statement: 'The Commission heard with deep concern an admission by Don Revie, Leeds United manager, that he had asked the referee after the match not to report to the Football Association that he had cautioned Bremner. The Commission decided that Mr Revie be ordered to give a written undertaking to the Football Association within seven days not to repeat such a request to a match official.'
Revie told the Yorkshire Evening Post: 'I am heartily sorry for what I did. I acted in the stress of the moment thinking about the possible consequences to Billy. I shall never do it again and I have already sent the required written undertaking to the FA.'
Despite the controversy, Revie was delighted with the way his men had performed. Mike O'Grady enjoyed a quiet debut, but Johnny Giles was described as 'an instant success'. The Irishman was no clone of Collins, playing a thoughtful and refined game with none of the Scot's physical aggression and abrasion, but he was every bit as influential and dominant. He would perfect the harder side of his game a little later.
Norman Hunter: 'Once Johnny took over in midfield for us he was absolutely fantastic. He formed a partnership with Billy Bremner that can only be described as magnificent. They were naturals.
'Johnny would drop back deep to gain possession and ping the ball here, there and everywhere with great accuracy whereas Billy could do things with the ball I could only dream about. He would do the unexpected and score spectacular goals. Johnny was the one that few people in the crowd really noticed whereas Billy, being a fiery character, almost always took the eye. Billy was an inspirational player who would have you on the edge of your seat. He was exciting to watch whereas Johnny controlled midfield in a less energetic way. The combination was extremely efficient and productive. Both were able to dictate a game.
'The pair of them had the ability and know-how to change things on the field. If the game wasn't going right for us, they would instinctively change tactics without any instructions from the bench.'
An unchanged side took the field at Stoke a week later and won 2-1 to reclaim leadership of the First Division. The report of the game in The Times was lavish in its praise of Revie's men:
'Far from slipping, as was thought after the Cup final, it would seem that their feats of last season were only a beginning. Leeds looked a much more mature, more controlled side on Saturday. They have obviously learnt much from the last campaign.
'For 45 minutes Leeds played purposeful fluid football with an eight man defence breaking out into flowing attacks which were entertaining both in their skill and in their element of surprise; often there was no knowing from where the thrust would come. During this phase they picked two simple yet well-taken goals, and with this lead behind them they closed the game up after half time, demonstrating an effective retreating defence.
Top of First Division - 23 October 1965

Pos

P

W

D

L

F

A

Pts

1st

Leeds United

13

8

3

2

28

13

19

2nd

Sheffield United

14

7

5

2

19

15

19

3rd

Burnley

13

8

2

3

26

15

18

4th

West Brom Albion

14

8

2

4

34

21

18

5th

Tottenham H

13

7

3

3

30

18

17

6th

Arsenal

14

6

5

3

24

23

17

7th

Liverpool

13

7

2

4

25

15

16
'The real feature though was the mobility of this Leeds team. Full-backs as wingers or inside-forwards; wingers back to clear in their own penalty area; forwards switching about like mad; it had Stoke utterly bemused. O'Grady scored the first Leeds goal from the inside-right position after Irvine had dropped Lorimer's cross from the left wing. Their second came from one of their few orthodox, or should it be old fashioned, moves. Hunter started the move by seizing a bad pass from Burrows. O'Grady, whose capture from Huddersfield looks like being of mutual benefit to the player and his new club, carried it on and a side flick left Peacock with the goal at his mercy.
'Those goals came within two minutes of each other just before quarter time and there were only seven minutes left when Stoke replied. But Viollet's header to Burrows' cross served only to make Mr Revie, the Leeds manager, chew harder on his chewing gum and give the Stoke following a brief period of hope.'
Stoke City were functional opponents, but Burnley, who United faced at Elland Road on 30 October, were title challengers, a tasty team packed with potential match winners. Under manager Harry Potts, they had been champions in 1960 and double runners-up in 1962. Their twelfth place finish in 1965 was their lowest since 1952, but this season they were among the front-runners. Playmaker Gordon Harris, Irish international Willie Irvine, on his way to a club record 29 goals in the league, and the young wingers Willie Morgan and Ralph Coates were key players, but Burnley had strength throughout the side with club captain Alex Elder an experienced international full-back with Northern Ireland.
Harry Potts dropped centre-forward Andy Lochhead and goalkeeper Harry Thomson for the game after they broke club training regulations, while Leeds were temporarily under the direction of chief coach Syd Owen with Don Revie in hospital with appendicitis. They missed a splendid contest, fought out by two well-matched teams. Phil Brown described Burnley as 'the best side at Elland Road this season by far'.
United took the lead after 47 minutes when Mike O'Grady outpaced full-back John Angus to pull the ball back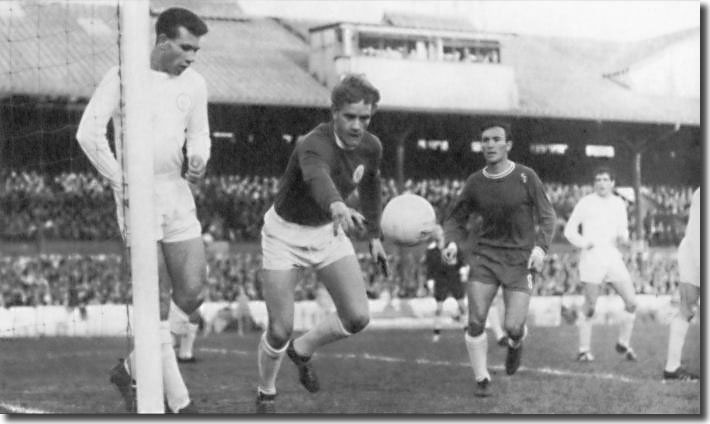 into the centre. Storrie slammed it home left-footed off the post in his best moment of a day when Elder had him in his pocket.
The lead lasted barely thirty seconds before Burnley equalised. Eric Stanger: 'Burnley's goal will be remembered at Elland Road for many a day. Morgan swung over a centre which Irvine headed down without any great power and Sprake was left to collect a rolling ball rather than make a save in the accepted sense. Unhappily for Leeds he committed two cardinal sins - he took his eye off the ball and when it slipped through his hands was caught with his legs wide apart. A fourth form schoolboy would have got a roasting from his games master for such elementary error. Unhappily, Sprake, though a super saver of a shot, remains prone to these sorts of slip and until he can eliminate them he will not be the complete goalkeeper.'
Despite bombarding the Burnley goal, United were outmanoeuvred by the Lancastrians, as noted in The Times: 'Burnley had much to say and said it, if anything, the more artistically. In spite of their gift goal they also could point to a shot by Angus on to Sprake's crossbar late on, a splendid save from Elder, a flash from the elusive Morgan that took the paint off a Leeds post, and a heaven sent chance for victory near the close as Coates made a hash of a perfect cross by Harris.'
Second placed Sheffield United lost at home to Chelsea, leaving United and Burnley leading the table. A week later at Stamford Bridge, Chelsea inflicted Leeds' third defeat of the season.
Deprived of Mike O'Grady, injuring a knee playing for the England Under-23 side, United opted for a defensive, containing game at Chelsea. They got badly found out, as reported by Harold Hayes in the Yorkshire Post: 'There is so much industrious effort and defiant determination in the Leeds United side that, properly channelled, seems capable of wearing down the most efficient or energetic of opposition. The fact that it is so frequently employed in negative rather than positive plans, however, seems one of the current soccer errors of omission. If all the intensive concentration on preventing the other team scoring could be redirected into attack, the end product must surely be easier realisation of the ultimate objective. For victory is a much more satisfying ambition than the prevention of defeat.
'If they had operated along those lines the chances are that the season's biggest Stamford Bridge crowd of close on 40,000 would have been denied the success which came Chelsea's way almost by accident. For United's obsession for foiling advances by a seven man squad massed around Charlton and in front of Sprake proved their undoing when wing-half Hollins picked up a poor clearance and scored from 25 yards three minutes before the interval. The ball was deflected off Bremner's knee wide of the goalkeeper, who must often feel that a clear sight of the ball would be preferable to wondering whether he will have time to deal with it when it arrives on his line through a mass of legs and bodies.'
Top of First Division - 4 December 1965

Pos

P

W

D

L

F

A

Pts

1st

Liverpool

20

13

3

4

44

18

29

2nd

Burnley

19

11

4

4

39

21

26

3rd

West Brom Albion

20

10

4

6

46

30

24

4th

Sheffield United

20

9

6

5

29

29

24

5th

Leeds United

17

9

5

3

31

15

23

6th

Tottenham H

19

9

5

5

39

26

23

7th

Stoke City

19

8

7

4

29

25

23
United beat Arsenal 2-0 at Elland Road on November 13, before drawing 0-0 at Goodison against Everton, but then suffered two blank Saturdays in the League. The icy weather took its toll and resulted in postponed games against Manchester United and Newcastle. After Liverpool's 1-0 win at Stamford Bridge on December 4, the Reds led the table with 29 points, six clear of Leeds.
During this period United were not completely off duty, as they met East German side SC Leipzig in the Inter Cities Fairs Cup.
Peter Lorimer: 'Then, to play an East German team, you flew to the West and got on a bus to the border at Checkpoint Charlie. Once on the other side you got onto an East German bus, which would be rust on wheels and be driven along pot holed roads for two and a half hours in the snow as your first glimpse of the communist bloc. A conversation between more than two of the local people was viewed as a conspiracy, so you saw very few people about. It was all very austere and quite unnerving.
'There had been six inches of snow overnight, but there was never any question of matches being called off in those conditions. All they did was to pack the snow and put blue lines on it, with an orange ball in use. We played in studs and Don and his coaching staff had shaved off the bottom layer of the leather so that the nails poked through, allowing us to get a foothold on the ice. They knew our studs would be checked, so on each of them they affixed a cardboard tip to hide the nails. We kicked off the cardboard as we came out for the kick off. Within minutes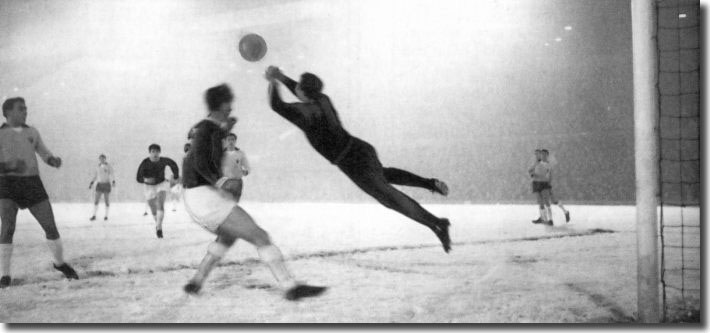 blood was oozing from all of their players' legs and they were complaining furiously to the referee. Their protests fell on deaf ears, with the official insisting that he had already checked our boots.'
Leeds successfully wore down opponents who had been described as 'the heaviest side they have ever met'. The Germans were undoubtedly a gifted team, but United matched them all over the pitch, getting a firm grip on proceedings. There were no goals until the final 10 minutes, when a low shot from Lorimer and a header from Bremner gave Leeds a comfortable two-goal advantage. Leipzig centre-forward Frenzel almost immediately got a consolation goal with a deflected effort, but United emerged with a priceless 2-1 victory.
A week later, the teams met again in the second leg at Elland Road on another snow covered pitch. Leipzig played above themselves and gave United several scares, but neither side could manage a goal.
Refreshed by European success and a fortnight off in the League, Leeds stormed back to form on 11 December, hammering third placed West Bromwich Albion 4-0. Giles (2), O'Grady and Storrie got the goals, but it was a superb team effort, prompted by the developing understanding between Giles and Bremner in midfield.
Then came the frustration of another postponement, away to struggling Northampton - Leeds now had four games in hand on Liverpool. Over the Christmas period the two teams were scheduled to play each other twice in as many days in an astonishing double header, which could make or break United's season. Two defeats and any League challenge would be as good as dead in the water, while maximum points would reinforce Leeds' momentum. It was a mouth-watering prospect.