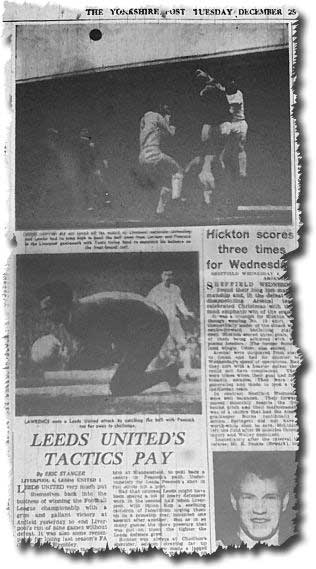 Part 1 - Welcome to Europe - Results and table
Christmas 1965 brought a double header for Leeds United against Bill Shankly's Liverpool, who were starting to establish clear daylight at the top of the First Division table; they would play United home and away on Monday 27 and Tuesday 28 December. It was a challenge to savour.
The Reds were undefeated in eight weeks, winning seven of their nine matches and moving up from seventh in the process. Leeds were unbeaten since 6 November, but had played only three League games due to a succession of postponements.
United were without club captain Bobby Collins, missing with a broken thigh, and South African Albert Johanneson, struggling all season with a troublesome ankle, but were otherwise at full strength. The rearguard of Paul Reaney, Jack Charlton, Norman Hunter and Willie Bell had conceded just 15 goals in 18 league games, though goalkeeper Gary Sprake was showing an alarming propensity for error. It was in midfield, however, with the combination of Johnny Giles and Billy Bremner, that the fulcrum of Leeds' game now lay.
Liverpool had carried all before them after recovering from an opening run of four defeats in 13 games. They were in the last eight of the Cup Winners' Cup and going from game to game virtually unchanged, using only 14 players all season. Tommy Lawrence, Gerry Byrne, Tommy Smith, Ron Yeats and Ian Callaghan were ever present, while Ian St John, Willie Stevenson, Chris Lawler and Peter Thompson missed only six games between them. Rarely has any team enjoyed such stability.
For all that, though, Leeds were the masters at Anfield.
Eric Stanger in the Yorkshire Post: 'Though pinned to defence for 78 per cent of a hard game … they spun a spider's web across the field to entangle the Liverpool attack. Always Leeds refused to be drawn in midfield, made Liverpool use the cross pass rather than the through ball to their forwards and often appeared one and even two extra men to spare … Having lured Liverpool on upfield, Leeds were quick to strike in counter attack. It was from one such move … that they got the only goal of the game … Bremner and Reaney worked a neat opening on the right and when Storrie centred Reaney was in the inside-right position to run in a shot which Lawrence could not hold. Quick as a flash Lorimer followed up for the kill.
'It was an imaginative piece of football. There was one even better from Leeds in the first half when Hunter and Giles sent O'Grady off for the outside-left, in a more determined mood all the game than ever I saw him at Huddersfield, to pull back a centre in Peacock's path. Unfortunately for Leeds Peacock's shot in full stride hit a post. Had that counted, Leeds might have been spared a lot of heavy defensive work in the second half when Liverpool, with the Spion Kop a seething cauldron of fanaticism urging them on in a non stop roar, mounted one assault after another. But as in so many games the more pressure that was put on them, the tighter the Leeds defence grew.
'Hunter was always at Charlton's shoulder, without straying far upfield, and these two became a jagged rock in the centre of the channel on which St John and Hunt broke time and time again. The busier Charlton is, the greater his stature as a player. He stood very high in this game. So did Sprake. Early on he was uncertain. First he dropped a centre and then misjudged a lob from Stevenson, the most cultured player on the field, sure of foot and deft of pass. Sprake was fortunate to see it strike the underside of the bar and come down for Charlton to clear, but after that he was superb, his catching of the ball under pressure being wonderfully sure and cool.
Top of First Division - 27 December 1965

Pos

P

W

D

L

F

A

Pts

1st

Liverpool

23

14

4

5

48

21

32

2nd

Burnley

22

13

4

5

49

28

30

3rd

Manchester United

22

11

7

4

45

30

29

4th

Leeds United

19

11

5

3

36

15

27

5th

Tottenham Hotspur

55

11

5

6

45

33

27

6th

Stoke City

21

9

8

4

33

27

26
'Right to the end Leeds, with strictly limited opportunities, suggested that they might break through Liverpool's thinly held defence and score again … Storrie … near the end beat Byrne and stabbed a low centre into Bremner's path. The Scot … ran on to beat Lawrence, but the linesman's flag had gone up for offside and Leeds had to sweat it out to the end.'
It had been a thoroughly professional and disciplined performance, demonstrating United's resolve as they narrowed the gap to five points. With home advantage to come in the return, West Yorkshire optimism was high.
However, forced to make the pace, Leeds fell for Liverpool's classic counter attacking game and Milne's goal in the 48th minute was enough for the Merseysiders to earn their revenge before a crowd of 49,192.
United could have been excused if their challenge had wilted, but, with 17-year-old wing-half Eddie Gray slamming home a 25-yard shot in the 32nd minute of his first team debut, they stormed back with a 3-0 win on New Year's Day against Sheffield Wednesday. They followed up with a 2-1 victory at West Bromwich Albion, but then dropped points in home draws with Manchester United and Stoke City.
The FA Cup brought an easy 6-0 win against Bury before another League defeat, by 2-0 at Sunderland, during which United lost Alan Peacock with damaged knee ligaments. Despite initial estimates that he might be out for just three weeks, Peacock's season was over. In fact, dodgy knees would restrict his Elland Road career to nine more games.
How Don Revie must have regretted his optimistic comment when Peacock was restored to the England side four months earlier: "It is tremendous compensation for the courage and determination which Alan has shown in his fight back to fitness when people were saying he was finished and that we had bought a boner."
Their season in the balance, United entered February with a Fairs Cup tie against Spanish giants Valencia, winners of the trophy in 1962 and 1963.
Revie selected young Rod Belfitt to lead the line and Leeds struggled to establish any sort of rhythm against the Spaniards' spoiling game. When Munoz gave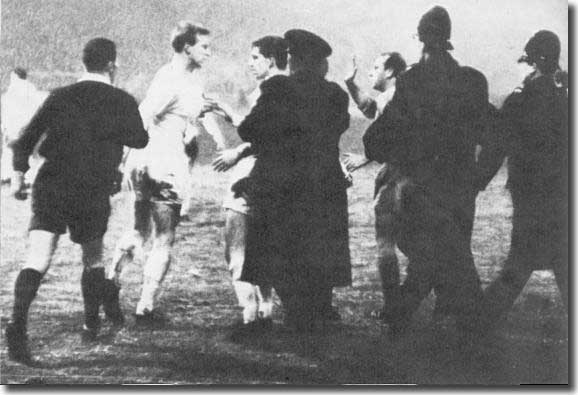 Valencia the lead after 15 minutes, it looked ominous for Leeds, but they fought back strongly.
Eric Stanger in the Yorkshire Post: 'Leeds deserved their equaliser, which came after 65 minutes, just after they had had an appeal for a penalty turned down when Storrie's header was blocked on the line. Giles got hold of a loose ball on the right, crossed it low into the middle and Lorimer on the half turn slammed a low shot past Nito.'
The game was remembered less for its goals, however, than the furore of the final quarter. Stanger: 'An explosion was never far from the surface in this tense atmosphere. It came 13 minutes from the end when Charlton went to challenge Nito … The goalkeeper resented it and threw his fists and a fight developed between the two. Vidagany joined in and, in seconds, half the Valencia team were milling around with the Leeds players rushing up to Charlton's rescue. All this occurred only a few yards from the goal line at the Elland Road end, where there were plenty of police on duty. They rushed on to the field to restrain the players and Mr Horn had no alternative but to stop the game.'
While the teams spent ten minutes cooling off in the dressing room, the referee informed Charlton and Vidagany of their dismissal. Shortly afterwards, Sanchez-Lage followed, for a foul on Storrie. Things calmed down but United had to be satisfied with a 1-1 draw. Survival in the second leg a couple of weeks later looked highly unlikely.
This time, Don Revie gave the No 9 shirt to Paul Madeley, but used him in a withdrawn role, shielding the back four. Jim Storrie, Peter Lorimer and Mike O'Grady shuttled between attack and midfield in a flexible formation that Revie had used between the legs. Shorn of Alan Peacock, Leeds happened upon the perfect counter attacking formation, with Reaney, Bell, Hunter and Bremner as likely to pop up in the opposition penalty area as in their own box. This was the ultimate development of Don Revie's first great United side - with Collins, Peacock and Johanneson unavailable, he used a less orthodox approach, and it was very effective.
In unfamiliar blue and yellow, United cast an impenetrable net across the Spanish pitch, blunting Valencia's flashy assaults with a methodical discipline that was astonishing in its effectiveness, functional but admirable.
15 minutes from the end, Leeds burst out of a defensive spell to score. Eric Stanger: 'Madeley sent O'Grady off up the wing. The Valencia defence halted, expecting the whistle to go for offside. It did not and Nito, the goalkeeper, after making little attempt to stop the winger's cross shot, immediately chased out to the linesman and badgered and pushed him about in his anger. The linesman pushed him off and Mr Huber, who at the time was surrounded by protesting Valencia players, was eventually persuaded to consult his colleague. But he still adhered to his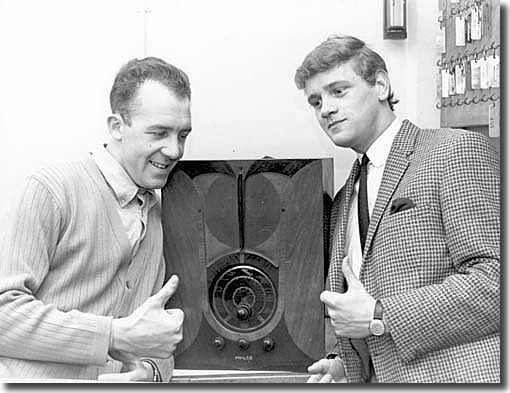 decision.
'Once Leeds had taken the lead, there was not much doubt but that they would hold it. Every man set his teeth, and tackled with even more resolution to drain the spirit out of Valencia.'
It was another truly remarkable performance on the big stage, Valencia's first home defeat in Europe. The rookies were through to the last eight.
In domestic football, Leeds struck a rich vein of form, thrashing West Ham 5-0 and turning in one of their best performances of the season in the FA Cup fourth round at Chelsea. They lost 1-0, but totally dominated the contest.
The Times: 'In a spell of some five minutes, mid way through the opening half, Leeds might have scored three times at a conservative estimate. Lorimer headed a cross from Storrie on to the roof of Bonetti's net; Boyle saved Chelsea with a header as Madeley dived to a centre by Hunter from the byline, the ball brushing his eyebrows in passing; Madeley, let loose by O'Grady, saw his shot diverted onto a post by McCreadie; then Madeley again, now set free by a glorious pass from Bremner, found Bonetti diving gallantly at his feet.
'One has seen Leeds many times in the past. But never has one seen them play better and lose. They moved superbly in a mobile, cold blooded, but clean, match of shifting, clever emphasis. Why then did Leeds lose in a score line which suggests a battle of attrition? The answer was threefold - no luck; no deadly finisher inside the penalty area; and when they were near the mark there was Bonetti to produce three or four saves of world-class vintage.
'How, indeed, Bonetti, moving for all the world like a grasshopper in his green attire, dived to save from Madeley some five minutes form the end, then miraculously pounced to block from Charlton at point blank rage on the rebound, only he will know. And perhaps not even he.'
Leeds then won 4-0 at Nottingham Forest, building on a goal from 18-year-old debutant Terry Hibbitt. Paul Madeley sustained knee ligament damage in the game, forcing Don Revie to ring the changes. He opted to restore Jim Storrie to the role of spearhead, with Terry Cooper recalled on the wing. United drew 1-1 at Sheffield United on 26 February, but Liverpool's 2-0 defeat at bottom club Fulham, their first League reverse of 1966, saw the gap at the top shrink, at least a little.
Top of Second Division - 26 February 1966

Pos

P

W

D

L

F

A

Pts

1st

Liverpool

32

21

5

6

67

28

47

2nd

Manchester United

30

14

11

5

61

40

39

3rd

Leeds United

28

15

8

5

54

23

38

4th

Burnley

30

16

6

8

62

39

38

5th

Tottenham Hotspur

29

14

8

7

61

43

36

6th

Chelsea

28

15

5

8

45

37

35
Thoughts now swung back to Europe and a quarter final with Hungary's Ujpest Dosza, who had earlier eliminated Everton. Assistant manager Maurice Lindley had witnessed the game at Goodison Park and promised, 'This lot are very good. They know all the ropes, and showed me sign of temperament when I saw them. We shall know we've had a match.'
Just before Christmas, Lindley had been promoted from chief coach, reviving a role that had last existed five years before when Frank Taylor served under his brother Jack. The move signalled the directors' wish to take some of the pressure off Don Revie, who commented of Lindley, 'I am positive he hasn't had a day off in four years. I have complete confidence in him, and in all aspects of his work.'
United were no respecter of reputations and blitzed Ujpest on a mud bath of a surface. Despite the presence of two world-class forwards in Ferenc Bene and Janos Gorocs, the Whites hammered Ujpest. It was not so much a victory as a rout.
Eric Stanger: 'It was touch and go indeed whether the game would be played at all. Heavy rain from five o'clock left the ground almost an unbroken sheet of water. The referee, however, after splashing about on it, decided that the pitch was playable though the Hungarians, unused to such terrible conditions, were naturally not happy about the decision.
'If that were not enough, a black dog, already once removed at the start by the cunning of the referee, found its way back on to the field after 20 minutes' play, and for the next ten minutes defied the efforts of a posse of police and the players to capture it as it chased hither and thither, refusing to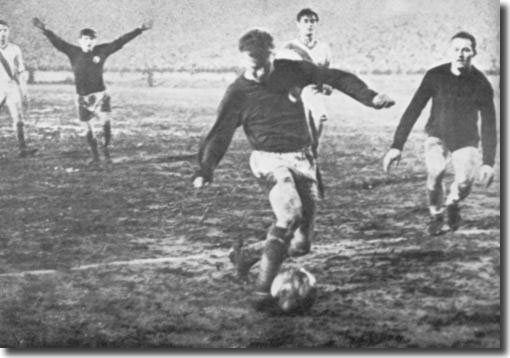 be cornered. Finally when everyone had just about given up hope it leapt the concrete wall of its own accord into the boys' terrace.
'Before Ujpest could find their feet … Leeds … with Hunter ploughing through the middle and Bremner darting through the pools like a fish, went hard after an early goal. They got it … after six minutes. Storrie … beat off three challenges in midfield, found Bell on the left and, although the Ujpest goalkeeper parried his low drive, the ball spun out of his hands and Cooper … bundled it into the net.
'It was in the last 10 minutes of the prolonged first half that Leeds made victory certain, crowning a bewildering spell of football with three more goals. Bell got the first of them with a deliberately placed header to Lorimer's centre after Bremner had driven through the middle with characteristic determination. Storrie got Leeds' third with a back header after a brilliant dribble by O'Grady, who was a great success on the right wing. And for the fourth goal Bremner dribbled round the goalkeeper after O'Grady had again worked his way through.'
The Hungarians opted for all out attack after the break with Bene moving to the right wing. Dunai netted a rebound in the 74th minute when Sprake spilled an effort from Solymosi, but the 4-1 score made the outcome of the tie a foregone conclusion.
United now lurched from the sublime to the ridiculous, stumbling to an inexplicable 2-1 defeat at relegation-haunted Northampton. They managed to put together back-to-back 3-2 victories against Leicester and Blackburn, but then suffered two defeats in as many days against struggling Blackpool. If United's championship hopes were not quite extinguished, they were as good as over.
United recovered some face with decent wins at home to Chelsea and away to Fulham on Good Friday, but crashed 1-0 to the Cottagers at Elland Road on Easter Tuesday. Liverpool had suffered their own blip with two successive draws, but even though Leeds hammered Everton 4-1 on 16 April, the Reds' 2-0 win against Stoke City at Anfield virtually guaranteed them the title. Their triumph was not mathematically certain, but it would have taken an astonishing chain of events to upset the applecart.
Top of Second Division - 16 April 1966

Pos

P

W

D

L

F

A

Pts

1st

Liverpool

39

25

8

6

76

30

58

2nd

Burnley

38

21

7

10

74

46

49

3rd

Leeds United

37

20

8

9

71

35

48

4th

Chelsea

36

20

6

10

58

45

46

5th

Manchester United

35

15

12

8

66

49

42

6th

West Brom Albion

37

15

11

11

76

62

41

7th

Leicester City

36

17

7

12

68

57

41
Leeds drew in Budapest against Ujpest to secure a place in the last four of the Fairs Cup, but the trip was not a comfortable one, as Peter Lorimer recalled: 'When we got over there they absolutely pulverised us for half an hour. Gary Sprake was flinging himself left and right to make last second saves, they were hitting the post, hitting the bar and missing by inches. But they didn't score. I was up front alone against two defenders, dummied to let the ball run between my legs on the halfway line, wrong footing them, and ran 50 yards to tuck the ball home. Their heart went then. That was the end of the argument, but what a belting we took from that team! That was what you found in Europe. The teams were Jekyll and Hyde, going at you hell for leather until they went a goal down, when their heads went down.
'After most of these European games it was customary to attend a banquet, at which gifts were exchanged between the clubs. In Ujpest the atmosphere out there on the pitch had been quite heated and now, in the function room, some stern glances were being cast upon our table by the Hungarians. A feeling of deep unease was developing as we returned the icy stares and after the banquet one or two of our lads got outside to find a menacing group of waiting Ujpest players who clearly wanted to take the game a bit further. A brawl developed and, never ones to back away from a challenge, our players got stuck in to the extent that when the rest of our party emerged the sight which confronted them was one of several Hungarians running hell for leather along the left bank of the Danube. It was the perfect finish to a perfect day!'
The first leg of the semi final took place on Wednesday 20 April. United were away to Spain's Real Zaragoza, trophy winners in 1964. They were a wonderful side, sporting their 'Magnificent Five' forwards - Canario, Santos, Marcellino, Villa, Lapetra - and coached by Fernando Daucik, who was part of Czechoslovakia's World Cup squad in 1934 and 1938, and had previously managed Barcelona.
Don Revie set out to contain what he described as a fabulous team with one of United's classic rearguard actions. With Mike O'Grady out with a strained thigh muscle, he rested Peter Lorimer and drafted in Jimmy Greenhoff and Eddie Gray, opting to use Jim Storrie as a lone striker with the now fit again Albert Johanneson on the left flank.
Gary Sprake and Jack Charlton enjoyed outstanding performances and were rallying points for a steadfast defensive display. Eric Stanger: 'Leeds were like troops in the trenches, shelled with scarcely a moment's respite. It was hard, tough, relentless football, neither side giving an inch in the tackle … Zaragoza's best effort … came from Pais, who picked up Villa's pass to hit a great first time shot only for Sprake to fling himself and turn the ball over the bar. Then before Leeds could get their breath back Marcellino hooked a short free kick on top of the Leeds bar. Again Sprake stood between Zaragoza and the goal they were trying so furiously to get when he went full length to Marcellino's drive. Charlton's head and Sprake's hands were a great comfort to Leeds as the Zaragoza bombardment went on.'
Around the hour, Zaragoza took the lead when the referee awarded a penalty for handball against Bremner, who claimed that the ball hit his chest as he leapt to block Isasi's goalbound effort. Left winger Carlos Lapetra's spot kick was placed to Gary Sprake's left and the keeper anticipated the direction marvellously well to get his hands to it. Lucklessly, the ball trickled in off the post.
That was the only goal of a frantic and passionate game that ended with Johnny Giles and Violeta sent off. Phil Brown in the Yorkshire Evening Post: 'The Giles-Violeta incident came five minutes from the end … following a … challenge on the ball. Violeta came out of it holding a leg and clearly incensed. He turned and struck Giles in the back. He claims … that Giles had deliberately kicked him … Without Giles retaliating, the referee pushed both players off the field, even returning to them seconds later to turn them out of the trainers' boxes on the touchline into the tunnel to the dressing rooms.'
Don Revie said after the game: 'Get Zaragoza at Elland Road next Wednesday, and I am sure we can take care of them, fine side though they are. They gave us a real stretching tonight, but we held them as we planned and if only we could have scored from our three or four breakaways we might have done better than keeping this formidable side to one goal on their own pitch and that goal a penalty.'
The second leg turned out to be one of the finest performances of United's season as they again proved how perfectly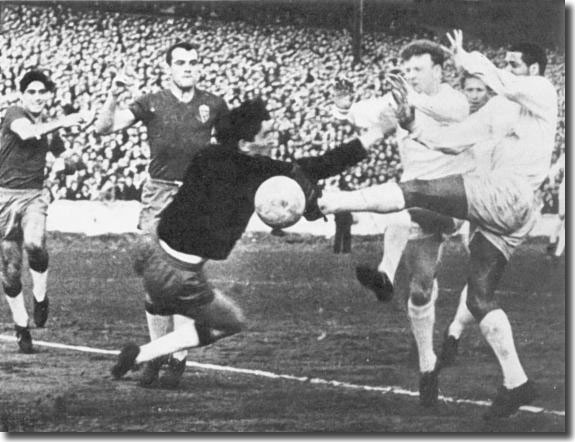 equipped they were for the European game.
The Times: 'This was Leeds' most difficult contest yet in this competition, and if at times their chance of reaching the final seemed to be fading, they were in the end full value for the odd goal margin which cancelled out the penalty conceded in Spain last week.
'The hard pitch seemed made for the pretty style of the Spaniards. After the hectic early minutes the pattern of play became of Spanish style. There seemed to be too much talent in midfield for the Yorkshiremen to withstand, and in the first 20 minutes Santos three times was close to rubbing his side's advantage home. Bremner was immediately released for the Leeds attack, with Gray dropping back, but again it seemed there was insufficient subtlety to open up a solid looking Spanish rearguard. But at the twenty-third minute the story changed.
'Hunter received the ball 10 yards or so inside Spanish territory near the left touchline. Bell sprinted through the gap, calling for the ball, and after suggesting that he would not do so, Hunter gave it to him. A square pass found Giles. A neat lob was met by the head of Charlton, and there, rushing in, were Johanneson and Bremner, to push the ball past a goalkeeper apparently unprepared to dive on it.
'Leeds had found a chink in the Spanish armour, and they played on it. First, Bell, from Giles' free kick, headed the ball against the far post; then, from another free kick by Giles, who was beginning to match the Spaniards in approach work, it was headed across the face of the goal by Charlton for Bell somehow to steer it the wrong side of the post.
'The Spaniards looked far from happy, but they came back into the game, and Goicoechea grew up in the tense atmosphere, coming out now to collect the ball, once off the tip of Charlton's head. With Lapetra seen more in midfield, the Spaniards' better control at last paid dividends with a brilliant goal by Canario, whose half volley left Charlton and Sprake staring.
'Little more than half an hour remained, and now it was Leeds who were looking jittery. But the feeling did not last. Three minutes later Johanneson, collecting a ball on the byline that everyone else had given up for lost, pushed it out to Hunter on the left, and Charlton headed home the cross to square the aggregate score again.'
It was captain Big Jack Charlton ('the best player on the field' according to Phil Brown), who epitomised United's never say die spirit and seemed at times to be battling the Spaniards single handed. He made the first goal, scored the second and at the end he was called for the toss to decide which team would enjoy home advantage in the play off match.
Don Revie leapt to embrace his skipper as he called correctly and United hearts leapt. They had played out of their skins to defeat Zaragoza, and felt that home advantage must surely tell as they fought to reach the final.
Top of Second Division - 30 April 1966

Pos

P

W

D

L

F

A

Pts

1st

Liverpool

41

26

8

7

78

33

60

2nd

Burnley

40

23

7

10

77

46

53

3rd

Leeds United

38

21

8

9

74

35

50

4th

West Bromwich Albion

40

18

11

11

86

65

47

5th

Chelsea

38

20

6

12

61

50

46

6th

Manchester United

38

16

13

9

70

53

45

7th

Leicester City

39

19

7

13

75

63

45
First though they returned to league action. 30 April brought a wonderful 3-0 home win over Newcastle; the same day Liverpool beat Chelsea 2-1 at Anfield to finally confirm their championship for the second time in three years. They had enjoyed a magnificent run, winning 19 of their previous 28 games, scoring 53 goals against only 18 conceded. They were worthy champions, as had looked certain since January.
United were best placed of the other sides, but needed to capitalise on their games in hand. They made no mistake with the first, winning 3-0 at Arsenal on Thursday 5 May. The game was witnessed by only 4,544 spectators, clashing as it did with the televising of the Cup Winners' Cup final - it was Arsenal's lowest crowd since they moved to Highbury in 1913.
The victory closed the gap on second placed Burnley to a single point and the weekend brought the two teams together for a decisive confrontation at Turf Moor, where Burnley had lost just two games all season.
The players were presented to Field Marshal Viscount Montgomery before the game but the niceties were soon forgotten as the teams joined battle. With so much at stake, there was bound to be fireworks and it was no surprise that the first 45 minutes brought 21 fouls, mainly due to some fussy refereeing. After a clash early in the second half left Jim Storrie and Burnley winger Willie Morgan writhing on the floor, referee Jennings called all 22 players together for a stern lecture, something that United had become used to in recent years. Tempers cooled noticeably though the mood heightened again when Leeds took the lead on the hour.
The fully restored Storrie chased down Burnley full-back Alex Elder on the touchline. The defender could have turned the ball out for either throw in or corner but chose instead to try and find keeper Adam Blacklaw with a lofted pass. The custodian had come off his line and watched helplessly as the ball sailed into the open net from the acutest of angles.
The incident sapped the morale of the Turf Moor men and United had the best of the final 30 minutes to emerge with the priceless points.
The victory put Don Revie and his men in great heart for the showdown with Real Zaragoza on Wednesday 11 May. The devious Revie, mindful of United's earlier European triumphs in the Elland Road mud, decided on some insurance.
Eddie Gray: 'Before the match, Don Revie, believing that Real Zaragoza were unhappy in heavy conditions, got the local fire brigade to pour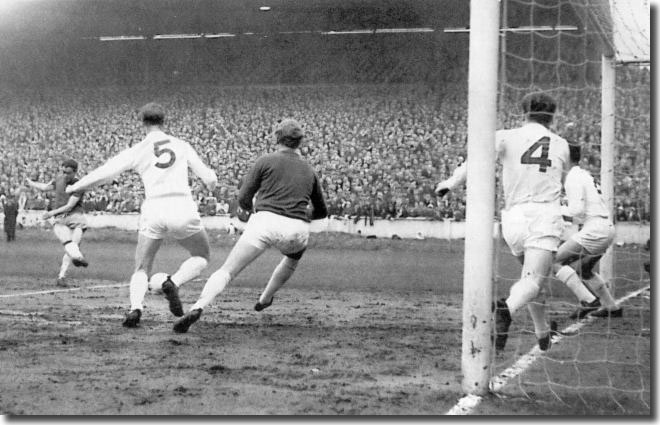 enough water on to the pitch to turn it almost into a quagmire. It was typical of Don to think of something like that, but on this occasion his scheming came unstuck. Real, far from being unhappy in deep mud, seemed to relish it.'
Eric Stanger: 'Treading gingerly but deceptively on this muddy surface, stroking the ball to each other calmly and accurately, Zaragoza inside a minute had set up a position on the right of the Leeds penalty area. There, with consummate skill, Villa tricked Bell, Hunter and O'Grady, before crossing a low ball, which Canario helped on to Marcellino, who scored near the far post.
'Before Leeds could recover their wits, Santos sent a perfectly timed pass through to Villa and, with the Leeds defence caught slightly out of position, the inside-left hit the second goal with a good shot.
'After 14 minutes Leeds, more than a little bewildered by the startling turn of events, hung a third millstone round their necks of their own accord. Whether Sprake was unsighted or expected one of the men in front of him to boot the ball away, I do not know, but he made no move until it was far too late to a 25-yard, slightly swerving, shot from Santos. He was still on his wrong foot when the ball hit the back of the net.'
Shell-shocked by that opening barrage, United never looked like recovering. Jimmy Greenhoff limped off with an ankle injury after 22 minutes and remained on the sidelines for 15 minutes, a passenger when he did return, eventually retiring altogether with twenty minutes to go.
Zaragoza slackened the pace and the pressure and settled for keeping ten-man Leeds at a safe arm's length. Charlton and Bell were thrown forward in a desperate attempt to save the game, and Big Jack managed to net a consolation goal with a low shot after 80 minutes, but it was nowhere near enough. Don Revie was forced to concede that his men had been outplayed: 'We gave all we had but it was nowhere near good enough against a glorious side.'
A marvellous adventure was over.
Back in the league, Leeds lost 2-0 at Newcastle on 16 May to put their chances at risk. Things now all rested on their final game of the season, three days later at Old Trafford. As the pressure came on, Leeds welcomed back Bobby Collins.
Jack Charlton: 'By May we were ready to call upon Bobby again … Chelsea had lost at home to Aston Villa, which meant that Manchester United need only draw their last game to push Chelsea out of fourth spot and give themselves a faint chance of European competition. United's opponents in that final match were … Leeds. The game was at Old Trafford, and, on the orders of team manager Alf Ramsey, Norman Hunter and myself were being rested, in preparation for our pre-World Cup tour with England. United, too, had Nobby Stiles and my brother Bobby resting on Alf's orders … but this was a situation made for Bobby Collins.
'He had played two games in the space of four days - a West Riding Cup semi final, in which he made one goal and scored one; and a reserve game against Preston, in which he showed that he had lost none of his skill or his fitness. So he was asked how he felt about making his first team comeback … and he answered, like a shot. "I'll play if you want me." And play he did. For anyone who saw that game, it was hard work watching, knowing that a point was vital to each team. The hearts of Leeds fans skipped a beat when David Herd put Manchester United in front … then those same hearts did a double somersault when the 'wee man' slung a great pass out for Jim Storrie to beat two men, and hammer across a centre which full-back Paul Reaney, who had raced upfield, headed home.'
Leeds fielded an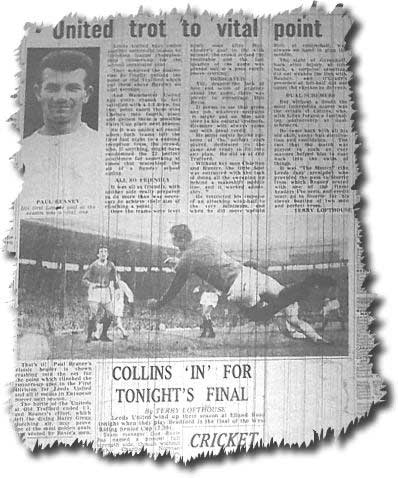 extraordinary team, with Billy Bremner as sweeper, Jimmy Greenhoff at left-back, Willie Bell at centre-half and Mike O'Grady at left-half, but it secured the point that was enough to guarantee runners up spot.
Don Revie summed up an exciting year: 'It has been another very satisfying season for all of us at Elland Road, for there have been more signs that we are on the right lines in building a great team for the future … At this stage I still believe that there is some way to go yet before this aim is realised. In three or four years' time most of this current side will still be only 26 or 27 years old, and it is then I feel that we may be seeing them at their best.'
Phil Brown: 'The Fairs Cup games have been so exciting … [They have] also shown up United's forward failings … The forward line must be improved by rather better form from the players or by new blood. Mr Revie has done wonders in getting the results he has done out of a side which is not entirely composed of class players by any manner of means, and with injuries repeatedly dogging them. Centre-forward continues a problem spot, for consistency in finishing continues to elude Storrie … From J E Crowther, at Leeds University, is a letter in which he says with some truth that United's own "Magnificent Five" - the defenders in front of Sprake - "are gradually crumbling under the mental and physical strain of having to score as well as prevent goals," and there is a good deal in that statement.'
Part 1 - Welcome to Europe - Results and table
Other Football Highlights from 1965/66
Manchester United had a good run in the European Cup, but they faced a mighty battle in the quarter finals when they had to play Portugal's Benfica, who had reached the final four times in the previous five seasons, and had won the tournament twice. United could only manage a 3-2 win at Old Trafford and it seemed they had little hope of progressing. However, the 17-year-old Irish forward George Best demolished Benfica on their own pitch. He hit two goals in 12 minutes as United pulled off a thrilling 5-1 victory. Unfortunately, they lost out to Partizan Belgrade in the semi finals and Real Madrid regained the trophy by winning the final against the Yugoslav side
Everton had not conceded a goal on their way to the FA Cup final, but after 57 minutes they were 2-0 down to Sheffield Wednesday. However, the Merseysiders did not panic and Mike Trebilcock scored twice to bring the scores level before Derek Temple scored the Everton winner in the 80th minute
Keith Peacock became the first substitute to be used in the Football League when he came on for Charlton during their Second Division match against Bolton on 21 August
The Jules Rimet trophy was stolen from its display at a stamp exhibition in Westminster on 20 March, severely embarrassing the FA. Pickles, a black and white mongrel, found the trophy in Norwood, South London, a week later
Liverpool assumed the leadership of the First Division at the end of November and simply raced away with the title, finishing six points clear at the top. The Anfield side also made it through to the Cup Winners' Cup final at Hampden, but lost 2-1 to Borussia Dortmund
Celtic, revitalised by their new manager Jock Stein, won their first Scottish title since 1954, scoring a phenomenal 106 goals. They also won the Scottish League Cup
Arsenal parted company with manager Billy Wright at the end of the season
Alf Ramsey's England side won the World Cup without wingers. They beat West Germany 4-2 in the final at Wembley with a hat trick from Geoff Hurst, although his second goal was very controversial, bouncing down off the bar towards the goal line and out. The goal was given and seconds from the end Hurst completed the scoring. Eusebio was the top scorer in the competition and England's game against his Portuguese side was probably the match of the tournament as two Bobby Charlton goals enabled England to hang on for a 2-1 win in the semi-final