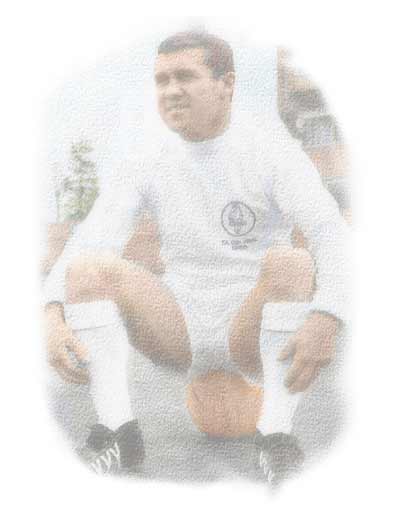 Part 2 Home grown hero - Part 3 From Sweden to Liverpool - Part 4 Back from the dead - Part 5 End of the line
Don Revie might have been the visionary architect behind Leeds United's rise to footballing eminence, but it's a fair bet that had Revie not had the wit, foresight and downright good fortune to bring Bobby Collins to Elland Road his grand design would have been smothered at birth.
When Collins arrived at the club in March 1962, United were adrift at the bottom of Division Two and staring the ignominy of the Third Division starkly in the face. Five years later, as he departed for Bury, Leeds were the most feared club in England and well on their way to repeating the trick in Europe. The pocket-sized Napoleon - at his peak he stood 5ft 4in, weighed 10 stone and wore size four boots - was almost single-handedly responsible for the revival of a club that had been going nowhere fast.
Revie was the brains behind the Leeds United resurrection, but Collins was the heart and soul, the rousing, restless, ferocious spirit that made sure the manager's game plan was translated into bloody action when the players entered the arena, the Don's enforcer. Had the Scot not been there to make the difference it is conceivable that Revie and United would have faded into obscurity, and the point was never lost on the manager. Collins was always one of his favourites and he never tired of singing his praises, saying in The Leeds United Story:
'He's the perfect example of what we in the game call a professional's professional. Bobby's aim was always to do things simply and quickly in the field, he never tried to be too clever on the ball for the sake of his own glory. I have never come across anyone with such a fierce will-to-win and dedication to the game … Bobby regarded it as a personal insult to be beaten - we had numerous kicking bouts when I played against him for Manchester City! As manager of Leeds, I had been searching for some time for a midfield general with the character and skill really to motivate the team, and Bobby fitted the bill perfectly.'
Bobby Collins will always be remembered as a street fighter, a bruiser capable of starting a scrap in a telephone box, and he refused to let even the mightiest of opponents get one over on him. Rangers captain and Scotland team mate George Young was at least ten inches taller than Collins, but that did not deter Bobby, as recalled by his lifelong friend Tommy McGrotty: 'Celtic supporters just loved his skill, power and commitment and still talk about him today. One incident summed up Bobby for me. Celtic were playing Rangers in a really tight match and Bobby went into a 50-50 ball with big George Young. George was slightly off balance and ended up on the running track. You could see by the look on his face that he was not pleased, but that was Bobby: total commitment and his efforts will never be forgotten by Celtic fans.'
Jack Charlton: 'He was only a little guy … but he was a very, very strong, skilful little player. But what marked him out, and what made the difference to the Leeds sides he played in, was his commitment to winning. He was so combative, he was like a little flyweight boxer. He would kill his mother for a result!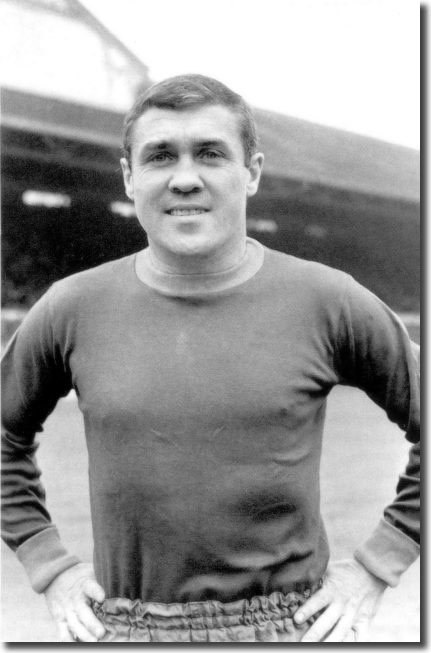 He introduced a sort of 'win at any cost' attitude into the team. Probably because we had a very young side at the time, the other players were very much influenced by his approach to the game.
'We went to stay the few days before the Cup final at a hotel near London, the Selsdon Park in Crystal Palace. I remember playing a little five-a-side game on the Friday. Norman Hunter volleyed the ball, and it hit Bobby on the face, making his nose bleed a little. It was clearly an accident, not deliberate or anything. Then the game restarted, and when Norman got the ball Bobby just flew at him. It was obvious Bobby meant to do him harm. I yelled, "Norman!" - and he looked up and turned just as Bobby hit him in the middle with both feet. Bobby finished up on top of Norman, punching him. I yanked him off, and I had to hold him at arms' length because he started trying to whack me. "Come on, Bobby, calm down," I said, "we've got a Cup final tomorrow." But that was Bobby, you couldn't stop him when he got worked up.'
Rob Bagchi and Paul Rogerson, in The Unforgiven, described the Scot as 'a man who exhibited grit to an almost psychopathic degree … Collins knew that fear worked. If a player is intimidated, the likelihood is that he will give his opponent more time - a footballer's most precious commodity. Collins took it further than most would dare, far too far for some tastes, but it was highly effective.'
Everton's Colin Harvey: 'If you stepped out of line in training, then he would do you, no danger.'
Eddie Gray: 'Bobby was a strange person in some ways. He was very aggressive and confrontational - even to his team mates or those who professed to be close to him … Forget the fact that he was hardly built like a giant, when he was riled - a situation that could be sparked by literally anything - he was not a man to mess with. Bobby attributed this aspect of his game to the general macho nature of professional football in his impressionable development years. "It was a hard game in those days," he would say, the sub text being that if players did not learn to look after themselves, they would go under. I remember him talking about the first time he played against Tommy Docherty when he was with Everton and Docherty was with Arsenal. The Doc was one of his closest friends but, according to Bobby, this counted for nothing during the game. When they challenged each other for the ball near the touchline, Bobby found himself being propelled by the Doc towards row Z of the stand. Thus Bobby was brought up in football with what he described as a "kill or be killed" mentality.
'To an extent, the respect he had from the younger players at Leeds was based not just on his skill and his record in the game, but also on the fear factor. Whenever he instructed us to do something, we would jump. As soon as you saw his finger go up, pointing at someone, you knew that person was in trouble.
'I got on well with him although I was left in no doubt that this could change dramatically if ever he had cause to feel that I had let him down. One of my most embarrassing experiences at Leeds was when, at fifteen or sixteen, I was in Bobby's team for pre-season training. There were four teams in all, each comprising eight or ten players. Points were awarded for our performances in various fitness exercises and the sessions were extremely competitive. As I was regarded as one of the best runners at the club, Bobby felt that victory for the team in the cross-country race - and with it a score of 10 points - was virtually a foregone conclusion. The only threat came from Jim Storrie, the Scottish striker bought from Airdrie in 1962. Sure enough, half a mile from the end, Jim and I were at the front; it was between him and me. I felt I had loads of power in reserve but as I was thinking of unleashing it, Jim said, "Eddie, we don't need to race. If we stay together, we will both get ten points." I fell for it hook, line and sinker - how naïve can you get? About 100 yards from the line, Jim, a real character with a tremendous sense of humour, sprinted flat out to win. Bobby was not amused. When he heard what had happened, he strode over to me and gave me a cuff around the head, like a father admonishing a naughty child. That tells you something about how much winning meant to him.'
Norman Hunter: 'In this game at Preston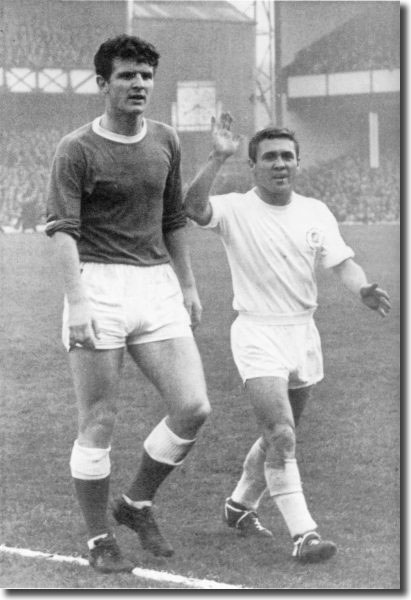 I was detailed to mark their big No 6 at set pieces - I didn't know his name and I never did find out - and very early on he gave Bobby a kick. Some time later they won a corner. Bobby came over to me and told me to mark his man and leave the man I should have been marking to him.
'"But, Bobby, the Gaffer will give me a right rollicking if I don't mark the man I'm supposed to mark," I protested, to which he replied, "Do as I effing tell you. Take my man and I'll take yours."
'So I did. When the ball came over from the corner, Jack Charlton got up and headed it away. Bobby leapt up, too, and launched himself with everything he had at the big No 6, who went down as though he had been pole axed - which I suppose in a way he had. Then Bobby was off like a shot to the halfway line. You couldn't see him for dust. I was left standing near the No 6 sprawled out on the ground and everyone thought I'd done it. I took the blame while Bobby was inside the centre circle smirking.'
Collins could often be seen at Elland Road in the days when David O'Leary managed one of the most exciting young teams in the country, and was particularly taken with their approach of the period, seeing many similarities with the brash young team he had led in the 1960s.
Rick Broadbent in Looking For Eric: 'It is the morning after Leeds' 1-0 victory over AS Roma in the fourth round of the UEFA Cup at Elland Road … It was an intoxicating night in front of a packed house. Harry Kewell scored the solitary goal and both Collins and I were there to witness it. We also witnessed two Roma players being sent off for headbutts in the dying moments after substitute Alan Smith successfully riled the Latin defence. "I like Smithy," says Collins with a devilish flicker. "He's got a lot of aggression and he puts himself about, which some of the others don't. I like to see that. You've got to be able to play as well, but a bit of both is ideal. I like this Leeds team a lot. The only thing they don't do is pick up. Take last night. They knew Totti was the danger man for Roma, but he had 30 yards of space in the middle of the bloody field. Luckily, his shooting was awful. The thing you could always say about the side I played in was that if we went a goal up then that was that. Game over. We'd shut up shop. Some people didn't like it, but we were good at it and successful. The good thing about the side they've got down there now is they have a great attitude. They are all in it together. It's all for one and one for all."'
There was much, much more to Bobby Collins, though, than mere thuggery - he could not otherwise have sustained a playing career of almost 25 years. He was one of the finest British inside-forwards of the post war era, a master of all the requisite arts - passing, shooting, ball control and, of course, thunderous tackling. He marked out his own distinctive chapter in football's history book, enjoying two decades at the very top with Celtic, Everton and Leeds United, whilst also featuring in the 1958 World Cup finals with Scotland.
David Saffer wrote thus in the introduction to his biography of Collins: 'The Wee Barra, as he was affectionately dubbed by Celtic followers, endeared himself to both players and supporters alike with his all action game. A brilliant tactician and motivator, Bobby was a supreme passer of the ball and possessed a thunderous strike, bamboozling many a goalkeeper with his trademark banana shot. Though one of the smallest players around, Bobby made his presence known in every game and never shirked a tackle. His reputation preceded him, but there was little opponents could do. Playing with and against the great stars of a golden era, Bobby held his own against the elite.'
Everton's Roy Vernon: 'I have never played with a more talented, complete inside-forward, a greater bundle of tricks and a more powerful powerhouse than this diminutive Scot. Nor have I ever played against an inside-forward of any other club who has left me with a feeling that here is somebody even better than Collins. He is a buy in a lifetime. Where he gets his boundless energy from I don't pretend to know. He never complains at hard work, rather does he thrive on it. It is a gift that some players have, which others cannot acquire if they play for years, the ability to take the game by the scruff of the neck and play it at the tempo required. There are times when games seem to go mad with players scurrying around at breakneck speed, making their work much more difficult and the margin for error ever so much greater. How useful it is at a time like this to have a man, who almost imperceptibly applies the brake and becomes the dictator.'
Eric Stanger on United's return to the First Division with victory against Aston Villa in August 1964: 'Collins, still from the stand looking like a schoolboy who has strayed into a grown ups' game, was as ever an inspiration and a comfort to his colleagues. If there was a hole to be filled because a man had either strayed or been drawn out of position, Collins filled it. His capacity for work was enormous and he was desperately unlucky not to score with one of his characteristic banana shots, which swerved away to strike a post. It was Collins who bolstered the Leeds defence in the first half when Reaney and Bell were a little shaky and Charlton was often beaten in the air by Hateley.'
W Ian Guild, reporting the battle of Goodison with Everton in November 1964 for the Yorkshire Post: 'Collins stood out on his own as the complete footballer. His generalship and shrewd distribution together with his willingness to work at both ends of the field, guaranteed Leeds the lion's share of the ball.'
Those reports could have come from any period during Collins' illustrious career. He was consistency personified and constantly centre stage, prompting, cajoling and driving his men forward, never willing to accept anything less than the very, very best.
He made his first class debut at 18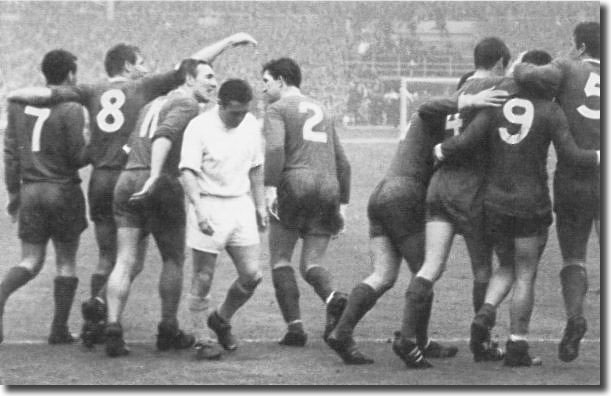 for Celtic on 13 August 1949 against Old Firm rivals Rangers, and bowed out as a 42-year-old for Oldham Athletic against Rochdale in April 1973, totting up more than 800 appearances and 200 goals. With Celtic, he won a Scottish League title in 1954 and the Scottish Cup in 1951. He led Leeds to the Second Division title in 1964 and saw them finish Double runners up in 1965, when he was voted Footballer of the Year. He scored ten goals in 31 full internationals for Scotland, including one in three World Cup appearances in Sweden in 1958.
The playing career of Bobby Collins was an outstanding one, though he never made it as a manager, operating in various roles at Oldham, Huddersfield, Leeds, Hull, Barnsley and Blackpool. Despite this, Collins will always be remembered as a remarkable footballer and a wonderful man.
For Leeds United, Bobby Collins was a mercurial catalyst, seizing control of the club's immature and unfocused young troops and blending them into a fighting force that carried all before them. He brought stature and acted as a rallying point while the old lags were weeded out and then he led his callow foot soldiers in a march on football's upper echelons.
Collins' arrival at Elland Road in 1962 allowed Don Revie to hang up his boots and concentrate instead on shaping campaign plans. Relegation to Division Three was headed off with a nine game unbeaten run that saw just four goals conceded. Collins had achieved his first goal of making United the toughest of nuts to crack.
1962 brought the short lived return of John Charles to Elland Road before Collins assumed the club captaincy that he was born for, driving his men in pursuit of an unlikely and unsuccessful promotion challenge. The following year Collins inspired a rough-hewn title triumph and United's return to the First Division.
In his 34th year, the Scot enjoyed his greatest ever season, elected Footballer of the Year and regaining his international place as United launched a bracing assault on the twin fronts of league and Cup. It was a year of near things, marking a personal triumph for the midget Glaswegian, dubbed 'Shrinking Violent' by Rick Broadbent. He had completed the job Don Revie had signed him for in double quick time. He even had the chance to make his European debut before his Leeds career was effectively ended on Italian soil by a scything foul.
Showing his customary determination, the Scot recovered from a horrific thigh fracture to return to United's first team, though he would never again be the same player. He eventually moved on to Bury, but could look back with satisfaction on a job well done.
It was not so much what Collins achieved with Leeds that was so remarkable, but the way he did it. When, at 31, he was declared surplus to requirements by Everton manager Harry Catterick, many good judges thought he was over the hill, doomed to see out his dotage in the lower divisions. Legendary Liverpool supremo Bill Shankly was narrowly beaten to Collins' signature by Don Revie,
with two of the best judges in football convinced there was life in the old dog yet.
Neither of them, though, could have anticipated the impact the old master was to have - the phrase 'Indian summer' could have been coined for Bobby Collins. The autumn of his career was a glorious one indeed.
Celtic forward Bertie Auld followed Collins into the Glasgow team's ranks in the late Fifties and offered this affectionate tribute in his foreword to The Wee Barra:
"Bobby Collins was a model footballer and a major influence on me during my career. He was in the Celtic team when I broke into first team football and was a member of the Scotland XI when I won my first cap against Holland.
'Bobby made me feel so welcome at Celtic from the start. I remember him giving me his Adidas boots from the 1958 World Cup finals. They were slightly big for him at the time but they were my first major manufacturer's pair. I was the envy of all the younger players breaking through in the squad! Bobby was great with the young kids at Celtic. In the late Fifties there were no full time coaches as such, we had a manager who selected the team, although he was influenced by the chairman, and we had a physio. The coaches were the more experienced players. The club had a particular dress code and Bobby looked the part both on and off the pitch. He was always immaculately dressed and a model professional. Everyone admired him.
'We got on really well both on and off the park. Bobby made you feel so important because he realised that the reserves today were the first team players tomorrow. A number of us at the club, Billy McNeill, Steve Chalmers and myself, went on to become part of the Lisbon Lions. Others such as Pat Crerand starred at Manchester United. Bobby helped us all.
'On the park, if things were going wrong, he was always encouraging and a great source of inspiration. It was brilliant being in the same team as Bobby, but a nightmare for opponents! He never stopped you from expressing yourself, and if you had a bad game or made a mistake he would be the first to offer alternatives. You could not help but admire him.
'Bobby was a winner. He was also a manager's dream because he could play in various positions, but in my opinion he was devastating at inside-right. Bobby was physical and a wee bit robust but he was not a dirty player. His all action game meant that he picked up injuries that would have finished most players, but Bobby always came back stronger, His strength of character was astonishing.
'There were so many games when Bobby had a major impact. I remember when Celtic won 4-1 at Rangers in a Cup match. Bobby controlled the game from start to finish; he was immense, and then in my first international against Holland he was again outstanding. One other game that has to be recalled was again against Rangers, this time in the 1957 League Cup final, when we won 7-1. Unfortunately for me after playing in all the earlier rounds, I missed out on that famous occasion and had to play in a reserve match against Queen of the South, but I've seen a film of the game and it was one of those days when everything went right and Bobby was at the hub of everything positive. He was incredible.
'Whenever Celtic supporters recall great stars from the Fifties, they nominate the Wee Barra. The term "legend" is used far too much these days, but not in the case of Bobby Collins, both as a team player and as an individual. His name is up there with the very best, and I know it's the same at both Everton and Leeds United where he was just as sensational.
'Bobby Collins could have graced a team in any era; he was one of British football's greatest stars.'
Part 2 Home grown hero - Part 3 From Sweden to Liverpool - Part 4 Back from the dead - Part 5 End of the line