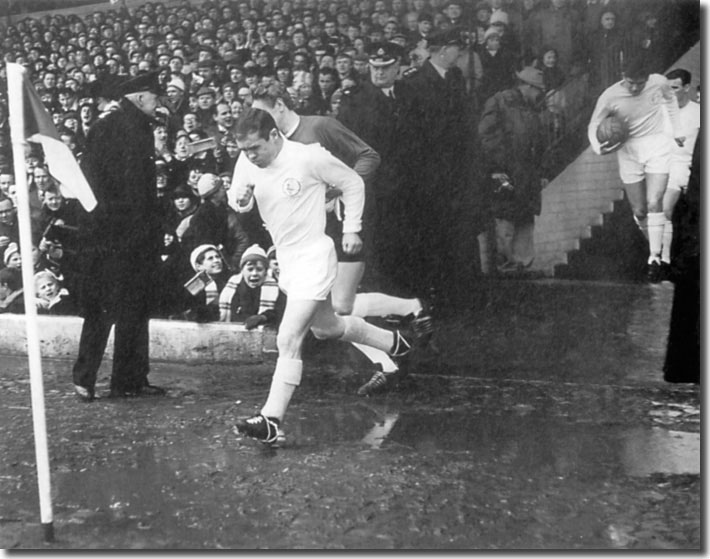 Part 1 An appreciation - Part 2 Home grown hero - Part 3 From Sweden to Liverpool - Part 4 Back from the dead
For a man who was supposedly in the late autumn of his playing days, 1965 was a remarkably active time for Bobby Collins. He led Leeds United in an enthralling chase for the Double, was voted Footballer of the Year and forced his way back into the Scotland side as they chased World Cup qualification.
The 1965/66 season promised great things for the battle hardened Scot, including a first taste of European club competition.
Collins told Phil Brown of the Yorkshire Evening Post: 'The successes of last season and the rich experience the boys gained just must make things look bright for us … These boys of ours don't know much about defeat … United will be in the top set for a long time to come.'
There were some rumblings of discontent, as reported by Phil Brown: 'Bobby Collins … cleared the weekend's clouds over his position with the club this afternoon. He will not be leaving it. A Sunday newspaper report … quoted the veteran little Scottish international as saying: "If there is any transfer talk concerning myself I would definitely not dismiss the idea of moving on. It would all depend on what I felt best for myself."
'Collins … told me today: "At my age I first have to think what is best for myself and my family, and I have had this talk with Mr Revie to clear the air on my future … Mr Revie has put a long-term proposition to me which is quite acceptable, and I shall be continuing with United."'
Leeds began the campaign well and were up among the league leaders as they prepared for their European debut, with Collins already in full swing. Eric Stanger in the Yorkshire Post: 'The link between Bremner and Collins in midfield is going to mean as much as ever … Collins has still the same razor sharp reflexes and remains sound in wind and limb. Because of his wonderful ability to pace himself through a game no one was going harder at the end.'
The Whites faced Italy's Torino at Elland Road on 29 September 29 in the first round of the Inter Cities Fairs Cup. Bobby Collins' experience with Scotland had equipped him well to handle European opposition and he was one of United's better performers as they claimed a narrow 2-1 advantage from the first leg.
The return in Turin was fateful for Bobby Collins as he later recalled: 'We had been hanging on to our aggregate lead when Italian full-back Poletti scythed me down with a terrible challenge. The pain was agonising and I knew immediately that my leg was badly broken.'
Jack Charlton: 'I remember it very vividly - Bobby was lying there, the referee wanted to move him off the park, and the Turin players were trying to bundle him off. I wouldn't let them move him; I knew that if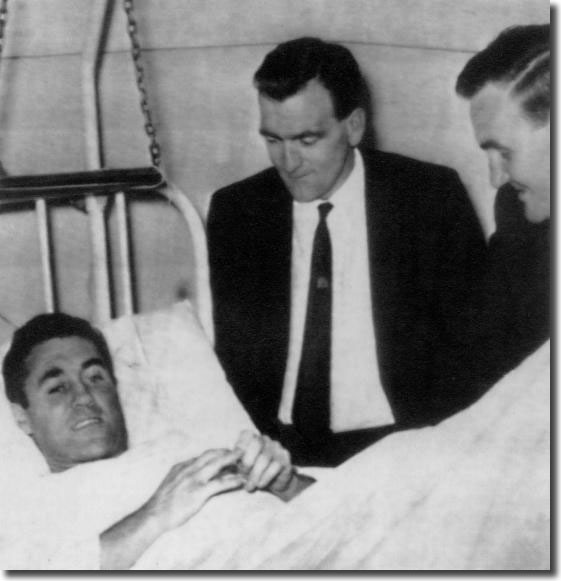 Bobby Collins wouldn't get up, he must have something broken. I stood over him, whacking one Italian and punching another to keep them back, until eventually the referee realised that Bobby must be seriously hurt and called for a stretcher.'
Collins: 'The only fortunate thing … was that I was seen at a local hospital that specialised in repairing shattered limbs. Surrounded by mountains, they had gained a reputation in this field, having dealt with many ski and mountaineering casualties … The medical team was headed by a world-renowned surgeon, Professor Re. I could not have been in better hands. The Professor assessed the injury and operated immediately. When I came round, he told me that he had reset my shattered thigh bone with a fifteen inch pin and was confident that I would play again.'
Charlton: 'He smiled when he saw us, and then he said, "Take a look at this" … There was a bolt through his leg - not a shiny silver bolt, but something that looked like it came out of a scrapyard.'
Collins: 'Leeds flew Beryl and Robert out to be with me, and throughout my two week stay at the hospital, I had plenty of visitors, including the entire Torino side. Poletti was particularly apologetic, but it didn't stop him injuring another player in the next match!
'Back home I immediately began my rehabilitation under Les [Cocker] and Doc Adams. The pin was hollow, which enabled it to stay in my leg as I regained fitness. It stayed there for two years, before Mr Archie McDougall, an orthopaedic surgeon in Glasgow, removed it. The injury effectively ended my career at Leeds.'
The rest of the campaign brought months of hard work and rehabilitation for the diminutive Scot, whose resolve never weakened. He was determined to fight his way back to fitness, saying, 'The doctors told me that in 15 days I shall be able to get up and walk freely. In three or four months I should be able gradually to resume training. But I will hardly ever be the same player again.'
Collins may have been physically crippled by the injury, but his spirit and win at any cost attitude were not dampened. Terry Yorath, a 16-year-old novice in the Elland Road reserves at the time, recalls: '[Collins] was in a plaster cast from his groin right down to his toes. My job was to make sure that he was able to climb into the bath and then help him out of it and dress him. This went on for months until his plaster was taken off. Bobby then started to get himself fit before being put in charge of the youth team. Although only 5ft 4in, he intimidated opponents through his tenacious tackling but, like Johnny Giles, he also had a delicate, sometimes devastating, touch.
'In the youth team's last match of the 1965/66 season, we had to beat Hull at Fullerton Park to win our league. Their left winger was giving our right-back, Bobby Sibbald, the runaround and Bobby Collins wanted him sorting out. So when the ball went out of play, he called me over to the touchline.
'"You move to right-back," he said, "and the first chance you get, do him."
'My instructions were clear: I had to take the Hull winger out - so I did. My concern was just to get him off the park. The ball got thrown to this lad and I just went whack! Straight into him. He was carried off on a stretcher with a broken leg - although I didn't know it at the time - and we ended up winning the game. I don't feel very good about it now but it was the kind of thing that went on in those days. I will admit that I severely damaged the career of a fellow professional but Bobby was held in such high esteem at Leeds that I felt I was doing it for him and the club. In Bobby's eyes, the end justified the means - we won the league. I didn't think about it at the time but, over the years, I've given it a lot of thought and it's not a pleasant memory. I don't know who the lad was - we didn't have team sheets in those days - but I never came across him in the game again so I could well have ended his career. It's not something I'm proud of but you have to remember the times. If you didn't see at least two or three instances of players going over the top of the ball in a game, then you weren't watching the right type of football. I still see Bobby Collins quite a lot these days and he always reminds me of the incident: "Remember that tackle?" he says. "That won us the league."
'I admit it's not a nice story but it just shows how the competitive spirit under Don Revie had affected everyone at Leeds. You had to be prepared to put your foot in where it hurt for the good of the team. In many ways, Bobby was my mentor. He showed me that I needed strength and determination as well as skill to succeed in a man's game. I looked up to Bobby and it was a privilege for me to look after him when he was injured. I love Bobby dearly and I'm very grateful to him for the start he gave me in the game.'
Collins was back in action for the first team by the end of the season, playing in United's final game. A draw against Manchester United secured the runners up spot for a second successive season.
Terry Lofthouse: 'Without a doubt the most interesting aspect was the return of Collins, who with Giles forged a fascinating partnership as dual schemers. He came back with all his old skill, canny ball distribution and confidence. The fact that the match was played in such an easy manner helped him to ease back into the swing of things. It was the Master (the Leeds fans' accolade) who provided the pass to Storrie from which Reaney scored with one of the finest headers I've seen.'
Despite European qualification being at stake for the Reds, the game was a typical end of season affair, a gentle re-introduction to first team action for Collins.
In the close season, Don Revie sought desperately to sign England World Cup winner Alan Ball from Blackpool, but missed out to Everton. That cemented Collins' place in the team, though there was much speculation how he would operate in tandem with Johnny Giles, who had taken on the Scot's playmaking role. The Yorkshire Post's Eric Stanger, reporting a pre-season friendly against a Glasgow Select XI, noted: 'Collins and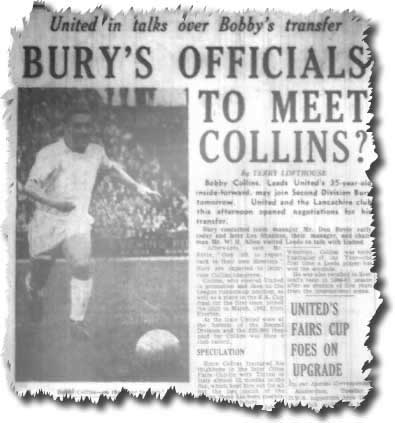 Giles are of a muchness in style, and at times they were liable to slow down operations in midfield.'
Bobby captained United in the opening game of the 1966-67 season, a defeat at Tottenham, and received rave reviews. Eric Stanger: 'There was the return to power of that remarkable little man, Bobby Collins, who not only came through his first severe test since breaking a thigh in Turin last October, but showed that there is still a lot of good football left in that small frame. Most players of his age … would have called it a day. Not Collins. Only he knows how long and how hard was the fight, mental as well as physical, to come back. His reward came on Saturday.
'His courage was tested in an early heavy tackle with Mullery and not found wanting. In a shade temperature of 81 degrees, he trotted, ran and galloped non-stop, plugging a defensive hole here, scheming an opening there, saving his legs at times by his ability to read ahead the next two moves, and all the time driving and coaxing the others. His stamina and energy were astonishing and he outstayed players almost half his age.
'It was Collins who made the Leeds goal for Giles after 13 minutes, darting into an open space near the right corner flag to call for the ball to Lorimer and put over a centre of pin point accuracy. It was Collins who was desperately unlucky not to put Leeds level at 2-2 early in the second half when he brought the save of the match from Jennings from a free kick and when the ball came back to him saw his crafty lob bounce off the bar.'
Unfortunately, Collins sustained an ankle injury in a win over West Brom four days later, and later aggravated the strain. He was out of action until the beginning of December.
He played just six more games for Leeds, and in February 1967 a free transfer took him to Second Division Bury, a move that had first been mooted in early October.
The end of the association with United was not altogether amicable, as noted by Andrew Mourant: 'Bobby Collins … recalls being dropped quite out of the blue by Revie. "I didn't particularly like that. At least when it happened at Everton, Harry Catterick gave me some warning." On another occasion, again without warning, Revie informed Collins that Blackpool wanted to sign him and then promptly dropped him for the next game. "I couldn't understand it. I didn't want to go to bloody Blackpool," Collins says. In the event, the move came to nothing and it was at his own request that Collins was granted a free transfer to Bury. His last game for Leeds was in the 3-0 home victory over Stoke City on 11 February. "I played a blinder!" Collins says.'
The veteran added: 'They said to me, "You're not the player you were." I thought that was debatable and I didn't like the way it was all done. As far as I was concerned, I was playing reasonably well and I'd signed a contract before the accident for another two years. But Leeds had a lot of good players coming through and somebody had to go. Johnny Giles and Billy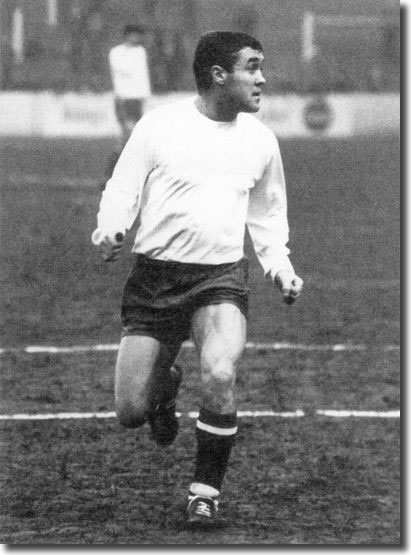 Bremner had teamed up in midfield and you could see they would be superb together.'
Bury were struggling at the bottom of the Second Division under the management of Les Shannon. Collins earned a £5,000 signing-on fee and a £100-a-week contract, double that of any of the other players. In a desperate battle to stave off the drop, Shannon forked out £45,000 to sign Alex Dawson, Hugh Tinney and Greg Farrell.
Collins made his Bury debut on 25 February against Blackburn, laying on an equaliser after 36 minutes with a quickly taken free kick. He was later fortunate to avoid being sent off after some dangerous tackling and Blackburn hit a winner with five minutes to go to ruin the Scot's debut.
Collins said at the time: 'Whether I'll be able to do enough to help them clear of trouble it's far too early to say, but I will be doing everything possible. The Bury lads are keen, so all of us will be having a real try. In my first couple of games the opposition put a man to mark me and this is something for which you cannot plan a rigid counter. The Bury team hasn't been together very long and it will take time for understanding to be reached so that we can make full use of the situations that arise.'
Collins featured in ten of Bury's final 13 games. The Shakers won just twice and ended the season in bottom spot, going down to Division Three with Northampton Town. The club suspended Collins, Jimmy Kerr and Colin Waldron for the final two games of the campaign after they failed to turn up for a post mortem meeting following a home defeat to Ipswich on 28 April. A club statement concluded, "'hile the board deplore having to take such strong action, it must be made evident to the public that all staff must be made clearly aware of their responsibility to the club which is of greater importance than personal attitudes.'
Happily Bury bounced straight back as runners up to Oxford United, with Collins missing just three games in a highly successful season. There was even a chance to fit in a return to his old stomping ground for Collins, with the Shakers drawn away to Leeds in the League Cup third round on 11 October.
Eric Stanger reported in the Yorkshire Evening Post that Collins 'received a boisterous welcome from the crowd of 20,927 for great services in the past to Leeds'. United won 3-0 with Jack Charlton opening the scoring in the first minute, but 'as Leeds sought their second wind, Bury came more into the game with Collins showing there was still a lot of football left in those size three-and-a-half boots. He not only got Bury moving in attack, but nearly got a goal back himself with a snap shot which was only inches wide.'
Bury ended leading scorers in the Third Division with 91, though their goals conceded figure of 66 was the worst in the top ten.
The Bury Mad website: 'With George Jones and Bobby Owen consistently amongst the goals and Gigg Lane proving to be a veritable fortress Bury were soon amongst the front runners. By the time of their final home game of the season, against Watford, Bury needed a win to secure promotion. Bobby Owen scored his 23rd goal of the season as Bury eased to a 2-0 victory. Unfortunately Bury were unable to consolidate their place in Division Two and for the second time in three seasons Bury were relegated.'
Collins, now 38, played in just over half of the games, and made his farewell after the 2-1 defeat to Bristol City on 15 April 1969, which confirmed the Shakers' relegation. The Scot returned north of the border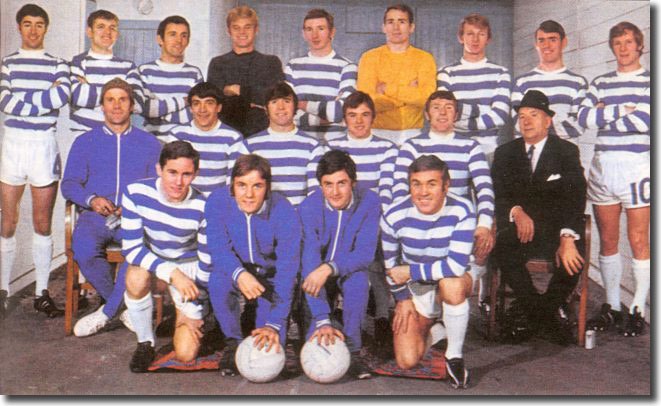 to sign for Morton, a Scottish First Division club that numbered a teenage Joe Jordan amongst their reserves and were managed by Eric Smith, who had played alongside Collins for both Celtic and Leeds.
Jordan remembers his times with Collins fondly: 'I followed Celtic as a youngster so was well aware of Bobby's achievements as a player. I'd never seen Bobby play but I'd read about his career. He was held in high esteem by everyone because he'd made his mark in Scottish football history. When he arrived at Morton, Bobby was the elder statesman of the team and it was a privilege to play with him.
'Morton was a two man band comprising Hal Stewart, chief executive and part owner, and Eric Smith, the coach, a hardened former professional … Stewart was part shrewd football man, part entrepreneur. In some ways, he was decades ahead of his time. If he was alive today, I suspect his mouth would be permanently watering over the money making potential around every corner … He kept Morton alight by buying players cheap and selling them at decent profits, and in this he successfully raided the untapped Scandinavian market, one notable success being the goalkeeper Erik Sorensen, whom he moved on to Rangers. Per Bartram, who went on to Crystal Palace, was another. It was obvious that anyone who signed for Morton would not lack the backing of some good supporting salesmanship if he showed the potential to move into a higher sphere of the game.
'Smith was a pure old football man, flinty in his attitude to the game but with a generous spirit. He survived the free wheeling regime of Stewart better than most. Stewart saw Morton as both his plaything and his cash cow. When the mood took him, he would march into the dressing room with the team list he had drawn up exclusively on the basis of his own judgement. Smith shrugged his shoulders and got on with his job as best he could.'
Bobby Collins made his Morton debut in August 1969 in a 1-0 League Cup win over St Mirren, saying afterwards, 'That was really hectic out there. Is every match as helter skelter? I couldn't get a breather. Down south they play it across the park until an opening shows and then it's all go for goal. Out there it was the through ball all the time with everyone chasing it like mad. I'm a bit behind the others in training and games but I'll catch up fast. I'll have to if that pace is the general yardstick.'
He soon came to terms with the style of play and featured in 28 of the 34 games as Morton finished in mid-table. Collins had the chance to visit all his old haunts and thoroughly enjoyed his return, particularly one memorable day against Rangers at Ibrox.
It was the last game of the season, 18 April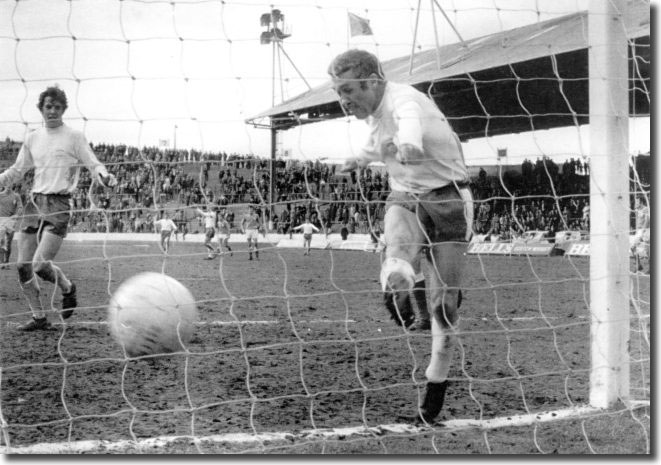 1970, and Rangers had long since seen Celtic claim yet another championship, their fifth in succession. Morton enjoyed one of the greatest days in their history, emerging 2-0 victors.
As Collins recalled: 'I grabbed a goal, which was really pleasing. I remember playing a ball wide and running through for the return. After sidestepping the goalkeeper, I stopped the ball on the line and waited for the defender to come back. As he approached, I waited until the last moment before crashing it into the roof of the net. The look on home supporters' faces was priceless!'
Joe Jordan: 'In his body language at that moment of triumph you could see that, even at that late stage of his career, all his passion for football and the hard edge of competitiveness were in full working order. Collins played Sunday football into his sixties. Only age could interfere with his rage to play - and to win.
'Revie was still in awe of his instincts for the game. Collins was living with his parents in Glasgow and travelling back to see his family in Leeds whenever he could. From time to time he trained with his old team mates and one morning Revie asked him if he had seen any likely lads north of the border.'
Collins tipped the manager off about Jordan, and in October 1970 Leeds signed Jordan in a £15,000 deal to set the striker off on a wonderful career at the top of the game. He went on to play for Manchester United and AC Milan, as well as featuring in three World Cup tournaments.
Collins departed Cappielow Park in the run up to the 1971/72 season to become player coach at Ringwood City in Australia. His farewell for Morton came in a pre-season friendly, with Don Revie bringing a full strength Leeds United side up to Glasgow. They won 4-1 at a canter, but it was a marvellous curtain call for Collins who was clapped onto the pitch by the players of both teams.
He spent a year playing for Ringwood, and then Hakoah Eastern Suburbs, returning to Leeds in the summer of 1972. He trained with United for a while, before making a few appearances for Shamrock Rovers. That October he was appointed player coach at Third Division Oldham Athletic.
The Latics were struggling at the foot of the table, with a single win from 6 games. Manager Jimmy Frizzell gambled that Collins could inspire a revival.
Oldham's form picked up with a five game unbeaten run and Collins was drafted into the team for a game against Wrexham on October 14. It ended 2-2 with The Sun's Frank Clough commemorating a historic comeback: 'The Jimmy Cagney of British soccer is back … strutting, cussing, bawling, playing and loving every minute of it. Bobby Collins is the name, forty-one now and greying with it but still the same forceful, dynamic little character who became one of the game's legends in the 60s. People who remember what a tough little nut he was at his peak, like me, wonder whether Collins might now become like the central figure in the classic Western situation, the retired gunfighter who comes back, a sitting target for a young tearaway to get a quick reputation by gunning him down.'
He played just nine games that season, being promoted to assistant manager in January. Oldham were on the way to a fourth place finish and 42-year-old Collins marked the end of his playing career on 20 April in a goalless draw at Rochdale.
A run of ten consecutive wins the following season laid the foundations for the Latics to win the Third Division championship. Collins' reward for his part in the triumph was the manager's job at Huddersfield Town. The Terriers appointed Collins in July 1974 in an attempt to get out of Division Three.
He managed the feat, but only by taking Town down to the Fourth after a quite disastrous season. It was the first time the club had ever sunk so low. Collins used 33 players but failed to arrest an alarming slump. The club's youth scheme was abandoned for lack of funds and the directors at Leeds Road unexpectedly re-engaged Tom Johnston, installing him as general manager to work alongside Collins. The plan failed and on 23 December 1975, Bobby Collins resigned, irritated by interference in team affairs.
It was not all gloom and doom, however, and Collins enjoyed some good times at the expense of a former club.
After Don Revie left Leeds United to become England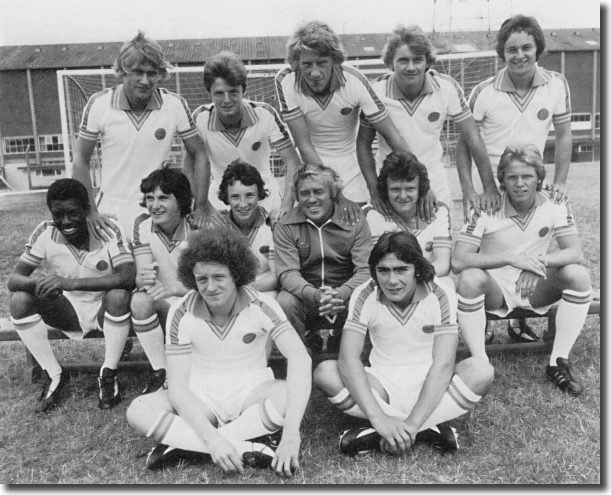 manager in 1974, Brian Clough was his controversial replacement. His reign at Elland Road was a disaster and the final game of a short spell was against Huddersfield in the League Cup.
Despite their struggle in the league, Collins' men did him proud, earning a 1-1 draw. Alan Gowling netted for Town and Terry Poole saved a penalty from Peter Lorimer. That set up a replay at Elland Road, with Maurice Lindley in caretaker charge and expected to lead Leeds to a comfortable win. But Gowling made his mark again in an entertaining match, which finished 1-1 after extra-time.
Leeds won the toss of a coin for home advantage in the second replay, by which time they had recruited Bolton boss Jimmy Armfield. The new man was relieved to see his side sneak a 2-1 win. Ex-Leeds player Billy McGinley, snapped up by Collins for £7,500 after he was discarded by Clough, was a real thorn in the side of his former employers, and scored a 60th minute goal, cancelling out Mick Bates' opener. Huddersfield were finally undone by a hotly disputed penalty, awarded when John O'Hare, one of the former Derby players brought in by Clough, tumbled in a challenge by defender Graeme McGifford. Lorimer managed to squeeze his shot past Poole and finally end Town's brave bid. 'On this display, it's ludicrous Huddersfield are at the foot of the Third Division,' said Armfield.
Twelve months as Leeds United youth team coach followed for Collins, before Hull City manager John Kaye recruited him as coach in the summer of 1977. The appointment brought a reunion with Billy Bremner, winding down his playing career in East Yorkshire.
Bremner: 'It was great to be working with Bobby again, but we both knew that there was more to Hull's problems than a change of face and tactics would solve. There was simply not the strength or quality of squad, or even the means with which to buy in top players. Bobby gave it a good try but very little changed and Bobby was never a man to waste his time.'
When Kaye was sacked in September, Collins took charge, though there was some speculation that he got the job by default, as recalled by Tigers striker John Hawley: 'They sacked John and I think offered Billy the job but he refused it so they gave it to Bobby. I think that what they intended was Billy to be manager and Bobby to be his assistant. But I do think the sacking of John and then Bobby accepting the job caused a bit of a rift at the club.'
Hull City Mad website: 'When big John was hauled off to the gallows by an impatient and unappreciative board, Collins was installed into the Boothferry Park hot seat on a caretaker basis. An excellent home win over Tottenham in front of over 10,000 got his reign off to a great start. Another 3 points from the next two games convinced the board that at long last they had found the man to lead the Tigers out of the Second Division. How right they were!
'City continued to pick up points and a 4-1 win over Cardiff at Boothferry Park on 12 November seemed to confirm that at the very least the Tigers would finish in their customary mid table position. Unfortunately Collins appeared to be overcome by his [limited] success and publicly slagged off his players for their performance against the Bluebirds. Not surprisingly the team, which included such seasoned professionals as Billy Bremner, Alan Warboys and Dave Roberts, didn't take kindly to Collins' peculiar brand of man management and form slumped. It wasn't until January that City won again but by that time the relegation storm clouds were already hovering on the horizon.
'In a desperate attempt to win back the hearts and minds of the players Collins recruited his old Leeds mate Syd Owen as coach. With his reputation as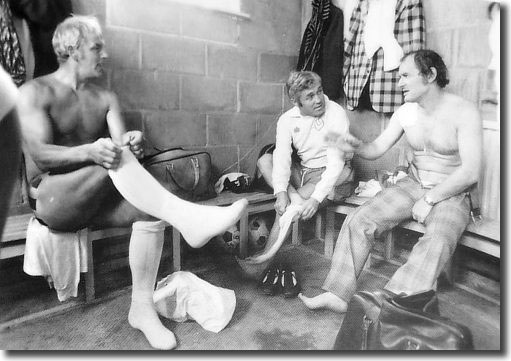 a hard disciplinarian it wasn't perhaps the most enlightened of appointments, especially with the morale of the squad being so low. Needless to say, the team's form and confidence continued to plummet and only four months after being given the manager's job Bobby Collins was again on the dole. His successor, Ken Houghton, was unable to stop the slide and the Tigers were relegated, a run of five successive defeats bringing the season to an end.'
After his sacking, Collins spent the spring of 1978 as coach at Blackpool before he got another job as a youth team coach, this time at Barnsley, where former colleague Norman Hunter was manager. Collins had spells as assistant and caretaker manager before getting the job on a long term basis in February 1984 when Hunter got the sack. He was hardly a racing success, but got enough wins in the closing weeks to steer the club to a 14th place finish. They were only five points clear of relegation from Division Two. Leeds United were four places higher in the table, having lost their top flight ranking a couple of years earlier.
The following season Barnsley rose to eleventh and reached the last eight of the FA Cup before crashing 4-0 to Liverpool. Despite that, Collins' contract was terminated in the summer and he was replaced by Allan Clarke, who had first managed the Oakwell club from 1978 to 1980.
Collins recalls the shock after what he had seen as a successful season: 'I was so pleased that I took the lads away to Majorca. I'd just got in the door back home when the phone went and the chairman was telling me I'd got the bullet.'
The Scot took the dismissal philosophically and bowed out of management after enjoying twelve months in charge of Northern Counties East League side Guiseley Athletic in 1987/88. Collins never achieved as much as a manager as his playing record had hinted he might. He later worked in the wholesale fashion business and was a driver at Leeds University before retiring.
In April 1988, Leeds United granted Bobby and John Charles a joint testimonial in memory of their service to the club. Juventus striker Ian Rush guested for Leeds and got a hat trick as they beat an Everton team 3-2. It was a marvellous night and a tremendous way to pay tribute to two footballing giants.
In December 2004, Collins became the second player to be inducted into the Leeds United Hall of Fame, following John Charles. He was presented with a framed replica shirt from the 60's, had a plaque hung near the honours board outside the Jack Charlton Suite in the John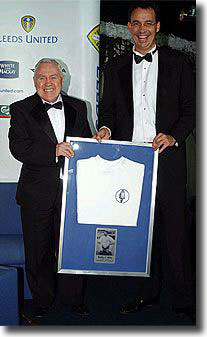 Charles Stand.
Billy Bremner had worshipped Bobby Collins as a boy, and grew to admire him even more as a team mate. It is fitting that the little redhead should enjoy the final word on his idol.
'Bobby Collins was the best professional I have ever known. He was thirty-one when he joined us and everyone else was writing him off, but he stayed for several years and he played at the top of his game throughout. Even when he was seriously injured he came bouncing back to lead us to new heights. All the young players who were around at the time owed Bobby Collins a big debt for his generalship, his advice and his example.
'Whenever he was in the side I felt confident that he would bully, coax, cajole, cool us down whenever we were in danger of losing our heads, encourage and praise us whenever we did anything good … In the heat of the game he would sense when we were beginning to need a bit of breathing space and he would go into the fight for the possession of the ball, plonk a pass upfield for Albert Johanneson to chase, while we at the back breathed a little less hard and pulled ourselves together.
'When Bobby went out to play, nothing would put him off his game. He left all his cares behind him in the dressing room and, for the next ninety minutes, only one thing mattered - that everyone should be pulling his guts out for the whole of the game in a tremendous team effort. Typical of the man was the time we were staying in a Harrogate hotel just before a game with Burnley and a plate glass door was accidentally broken. Bobby's arm was badly gashed and a lesser man would have pulled out of the game. Bobby not only played but he scored two goals too as we won 5-1. He was determined not to miss the game. I will always remember that when we clamoured round him to congratulate him on his first goal, he kept yelling, "Mind my arm! Mind my arm!"
'I learned many great lessons from Bobby Collins, not the least being able to take the knocks as well as hand them out, and always play the game as a man. They say that one man does not make a team - but Bobby Collins came nearer to doing it than anyone else that I have ever seen on a football field.'
Part 1 An appreciation - Part 2 Home grown hero - Part 3 From Sweden to Liverpool - Part 4 Back from the dead