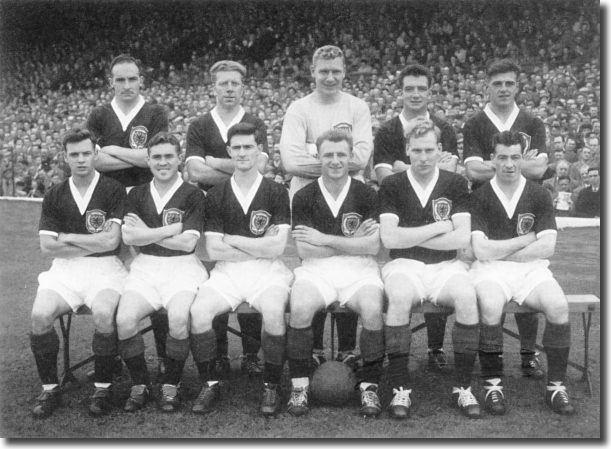 Part 1 An appreciation - Part 2 Home grown hero - Part 4 Back from the dead - Part 5 End of the line
Bobby Collins and the Scottish international team set off for the 1958 World Cup finals in fine heart - Collins' brace brought a 2-1 victory in their final warm-up match in Poland on 1 June and took his record to 6 goals in his previous eight internationals. The Scots had lost only once in that run. Bobby was a key member of the team, having played in all but five of 21 games since his recall in May 1955.
The Scottish FA approached the tournament in Sweden much more professionally than on previous occasions. The Scots had qualified for the 1950 finals in Brazil as runners-up in the Home International Championships to England, but declined to go because they had not finished top. Their participation in 1954 was a disaster: the squad had been restricted by the SFA to a team and two reserves. They lost both games (one by 7-0) and manager Andy Beattie resigned between matches, citing interference from selectors as the reason.
In 1958 a full 22-man squad travelled to Sweden. The players were rewarded with £3,250 for their efforts in qualifying, and on the promise of £50 an appearance and £30 as a reserve in the tournament itself. There were further bonuses on offer for making progress to the latter stages of the tournament.
Bobby had two Celtic colleagues, Bobby Evans and Willie Fernie, alongside him in the squad, which also included Tommy Younger, Eric Caldow, Tommy Docherty, Dave Mackay, John Hewie, Graham Leggat, Stewart Imlach and Jackie Mudie.
The Scots faced a tough qualifying section, involving Yugoslavia, Paraguay and France. They kicked off with a match against the Slavs on 8 June but were cheated out of a triumph by some cynical tactics and inept refereeing, finishing with a 1-1 draw.
Gair Henderson in the Evening Times: '[Yugoslavia] were adept at every aspect of obstruction and destruction. They pushed their bodies between the Scots and the ball at every opportunity, and they were given a free hand by a referee whose tolerance of these tactics and his intolerance of the Scottish tackling had to be seen to be believed.'
Hugh Taylor in the Evening Citizen: 'Wee Bobby Collins, playing his greatest international, came to our rescue. Collins was inspired. He took command of the game. How the hard men from Titoland knew that. They tried to crash him out of the game. First right-back Sitjakovic got him when his back was turned and sent him reeling to the ground. Bobby got up, shook his head and shook it again when he saw referee Wyssling wave play on instead of ordering off the Slav. Next Bobby suddenly stopped short and put his hand to his mouth after Sekularac had elbowed him in the face. How I admired Collins, criticised so often for his impetuosity, for his restraint in this match. He paused only to put in more firmly two loosened teeth, and played even more brilliantly.'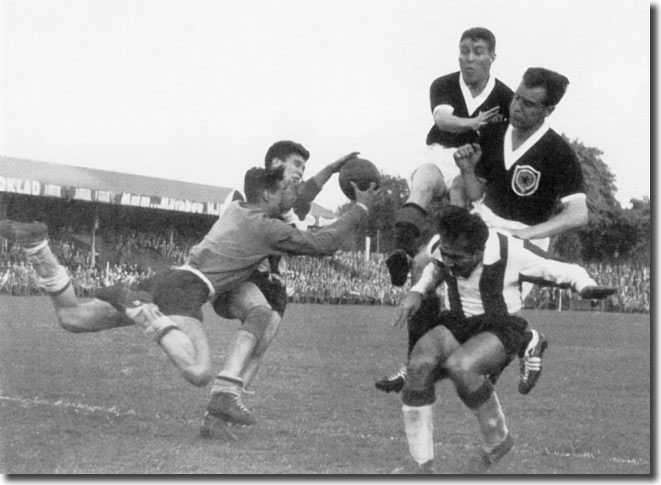 The draw saw the odds on Scottish qualification shortening sharply. They now faced Paraguay, who had crashed 7-3 to France in their first group game. Unfortunately, there was another hard luck story, with a 3-2 reverse being blamed on one-eyed refereeing and opposition tactics. Collins' goal after 76 minutes only made for a tight finish.
To have any chance of going through, the Scots needed to beat France in their final match. This was highly unlikely, as the French boasted the scoring talents of Juste Fontaine, already leading the way with five goals from two games. Scotland went down 2-1 after missing a penalty, and were outplayed throughout.
It was a depressing end to a trip that had promised much, and the players had little to show for the occasion but commemorative jerseys. At the time, the Scottish FA only awarded caps for games against the other home nations. Stewart Imlach's son, Gary, later launched a campaign to have the decision retrospectively changed. Finally, in 2006, the SFA bowed to pressure and awarded commemorative caps to more than 80 former internationals, who had never received actual caps. Among the 80 were 1958 squad members Imlach and Eddie Turnbull.
Collins remembers the tournament as follows: 'We could be proud of our efforts. Okay, we failed to reach the quarter finals, but that was due to the opening game when we were extremely unlucky. The refereeing was questionable to say the least, as it was against Paraguay when we lost. The French were a class act and possessed the top striker of the tournament in their side. Not every footballer gets the opportunity to play in the World Cup. I had and I managed to grab a goal.'
Playing on the international stage had given Bobby Collins itchy feet, and he requested a transfer from Celtic in August 1958, intent on proving himself in the English game. He later recalled: 'Behind the scenes things weren't ideal. Jock Stein, Billy McPhail and Sean Fallon had retired and Willie Fernie and Charlie Tully would soon depart. The Parkhead team I was an integral part of was breaking up; we'd had our swan song in the League Cup final and I felt that I needed to find a new challenge. I'd been fortunate to play for such a great club because not everyone gets such an opportunity.
'It was sad because I'd been there nigh on ten years … In my entire time at the club [manager Jimmy McGrory] only gave one team talk and that was, "Boys, the turnstiles aren't clicking." That was it. Incredible. He wanted to get rid of me. I was playing golf at Tower Glen and when I came off, the secretary said there'd been a call from Mr McGrory and I was to phone him back. So I did and he said, "Everton are interested in you, will you go?" It wasn't "Do you want to go?" and I was never one to stay anywhere if I was not wanted.'
Everton were the first club who made a move and Collins was on his way to Goodison in a £23,500 deal on 12 September 1958. Everton's manager at the time was Ian Buchan, but he was sacked shortly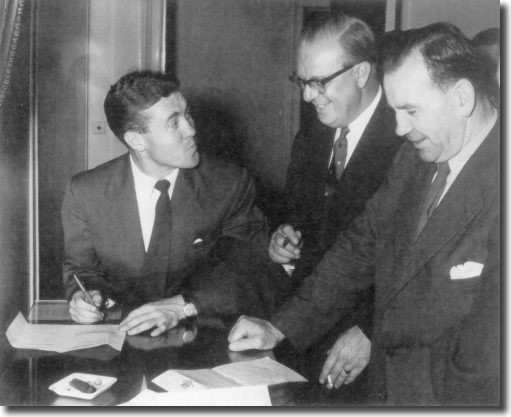 afterwards for poor results and replaced by former Irish international Johnny Carey. Collins spoke later of the two men: 'Ian Buchan knew the game but he was too much of a theorist, having never played the game at the top level. Johnny on the other hand had a wealth of experience and understood players more as he had been successful in his own playing career. A great tactician, he gave you a job and it was down to the player to make it work.'
As with Celtic when Collins arrived at Parkhead, the Merseysiders were at a low ebb, having finished 16th, just five points clear of relegation. They had been without a trophy of any sort since securing the League title in the last season before World War II.
James Corbett from Everton - The School of Science: 'In the opening fixture of the 1958/59 campaign … Everton were crushed at Filbert Street. "Two goals to nil Everton lost at Leicester," reported the Football Echo. 'But the margin may well have been heavier and that is making allowance for the desperation of a hard-worked defence." Four days later they lost 1-4 at Goodison to Preston North End. The next Saturday, 30 August 1958, Newcastle inflicted a 0-2 home defeat, which was greeted with slow handclapping and angry shouts.
'Soon letters were flooding into the local newspapers. "It is perfectly obvious that there is something wrong at Goodison. Despite the accent on youth they have produced nothing worth bragging about. When Mr Buchan came to Goodison he was quoted as saying that Everton were playing a negative type of football, I don't know what he calls the type they're dishing up now. If it were any more negative it would be non-existent," wrote T Hartley of Little Crosby.
'Preston inflicted a fourth straight defeat (1-3) in the return at Deepdale before Arsenal visited Goodison on 6 September. Hopes that the miserable start would come to an end were quickly confounded. Everton were thrashed 1-6. "This was a massacre at Goodison," wrote Michael Charters, in the Football Echo. "Everton were completely outplayed at every point by a brilliant Arsenal team who gave them a footballing lesson, plus goals." Only Temple's consolation five minutes from the end prevented the record 0-6 Goodison defeats of 1912 and 1922 being equalled.
'The following Monday the board met to decide Buchan's fate. Earlier claims that Everton had been the fittest team in the division were dismissed by the chairman, Dick Searle, who stoked controversy when he said: "Everton are three yards slower than opponents they have met this season." Yet for three days - which saw Everton's sixth straight defeat (1-3) at Burnley - there was silence. Then, in quick succession, they announced three surprises.
'First, Harry Wright, Buchan's first-team trainer, was sacked, and Gordon Watson stepped up to take over.
'Then Celtic's Bobby Collins was signed for £24,000. He was five foot four inches of tenacious skill, biting aggression and impish brilliance, and his arrival made front page news on Merseyside. Despite the abysmal start to the season, the Liverpool Echo's Leslie Edwards was optimistic that the new signing could help Everton rise from the depths of the First Division: "Everton will find that the £24,000 they have spent will be repaid fully by a player Scotland will be sorry to lose." Twenty-four hours later, Collins had inspired Everton to their first win of the season: a 3-1 victory over Manchester City, and Edwards was singing the new boy's praises in the Football Echo. "First appearances suggest that Collins will be well worth every penny of his transfer fee and although one man may not be the complete answer to Everton's troubles, he can go a great part of the way to restoring Everton's glamour." Two minutes before the end of the game Collins had produced a '"-book finale", with a shot so powerful it slipped through the goalkeeper's grasp and into the net to make the score 3-1 in Everton's advantage.
'His influence at Goodison rallied his team-mates and they began to pick up valuable points. A ferocious tackler, Collins earned the nicknames the "Little General" and "Pocket Napoleon" and was more than capable of rattling the bones of any giant who got in his way. Not only were his goals and tackling vital to the team, but he was at the creative heart of an inconsistent Everton side. He could pass with deadly accuracy to colleagues in dangerous positions and such was his influence that, more than 35 years after his departure, Brian Labone still had cause to present him to a half-time Goodison crowd as "the man who single-handedly saved Everton from relegation - twice".
'Days after the Manchester City win, it was revealed that Blackburn Rovers' manager, Johnny Carey, was to be appointed Everton boss. Carey, a soft-spoken Dubliner, had captained Manchester United's post-war side, helping them to league runners-up in three consecutive seasons and also to the FA Cup Final, which they won in 1948. His first taste of management was at Ewood Park where he led Blackburn to the top flight in the 1957/58 season, and he was seen by the Everton directors as the ideal successor to Ian Buchan. Carey immediately put his free-flowing football principles into practice at Goodison, his motto being "Only the keeper stops the ball."
'However, it was four weeks before he could take up the managerial reins: he had agreed - always a man of honour - to serve out a four-week notice period at Ewood Park. Before that time could elapse, Everton had suffered their record defeat on 11 October 1958 to Tottenham Hotspur: 1-6 down at half-time, they went on to lose 4-10, even though Jimmy Harris scored a hat-trick. The last time 14 goals had been scored in a top-flight match was in 1892 when Aston Villa beat Accrington Stanley 12-2. "Comment is superfluous," wrote the Football Echo.
'Following his October arrival, Carey steadied the ship, leading Everton from the relegation spots to the relative respectability of sixteenth. Although Everton had scored 71 goals, their defence let them down, conceding 87. It was the pattern of things to come.'
Collins had a stirring debut season for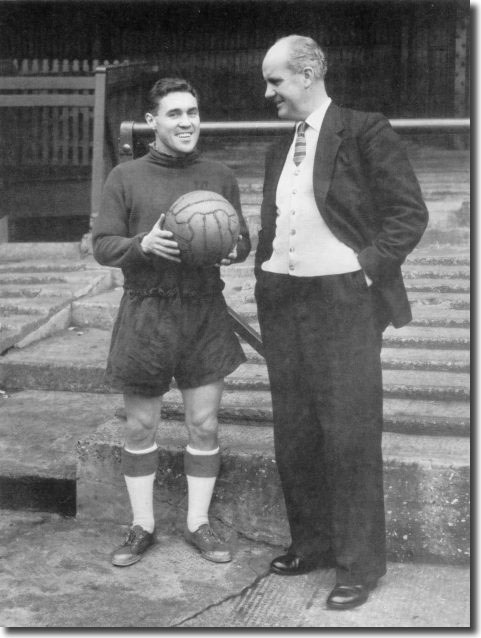 the Blues and retained his international place, scoring 3 times in six appearances, though defeat in Portugal in June 1959 seemingly marked the end of his Scotland career, as he lost his place thereafter.
At Goodison, the Scot went from strength to strength, assuming the club captaincy after fans' favourite, centre-forward Dave Hickson, crossed the city to join Liverpool. It took Everton seven games to record their first win in 1959-60, with Collins' third goal of the season coming in a 6-1 win against Leicester. From then on, it was a roller coaster season, punctuated by heavy defeats and easy victories, though for the most part the Merseysiders struggled. They finished fifteenth, only three points from relegation in a tight finish that saw just 6 points covering the clubs between 11th placed Blackpool and Leeds United, relegated in 21st spot
Collins stood out as the shining star in a dismal season, as noted by Derek Wallis in the Daily Mirror: 'Bobby Collins has made nonsense of all transfer fees. You couldn't buy Johnny Haynes for that, Jimmy McIlroy or Albert Quixall. I cannot remember a greater display of all the inside-forward's subtle skills since the war than the torture of Chelsea by Collins.'
The schemer, now 29, had successfully adapted to the English League and was among the best players around, even though his team were struggling. The club's fortunes were soon to improve as Everton began to thrive thanks to the financial backing of John Moores, founder of the Littlewoods organisation, who was elected chairman in the summer of 1960. The club could now afford to buy the best, and secured such talents as Roy Vernon, Jimmy Gabriel, Billy Bingham, Tommy Ring and Alex Young. The new players brought refreshed optimism.
James Corbett: 'By Christmas 1960, Everton were third and being talked of as genuine title challengers. It was a stark contrast to any season in the 13 that had passed since the war, but Carey's side were entertainers, not winners. They were the sort of side who could thrill with a 3-1 win at Burnley on Boxing Day 1960, then lose miserably (0-3) to the side in the return fixture at Goodison just 24 hours later. Indeed that same defeat marked the onset of a run of 10 losses in 13 games. It was not catastrophic and Everton fell only as far as sixth, hut it was enough to convince Moores that Carey would never be a winner He recognised that Carey's team often lacked discipline or the killer touch.
'When the end of March came, speculation was rife about Carey's future. It intensified when Harry Catterick, now manager of Sheffield Wednesday but rumoured to be of interest to the Everton board, resigned unexpectedly. Wednesday were in second place.
'Then, on Friday 14 April 1961, Carey and Moores travelled to London for an FA meeting. Even though Everton had beaten Newcastle United 4-0 at St James's Park the previous Saturday, speculation was more intense than ever about Carey's future. Wanting clarification, he demanded a meeting with his chairman. Moores suggested that they reconvene and the two men took a taxi to the Grosvenor House Hotel. During that journey, Carey repeated his request for clarification on his future. Moores, always a man of principle, went straight to the point. He told Carey that he was being replaced.'
Harry Catterick was introduced as manager two days after Carey's removal. Collins was sad to see the Irishman go, but hinted at the reasons: 'Johnny insisted that we enjoyed our football. The only flaw he had was that he wasn't hard enough with the players and some did take liberties. Discipline was not tight enough and this stopped him from becoming a great manager. Top managers need a ruthless streak, as players do, if they want to make it at the highest level.'
Collins missed just two games as Everton ended the season fifth, and finished second top scorer to Roy Vernon in the league with 18 goals. He was popularly acknowledged as the catalyst for the club's improving fortunes, as noted in a local paper:
'He is the greatest thing that has happened at Goodison Park since Dixie Dean. This dynamo of a man, better than a dynamo because he never runs down, arrived here in the Ian Buchan era when Everton's position was pretty desperate and some general was urgently needed to take command of their attack.
'Everton's climb began from the day he arrived … initially, Collins found he was wanted as much in defence as he was in attack. Now, with the side more balanced, he can concentrate on his real mission, getting the side on the offensive and keeping them there.
'Wee Bobby lacks nothing in courage either. He'll tackle the biggest and strongest and will come out, more often than not, with the ball at his feet. Collins makes goals or takes them with equal facility. He, more than anyone, has helped his club to win back thousands of lost spectators by ensuring that they will get 90 minutes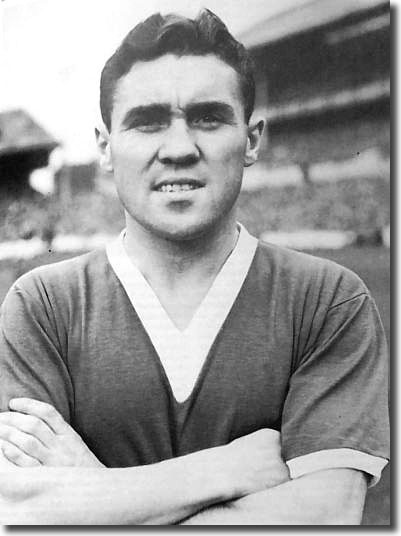 of effort and football entertainment.'
Johnny Carey had said that his aim was 'to give Everton entertaining and, if possible, winning football'. It was clear that Catterick's approach was absolutely the other way round, and he would stand no nonsense from the players. Roy Vernon was sent home from an end of season tour to America for breaking a curfew.
The Toffees kicked off the 1961/62 season with an impressive 2-0 win against Villa with goals from Young and Bingham, but then lost by the same score at West Bromwich. Collins sustained a knee ligament injury that kept him out of the next eight games, only three of which were won.
He returned for a match at Goodison against Arsenal, which Everton won 4-1, the first of an impressive run of performances. Alex Young was the inspiration.
James Corbett: 'Young was quickly emerging as a favourite at Goodison, wowing the crowd with his delicate flashes of genius. His "effect on the team was enormous", Labone claimed later, "particularly on the defence. We felt that here was a man you could give the ball to in any situation. He could give us a breather by keeping the ball up there, occupying all the attention of the opposition, giving us time to regroup." Impressive though he undoubtedly was, Young still had to stake his claim for immortality. It wasn't long in coming.
'At the end of the first week of October 1961 tenth-placed Everton played Nottingham Forest, who held fourth position. Though Everton had won the same fixture 6-1 less than two years earlier, few Evertonians could have anticipated a repeat of that hiding, or the way in which Young dominated events from start to finish. Jimmy Gabriel scored first, running on to Young's sideward header and steering the ball past Grummitt for his second goal in successive matches. Vernon added a second on 33 minutes. Young raced down the wing and into the Forest penalty area. His perfectly calculated pass was controlled by the unmarked Welshman, who lashed the ball home. Then, Young's well-directed header from Fell's cross made it 3-0 a minute after half-time, and he returned the compliment 10 minutes later, playing in Fell for the first goal of his Everton career.
'Young was now on fire and the Forest defence were finding it impossible to check the Scot's brilliance. He was inspiring Everton to exhibition-like football and started the move for Everton's fifth goal. Picking up the ball by the half way line he swerved past a Forest defender and dribbled down the right before flicking the ball to Bingham. His cross was accepted by Collins on the penalty spot and he controlled the ball, then imperiously back-heeled it into the path of Fell, who tapped home his second from four yards. Then, on 76 minutes, Young lobbed the ball in for Bingham at the far post, headed across the goal and Vernon side-footed home his second and Everton's sixth.
'It was, noted one observer, "The finest exhibition of centre-forward play since the days of Dixie Dean and Tommy Lawton - that is how I rate the performance of Alex Young ... His trademark was on all six goals and it was not his fault there were not three or four others." The Liverpool Echo's Leslie Edwards said of Young: '"t is not necessary for a player with his extraordinary gifts to play a blood and guts centre-forward game. With a slight feint of the shoulders he gets them going the wrong way. Then he drifts past them almost lazily. Like Matthews and other men of football genius he always seems to have time to think and space in which to move. He won't get a packet of goals, but he'll make hundreds of others."'
Bobby Collins picked up another injury that meant he missed the excellent 3-0 win over Double winners Spurs at the beginning of November, but returned in time to help the Blues beat Manchester United 5-1. He started the rout with his first goal of the season, from an 18-yard drive.
Unfortunately, Harry Catterick seemed to have set his mind against the schemer and was critical of his form. Collins scored twice against Fulham on 23 December, yet was roundly berated, as he recalled: 'After scoring two against Fulham, Catterick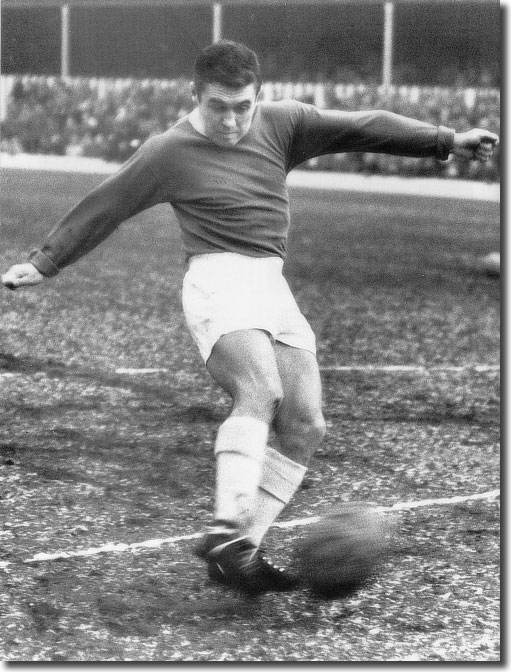 told me I was not the player I used to be. I was not happy and told him so. I'd been the best Everton player that day and I'd got a rollicking. I knew that my days were numbered.'
The Scot was later upbraided by chairman John Moores during a clear the air meeting: 'As captain I was first to receive his opinions and I was not happy when Mr Moores inferred that I wasn't giving my all. Nobody criticises my work rate, winning was everything to me. I was fuming and let him know. After the meeting without thinking I told a journalist the whole story. The next day I had a frank discussion with Mr Moores and told him if he didn't think I was giving everything he could get rid of me. I soon realised how much the club meant to him. His critical words were aimed to get the team fired up again and we parted on good terms. By the weekend, however, my chat with the journalist was headline news. I apologised to the chairman because details of the team meeting should have stayed within the club, and credit to him, he realised that my actions were in the heat of the moment and that was the end of the matter.'
The chairman might have held no grudge, but Harry Catterick had decided that it was time to move Bobby Collins on. Catterick had not yet dabbled in the transfer market, but was now ready to do so. Athletic Blackpool keeper Gordon West arrived and made his debut in a 4-0 thrashing of Wolves on 3 March. The game marked Collins' finale in Everton colours. Denis Stevens had been signed from Bolton and was earmarked for Collins' inside-right slot. It was suggested that Bobby should fight it out for a place on the right wing with Billy Bingham. He rejected the idea and decided to pursue his career elsewhere.
Everton were flying high at the time and on the way to a fourth place finish, their highest since 1939, but Collins' mind was made up: 'I had an idea my days were numbered. I still knew I could play. I just thought, fine, there's something wrong here. If they don't want me, I'll leave.'
Brian Labone was Everton centre-half at the time and recalls: 'Bobby Collins made the biggest impact on me during my career. When I broke into the side on a regular basis in 1959, Bobby was skipper and the key player in the first team. Football coverage in the media during the 1950s was very different to now. Of course, I'd heard of Bobby because he was a Scottish international and had played for Celtic, but it wasn't until I saw him in training that I realised just how good he was.
'Bobby was the ultimate professional … He taught me a lot during the early stages of my career. I remember challenging him for a ball during a training match. I was over six foot, so you'd think it would be a mismatch going in against Bobby, but he went in hard and took me out. I was amazed by his strength, aggression and desire. Next time I went in a lot firmer and he said with a wry smile, "you're learning, son," but that was Bobby, no quarter was given on or off the pitch. I learned a lot from him.
'When I got into the first team we were in a bad position. During a difficult couple of seasons he kept us up and transformed Everton. Most sides had a Scot who brought a touch of iron to the side. Tottenham had Dave Mackay, we had Bobby and he got us out of trouble time and again. He also weighed in with crucial goals.
'Harry Catterick had a policy of selling players before their sell by date. He usually got it right, but he got it wrong with Bobby Collins.'
A number of clubs expressed an interest in the Scot when news of his availability broke, but it was Leeds United, struggling at the foot of the Second Division, and their young manager Don Revie, Collins' senior by just four years, who were the keenest. United trainer Les Cocker watched Collins in the FA Cup defeat at Burnley on 17 February and recommended a move, which went through on 8 March.
Don Revie: 'A journalist tipped me off that Everton might be willing to let Bobby go, so after we got confirmation of this from their manager, Harry Catterick, I travelled to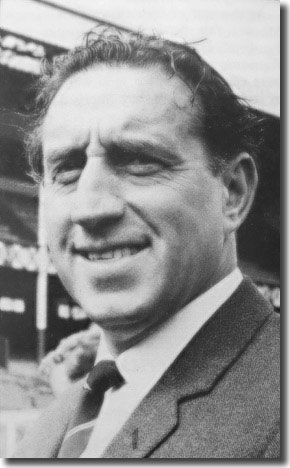 Goodison the following morning, with two of our directors, to open negotiations. I spent an hour with Bobby after training and he told me in no uncertain terms that he felt that he still had a lot to offer as a First Division player, didn't fancy going to a club with one foot in the Third. We left it that he would think it over for a couple of days and get back to me. But as we headed home, I decided to have another chat with him. I remember, we arrived at his house at 2 pm and waited in the car no less than five hours before he turned up. We didn't leave until 2.30 am the next morning, but by that time, Bobby had agreed to join us.'
Collins: 'Don Revie was a lovely fella and was a good talker. He outlined his plans and he offered me the same money as I was on at Everton. Considering Leeds were in the Second Division, I thought that was something. It showed a bit of faith. I knew they had some good players, too. What I didn't know was they were second bottom of the Second Division at the time. It was like that when I went to Everton too. I knew they were a big club, but I had no idea they'd played six games and lost six.
'I'd been to see Don and was happy with things, but when I got home my brother-in-law told me some fella had been on the phone a few times asking for me. He said he was Scottish, but he wouldn't leave a name. I thought, fine, and left it at that. I didn't think any more of it. The next day the phone went again and this voice growled, "Son, is it true, ye've signed for Leeds?" I could only say, "Yes, Mr Shankly," and to his credit, he said, "Ah well, orra best anyway, son." Who knows what might have happened if he'd rung a day earlier.'
A £24,000 fee was agreed and Bobby Collins became a Leeds United player in one of the best bits of business that Don Revie ever did. Nevertheless, it was a record for both clubs at the time.
In the days following the move, Collins had some second thoughts, as he recalls: 'I was so keen to get away from Everton that I accepted Leeds' offer without really weighing up all the pros and cons. Don allowed me to stay on living in Aintree and just to go to Leeds a few days a week for training, but I didn't think this was practicable, not for me nor the club. At the same time, I didn't want to uproot my family from Aintree, and so it seemed the only solution to the problem would be a move to a club nearer Liverpool. I had a long chat with Don, and he persuaded me to give the whole business a longer trial. We did move to Leeds - and I never looked back.'
Part 1 An appreciation - Part 2 Home grown hero - Part 4 Back from the dead - Part 5 End of the line