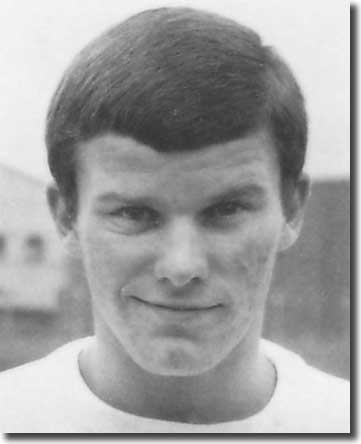 Born: Hebburn, County Durham, 25 January 1948
Bobby Sibbald, a right-back, played for Jarrow, Felling and Hebburn Boys in his native County Durham and had trials with Airdrie. In the end, however, he was signed up as an apprentice by Leeds United on 17 April 1963, the same day as midfielder Mick Bates joined the club. At the end of the 1962/63 season, Sibbald was retained by manager Don Revie as part of a promising group of apprentices, which included Jimmy Greenhoff and Terry Hibbitt in addition to Bates.
Sibbald signed professional forms for United in January 1965 when he turned 17.
Sibbald's first team debut for Leeds came as a substitute for Terry Cooper in February 1967 in a League defeat at Everton.
A month later, United were faced with the possibility of having to play two games on a single evening. They had a second replay in the FA Cup fifth round against Sunderland and if the game was drawn the third replay would be on the same day as a Fairs Cup-tie in Bologna. Don Revie had already confirmed that if the Sunderland game was drawn, he would select a squad made up of entirely of reserves to fly to Italy. Sibbald was included in the Fairs Cup pool, with Revie saying, "I am prepared for the worst. If neither the FA nor the Fairs Cup Committee intervenes in the event of a draw, a team of reserves will fly out to Bologna."
In the end, Revie was spared his headache when Leeds beat Sunderland 2-1 in the second
replay on 20 March. The result meant he was at liberty to employ his normal first team pool for the game in Italy, much to the disappointment of his excited second stringers.
Sibbald's only other appearance came in the final League game of 1967/68 when a team made up chiefly of young reserves lost 3-0 at Burnley.
Sibbald left Elland Road for York City in February 1969 and spent a couple of years with the Fourth Division outfit. He scored a respectable seven goals in 79 appearances for the club, also captaining the team. In the summer of 1970, Sibbald welcomed one of his former Leeds United colleagues, fleet footed South African left winger Albert Johanneson, to Bootham Crescent.
York City won promotion from the Fourth Division in 1970/71 when
they also enjoyed a decent run in the FA Cup. Sibbald lost his first team spot during the campaign and in July 1971 he signed for Southport after a two-month trial period with the Merseysiders. He remained with Southport for the following six years, appearing in 240 League games. During Sibbald's time at Haig Avenue, he was renowned for his whole hearted displays in defence. Southport won the Fourth Division championship in 1973, though they were voted out of the Football League in 1978, a year after Sibbald left the club.
From 1975, Sibbald spent his summer months also plying his trade in the North American Soccer League with Los Angeles Aztecs, playing with such luminaries as Johann Cruyff and George Best and was a mainstay of their side.
Sibbald quit Southport in February 1977, going on for a spell with Witton Albion before emigrating permanently to the United States and resuming his career with the Aztecs.
He retired from playing in 1980 and went on to several youth coaching jobs. Sibbald quit football completely to enter the business world in 1982, but became assistant coach to the Los Angeles Heat in 1989, taking over as head coach in the spring of 1990.