Part 1 - The Revie effect - Results and table
As 1968 dawned, Don Revie's Leeds United were carrying all before them. They had recovered from a shaky start to sit third in the First Division and were still involved in three cup competitions.
United's first game of the year was in London. Leeds' trips to the Smoke were usually daunting affairs, but Fulham on 6 January was not so troublesome. The Craven Cottage club were in grave danger of losing the top-flight status they had held for 9 years, just a point above bottom club Coventry with three wins from ten home games.
They got scant sympathy from a fiercely competitive Whites side, now near full strength after being without Mick Jones, Johnny Giles (both injuries) and Billy Bremner (suspension) for many weeks. Mike O'Grady and Albert Johanneson were still injury victims, but their wide roles were adequately filled by Jimmy Greenhoff and Eddie Gray. With the regular rearguard of Sprake-Reaney-Charlton-Hunter-Cooper and Peter Lorimer completing the line up, Leeds had a team to be feared.
Greenhoff gave United a third minute lead, slamming the ball home on the run after a delightful through ball by Bremner. Three minutes later, Jones collected at halfway and dribbled through, holding off three tackles before drawing out keeper Macedo and sidefooting home.
After 28 minutes, Leeds were three up. Hunter nodded down Gray's centre and Greenhoff shot home from 12 yards. Jones headed a fourth two minutes after the break, and Greenhoff later grabbed his third.
Harold Mayes in the Yorkshire Post: 'As an opportunity for Leeds to polish their undoubted skills, at a speed of thought and action so much in advance of their unwilling pupils, that the risk of injury to upset hopes of bigger things was non-existent, it could not have come at a more opportune moment.'
Don Revie: 'In all the seven years I have been associated with them, Leeds United have never played as well as they did at Fulham. It was terrific.'
They came back down to earth four days later in the Fairs Cup against Hibs. Going into the game nursing a one goal advantage from the first leg, United found themselves level on aggregate after just four minutes. Eric Stanger in the Post: 'Though Leeds set off at a hustle it was Hibernian who got the early goal to square the tie. Cormack began a drive through the Leeds middle, Quinn put Stein through, and the centre-forward, lying on the right of the penalty area, lobbed the ball over the head of the advancing Sprake.'
United were vulnerable to swift Scottish attacks, and they were pegged back for most of the game. It seemed certain that the game would go to extra-time, but with five minutes left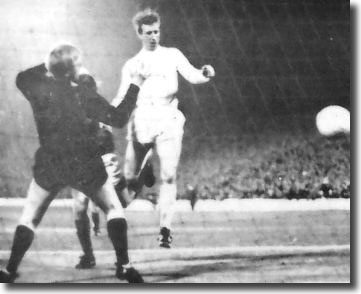 whistle happy Welsh referee Clive Thomas penalised Hibs keeper Wilson under the newly introduced four steps rule. With Jones, Lorimer and Greenhoff rushing in as decoys, Giles clipped the ball to the back post for Jack Charlton to outjump everybody and nod home a decider.
Don Revie described the game as 'Another fine example of the team's professionalism', though he knew how close they had come to being put out of the competition.
Eric Todd in The Guardian: 'Hibernian never will forgive themselves for not establishing themselves in an unassailable position during the first half when Bremner and Hunter were dispossessed with most unusual regularity. Hibernian were quicker to anticipate the lively behaviour of the ball on the frosty pitch but that was as far as their appreciation went. Leeds' improvement after half time denied Hibernian more than one or two chances of increasing their first half lead.'
Refreshed by the result, United stormed to another 5-0 win at the weekend, this time overpowering a poor Southampton side.
Eric Todd: 'Commitments in four theatres of activity will make heavy demands on their mental and physical faculties, yet Leeds can cope. Their teamwork on Saturday was first class in spite of the absence of Charlton, Bremner and Gray, and the fact that their relatively unknown players almost stole the show represented another stern warning to Lancashire's elite.
'The experience and influence of Giles again was a crucial factor, and the response of his younger colleagues, notably Bates and Hibbitt, was quite remarkable. Madeley, the tenant of nine different positions during his brief career, not only reduced Davies to utter anonymity, but scored two goals. And Cooper confirmed the general belief that he is one of the most improved backs in the country. Leeds, indeed, are on the threshold of greatness.
'Lorimer, having driven the ball over the crossbar from eight yards out, put Leeds in front after nine minutes although many onlookers thought that his raised hands and not his head had performed the deed … In the twelfth minute Madeley scored a second goal after a rebound. Early in the second half Martin, under the obvious impression that the ball had gone out of play, made no attempt to catch it when Bates centred brilliantly, but with no adverse reaction from the line, the referee allowed a goal by Madeley. A fine shot by Hibbitt from 20 yards made it 4-0 in the sixty-eighth minute. Ten minutes from the end Mick Jones headed a good fifth goal after a centre by Cooper.'
Second spot secured, the Whites now entered a period of Cup activity, with three games in three weeks against Second Division Derby County, managed by the outspoken Brian Clough. The Rams boss was just 32, one of the youngest managers ever, and would go on to be a fierce critic of Don Revie and his team, but in January 1967 he purred with admiration during an interview with the Yorkshire Post.
'It would be silly to write us off, just as it would be silly to underestimate Leeds, who are such a good professional side with a top class manager … They can teach my lads a lot - how hard they have to work, how much effort and dedication is required - in short, a complete picture of what we have to aim for in the future. Leeds must be the envy of nearly every club in the country with their spirit and running power and large pool of good players. People tend to underestimate their individual ability, but make no mistake about it - these lads can play.'
The teams were paired in the two-legged League Cup semi-final and the FA Cup third round, with the first match in the League Cup at the Baseball Ground on 17 January.
Derby gave Leeds a stern test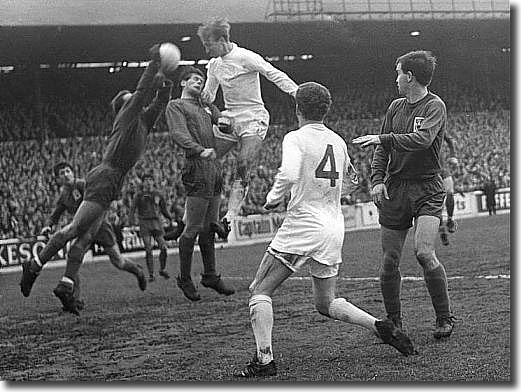 and United needed a classic away performance and a second half Giles penalty to secure the win. They never looked like conceding, they were simply too experienced in the black arts of defensive play for that, but suffered some nasty moments with Leeds-born Kevin Hector going close on several occasions.
Ten days later United repeated the feat with a 2-0 FA Cup victory at Elland Road. Charlton and Lorimer's second half goals secured a scrappy victory.
The long running saga came to an end on 7 February with the second leg of the League Cup semi-final.
The Rams took the game to Leeds in the opening exchanges and tied up the aggregate scores on 12 minutes when Hector, racing in at top speed, leaped to head O'Hare's long centre past Sprake. Derby were ahead for little more than a minute. Lorimer was fouled at the edge of the area and took the free kick himself. His lob was met by Madeley who nodded down for Belfitt to fire home off the post.
Eric Stanger: 'It was as well for Leeds that they were able to balance their books as quickly as they did for Derby, tenacious and full of fight, had plenty of running left in them, though Leeds, through the cleverness of Giles, Bremner, Hunter and Cooper, at last began to move more smoothly it meant that Derby had hurriedly to reinforce their back areas and leave the main raiding to O'Hare, Hector and Hughes.
'In the last minute of the first half Leeds struck the mortal blow. Giles, tireless in his efforts to keep Leeds going, set Gray off and Gray, using Cooper as a foil on his left, dribbled past three defenders. When he shot the luckless Matthews once more got a hand to the ball but could not stop it going into the net.'
In the 60th minute Giles missed a penalty, but seven minutes later Belfitt snatched his second goal following a free kick by Bremner.
Stewart netted a consolation for Derby a minute from time, but it was too little too late and United were through to the Wembley final.
The games were coming thick and fast now. When Leeds took a 2-1 lead at Elland Road against West Ham on 10 February, they went into their shells, earning the wrath of demanding home supporters, as reported by Eric Stanger in the Yorkshire Post:
'Strange things happen in football but surely nothing more strange than Leeds United having to suffer boos, whistles and the slow handclap from a large section of the crowd. The rumpus began about 10 minutes from the end when Leeds decided to shut up the game and hang on to their goal lead rather than risk West Ham snatching an equaliser. For a full three minutes Leeds kept the ball in an area of a few square yards near West Ham's right corner flag.
'But were Leeds wrong to employ such tactics in the circumstances? This was their 44th game of the season, their second of the week on heavy going and they had Bremner operating at half speed because of a knee injury. It is the modern way to shut up the game near the end when you are narrowly in front and deny opponents possession. It is not pretty to watch but is it any worse than the safety first tactics of former years booting the ball out of the ground at every opportunity? Until they decided to shut up shop for the afternoon Leeds United's football was never negative and often attractive.'
Don Revie: 'We had provided far more than our fair share of entertaining football in the previous seventy-five minutes - in fact that was one of our best performances of the season! It was our third match in seven days, all of them being played on heavy pitches, so naturally the lads were feeling the effects a bit. When you're involved in so many important matches, no team can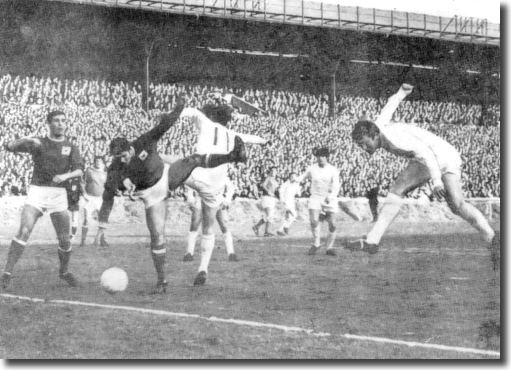 afford to do a lot of unnecessary tearing about. Any team would do the same as Leeds in this situation - if they had the skill.'
When Leeds repeated the feat a week later, as they protected another 2-1 lead, at home to Forest in the FA Cup fourth round, the fans' reaction was more positive. Stanger: 'Circumstances alter cases. When, with only a few minutes to go at Elland Road on Saturday in the FA Cup-tie, Leeds United again kept the ball tight near their opponents' corner flags there was no booing or slow handclapping this time, only cheers of relief from spectators who had been kept on a knife-edge of anxiety all the second half. They were glad to see Leeds hang on. Entertainment was secondary.'
It had been a bitter contest. Forest used every method allowed, and some that weren't, to destroy the Bremner-Giles link and threw Leeds badly off their game.
Eric Todd reported in The Guardian: 'Not often does Elland Road house a crowd of 50,000 plus and the local constabulary and St John Ambulance men dealt admirably with the phenomenon this day … One of these days perhaps a uniformed inspector of police will referee a key game, and then the punishment will fit the crime. Allowances should of course by made for inevitable tension, yet Mr Taylor was extravagantly tolerant. Granted that he might not have seen Lorimer deliver a right cross to Winfield's stomach, he scarcely could have failed to observe a set to between Hunter and Baker right under his nose. But he took no names and, like so many referees these days, he subscribed to the optimistic view that players are terrified by a wagging finger, or that a soft answer will turn away wrath.
'Another sad feature was that Forest conceded three times as many free kicks as did Leeds. Forest are under the management of Mr J J Carey, a gentleman among gentlemen as a player, and now a picture of pipe smoking benevolence. Can it really be possible that Mr Carey, like one or two others of his kind, is only a figurehead and that anarchic influences are being exercised by underlings? I find it hard to believe that they were Carey's chickens who perpetrated 26 fouls against United's eight.
'Not that all the Leeds players may be numbered among the cherubims and seraphims, so to say, but things might have been different if Sprake had not been removed on a stretcher after five minutes. He damaged his right knee in making a brave save from Wignall, who was completely blameless but who thereafter was baited unmercifully by the partisans and who departed limping early in the second half. So much for reprisals.
'If Forest had concentrated on football and less on personal vendettas, they might have won. Hennessey played
a superb game, and Newton and Winfield were not far behind in all round quality. On the move Forest had speed and method, but they were betrayed by bad finishing and bad temper.
'Leeds never could be accused of timidity. On Saturday, however, they looked uncomfortable and often uncertain. Their forwards were disappointing and the great Giles was no exception. Bremner made more mistakes than is his wont and only Reaney, whom I have not seen in better form, and the irrepressible Cooper kept Leeds out of serious trouble, especially in the second half when they were under siege for half an hour at a stretch. Nevertheless to win with a crippled goalkeeper after being a goal down is a splendid feat, and Leeds surely must appear in the honours list this term.'
Leeds, wearied by all their efforts, could enjoy a couple of weeks off before their next assignment, the League Cup final at Wembley against Arsenal on 2 March. There were doubts about the fitness of Charlton, Sprake, Giles and Greenhoff, but all were in Don Revie's selection, though he was deprived of the cup-tied Mick Jones, and opted for the versatile Paul Madeley at No 9.
United had promised an attacking display to wipe out the memory of their previous Wembley appearance, but Giles was below par and struggled to contribute. An 18th minute volley by Terry Cooper gave Leeds an early lead, and the temptation was just too strong. They settled into a containing game and had little difficulty in withstanding Arsenal's limited attacking thrusts.
United faced fierce criticism, but few could blame them after years of near misses, and the silverware was far more important than being liked. The result was a metaphorical two fingers to the critics, and secretly United rather liked being hated - it meant they were doing their job properly, even though Revie would never admit as much in public. His paranoia often spilled over in a silent claim that 'everyone's out to get us.'
Don Revie was particularly relieved, revealing later, 'Before the final, I was seriously thinking of goading the lads by opening an empty trophy case and telling them: 'This is what you have to show for all your sweat and toil in recent seasons!' I hate to think what might have happened had Leeds lost this one, too. You can only take so many disappointments....
'I wanted Leeds to play attractively as much as anyone, but under the circumstances, we would have been foolish to attempt to do this. We were playing with virtually nine fit men. I would never have included Greenhoff and Giles had this been an ordinary league or cp game, not in their physical condition. But these two had been playing superbly, and I reasoned that they would boost the rest of the team just by their presence on the field.'
Top of First Division - 20 March 1968

Pos

P

W

D

L

F

A

Pts

1st

Leeds United

32

17

9

6

54

26

43

2nd

Manchester City

31

19

5

7

69

34

43

3rd

Manchester United

31

18

7

6

60

38

43

4th

Liverpool

31

16

9

6

49

27

41
When United returned to FA Cup action, the fifth round clash against Bristol City brought more controversy. Goals from Jones and Lorimer in the eleven minutes before half-time put United in a commanding position, but the game finished with ugly scenes as Gary Sprake was sent off. The incident was sparked when Chris Garland brought Billy Bremner down. As referee Dimond rushed over to book him, all hell let loose with Sprake punching Garland after he spat in his face. Lorimer took over in goal for the last few minutes and was not tested as United secured a straightforward victory. Don Revie breathed a massive sigh of relief and departed Ashton Gate to plot United's next steps.
Three straight draws followed in the league, yet those points were enough to take Leeds top, level on points with Manchester City and Manchester United, but ahead on goal average.
Leeds now faced second placed City in a crucial match, played before a crowd of 51,818, Elland Road's best of the season.
The Mancunians had been playing some breathtaking attacking football, sparked by the talents of Francis Lee, Mike Summerbee and Colin Bell. They were quickly on the move and clever combination left Lee a shot which Sprake saved before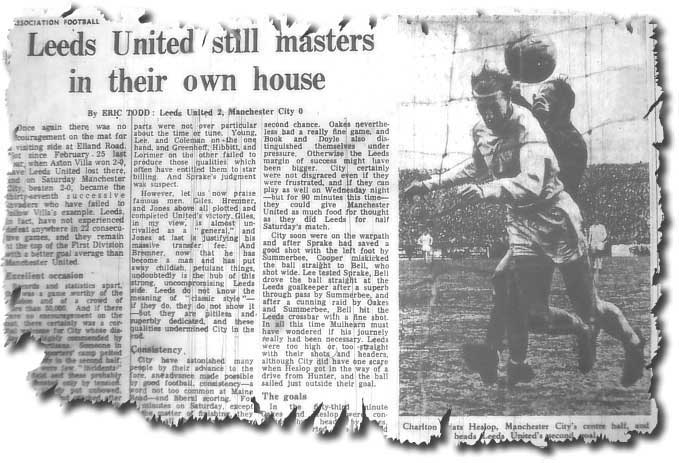 making a point blank stop as Bell followed up. Bell later hit the bar and had a goal disallowed.
After the break, with substitute Madeley partnering Jones up front, Leeds were much better and Giles opened the scoring with a low 20 yard drive after 52 minutes.
15 minutes later Charlton headed home a Giles cross to give Leeds a 2-0 victory, extending their unbeaten run to 22 matches. Eric Todd praised their performance in The Guardian: 'Giles, in my view, is almost unrivalled as a general and Jones at last is justifying his massive transfer fee. And Bremner is the hub of this strong, uncompromising Leeds side. Leeds do not know the meaning of "classic style" - if they do, they do not show it - but they are pitiless and superbly dedicated, and these qualities undermined City in the end.'
The business end of the season was upon them as United returned to Fairs Cup action, with the first leg of their quarter final tie, at Ibrox against Glasgow Rangers.
Rangers, backed by 80,000 fanatical supporters, tried everything they knew to secure an advantage, but could not find any way through, as John Begg reported in the Yorkshire Post: 'The rear line were simply magnificent, especially in the second half when Rangers, with the wind behind them, tried everything in a desperate attempt to get in front. But all to no purpose. Charlton and his full-backs had every road towards Sprake sealed off. Anything that this trap missed - and that was seldom - was very capably dealt with by Sprake. His handling was immaculate and eventually he broke the heart of the Rangers attack.'
Don Revie was delighted, saying, 'This is the result we came for. Rangers played much as we expected them to, but it isn't over yet. Don't forget we have to take some risks at Elland Road in order to win the tie, and Rangers are an extremely accomplished and experienced side. However, I got one of the forms of result I wanted, a good result, and I think the boys were splendid.'
Two weeks later, United finished off the task. They took a while settling, but went ahead through a Giles penalty after 25 minutes when Alex Ferguson handled. Five minutes later, a Giles lob into the area was missed by Greenhoff, but Lorimer made no mistake.
United rarely surrendered a 2-0 lead.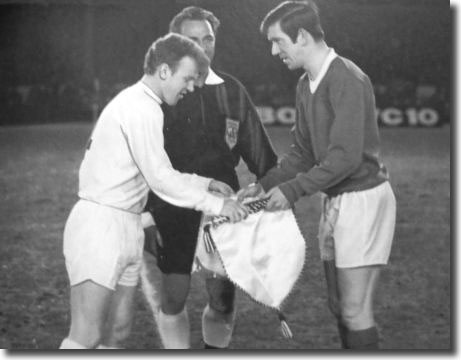 The Scots had a number of decent chances, but the biggest danger to substitute goalkeeper Harvey was from the missiles thrown by Rangers fans. Gers skipper John Greig was called up by referee Tschenscher to appeal for calm.
In between legs, United had gained two straightforward Elland Road victories over Sheffield United, 1-0 in the FA Cup, and 3-0 in the league, thanks mainly to two penalties from Giles.
Leeds were thus in an extraordinary position - with the League Cup already in the bank, they were in the last four of both the FA Cup and the Fairs Cup and leading the league. Rarely has a team held such a strong hand in the closing weeks of the season.
The Easter period kicked off in unpromising fashion at Tottenham. Leeds conceded their first goals in seven games and saw the end of a 26-game unbeaten run. The same day, Manchester United regained the First Division leadership by beating Fulham 4-0 at Craven Cottage. Manchester City closed up in third by beating Chelsea, though fourth-placed Liverpool surprisingly lost 2-1 at Anfield against Sheffield United.
United were still in a strong position and two 1-0 wins, away to Coventry and home to Spurs, left them well placed. A 3-1 win at home to West Bromwich Albion kept up the spirits, though Manchester United retained supremacy with a 1-0 victory over Sheffield United. With Manchester City dropping a point at Wolves, it looked like the title would go to one of the two Uniteds.
Leeds had the chance to regain top spot on Tuesday, 23 April, as they played their match in hand, away to a Stoke City side that was second bottom of the table. It looked like an easy two points, but things have never been straightforward for Leeds.
The Whites encountered a team fighting for its life and were on the back foot from the first whistle. They could have been two goals down in the first ten minutes. Sprake denied winger Harry Burrows with a one-handed save and centre-half Alan Bloor hit the bar from long range. United were lethargic and casual and were soon trailing to a Peter Dobing goal. Dobing added a second before the break.
Top of First Division - 20 April 1968

Pos

P

W

D

L

F

A

Pts

1st

Manchester United

39

23

8

8

79

47

54

2nd

Leeds United

38

22

9

7

65

29

53

3rd

Manchester City

38

22

6

10

76

39

50

4th

Liverpool

37

19

10

8

57

34

48

5th

Everton

37

21

5

11

58

35

47
United got a rocket from Don Revie and came out fighting. They were soon level, with Greenhoff getting the first and Charlton heading in from a corner.
Slackness and lack of concentration allowed Dobing to complete his hat trick, but United continued to pound away. They threw everything at Banks' goal, with Hunter hitting the post, Jones forcing the keeper into a tremendous one handed save, a confident penalty appeal turned down and Greenhoff blasting the ball wide with the goal at his mercy. The home fans were living on their nerves, but their men held out to boost their chances of survival and send United's hopes plummeting.
It was a bitter blow, and there was little chance for Revie's men to catch their breath. Four days later, they faced Everton in a highly charged FA Cup semi final at Old Trafford.
Misfortune had befallen Gary Sprake just before Christmas at Anfield, when he threw the ball into his own net, and he had another Merseyside cross to bear following the semi final. Just before half-time Everton striker Joe Royle harried him as he made to clear and his weak kick fell to Husband who sent the ball back towards the net. Jack Charlton handled and Morrissey converted the penalty.
It was the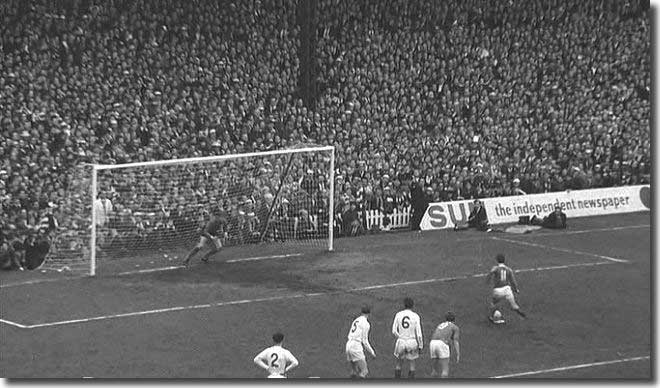 only goal of a bad-tempered contest and left Leeds with only the Fairs Cup to play for. A winter's stirring work had been undone in the space of five April days.
The following Wednesday brought the first leg of the Fairs Cup semi-final, away to Dundee as United went for a hat trick of victories against Scottish opposition.
Dundee never managed to press United in the manner that Hibs and Rangers had but Leeds had to be content with a 1-1 draw from the first leg. They had looked to be happy to settle for the draw for most of the game. They could be excused for taking their foot off the accelerator - this was the 62nd game of a marathon season.
On Saturday 4 May, United faced another major battle, at home to fourth-placed Liverpool. They were a point behind the two Manchester clubs, but retained a game in hand. A win was essential for their brittle title hopes.
They started well enough and took the lead after a quarter of an hour with a brilliant goal. Giles, back to something approaching his best, intercepted a Liverpool pass deep in his own half and shipped on quickly to Lorimer who was just onside, a few feet inside Liverpool's half. The Scot outpaced his challengers and fired the ball onwards for Jones to score spectacularly.
Leeds had other chances but did not have the best of luck, as Richard Ulyatt reported in the Yorkshire Post: 'Had it been otherwise, Leeds would surely have had a penalty when Yeats was thought by many players and most spectators but not by the referee to have handled in the penalty area as he repelled an attack by the lively Jones; a header by Jones would have dipped under the crossbar instead of, with Lawrence the goalkeeper on the ground, hitting the bar; Greenhoff would have shot hard and true with a goal apparently there for the taking instead of stubbing his toe; and Lorimer instead of knocking Hateley out with a shot which must have felt like the explosion of a 25-pounder to the unfortunate recipient might have broken the back of the net.'
Eric Todd takes up the story in The Guardian: 'Leeds were leading 1-0 with six minutes to go, and defeat seemed certain for the invaders. Inexplicably, Leeds fell back on the defensive and Liverpool, who seldom had looked like scoring, swept into the attack. Cooper and Hateley had not reached the dressing rooms when Callaghan took a corner on the left. Harvey punched the ball high into the air, Thompson headed it back, Yeats hit a post with a header, and Lawler scored at the second attempt.
'Less than a minute after that, Strong forced another corner which Callaghan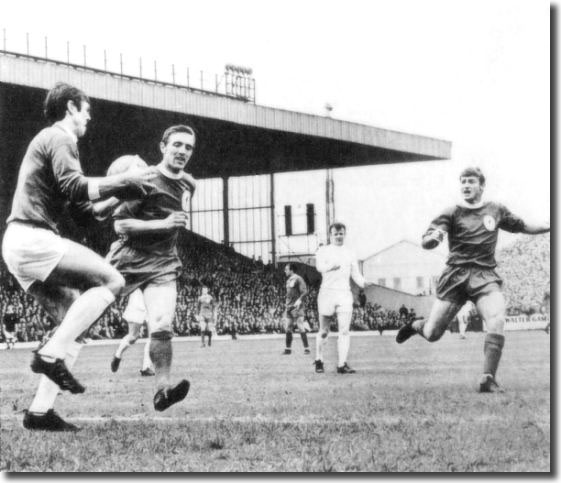 took, this time on the right. Yeats again headed the ball against the goal structure. Lawler had a go, so, too, did Graham and it was confirmed later that Liverpool's substitute had applied the crucial finishing touch. Leeds battled on to the end, and after Lorimer had missed by inches, Yeats had his name taken for upending Bremner on the high road to Liverpool's goal.
'Ironical it was above all that their defence, their pride and joy these many months, should be found wanting in the final analysis. In width and depth it was far too much for Liverpool for all but the last ten minutes and Harvey and Madeley were admirable deputies for Sprake and Charlton. Once again the Leeds forwards performed adequately and no more, although Jones was a great trier and he deserved his goal after a brilliant movement by Giles and Lorimer in the fifteenth minute.'
With Manchester City pulling off a 3-1 victory at Tottenham and Manchester United hammering Newcastle 6-0, the home defeat left Leeds' title hopes in tatters. Leeds now needed both of their rivals to lose their remaining game.
The Whites had a match in hand, which came during the following week at Arsenal. Leeds would play without Hunter and Cooper, both on England duty, and the injured Sprake and Charlton. That left the United defence in ribbons - even Paul Reaney was played out of position, on the left, with Nigel Davey at right-back. There was no way in such circumstances that the usual assurance would be there.
Arsenal scored four times, but Leeds equalised on three occasions and pummelled the Gunners for the last 15 minutes - the Londoners emerged victorious with a fourth strike seconds from time.
That ended even mathematical impossibilities. For the final league game, a meaningless trip to Burnley, Don Revie fielded a second string outfit (including Belfitt, Bates, Hibbitt, Davey, Sibbald, Yorath and Lumsden, with Madeley and Gray playing in central defence). United lost 3-0 to end the season in fourth spot. It was their fifth defeat in six games.
For the visit of Dundee in the second leg of the Fairs Cup semi-final, Don Revie recalled all of his regulars, save Jack Charlton, still out with the ankle he jarred in the first leg in Scotland. United went into the second leg with the advantage of an away goal, and it was just as well, for they struggled. They only got their attacking act together in the final 30 minutes, during which they struck the woodwork twice.
It seemed likely that the game would end goalless, but after Sprake made a decent save from Scott, Gray drove in an 80th minute winner. It was enough to earn United a place in the final for the second year in succession.
As with the previous final, fixture congestion meant that the two-legged tie was held over to the autumn, bringing relief to United's weary warriors. They had played 66 times in a momentous season and were fit to drop. Eric Todd in The Guardian: 'Almost inevitably, Leeds did not finish in the grand manner. In recent weeks they have played almost by instinct, almost automatically and it is as true now, as ever it was, that no matter how great the heart and spirit, how strong the determination and dedication, all these qualities can be cancelled out by waning physical strength. Sixty-six matches! Heaven preserve us! It makes you tired even to think about such a programme. That Leeds finished on their feet at all is something of which they can be proud.'
Their opponents in the final were Ferencvaros, acknowledged as one of the continent's finest teams. With the first leg at home on 8 August, there was no early league action to get their eye in and Leeds were pitched straight into one of the biggest games in the club's history.
The Hungarians opted for a containing game at Elland Road, convinced they could finish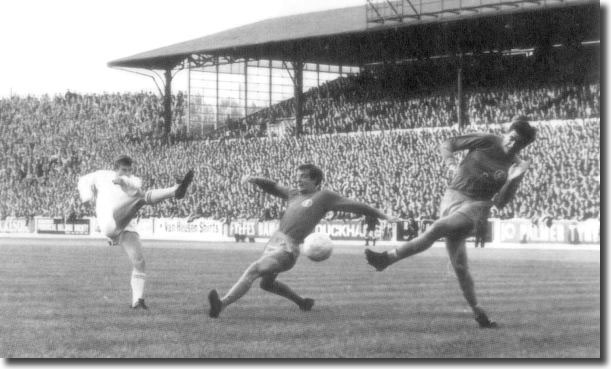 United off in Budapest. They adopted some questionable tactics and gave United problems. Charlton's pressure at a first half corner created mayhem in the area and Jones forced home the ball to secure a narrow advantage.
Popular opinion was that the Hungarians would have enough firepower to overpower Leeds in the Nep Stadium.
But Don Revie's men were battle-hardened and one of the most adept teams in the world at protecting a lead. With Gary Sprake giving the performance of his life, Leeds turned on a classic defensive display. They withstood a blistering offensive performance from Florian Albert and Co and emerged unscathed. Sir Stanley Rous presented the Inter Cities Fairs Cup to Billy Bremner as Leeds became the first British winners of the trophy.
The Whites may not have won the four trophies they had pursued through an extraordinary season, but they had secured two trophies in the space of six months. They had laid to rest once and for all the tag of being champion runners up. Leeds United were finally winners and on the verge of greater things.
Part 1 - The Revie effect - Results and table
Other Football Highlights from 1967/68
Celtic's clash with Racing Club of Argentina for the world club championship was the unacceptable face of football at its very worst. Celtic beat the South Americans in a niggling first leg at Hampden, but that only set up a terrifying atmosphere for the second leg. Celtic keeper Ronnie Simpson was felled by a stone and knocked unconscious as the teams walked on to the pitch. Celtic took the lead through a first half penalty, but had the water cut off to their dressing room at half time, leading them to refusing to come back out until it was restored. Racing scored twice in the second half to necessitate a replay which was held in Uruguay. Four players from Celtic and two from Racing were dismissed in a violent brawl of a match, which the Argentinians won 1-0
Struggling Second Division side Cardiff City progressed all the way to the Cup Winners' Cup semi-finals after winning the Welsh Cup the previous year. They lost 4-3 on aggregate to Hamburg
West Bromwich Albion won a turgid FA Cup final at Wembley against Everton with a single goal from Jeff Astle
Spurs goalkeeper Pat Jennings scored a goal against Manchester United in the Charity Shield when a long, punted clearance was caught by the wind and bounced over United keeper Alex Stepney
Matt Busby, the Manchester United manager, was knighted
Goalkeepers were limited to taking four steps with the ball by the International Board
Manchester City won the league title for the second time in dramatic style as they pipped their illustrious neighbours United on the very last day of the season
England had mixed fortunes in their European Championship campaign. They finished a consoling third, but Alan Mullery's dismissal in the semi-final against Yugoslavia seriously dented England's international image. In the final Yugoslavia took hosts Italy to a replay before succumbing 2-0
Ten years after the Munich air disaster, Manchester United finally won the one trophy that mattered more to the club than any other, the European Cup. They beat old masters Real Madrid in an astonishing semi-final before meeting Portugal's Benfica in the final at Wembley. United took the lead with a rare headed goal from Bobby Charlton but were pegged back by a Benfica equaliser 15 minutes from time. Extra-time found Benfica exhausted and a dazzling individual goal from George Best gave them the lead. A goal from Brian Kidd on his 19th birthday and a second strike from Charlton brought United the trophy for the first time
The British transfer record was broken twice, first when Martin Chivers moved from Southampton to Tottenham for £125,000 and then again when Allan Clarke joined Leicester from Fulham for £150,000