Part 2 - The cups that cheer - Results and table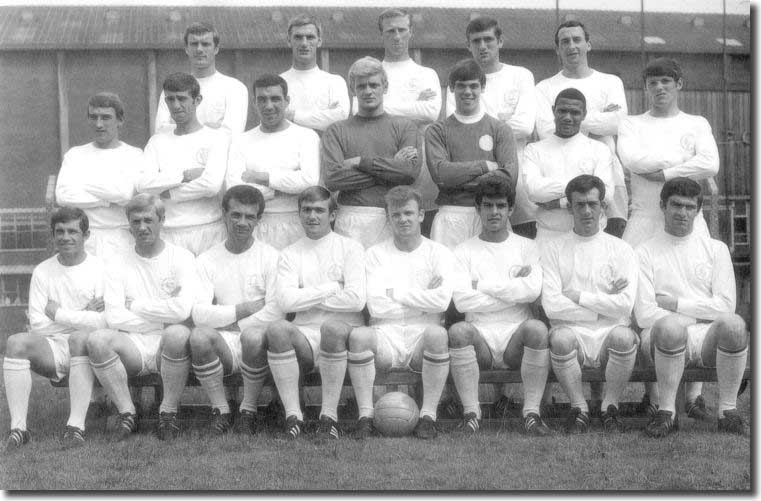 By the spring of 1967, Don Revie had been in the management hot seat at Elland Road for six years. During that time he had single-handedly wrenched Leeds United up by their mediocre bootstraps to sit at the peak of English football.
His reputation was soaring, and not just for transforming United's playing fortunes. During a two-day conference of 60 business executives at Harrogate in December 1967, Revie would be cited as an example by Sidney Rose, manager of the Leeds office of the business consultancy Peat Marwick Mitchell, who explained how Revie's tactics could be applied to industry.
'Five years ago the club was in the doldrums,' he told the audience. 'On the scene came a new manager who believed in a different approach - professional management of the highest standard. Mr Revie began by analysing the strength and weakness of the club and evaluating its resources. He knew it was necessary to have both short- and long-term objectives. The first was to escape relegation, and to achieve this he recruited a few experienced players. The long-term objective was to get into European football and make money by top grade performances in the English League. He had to plan the utilisation of his playing resources, and plan for their deployment and replacement at the appropriate time. Methods of operation and team performances had to be continually improved - and he knew he needed a management information system or services to help him. He realised his information service could not be tacked on to the day to day activities of the club, and that the people involved had also been involved in the separate aspects of running the club. Consequently, he needed people who could turn in good performances whether they were employed in an operating capacity or in using analytical skills and judgements in order to interpret and advise.
'This meant he had to have quality and ensure that it was available in sufficient quantity to meet emergency. He first of all employed someone to analyse competitive strength in great detail to keep abreast of new product development in terms of tactics throughout Europe, and to provide regular information on these matters. He established a manpower policy, and set in motion information systems which involved the screening, recruitment and development of young players. He not only evaluated performances on match days, but instituted a system of performance testing of young players in pilot plant conditions, using the most up to date medical equipment as measuring instruments.'
The Elland Road financials had improved markedly under Revie's stewardship. The club declared a profit in the year to July 1967 of £64,174, topping the £60,000 level for the second successive year. Five years previously there had been a six figure overdraft. Directors' loans of £40,000 had now been paid off and the bank overdraft stood at a mere £453. The picture was rosy.
In terms of onfield activity, Bobby Collins and Jack Charlton had both been voted Footballer of the Year and won full international caps, along with Gary Sprake, Billy Bremner, Willie Bell, Alan Peacock, Norman Hunter and Johnny Giles. Yet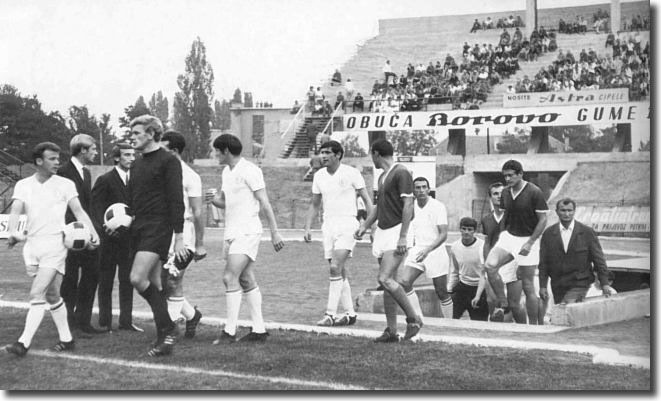 despite all the progress made, the trophy cabinet echoed hollowly, with just the Second Division championship trophy and a couple of West Riding Senior Cups to show for their status. There was a distinct fear that United would never realise their potential.
The apprehension was fuelled by the early season experience of missing out on the Inter Cities Fairs Cup when they could manage not a single goal in either leg against Dinamo Zagreb. Questions were raised over Revie's reluctance to go for it in the second leg at Elland Road; the manager had Paul Reaney at No 7.
United suffered one of their worst starts to a season for years. After three ;eague games, Leeds had one point and a single goal to their credit, and were rock bottom. It seemed that the upstarts had had their time in the sun.
Eric Stanger wrote in the Yorkshire Post after an opening day draw, 'Sunderland, tighter in defence, brighter in attack, were full value for their unexpected point at Elland Road where Leeds United began the new Football League season much as they ended the last. As ever their main virtue was enormous appetite for work, their weakness the long-standing one of inability to turn a reasonable proportion of the chances created into goals. Until they can find at least one consistent marksman, Leeds may continue to mourn the fact that a major honour has not come their way.' Phil Brown of the Evening Post wrote after the game: 'Only O'Grady, although rather skimpily fed, looked a good First Division forward.'
Revie had spent much of 1967 chasing a new centre-forward, resigned to the fact that the knees of Alan Peacock could not withstand the demands of First Division football. He had been reluctant to meet the prices demanded and had persevered with the potential of Jimmy Greenhoff and Rod Belfitt, but it was clear that Leeds needed a proven goalscorer if they were to seriously compete for honours.
After defeat at Wolves on 28 August, Stanger complained, 'So bankrupt is their attack that they must be wondering where the next goal is coming from.' Don Revie played down any talk of crisis, saying, 'They have surprised me before and they are quite capable of doing so again. While it is nice to get off to a good start, don't forget the Football League is decided over 42 games. Last year we got only 19 points from the first 17 games, but we were still there at the finish.'
In between the two legs of the Fairs Cup final, United got their season off the ground when two goals by Belfitt secured the points against Fulham, though they had to cope with the dismissal of Billy Bremner for arguing with the referee. Peter Lorimer's goal at Southampton was good enough for a point and then the Scot smashed a hat trick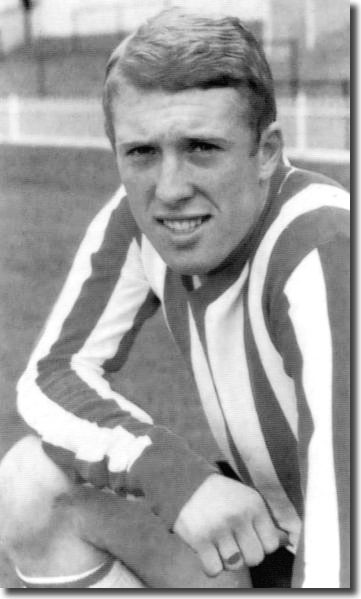 to see the side through in the League Cup against Luton Town.
A sound defensive display at Everton on 16 September ensured that Eddie Gray's well taken goal after eight minutes secured both points, and then Lorimer made the difference again with two goals in each of the wins against Burnley and Leicester. Three straight victories saw United eighth by the end of the month, reassuring supporters that the early problems had been a blip rather than a full scale crisis.
On 22 September, Don Revie smashed the club's transfer record by paying Sheffield United £100,000 for 22-year-old Mick Jones, the holder of two full England caps. Jones had scored 63 goals in 149 games for the Blades and the move outraged Bramall Lane boss John Harris, who complained, 'it would be the biggest mistake the club had ever made.' He came close to resigning over the affair.
Revie had been trailing Jones for a year, but had continually been given short shrift. However, Sheffield had reinforced their midfield by buying Willie Carlin from Carlisle United for £40,000 and the money from the Jones deal was needed to balance the books. Revie was delighted to have got his man, though new chairman Albert Morris claimed it was 'a heck of a lot of money to pay for a player'.
Jones admitted, 'I cannot say that I am glad to leave Sheffield, but it was too good an offer to refuse. I don't want to leave my colleagues or the loyal supporters at Sheffield. I hope the Leeds crowd will be as good to me.' It was a muted commitment to the Elland Road cause, but Jones' hard working displays quickly won him a fan base in the West Riding.
Jones' debut came during the 3-2 win against Leicester the day after his move, and he received this tribute from Richard Ulyatt in the Yorkshire Post: 'Mick Jones did not find his new distinction of being Yorkshire's costliest footballer too burdensome … Jones did not score and until the 50th minute did not get a chance of scoring, when his header, from an almost impossible position, was just wide of goal, but he looked to be far and away Leeds United's best centre-forward since John Charles first left Leeds in 1957. Leeds will play better than this and there will be more tangible evidence of Jones' value, but there was no doubting the excitement he caused as he turned and twisted in the air or tussled, usually successfully, on the ground with Sjoberg for possession.'
In an attempt to keep their own finances close to balance, as September ran into October United agreed two departures, with Willie Bell moving to Leicester for £40,000 and Alan Peacock to Plymouth Argyle for £10,000.
Bell had been a stalwart of the side since 1962, but grew restless when an early season injury saw him lose his place to Terry Cooper. The former winger turned in some outstanding performances, using the role as a platform for strong attacking surges. Bell feared a lengthy stay in the reserves and was granted a transfer.
Peacock had made only 6 starts in the previous 18 months after a succession of serious injuries. He came close to selection for the 1966 World Cup squad, but his fragile knees let him down just at the wrong time.
The two internationals had given sterling service to the club and Don Revie was sad to see them depart, but it was a clear sign of his commitment to youth. Earlier in the year, Bobby Collins and Jim Storrie had also left the club.
The development programme that Revie had nurtured was proving a conveyor belt of Britain's finest young talent. Eddie Gray, Terry Hibbitt, David Harvey (all 19), Mick Bates, Peter Lorimer (20), Jimmy Greenhoff, Rod Belfitt (21), Gary Sprake, Paul Reaney (22), Terry Cooper, Paul Madeley, Norman Hunter (23), Billy Bremner and Mike O'Grady (24) were striplings next to the 'old hands' of the squad, Albert Johanneson, Johnny Giles (27) and Jack Charlton (32). Rarely has there been such an outstanding set of youngsters at one club - only O'Grady and Giles had cost a bean.
One could sense the pride in Revie whenever he paused to think about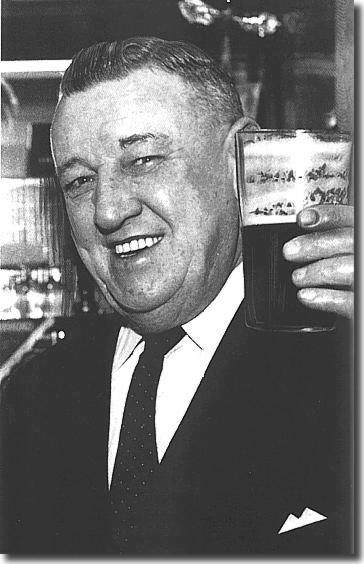 his young gems. It had taken six years of hard work and late nights, but he was now reaping a wonderful harvest.
Most of those years had been spent working closely with chairman Harry Reynolds. 67-year-old Reynolds had announced at the start of the season that he was to retire due to ill health. He had suffered with arthritis for some time and relied on crutches to get around. His replacement was Albert Morris, a director since 1961. Revie's relationship with other chairmen would never be as strong as that with Reynolds, who had been his mentor. The influence of the board diminished substantially following the demise of Reynolds. Revie was now omnipotent and it played to his ego. He now took the club on to a new and very impressive level. Leeds' passage through the autumn of 1967 was like a veritable juggernaut, as they pursued every trophy on offer.
The signing of Jones represented the final piece in the jigsaw. The defensive old firm of Sprake, Reaney, Charlton and Hunter was boosted by the flair of Cooper on the left and the use of two overlapping full-backs offered new options. The formation was generally 4-3-3, though it could fluctuate between 4-2-4, 4-4-2 and even 4-5-1, thanks to the flexibility of Lorimer, Greenhoff and Gray. Bremner and Madeley provided the key midfield platform for launching attacks. Despite being deprived of the wide men, Johanneson and O'Grady, and playmaker Johnny Giles, United's fluid approach was more than a match for most of the teams they faced.
After the Leicester victory on 23 September, Leeds had to be content with a goalless draw at West Ham, but then went to town as the new Fairs Cup campaign began. Spora were limited opponents and United turned in a stunning performance in the first leg in Luxembourg. They were four up at the break, with Lorimer getting three and the other a long-range effort from Bremner. Lorimer added his fourth in the 54th minute, pouncing on a header from Jones. Greenhoff snatched two more after 69 and 76 minutes before Madeley ran through the opposition to make it 8-0 with ten minutes to go. A minute later, Jones got the reward for some fine work, heading home his first United goal. The 9-0 result was a club record and set United up nicely for a home match with Chelsea.
The Stamford Bridge club was in disarray after the resignation of manager Tommy Docherty on the eve of the game - United gave them a football lesson. Billy Bremner was in his final game before starting a 28-day suspension and inspired a remarkable 7-0 win. He finished things off with a spectacular overhead kick after being involved in five of the other goals. The rout left United nicely poised in the table, sitting fifth, three points behind surprise pace setters Sheffield Wednesday with a game in hand.
An easy 3-0 victory in the League Cup against Bury, Bobby Collins and all, made it 19 goals without reply in the space of 8 days.
The absence of Bremner was badly felt at West Bromwich three days later as United's unbeaten run of 11 matches came to an end. Two Jeff Astle goals were scant reward for Albion's superiority. The goals were the first conceded by Leeds in six games.
The return tie against Spora put the setback into perspective as United ran in another seven goals without reply. Albert Johanneson, restored to full fitness after a lengthy absence, got a hat trick. The South African scored to wrap up a 2-0 victory over Newcastle a few days later after a Lorimer goal had earned a lead in a scrappy game.
The only cloud on the horizon was a marked inability to win away from Elland Road. In eight trips, the only victories had come at Everton and Spora. There was no relief when United visited Manchester City on 28 October. Eric Stanger in the Yorkshire Post: 'Unhappily for Leeds they have so far scored only twice in seven away matches and until they learn to play to and make better use of Jones, their defence will continue to have to shoulder an almost intolerable burden. Without Bremner and Giles stamping their authority on the midfield, the Leeds side is without a hub on which to revolve.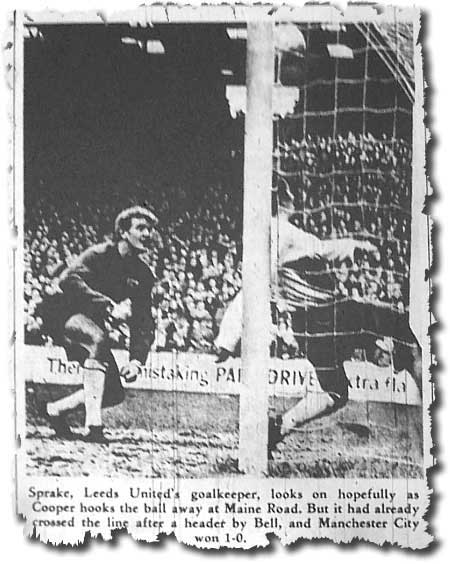 Jones is having to do his own chasing, his own running and is mostly being left to try to carve out his own chances. You don't buy an expensive racehorse and put it between the cart shafts. That, it strikes me, is what Leeds are doing with Jones.
'Leeds went into this game as they do in so many away from home with the idea of getting a point. Everything they did suggested that defence was their first and last consideration and their rare attacks more designed to relieve pressure than to score goals. Attack, they used to say, is the best form of defence. It isn't any more - not in football. Any side which puts all its eggs in that particular basket would soon be in deep trouble. But it is also true that unless you score you cannot win. A 0-0 draw is the best you can achieve.'
Gary Sprake turned in a sterling performance at Maine Road, denying City with breathtaking saves that revived memories of Swift and Trautmann, as United held out until five minutes from the end. But then Summerbee's fine chip to the far post was headed in by Bell. Cooper cleared the ball, but it had already crossed the line.
City's victory saw them overtake Leeds in the table, but United were back to form the following week when they hammered Arsenal 3-1 at Elland Road. Jones headed home his first League goal from a Gray corner after 25 minutes before limping off at half time. Lorimer added a second from the penalty spot in the 56th minute. A deflected effort by McLintock deceived Sprake to leave the points in danger until Gray made the game safe nine minutes from time by slamming home a Greenhoff centre.
The Gunners had threatened a late equaliser, but in the end victory was comfortable, as Phil Brown reported: 'United finished the match playing better football than they have for some weeks … I fancy it is not realised as deeply as it might be that not just the team but its individuals have been suffering from the absence of Bremner, Giles and O'Grady … Jones was playing well when he touched up an ankle which, while not thought serious, has been bothering him since his transfer … The service to him had appreciably improved and at last one felt United had a real threat in their finishing.'
Four days later, Leeds added the scalp of second-placed Manchester United in exciting fashion.
Phil Brown: 'Billy Bremner, emerging like a rocket from the vacuum of suspension, can be proud of his team as well as of his own shining display. He played as if he had been out of football for 10 minutes - control, anticipation, play reading and sharpness were all there. He forced United's forwards into onward aggression, seeing and widening and making openings like nobody else in the side can.'
The only goal of the game came after 23 minutes when Jimmy Greenhoff shot home from an oblique angle with Alex Stepney expecting a cross. Leeds were well worth the win, which took them fourth, two points behind leaders Liverpool.
After three high profile encounters with table topping opponents, the Whites stumbled to a 1-0 defeat at struggling Sheffield United. For fully 81 minutes, the Blades held Leeds at bay with winger Alan Woodward depping for England keeper Alan Hodgkinson, withdrawn with a dislocated finger. Hill's headed goal after 61 minutes left Don Revie's men with a sinking feeling.
Two Greenhoff goals in midweek secured a fourth round win in the League Cup at Sunderland, but United struggled again when they entertained bottom club Coventry City at Elland Road on 18 November. They were still missing a number of internationals and their forward line included Bates, Hibbitt and Belfitt. Phil Brown: 'Once again United's finishing let them down with a bump. Their approach play, even with its over fondness for the high ball, was quite good enough to have won the match comfortably, even against a side dedicated in the main to a point. But the old faults of being in the wrong places for the right balls of flurry at the moment of shot or header kept bobbing up. The forward line was once again young. There was not a mature player in it, and Setters' experience as well as his considerable football ability told time and again in his penalty area, even when Bremner went up into attack.'
Peter Lorimer gave Leeds a 25th minute advantage, but City keeper Bill Glazier kept them out thereafter, and Coventry snatched a second half equaliser to leave the home team cursing their luck.
An even younger forward line, featuring 20-year-old Dennis Hawkins, a Welsh Under-23 international, in only his second league game, was on duty a week later for a difficult trip to Nottingham Forest, while David Harvey came in for a rare start in goal. United enjoyed a return to form and blistering second half strikes by Lorimer and Greenhoff put the icing on a hard working performance as Leeds won 2-0.
On 29 November, United resumed their European campaign with a visit to Partizan Belgrade. A couple of years earlier, Partizan had beaten Manchester United in the European Cup semi final before losing to Real Madrid in the final.
Leeds went into the first leg without Sprake, Giles, Jones, Johanneson and O'Grady, but took a surprise lead in the 24th minute through Peter Lorimer. He hammered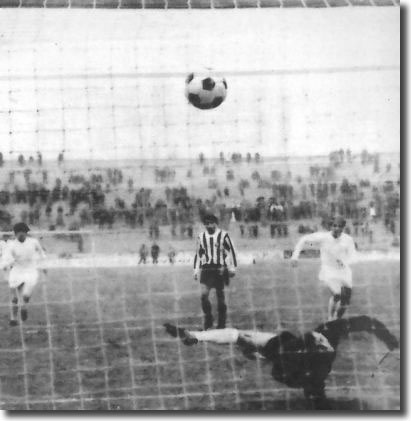 in a trademark free kick from 28 yards. Goalkeeper Curkovic could not keep out the thunderbolt, despite getting both hands to the ball.
United brought Bates on for Gray at half-time and continued to be the more dangerous side, with Belfitt adding a second goal eight minutes after the break, shooting home after Jack Charlton headed a corner across goal.
The goal roused Partizan from their torpor and they had a period of pressure - Norman Hunter had to clear off the line with Harvey well beaten. It was a rare mistake by the young keeper, who pulled off a string of excellent saves.
At about three-quarter time, Turkish referee Rabaca dismissed Bates after an incident with left-back Damjanovic; Bates kicked out in retaliation after he was fouled.
United rallied under pressure, but Partizan used their numerical advantage, carving out decent opportunities. Nevertheless, there were only three minutes to go when defender Paunovic headed in after a goalmouth scramble.
Leeds held on to secure a valuable victory and Phil Brown was lavish in his praise: 'With the same indefatigable powers of dissection that they used in beating Forest 2-0 at Nottingham last Saturday, they beat Partizan in Belgade 2-1, and darn nearly repeated the 2-0 … United's stupendous work rate all round the side was much too high for Partizan. Their highly esteemed forwards lost their touch and sometimes their heads - centre-forward Haanagic had some sinister moments as Jack Charlton's face and Billy Bremner's legs testify today - for most of the match. Fast challenging and shrewd marking blunted their attack, and their equally esteemed half-back line, or back four, was uneasy from start to finish against United's fast breaks from defence.'
Spurred by victory, United returned home to see off Stoke City 2-0 with goals from Lorimer (his fourth in four games) and Madeley. Terry Cooper was the star performer with a wonderful combination of defensive and attacking moments. He was proving one of United's outstanding performers.
The second leg against Partizan found Leeds guilty of complacency. Lorimer gave them the lead after half an hour but they were wasteful with their opportunities, and centre-forward Petrovic equalised after 56 minutes. He had earlier hit the bar.
United went into their shell, content to play out time, though it looked like they had miscalculated when Kosic put the ball in the net six minutes from the end. Referee Huber disallowed the goal for offside.
It was a fortunate win and Don Revie acknowledged as much afterwards, saying, 'They are a very fine side by any standards. We played very well in the first half, but I was glad when we had won the tie.'
A nine-game unbeaten run was unceremoniously ended three days later when United lost 2-0 to Liverpool at Anfield. The Reds thus reinforced their second placing in the table, leaving Leeds in the fourth spot they had occupied for three weeks. The Whites were nowhere near their best, but the defeat spurred them on to new heights during the weeks that followed.
Bremner and Lorimer goals secured a routine Elland Road victory, seeing off Stoke City in the League Cup quarter-finals. The win was the twelfth in 16 unbeaten home games, during which they had conceded just eight goals.
They needed an equaliser from Eddie Gray to earn a 2-2 draw at Sunderland but returned to winning ways against Hibernian in the Fairs Cup third round.
The Scots adapted the better to frosty conditions and a bone hard pitch, though United welcomed back Jones and Giles. It looked plain sailing when Gray gave Leeds a fourth minute lead after his first effort was blocked. Eric Stanger: 'Despite their early lead, Leeds did not have a comfortable first half. Hibs were some time settling after that early blow but later they kept Leeds fretting with some neat football, much of it inspired by Cormack, a most talented player, who made the most of generous latitude allowed him in midfield by Bremner.
'The most controversial incident of the first half was when Stein, the bustling Hibs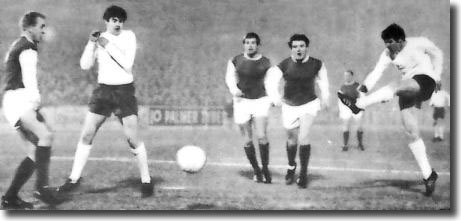 centre-forward, challenged Sprake on his line. Sprake, instead of throwing the ball away, dallied. When he bounced it at Stein's feet, Stein prodded it into the net. At first the referee pointed to the centre, but then disallowed the score on a linesman's signal. Certainly Stein had a foot up during the encounter but one would have had scant sympathy with Sprake had the goal counted.'
Lorimer had a goal disallowed for offside after 62 minutes, but United were relieved to win. It didn't look to be enough, but Don Revie put on a brave show afterwards, saying, 'I thought Hibs mastered the conditions better than our boys - but we are not out yet. It is bound to be difficult now but all matches are hard for Leeds these days, so that is nothing new to the players. If we get one goal up there, Hibernian have to score three to beat us. We usually save our best performances for away games.'
Terry Lofthouse in the Evening Post: 'What of the return of Jones and Giles? The best that can be said is that the match practice would be invaluable. Jones was never able to put his biggest asset, his heading ability, to use due to poor service, and Giles came tellingly into the picture only in the last quarter.'
Eric Todd in The Guardian: 'Leeds were as disappointing as I have known them. They had practically nothing to offer up front apart from one or two sorties by Gray and Greenhoff, and they showed an unwanted carelessness … Bremner and Hunter did all that was required of them in the first half, but after the interval they became almost as dilatory as the rest.'
United were lacking again three days later against Wolves, failing to turn decent possession into goals. After Derek Dougan gave the Midlanders a 42nd minute lead, Wolves kept their cool under some frantic United pressing and seemed on the way to both points. There were only five minutes left when Jones prodded the ball home after goalkeeper Williams could only parry Bremner's shot. With seconds to go, Charlton pulled off an unlikely winner when he bundled home from a Cooper cross.
It had been a narrow squeak and the sign of a team in need of a break - they had played seven games in the space of 22 December days. But they were now into the rush of festive fixtures and on Boxing Day made the short trip to Sheffield to face a Wednesday side that was snapping at their heels in the league.
United recovered some of their composure, as reported by Phil Brown in the Evening Post: 'After making very hard work of beating Wolves 2-1 at Elland Road, they went to Hillsborough and smartly demolished Sheffield Wednesday's unbeaten home record, which extended to last March. The score was only 1-0, and a penalty by Giles at that, but it gives no idea at all of United's mastery … their winning grip was tightened before Giles scored just on the interval. United could have been three up by the break … with crisp and well carved football all over the field.'
The return pairing came on 30 December and was a thrilling encounter, as reported by Richard Ulyatt in the Yorkshire Post:
'There were many opinions to be formed and conclusions to be drawn at Elland Road on Saturday and perhaps the only unanimous one was that it was an exciting match, a credit to both teams and to the Football League.
'Some of my own impressions were that Jones is now becoming the powerful centre-forward that Leeds United needed, that Leeds United are a much better team when Giles is at inside-left, that Hunter lacks confidence only in the accuracy of his right foot and that while the result reflected the overall play Wednesday would not have been greatly flattered by a draw.
'On the first half form there was only one team in it. Only because the referee and the nearer linesman were unsighted was Charlton deprived of a goal in the third minute when the ball hit the underside of the bar and bounced down over the line, I thought. Always competent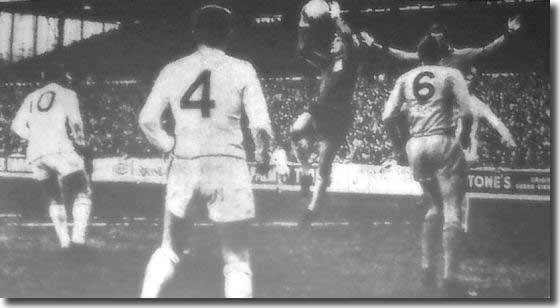 and sometimes brilliant goalkeeping kept the score down to 2-0 by half time, at which stage Leeds were playing so fluently that the merit of Wednesday's efficient defence was obscured by the cleverness of Jones, Giles and Gray.
'It needed a clever and persistent piece of foot craft by Jones to beat the challenge of Ellis and Smith on the touchline before he crossed the ball for Greenhoff to score the spectacular first goal and the movement was almost repeated before Gray headed the second goal. On that occasion Jones' cross eluded friend and foe before, as the ball ran loose, first Bremner and then Branfoot realised the possibilities. Bremner narrowly won a race for possession, whipped the ball back into the goalmouth and there was Gray, poised to head what seemed a match winning second goal with 10 minutes of the first half left.
'Half an hour later the score was unchanged and only the first inklings that Wednesday retained hope were to be seen. Jones, who found Mobley a much more formidable centre-half than Ellis, the official one, pulled a thigh muscle, treating which brought a two-minute delay, and a welcome breather for Wednesday.
'They were a different team afterwards. First Ritchie scored, getting two kicks at the ball in a confused goalmouth amid unchallenging opponents and then Whitham equalised with a shot which was deflected. It was frustrating to most spectators who had expected an easy win for Leeds and there were many anxious moments with close shaves for Sprake before, to the relief of Leeds rather than Wednesday, the referee started looking in earnest at the seconds finger of his stop watch.
'But when he blew his whistle it was not for full time but for a foul by Mobley on the harmless Madeley three yards outside the Wednesday penalty area. Had Wednesday moved the requisite ten yards away from the ball before the kick was taken all would have been well, for Giles' lob was easily cleared.
'But the referee was not satisfied, moved the players back and ordered the kick to be retaken. This time Giles tapped the ball back and to his left and Hunter, rushing up like a tank, hit it with his deadly left foot through the defensive wall of players, past the unsighted Springett and into the back of the net, which surprisingly remained untorn.
Top of First Division - 30 December 1967

Pos

P

W

D

L

F

A

Pts

1st

Manchester United

24

14

7

3

47

27

35

2nd

Liverpool

24

12

8

4

35

18

32

3rd

Leeds United

24

13

5

6

36

21

31

4th

Manchester City

24

13

4

7

52

31

30

5th

West Brom Albion

23

11

5

7

45

32

27
'It was a goal in a million, a fitting end to an exciting if sometimes disappointing year at Elland Road and it was Leeds' 29th goal of the season in League matches on their own ground. Critics who discredit Leeds' scoring ability will be surprised to know that only two other clubs in the first two divisions have scored more goals at home this season than Leeds.'
It had been a breathtaking local derby and wrote a positive finis to what had been an exciting twelve months. Still no trophies, but a run of just one defeat in 13 games had left Leeds in the hunt for four major trophies.
Part 2 - The cups that cheer - Results and table