Leeds United have built up a number of keen rivalries over the years. By 1967, Chelsea had been added to a rapidly growing list. The Pensioners had been United's nemesis in the FA Cup in each of the previous two years.
Chelsea owed their 1-0 fourth round victory at Stamford Bridge in 1966 largely to the heroics of goalkeeper Peter Bonetti as Leeds dominated affairs. The Times: "Never has one seen them play better and lose. They moved superbly in a mobile, cold blooded, but clean, match of shifting, clever emphasis."
A year later the two teams met at the semi final stage and United were left complaining that they had been cheated of a Wembley place when referee Ken Burns disallowed two late goals. The touchline celebrations of Blues boss Tommy Docherty left a sour taste in West Yorkshire mouths.
The First Division encounter between the two teams at Elland Road in October 1967 was inevitably seen by Leeds as a chance for revenge. The fact that their opponents arrived in disarray following the resignation of Docherty the day before the game made them lambs to the slaughter.
The Guardian carried the story: "(Docherty) resigned a few hours after he had received a 28-day suspension from all football activity following incidents on the club's goodwill tour of Bermuda in June. The resignation takes immediate effect and Docherty did not travel to Leeds.
"In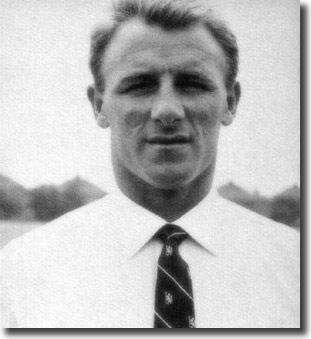 Bermuda Docherty had criticised referees and the arrangements of the tour, in which two players were sent off. They were Hateley, now with Liverpool, who was fined £50 for making an obscene remark to a referee in one match and Lloyd, who was suspended for 14 days for kicking an opponent. Docherty said yesterday: 'I had no chance to defend myself in public, and would have asked for a personal hearing.' When the report arrived from Bermuda he gave the FA his version of the incidents. He thought the incidents had been dealt with and forgotten.
"Docherty cannot have any part of football for a month, and cannot draw any of his salary of £7,000 a year in the month - a loss of nearly £600. He will be, said Dennis Follows, secretary of the FA, completely divorced from the game. It means that he may not pay to watch football from the terraces. Like the players, said the FA, Docherty had the chance to defend himself and ask for a personal hearing."
On the morning of the match, Chelsea were 19th in the table, without a win in a month. In sharp contrast, United were unbeaten since 30 August, when they had lost 2-0 in Zagreb in the first leg of the Fairs Cup final. They had conceded only five goals in the nine games that followed and were facing Chelsea just four days after an extraordinary 9-0 victory in Luxembourg against Spora in the first round of the current European campaign.
The only cloud on the Elland Road horizon was Billy Bremner's 28-day suspension. He received the ban for his dismissal in a match at Fulham on September 2. It brought the Scot's disciplinary sanctions over recent years to 68 days' suspension and £350 in fines. The Chelsea game was Bremner's last before his suspension and he was determined to sign off with a bang.
The affair was something of a watershed for Bremner, as he later recounted in You Get Nowt For Being Second: "I believe the turning point for Billy Bremner came in a game against Fulham. Mark Pearson and myself clashed, but it was a relatively minor affair, and called for only a few quiet words from the referee. In short, it was a simple order to 'tone it down, lads', and sensibly Mark accepted the admonition and kept his counsel.
"But not Billy Bremner. Oh no. I had got it into my nut that I had not been at fault in any shape or form and I was determined that the referee, if not the whole world, should know this. So I kept on going, full steam ahead, arguing the toss with the ref. And instead of the ticking off which should have been the end of the affair, Billy Bremner's name went into the black book, as my big mouth got the better of me.
"Even that didn't satisfy me or quieten me down. For even after play had restarted, I couldn't keep my mouth closed and I carried on the verbal feuding. I was so righteously indignant that I couldn't even see the danger signals. And in the end I was given my marching orders and sent for an early bath. It was a fate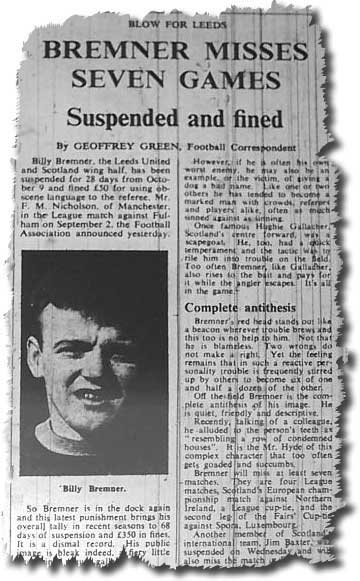 which I fully deserved.
"As I was getting stripped and changed in the lonely dressing room, while the muted roar of the crowd sounded from a distance, I kept telling myself fiercely what an idiot I'd been. Me and my big mouth. Why COULDN'T I have had the sense to keep quiet, like Mark Pearson? I laid it on thick and heavy to myself, but that was nothing to what I got from Don Revie when we came face to face. What he called me cannot be repeated, but I can tell you that he got it all off his chest. And every word flew straight in my direction.
"Don Revie let me know, in no uncertain fashion, that I was letting myself down by such unseemly outbursts. Not only that, but even more important, I was letting my team mates down. And in his book, letting the side down in professional football is the cardinal sin.
"So, at long last, I realised that trouble and I MUST part company if I were to do myself and Leeds United full justice."
In the knowledge that he would be cooling his heels for the next month, Bremner took out his frustration on Chelsea. The game will long be remembered for a phenomenal performance by the dynamic young midfielder.
Mick Jones, signed for a club record £100,000 from Sheffield United a fortnight earlier, led the Leeds forward line and South African winger Albert Johanneson was making his first appearance since the season's opening day. Paul Madeley and Eddie Gray deputised for Terry Cooper and Johnny Giles, but otherwise United were at full strength.
The Chelsea line up was much the same as in the Cup semi final six months earlier, though the gifted Peter Osgood, now fully recovered from a broken leg, was at centre-forward for Tony Hateley, who had joined Liverpool in the summer.
It was the returning Johanneson who broke the deadlock after five minutes, "nimbly notching the first with his head (an event in itself for Albert) in five minutes" (Yorkshire Evening Post). The goal ensured that any brittle confidence remaining after Docherty's departure would come under the severest of examinations. Chelsea were found badly wanting as matters tottered from bad to worse.
After eleven minutes, Jimmy Greenhoff made it 2-0 with a fierce drive and then Jack Charlton headed home a third in the 14th minute after Eddie Gray's inswinging corner had been misjudged by Bonetti - Chelsea were shell shocked by United's fierce onslaught.
Eric Stanger in the Yorkshire Post: "Chelsea may have been upset by the startling events of the previous 24 hours … but it surely did not account for the fact that whereas they used to be all eager runners, ever busy and ferocious tacklers, they were now content to trot about the field, often offer only half hearted challenge for the ball and got into some fearful defensive mix ups. The exceptions were Bonetti, in goal, Harris and Hollins in the back four, Boyle midfield and Baldwin in attack. The rest had little stomach for the fight once Leeds had set up a three-goal lead in the first 14 minutes. 'Ee-aye-addio, we're only warming up,' chanted the boys in the Scratching Shed. Leeds were."
There was a lull in affairs for the next twenty minutes as United drew breath but they went four ahead six minutes before the break when Lorimer's fierce shot from the angle beat Bonetti. The hard shooting Scot had a splendid game, as Phil Brown observed: "Lorimer's shot positively roared several times, but on top of that he had his best game this season, and a good one it was. His confidence is back again."
The game was over as a contest and Leeds were able to operate on autopilot after the interval. Eddie Gray beat Bonetti with a magnificent shot from the edge of the penalty area on the hour, to keep the score sheet ticking over, but United were content to play the game at a comfortable half pace with Chelsea unable or unwilling to shake matters up.
With ten minutes to go, Chelsea defender Marvin Hinton had the misfortune to see another Lorimer power drive deflect off him past Bonetti, but that was a mere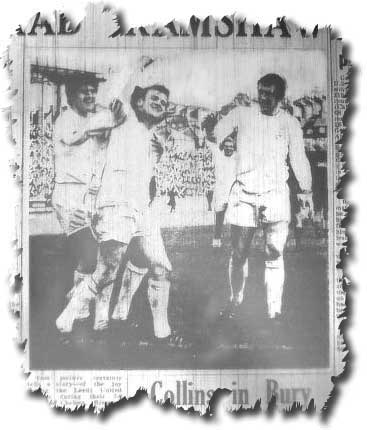 appetiser for the coup de grace.
Eric Stanger: "The man of the match was unquestionably Bremner, who chose this final appearance to give a virtuoso performance. To Chelsea's credit, however much Bremner teased and tormented them with his astonishing dexterity of foot and his remarkable sense of balance, so that he could turn and twist on the proverbial sixpence, they never tried to ruffle his temper. Nor, on his part was Bremner guilty of one foul tackle.
"It was a great demonstration of attacking wing-half play by any standards and, having made the first two goals (with considerable help from Reaney) and the fourth for Lorimer, Bremner bowed himself out of football for a time with a fine sense of the dramatic.
"Eight minutes from the end he got the last goal from Jones' forward header with a spectacular bicycle kick, so beloved by Continentals and South Americans. It brought down the house of 40,460 as it deserved to do."
Other writers were equally enthusiastic about the performance of the United skipper.
Paul Fitzpatrick in the Guardian: "On Saturday he bade farewell to the football stage with a performance which will long be remembered. He was largely responsible for the making of five goals and he scored the last and best himself with a superb overhead kick. His goal brought from the ground an ovation which would have moved the coldest heart."
Phil Brown in the Evening Post: "Billy Bremner departed into the seclusion of suspension after playing one of the greatest games of his young life. Even if Chelsea could have offered rather more resistance at Elland Road against Leeds United than they did, he nevertheless reached the football heights.
"He showed just what a vintage champagne footballer he can be. His passes flowed like pieces of silk unrolling, prompting the taker into an opening perfectly, and his reverse pass, the best in the industry for me, and given to very few of my time, flashed several times to cut out a third of the defence. Nor did he commit one foul or utter one offending word.
"It was, I suppose, only in the script that he should score the goal of the game, taking it with a perfect specimen of the falling overhead shot, commonly known as the bicycle kick. A final stroke by an artist on a masterpiece, as it were."
It was a breathtaking performance by a team at the very top of their form.
Stanger: "Leeds added seven goals to the nine they scored against Spora and played with a flair they have not shown for many a long day. Passes flowed, moves were made sharply and everyone was eager to shoot and get his name on the scoresheet. With such inventiveness behind them, plus the fine running of Reaney from behind, and solidity of Charlton, Hunter and Madeley, the Leeds attack could scarcely fail to shine. Lorimer thundered away with that devastating right foot of his and would have had at least another couple of goals but for Bonetti's brave saves."
Fitzpatrick: "Leeds were irrepressible. To a man they were as near faultless as made no difference. Their forward play was a model of excellence, their defensive work no less so. The whole was harmonious football of a standard which is not likely to be bettered this season."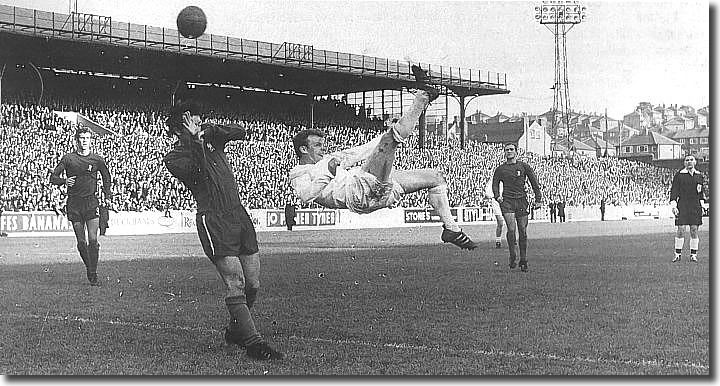 Brown: "(Bremner) leaves a side now coming on to top form and rhythm - he says it won't miss him - and he leaves his manager faced with the best of all a manager's dilemmas - whom to leave out, for Giles, O'Grady and Cooper were all injured and missing against Chelsea from the side which ran up the club's highest post war First Division score of 7-0.
"United had other good players besides Bremner. Hunter was nearly flawless and more than myself were grateful for his long crossfield passes ripping Chelsea apart. He does that one beautifully. Charlton enlivened the match again and again, especially when he saw that he could just about ignore Osgood at centre-forward and go up, and Reaney had a storming game at right-back, up to his best even.
"All United's forwards had their moments, and I fancy that if Jones had not been buried in a cold - he left the field overcome by it near the end - he would have been among the goals as well as in helping to make them. But it was most pleasing to see the three young forwards, Lorimer, Gray and Greenhoff, who have been faltering a bit, tearing about so effectively."
A startling and memorable performance left Revie's Leeds breathing down the necks of those above them in the League, poised to launch a strong bid for the championship.