As Leeds United came to the forefront of English football in the mid 1960s, their blanket defence and sharp counter attacking provided the perfect blend for European competition. Their first experience, in the Inter Cities Fairs Cup of 1965/66, brought a semi final place at the first time of asking. They beat Torino, Leipzig, Valencia and Ujpest Dosza on the way, before being outclassed by the crack Spaniards Real Zaragoza in a play off match at Elland Road.
In their second bid for the trophy, United went even further, fighting their way through to the two legged final. After a first round bye, Leeds hammered DWS Amsterdam 8-2 on aggregate before winning 2-0 in Valencia to deny the fine Spanish team for a second successive year; the toss of a disc was required to eliminate Italy's Bologna after each leg brought a 1-0 home win.
A proficient United performance in May's semi final saw off Kilmarnock; the tie was over to all intents and purposes after a Rod Belfitt hat trick in the first leg at Elland Road and a goalless draw in Scotland only formalised things.
United had a protracted wait for the chance to secure the trophy, with the final deferred until the start of the following season. Fixture congestion had delayed the other semi final until June, and it was 30 August before the first leg of the final, against Yugoslavia's Dinamo Zagreb, in the 40,000 capacity Maksimir Stadion.
It had needed one of the competition's greatest comebacks for Dinamo to book their own final berth. They lost 3-0 in Frankfurt against Eintracht, before trouncing the West Germans 4-0 in the second leg after extra time; the final goal came from a Rudolf Belin penalty in the 102nd minute.
The crack Yugoslavian club had been reformed in June 1945 after the rise to power of the National Communist Party. The post war era brought success, with three championships and four Cup wins. They also appeared in the 1963 Fairs Cup final, losing to Valencia.
Dinamo were managed by former Yugoslavian international Branko Zebec, who had played in the World Cup finals of 1954 and 1958, and the first European Nations Cup final. His team were a tough prospect, particularly at home, where they had not conceded a goal in European competition for two years, and were known as "the pride of Croatia, if not of the whole of Yugoslavia". Rob Bagchi and Paul Rogerson in The Unforgiven: "No team likes playing such important games at the beginning of the football season, but even Revie had to admit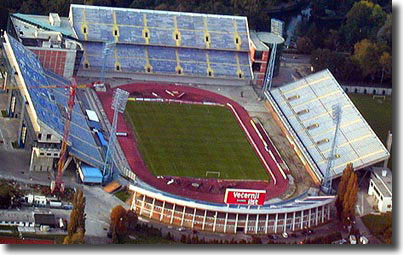 that by August Leeds were in far better shape than they were in May. After seven weeks' holiday and five weeks' training, tiredness was no longer a plausible excuse. The problem this time was momentum. UEFA weren't quite as unsympathetic as the FA would probably have been, and scheduled the final ties for the last week in August, allowing Leeds three League games to find some form. Having been such good starters in the past, however, United chose this moment to stutter."
Leeds drew 1-1 at home to Sunderland, before losing away to Manchester United and Wolves. They could not fashion a goal in either match and were lacking in ideas, as noted by Eric Stanger in the Yorkshire Post after the Wolves defeat. "Leeds United go into the first leg of the Inter Cities Fairs Cup final this week with their credit rating at its lowest since their return to the First Division. Three games so far have yielded only one point and so bankrupt is their attack that they must be wondering where the next goal is coming from. Mr Don Revie, their team manager, says: 'They have surprised me before and they are quite capable of doing so again.' And, looking further ahead, 'While it is nice to get off to a good start, don't forget the Football League is decided over 42 games. Last year we got only 19 points from the first 17 games, but we were still there at the finish.'
"Whether they will be again without recruiting at least one forward of proved scoring ability (easier said than done) is a moot point. Mr Revie must now have tried every combination of forwards open to him without hitting a winning line.
"At Wolverhampton, in desperation, he played Bremner at centre-forward from within 10 seconds of the start. Bremner's nuisance value in that position is considerable, apart from the fact that on Saturday he made at least two chances for Belfitt which should have been taken. But, on balance, is it worth sacrificing his inventiveness in midfield? With Giles again absent Leeds had no one in midfield to match the constructive ability of Bailey and Burnside."
Revie was without the injured Willie Bell, Paul Madeley, Albert Johanneson and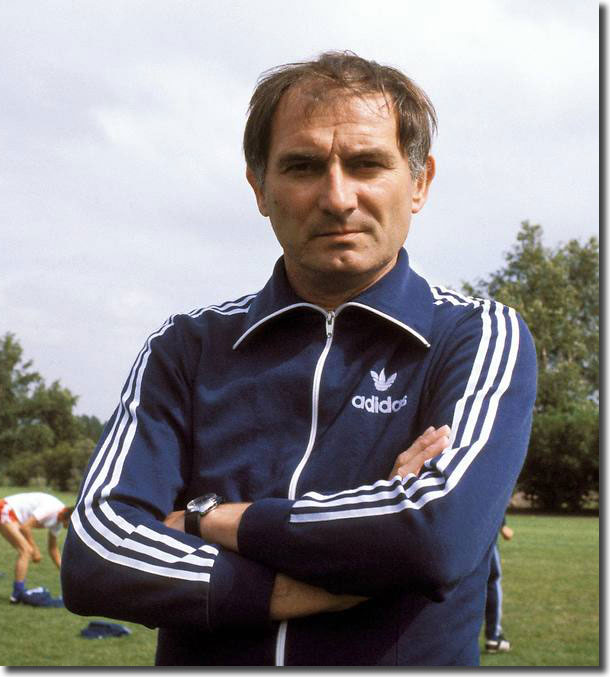 Johnny Giles as the Peacocks flew out to Zagreb; he chose to omit Jimmy Greenhoff, opting for Rod Belfitt to lead the attack and 19-year-old Mick Bates on the right flank.
United lacked nothing in confidence as the first English finalists since Birmingham City in 1961. Skipper Billy Bremner promised: "If fitness and determination count for anything, this will be the season when we get on the honours trail. The Inter Cities Fairs Cup will do for a start, then we will get cracking on the issues at home. Every player has trained that little bit harder and, given the run of the ball, we shall not have much longer to wait before giving our fans something to cheer about."
Eric Todd wrote of Dinamo in the Guardian: "Much is expected of Zambata, Yugoslavia's alleged answer to Jimmy Greaves, and Rora who, a local correspondent says, is an excellent dribbler, 'packs good shots, very tricky,' also able to pass three or four opponents and score. Belin, the Zagreb captain, is 'a great fighter and the specialist for executing the penalty kicks' … Leeds usually prepare a dossier on their future opponents, but such an opportunity was denied them on this occasion. Mr Revie, nevertheless, is not worried. His young men have done him and themselves great credit, and he sees no reason why they should not do the same tomorrow."
The Yorkshire Evening Post carried Venture's summary of the Croatians: "Dinamo Zagreb will be meeting English opposition for the first time in a European competition when they face Leeds United. During three Fairs Cup campaigns, four in the Cup Winners Cup and one in the European Champions Cup they have visited all Europe's leading countries except Russia and France. Dinamo have scored 64 goals to date in the three European tournaments. Top score was seven against Copenhagen in the Fairs Cup. Worst defeats? … 5-1 Barcelona in the same competition and 4-0 by Atletico Madrid in the Cup Winners' Cup. Teams to have beaten them by a three-goal margin include Glasgow Celtic, Eintracht Frankfurt and Fiorentina.
"In the transfer market - and in hospital. That was the summer bulletin on Stefan Lamza, one of Yugoslavia's international strikers, who helped to put Dinamo Zagreb into the Fairs Cup final. When soccer broke off in Yugoslavia, Lamza was looking forward to a move to Belgium. His transfer to Standard Liege was all fixed up except for a few details. Then he fell to the pavement from the balcony of his flat. He was rushed to hospital with serious head injuries and fractured ribs, and it is not known yet when Lamza will play again.
"Dinamo are not finding it easy to keep their successful team together. Offers have been made for several players, but one who will be on duty against Leeds United is international Rudolf Belin, who has collected a handsome sum from his own club to stay put."
The first leg of the final was played in oppressive heat, which dictated the tempo of the contest. United were well used by now to the more sedate and controlled pace of the European game and settled well. Commencing with Belfitt as a lone attacker and Bates, Bremner, Lorimer, Gray and O'Grady ranged across midfield, the Leeds game plan was all about containment and frustrating the opposition. Gary Sprake,
Paul Reaney, Jack Charlton and Norman Hunter were joined for the night by Terry Cooper at left-back and were well used to spending long hours soaking up heavy pressure.
Allowing their opponents to pass the ball around in their own half as they wished, United contented themselves with deep defence allowing Dinamo the preponderance of first half possession.
Eric Todd: "With good reason the pace of the early play was not much more than leisurely although Dinamo did more of the attacking. They were not allowed to get anywhere near Sprake, however, such was the quickness to cover and to tackle of Charlton and his colleagues.
"At this early stage confirmatory evidence was forthcoming that Leeds would adopt a defensive policy although this did not preclude an occasional attack by them. After one splendid move by Belfitt and Bremner, O'Grady had a shot saved by Skoric, who a few minutes later dived full length and turned the ball away for a corner after a first time drive from 25 yards by young Bates, who was making his first appearance in this competition.
"Most of the dangers to Leeds so far had been threatened by Cercek, a lively outside-right who knew how to beat his man - occasionally - and centre the ball. But his inside colleagues lacked judgement in moving for it and, with half an hour gone, Sprake could tabulate his activities only in terms of goal kicks. No sooner written than Rora from long distance lobbed in a teaser, which Sprake collected under his crossbar."
United looked very good value for their share of the spoils, as noted by Eric Stanger: "Leeds in fact ran harder and more often than in any game so far this season while the defence, in which Charlton and Bremner kept a tight hold on the quick raiding Zagreb attack, were seldom in difficulty. There was, however, a curious lack of skill and the hot, steaming atmosphere must have been difficult for both sides. Fouls by Cooper and Bremner got the crowd really worked up but the Spanish referee, a stickler for the letter of the law, was quick to punish the slightest trivial digression by a free kick."
Everything went "according to plan for the first half hour, with Leeds not only containing Zagreb's attacks, but carrying the more potent threat through well controlled raids" (Andrew Mourant). Just when it seemed that United would make it to the interval on level terms, they
fell behind in the 39th minute. Belin put Piric away on the right and he made ground down the flank before flinging over a centre. Cercek came barging through to head past a helpless Gary Sprake, with Leeds remonstrating hotly but in vain that he had fouled Jack Charlton on the way to meet the ball. Spanish referee Adolfo Bueno Perales, a firm but fussy official, would have none of it and waved away all protests.
The United players were furious, but quickly recovered their equanimity and shape. Defeat by a single goal would still represent a decent outcome and they reached the break with no further scares.
The interval gave them time to pull themselves together, though they had to cope with some difficulties in the dressing room. Billy Bremner: "The boss started to give us an interval pep talk and stress the tactics we must employ during the second half when there was an almighty banging and hammering at the door, then a head popped round the door and a voice began to jabber away in Yugoslav. We got rid of the interrupter, Don Revie started to talk again … there was another almighty sound of banging, and another head popped round the door. The boss never did manage to complete his half time summary for these constant interruptions. It was like a madhouse."
Nevertheless, the break brought a breathing space and United came out to carry the game to Dinamo. O'Grady shot but from too far out to trouble keeper Skoric. Then, after Blaakovic fouled Bremner, Norman Hunter hammered the free kick in, but marginally wide of goal.
The shock came as a wake up call to the Slavs and they went 2-0 up on the hour. Centre-forward Zambata was given too much space on the right flank and he fired the ball across the area. Left winger Rora moved in at pace from his flank and half volleyed past Sprake. The goal sent the 40,000 crowd wild. It was the first time that Leeds had conceded more than once away from home in Fairs Cup football, and they were rocking.
Moments later, Zambata launched a blistering drive from 20 yards which Sprake performed wonders to turn over the bar.
Dinamo continued to have the better of the contest, though United had their moments with Jack Charlton thrown forward as an auxiliary striker.
Eric Stanger: "Leeds tried hard to rally in the last 15 minutes. Exchanges became a little heated at times and following one incident between O'Grady and Gracanin,
players clustered around in threatening attitudes on the field. Happily the referee stepped in and the trouble died down. It was not a rough game but nor was it memorable for the standard of football. The importance of the occasion and the heat had its effect on both sides."
Eric Todd: "Giles, Bell and Madeley were missed tonight, although the Leeds defenders, Charlton and Cooper especially, did all that was required of them until well into the second half. Apart from a few creditable raids by O'Grady, however, the Leeds attack looked, as indeed it was, short of a schemer and a finisher. All very well it may be to decide upon defensive measures, but it is as well for a side to carry a safe breaker. Leeds did not have one.
"Dinamo were no more than average until the proceedings were far advanced. Passes went astray and the great Belin himself was as remiss as anyone. Once Dinamo had taken the lead, however, there seldom was any fear that they would lose it. Zambata, too tricky an individual to be left unattended, added to Leeds' misfortunes, and from then on he and Rora, supported by a fine half-back line, led Leeds a lively dance. And Leeds could not keep in time with it. For their young players at least this was a valuable, albeit chastening, experience."
In the circumstances, United did well to come out of a torrid evening with a two-goal deficit; they could easily have fallen apart, as many of Dinamo's previous visitors had. Home supporters set celebratory bonfires all round the ground at the finish to mark the triumph.
Phil Brown in the Yorkshire Evening Post: "The defence, as I saw it last night, is partly so good because the Dinamo attack is so busy and it takes a lot of the weight off the defence. The Dinamo forwards, brilliantly linked in defence by Belin, the attacking wing-half and a magnificent player, gave United a lot of work last night and again one felt that United's forwards, although better in this respect than at Wolverhampton, might have given more help. I'll except Bates, who in his first Fairs Cup-tie, had a most likeable game, including a couple of breezy cross shots which were not far out. United's attack droops when Giles is out as he was last night, but he should be right again next Wednesday after his back injury. With Giles in United are, I am sure, halfway up that high hurdle, for he can make his young colleagues play, which is more, at the moment, than they can do for each other."
Commenting on the 2-0 victory, the Zagreb and Belgrade daily Borba noted: "More was expected on the part of the visitors, especially from Charlton and Hunter. They were best in defence, and Bates was the best of offensive players among defensive Leeds."
Politika of Belgrade commented: "There is no dispute about the crystal clear victory. After the second goal, the British started making mistakes and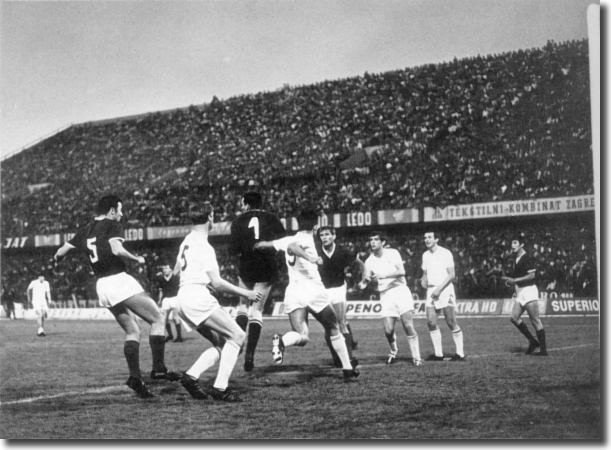 if the Dinamo players had concentrated a little more, more goals would have been scored. Leeds played typical British soccer, very defensive in the first half, a little more open in the second half. Although in ideal physical condition, the Leeds players play without imagination or spirit, and panic grips the players and the entire team when a goal is scored against them."
Don Revie said after the game: "Naturally, I am a little disappointed but I think we can pull back these two goals at Elland Road. Having seen Zagreb at Frankfurt, I think they are a far better side at home than away."
It was something of an anticlimax after all the weeks building up to the game, but in the cold light of day Leeds United could console themselves with the knowledge that an early goal at Elland Road would throw everything back into the melting pot and make life extremely hard for the classy Slavs. United had fought their way back from desperate positions before and were determined to do so again.